Imagine waking up feeling refreshed and ready to start your day. You make your way to your very own beauty sanctuary, where you can sit down and take the time to prepare yourself for the day ahead. 
You walk up to your makeup vanity, a beautiful piece of practical and stylish furniture. The Vanity is lined with your favorite skincare and makeup products, while the soft glow of the lights illuminates your face during your morning routine.
A makeup vanity is a specialized piece of furniture that provides a dedicated space for applying makeup and getting ready. It typically includes a mirror, storage space for storing and organizing beauty products, and a seating area.
Makeup vanities come in various styles and sizes, so this article is all about easy and aesthetic bedroom makeup vanity ideas.
Some Amazing Bedroom Makeup Vanity Ideas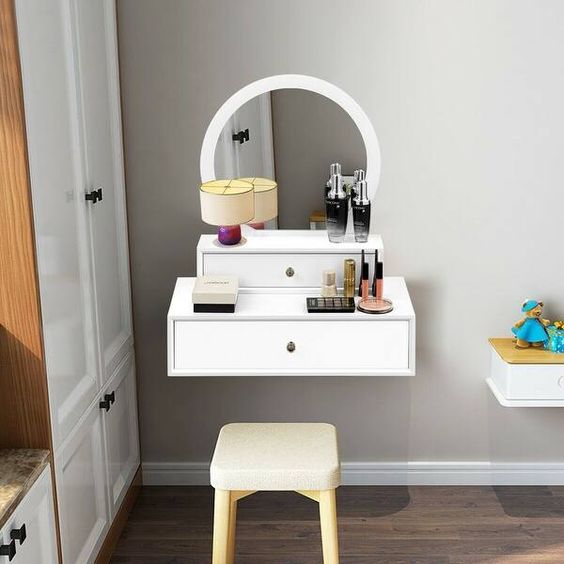 If you are short on space, this is a perfect option. A wall-mounted vanity is a space-saving, stylish, and the best bedroom makeup vanity idea out of all on the bloc. These bedroom makeup vanity ideas come in various sizes, so it's important to consider the space available and your storage needs.
It is modern and minimalistic to traditional and ornate. This type of bedroom makeup vanity is properly functional and is a choice for many.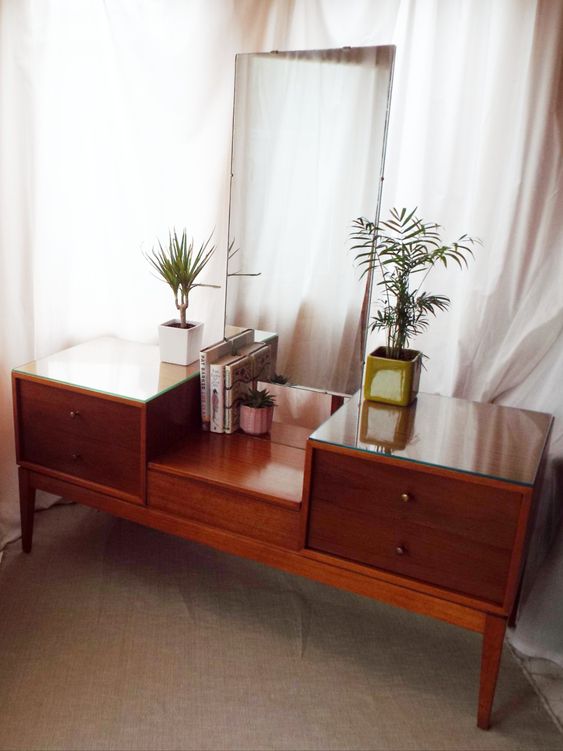 A dresser vanity is a combination of functionality and convenience. You can choose any size of the Vanity as it can be built in a variety of sizes depending on the requirement. A vanity can be built into a compact or large size, depending on available space.
These can be designed in various styles, such as elegant, vintage, minimalistic, or classy, based on the individual's preferences. They are a great option for those who want to save space and streamline their morning routine, providing ample storage for makeup and accessories while offering a convenient and stylish place to get ready.
Similar Post: 12 Best Modern Farmhouse Lighting Options on Amazon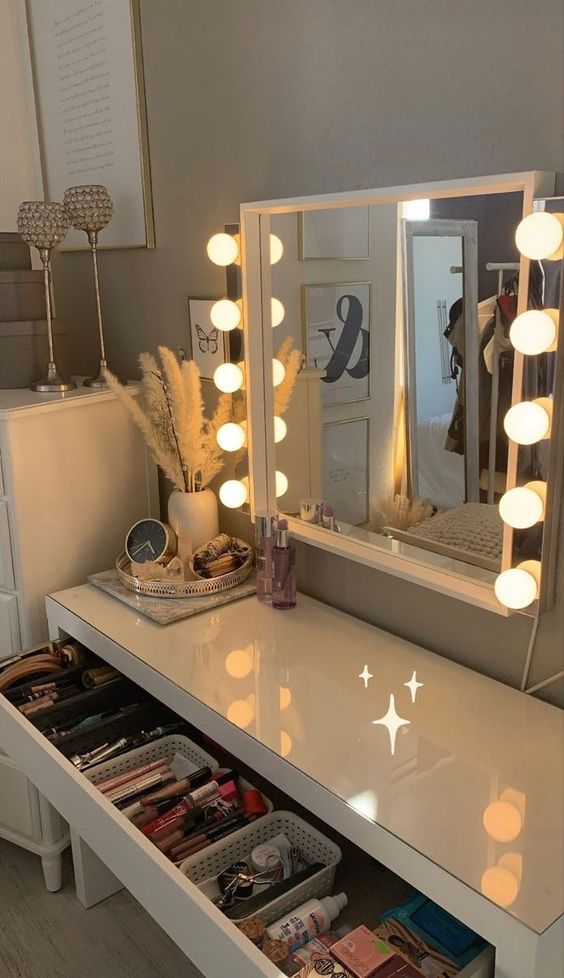 A Hollywood glam vanity is one of the perfect bedroom makeup vanity ideas inspired by the glamour of Hollywood. It typically features a large, illuminated mirror surrounded by bright, Hollywood-style lights that provide optimal lighting for makeup application. The vanity table or desk is often made of mirrored or glossy materials, adding to the glitz and glamour of the overall design.
They are perfect for those who want to add a touch of sophistication and glamour to their bedroom or dressing area while providing ample space and lighting for makeup application.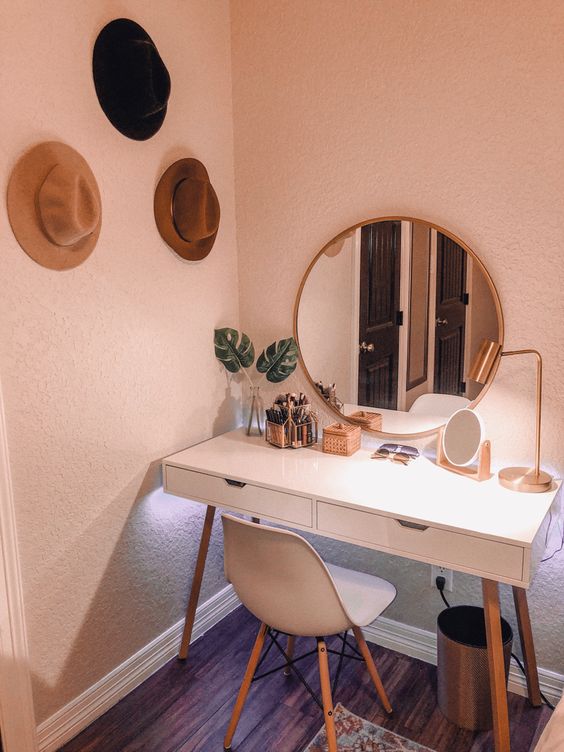 Minimalistic Vanity refers to a style of personal grooming and organization that prioritizes simplicity and functionality over excess and extravagance.
It involves a pared-down approach to beauty routines and a streamlined approach to storing and displaying personal care items. This often involves decluttering and only keeping essential products, opting for multi-use items, and choosing high-quality, sustainable products that align with one's values.
Minimalist vanities often feature clean lines, natural materials, and a neutral color palette, creating a calm and peaceful atmosphere for the user.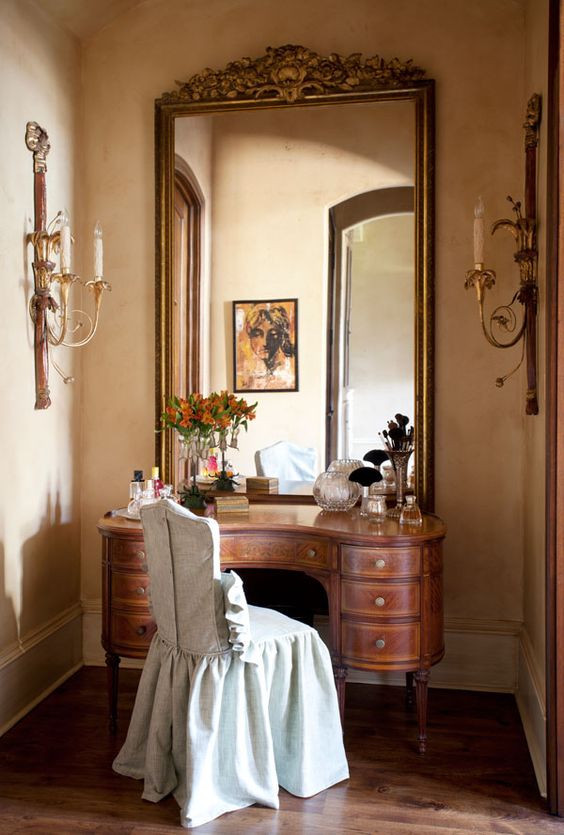 Vintage Vanity refers to a style of personal grooming and organization that incorporates elements from past eras, often from the early to the mid-20th century.
It involves a love for nostalgia and a desire to incorporate old-world charm into daily routines. Vintage vanities often feature ornate and decorative pieces like antique mirrors, perfume bottles, and a glamorous atmosphere.
This style often includes vintage makeup and beauty products, such as rouge compacts, lipstick holders, and powder puffs.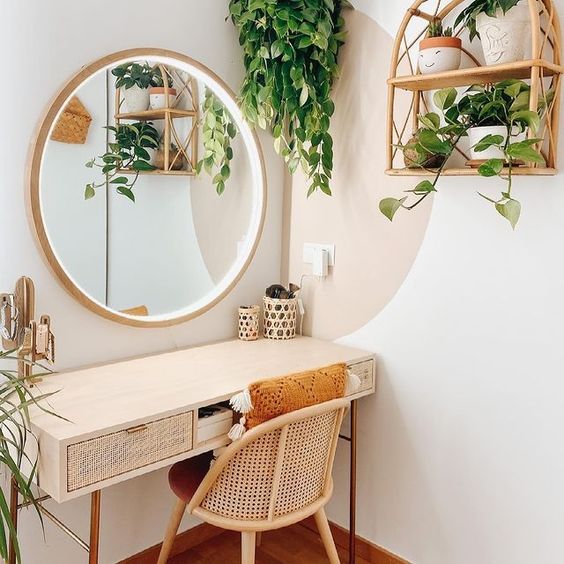 A bohemian vanity is popular for those who love eclectic, free-spirited, and unconventional decor styles. A bohemian vanity can be made from various materials, including wood, wicker, rattan, or bamboo.
Often, it features intricate details and handcrafted elements that add to its bohemian charm. The styling of a bohemian vanity often includes a mix of vintage and modern pieces, layered textures, and bold accents.
Adding plants, woven baskets, and other natural elements can further enhance the bohemian vibe. Whether you're looking to create a cozy corner in your bedroom or a striking statement piece in your dressing room, a bohemian vanity can offer a refreshing and inviting space to get ready for the day.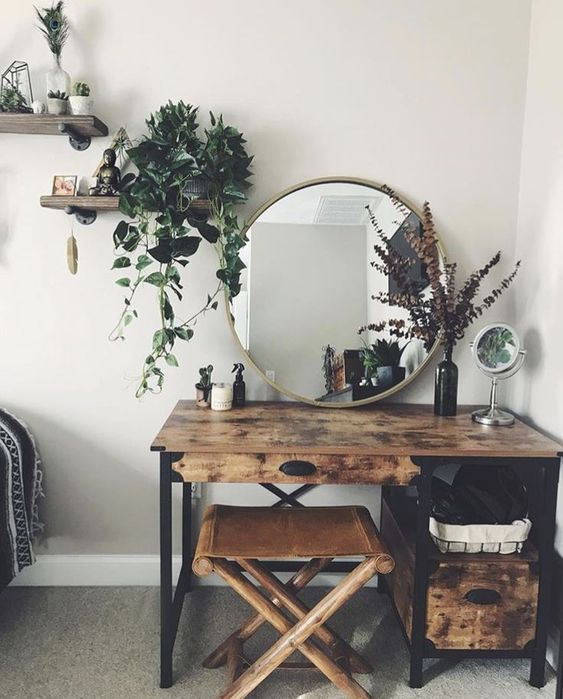 A rustic vanity is a choice for those who love a cozy, warm, and inviting decor style. This type of Vanity is typically made from natural materials such as wood or stone and often features a distressed or weathered finish that adds to its rustic charm.
The styling of a rustic vanity typically includes warm lighting, natural accents such as plants or flowers, and earthy tones such as brown, beige, or green. Whether you want to create a cozy corner in your bedroom or a rustic statement piece in your bathroom, a rustic vanity can offer a warm space.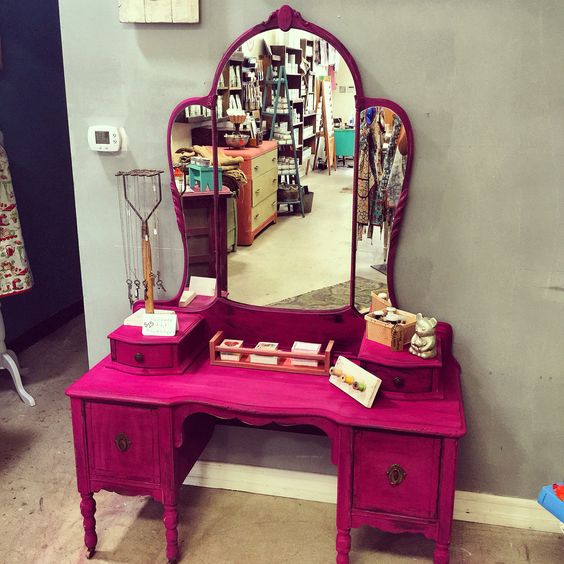 A bold, colorful Vanity is for those who love to make a statement with their decor. This type of Vanity typically features bright, eye-catching colors and bold patterns, making it a focal point of any room.
A colorful vanity can be made from various materials, including wood, metal, or even plastic. It can come in various styles, from sleek and modern to vintage and eclectic. Often, the focus is on creating a fun and playful space to get ready in, with ample storage space for makeup and accessories.
Whether you're looking to add a pop of color to your bedroom or a vibrant statement piece to your dressing room, a bold, colorful Vanity can offer a fun and vibrant element to your bedroom.
Also Read: Bathroom Mirror with Shelf: 11 Unique Designs and Tips to consider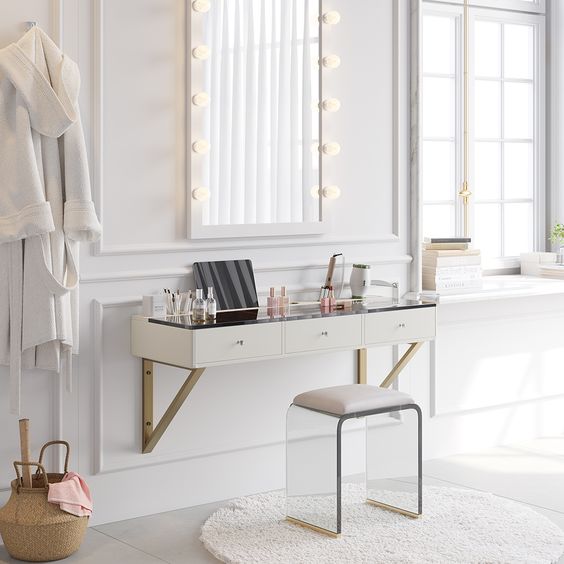 A glass vanity is a type of bedroom vanity with a glass top. It is a sleek and modern option that adds a touch of elegance to any bedroom. Glass vanities come in various shapes, sizes, and styles, ranging from small, minimalist designs to larger, more ornate pieces.
The glass used in these vanities is typically tempered for durability and safety, making it resistant to scratches and cracks.
Some glass vanities also incorporate other materials, such as metal or wood, for added visual interest. Overall, a glass vanity is a stylish and functional for any modern bedroom design.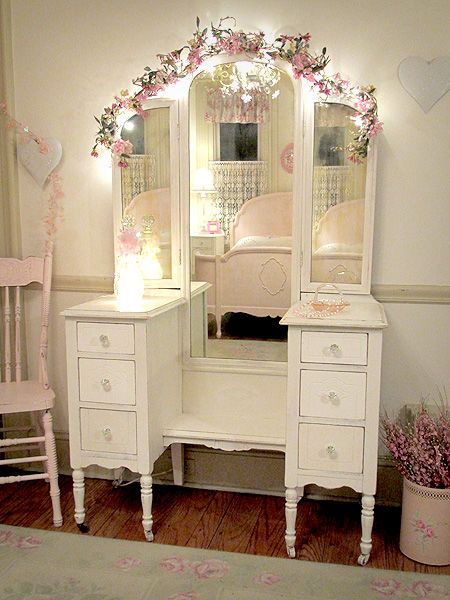 A shabby chic vanity is a type of furniture piece that has a vintage or antique look, often characterized by distressed finishes, soft colors, and ornate details. It is typically made of wood or painted in a light, pastel hue and may have a weathered or worn appearance.
The design of a shabby chic vanity is often inspired by traditional French country style, with curved lines, cabriole legs, and decorative embellishments such as floral carvings or appliques.
The top of a shabby chic vanity may be made of wood, marble, or another natural material and may feature a built-in mirror or come with a separate mirror that can be attached.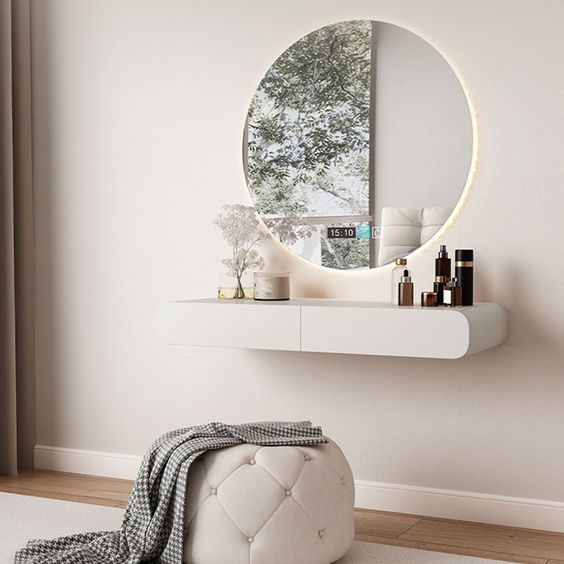 A unique floating vanity is a wall-mounted bedroom vanity that does not touch the floor. It creates the illusion of more space in a bathroom and can be a stylish addition to any modern or contemporary bathroom design.
You can also consider incorporating unique shapes or patterns into the design, such as asymmetrical edges or geometric cutouts.
Another way to make your floating Vanity stand out is by adding interesting details such as a waterfall edge, integrated lighting, or custom storage solutions. When designing a unique floating vanity, it's important to consider both form and function.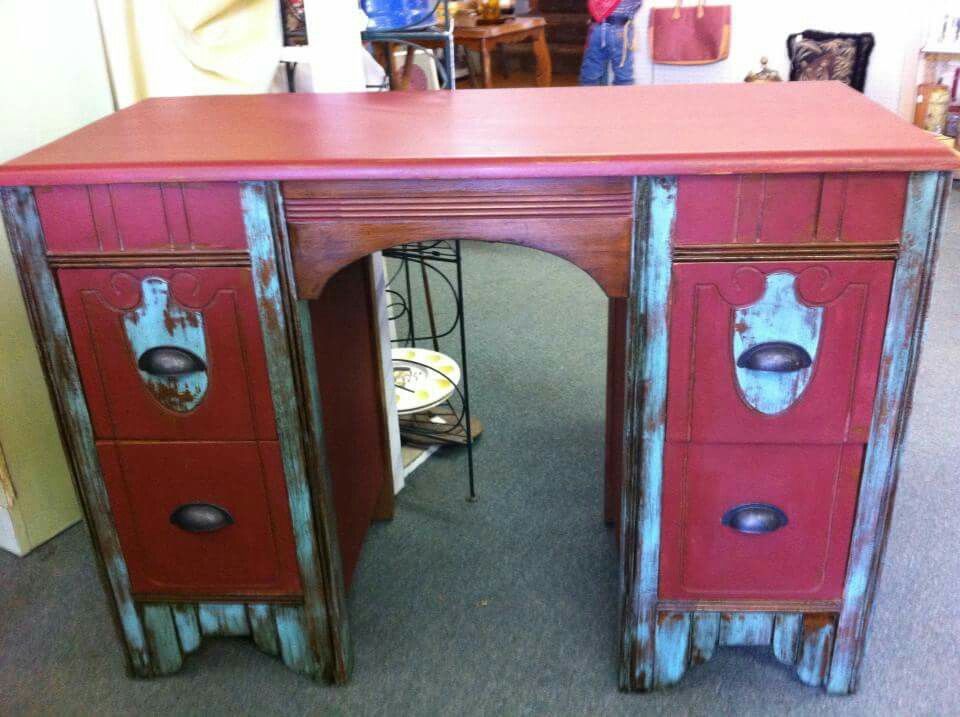 A repurposed vanity is one of the most creative bedroom makeup vanity ideas to give a new life to an old piece of furniture that was previously used for a different purpose.
A common repurposed vanity is a dresser or desk that has been converted into a functional and stylish bedroom vanity. To repurpose a vanity, you will need to make some modifications to the original piece of furniture.
When repurposing a vanity, you can get creative with the design and incorporate unique features not typically found in traditional bedroom vanities.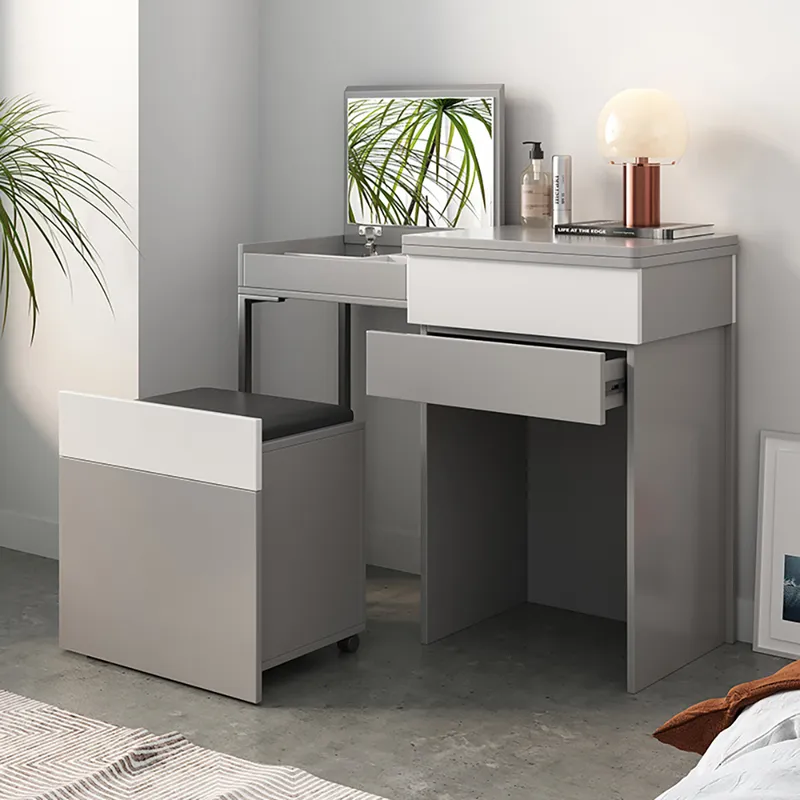 A foldable vanity can be a great option for adding a grooming and beauty space to your bedroom without taking up too much room. With a hinged mirror or table, a foldable vanity can be easily lifted and locked into place when in use and then folded down and stored away when not needed.
A foldable vanity is a perfect fit in any bedroom as it comes with every pro a vanity could have. With a variety of design options available, you can choose a foldable vanity that matches your bedroom decor while also providing a functional and practical space for grooming and getting ready.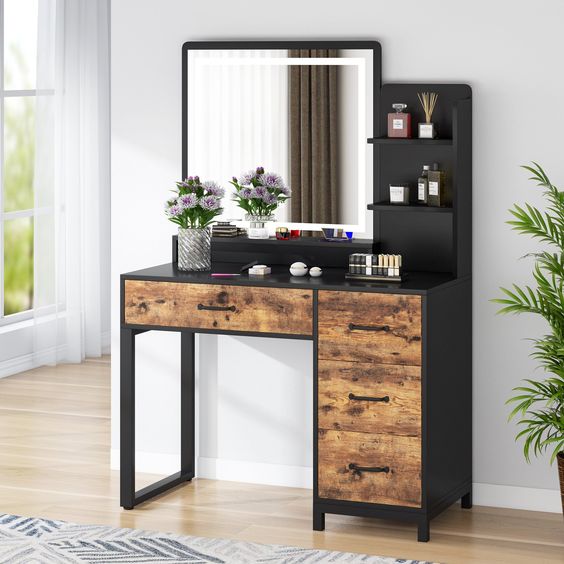 An industrial vanity is a popular style of bedroom vanity that often features metal accents, raw or reclaimed wood, and a minimalist design.
Industrial vanities may incorporate elements such as exposed pipes or plumbing fixtures, distressed or weathered finishes, and salvaged materials. They may have a simple, utilitarian design with clean lines and minimal decorative details.
Industrial vanities can be a great addition to a bathroom with an industrial or modern design aesthetic, as they can provide a sleek, functional look with a touch of edgy style. When choosing an industrial vanity, it's important to consider the size and storage options to ensure it meets your functional needs.
See More: 20 Creative Small Bathroom Design Ideas to Upgrade Your Space
15. Coastal Vanity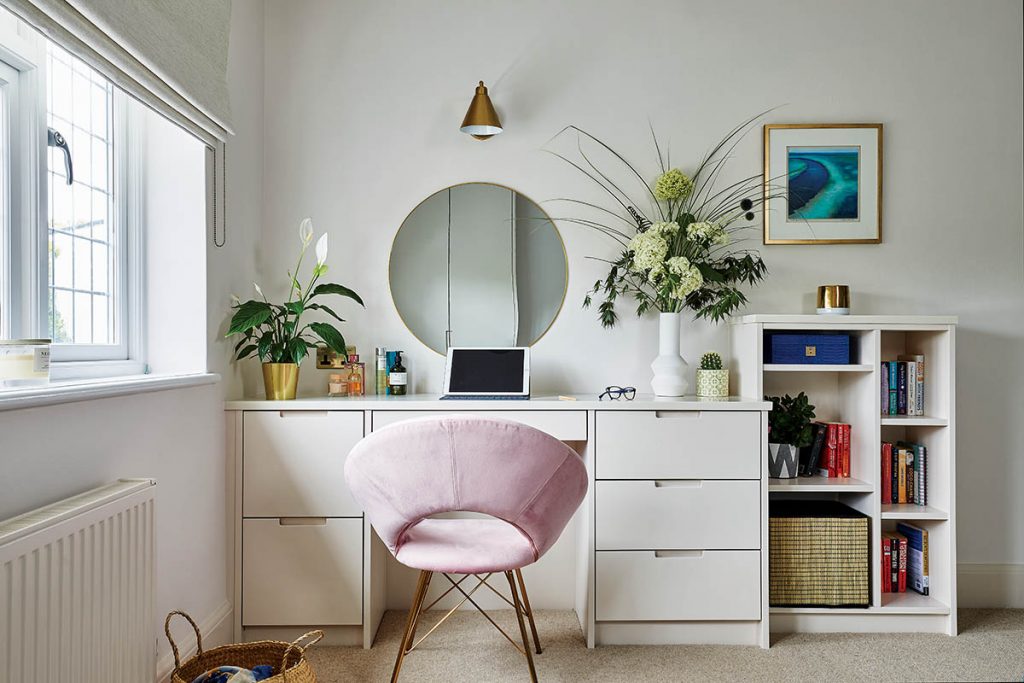 A coastal vanity is a style of bedroom vanity that is inspired by the beach and ocean. Coastal vanities often feature light and airy designs, incorporating natural materials such as seagrass, driftwood, and other beach-inspired elements.
Coastal vanities may also feature nautical-inspired hardware or details, such as rope handles or seashell accents.
They often have a relaxed, casual feel and can be a great choice for a beach house or coastal-inspired bedroom. When choosing a coastal vanity, consider the size and storage options to ensure it meets your functional needs.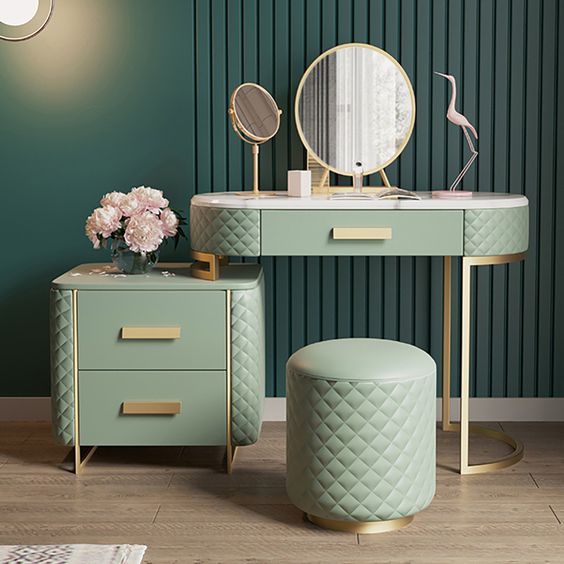 A luxurious velvet upholstered makeup vanity is a stylish and sophisticated piece of furniture designed for comfortable and elegant makeup application and grooming.
It features a plush velvet upholstered seat and backrest, a spacious tabletop, and often includes storage drawers for beauty products and accessories.
With its sleek design and customization options, a velvet upholstered makeup vanity adds a touch of luxury to any room and can also double as a desk or workspace. Overall, a luxurious velvet upholstered makeup vanity provides a chic and functional space for all your beauty and grooming routines.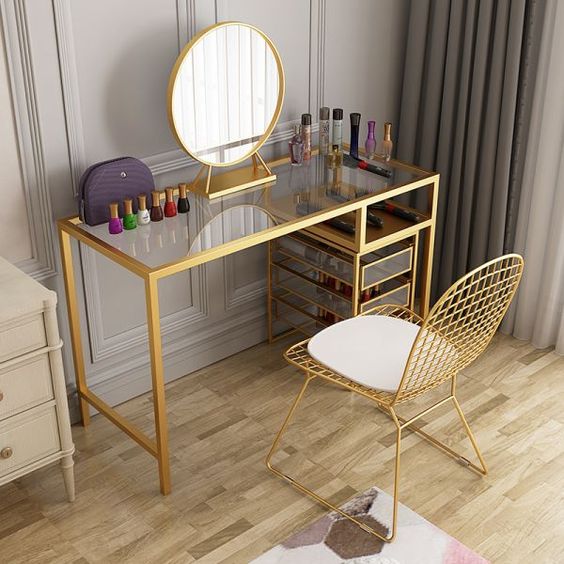 An antique brass makeup vanity is a beautiful and elegant piece of furniture that harks back to a bygone era. It is typically made of high-quality materials such as brass or bronze, with intricate detailing and a vintage aesthetic that adds a touch of glamour to any room.
An antique brass makeup vanity often features a large mirror, a spacious tabletop, and drawers for storing beauty products and accessories. With its ornate design and antique finish, this type of makeup vanity can serve as a statement piece in a bedroom or dressing room.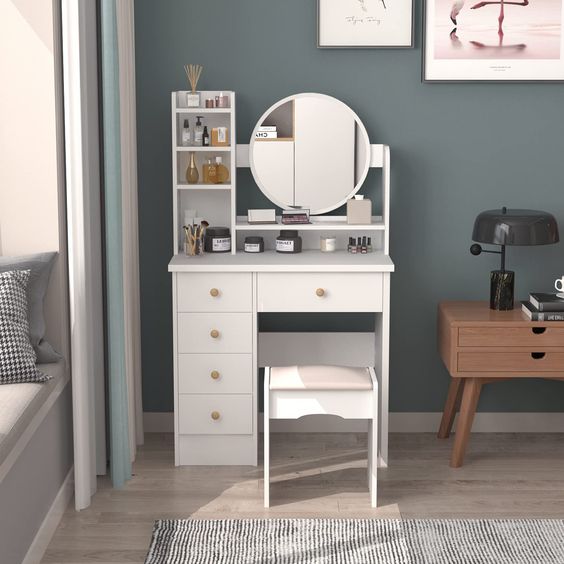 A simple white vanity is a classic and timeless bedroom fixture that adds a touch of elegance and simplicity to any bedroom design. The Vanity is typically made of wood or MDF and has a smooth white finish that complements various bathroom styles.
The countertop may be made of different materials, such as quartz, marble, or ceramic, but the white color gives it a clean and fresh look. A simple white vanity is versatile and can be paired with different bedroom accessories to create a cohesive and stylish look.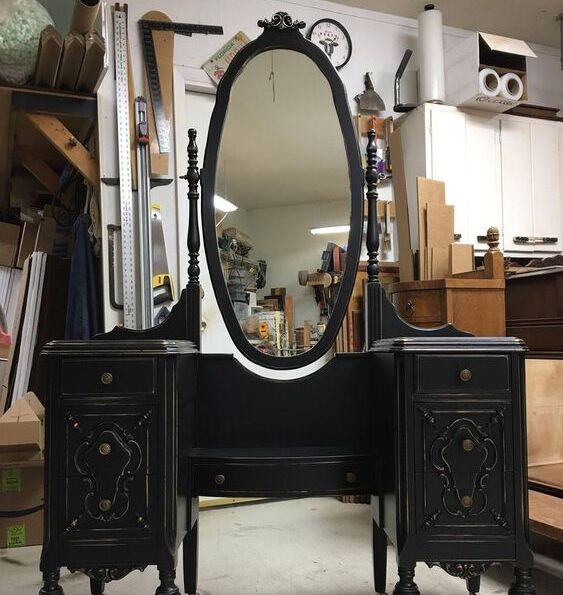 A Gothic-style vanity with a black frame and a dramatic carved mirror is a striking and ornate addition to any bedroom. The Vanity typically features a dark wooden frame with intricate carvings and details, creating a dramatic and Gothic-inspired look.
The mirror is often the centerpiece of the Vanity and is usually large with an ornate frame that complements the rest of the Vanity. The black finish adds to the dramatic effect and can be paired with other dark-colored accessories and furnishings for a cohesive look.
Overall, a Gothic-style vanity is a statement piece that adds a touch of drama and elegance to any bedroom design.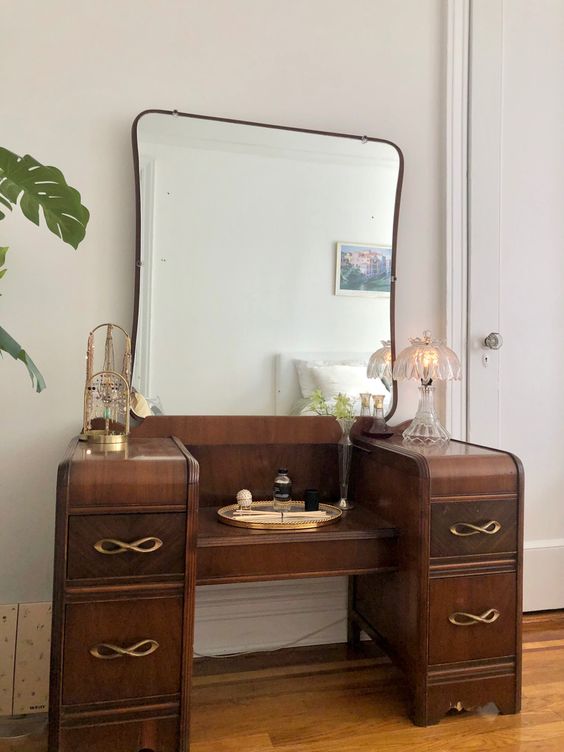 An Art Deco-inspired vanity is a glamorous and sophisticated addition to any bedroom. Art Deco style is known for its bold geometric shapes, luxurious materials, and lavish details.
The Vanity may feature a sleek and curved design with polished metallic finishes and mirrored surfaces. The mirror may have a decorative border with a sunburst or geometric design, adding to the Vanity's luxurious look.
The stool or chair that accompanies the Vanity may have a similar design with a matching metallic finish or a contrasting velvet or faux fur seat that adds texture and softness to the overall look.
Related: 15 Tips for Designing a Warm and Inviting Guest Bathroom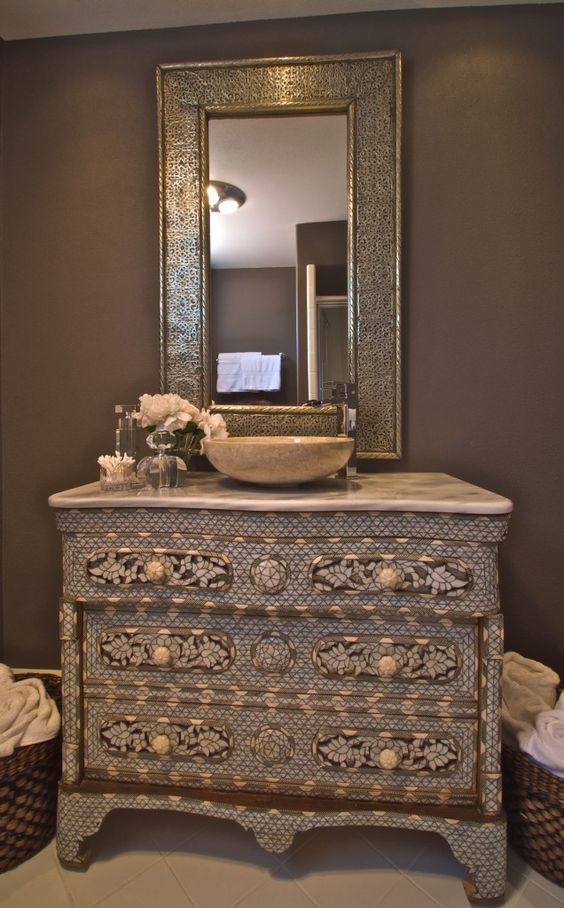 A Moroccan-inspired vanity typically features intricate designs, bold colors, and rich textures. Accessories such as mirrors, lamps, and trays may also feature Moroccan-inspired elements such as brass or copper finishes, stained glass, or tassels.
A Moroccan-inspired vanity can add an alluring and luxurious feel to a bedroom or dressing area. It can be paired with other Moroccan-inspired decor elements such as rugs, textiles, and wall art to create a cohesive look.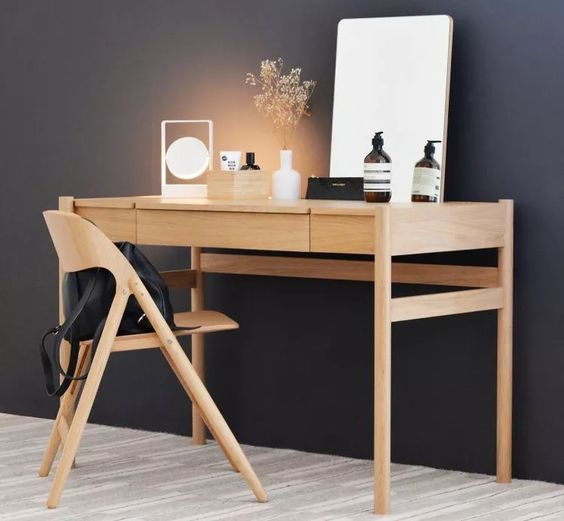 A basic makeup vanity is a simple yet functional space where you can apply makeup, style your hair, and prepare for the day. It typically consists of a table or desk with a mirror, a comfortable seat, and a few basic storage options.
The table or desk may be made of wood, metal, or glass and can be as simple or ornate as you like. The mirror should be large enough to see your face clearly and ideally should have good lighting, such as natural light or a bright lamp. A comfortable seat, such as a stool or chair, should be placed in front of the Vanity so you can sit down and get ready.
Check This Next: Top 21 Natural Wood Bathroom Vanity Ideas For a Stylish Look
Conclusion
There are numerous bedroom makeup vanity ideas, depending on your style, space, and budget.
Whether you prefer a classic and elegant look or a modern and minimalistic design, you can find inspiration from various sources, such as interior design websites, magazines, and social media platforms.
Some popular ideas include a mirrored vanity table with drawers, incorporating a Hollywood-style lighting system, adding a statement mirror, or repurposing a vintage desk.
The key is to prioritize functionality and organization while creating a beautiful and inviting space you will enjoy using daily.
Other Articles