If you want to elevate your bedroom's design, look no further than floating beds. These sleek, modern beds create a statement with their unique design and provide a sense of weightlessness that can be both calming and invigorating.
In this blog, we'll explore what floating beds are and provide 11 Floating Bed ideas to inspire your own bedroom transformation.
What Are Floating Beds?
Floating beds are also known as suspended beds. They are elevated from the ground and seem to hover in mid-air. Hidden brackets or thin, transparent cables support these beds and give the illusion of floating.You can find floating beds in many styles and materials, including metal and wood.
There are several benefits to using a floating bed in your bedroom. It comes with a sleek and modern design, providing increased storage space, is easy to clean, and is customizable, among others.
Things to Consider when Buying a Floating Bed
Size: Measure the space in your bedroom to check the appropriate size (width and length) of the bed. 
Style: Choose the type of bed that best suits your taste and the decor of your bedroom.
Material: Check the material used to make the bed and choose the one that best suits your requirements.
Comfort: Consider the comfort of the bed as per your sleeping preferences.
Price: Floating bed prices start from a few thousand rupees. Set a budget and choose a bed that meets your needs and fits within your price range.
Installation: Consider whether you are comfortable installing the bed yourself or if you need to hire a professional to do it for you.
Similar Post: Top 20 Long Floating Shelves To Enhance Your Home Decor
11 Amazing Floating Beds Ideas
Here are 11 floating bed ideas to elevate your bedroom:
1. Wood and Metal Mix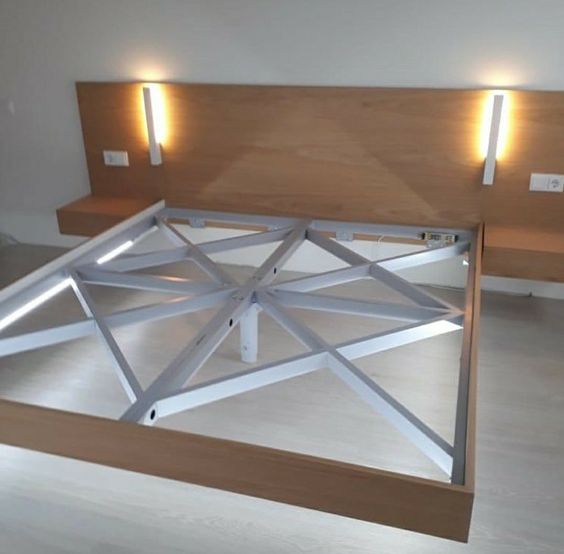 Wood and Metal Mix floating beds are a very popular design that blends the rustic charm of metal with the warmth of wood.The bed is supported by a strong metal frame, which is usually designed with straight lines and geometric shapes. The platform for the bed is made of natural wood like oak, walnut, or Cherry.
:Advantages:
Provides a sturdy and durable support system for the bed
Can complement a variety of bedroom styles and color schemes
It offers a low-profile look that can make a room feel more spacious
Disadvantages:
The combination of materials may not be for everyone
It can be more difficult to clean than a traditional bed frame because of the multiple materials and surfaces
It may be more expensive due to the use of both wood and metal
If not constructed properly, the weight of the bed could cause the metal brackets to fail over time, resulting in potential safety issues.
2. Industrial Chic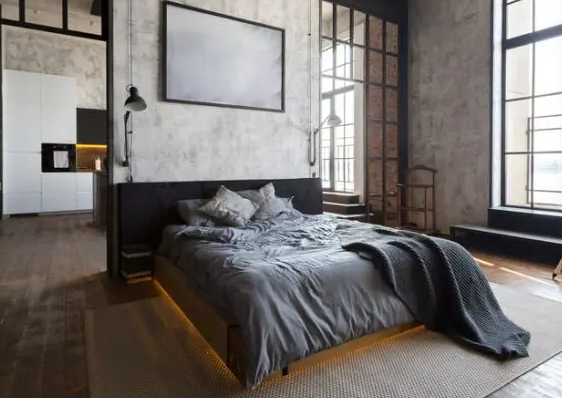 These floating beds are a very popular design that blends the industrial look and warmth of metal pipes with the natural beauty of wood. This bed is ideal for lofts or bedrooms with an industrial design
Industrial Chic can be a fashionable and contemporary choice. It will add an element of sophistication to any bedroom.
Advantages:
It offers a unique and eye-catching design element
Made with durable materials, hence they can be long-lasting.
It can work well in a variety of design styles, from modern to rustic.
Disadvantages
Industrial beds can have a heavy and bulky appearance
It is possible that the exposed pipes and metal structure of the bed are uncomfortable to sleep on.
If the metal structure is not properly sound-dampening, it can make the bed very noisy.
3. Zen Minimalism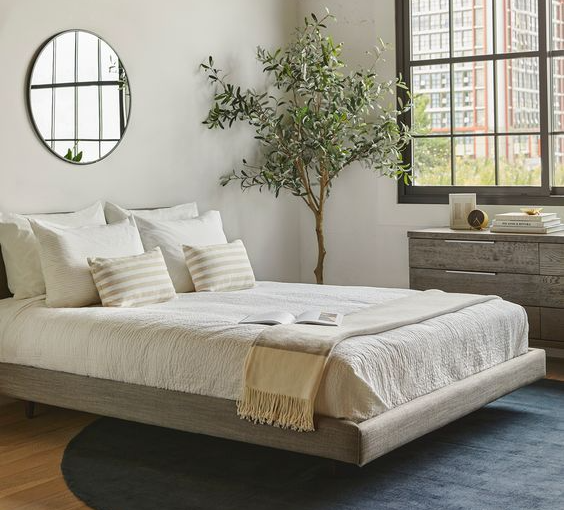 Zen Minimalism is a very popular design that combines Zen's serenity with minimalism. It creates a tranquil and harmonious space for sleeping. This bed is ideal for people who desire a calm and clutter-free bedroom.
This bed is an elegant and relaxing choice that will help you sleep peacefully and comfortably.
Advantages:
Promotes a calming and tranquil atmosphere
A simple and uncluttered design
Ideal for small bedrooms as the simple design takes up less visual space.
Disadvantages:
It can be too plain for those who prefer more decorative and ornate bedroom designs
Limited options for color and material choices
The minimalist design may not provide enough storage space
Other Articles