Many of us enjoy our kitchen spaces more than any other part of our house because that's where we all get to be creative, test our cooking skills, and spend time trying dishes with our loved ones. So, that calls for kitchen makeover ideas in the perfect organization to make the most of our cooking space
But as we all know, kitchens are part of the house that gets untidy very quickly due to the smoke from food, oil stains on the walls, and splashes of food on walls.
But as it is a place we cook our food, it must be hygienic and well-maintained. Hence, we can also change its tone, colors, and decor frequently in a few years, which can help us keep the place new and energetic constantly. This can make us feel good in the place and encourage us to cook and experiment with new dishes with our family.
Hence, you must remodel your kitchen not just to keep the place clean but also to revamp the energy and feel of that place.
How to Remodel Your Kitchen?
With just minimal effort, you can remodel your kitchen and create a space that you can be proud of. You can undertake this work by yourself or take someone's help.
But if you want to do it with minimal cost, it is best to do it all by yourself, as it is easy and completely doable for anyone. There are various aspects involved when it comes to redoing your kitchen.
It involves more things to take care of as compared to any other room in the house. Hence, it opens up many kitchen makeover ideas by changing and differently using new things.
You can remodel your kitchen just by following these methods
Similar Post: 28 Small House Open Concept Kitchen Ideas
Understand What You Want to Change
To makeover your kitchen, you first need to understand what changes you want. You must be able to define what you don't like about your kitchen. Is it the walls? Or do you just not enjoy its vibe anymore?
Or wall colors? Layout? Or whatever else bothers you in there, note it down. This will help you understand what changes you want in your kitchen and can plan the process like-wise.
Check Your Budget
The next thing that comes is what budget you are allocating for changing your kitchen. If you want a complete makeover, you sure have some amount allocated to pay to the painter or carpenter or invest in new dishes.
But if you are low on your budget, you can find cheaper or even free options that can help you makeover your kitchen's looks and yet not make a hole in your pocket.
Check for Options
The next thing you must see for the available options in the market for whatever things you have to buy. This can include everything from the frills, texture, paints, dining table, etc.
Based on your budget, you can find options that are suitable for your kitchen. Make a list of what things are to be bought or paid for after being inspired by modern kitchen makeover ideas. This will help you manage things in your budget and give a fair price for everything.
See What You Like
Compare all the options in the market and see what suits best for your needs. Also, you have to check what goes well with your home decor. Compare various options from the market concerning their quality and price.
Read about the reviews and customer experiences with those products and decide what is to be bought or what can be managed just at home with some creativity and brainstorming.
Implement the Same
Implement your plan and see if the things fit as you want. Check if it gives the vibe you have been looking for in the room, or make small changes to the accessories and paintings.
Further, you can enhance your plans by checking out modern kitchen makeover ideas if you are thinking of giving any particular theme or look to your kitchen.
Top 10 Kitchen Remodeling Ideas for a Stunning Makeover
Kitchen makeover ideas include ways of transforming your kitchen such that it completely looks and feels brand new. You can change anything starting from your kitchen cabinets to the colors of the walls, utensils, or room layout.
They can be as simple as you want them to be. However, whatever your methods, the main result of a kitchen makeover is to create a modern and warm kitchen and not just temperature-wise.
Here are a few kitchen makeover ideas that will inspire you to enhance your kitchen and make it aesthetic and elegant in looks, feels, and vibes.
Also Read: Transform Your RV Interior: Tips and Trends for a Stunning Makeover
1. Add Beautiful Textures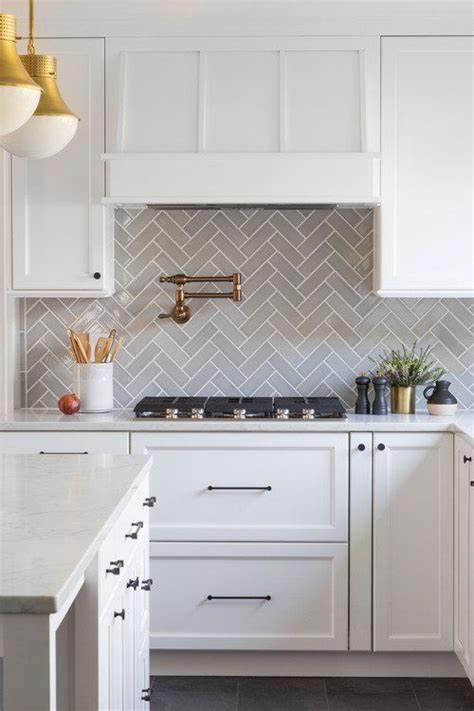 Textures are an important part of your kitchen that makes it look lively and elegant. It is difficult for a kitchen to look great without applying different textures.
One of the simplest methods of adding texture to your kitchen is by making use of wood. It can make a boring space look interesting and full of depth.
You can add wood to your pantry, cabinets, shelves, or anywhere you think it will suit the best. It will help you to give a calm and relaxed feels in your place.
2. Bring Symmetry to Your Design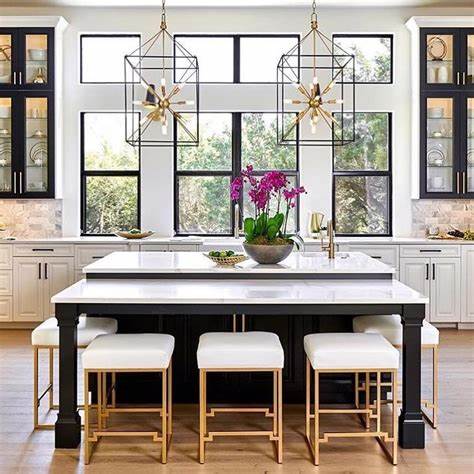 You can never go wrong with symmetry. It is the most successful design plan from kitchen makeover ideas that you can opt for with your designs, cabinets, seating, utensils, and arrangement of all other stuff in your kitchen.
If you are placing plants on your dining table or flowers or candles, ensure that they are placed in symmetry to give your kitchen a welcoming feel with wholesome vibes of fulfillment.
Further, it will make you feel good about your arrangement. This is the easiest way of planning your kitchen decor.
3. Create a Wonderful Display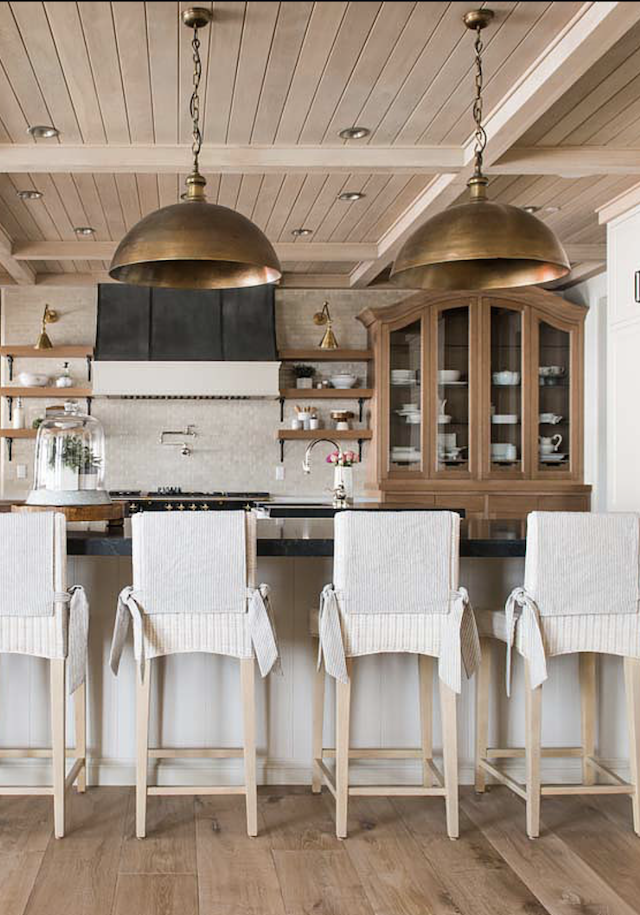 We all use kitchen appliances and utensils for cooking, eating, and drinking, and yet we hide those materials in cabinets and cupboards. But in reality, these items are the beauty of the kitchen.
So, instead of hiding them, display all your china, pots, pans, and other objects as a part of the beautiful display shelf. Use wall hangers and add purpose to your beautiful walls. Using materials that go contrast with the wall colors can dramatically enhance the look of your kitchen.
Place them at equal distances in the same pattern and watch them glow up your kitchen. This is one of the kitchen makeover ideast hat do not require you to spend a lot of money. You can just use your pieces and curate them on the wall.
4. Unexpected Color Areas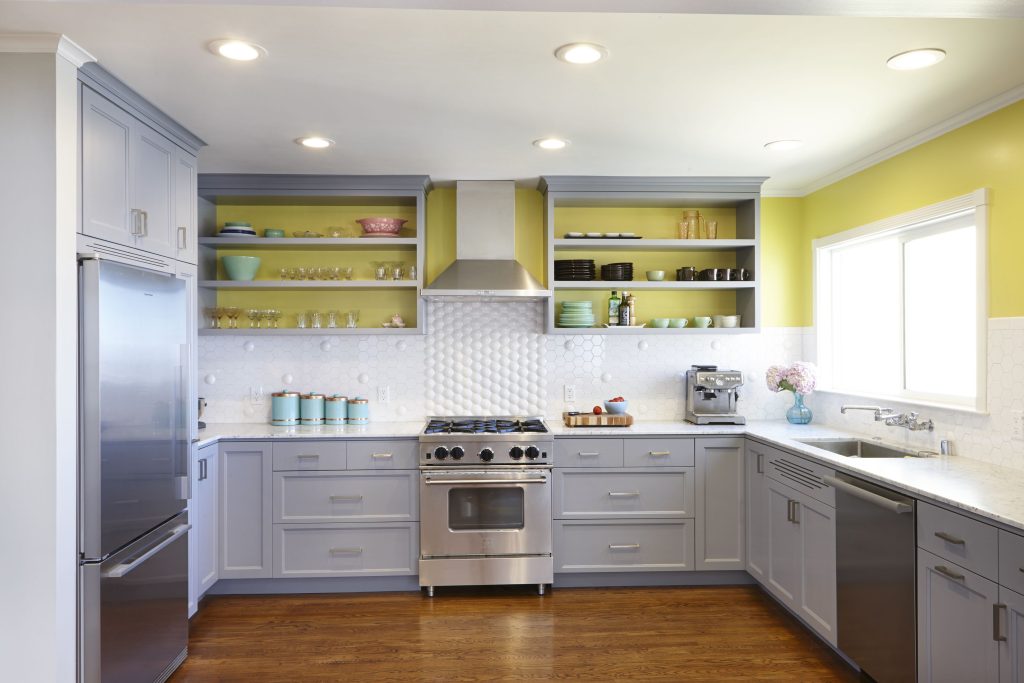 But painting the inside walls of cabinets in a brighter color as compared to the cabinet can add personality to your kitchen. It will make your room look interesting and vibrant.
You must ensure that the cabinets are at eye level. If they are not, everyone will miss this part unless they are very tall. Also, you can fill this cabinet space with glassware to make the colors visible to everyone. Keep the color subtle for the feel of elegance and warmth.
5. Light It Up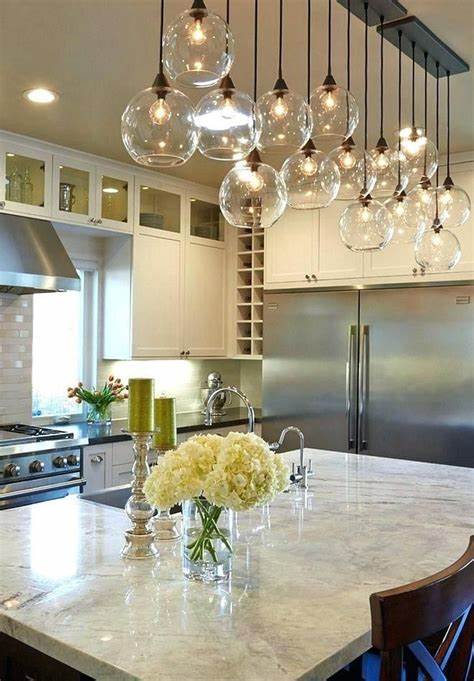 If you are ready to spend some amount to remodel your kitchen, here's a gem from the kitchen makeover ideas.
We always think that decorating the kitchen is all about coloring the walls, installing cabinets of the right colors, and keeping our pots and pans clean and tidy. But you can also use lights of different colors and shades to light up your kitchen.
If you place glassware above the cabinets, the reflection of light will make it a secluded space. You can also add a plant or two on the top of the cabinet to make it look more beautiful.
See More: 15 Modular Kitchen Ideas for a Modern and Sleek Look
6. Make Efficient Use of Natural Lights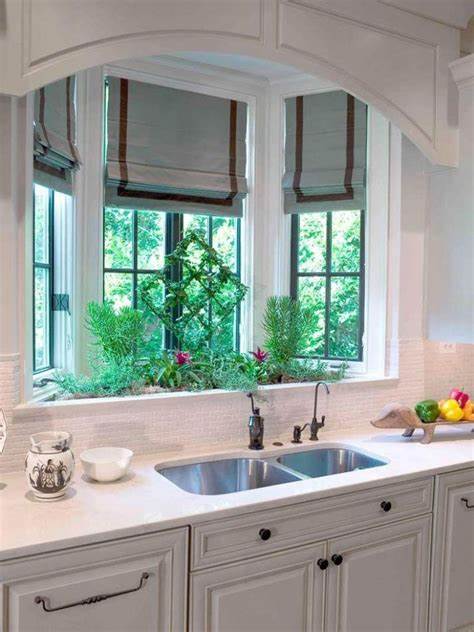 You can plan your kitchen based on the lights, window, natural light, ventilation, light socket, etc. Ensure that the gas stove or oven is placed close to the window so the smoke is directed outwards whenever you cook.
In case of gas leakage or any such fire situation, it is safer to have a window close to the gas to provide ventilation and air to pass. Keeping one of two windows and plants near them saves up on lights and will improve freshness in your kitchen.
7. Install Open Cabinets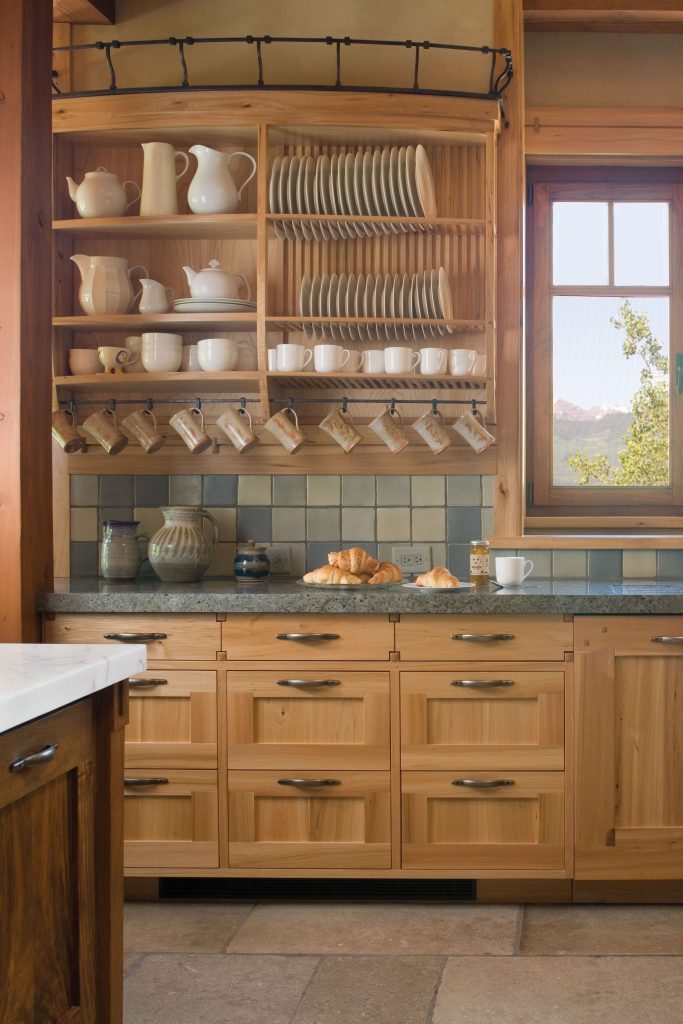 We have seen that building a closed cabinet with doors requires a lot of space, time, money, and effort.
However, if you build an open space, it is a great opportunity to save a lot of expenses and display your beautiful kitchen equipment like china and glassware that are usually hidden.
Also, the shelves not only look beautiful, but they also help you to keep your china safe from being crushed or broken. 
8. Use DIY Accessories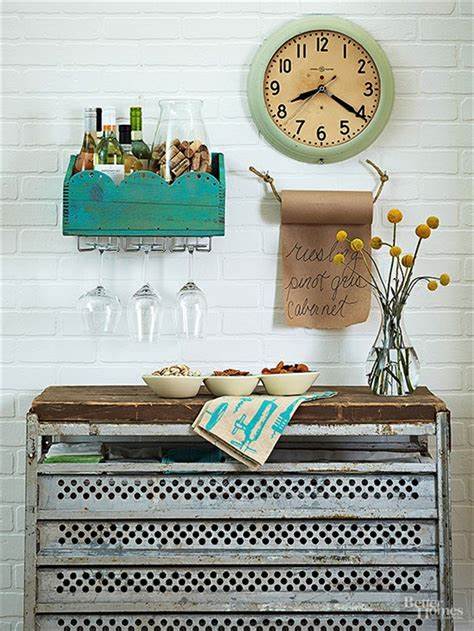 You can remodel your house with your artwork or things you have made. It can add warmth and character to your kitchen. It is your space, and not everyone coming from outside is going to see it.
We all have an artist within us who encourages us to draw, paint, and create beautiful articles and crafts that we save just for ourselves. Now it is time to take them out and use them in your kitchen makeover ideas.
Check This Next: 22 Closet Door Ideas for a Refreshing Look
9. Reuse Old Materials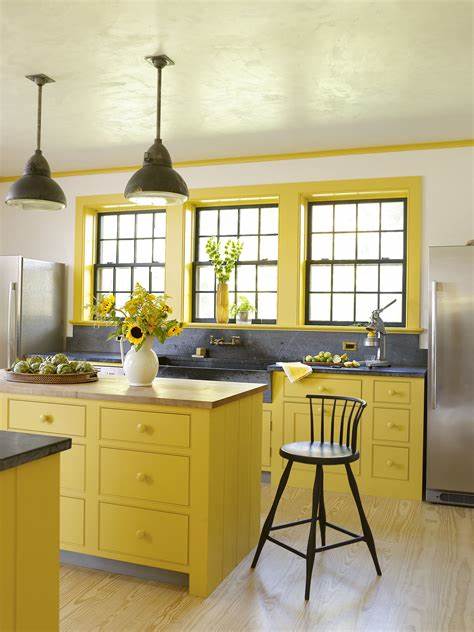 It will help you keep reducing your cost. It will enable you to enhance the look of your kitchen by reusing things instead of throwing them off and wasting them.
Even if you are planning to use the kitchen makeover ideas and remodel your kitchen completely, you can keep some of the materials in the kitchen that can be useful even after the renovation.
10. Use the Same Color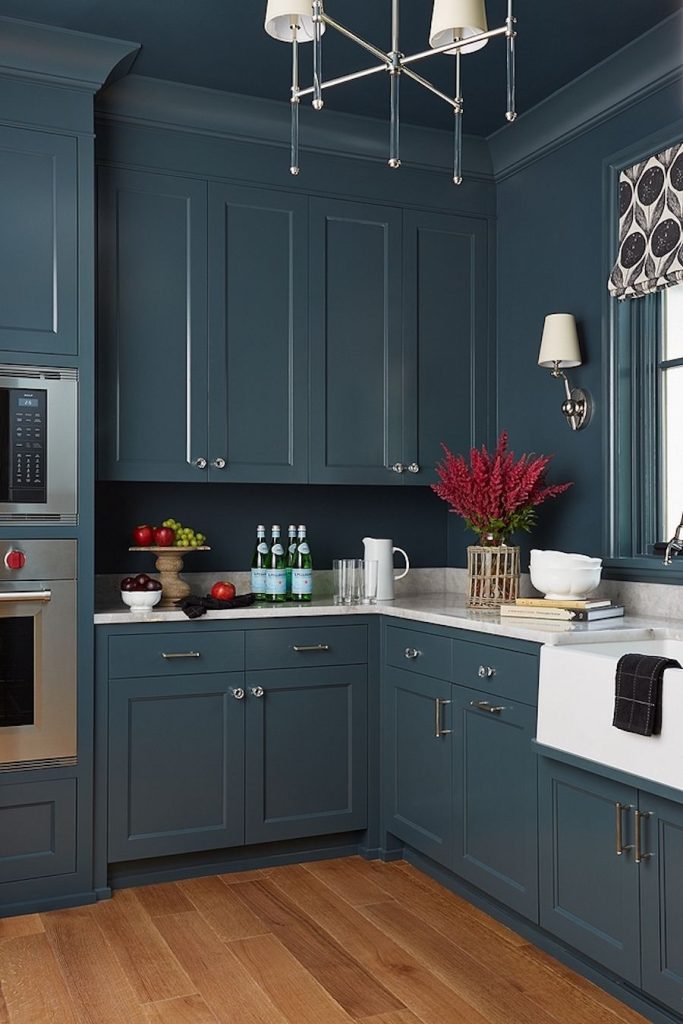 You can give your kitchen a cozy and warm look by using one color to paint everything. You can paint the walls, cupboards, and cabinets in one color to give a minimalistic approach to the kitchen. If you love dark colors, you can use those to create a greater impact.
Conclusion
If you don't enjoy being there, redoing your kitchen is an important task. You can start by making small changes in the décor and watch yourself feeling better.
Kitchen makeover ideas involve several aspects of your kitchen, from dining space to colors, airflow, flower vases, etc.
You can use any of these ideas or combine them to elevate your kitchen space drastically. It would require you to research and brainstorm, but it will be worth it.
Other Articles