Are you planning to renovate your place to make it more lively and beautiful? Well, we suggest ditching the builder-grade window trims over the craftsman window trim. Surprised?
The craftsman window trim looks very attractive, inviting, elegant, and warm. Such window trim does not just look clean but also glam up your living space with amazing interior styles.
It can be said that a carefully designed craftsman window trim ensures functional and aesthetical balance for your place.
So, which craftsman window trim style should you choose?  If this is something that concerns you, we are here with the top 15 craftsman windows and door trim ideas to inspire you.
Add a visually attractive difference to your place with craftsman window trims.
What Are Craftsman Window Trims?
Before digging into the 15 most amazing craftsman window trim options, it is important to understand what they exactly are. Craftsman window trim is the interior and exterior style inspired by the early 1900s craft activities.
Most craftsman designs are unique and identical, which makes them an architectural inspiration for many people. The distinct design is crafted on doors, windows, shelves, etc., to enhance the beauty of the place in the best possible way.
Similar Post: 21 Modern Window Trim Ideas to Boost Your Home's Visual Appeal
Amazing Craftsman Window Trim and Door Trim Ideas
1. Simple Craftsman Window Trim with Shade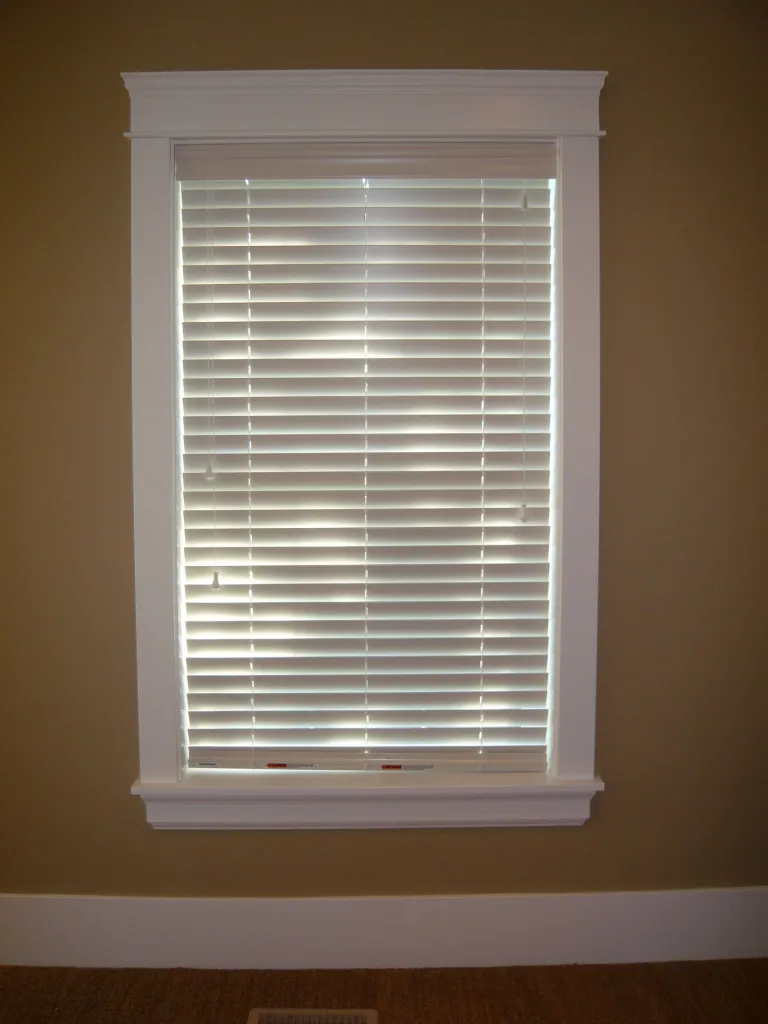 If you are one of those who prefer minimalistic home décor over anything else, then a simple craftsman window trim with shade would be a perfect choice.
This is one of the most classic and popular window trim styles that go with everything and anything. One additional advantage of this window trim design is its suitability for beginners.
If you are just getting into craftsman window trim expertise, you can easily start with this design without any hassles. Not to mention, it is an easy-to-install style.
2. The Ever-Stylish White and Black Combination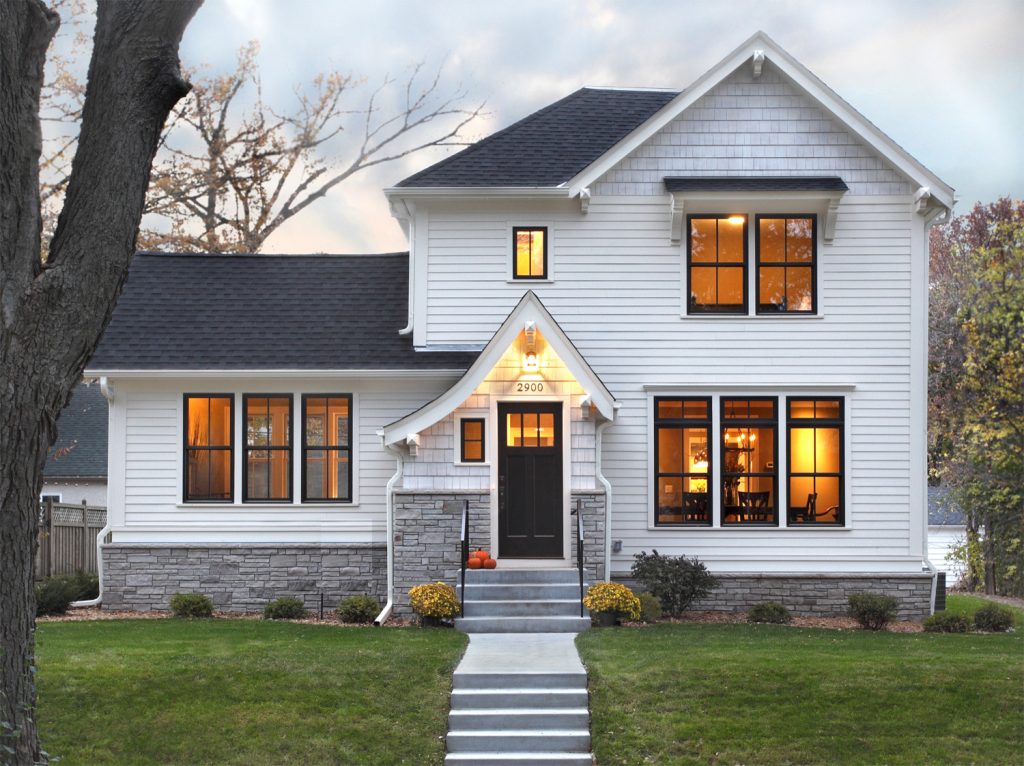 The classic white and black combination for window and door trim makes the perfect choice to add a modern and stylish touch to the place.
Use a flat white trim for the window with a solid black frame, as it helps to attract all eyes to the contemporary-style windows as the focal point.
Moreover, the black-and-white combination is ever-stylish and never fails to attract compliments.
Also Read: Step-By-Step Guide On How to install Modern Wall Molding
3. Rustic Style with Unfinished Craftsman Window Trim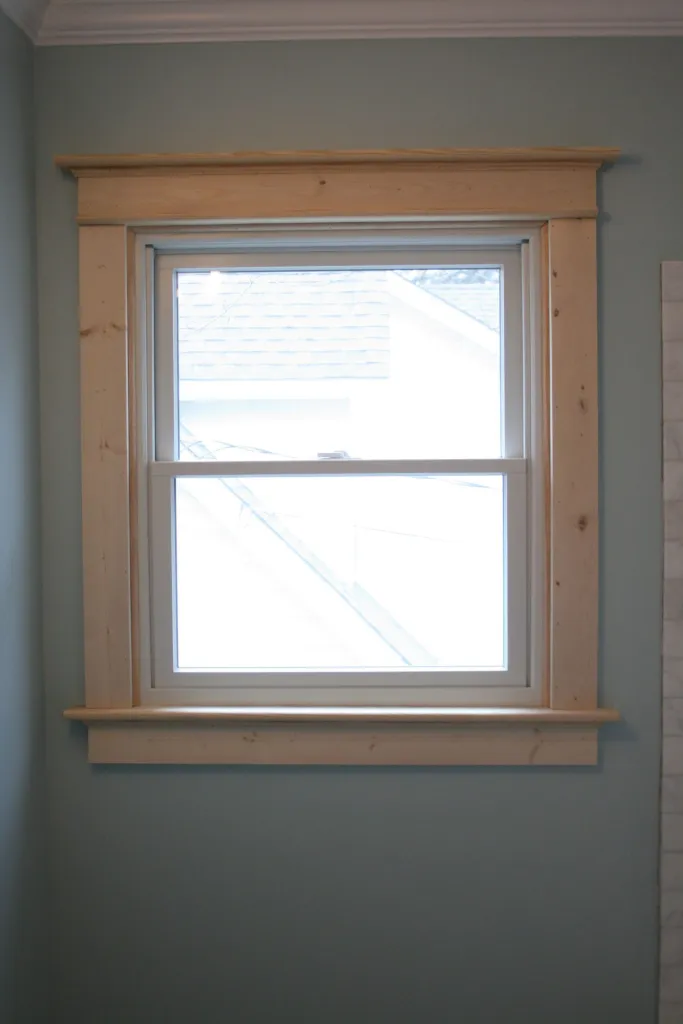 Yes, you read that right – an unfinished craftsman window trim. It is possible to create appealing magic with unfinished window trim.
If you want to have a rustic style for your place, nothing can be better than choosing an unfinished window trim.
The basic minimal design and appearance of this window trim look welcoming, with the interior adding the needed warmth to the place.
Additionally, as the design is quite basic, you can very conveniently DIY it without any worries or complications.
4. Sliding Window Charm with Minimalistic Window Trim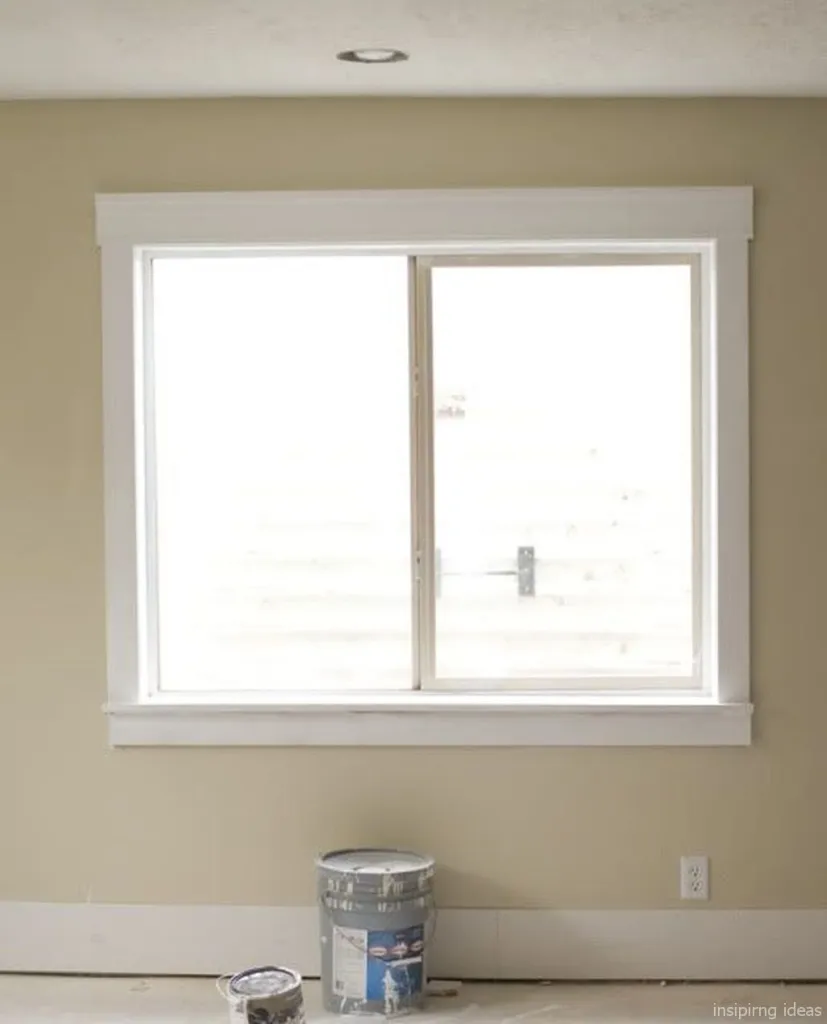 Do you have sliding window décor at your place? Are you looking for a window trim to make the place more attractive? The minimalistic trim will be the best option to choose.
A window trim that is well-designed, simple, basic, and structurally tailored can never go wrong for sliding windows.
When added, it simply enhances the overall look of the place's interior styling. Try the style using natural and neutral shades so it can easily blend with the surrounding décor of your place.
5. Choose the Classic White Theme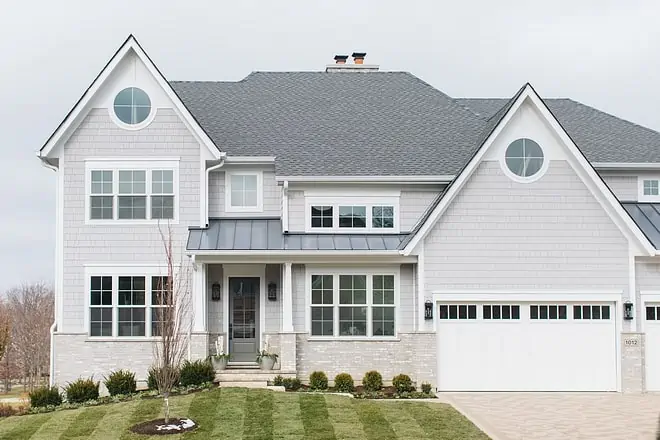 Ever wondered if it is possible to make eye-catching window trims and frames with just one color?
Honestly, it is possible with none other than the classic white color. To impress anyone who visits or even sees your place, the charming and subtle white color always makes the best choice.
Get the chic, sophisticated, clean, and classic look with white craftsman window trim with a white frame. The white duo for window trim and frame is compatible with any home décor style.
It will look amazing even in a white-colored house.
6. Basic Trim with Solid Dark Hued Brackets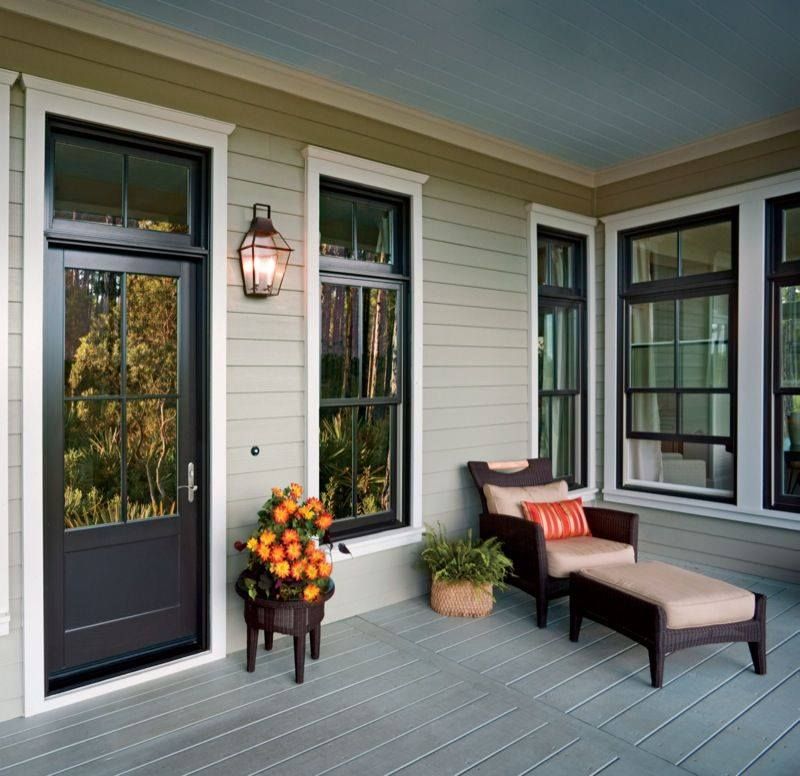 If you neither want a full white window trim nor want to experiment a bit too much with the styling, go for hued brackets.
Having clean, charming, simple, and dark-hued brackets is one of the most popular choices for ever-impressing window trims.
Accompany the dark-hued brackets for the window with white trim to get a visually attractive contrast. This look is so gorgeous that it instantly makes your home exteriors look super luxurious and expensive.
Moreover, you can use the same combination (dark window brackets with white trim) for the main door and garage door for the best aesthetics.
7. Tone on Tone with Thicker Frames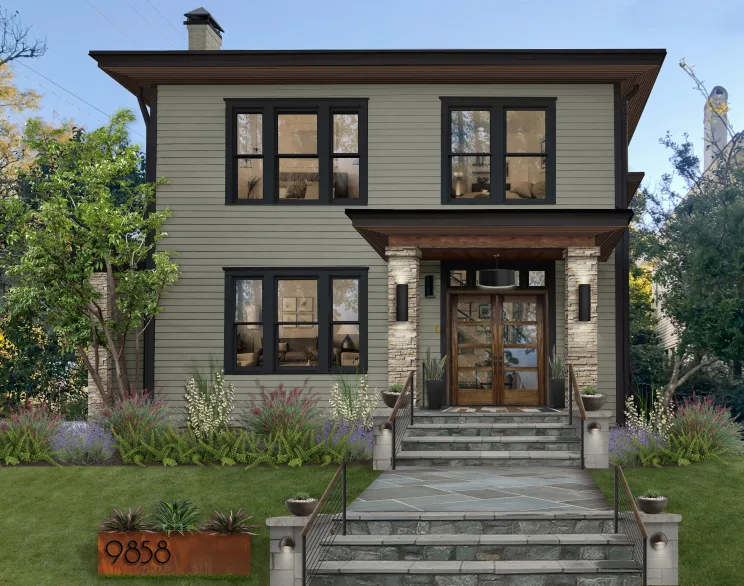 Are you all impressed and mesmerized by the beauty of thicker window frames? You can get the look with the help of tone-on-tone craftsman window trim.
Choose similar colors for the window frames and trims to make the illusion of thicker window frames.
However, it is recommended to ditch the whites and opt for any other dark colors like black if possible.
This simple styling idea not only enhances the look of your place but also makes the window look clean and substantial without much effort.
See More: 20 Cozy Window Bench with Storage Ideas to Add Charm to Your Room
8. The Colonial Style Window Trim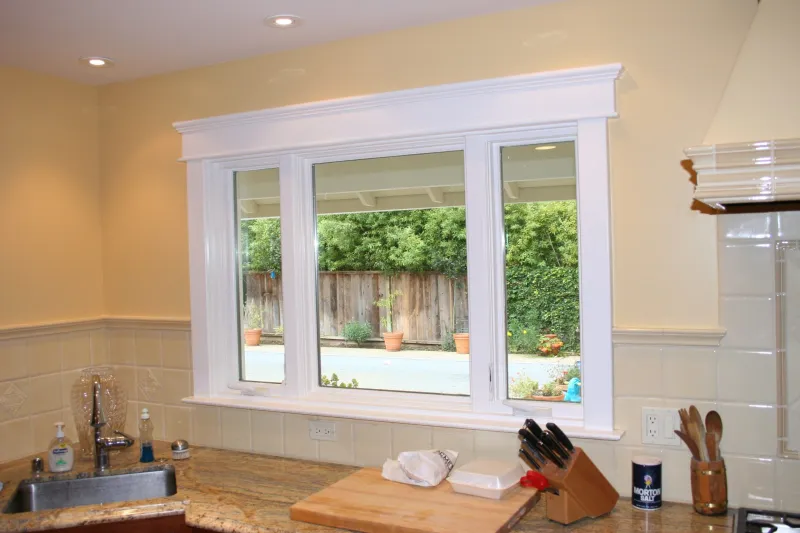 The charming and beautiful colonial-style window trim is another popular choice for modern and fresh décor styles. You can choose any of your favorite eras for the colonial style; the older, the better.
Despite the old-age charm, the colonial window trim never fails to make a lasting impression to fall in love with. Additionally, you can enhance the style of the window trim according to your home décor to make it even more appealing.
The simple, subtle, and clean colonial window trim is usually a preferred choice for most people as it is suitable for every room.
9. Ranch Style Window Trim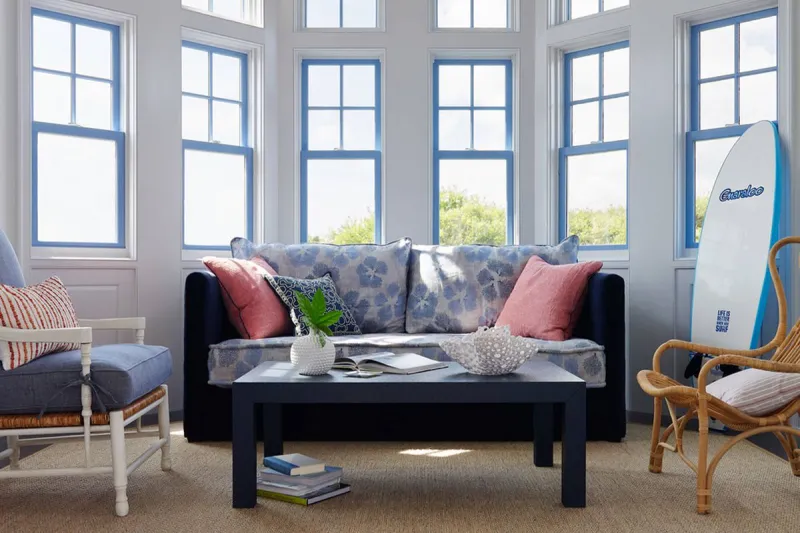 How can anyone miss the charming beauty of ranch-style craftsman window trim?
Be it a simple and minimalistic home décor or the trending and advanced home style, the ranch-style window trim is surely the best choice. It just simply adds freshness to the overall surroundings of the place.
Thanks to its ever-lasting style, it is not just functional but also suitable as a decorative attraction. As it is visually large, it invites more compliments with an open style.
You can choose the basic white color with a contrasting cool blue one for window trim and frames.
10. The Thick Cream Window Trim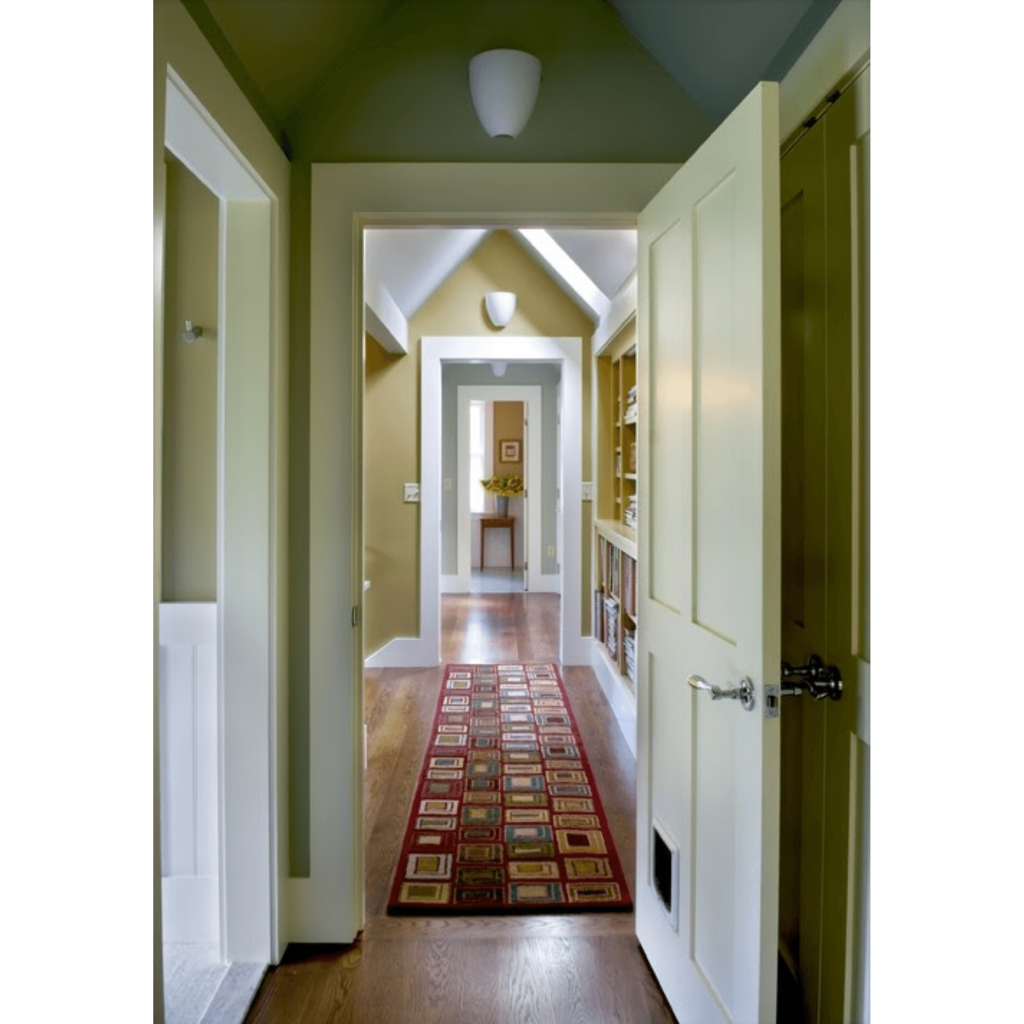 Whether you are a trend lover or like the old-school style, whites and off-whites are always the safest choices. White can easily blend with any color and home styling décor; you can choose it over anything else without any worries.
Quick tip – avoid mixing white and off-white. Select one color amongst the two for either the main entrance or the entire house.
The off-white craftsman window trim for the main entrances simply looks beautiful and soothing.
If you have traditional and basic home settings, it adds to the beauty; on the other hand, it balances the modern design for a traditional-contemporary style theme.
11. Thin Window Trims for Textured Lines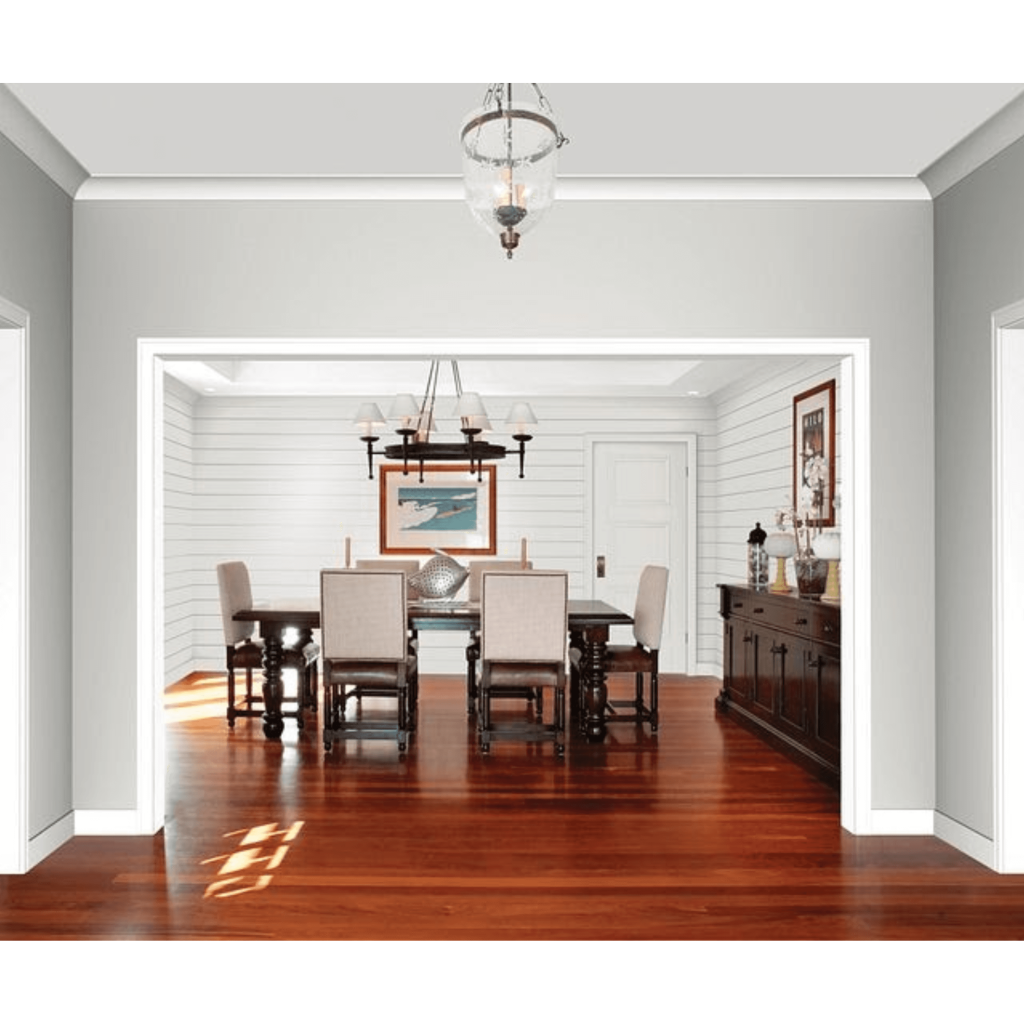 Do you have a textured wall or a wall with horizontal lines? Do you want to direct all eyes on that wall without any effort? Choose the thin craftsman window trim and witness the instant difference it makes.
Horizontal lines are essential in craftsman styling as they widen the available space with comfort and relaxation.
The thin window trims tie the whole look together to make it look even more beautiful and appealing. Similar to the horizontal lines, the thin window trims further widen the space for a warm and inviting welcoming vibe.
12. The Light Wood Grain Trim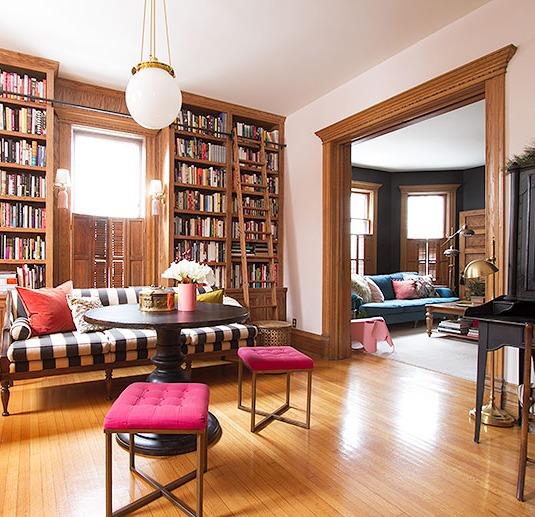 One of the most basic and traditional choices is the light wood grain trim. It surely is a delightful choice as it can be done with any color, home décor, and style. This window trim makes the space look more cozy, comfortable, and artistic.
It is best recommended to pair the light wood grain trim with light colors to enhance the aesthetics of the place.
The combination looks so charmingly beautiful and appealing without compromising the relaxing vibe of the place. As it instantly attracts all eyes, you don't have to experiment a lot with the whole décor and accessorizing.
Related: 14 Bay Window Curtain Ideas to Dress Up Your Entire Home.
13. Trim and The Coffered Ceiling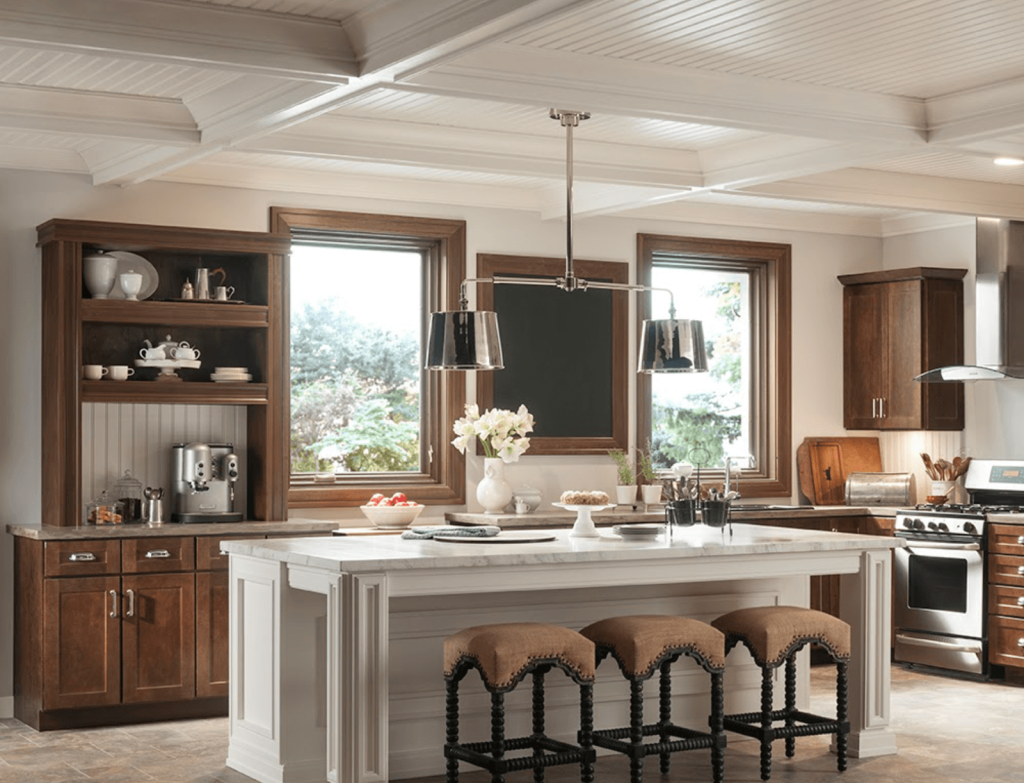 If you have had enough of craftsman window trim ideas, it is time to move ahead and add some more interesting elements. How about matching your window trim with the coffered ceiling?
Ah, wouldn't that be a delightful sight to embrace?
The whole idea of matching the window trim with a coffered ceiling is just so simple yet so impactful. It just adds so many positive, gorgeous, and sophisticated vibes to the place in the best possible way.
You can also add a dash of contrasting color to enhance the overall beauty of the place without ruining its elegance.
14. Multi-Dimensional Window Trims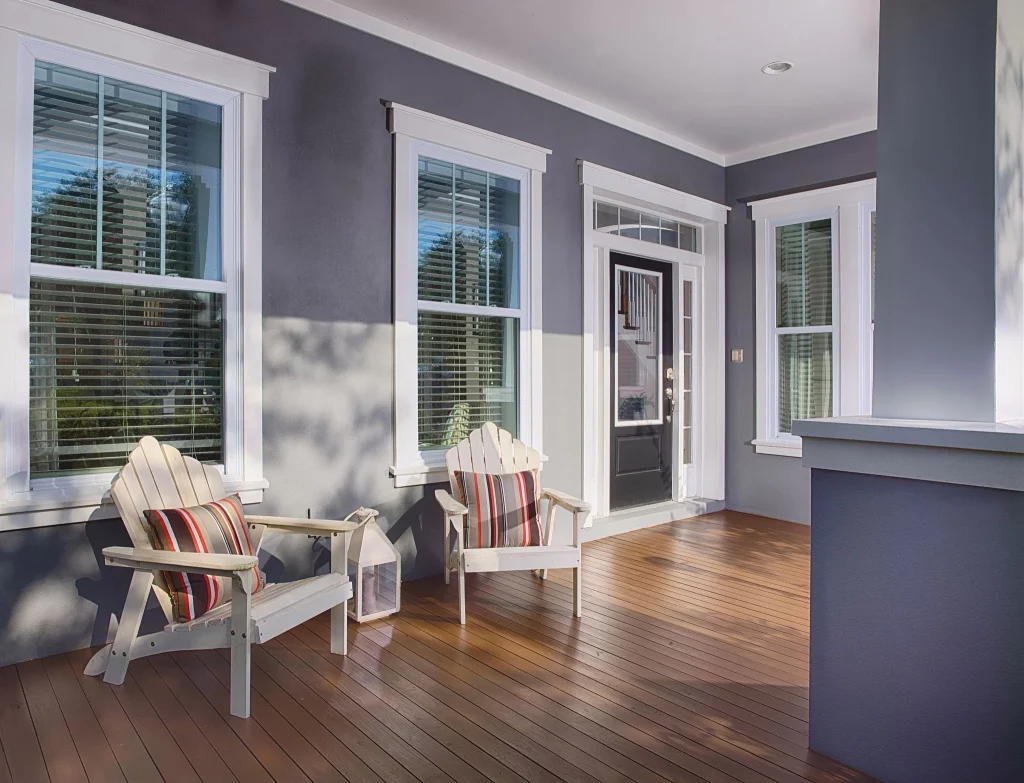 Do you know one of the simplest ways to make your window trims look more elegant and magnificent is by using multi-dimensional window trims? Yes, the whole idea clicks well when combined with creativity and innovation.
The minimum flair out on the sides, top, and bottom looks so amazingly crafted to make the entire look stand out. Moreover, it elevates the whole vibe of the place to a more relaxed feel to sit and enjoy a warm and cozy time.
This is surely one of the window trim ideas that you shouldn't miss to elaborately display the beauty of your place.
15. Craftsman Window Trim for Bedroom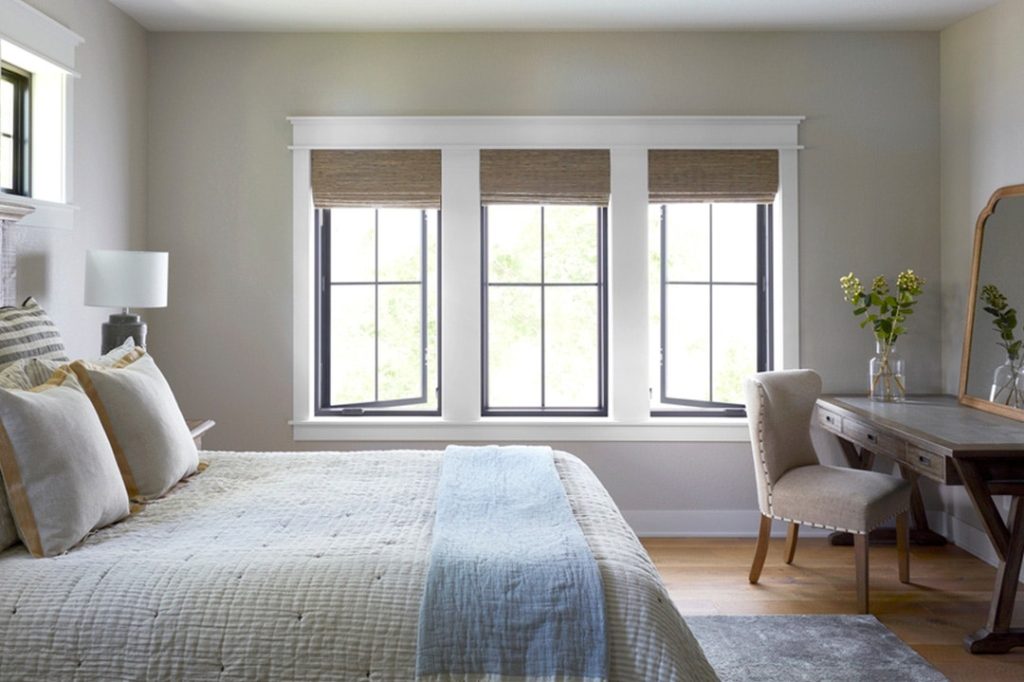 Lastly, the craftsman window trim for the bedroom makes its way to our list. Similar to the other windows, even your bedroom should be special to attract the maximum attention.
Adding the craftsman style to the bedroom window not only particularly elevates its style but also improves the vibe of the entire room.
Choose a contrasting color for the bedroom walls and the window trim so they can easily complement one another.
You can choose a combination of dark walls and light window trims to make it more appealing. We suggest keeping the décor quite minimal to attract all eyes to the DIY craftsman window trim.
Summing It Up!
In conclusion, the craftsman window trim is a simple and sophisticated way to enhance the beauty of your place.
However, you must choose a suitable window trim style and design. It is suggested to choose a window trim with a simple design and ornament that beautifully enhances the elegance of your place without any hassles.
Which of the above-mentioned styles of craftsman window trim is your favorite? Let us know in the comment section.
Also, you can reach us to get more details about the craftsman window and door trims as and when needed.
Frequently Asked Questions (FAQs)
Should You Have Window Trim on All Windows?
The craftsman window trim is not just for beauty reasons but also covers the window and siding gap. If you ignore the window trim, harmful pests, water, dust, etc., can easily enter your place. Thus, window trim is one of the essential requirements.
What Are the Best Materials Used for Window Trim?
The most suitable material for window trim depends on your home décor and styling needs. Amongst the many options, vinyl is the most durable choice, but it may not fit in many home décor.
On the other hand, you can consider wood, especially cedar wood or redwood, as it is rot and moisture-resistant; thus, it lasts longer. You can also consider fiber cement.
What Is the Most Popular Window Trim Combination?
Talking about the most popular and relied-on craftsman window trim idea, opt for clean, straight, and attractive lines. Depending upon your home style, you can choose a suitable contrasting color like black.
Can You Easily Paint the Window Trims?
Well, you can paint fiber cement and wood; however, painting on vinyl is not recommended as it peels with time.
Check This Next: 15 Shower Window Curtain Best for Your Bathroom
Other Articles