Everyone's choice is creating a beautiful architectural gateway for fresh air and natural light. And for that to happen, the wide range of bay window curtain ideas can be the perfect option for that. At the same time, framing the bay window with varieties of curtains enhances the overall look too.
As all the bay windows are not of equal shape and size, styling it can be more difficult. A classic bay window has three different sections, two angled side windows, and an alcove. To make the space less intimidating and more inviting, the angular shape of an alcove can be draped with soft shades of curtains. With a bay window, you can easily enjoy the outside view.
To figure out what are the best 14-bay window curtain ideas, here are a few tips listed to help you brighten up your space.
1. Brick Accent Wall Beside Bay Window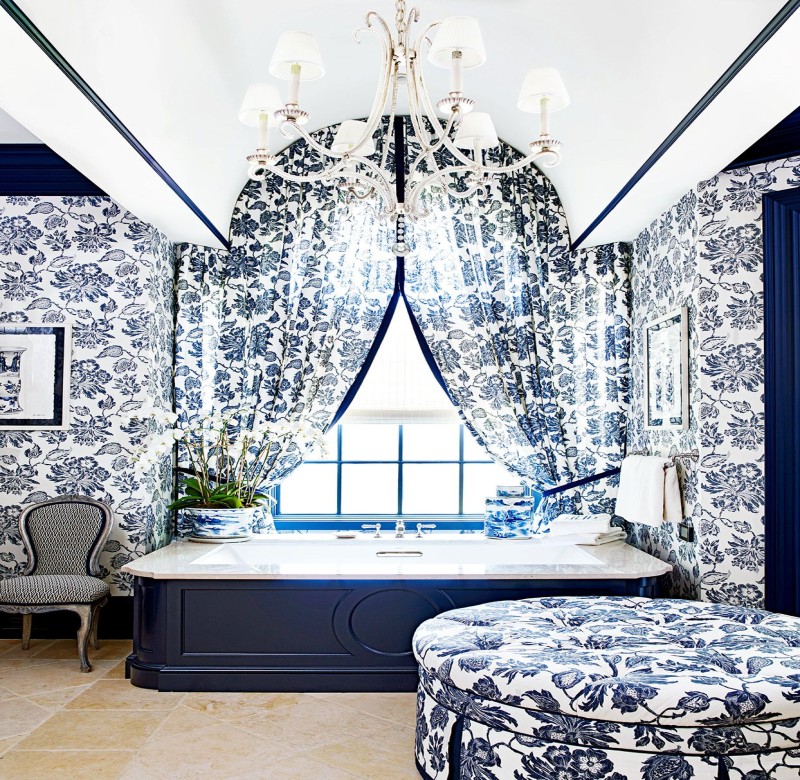 Adding bay windows to luxury bedrooms will make the room look bright and airy. Printed black drapes are half-pulled to the side of the windows towards the brick accent wall.
A small dresser in off-white is topped with light brown carpet and adorned with black hardware. Bay windows are a simple solution for freshness, but pairing them with curtains adds extra warmth and privacy.
Similar Post: 15 Shower Window Curtain Best for Your Bathroom
2. Light Pink Ruffled Bay Window Drapery Ideas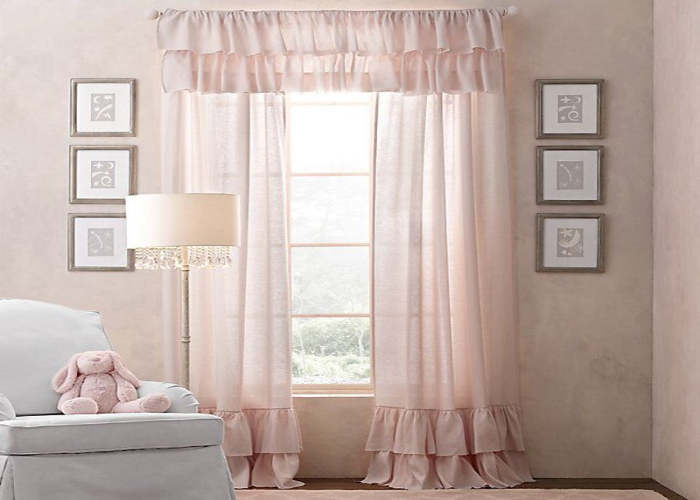 A printed vase of flowers and a decorative plastic hanging flower are arranged next to white frame bay windows. The windows are covered in light pink ruffled bay window curtains.
Different colours of roses are placed in the vase without taking away the elegant look of the bay windows.
If you are struggling hard to control brightness in your room, add in these contrasting colour curtains. Not only will they provide enough light, but they will also help create a cosy environment.
3. Bold Flowers on Bathroom Window Curtains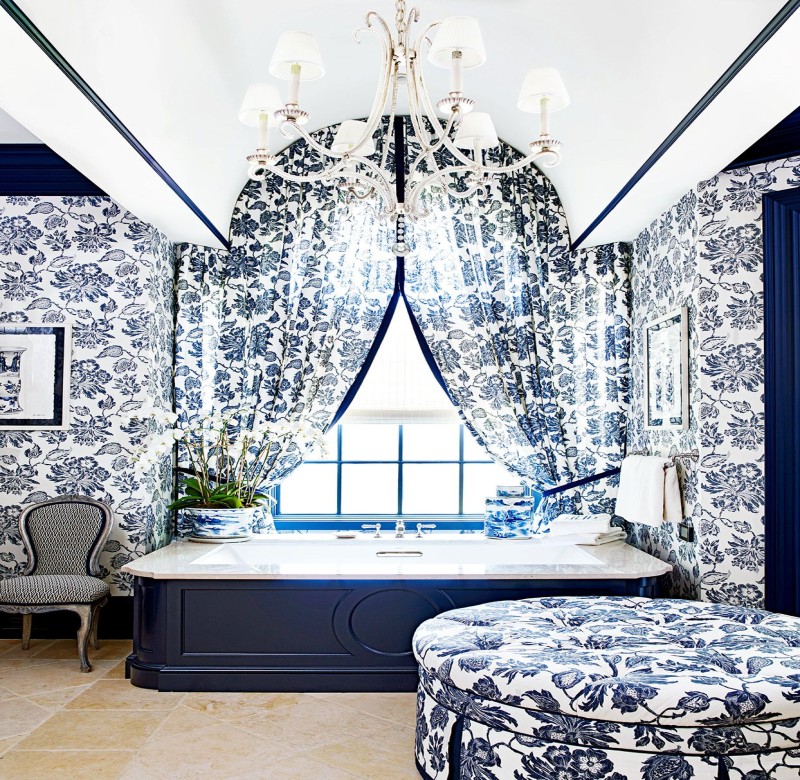 Blue and white bathroom window curtains are expertly draped around arched bay windows. The curtains portray flowers complementing a big white crystal chandelier.
A navy blue freestanding bathtub is accentuated by a round flower tufted solid puffy stool in white with a black metal chair and a vase of flowers.
Give your bathroom window a cool, refreshing touch by tying up the floor-length curtains.
4. Modern Bay Window Curtain Ideas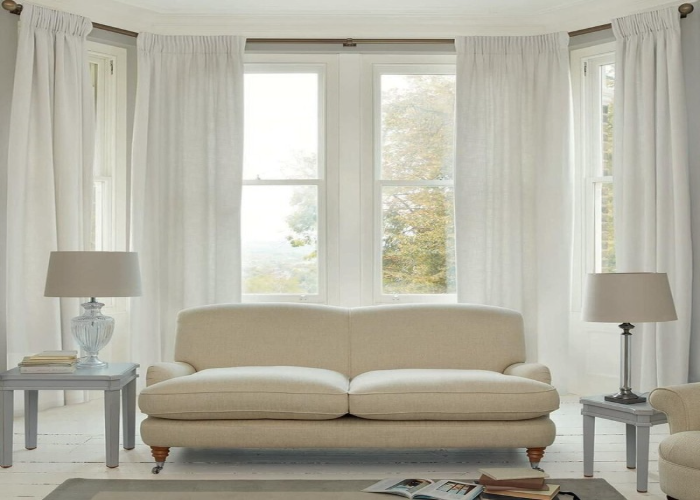 An off-white sofa and lamp beside it contrast with white living area walls and matching drapes. Light white oak flooring leads to the couch, which is furnished with a dark grey carpet and some books.
A modern bay window showcases white trim and grid design. For more simple and inexpensive options, install printed mini blinds on your bay windows.
5. Roman Shades for Perfect Covers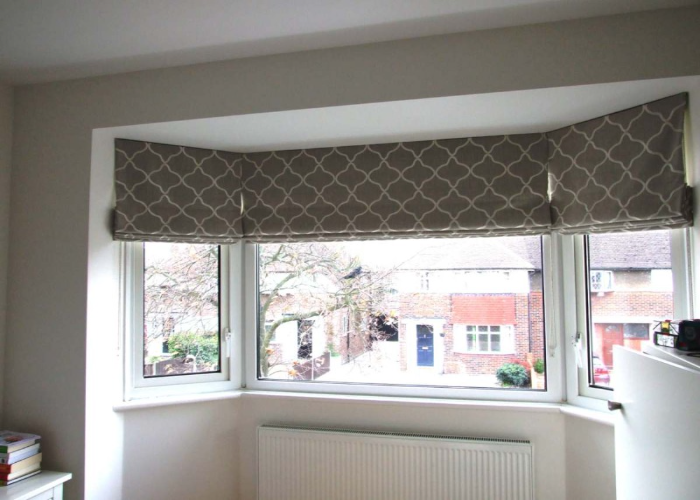 Ensure that every bay window blind idea is fitted to the entire glass pane by measuring them to hang slightly over the frame to avoid any gaps at the edges.
For a layered look, pair Roman blinds and floor-length curtains on your bay window. By combining these window designs, you not only maintain lighting levels and temperature but also create attractive aesthetics that add an extra decorative touch.
6. Assorted Window Treatment for Bay Windows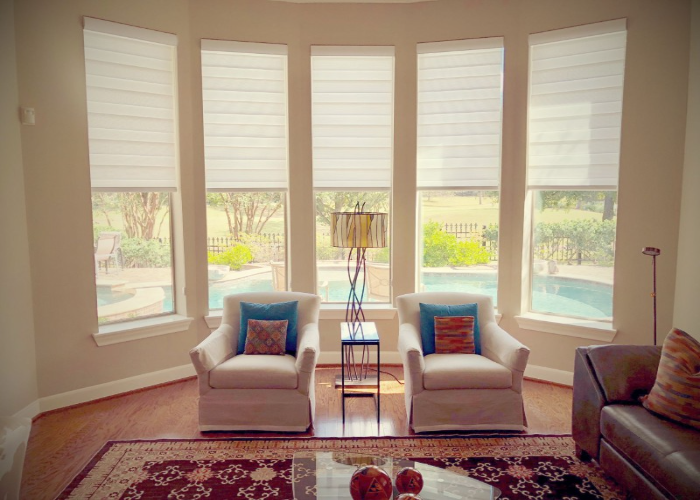 This stunning living room bay window demands great treatment. If you are hoping to add a feel of positivity or match a more complicated decoration, look no further than assorted window treatments. Conceal the window tracks for a seamless finish.
To cover bay windows, stair-shaped shades are paired with white drapes. Off-white walls are complemented by white window trim and matching baseboards. A large lamp stand is placed in front of the middle window, creating a perfect backdrop.
7. Incorporate Bay Windows in the Classical Living Room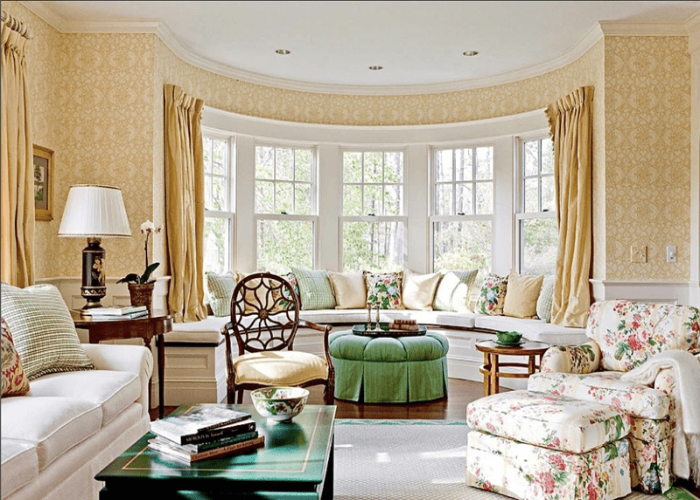 A floral couch with the same printed crockeries illuminates this classical living room.
Bay windows with white frames surround a half-circle seating area tufted with a mix of light golden, green check, and floral printed throw pillows.
An ornate lamp is topped on the wooden table beside the white sofa. This window stands out because of the accent colour and pattern. To create an airy sense of space, this idea is especially effective in a large room.
Also Read: 11 Best Vintage Curtain Options You Can Order Online
8. Grey Slipcovered Couch with Coffee Table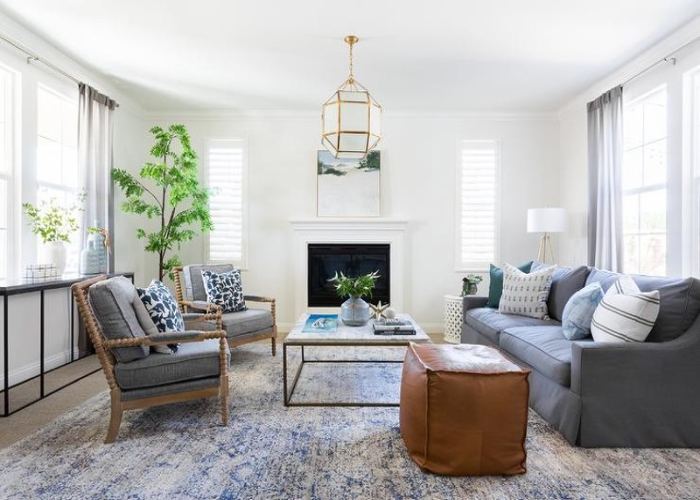 A marble coffee table and a diamond-shaped chandelier for a grey slipcovered couch stand on a grey-blue rug.
With grey drapes and white shutters, the couch faces the bay window in the living room.
In period properties, shutters are the perfect solution for blocking out noise and elements, especially in living rooms. If the rest of the scheme is paired back, don't be afraid of choosing a coloured shutter that will draw attention to any detail to it.
9. Vintage Living Room Decor with An Armchair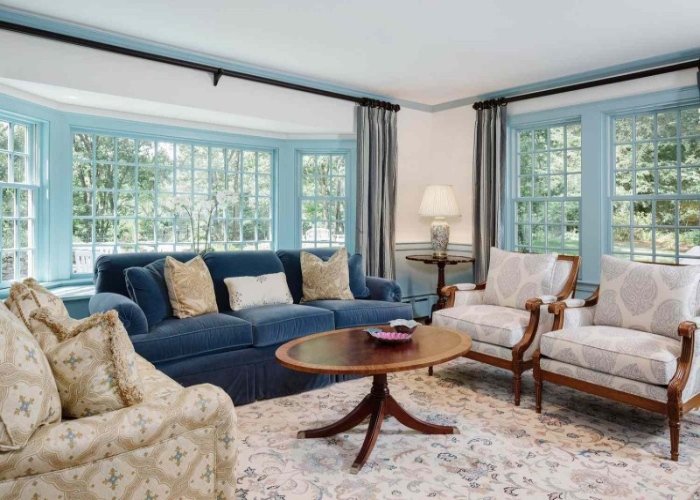 The room is accented with patterned pillows on upholstered armchairs. There is a light grey drapery and a vintage round table behind the sitting area to showcase living room bay window ideas.
A table lamp is arranged between two bay windows separated by a white wall. Not every window colour needs to be subtle, and this light sky frame perfectly matches the theme of the entire room.
10. Royal Bedroom with Millwork Wall Panels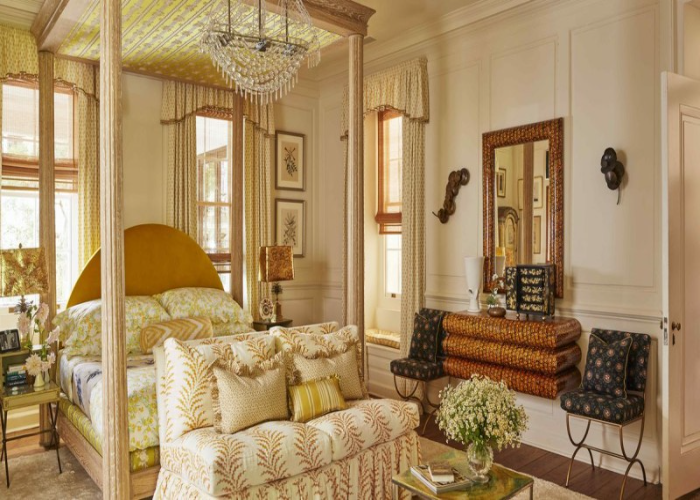 Royal crown moulding and millwork panels enhance the appearance of this primary bedroom. The golden chaise lounge is framed by bay windows. Shades with golden print cover the upper portion of the window.
To ensure that you do not end up with a clash, try to find out the best bay window curtain ideas that bring in the colours. While the panel design looks heavy to block the sunlight, the curtains remain light and airy.
11. Elegant Living Room with Sheer Curtains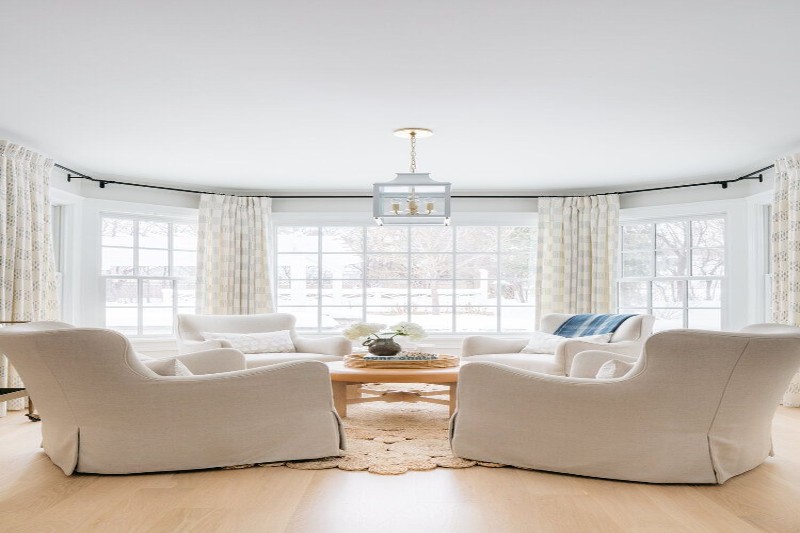 A well-designed living room can make your home look classy and edgy. In order to decorate every corner of your room with elegance, adding sheer curtains is a perfect idea.
Curtains made of sheer material are nice when you want to filter some light into a room while still keeping privacy. This modern living room is fully lit.
Since the windows are the only source of making daylight, decorating them well is really important.
Related: 20 Cozy Window Bench with Storage Ideas to Add Charm to Your Room
12. Subtle Puddle Length Curtains for Bedroom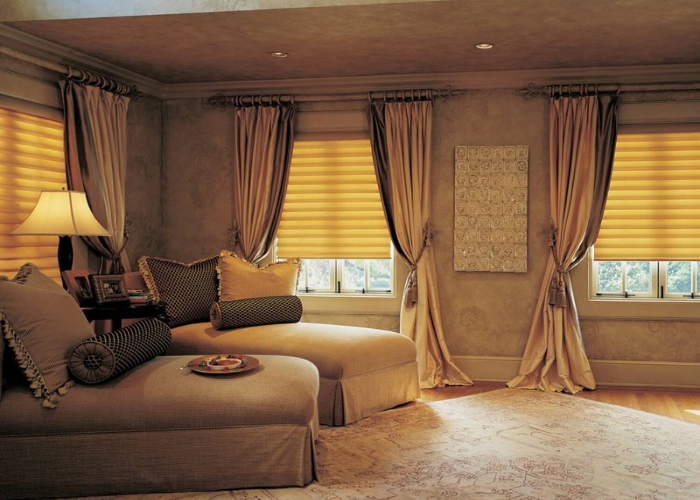 Adding curtains to your bedroom will add some flair and vibrance. To select the right curtain length for windows or any other space, it is essential to understand what will be the best length for either.
And here comes the puddle-length curtain into the picture. Since it is the high-maintenance and least-functional one, these are undoubtedly the lowest popular to choose from.
However, to draw some attention to the bay window, you can add it with these single couches.
13. Beautifully Patterned Window Scarf Curtains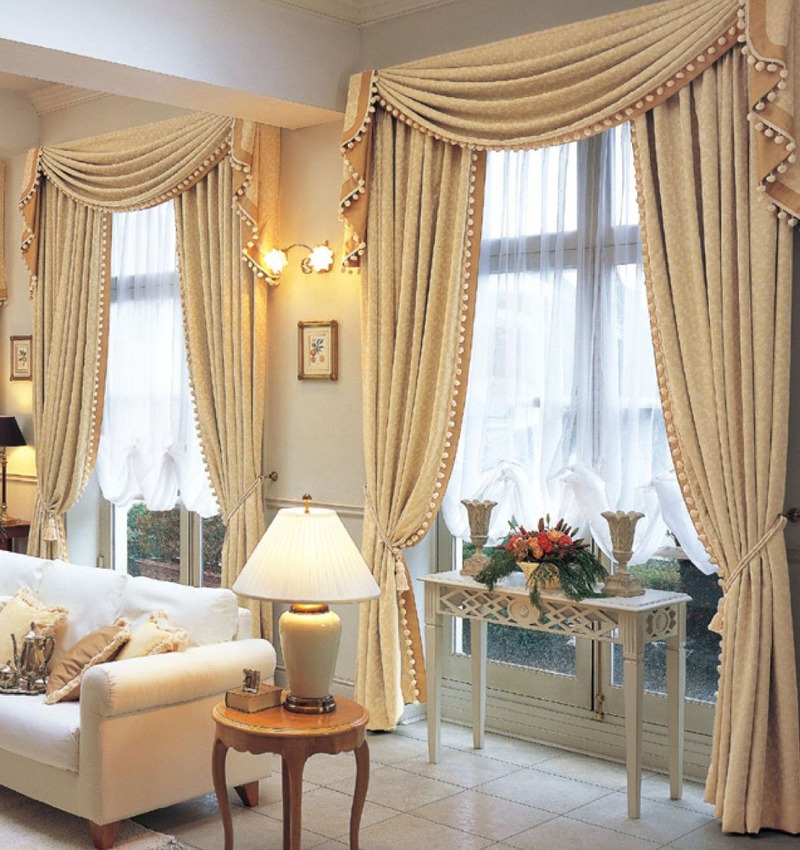 If you are stuck with large bay windows, use scarf curtains to create a combination of decorative and functional.
This off-white scarf curtain brings in a traditional elegance without blocking the natural light coming inside. In this charming living room space, the white couch with patterned cushions adds style and interest to the entire room.
And an antique side table with a white lamp over it makes it a pattern-filled room. It's a full display room.
14. A Combination of Art & Craft Inspired Curtains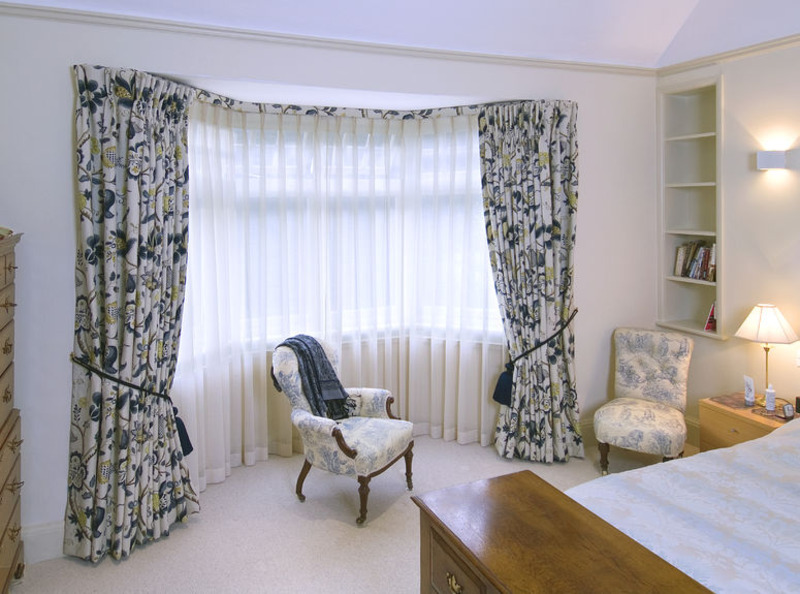 When it comes to decorating, curtains are one of the most important elements. Having its own functionality and aesthetic value, it highlights the beauty of other furniture incorporated with it too.
This blue and green art-printed bay window curtain attracts complete attention. No doubt these are pretty expensive, but the materials determine their life. To add a cottage-inspired look to your bay windows, use this.
Final Words
If you really need a complete transformation in terms of look and feel, bay window curtain ideas are a great to-go option.
Whether it's about color, pattern, or texture, you can choose blindly any style statement as it delivers a classic look to your room. However, to enjoy the sunrise and sunset, ensure that you have a bay window. 
Without affecting the overall look, you can easily add a bay window to your home to make it more appealing and refreshing at the same time. 
Give your space a dynamic twist whenever you want.
Check This Next: 21 Modern Window Trim Ideas to Boost Your Home's Visual Appeal
Frequently Asked Questions
What Goes in Front of a Bay Window?
To make your bay window look more attractive, add a short sofa, an upholstered chair, or a large loveseat. Along with creating a seating area, it enhances the overall appearance in the front of the bay window as well. 
What Is the Purpose of a Bay Window?
Apart from providing great views, a bay window's main purpose is allowing natural light to come in. However, because of its multiple shapes, it makes the room brighter. All in all, they are simply meant to be enjoyed. 
Is It a Good Idea to Have a Bay Window?
Yes, absolutely. It's always the best idea to have a bay window because it not only improves the ventilation but also adds a certain style to your home. So if you want to add vintage charm to your room, then integrating a bay window is a must. 
Other Articles