10 Best Farmhouse Kitchen Island with Seating Ideas
If you are going through countless, confusing, and expensive options to make your kitchen a better space, let us save you some time with a few answers. Why go for expensive when you can zero into an...
If you are going through countless, confusing, and expensive options to make your kitchen a better space, let us save you some time with a few answers. Why go for expensive when you can zero into an idea that is beneficial in all ways? Consider adding a kitchen island to utilize most of your kitchen space!
Kitchen islands make the atmosphere of a kitchen look more aesthetic and contemporary. They also turn out to be a community-friendly part of your house. With the right set-up and design, you can turn your kitchen into a perfect hangout place for guests. When it comes to kitchen islands, figuring out the best design options along with how to or whether to set up a seating facility is something to ponder upon.
Here are a few of the best ideas out there for you to consider when it comes to kitchen islands with seating options.
Best Kitchen Island Ideas With Seating Options
The seating setup of a kitchen island uplifts the vibe of the entire kitchen to a whole new level. With the right way of utilizing your kitchen space, you can easily turn the room into a place to relax with your best people. Adding a seating area will just make your kitchen even more functional and add to the aesthetic beauty of the space as well.
The very first thing to be taken into consideration is the size of the kitchen when it comes to adding seats to the kitchen island. This isn't really a hurdle because even the smallest kitchen islands can have seating with the help of bar stools. One of the biggest perks of this seating idea is that it is not permanent. You can always play with it by changing the styles and order or even by removing them entirely if necessary. Scroll down to explore some of the best varieties of kitchen islands with seating options.
1. Black Seating Around White Kitchen Island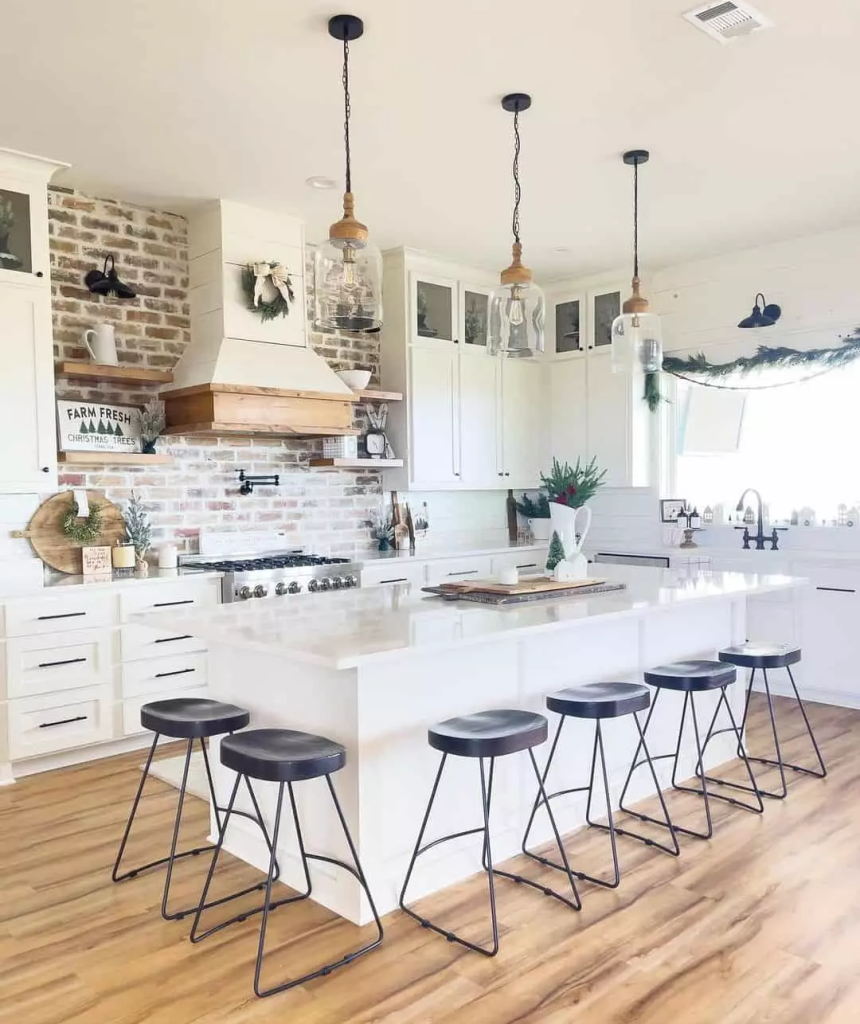 Contrasting colors always invite a lot of attention, especially if arranged in an appealing manner. White kitchen islands will always stand out in the atmosphere of farmhouses where bright sunlight swoops in. Setting up a set of black-colored seating around a vibrant-looking island will give the entire room a magnificent feel. Following this same cross-color pattern throughout the kitchen decor will give a classy look to the room. In the above picture, you can see a set of glass-pendant lights suspended from the ceiling, which gives the kitchen island a traditional touch as well.
2. Antique Kitchen Island with Seating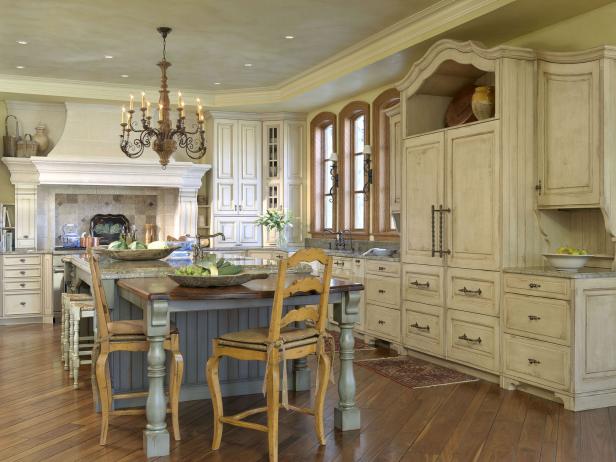 This is one of the most recommended styles on our list. With the right antique decor, you can make your kitchen island look classic. Antique doesn't mean just old and traditional but also stylish and unique in the 21st century. Use an antique table, drawer handles, and chairs to add character to your kitchen, making it an absolute favorite place to spend time in.
3. Kitchen Island with Leather Stools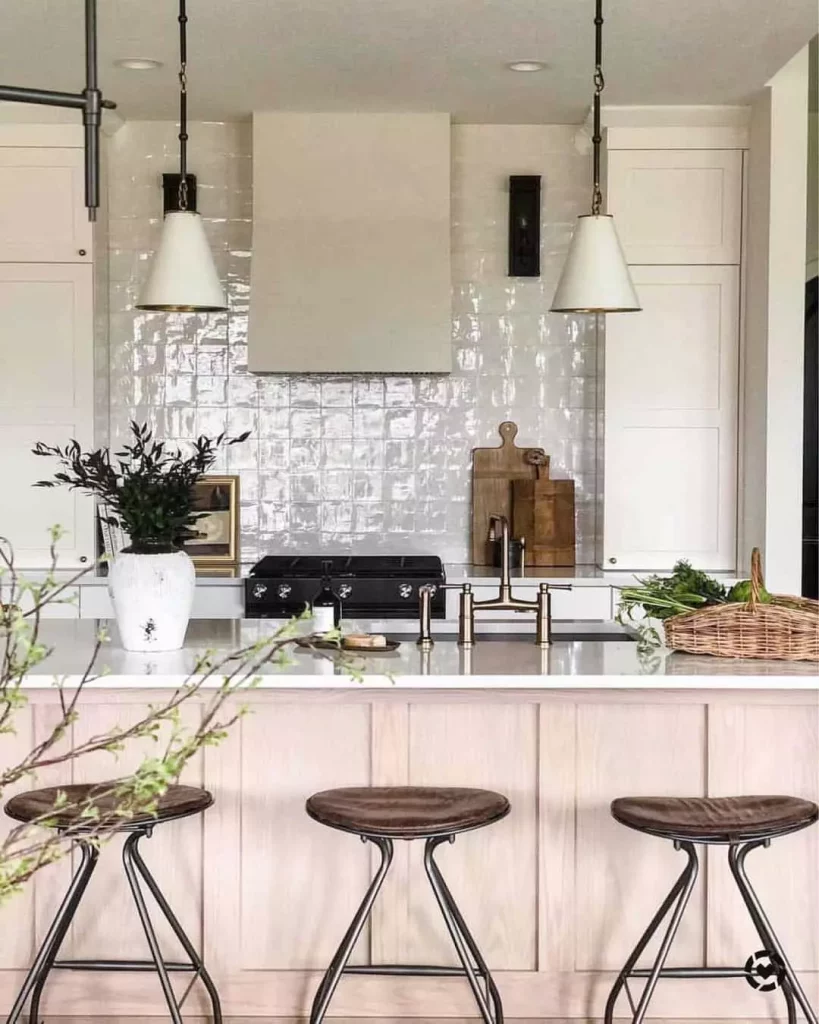 Check out this style of kitchen island with seating! It boasts a mixture of contemporary and industrial styles brought together. Starting with the style of tiles used for the counter as well as for the ceiling to the kind of seating opted for to uphold a unique look; the tiles used here are glossy in nature, which is a rare thing considering most kitchens will sport a set of traditional subway tiles instead. The usage of compact yet posh-looking leather stools will contribute to a cozy kitchen of such nature. The traditional copper tap used here is the icing on the cake.
4. Multipurpose Kitchen Island with Black Vintage Stools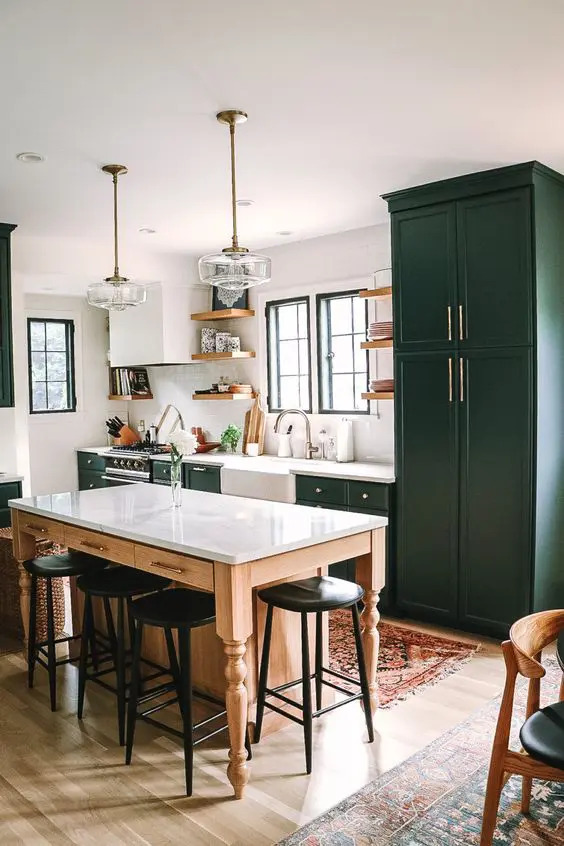 Give your kitchen a feel of timelessness with shaker-style cabinets. The table here can also be used as a kitchen island, which makes it a multi-purpose property. The black stools act as a perfect fit for the shaker-style cabinets, with drawers acting as a vintage addition to the kitchen. This entire design provides your kitchen with a traditional, old-school look.
5. Kitchen Island with Muted Tones and Shiney Seating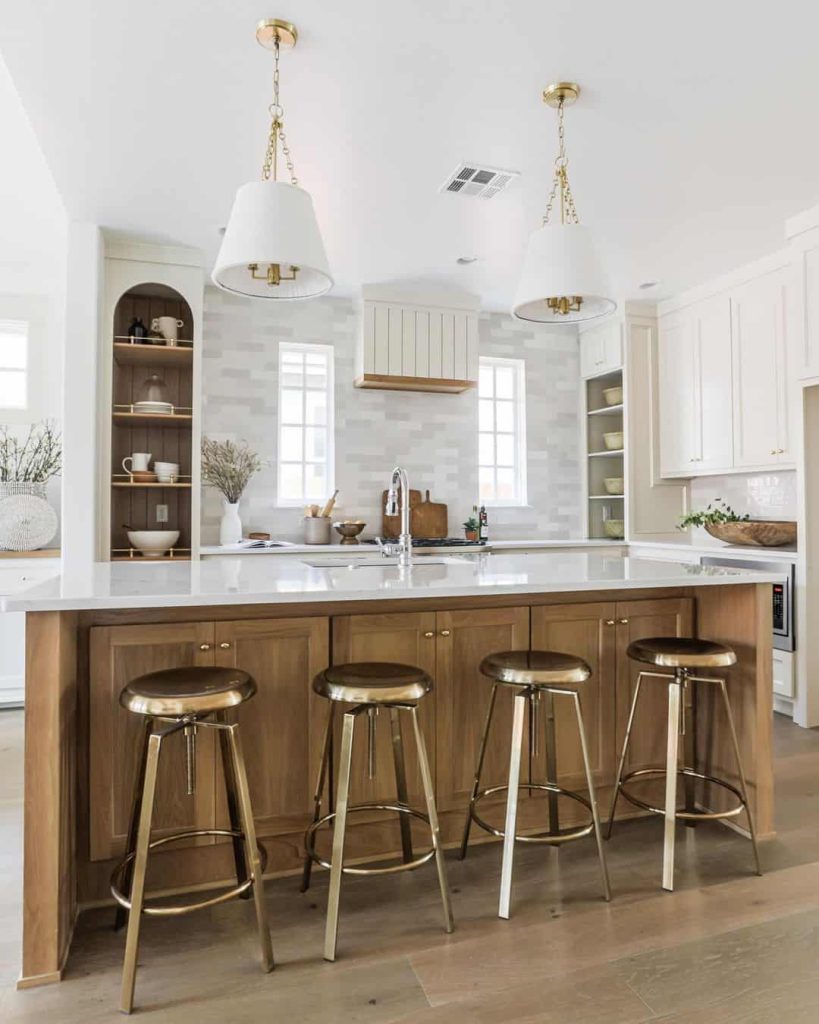 Colors play an important role in home decor. You can always experiment by mixing and matching different colors to set different tones in a living space. Here in this style of kitchen island with seating facilities, a tuned-down tone of colors is preferred. You can see the mixture of three colors and decors here: white walls, natural wood, and golden color. The white paint gives the kitchen a vibrant look, while the wood provides an old-school touch. The gold bar stools for seating, along with a touch of golden color in the lights as well, give the kitchen island a magnificent look!
6. Kitchen Island with Granite Countertop and Wooden Stools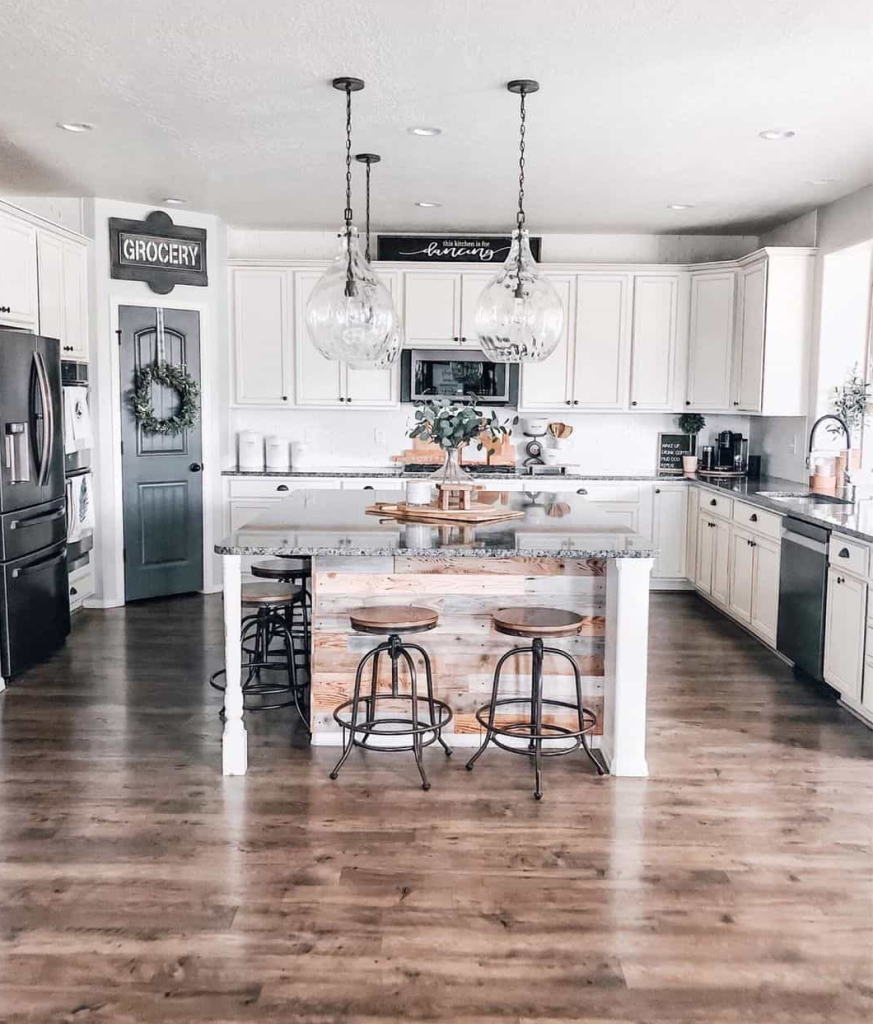 seating facilities, here is a small formula from our side for you: "Old + New." Bringing the old looks together with a modern touch is always an eye-catcher. Here in this kitchen, you can see the wooden flooring, along with matched wooden stools, blended brilliantly with a kitchen island with a granite countertop. To make the lights blend in perfectly, glass pendants are used with black accents.
7. Stained Kitchen Islands and Woven Stools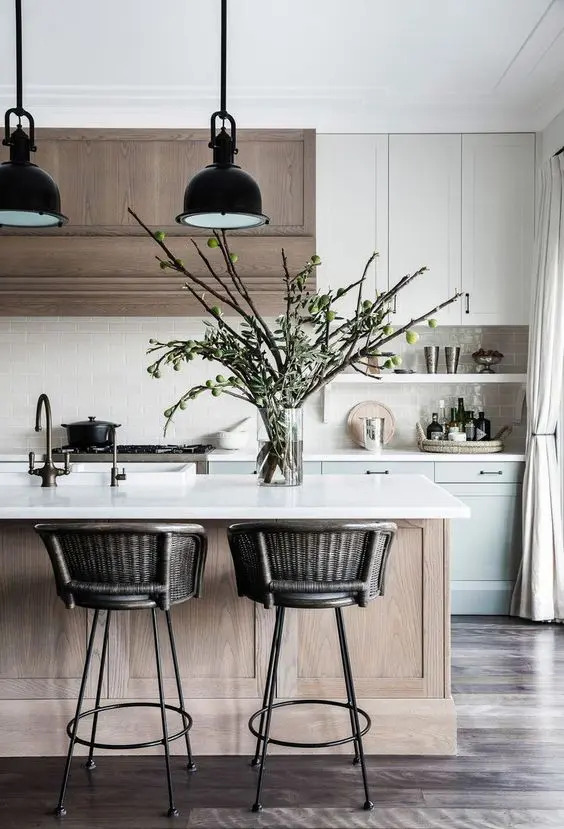 Have you ever considered using stained wood for kitchen islands? For a farmhouse atmosphere, stained kitchen islands are recommended. It will match the vibe very well. With a set of dove grey shaker cabinets and woven chairs, the kitchen will sport an authentic look. Using a black pendant lamp and a stained hood will make the room look much better.
8. Kitchen Island with a 360° Seating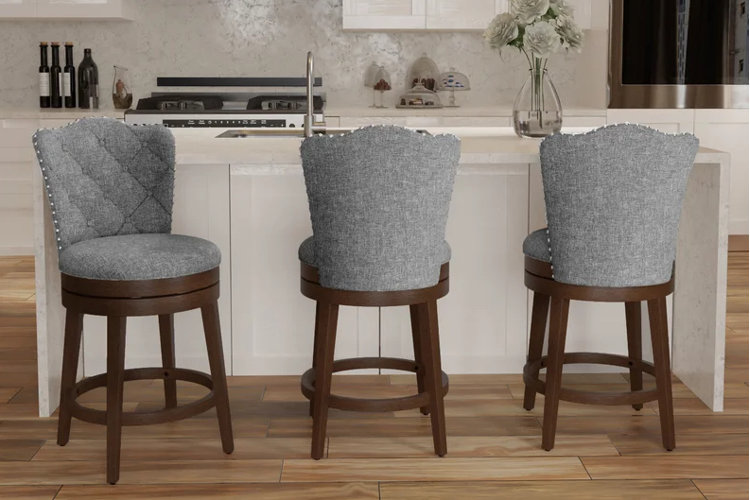 Setting up seating arrangements around a kitchen island is a common practice. But what if you are expecting to have more open-concept floor plans? Our suggestion for this problem is swivel tools! When the seating around the kitchen island is arranged with the swivel tool, people can easily move around, even during a conversation. This way, family members or your friends can turn around swiftly if needed rather than moving their entire seating setup manually to do so.
9. Space Saving Seating for Kitchen Islands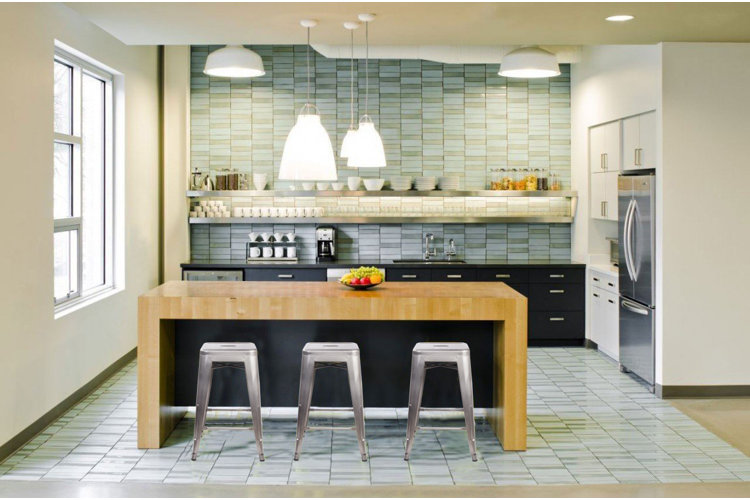 If you're dealing with a cozier kitchen island and have decided that seating isn't an option in such a space, wait up! We have a solution to your problem: foldable chairs. All you've got to make sure of is having some room beneath your kitchen island countertop. There are some bar stools, which can easily be stored under the kitchen island and be used immediately if guests show up.
10. Adding a Pop of Colour to the Kitchen Island Seating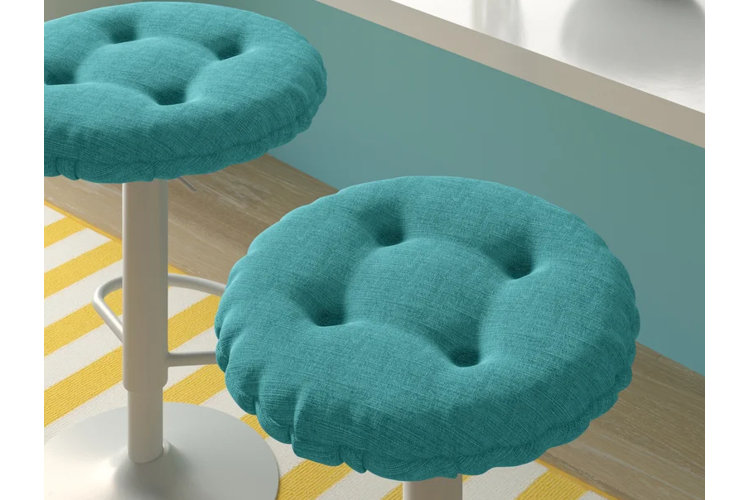 Make your guests go "Awe!" as soon as they enter your kitchen. Using colorful cushions on the tops of your kitchen island stools will make the seating look vibrant and attractive. The best-recommended kitchen island countertop is white in color when following this seating style. The colorful cushions, along with a white kitchen island, will altogether bring a positive and energetic vibe to the kitchen.
Conclusion
Kitchen islands are places that are social, recreational, and fun to hang out in. There are wide varieties of ideas for you to adopt when it comes to seating according to the vibe and nature of the place.
We hope our specially handpicked list of kitchen islandswith seating ideas will give you an insight into some of the best ways to make your farmhouse kitchen island stand out and be a point of attraction among the guests!
Frequently Asked Questions
What is a Kitchen Island?
Kitchen Island is a stand-alone countertop table set up in the middle of a kitchen that is used for cooking and eating food. It is set up in such a way that it will be accessible from all sides of the kitchen, making it more functional.
How Should I Plan a Kitchen Island?
To plan a kitchen island, first, you should decide about the necessity of one. Decide why you need a Kitchen Island. Is it for cooking and eating alone or also as a hangout place at your home? Once you have an answer to this question, you can move on to decide the size of the island. The size of a kitchen island depends on the size of the kitchen and also your requirements. If you want a cozy kitchen island, you can decide on a smaller table and appropriate seating. If you're looking forward to having a larger kitchen island, then bar stools of varied styles will be befitting for your requirements.
Is Having Kitchen Island a Good Idea?
A kitchen island brings a lot of functional benefits to your kitchen. It acts as an immediate hangout place in your home and also a very good space to prepare food. You can also use your kitchen island as a storage space if constructed accordingly. So yes, having a kitchen island is definitely a good idea!
Other Articles