Discover the Top 17 High-End Kitchen Design Ideas
Imagine a Sunday morning: you and your kids chop and dice veggies while your partner searches for spices to cook—a good time to make beautiful memories, isn't it? Your kitchen becomes a...
Imagine a Sunday morning: you and your kids chop and dice veggies while your partner searches for spices to cook—a good time to make beautiful memories, isn't it?
Your kitchen becomes a natural setting for all of you to communicate and connect, whether discussing the day's events or simply enjoying each other's company. Think of all the 'aww' moments; think of the times when you realize you are falling short of an ingredient and try to experiment with new recipes to create a special meal or dessert.
In such a scenario, we all require that our kitchens should be functional but also beautiful and stylish. One that demands our attention but soothes our minds and hearts.
This blog post explores 17 luxury modern kitchen design ideas that will inspire you.
Luxurious Kitchen-Design Ideas to Upgrade Your Kitchen
1. Custom Cabinetry
A High-end kitchen often features custom cabinetry.
Considering your specific needs and design preferences, these cabinets are custom-built for a particular space.
Specifically for a particular space.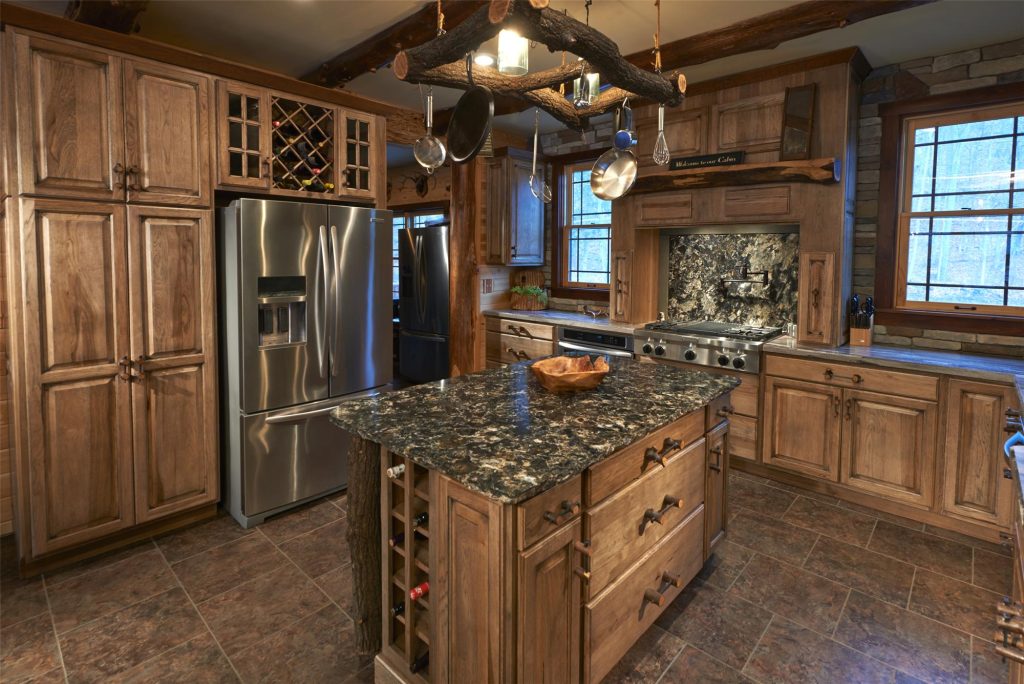 Do you want to get custom cabinetry installed? Well, here are some of its benefits.
Tailored design: A custom cabinet is tailored to fit unique or irregular spaces and to accommodate specific appliances or storage needs.
High-quality materials: A custom cabinet is typically made from high-quality materials such as solid wood, hardwood plywood, or furniture-grade MDF. The use of such materials offers durability and longevity.
Unique features: There are tons of amazing features that a custom cabinet can offer, features such as built-in storage solutions, organizational systems, and custom hardware. It helps you maximize your storage space and create a functional and efficient kitchen or living space.
Superior craftsmanship: Custom cabinetry is typically made by skilled artisans who pay close attention to detail. Thus, the product you receive is of superior quality and is beautiful and functional.
Personalization: How can we miss personalization?? While installing a custom cabinet, you can personalize your space and express your style. You can easily include custom decorative elements such as carvings, appliques, or inlays.
2. Luxury Appliances<
Built-in refrigerators, wine coolers, etc., are luxury kitchen appliances. They are one of those luxury modern kitchen designs that up your kitchen design game.
Let's see why you should have them in your kitchen.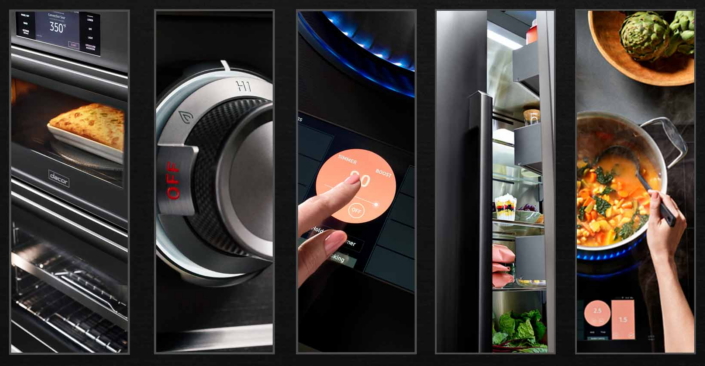 Some of the benefits are:
Performance: You can cook with better efficiency when you have powerful burners, precise temperature controls, and even heating.
Durability: You're less likely to face appliance breakdowns or require repairs over time—this way, you save money and hassle in the long run.
Style and design: The appliances have sleek and modern aesthetics that can elevate a kitchen's overall look and feel. You're sure to have a fantastic cooking and dining experience.
Convenience: Luxury appliances offer convenience-enhancing features such as touch controls, automatic shut-off, and self-cleaning capabilities. Your cooking experience feels like a cakewalk.
3. Statement Lighting
Try adding chandeliers or large pendant lights to add visual interest and create a luxurious feel. Statement Lighting can up your kitchen decor without burning a hole in your pocket.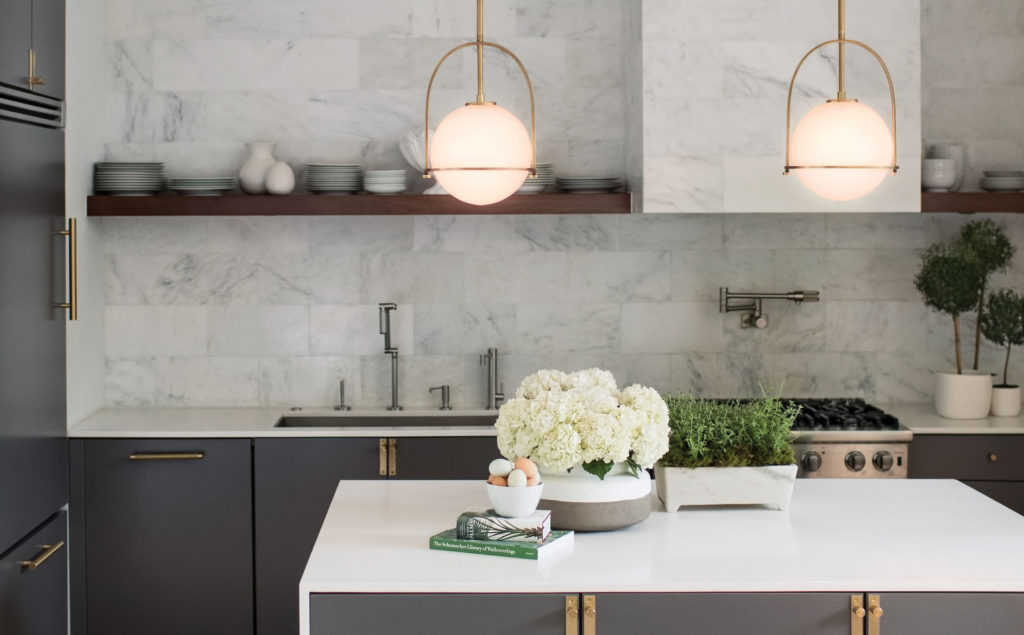 How will this help? Here are 4 benefits:
Style and design: Statement lighting fixtures in the kitchen can add a unique and stylish element to the space. They create a focal point and enhance the overall design aesthetic.
Task lighting: By providing task lighting in specific kitchen areas, you can improve visibility and make it easier to carry out your kitchen work.
Ambience: Create a warm and inviting ambience in the kitchen, hence making it an enjoyable space to spend time in and entertain guests.
Energy efficiency: Many statement lighting fixtures are designed with energy-efficient LED bulbs. It helps reduce energy consumption.
4. Natural Stone Countertops
Natural stone countertops are a popular choice in the kitchen interior. They are durable, aesthetically pleasing and can withstand high temperatures.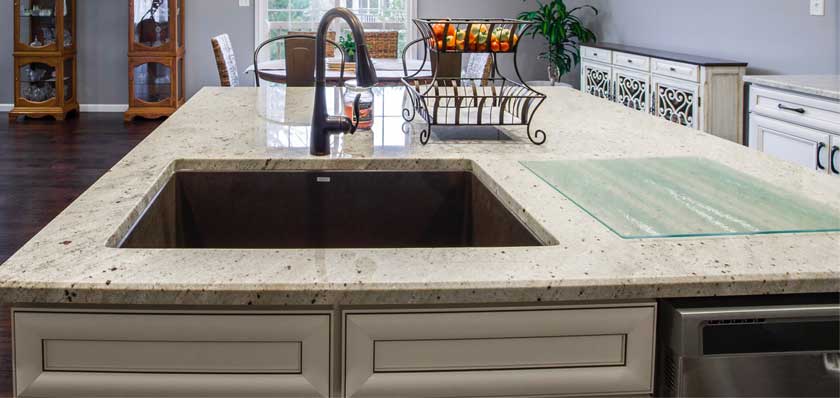 Here are the top 3 benefits:
Aesthetics: With unique and beautiful variations in colour and pattern, add a natural and elegant look to any kitchen or bathroom.
Maintenance: Natural stone countertops are easy-to-maintain and are bacteria-resistant. So don't worry about purchasing those expensive unique cleaning products to remove stains and bacteria.
Sustainability: They are an environmentally friendly choice, as they are made from natural materials. They can be recycled or repurposed at the end of their lifespan.
5. Innovative Technology
You can integrate innovative technology such as touchless faucets, built-in charging stations, and voice-activated controls in your high-end kitchen.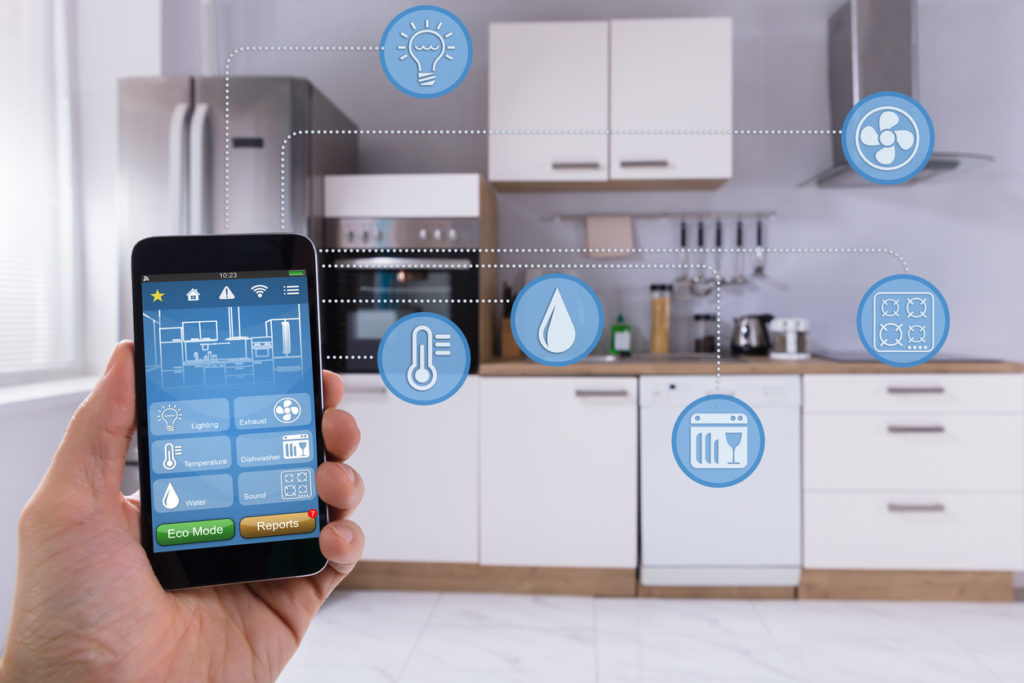 Some of the benefits are:
Convenience: Features such as remote control, voice control, and automatic settings make cooking and meal preparation more convenient.
Energy Efficiency: Energy-efficient features, such as sensors, automatically adjust the temperature and cooking time as per the food you are preparing.
Safety: Avoid potential hazards, such as a stove or oven being left on through automatic shut-off or alerts.
Time-saving: Program appliances to cook food on a schedule
6. Multiple Sinks
Installing multiple sinks in a kitchen can be a good idea if you have guests coming over to your place frequently. It helps to have more than one area for guests to access water. At the same time, we advise you to set up multiple sinks as it is hygienic to have separate areas for food preparation and clean up. Multiple sinks can seem like a luxurious addition, but they pay off well in the long run.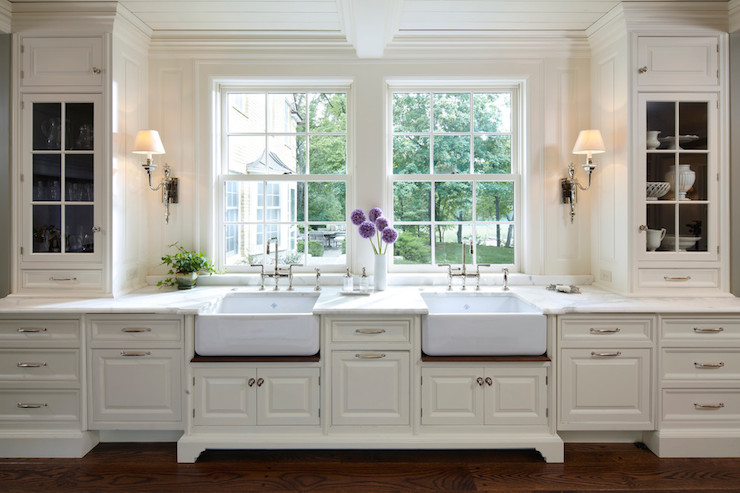 Setting up multiple sinks in a kitchen can be a game changer because of the following:
Increased functionality: Multiple sinks allow multiple people to work simultaneously without interference.
Efficient use of space: Multiple sinks make it easier to prepare food, clean up, and wash dishes.
Improved Hygiene: To prevent cross-contamination, the sinks can be designated for different tasks, such as food preparation and cleaning.
7. Built-In Seating
Enhance your high-end kitchen by adding built-in seating, such as banquettes or breakfast nooks, for comfort and convenience.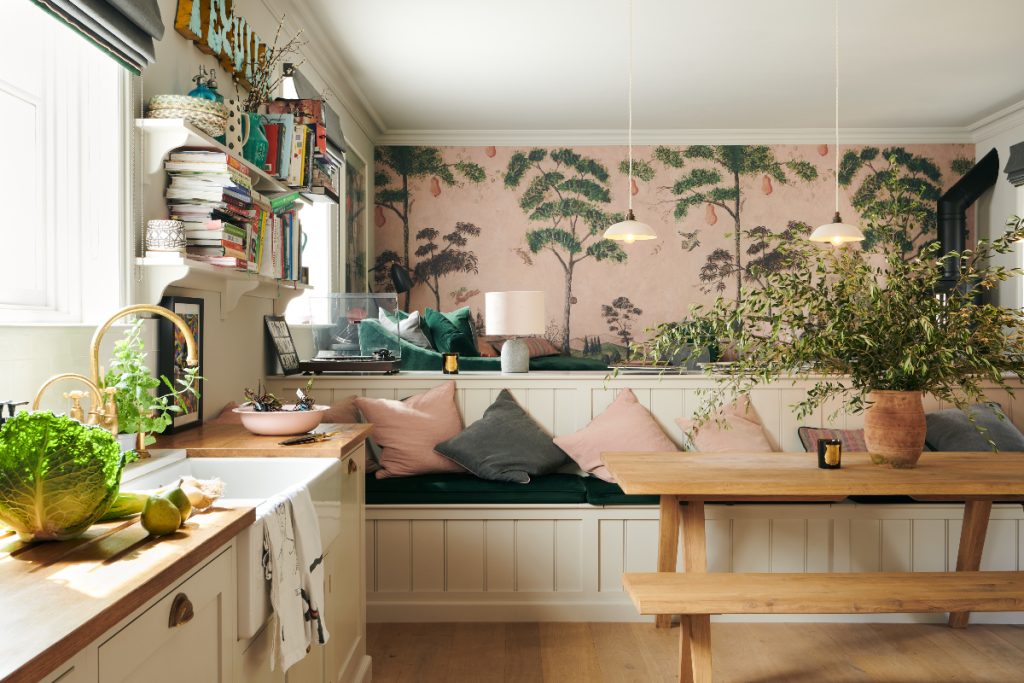 They offer a range of benefits, including:
Space-saving: Built-in seating designs fit into small or awkwardly shaped spaces, maximizing available space in a kitchen.
Storage: It can provide storage options such as under-seat storage or built-in cabinets, providing a convenient and stylish way to store kitchen items.
Versatility: The structure can be used for dining, relaxing, or working, making it a versatile addition to your kitchen space.
Comfort: Built-in seating is comforting. You can take frequent breaks with options such as padded seats, backrests, and cushions.
8. Wine Storage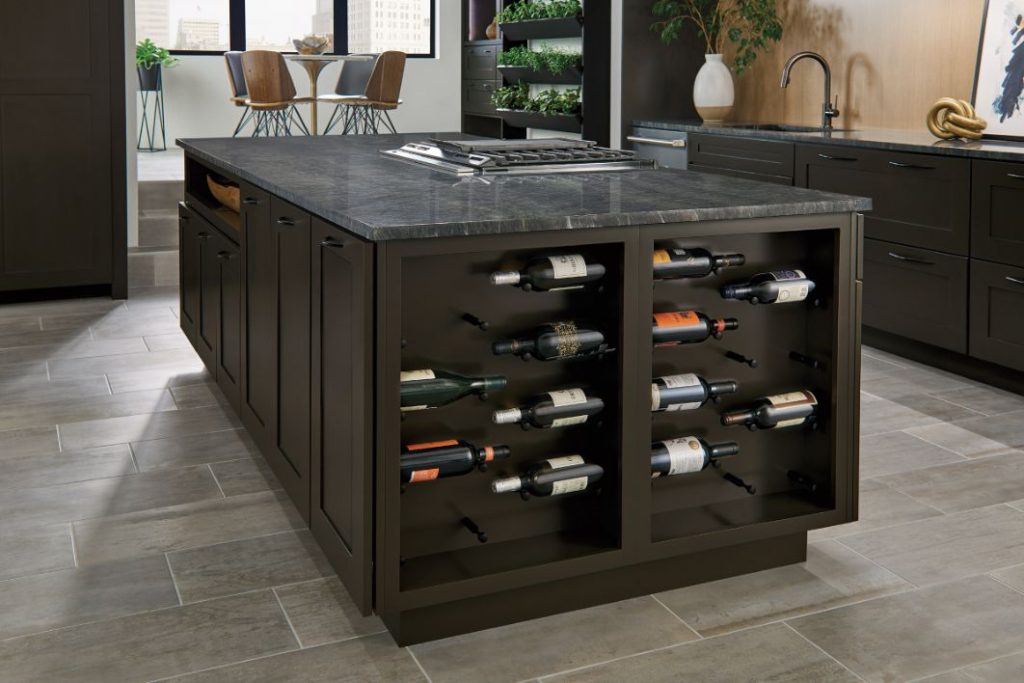 Wine refrigerators or built-in wine racks automatically accentuate your kitchen-design
Wine storage can add a stylish and modern look to a kitchen, especially when incorporated into a larger design scheme (Add this design on the top level cabinets if you have young children)
Convenient access: If you enjoy wine regularly, you should install wine storage in your kitchen. That way, you can easily access your favourite bottles whenever you want.
Aesthetic appeal: We will all agree that a well-designed wine storage area adds a touch of elegance to a kitchen. You can elevate the look of your kitchen too. Just choose from a wide variety of designs and materials and witness the magic.
9. Professional-Grade Appliances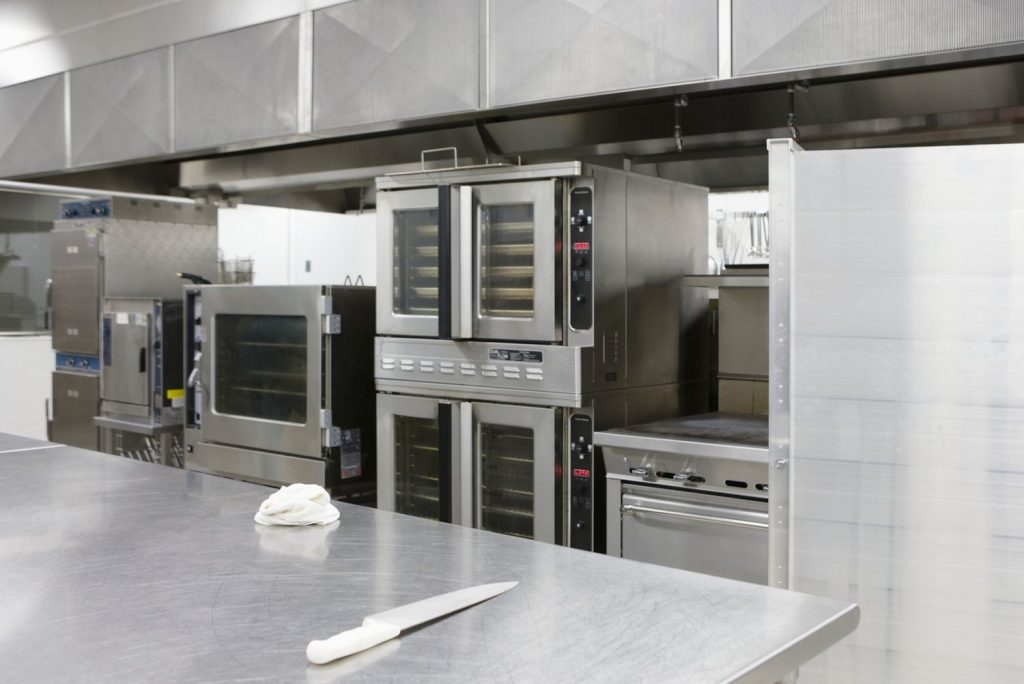 Durability: These appliances are built to withstand heavy usage and are made with high-quality materials. They are more durable than standard appliances.
Performance: Professional-grade appliances typically offer superior performance, with powerful motors, high BTU burners, and other advanced features that make them more effective and efficient than standard appliances.
Precision: When you use a professional-grade appliance, you get precise temperature control and cooking options. This will help you cook food with exact specifications.
Versatility: Enjoy a range of cooking options, from grilling and broiling to baking and roasting, basically anything that suits your cooking needs
10. Statement Backsplash
You can transform your kitchen into a high-end one using statement backsplashes made of luxurious materials such as glass, stone, or metal.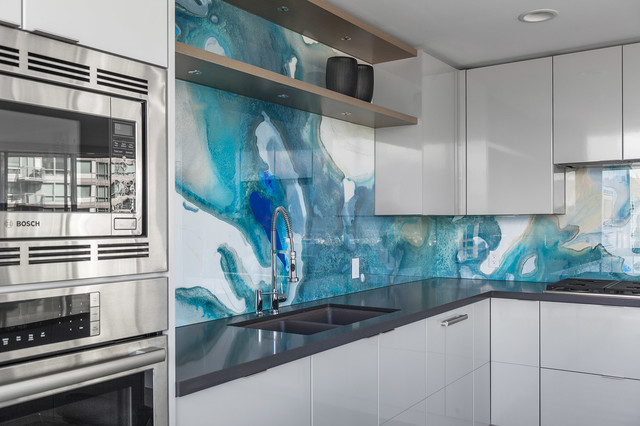 A statement backsplash gives your kitchen:
Personality: A statement backsplash adds a unique and eye-catching element to a kitchen design. It reflects your personality and style.
Easy to clean: A backsplash can be an effective barrier against spills and splatters, making it easy to clean and maintain.
Protection: It protects your walls from moisture and stains and extends the lifespan of your kitchen.
11. Custom Range Hood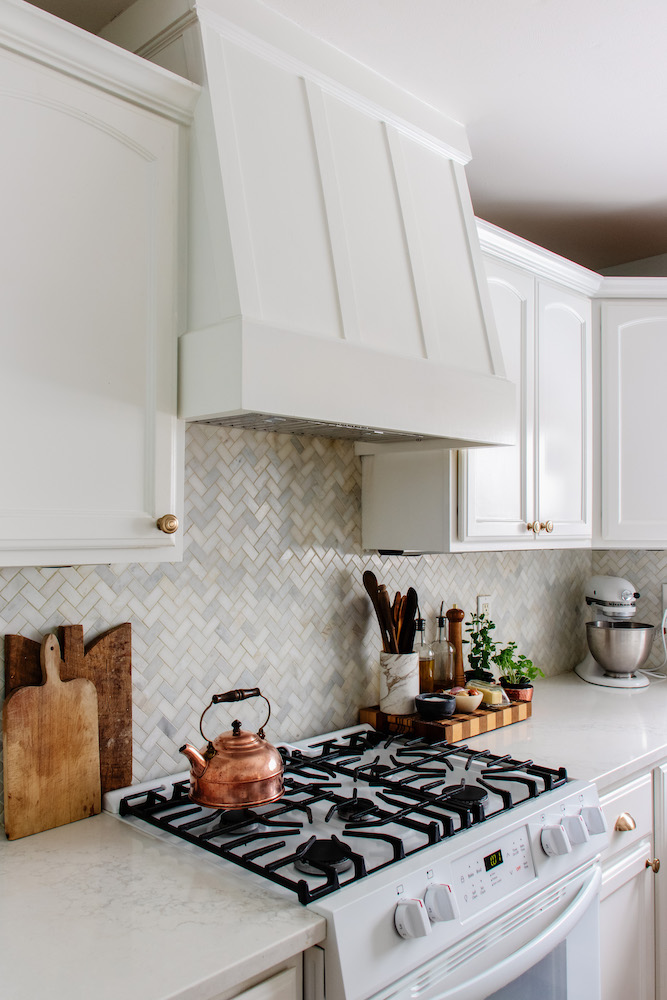 Benefits of this Design:
Ventilation: A range hood removes smoke, steam, and cooking odours from the air and improves air quality. It creates a comfortable and healthy environment.
Safety: A range hood is beneficial for the health of your family. It can prevent the buildup of harmful gasses, such as carbon monoxide, in your kitchen.
12. High-End Finishes
Provide an aesthetic appeal to your kitchen by designing your kitchen with high-end kitchens like brass or gold hardware, leather or stone flooring, and intricate tile work.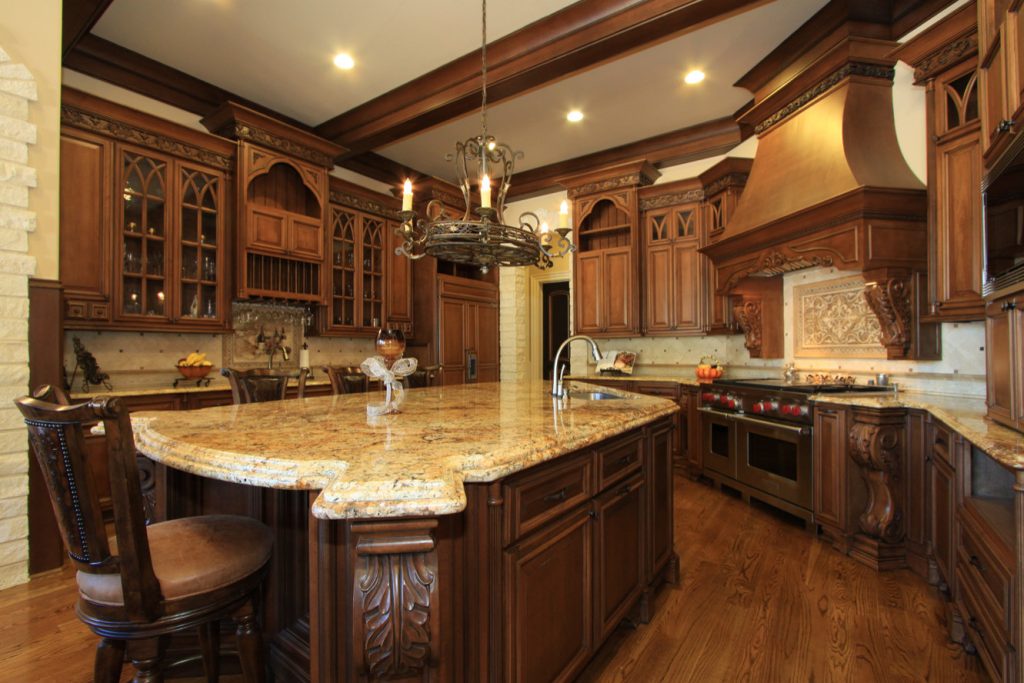 A high-end finish will give your kitchen a/an:
Aesthetic appeal: Give your kitchen a luxurious and sophisticated look and elevate the overall style and aesthetic appeal of the space
Resistant from wear and tear: No need to worry about scratches, dents, and other types of wear and tear with high-end finishes.
Functionality: Enhance your kitchen functionality using high-end finishes that integrate smart appliances, built-in coffee makers, or induction cooktops.
13. Open Shelving
Kitchen shelves that are not enclosed by cabinet doors or drawers are called open shelving. These shelves are open and typically mounted on the wall. They provide convenient and accessible storage space for frequently used items such as dishes, glasses, and cookbooks.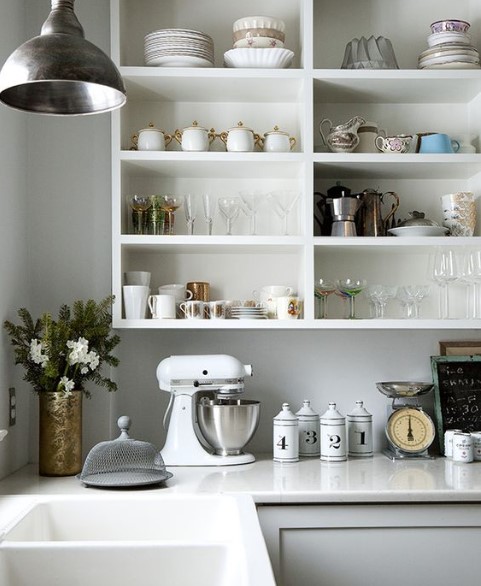 Installing open shelving has a range of benefits, including:
Easy access: With open shelving, items are easily accessible and visible, making them easier to find.
Cost-effective: It is usually less expensive and more affordable if you want to update your kitchen without breaking the bank.
Display: Open shelving can be used as a display. You can keep all your decorative items like dishes, glassware, or plants and add an element to your kitchen.
Efficient use of space: Open shelving can be a space-saving solution, especially in smaller kitchens where every inch of storage space counts.
14. Gourmet Cooking Station
A gourmet cooking station with multiple cooktops, ovens, and warming drawers can be a striking feature in a high-end kitchen.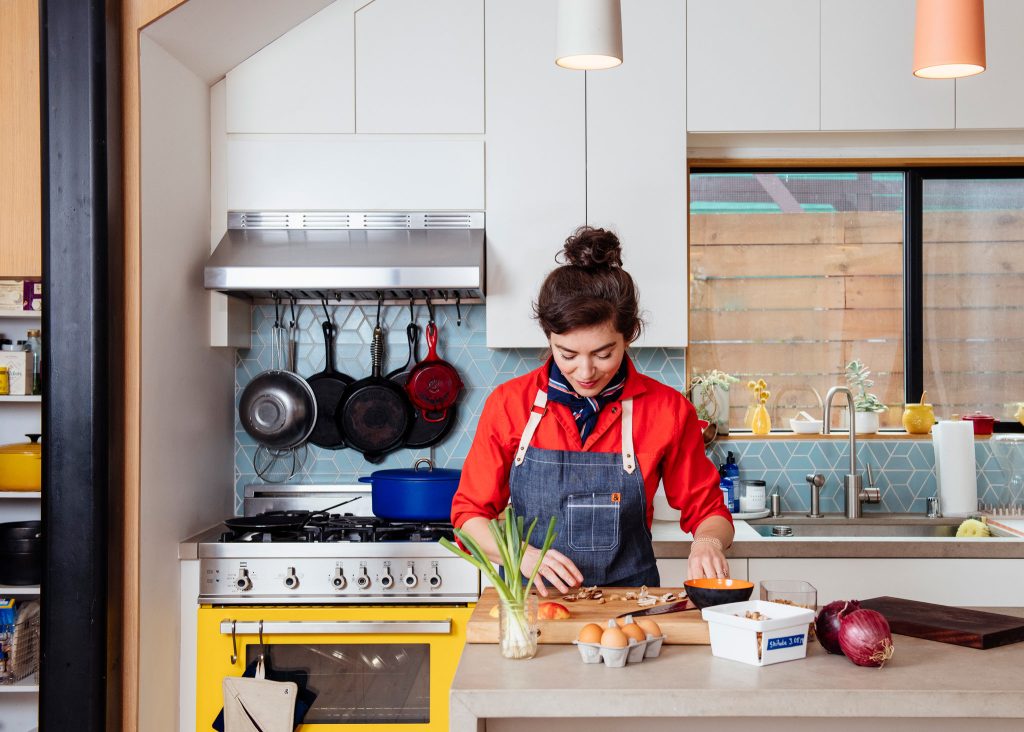 It has lots of cool features like:
Increased functionality: You can get specialized cooking appliances usually not found in a standard kitchen, such as a built-in wok, a dedicated grilling area, or a pizza oven.
Professional-grade appliances: Gourmet kitchen stations often include professional-grade appliances for high-performance cooking and durability.
Entertainment value: Add entertainment value to a home by making hosting and entertaining guests with high-end cooking and dining experiences easier.
15. Walk-In Pantry
A walk-in pantry is a room or a closet that is typically located adjacent to the kitchen and is used for storing food and other kitchen supplies. It is a highly functional and luxurious feature.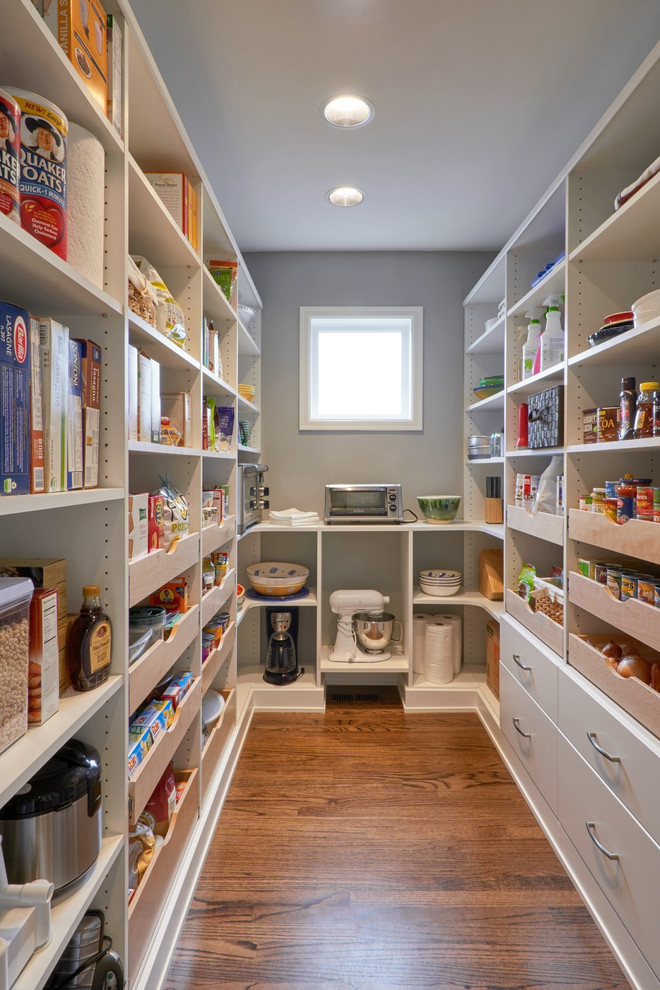 A walk-pantry is an excellent addition to your kitchen. It has lots of benefits:
Easy access: A walk-in pantry makes finding items you need more accessible, quick, and efficient.
Cost-effective: It is less expensive than custom cabinetry. You can use it to add more storage space to your kitchen.
Reduced food waste: Since kitchen items are easily visible, you can easily keep track of food items and expiration dates, which can help reduce food waste and save money on groceries.
16. Custom Island
A custom island has built-in storage, seating, and luxury finishes. It looks beautiful and is highly functional.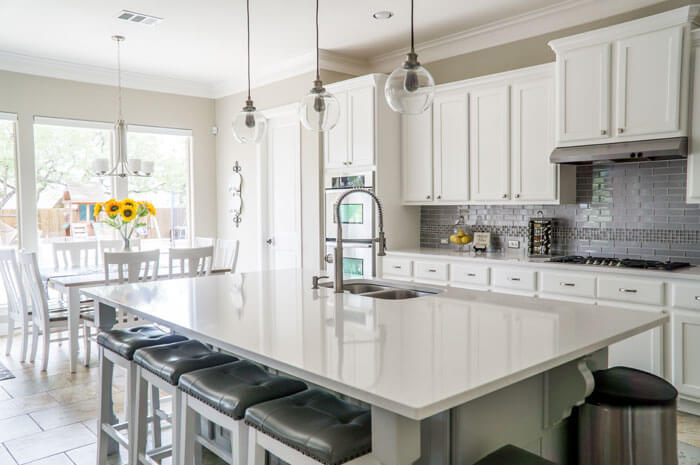 Its benefits include:
Multi-functional: It serves multiple purposes in a kitchen. It can be used as a cooking station, a dining area, and a storage space.
Added storage space: It provides additional storage space for kitchen appliances, cookware, and other items, making it easier to keep the kitchen organized and free of clutter.
Design statement: A custom island serves as a design statement in a kitchen, adding a unique and personalized touch to the space.
17. Artful Details
It is time to pay attention to little details. Using unique tile work, decorative molding, and custom-range hood designs adds visual interest and personal style to your kitchen.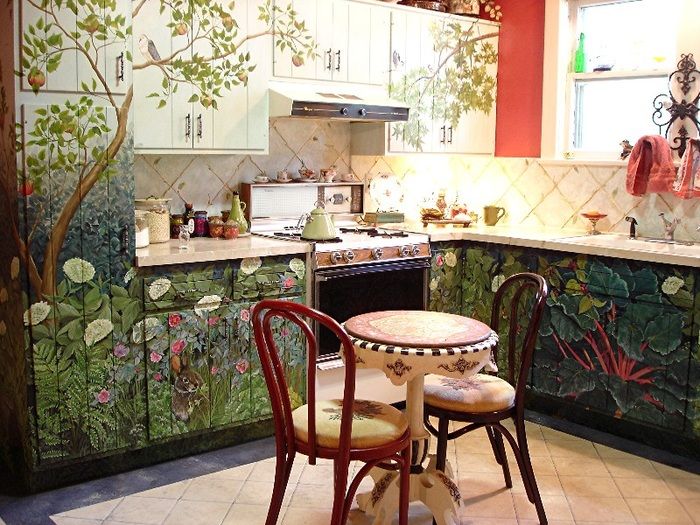 Artful details act as a:
Conversation starter: Artful details create a welcoming atmosphere in your kitchen. They very often serve as conversation starters!
Aesthetics: They enhance the overall aesthetics of a kitchen, adding visual interest and creating a focal point for the space.
Design cohesion: You can easily tie together different design elements in your kitchen, creating a more cohesive and polished look.
Conclusion
To wrap it all up, these are our top 17 ideas for transforming a basic kitchen into a high-end one. Besides sharing our kitchen transformation ideas, we also list down the benefits of adding them to your kitchen aesthetics. Take a look at some of these, or better yet, try them all. Let us know how they transformed your kitchen after you tried them.
We recommend you read some of our other blogs if you enjoyed reading our top 17 luxury modern kitchen design ideasblog. We offer tips and tricks for picking out the right kitchen interiors. You can read more such blogs by visiting the blog section of the website.
If you're looking for inspiration, you can also subscribe to our newsletter or follow us on social media.
Other Articles