Which Colours Blends Best with Grey Kitchen Unit or Cabinets?
If you have a grey cabinet installed in your kitchen and find it hard to decide what color goes with grey kitchen units in your home- stay with us because we have come up with 13 color scheme ideas...
If you have a grey cabinet installed in your kitchen and find it hard to decide what color goes with grey kitchen units in your home- stay with us because we have come up with 13 color scheme ideas that will add charm to your kitchen.
Even if you want to buy or have ordered a grey cabinet for your kitchen, you can rely on these suggestions to make your interior look mesmerizing. Plenty of color options exist, but which would cut it for you?
Stick with us; we will share 13 color schemes that will make you proud as a punch to have in your kitchen.
1. Black And White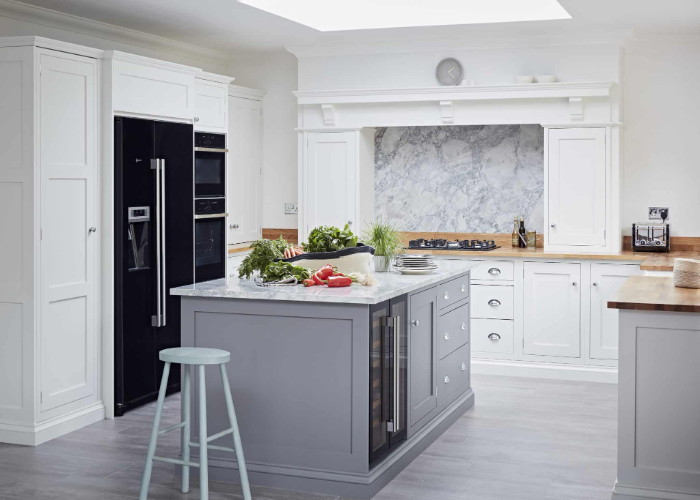 This traditional accent is all the rage again these days. Black and white is how we see things, but there is a grey area we miss out on. But here, we already have a grey cabinet; all we need are accessories that match that color. Adding white will bring a sense of peace to it. A white-colored wall will complement the grey unit installed in the kitchen. Plus, a black backsplash with black tiles will make your kitchen look more modern and attractive. This color scheme of the trio (black with white and grey) act as an eye-catcher. This mixture of timeless colors adds a level of refinement. This combination won't make you regret it.
2. A Wooden Accent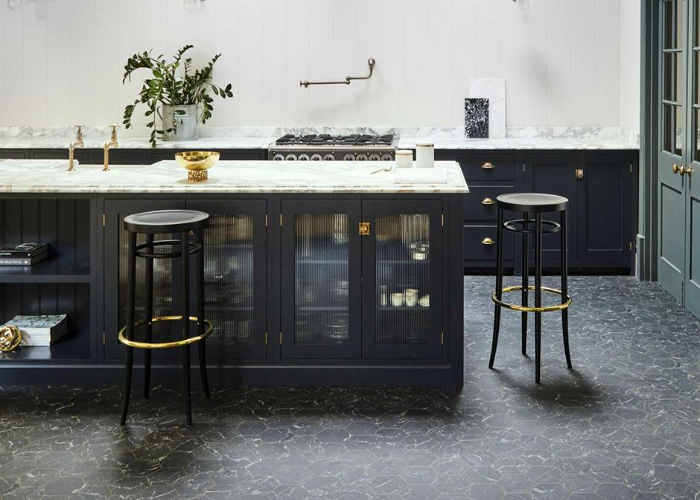 If you are starting from scratch, wooden items are a great go-to. Spruce up your grey kitchen unit with classic wooden materials. Countertops made of oak or maple will add warmth to the kitchen. When added, this wooden tone with a grey kitchen cabinet will give the kitchen a chic contemporary look. Add a darkish-colored pattern to the floor with supplementary natural wood decorations and embellishments to add life to the kitchen. You can choose lighter paint for the wall that makes the scene feel calmer. The whole area now has three colors, a grey unit, a black floor, and wooden accessories. This scene, achieved with the triadic color scheme, provides the viewer with a rustic vibe.
3. Pastel colors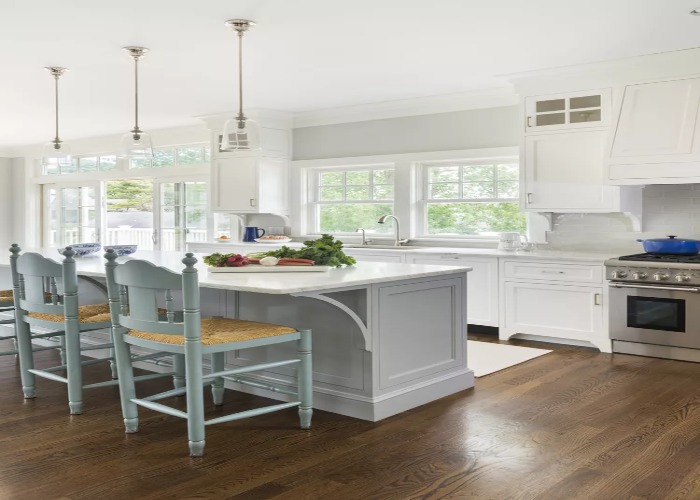 Pastel tones add liveliness to a grey color storage cabinet. Add accessories that are painted in pastel colors. These hues will give the place a peaceful and camping aura. For the wall, choose blush pink or dull brown ( a Pastel Orange family member) and add some chairs of pastel mint color. This would make a soothing space to enjoy your drinks and meals.
You can also experiment with other lighter hues, such as sage green, with added live indoor houseplants that would give the grey kitchen design an earthy vibe. Overall, it is easy to find and mix softer tones and make a masterpiece out of it. You can choose other elements, such as stools and shelving having more calming shades, as they go well with a grey kitchen cabinet.
4. Yellow Accent Wall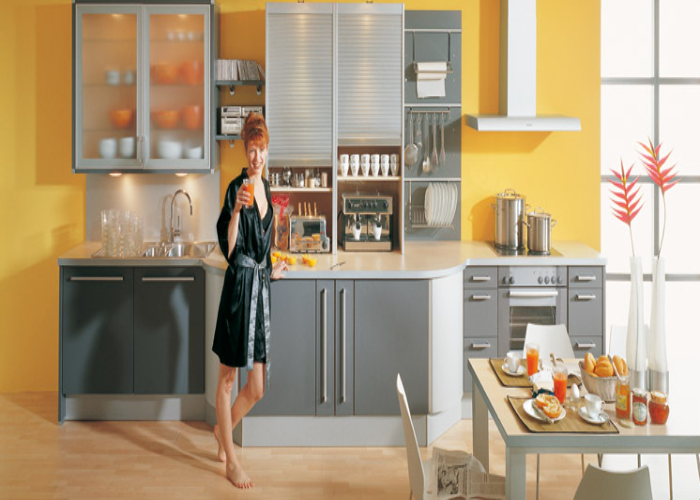 When mixed with brighter colors, grey kitchen units create a sense of awe. Yellow is a color that symbolizes happiness and joy, while grey indicates calmness. When both are combined, it works as an artistic piece. This (Yellow) color, full of vibrancy, will give your kitchen energy and vigor.
Play with color tones that go well together, such as this grey and bright yellow, which are full of life. You can make a color contrast by painting the wall neon yellow with a grey cabinet and decorating with accessories in rustic wood and white. Experts consider grey a protagonist, and what a beautiful aura it provides! Relaxing, aren't you spellbound even with a look at this picture?
5. Coral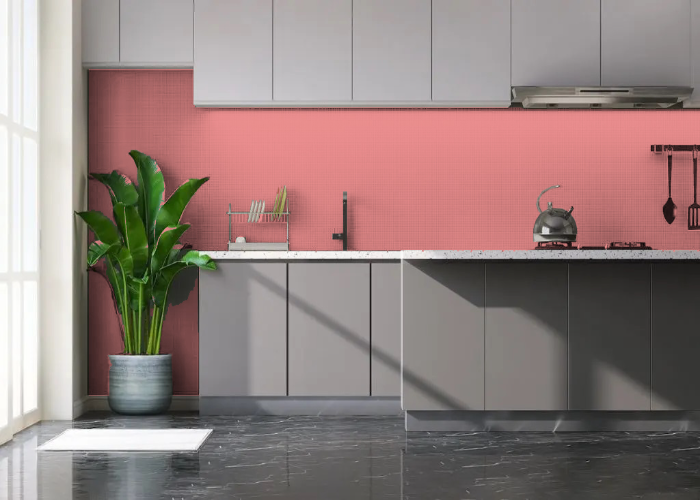 Such a color provokes our uplifting energy. We feel positive immediately after looking at a coral accent wall. And when added with a dull color like grey, they are a perfect match. In handmade or regular designs, Peg rails will have a touch of sophistication to coral-colored walls and separate the cabinet's grey color, making it the center of attention.
Since neither coral nor grey has a strong effect, combining them will provide a calming and inviting atmosphere to anyone who enters the kitchen. These neutral and warmer tones will let you make your dishes calmly. You can produce the energetic effect just by adding bright-colored accessories such as Dinnerware, hanging a pot holder, or other decorative items.
6. Metallic
Consider giving the kitchen a rustic touch if standard colors don't catch your vibe. For walls, a metallic color goes well with grey kitchen units. Trendy metallic kitchen items and accessories add a distinctive flare to the kitchen with a grey corner cabinet. You can also add a mat that makes you comfortable and compliments the grey. Breakfast cupboards in silver or brass would break up the monotony of a grey kitchen and will overpower it with contrast.
Numerous items in the market go well with a grey cabinet, for instance, a stainless steel concave handle, which provides a unique touch to the unit.
Add a little spark- pendant lights or metallic chairs with a table for a touch of sophistication to the kitchen.
7. Pink and Grey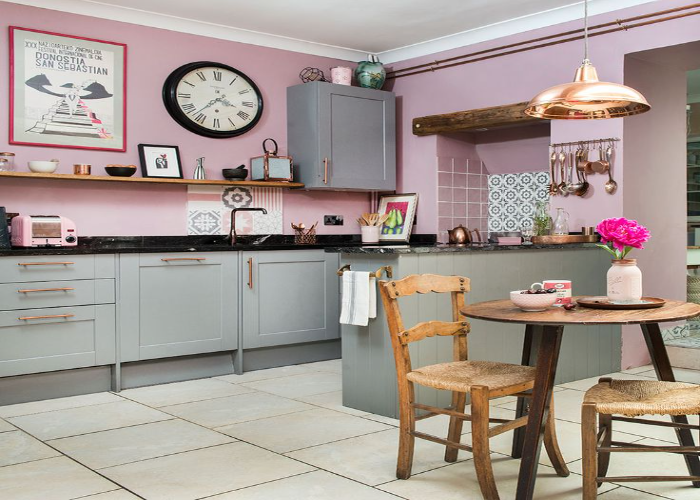 When cool grey matches with warm pink, the kitchen's atmosphere becomes more hospitable and friendly. This color combination looks elegant and doesn't clash. Even pros recommend this beautiful combination that has a calming vibe to it. An accent wall painted pink compliments the grey unit in the kitchen. This combination looks more sophisticated. Give the backsplash a unique design that stands out to make it work as a catchy element.
For the floor, you may like grey as well. Experts also stress enriching the wall with pink sconces if you want to go with a white wall—this blend guarantees to provide a striking appearance to your kitchen. Dark pink with white and grey works both for children and adults because this triadic color scheme is an ideal way to inject fun and vibrancy.
8. Golden (Stripes)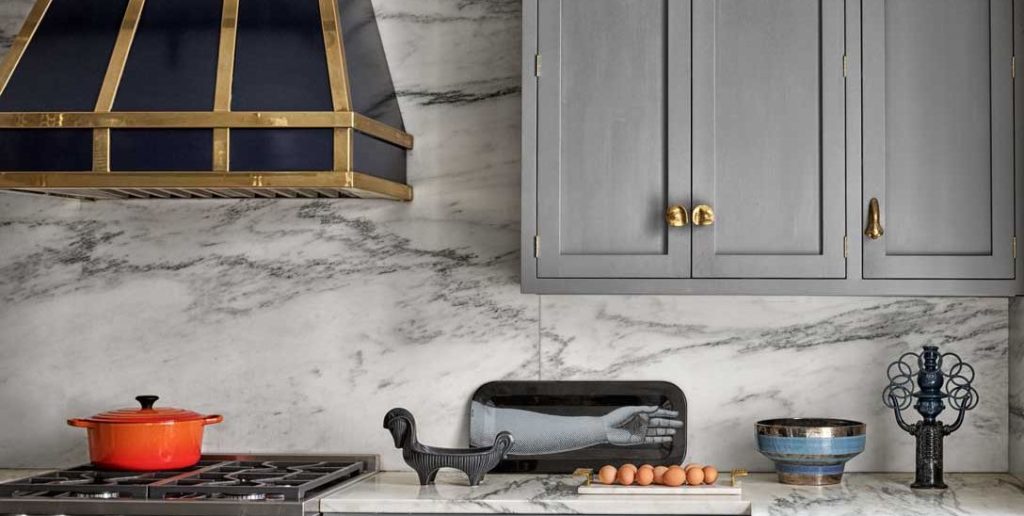 Gold and grey- perfection! Gold, when used sparingly on accessories or even on the handles of the grey unit in the kitchen, will give it a luxe impression. Give your accent wall a lighter shade that bounces light around the kitchen.
The addition of Brass-toned accessories, such as knobs and handles, would lend a trendy modern edge to a straightforward design. Choose metallic or fancy light fixtures that have a gleaming detail. Other additions like small gold trimming with a dining table, metallic faucet, and golden hanging lights would produce satisfying results. Grey has a warm character, making it competent to match any color without losing the pleasant tone. To keep the grey's calming nature intact, you can paint the wall with dull silver color or keep it monochromatic with the grey itself.
9. Cream (patterns)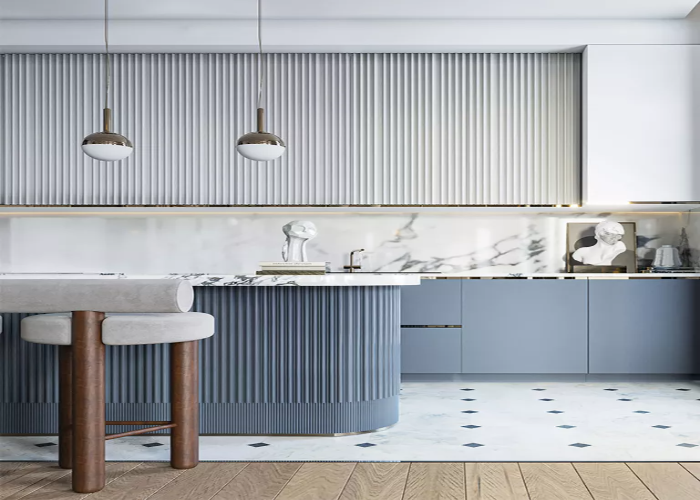 A grey unit with elegant cream would give it a timeless beauty. This ( grey and cream) is a soothing color scheme to get a modest and refined look. Moonlight and cream pattern wall accents will serve as a great environment for a grey unit in the kitchen.
That color combination will make you think of serenity, Colors with lighter tones? Here cream enters. A blend of grey and cream gives a subtle touch to the grey unit. A dull two-tone color scheme would give you the confidence to play with different colors without you worrying about making the place cluttered. However, if you find the kitchen tone going lifeless, add a color that creates a contrast.
10. Natural Grain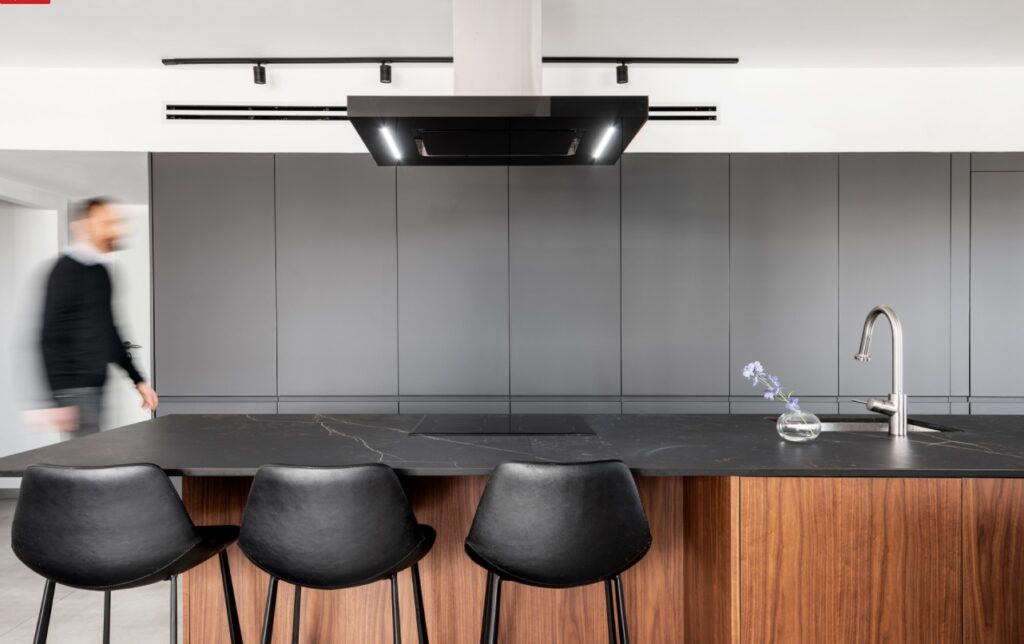 Another softer tone that goes well with a grey kitchen cabinet would be natural grain. This color scheme would provide a more soothing compared to brighter ones. These shades create a cohesive and calm environment in the kitchen. As we suggested earlier, this type of soft color scheme needs a contrast to make the decoration complete. Otherwise, an all-neutral kitchen would look bare. Even a little darker tile flooring will do the job. You may like to add furnishings and fitting to add extra warmth and color. Give brownish marble for the kitchen a shot if you are looking for splashback as well as floor renovation. You can also choose different colors for the cabinet handles to make them look charming and striking.
11. Orange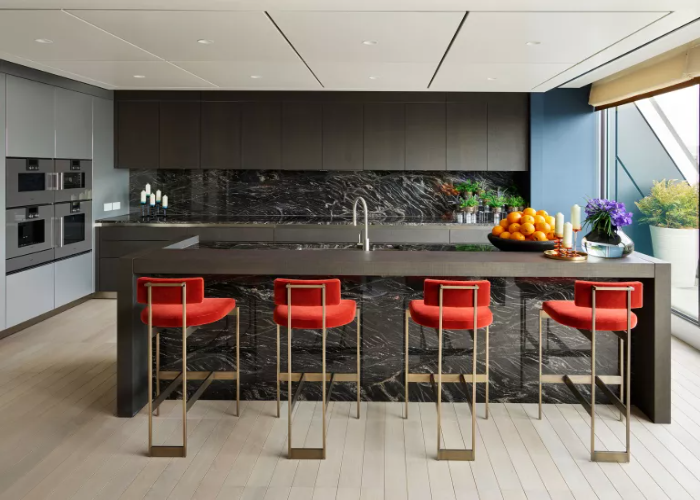 Grey is a chameleon of shades that mixes itself with any color, whether bright or dull. A popping color makes a contrast when added with a lighter one, like grey. The radiant orange color, if just sprinkled generously through additions such as a bar table or chairs, will work like a charm. These days, bright is in trend. There was a mention of yellow in the post, and here we are suggesting orange. These colors are filled with energy. They transform the kitchen and make it more striking for the one who enters. No one will be there who did not gaze at those vivid additions in the room.
12. Green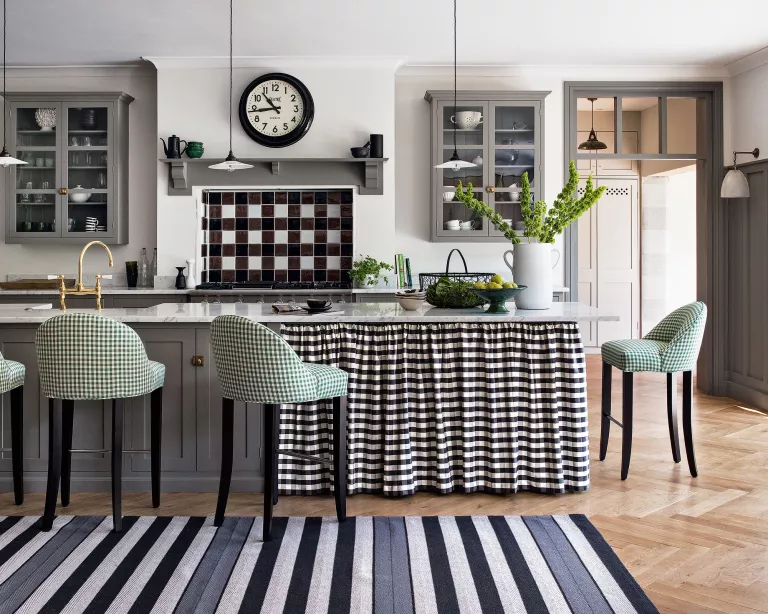 A greenish shade adds a natural vibrancy to the grey. Turning the kitchen into an upbeat jungle is not a bad idea with the addition of green. Unique splashback tiles for the kitchen would also complement the green theme. To make it closer to the woods, add brown or leather-colored handles, a brilliant idea. Isn't it?
It will become a happening place with a touch of green here and there. You may also like to add a unique rug to complement the grey kitchen unit decoration. On top of that, decorate the shelf with live green plants. All this can also transform your kitchen into a countryside illustration. But keep in mind that the wall usually goes differently than the color used for accessories.
13. Red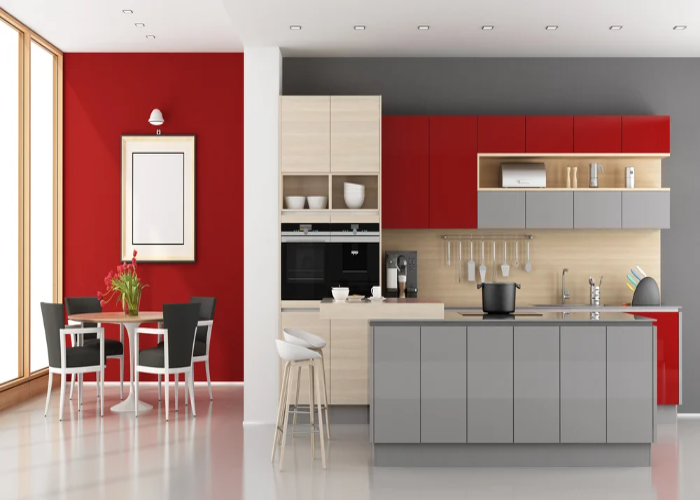 The last color that will go well with a grey unit in the kitchen could be Red. It has a dose of excitement. Where red is full of energy, at the same time, grey calms it down and turns the place into a livable place.
The grey unit and red wall can be decorated with adornments in classic black or white. When you complete the kitchen's decoration with a mixture of bright and dark colors, the masterpiece will look chic and elegant. This clash of colors will never make a boring kitchen; instead will make a fun and cheerful place to be in. A bright rust will put a smile on anyone's face at sunset.
Conclusion
We discussed 13 unique color schemes and hope we have answered the question of what color goes with grey kitchen units, some of which were somewhat monochromatic while others were two-color and three-color as well.
What ideas did you find the most interesting? Would you choose brighter yellow or orange? Or dimmer choral or pink? What would be your pick? Review the suggestions, and we'd appreciate it if you put additional details with accessories.
So, according to you, which color goes well with your grey kitchen unit?
Other Articles