Are you looking for guest room decor ideas? There is a very famous quote in India: "Atithi Devo Bhava," which is translated as "the guest is god." In India, guests are considered to be equivalent to gods.
As a good host, it is our essential duty to make our guests feel welcome and comfortable in our home.
If you are someone who has frequent guests at home and is looking for ideas to convert your spare room, basement space, or any small space available in your house into the most suitable guest room, then you are at the right place.
Here in this article, we are providing 15 of the best guest room decor ideas to transform your guest room into a cozy retreat. Make sure that the decoration of the room is comfortable for all age groups.
By using these ideas, you will be able to make your guests feel welcomed and honored.
Revamp Your Guest Bedroom With These Decor Ideas
Get ready for the complete transformation of your spare room, small space, or unused basement area into the best-decorated guest room. 
Invite all your friends and family for fun, enjoyment, and the creation of beautiful memories with these 15 guestroom decor ideas.
Similar Post: 15 Office Guest Room Ideas to Create A Multi-Functional Space
1. Paint Your Room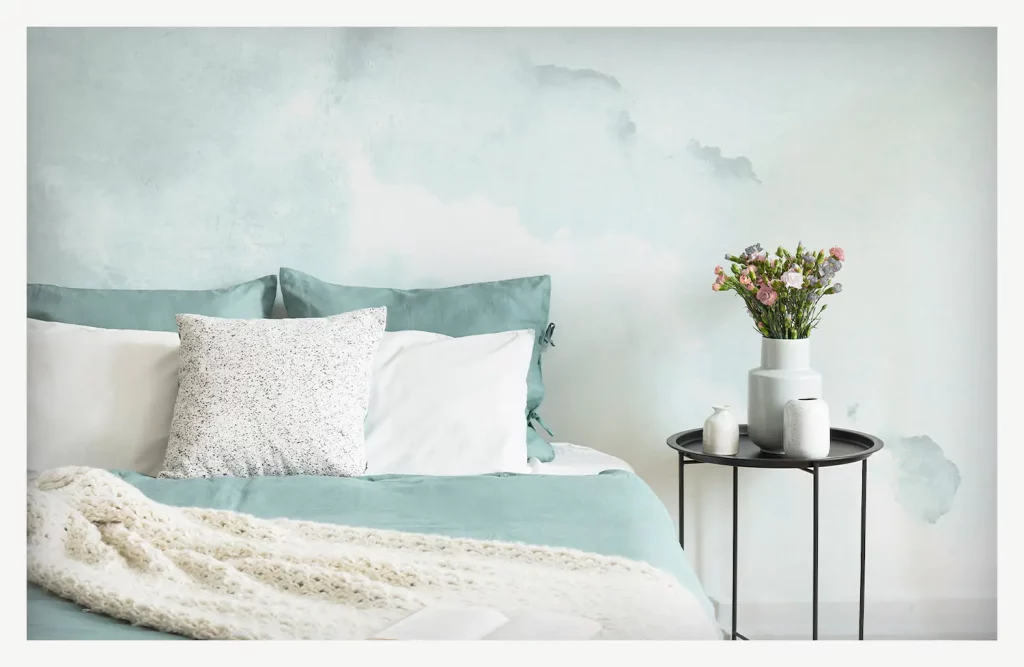 As your guests have arrived from their long journey and might be very tired, give them a feeling of calmness and relaxation as soon as they enter their guest room.
Give preference to soothing or neutral color shades like light blue, soft green, or muted grey for the paint of your room. They will feel light and less tired in such an atmosphere.
You can also go for a choice of bold color, contrast color, or two-color partition. You must give your guest room an attractive and eye-catching look.
2. Provide Cosy and Colourful Bedding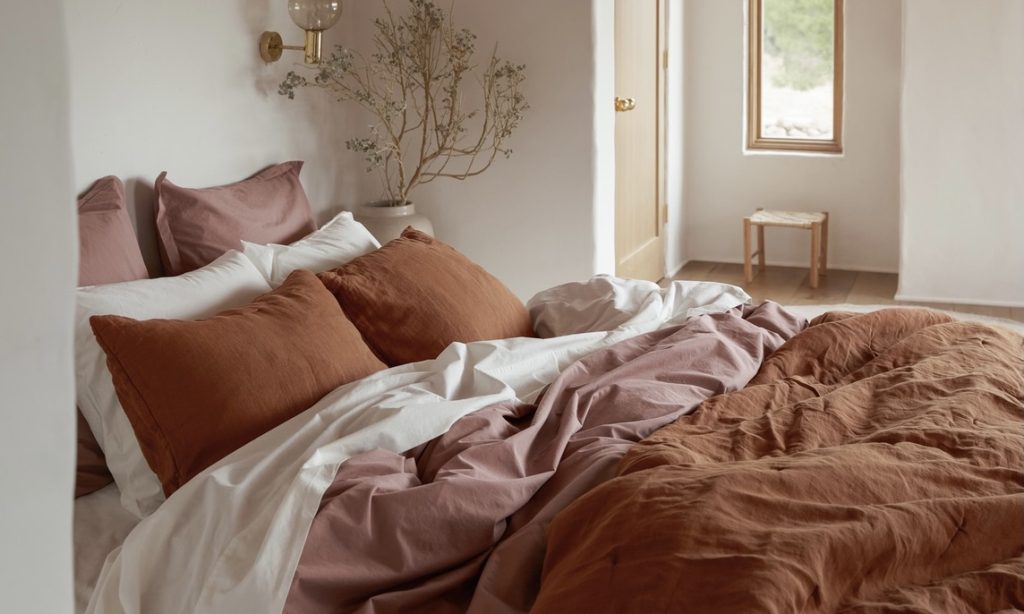 Decorate the bed in the guestroom with high-quality material for the bedding and blankets for the guests. You should try to give them the experience of a home away from their home.
It is very inconvenient for them to ask about changing the temperature of the AC again and again. So provide them with enough cozy blankets to make themselves comfortable in their space and have a good sleeping experience.
You must keep some space for extra bedding and facilitate your guests with extra blankets and pillows if needed. The color of the bedding must complement the room's decor. You can decorate the neutral-shaded guest room with big pillows with bold pillow covers.
3. Proper Lighting Options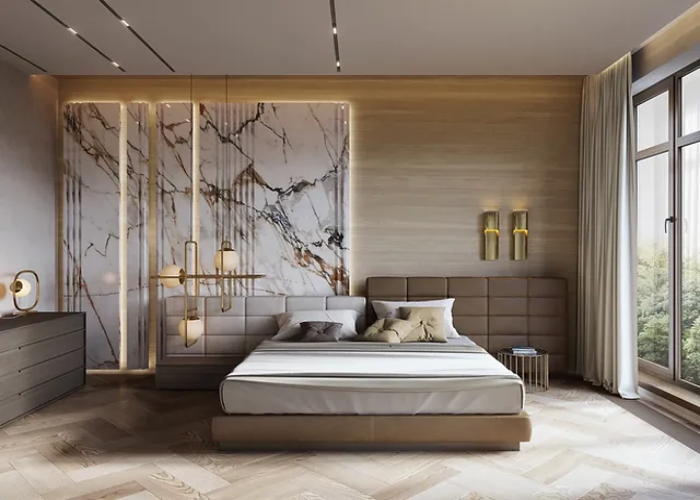 You should decorate your room in such a way that it provides a warm and comfortable feeling to your guests while also being the most useful. You should install bright primary lighting so that they do not feel that they are living in dark or dim light every time.
Contrary, provide them with a dim light option as well in the form of a table or floor lamp for their convenience and comfort. Select your light color according to the room's color so it does not create a mismatched look in the room.
4. Create Enough Storage Space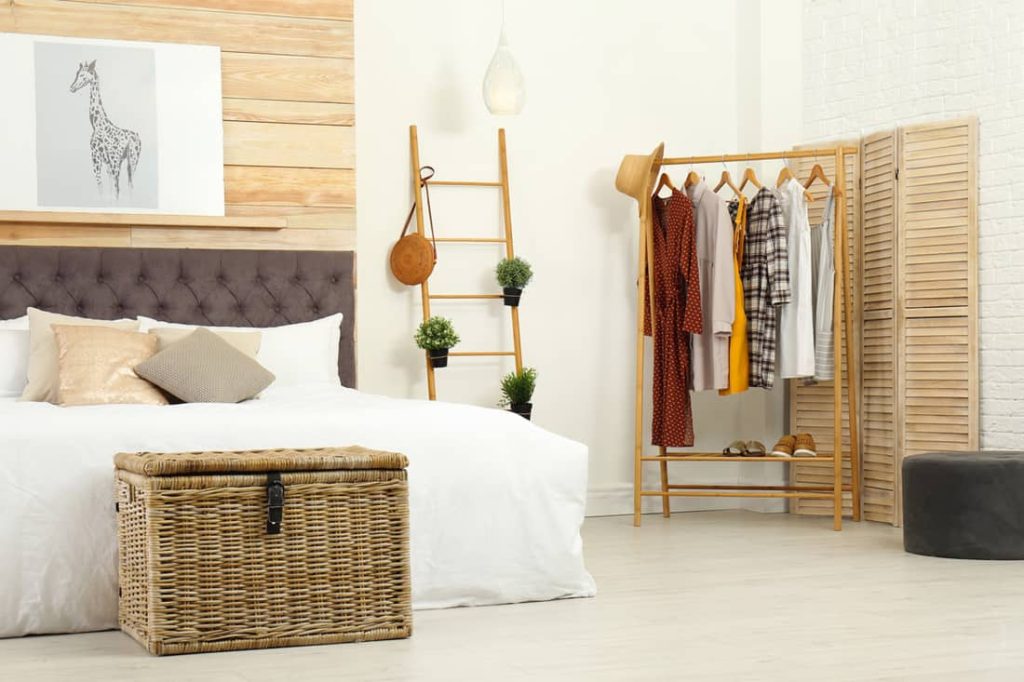 Make sure that your guests do not have to keep their belongings in the luggage bag. Decorate your space creatively while giving the room plenty of storage space. Decorate your space creatively while giving the room plenty of storage space.
You can install a fancy, functional bedside table to help settle your guests. You can customize the furniture in your room or pick a whole ready-made set of furniture from the bazaar. If your room is small, you can go with options like a storage bed and wall shelves.
Your room must be equipped with a spacious closet with hangers and a dressing table with drawers for storage purposes. You can select from various designs, shapes, and sizes available in the offline as well as online markets.
5. Window Set Up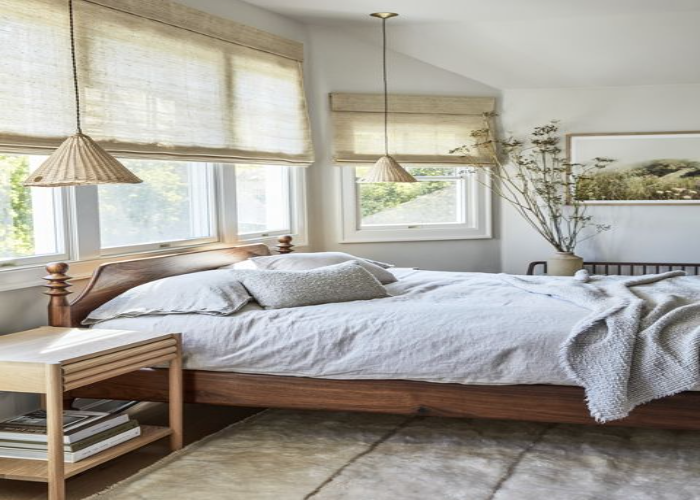 Provide your guests with a room with a beautiful view. Your guest room must have one or two windows with light-blocking shades. Windows must be designed in such a way that they let in enough sunlight whenever they are open.
You must give them fancy and decorative blocking shades so that their sleep is not disturbed by the morning sunlight. There are multiple options available on the market for blocking shade designs.
Select according to your room's color and decoration to enhance the decor of the room.
Also Read: 15 Tips for Designing a Warm and Inviting Guest Bathroom
6. Addition of Plants or Blooming Flowers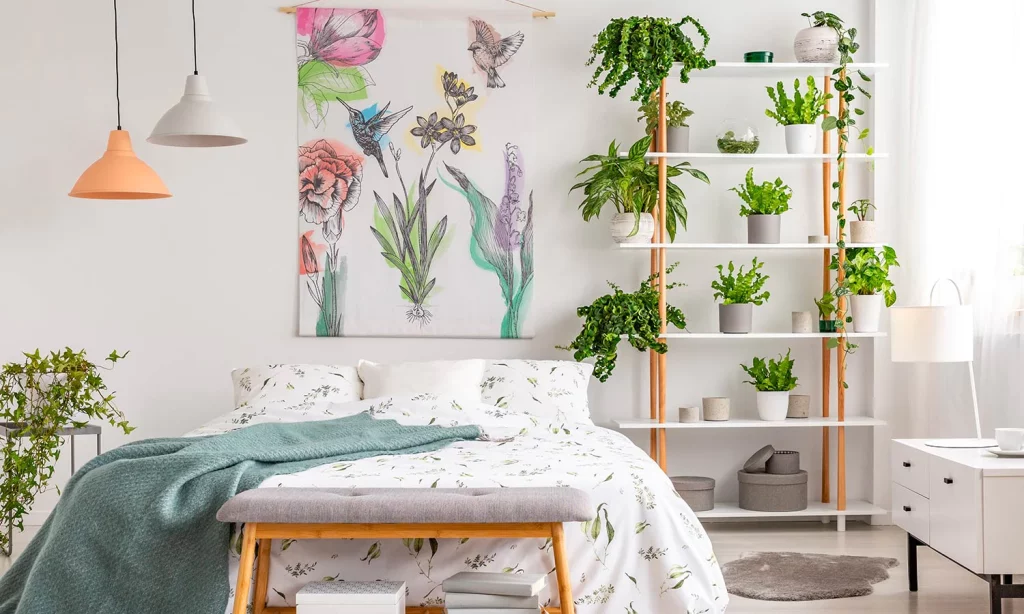 You should add some plants or fresh flowers before the arrival of your guests. It creates a lively atmosphere. This idea will promisingly decorate your space and create refreshing surroundings.
Your guest will release their tiredness in the presence of greenery and the fresh fragrance of blooming flowers. This idea will add a thoughtful touch to your guest room decor.
Make sure that you give proper care and maintenance to the plants for as long as you keep them with you.
7. Small Office Station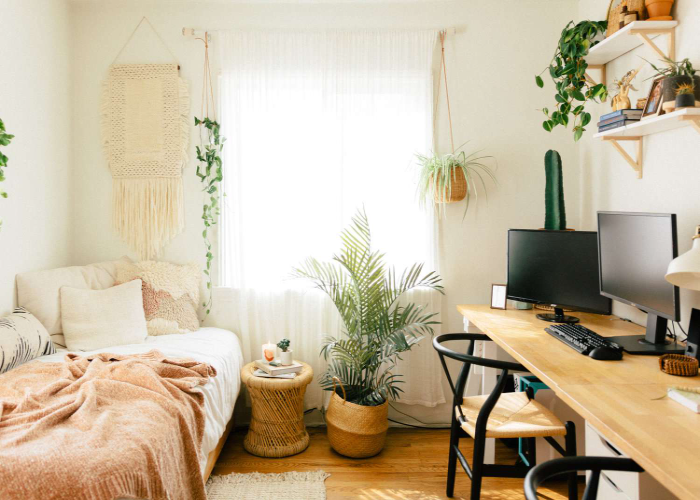 As your guests are arriving for a longer period, they might bring their professional responsibilities along with them.
Decorate your room with a small office space. Make sure that the office furniture goes well with the color scheme and other furniture of the room. Arrange it in a way that receives proper natural light and electric light as well.
Additionally, you can decorate the workstation with books and useful stationery, small plants, and a lamp.
8. Hangout Area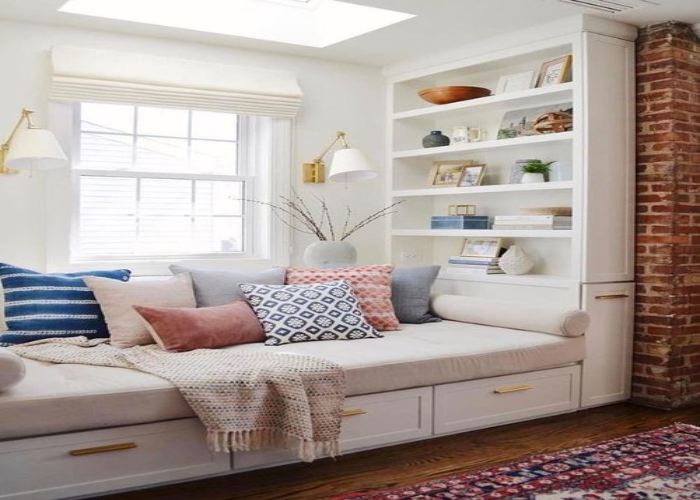 If you have a balcony, what is the best use other than to convert it into a small hangout place? One idea for guestroom decor is to create a small seating arrangement inside the room or use the balcony.
You can decorate your seating area with modern tables, couches, armchairs, etc. There are multiple options available on the market for the arrangement of the seating area.
This guestroom decoration idea can make a big difference.
9. Wall Decoration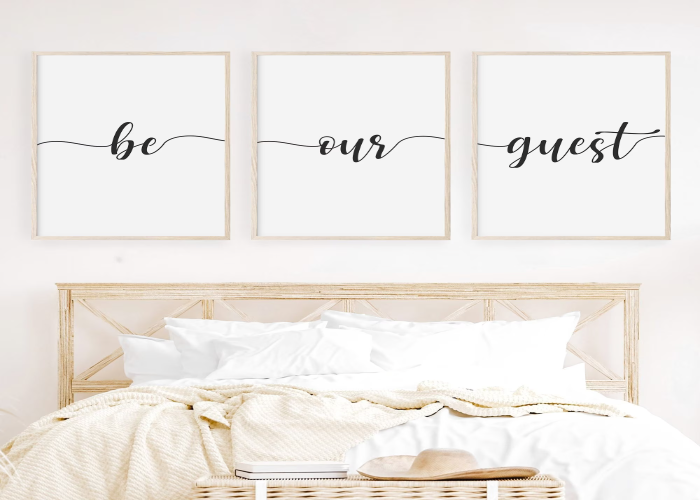 As soon as the guest enters their room, the first thing that catches their eye is the paint on the wall or the decoration on the wall. There are, again, many ideas to apply for the decoration of the wall.
You can use beautiful wallpaper and match it with some art or a family photo frame. Decorate it by adding some art pieces to your room. You can keep the wall color plain and add some colorful art to make it more attractive.
This showcases your personality, so choose your wall decoration wisely.
10. Vintage Love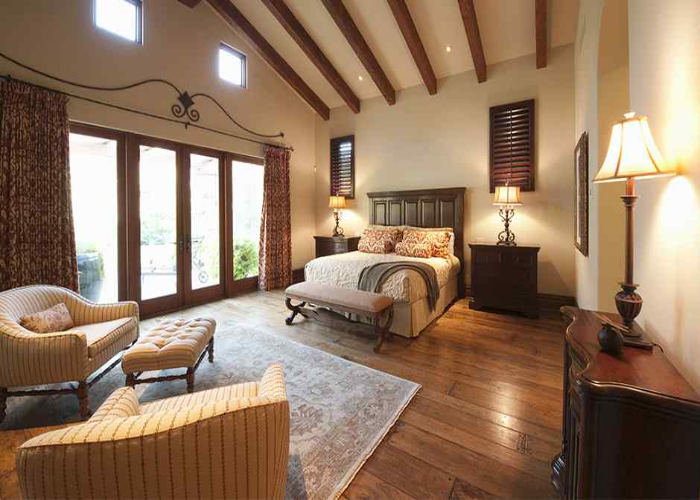 If you are a vintage lover, then go for this guest room decor idea. You can add vintage color or wallpaper to your walls. Arrange vintage-style furniture and a specifically vintage-style bed to give your guest room a vintage touch.
Add old-style photo frames, artwork, a tape recorder, and an antique mirror to enhance the look of the decor. Provide vintage-style lighting according to your room's decor.
Give your room a royal touch so that your guests do not wish to leave your house.
11. Add Entertaining Tools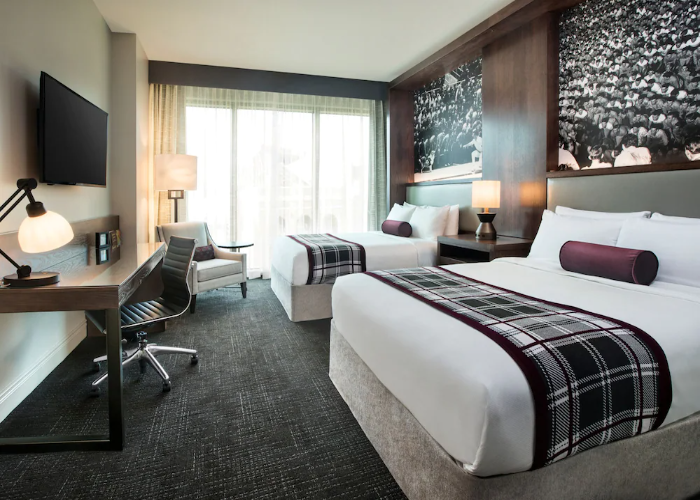 You must include tools for entertainment in your room. You must add a smart TV with uninterrupted internet service. Give them the privilege to enjoy their favorite shows. You can also add a big-screen TV, projector, or home theatre system to their room.
Related: 20 Black Bed Frame Full Room Ideas to Design an Inviting Space
Additionally, you can arrange a tape recorder with a radio facility and an inbuilt combination of old and new songs. Provide some indoor and outdoor gaming tools to enjoy their free time.
You can add magazines, storybooks, and activity books like puzzles and Sudoku as well.
12. Welcome Basket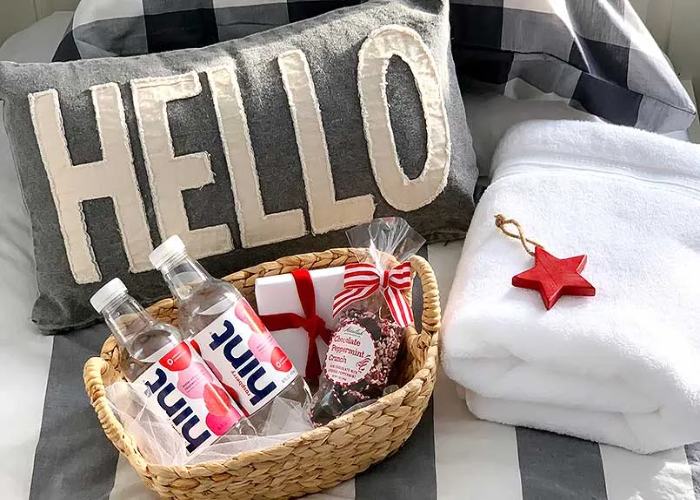 Before the arrival of your guests, prepare a welcome basket with essential items. At the arrival of your guests, welcome them with a fresh welcome drink. Provide them with fresh pairs of towels, napkins, and a bathrobe.
You can keep personal care items like unused toothpaste, toothbrushes, floss, nail cutters, etc., in your basket. Do not forget to include freshwater bottles. As we all pass through the difficult time of the Corona pandemic, you can add masks, sanitizers, and a basic medication kit for safety's sake.
You can also prepare a seasonal basket. You can customize your basket depending on the likes and dislikes of the guests arriving. Decorate your room with a welcome basket containing a sweet welcome note and flowers every time your guests arrive.
13. Floor Rug Decor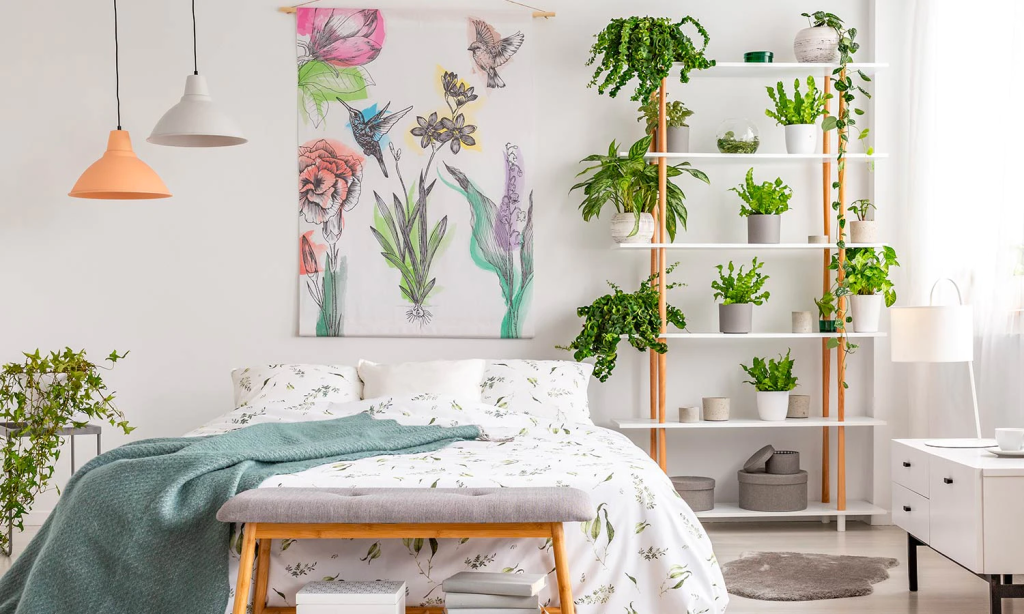 Decorate your guest room with a floor rug. This idea will help you enhance the decoration and define the areas in the room. You must select the size, shape, and color of the rug according to the other decorated items in the room.
If you are using more than one rug, keep in mind to keep them the same size, color, and pattern, as two distinctive rugs can create an odd look in the guest room. Use linear ties to keep the rug in place.
You should maintain good quality and softness in a rug. You check on the cleanliness of the rug regularly.
14. Bed Selection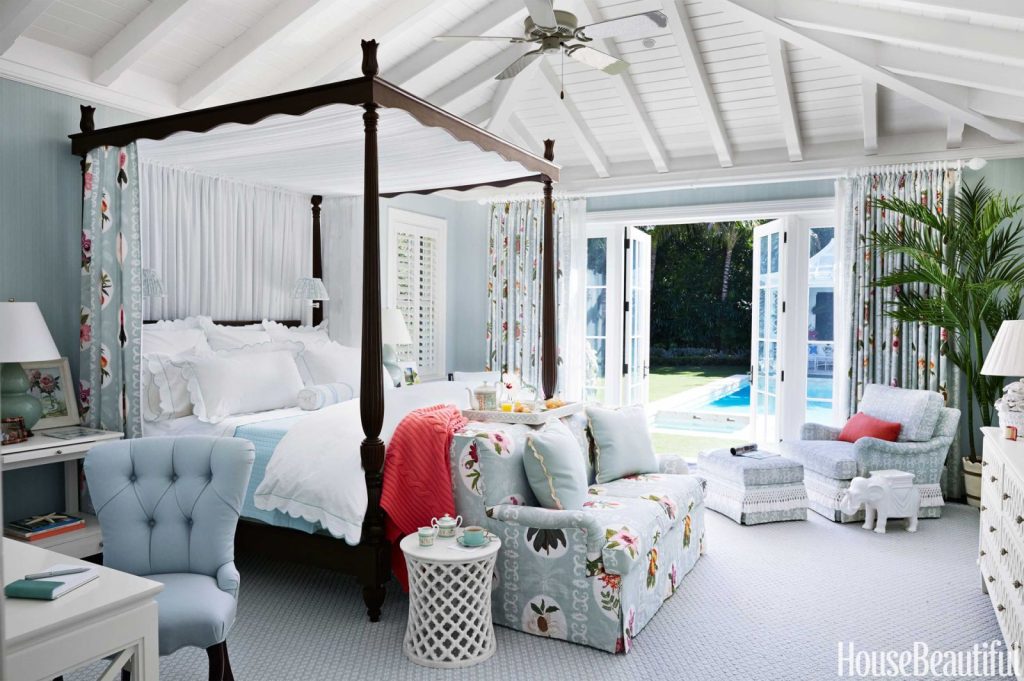 The bed is one of the essential parts of the room. The design and decoration of the bed can be a game changer in the decoration of the guest room. Select the design of the bed according to the theme of your room.
You have plenty of options available on the market. You can go for a canopy bed with white linen curtains and twinkling lights. If you are going for only the bed, then the design of the headboard can be a room changer.
There are iron frames, wooden frames, rustic wooden frames, soft rayon designs, colorful designs, and many other designs available in the market. You can customize your bed design as well.
You can have twin beds or storage beds, which are also available.
15. Ceiling Decoration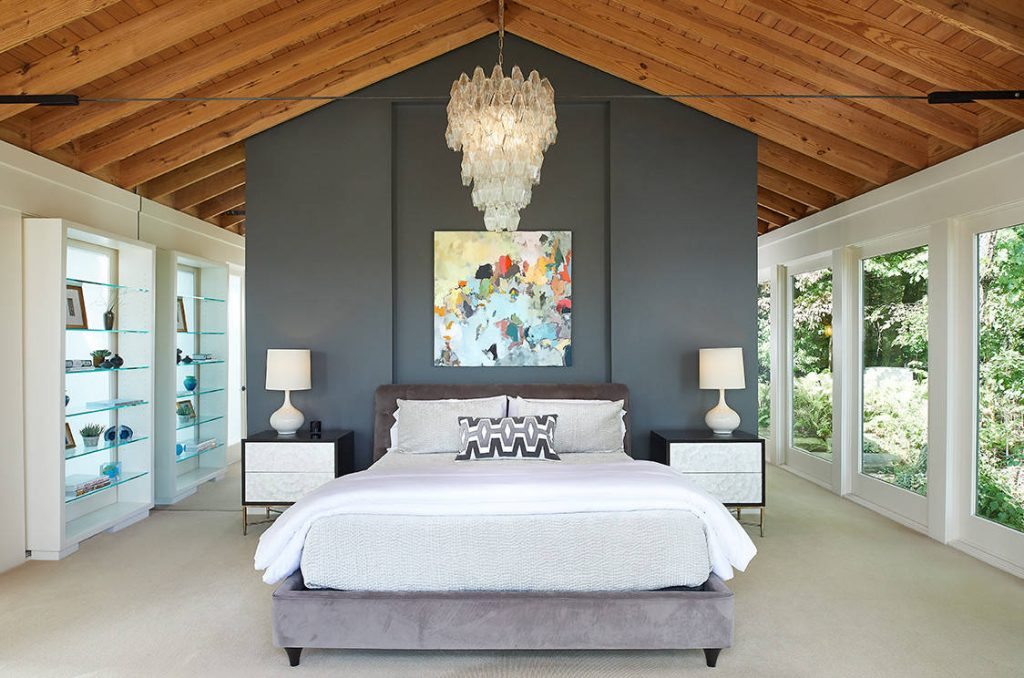 Most of the time, we decorate the whole room but forget about the ceiling, which is equally important. You can go for neutral or any shade of white for the ceiling decoration.
Sometimes you can go for colorful wallpaper for the ceiling, but I suggest you decorate your ceiling according to the whole decoration of the wall. There are stylish and modern to antique designs of ceiling fans available that help you make your room more attractive.
You can also add beautiful chandeliers as decorations to your room.
Final Words
Here in this article, all the guestroom decoration ideas are well explained. I strongly advise you to spend one night in your guest room to get a sense of reality before making any changes to the room.
These decor ideas will help you convert a spare room, a small space, or even a basement into a beautiful guest room. You can create the experience of a cozy retreat or oasis for your guests.
You can make them feel at home away from their home by using these tricks.
Let us design the perfect guest room for our precious guests and help them make unforgettable, beautiful memories for life with the help of these 15 guest room decor ideas.
Check This Next: 15 Striking Kitchen Runner Rugs to Instantly Upgrade Your Space
Other Articles