15 Tips for Designing a Warm and Inviting Guest Bathroom
You can set up an impressive bathroom space for visiting guests as a good host by taking a few imaginative steps. A furnished bathroom will rejuvenate and elevate the spirit as the facilities and...
You can set up an impressive bathroom space for visiting guests as a good host by taking a few imaginative steps. A furnished bathroom will rejuvenate and elevate the spirit as the facilities and comfort make the guest feel welcomed and loved. So what are the ways to enhance your spare bathroom into an enticing space for an enchanting experience?
There are so many guest bathroom ideas that you can utilize for setting up a cute bathroom for the guests. There is no extravaganza expected on the matter of embellishing the guest bathroom. A few practical steps can make your visitors feel at home.
Now let us go through a few ideas on how to upgrade and refurbish a bathroom in an appealing way to enhance it into a comfortable guest bathroom that works like a sanctuary for your guests to relax and rejuvenate.
1. Set Storage with a Skirted Vanity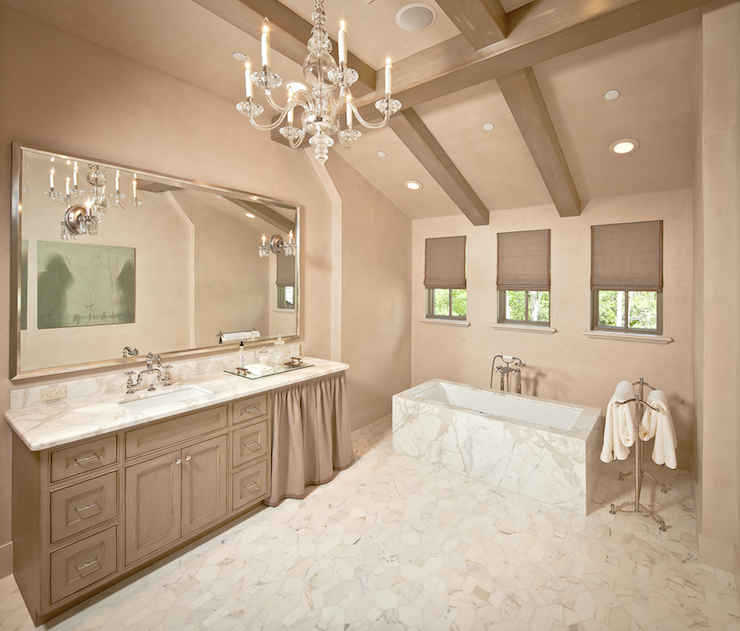 To give an organized and structured look, you can think of placing a skirted dressing table in the guest bathroom, showing off a luxury mind if there is a window for natural light. It can contain a tabletop mirror and comfortable seating to relax. The advantage is guests will be able to tuck their toiletries in storage behind the skirt. Minimal finishes and millwork can make it more appealing, and a coat of white paint will be really nice.
2. Place Candles and Matches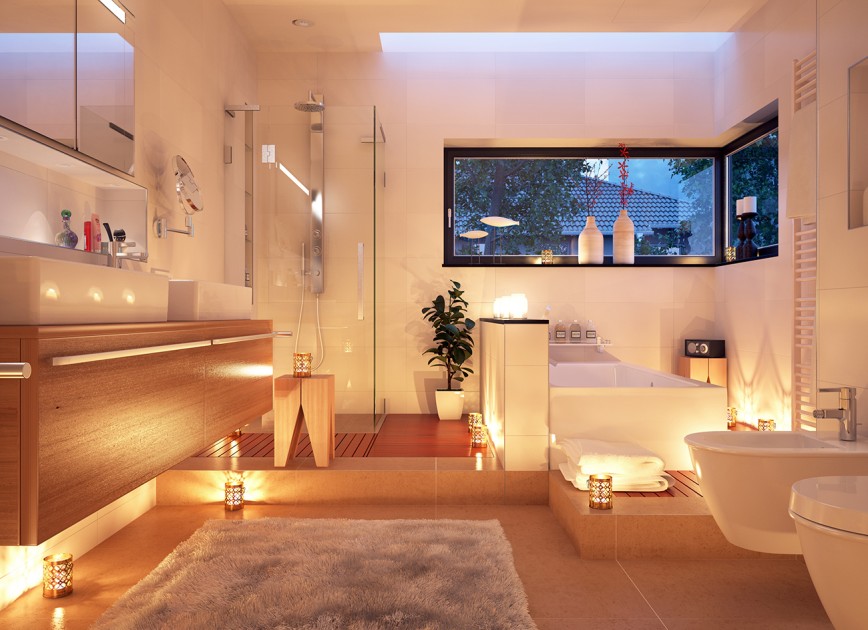 Among the guest bathroom ideas, keeping a few matches in a cloche will be better, as lighting a match dispels bathroom smells. Also, place a nice candle tray to make the bathroom more nature-inspired. There are fantastic special candles with amazing fragrances good for the guest bathroom.
3. Place a Bath Mat to Keep Feet Warm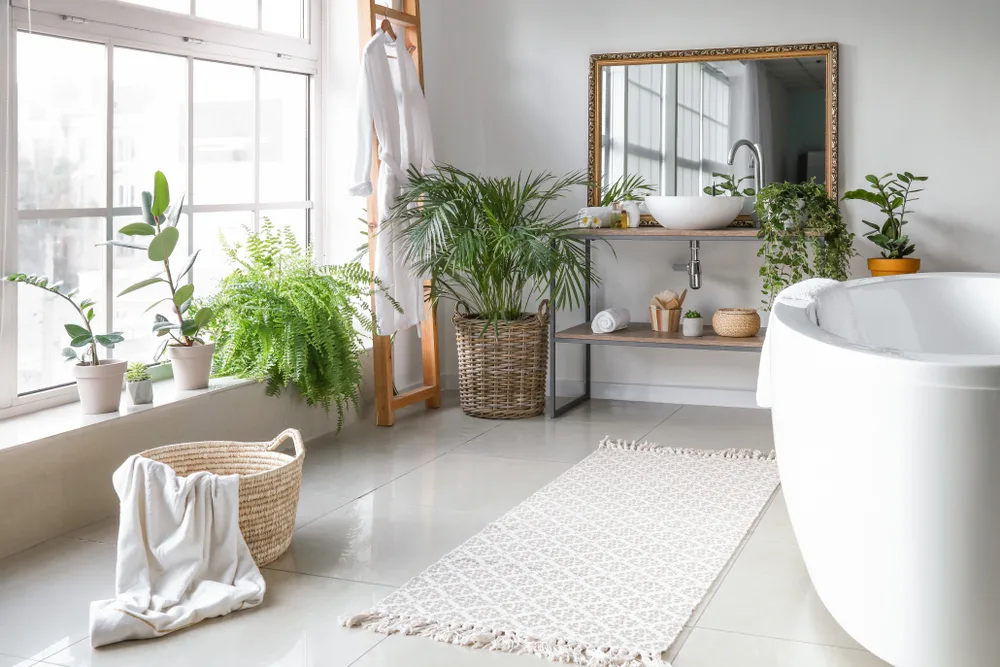 In the guest bathroom decor ideas, there is considerable importance for bath mats and area rugs. If you can match them with the shower curtain's shade, it will enhance the look in addition to preventing users from slipping and falling. Go for mats and rugs with high texture and many layers. You can get the best plush bath mat in floral shapes and colors to safeguard guests from the cold floor, as the mats will suck up excess moisture.
4. Embellish Guest Bathroom with Fresh Flowers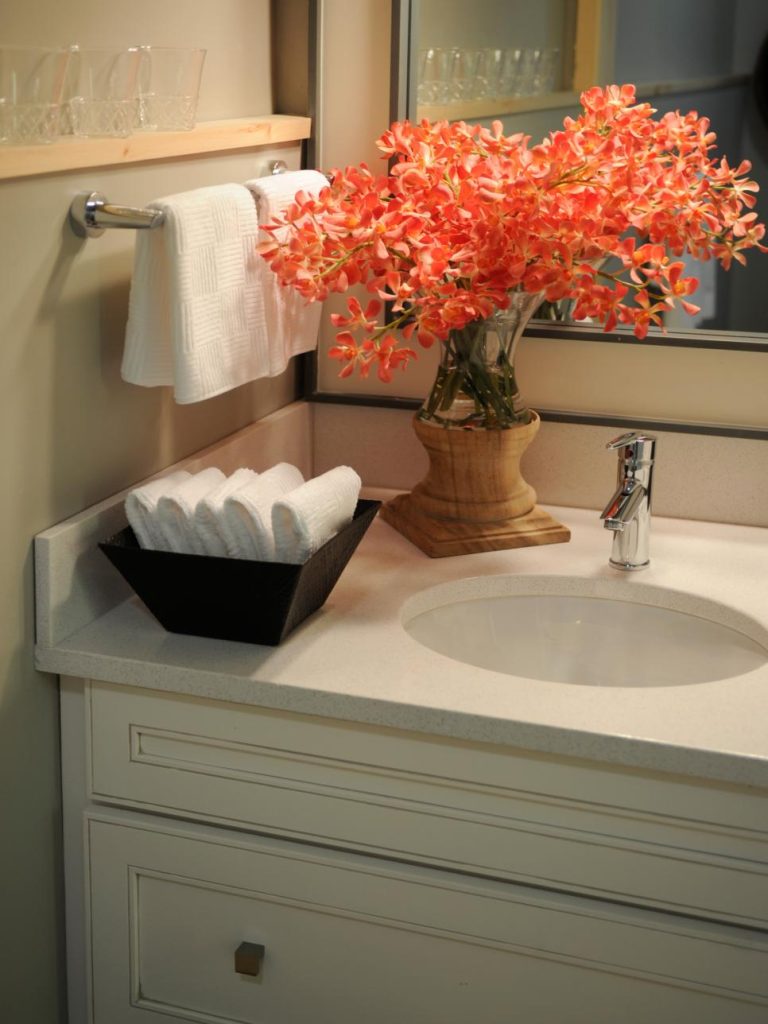 Fresh flowers induce a welcoming vibe and make your guest cheerful. So, arranging flowers and having white floral flowers will make the extra space chic. Among the flowers, Orchids and Carnations are bathroom-friendly. In smaller bathrooms, single blossoms are fine. If your bathroom's theme is blue, a bunch of bright yellow sunflowers and a few shiny plastic gems will enhance the look. Peace lilies will be another option to brighten up your bath space.
5. Provide Makeup Removers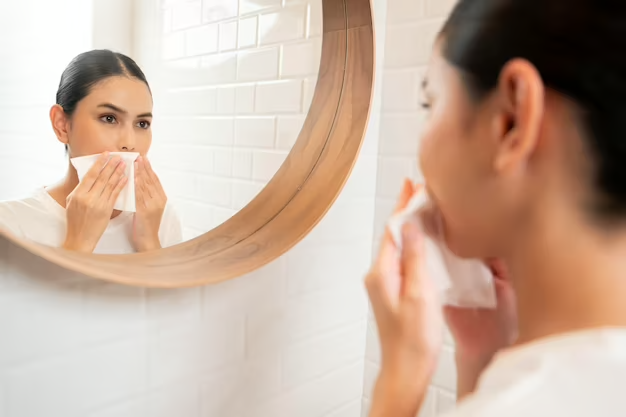 To keep guests at ease, and avoid the embarrassment of putting makeup on fresh guest linens you can provide them with make-up remover pads, cotton swabs, and the like as part of the grand guest bathroom idea. You can arrange an antique trinket box to house those necessities or provide a cabinet to keep all the makeup stuff.
6. A Jar of Toothpaste Tablets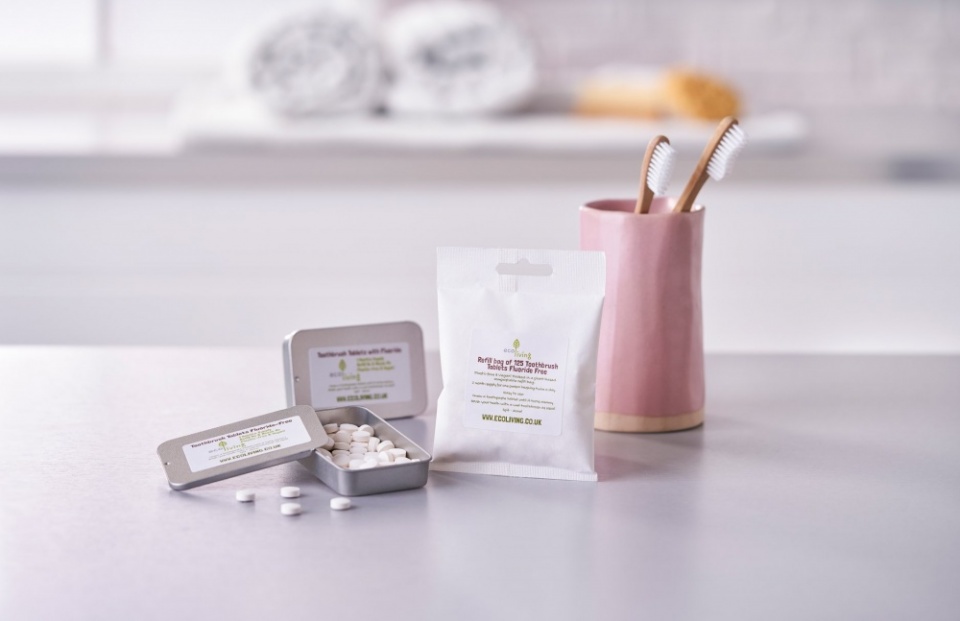 In case guests had forgotten to bring toothpaste, a cute jar of organic toothpaste tablets in the bathroom will be helpful. These chewable toothpaste tablets have a refreshing peppermint kick. It will come in handy for dinner party guests too who want to shed the garlicky taste on the tongue.
7. Give a New Fancy Soap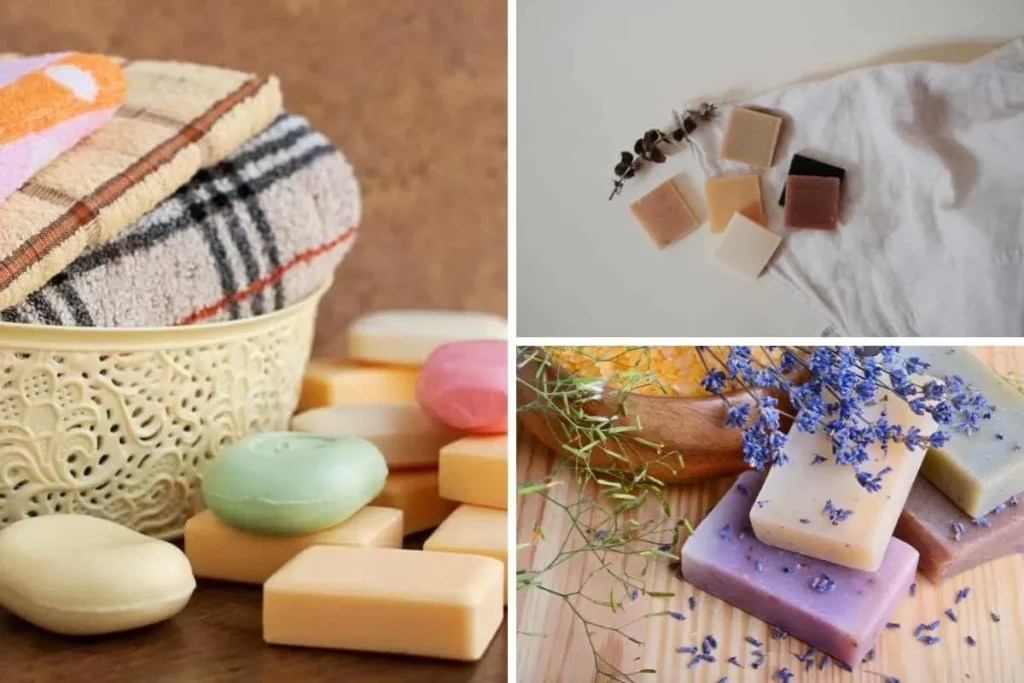 Surprise your guests by keeping a fascinating, brand-new soap for them to unwrap. The luxury of a fresh soap bar in beautiful wrapping with super citrus fragrances such as orange, lemon, grapefruit, and bergamot will spread a great aroma and awesome feel in the bathroom. The guest will feel honored and a special gratitude will bloom in his mind.
8. Install Towel Hooks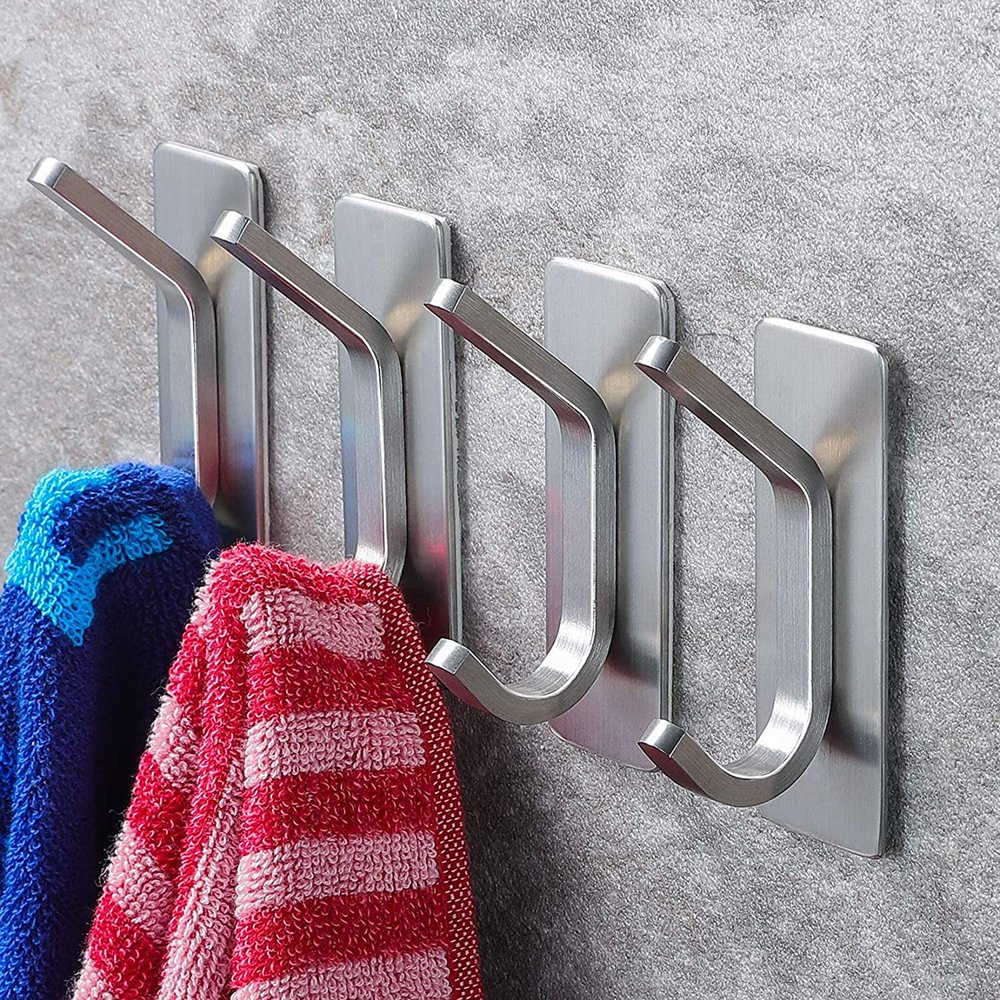 The possibility of wet towels falling and dampening the floor is a possibility. To void that mess, you can install towel hooks near the shower. To boost the aesthetics, you can match the shower hooks' shade with that of hardware, hinges, and sconces for a smarter look.
9. Set up Floor Warmers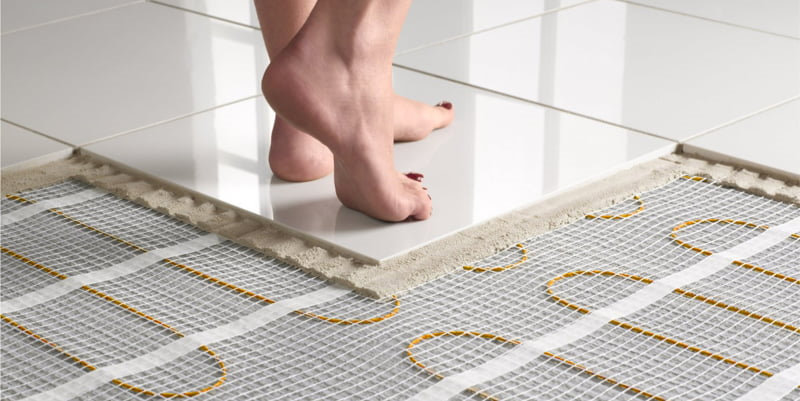 Heated floors can be excellent, even if they are a luxury. Underfloor heating is best for tiles, concrete, wood, and vinyl floorings. You need to make the cold tile in the bathroom a soothing, warm floor for an additional advantage as well.
It is that heating systems reduce noise levels and allergic reactions as there are no air currents that would disturb the dust. Also, providing guests with towel warmers must be a priority in your scheme of guest bathroom ideas.
10. Asymmetrical and Geometric Mirrors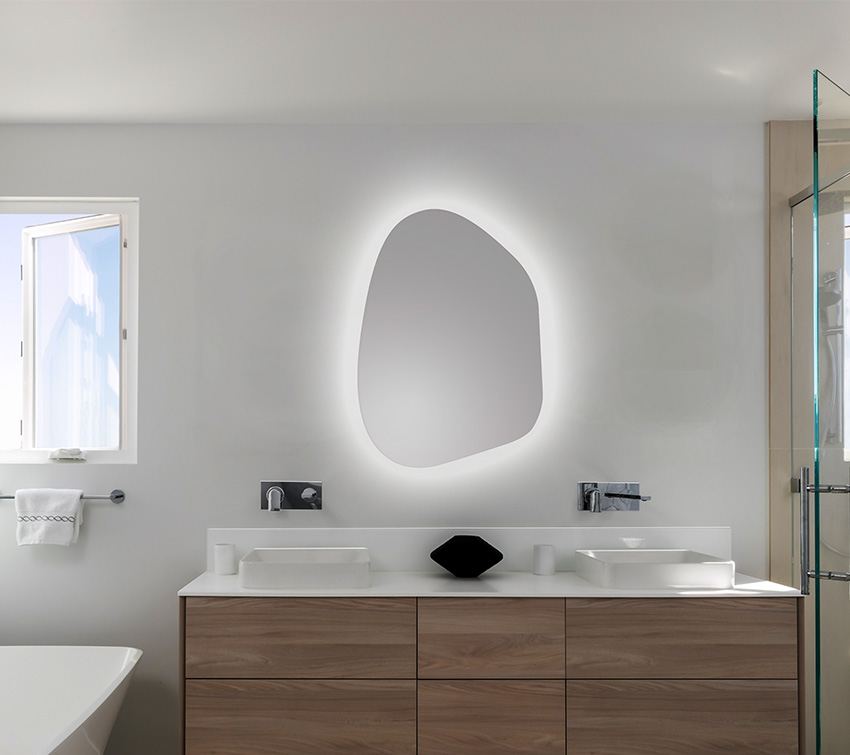 In the guest bathroom ideas and solutions, asymmetrical mirrors are a trending part. Getting ready in a stylish bathroom must be a flawless process. For that sophisticated mirrors are a must. These days you have anti-fog technologies and mirrors with smart touch sensors in geometrical shapes. Backlit mirrors are also utilized. Front lights will also add cheer thanks to optimal lighting.
11. A Bluetooth Speaker for Soothing Music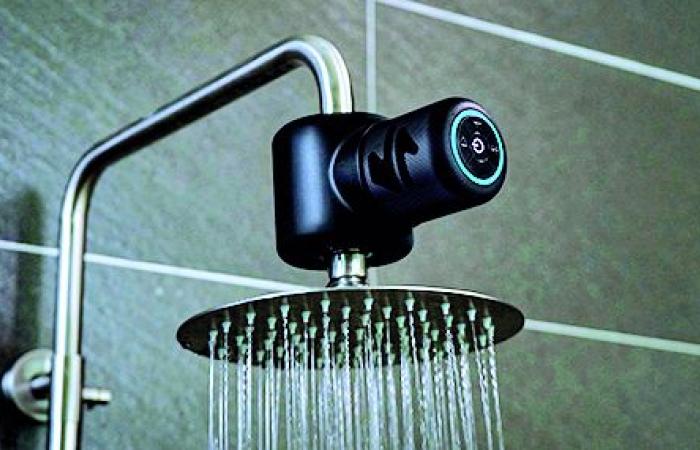 In your guest bathroom ideas, having some space for a Bluetooth speaker is critical. You owe a good time to your guests who may be arriving tired after a long journey with travel fatigue. They can cheer up with some peppy tunes as they shower, change and refresh. The music will lift the mood as they soak in the cool bath. Get a humidity-resistant speaker for the bathroom with touch buttons that the guest can control.
12. Offer the Best Hand Towels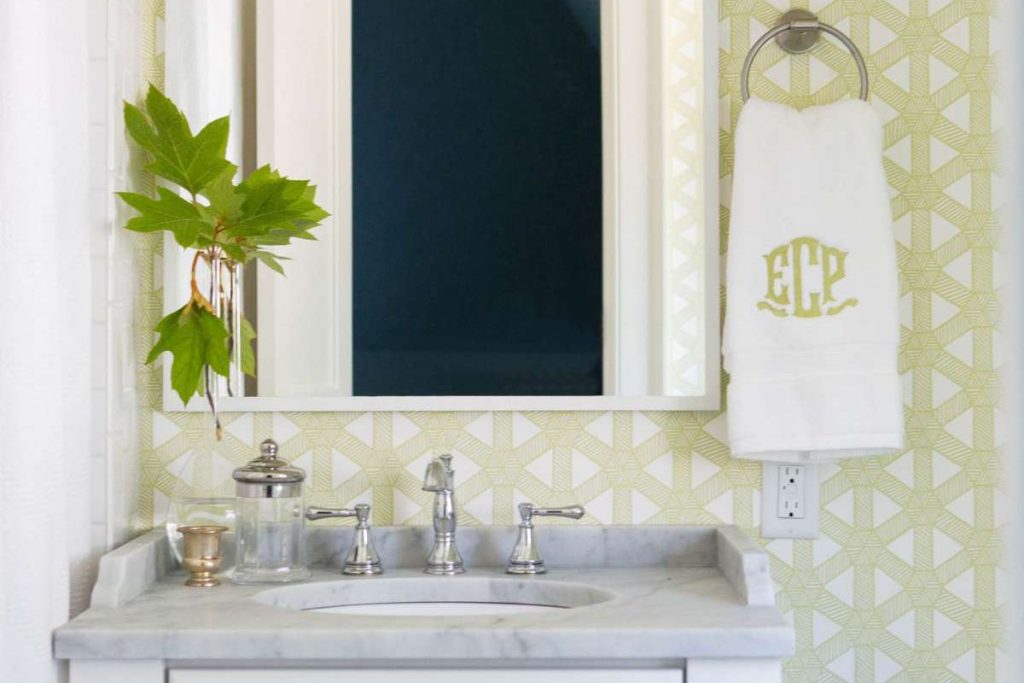 Upgrading the guest bathroom is an opportunity to show you care for the guests. You can show your imagination at the hand towels front. It is very cost-efficient and hygienic to replace stained or ratty hand towels and provide a fresh set of super-plush hand towels in various colors. High-pile towels are water absorbents and the thickness gives a special spa-like feel.
13. Wallpaper to Enhance Cool Vibes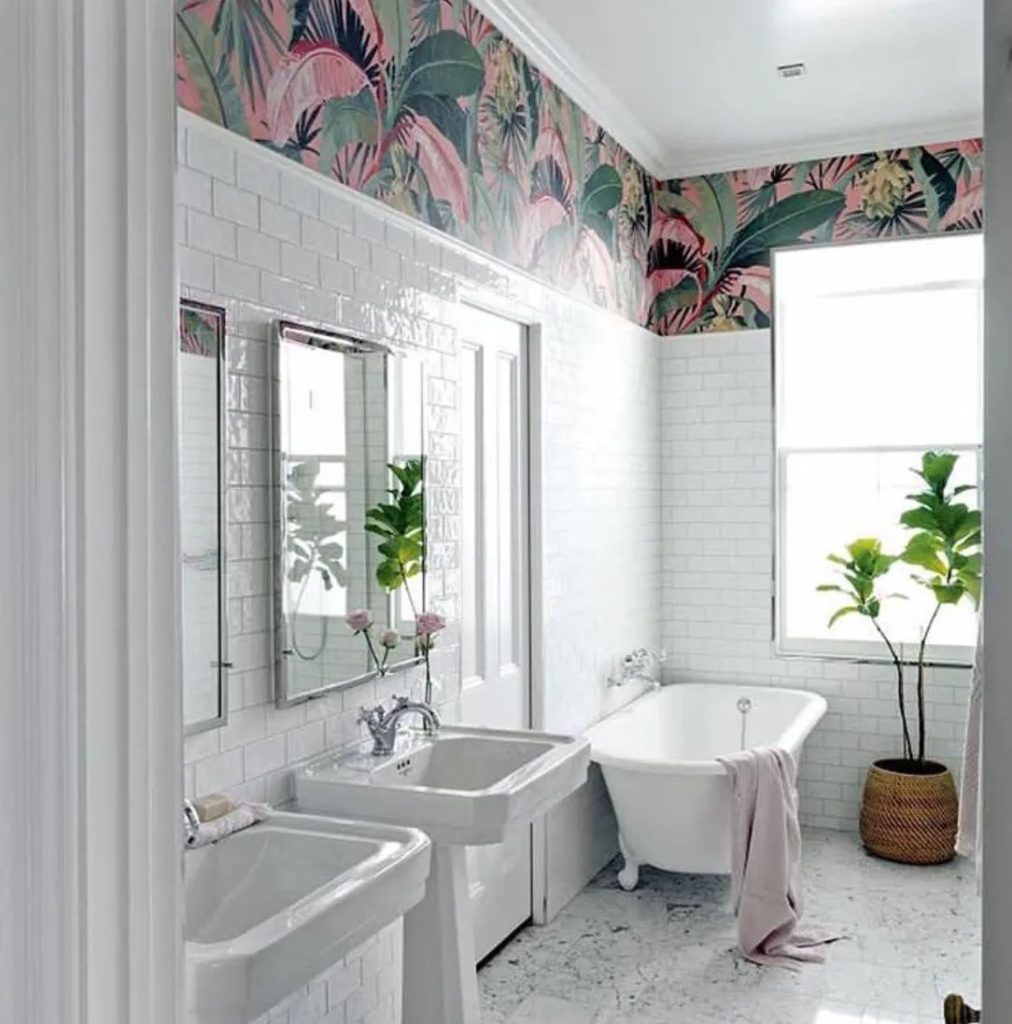 If at any point in time, you feel the guest bathroom is unappealing, try a fresh look with moisture-resistant wallpapers. Among the wallpapers, those with floral motifs and a textured appearance are better as they hide all imperfections of the wall. Decorative wallpapers are also washed with soapy water and you do not have to worry about turning dirty.
14. Keep Plants in The Bathroom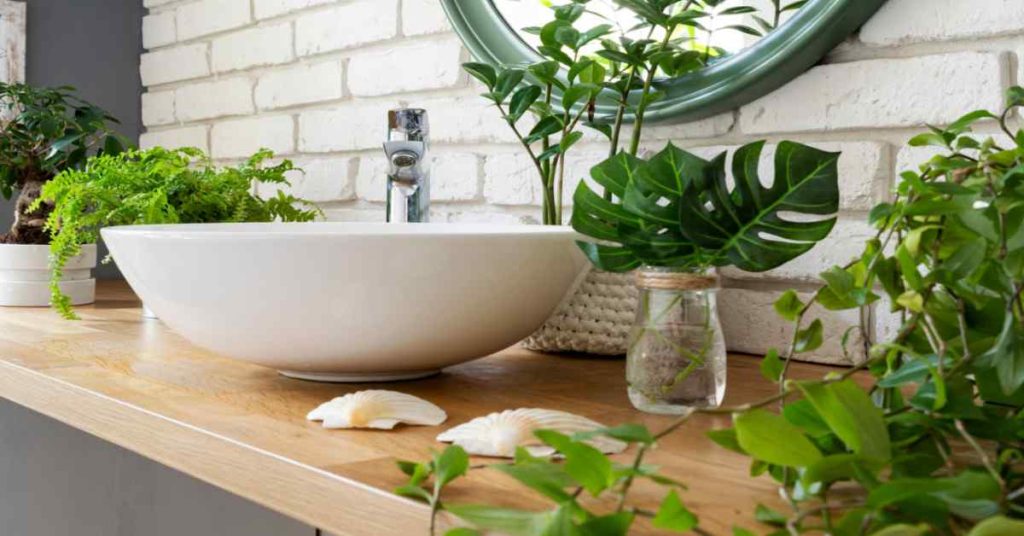 Humidity-loving plants are best for bathrooms. You can place greenery on open shelves in the bathroom. Many plants hike bathroom decor plus air quality. The plants in the bathroom should endure limited light exposure, humidity level, and temperature variations. Lacy asparagus fern can survive in humidity. Begonias can grow in containers. Rex Begonias grow well indoors, especially in humid conditions. But they need early morning sunlight. Bromeliads produce lasting blooms with yellow and red blossoms in winter. As epiphytes, they take moisture from the air and are best for bathrooms.
15. Led Illumination for Vanity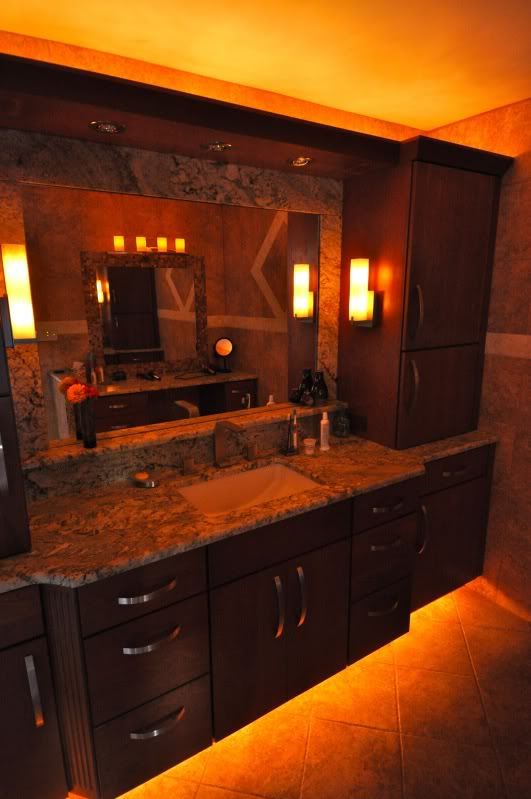 The guest bathroom ideas will be incomplete without some trendy under-cabinet lighting to illuminate and highlight the vanity space. It causes no disturbance at night, but adds a special elegance. You can try Philips Hue kits for this purpose. In terms of colors, you get a wider choice and the lights can be controlled via smartphones or Amazon Alexa.
New Trends in Bathroom Remodeling
While hosting visitors your ambition to add a touch of class can be realized with a few nuances in the bathroom decor. In a modest remodeling of the guest bathroom, a medium budget can manage to enhance the washroom into a semi-luxury abode. We can scout for a few more affordable options here.
The realm of guest bathroom ideas is witnessing a spate of technology-led trends. Now classic tiles are making a comeback and examples include classic subway tiles and large-format tiles.
This is providing great variety and optimum utility. The trending shapes include hexagons, arabesque, diamonds, fish-type scales, and chevron patterns enriching the contemporary bathroom decor. They are handy for backsplashes, shower walls, and ceilings for creating bold accents and special trends.
Wood accents
As for the tones, gray warmer tones are on the way out, and wooden ones are in. Wood easily complements most bathroom shades including white, green, dark, and blue. Wood accents sit nicely with industrial and vintage trends and finely capture the traditional style and modern bathroom styles.
Compact storage
In storage, crammed cabinet spaces are out and the trend is towards minimal storage in cabinets, and shelves. Given the exalted position of the bathroom as a relaxation sanctuary, there is a new passion for less clutter, hidden cabinets, modern wall shelving, and vanity to make bathrooms elegant and organized.
Preference for Earthy Tones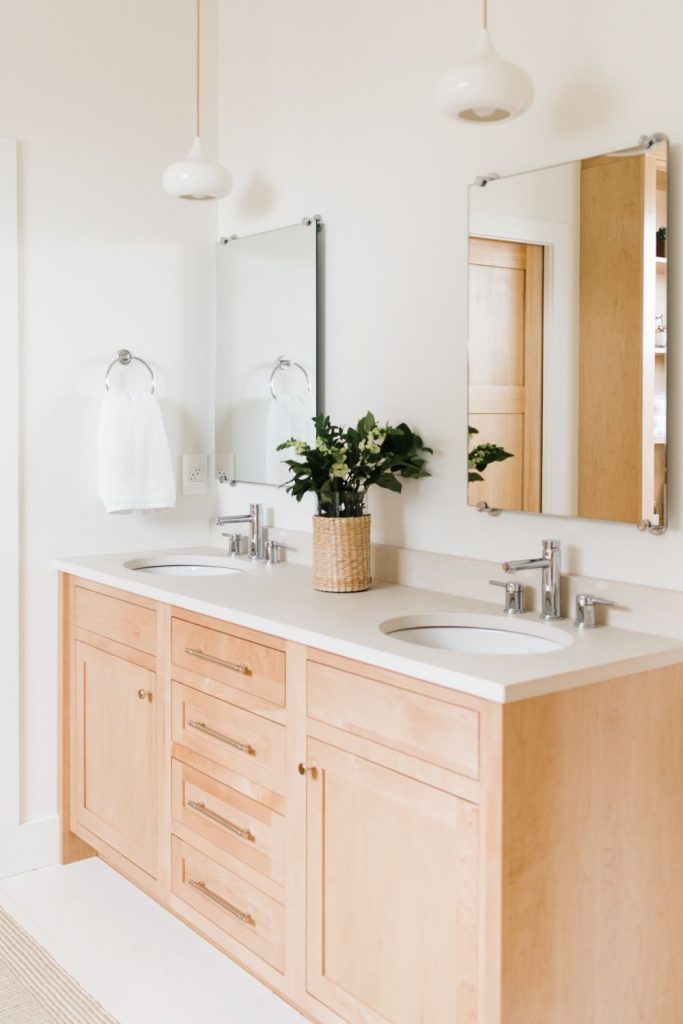 Earthy tones are sweeping bathroom decor in terms of accents, fixtures, and accessories, as they pair nicely with light and dark colors. Greens, blues, and browns are now part of the earthy tones platter. They go easy on the eyes and assure higher relaxation, offering feelings of wellness and beauty.
Innovations in The Size of Showers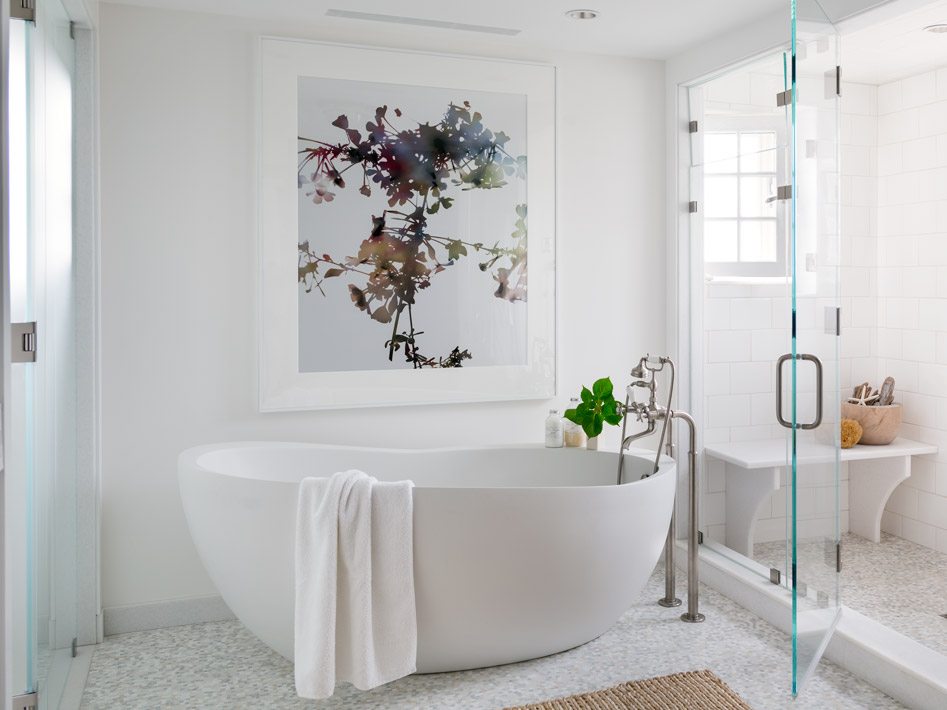 In making bathrooms smarter, the focus is transcending the aesthetics of tubs that used to define chic bathrooms. Now showers are also trendsetters, ad larger sizes are in vogue. Having skylights above the shower is a new spot of luxury.
Remember that guest bathroom ideas are splendid opportunities for displaying the host's artistic orientation and sensibilities. A lofty guest bathroom can showcase a nice painting overlooking the tub. Also, placing a mural painting in the powder room will make the decor more artistic besides giving a spacious feel.
Haven is a spa-inspired bath product platter to enjoy the serenity of the bathroom. It comprises bath towels and bath robes that are 100 percent organic cotton, bath accessories, shower curtains, bath rugs, bath furniture, and many storage items.
Implement Bathroom Makeover Ideas with a Timeline
Also, you have expert bathroom makeover consultants who can prepare a budget and provide a timeline of completion and broad details on the costs of design, labor, and materials. Some of the important material costs are wall tiles, floor tiles, plumbing, Sanitaryware, electrical work, waterproofing, painting, and special embellishments. Now various aspects of guest bathroom makeovers are before you. The above discussion points to the ways for a bathroom makeover with any kind of budget so that your lackluster bath space turns into an eclectic piece to refresh and rejuvenate.
Conclusion
As for bathroom interior enhancement, you can choose any area of the ceiling to the floor with innovative interventions. At the end of the day, an elegant guest bathroom space must reflect your care, personality, and culture to trigger positive feelings of warmth and respect for the host.
So, go ahead and translate the guest bathroom ideas into a reality for making your slice of heavenly relaxation with the vibes of a spa.
Other Articles