Bathroom Mirror with Shelf: 11 Unique Designs and Tips to Consider
If you want to renovate or build your bathroom without spending a fortune, then consider adding a mirror with a shelf. It's an easy way to add storage and style to your spaces. They are great...
If you want to renovate or build your bathroom without spending a fortune, then consider adding a mirror with a shelf.
It's an easy way to add storage and style to your spaces.
They are great for storing toiletries and other bathroom necessities.
They look attractive, too! The only thing left to do is choose a style that works for your bathroom.
Here are some of our favorite bathroom mirrors with shelf options that you can choose from
Let's get started!
Best Bathroom Mirror with Shelf
In this section, let's explore some of the best bathroom mirrors with shelves that are most recommended. These are good quality bathroom mirror designs that will last for years. And they come in a range of styles, so you can find one that fits your home décor perfectly.
1. Traditional Bathroom Mirror with An Open Shelf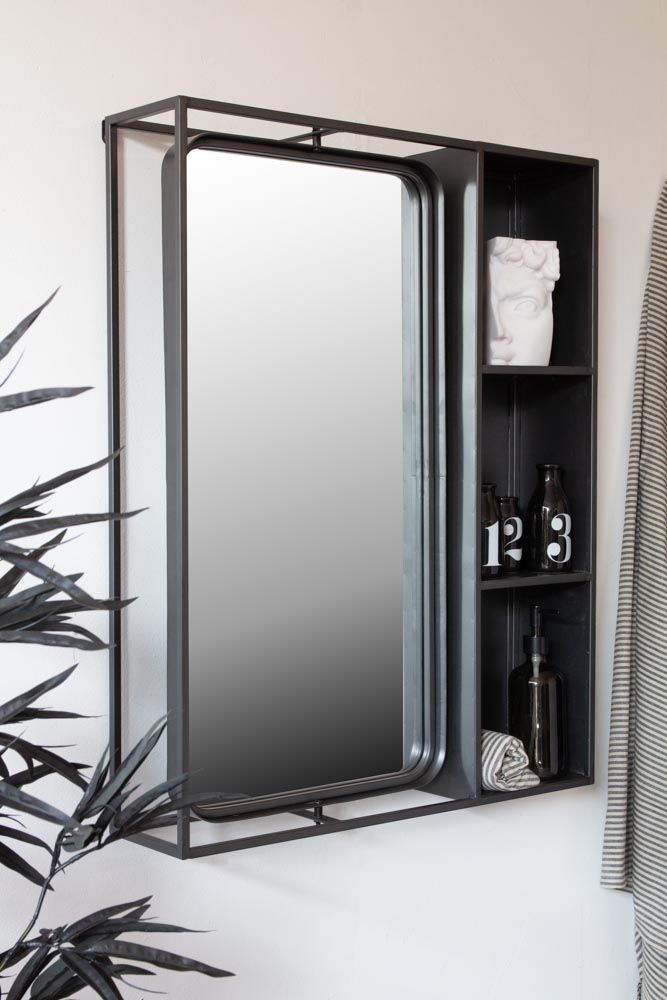 A bathroom is a place where you keep all your toiletries and other required stuff. A bathroom mirror that comes with a shelf is the most convenient one. It can enhance the look of your space and store your essentials. You can choose a bathroom mirror that has an open shelf attached to it. It can be 2-tier or 3-tier and comes in wooden or plastic material.
A well- square shaped or rectangle shape mirror with a few shelves may work for you. It helps you to locate things easily and requires less installation effort. You can purchase one ready-made from an online store or ask the carpenter to create one for your bathroom.
Tip: Keep your items in an organizeror box so they don't look messy and the shelf can be cleaned easily.
2. Mirror with Closed Wooden Cabinet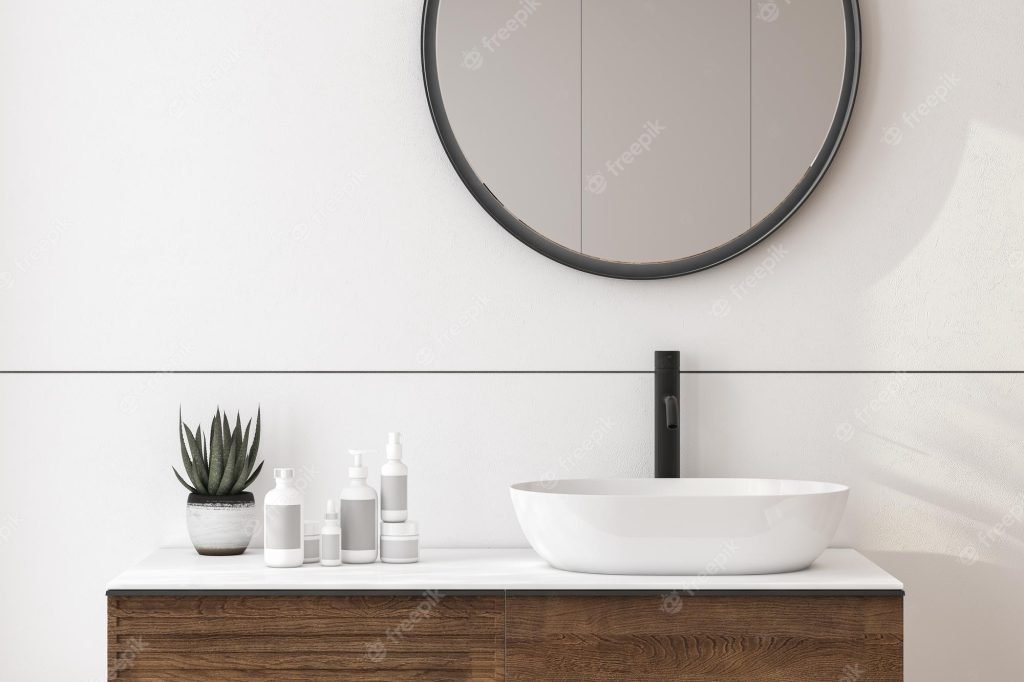 If you want to store your toiletries in a closed cabinet and want a full-length bathroom mirror, then you can go for this one. You can have multiple options, from a large-sized mirror that comes with storage or a small one as per your space.
It can have multiple layers and is also available both online and offline. You can get the one which is painted in white on a wooden base or the original wooden color. It also saves your essentials from dust. Try to match it with the color of your wall or tile print to give it a more exotic look.
Tip: There are plenty of designs available online in all kinds of materials that you can choose from.
3. Mirror with Wall Engraved Shelf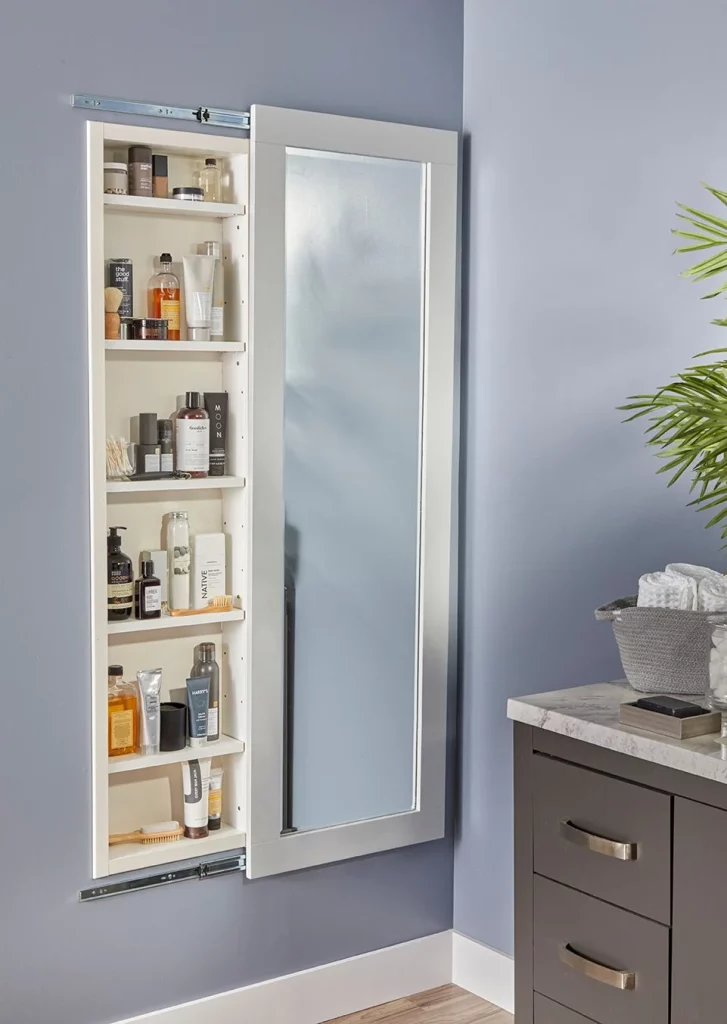 An engraved shelf looks more appealing and provides more space near the bathroom sink. For this mirror, a space is created inside the wall, and a mirror of the same size is installed. If you are reinventing your bathroom and want to try this design, then take external help to construct an area first.
When people look at this mirror, they won't imagine it has storage behind it. You can go for a mirror with a black or golden colored frame.
Tip: Before deciding on this design, plan your budget and time properly and ask a professional whether it is possible to build on your wall or not.
4. Huge Mirror with Sliding Doors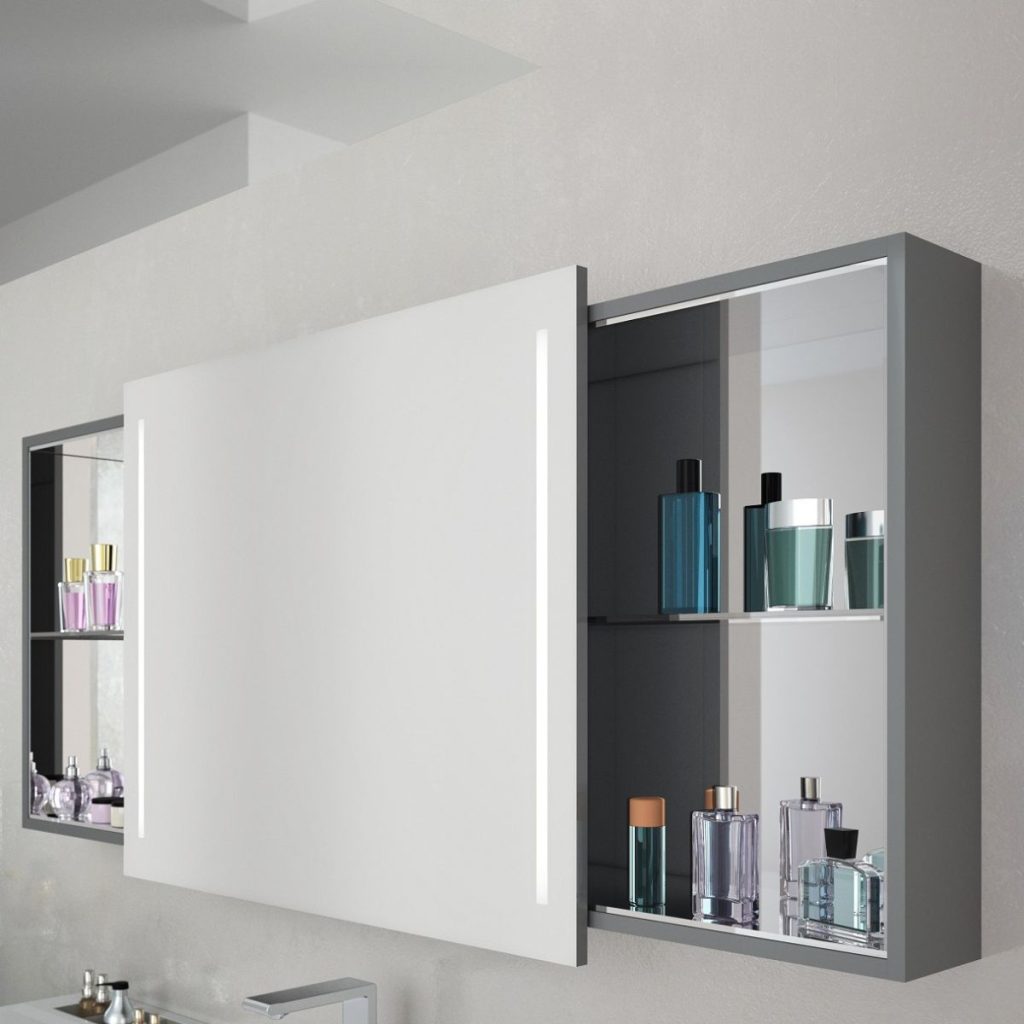 If you have a big area and want to give your personal or guest bathroom a luxurious look, this design will suit you best. You can place two sinks also if it is needed. The sliding door is more convenient and saves you from getting hurt while opening the door.
This design will change the look of your bathroom instantly. You can choose any door hinge or get it carved at the door only. Your carpenter can easily build this bathroom mirror with a shelf and sliding doors.
Tip: While purchasing this mirror, check the working of sliding doors and whether it's gliding smoothly or roughly.
5. Skinny Vertical Cabinet Mirror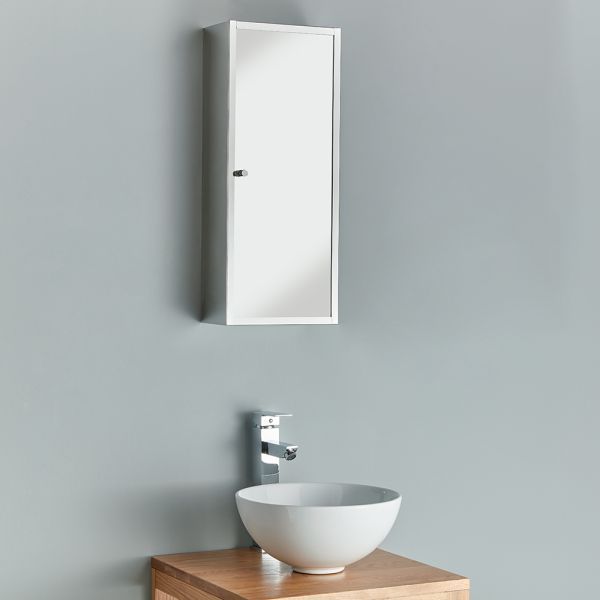 This type of bathroom mirror is especially for the bathroom, which has less space. If you have a studio flat or a small area for a bathroom, then you can go for this one. It will fulfill all your requirement of storage and adding beauty to your bathroom and also take up less space.
Choose the one which is vertical in shape and has a skinny design. Place it on top of the sink, and you are good to go. You can also get it painted as the color of your skin to give it a dramatic effect.
Tip: You can decorate it more with artificial leaves or hang LED lights around this shelf
6. A Separate Wooden Cabinet with Mirror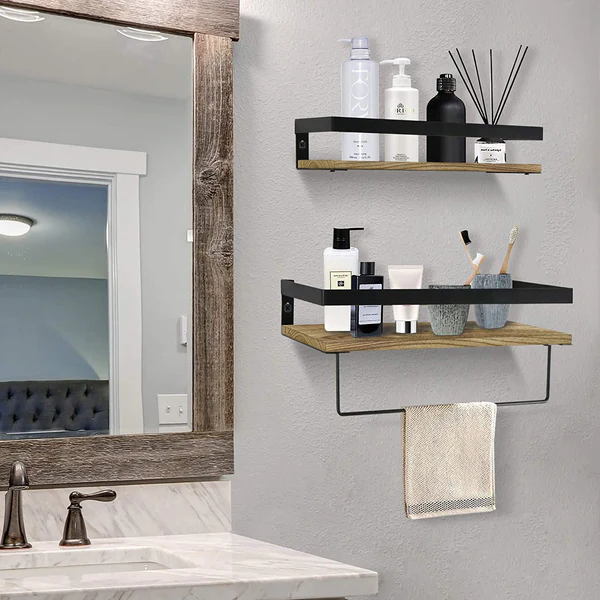 If you don't want a mirror with storage attached to it but have a bigger space on your wall, consider this one. It looks simple yet elegant. Installation is easy, quick, and hassle-free. You can purchase any kind of shelf, be it wooden or steel, or iron, and place it next to the mirror of your choice.
You can match the color of the mirror with the shelf or create a perfect contrast. Use your creativity, as this design will give you the freedom to choose from various styles.
Tip: You can use your old mirror by re-painting and mounting it with a shelf next to it
7. Mirror Shelf with Double Door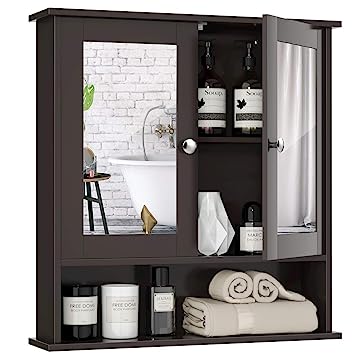 This bathroom mirror with a shelf provides extra space to store your stuff, and two mirror designs complete the look of your bathroom. You can place two sinks to accommodate more people. Colorful knobs can increase the beauty of the shelf, and you can put a plant pot on top of it to add more greenery. Get this design online and choose the one in your favorite color.
Tip: Make sure this shelf is strongly built and properly mounted on the wall, as it is heavy compared to other mirrors.
8. Center Mirror with Two Shelf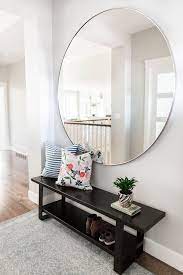 A center mirror with two shelf side by side is a simple yet elegant choice to reinvent your bathroom. This mirror usually comes in a square or vertically long shape, and it has two open shelves attached to it.
It will provide you extra space, and you can organize your least used stuff on one side and most used on the other side. If you have siblings or multiple people using the same bathroom, then they can also arrange their items in this way to avoid confusion.
Tip: Paint the center mirror and shelf with two different colors so that it can create a pop-out effect.
9. Decorative Round Bathroom Mirror with Shelf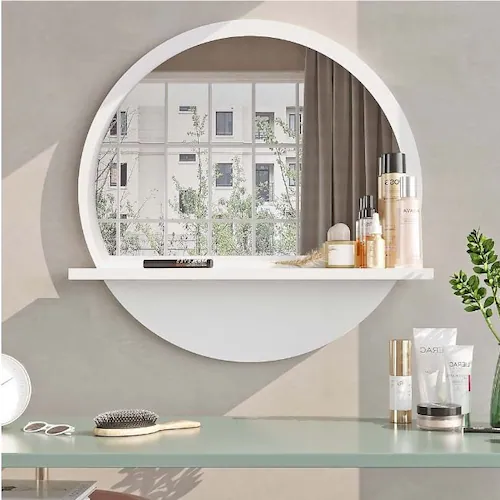 This mirror is for people who are interested in home décor and want to try something unique. It comes in a circular with an open shelf in the middle. It takes less space, but a professional is needed to install and build it. Though this design is available in various online stores, you can search for them and start working on your bathroom décor.
Tip: Choose complete black or white color for this bathroom mirror.
10. Bathroom Mirror with Steel Cabinet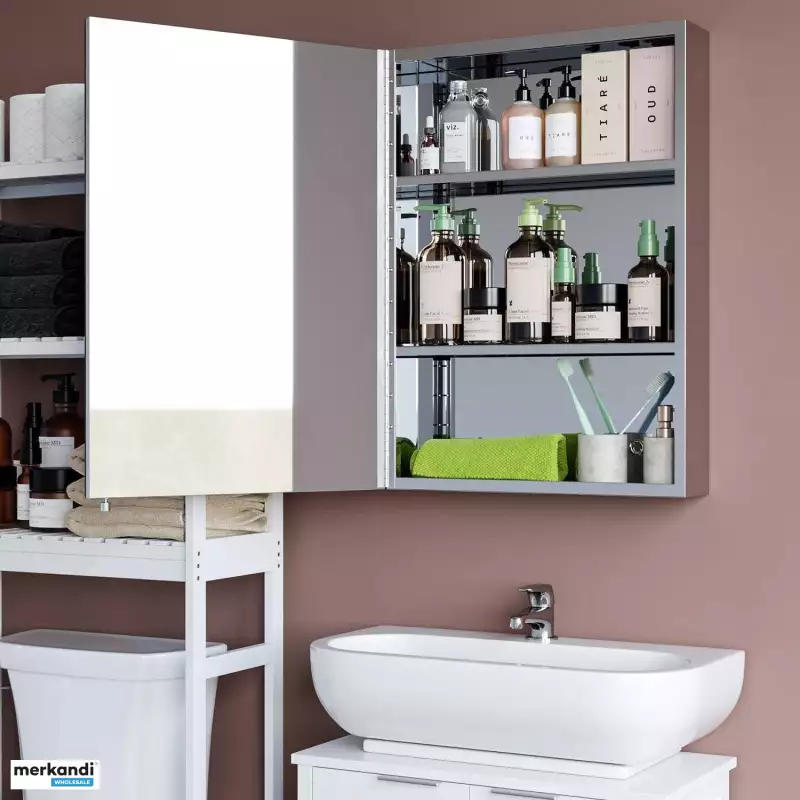 If you like metallic furniture, this bathroom mirror is a suitable option for your bathroom. It is made of stainless steel and shines brightly in the bathroom. This bathroom mirroris free from rust and also lasts longer. It can hold heavy stuff too. Stainless steel will make it moisture-free, and cleaning is also easy.
This unique bathroom mirror is available online, and installation is included in their package.
Tip: Check for the material closely before buying it.
11. Round Bathroom Mirror with Shelf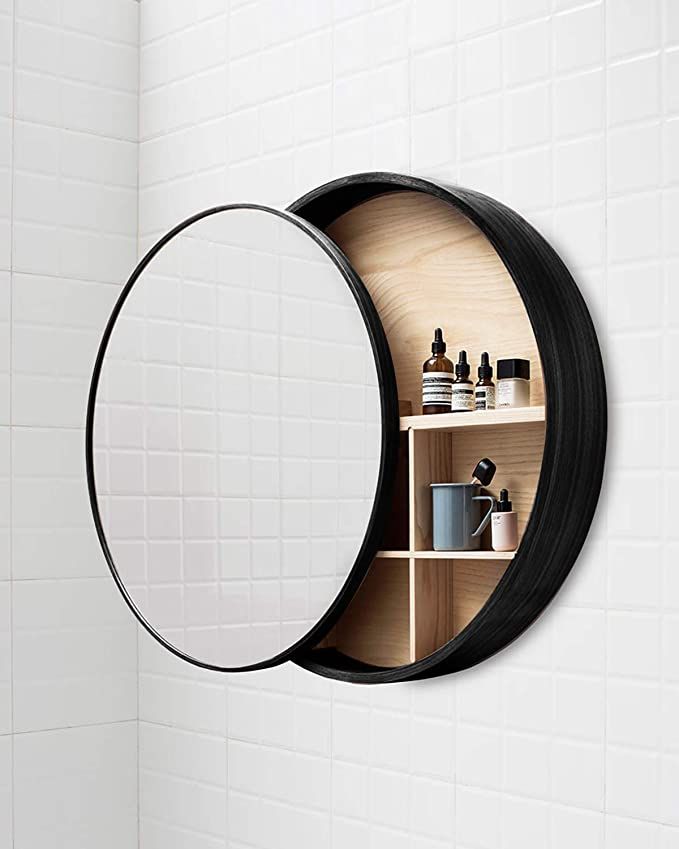 This quirky design has a mirror and a shelf behind it to store items. It takes less area and is suitable for smaller sink areas. They add beauty and can be installed quickly. Its interior is unique and appealing. You can get this bathroom mirror online, and they are also available in various colors.
Tip: To give it a luxurious look, select the one in a golden color.
Summing Up!
The best bathroom mirror with a shelf has plenty of space to store your daily essentials and add beauty to your bathroom. However, there are many options to choose from because of the various shapes, sizes, and finishes available. It can be hard to know which style works best in your bathroom.
You don't need to spend too much on purchasing a high-quality bathroom mirror with a shelf when many other options are available today. Take the help of this article and decide your favorite and most convenient one.
You can share your thoughts or queries in the comment section.
Frequently Asked Questions
What Types of Bathroom Mirrors Are in Trend These Days?
Bathroom mirrors that are oval or round are in trend, as well as one which has a unique shelf design.
How to Choose a Bathroom Mirror?
You should first check the area of your bathroom and then your storage need. Once you decide on that, then look for designs that are comfortable in size, convenient, and difficult to clean.
Other Articles