18 Stylish Powder Room Makeover Ideas That Won't Break the Bank
Powder rooms, aka half-bathrooms, are the smallest rooms in the house that have a sink and toilet, made especially for the people who are visiting. Now it is a room that is not used more often, but...
Powder rooms, aka half-bathrooms, are the smallest rooms in the house that have a sink and toilet, made especially for the people who are visiting. Now it is a room that is not used more often, but that does not limit us from decorating it.
There are endless possibilities for creating a well-planned and designed powder room for your house. The good thing is that any decor or trend can be a hit for this room's design. Fine interior decor in the powder room will charm the eyes of the beholder.
So do you also want some powder room makeover ideas that are not too heavy on your pockets?
Then you might want to check out this article because we have some of the best ideas for your half-bathrooms or powder rooms.
Elegant Powder Room Makeover Ideas
Since it is a room that is used by the guests, keep in mind to style it in a way that is very inviting and warm. Whether it is just giving some new touches or renovating the whole room, the right finishes go a long way. The functionality of the decor elements in the room plays a huge role in building a good powder room. So to provide you with some inspirational ideas, we have created a list containing the best powder room makeover ideas.
Do read the ideas below that are waiting for you to get inspired and start decorating.
1. Opt for Bold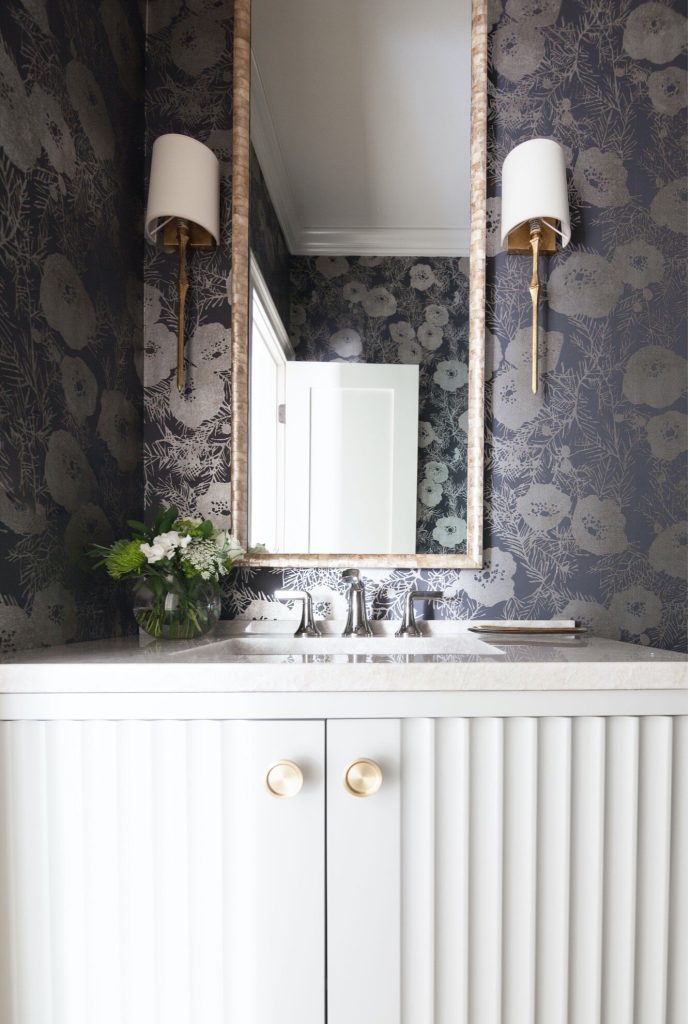 A powder room is the best place to experiment with designs that are too risky for the other rooms in the house. For a small place like a powder room, you can mold the room into whichever design you wish. You can go with bold and dark wallpaper for your room. A good designer set of lamps in the powder room would also look stunning.
2. Add a Bright Colour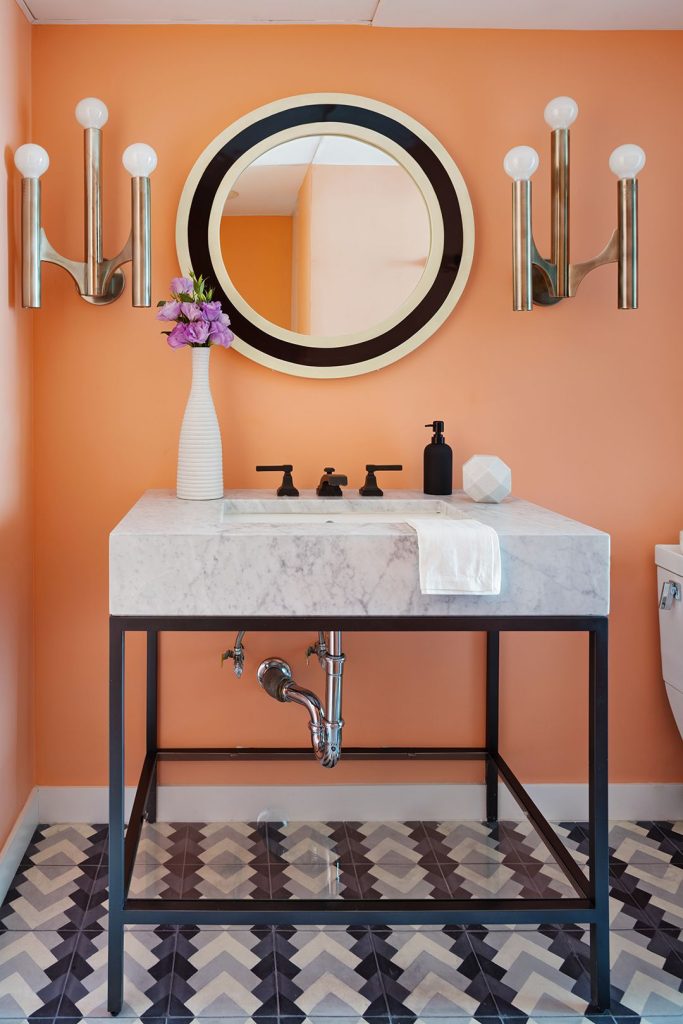 A bright color can make any small room pop out in the house. You can have a fun personality in your powder room in many ways. Whether go with bright-colored tiles, room decor, or paint the wall bright to give an illusion of a bigger space. This powder room idea is one of the best elegant and budget-friendly ideas for your home.
3. Make It Monochrome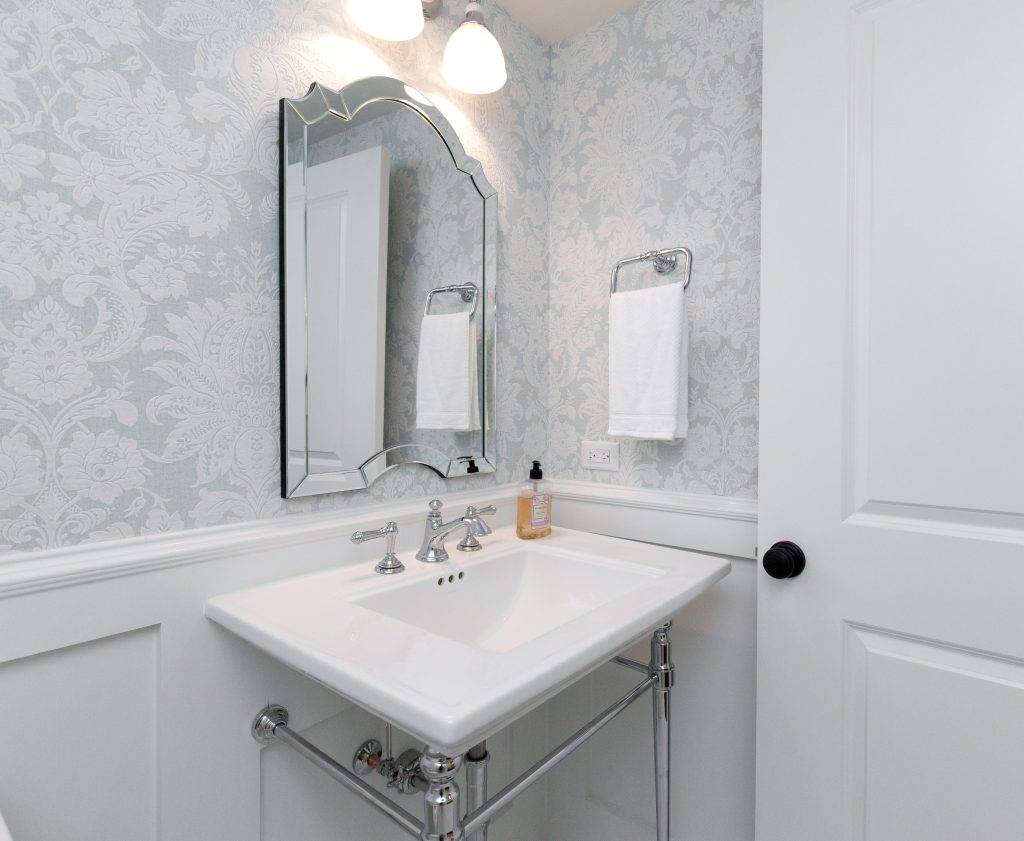 Nothing looks more stylish than creating monochromatic magic in the powder room. Opting for one color from floor to ceiling makes the room look more put together. You can either paint your walls with some muted green or blue colors with matching floor tiles. Also, a classic white and black color palette would be a traditional option that will make the room look amazing. Make sure to add accessories like mirrors, lamp sets, and a sink that will complement the overall interior design.
4. Give a Sleek Finish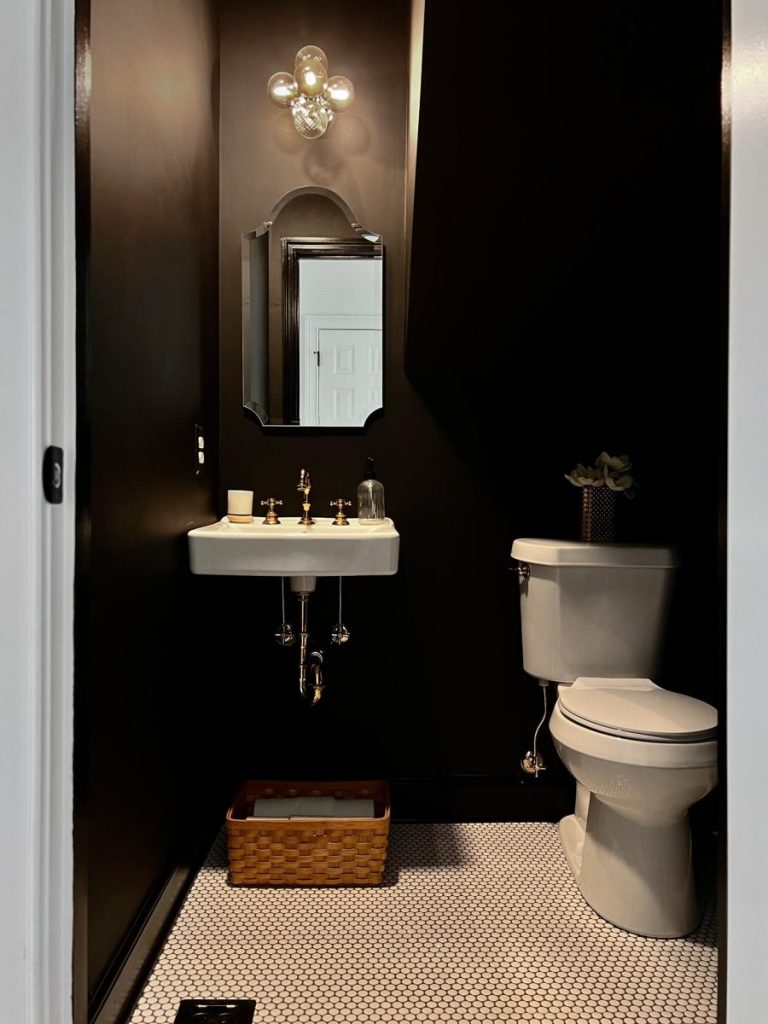 The powder room, with some sleek finishings to the sink and cabinet, makes the room look more attractive. It is a small room, so there is a possibility of not having enough space to store things in the room. You can install some good quality cabinet under the sink for all the overflowing bunch of toiletries and other things. This would be a perfect solution, and you can also stock up on your favorite bathroom items while maintaining a clean and elegant look in your powder room.
5. Mix Different Textures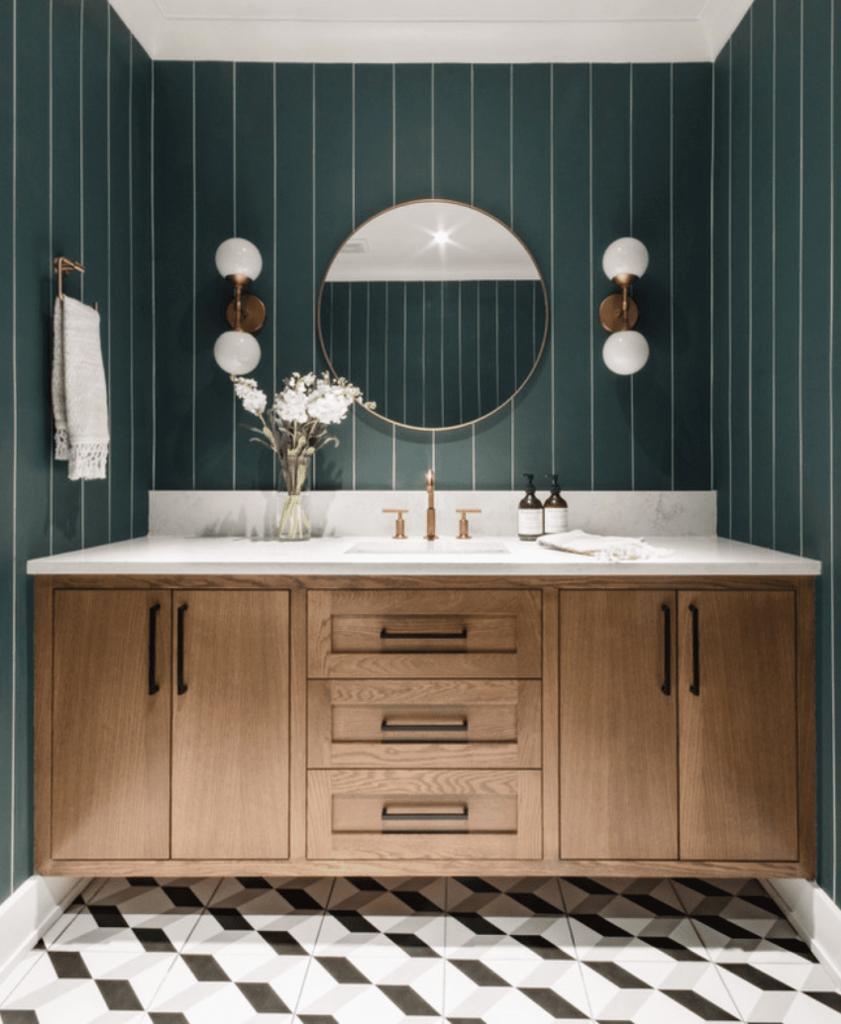 Playing with different textures is a lot more fun when it comes to decorating the powder room of the house. Having different patterns on the wall and floor that complements each other gives a fine touch of style to the interiors of the space. For example, having checkered floor tiles and stripped dark colour wallpaper will make the space more inviting. Also, decorating with accessories like towel rings lamps, and mirrors would help in adding a more homely vibe to the room.
6. Don't Forget the Floor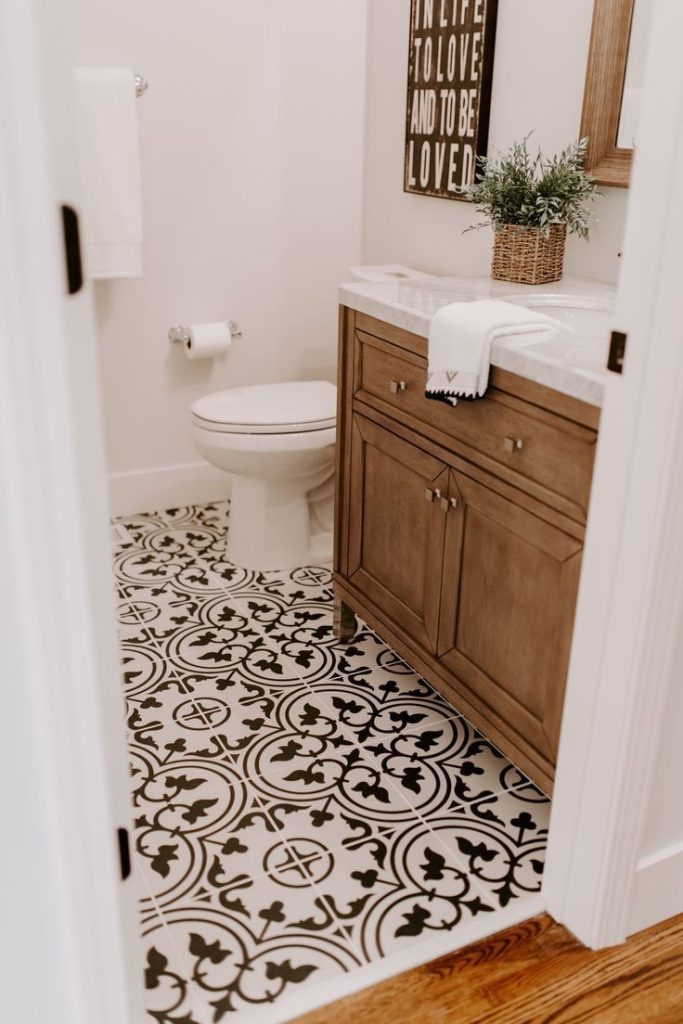 The floor is a great way to incorporate designs and patterns in a small room like a powder room. You can either add patterned floor tiles or colored floor tiles to give the room a more uplifted look. Redecorating your powder room with floor tiles is a brilliant yet budget-friendly option. It will add a modern look to the interiors of the room.
7. Have a Gallery Wall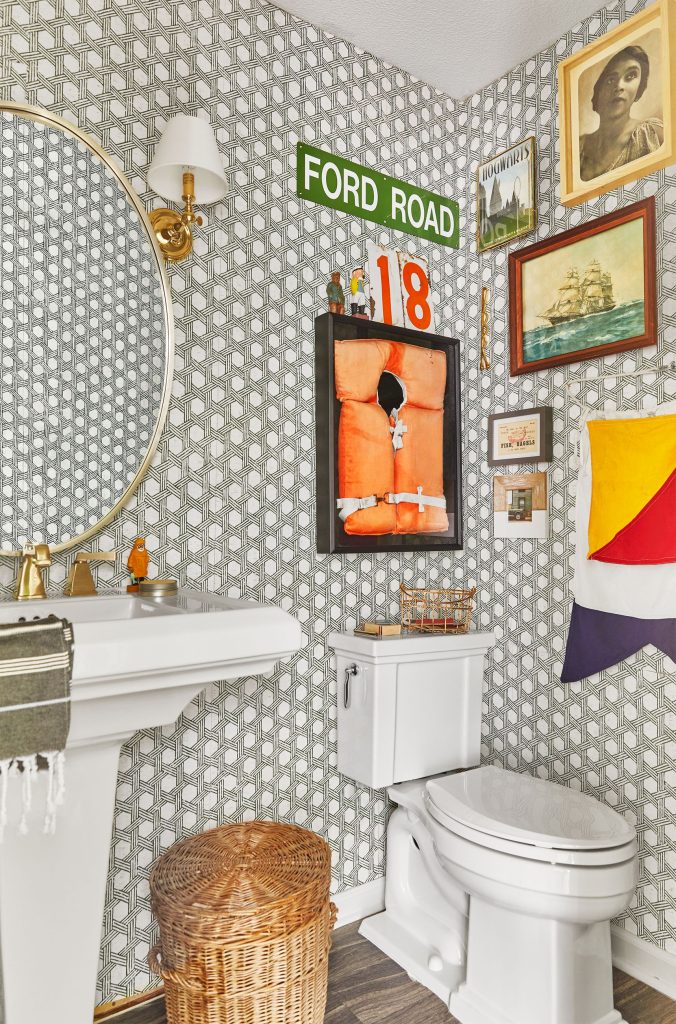 A gallery wall is a unique way to give character to the powder room. If you want to make it more stylish, then hang a bunch of pictures in frames around the wall of the powder room. A collection of mirrors in different frames would also make the space look bigger and more expensive. This idea of a gallery wall is worth a try as it is a cool option that is easy on the pockets also.
8. Shapes Are Not Bad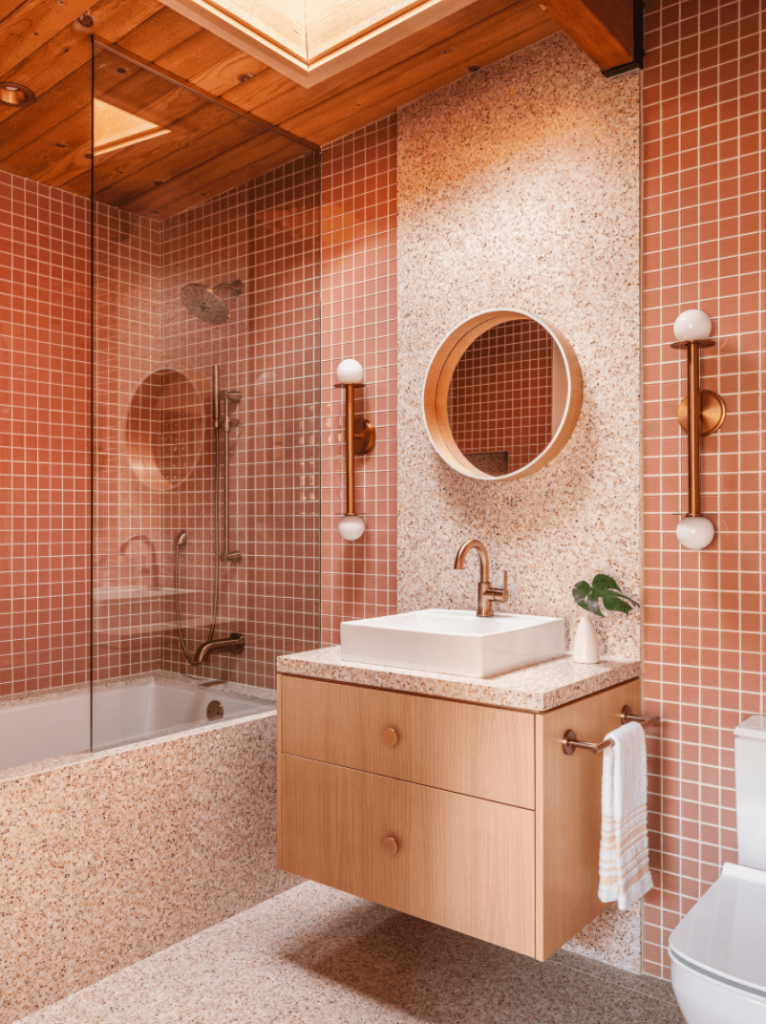 The powder room is the best place to display the designer elements. Having different geometric shapes in the room can enhance the amazing interiors. A round mirror can be a classic option if you want to include some shapes in the room. Also, square tiles on the wall work well with a square-shaped cabinet under the sink; this combination puts the whole look of the powder room together. It makes the space look less cluttered and well-organized.
9. Keep It Minimal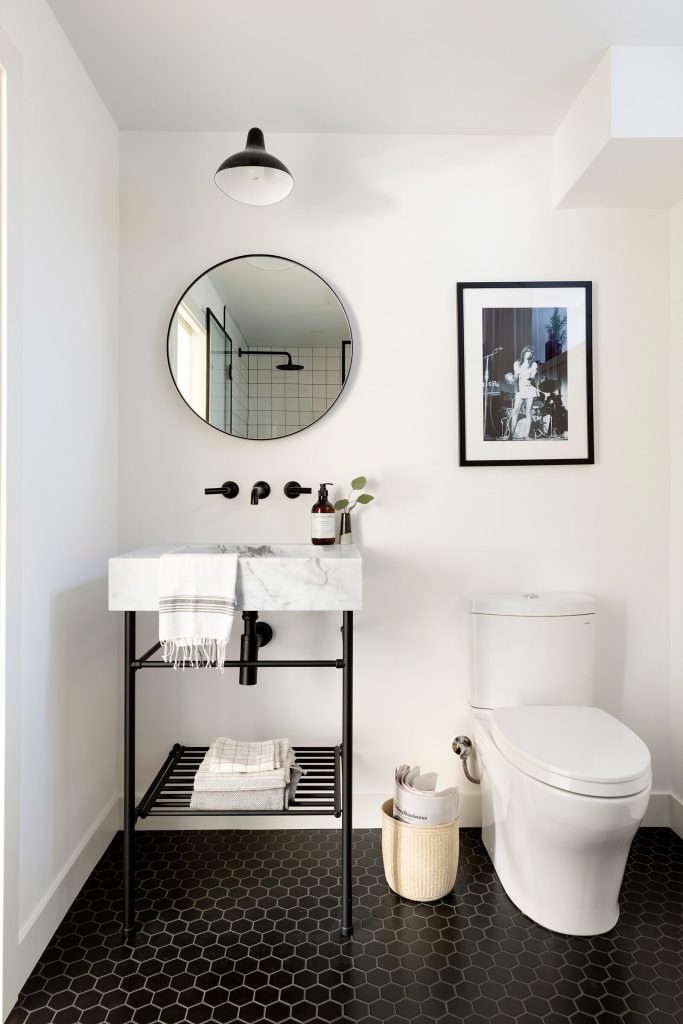 The minimalistic decor is one of the best options for powder room makeover ideas. This style helps in creating a more clean and simple look. Since the room has a tiny space, the minimal design looks stunning in the powder room of the house. The key is to add minimal and simple decor like bold hardware, a unique-shaped mirror, a sleek fitted cabinet, and a small decorative plant to add a little bit of color.
10. Go for Graphics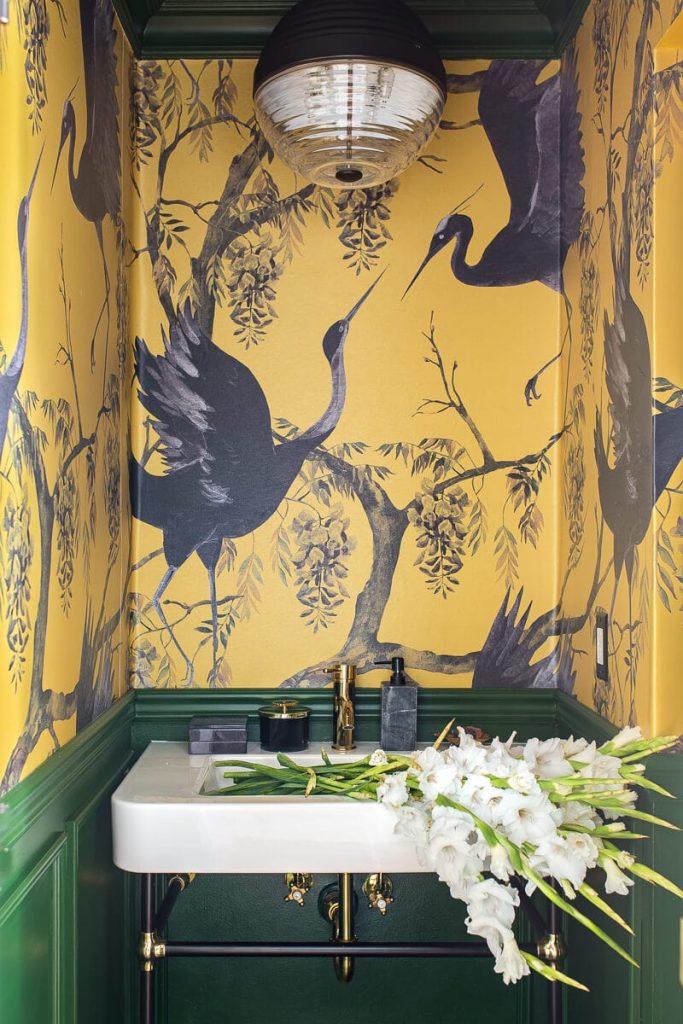 Putting wallpaper with little graphics and patterns is a great way to showcase your style in a powder room. The walls of the powder room can become a centerpiece of attraction in the whole room. However, there are many other easy ways with which you can display graphics in the room, like flowers, a square sink, a pendant light, and towel rings.
11. Tune Into the Modern Eclectic Style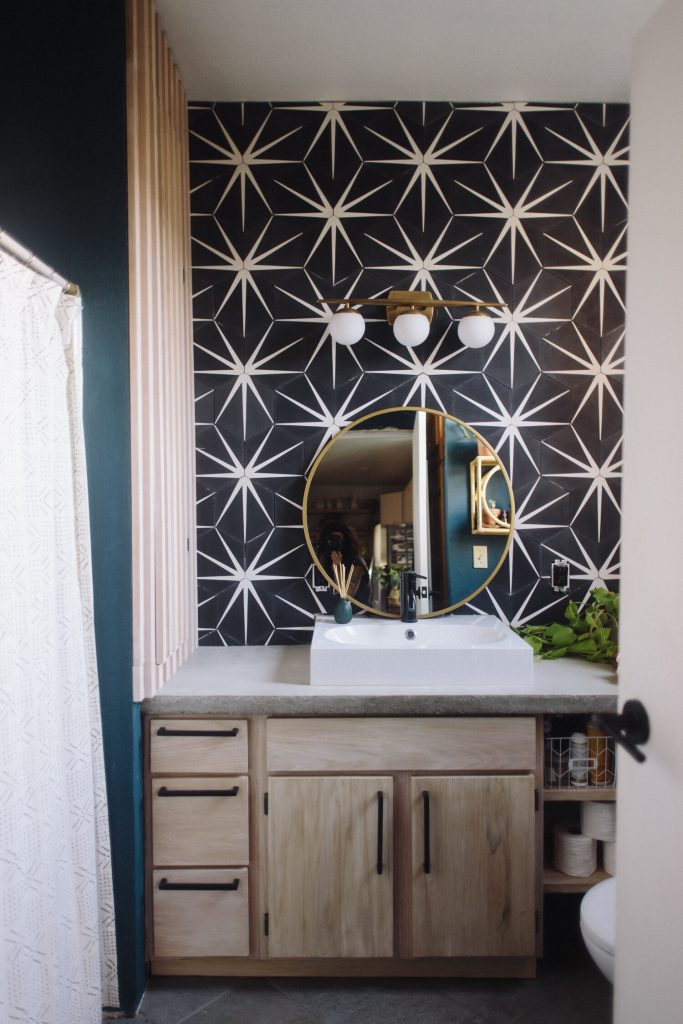 A modern eclectic style in the powder room looks way more elegant and beautiful than any other style. A quirky and patterned wallpaper adds a modernistic character to the room. A pendant light lamp above the round mirror gives a nice eclectic look to the overall design of the room. You can also add a little green plant on the sink to introduce nice bright color into the powder room of your house.
12. A Tropical Look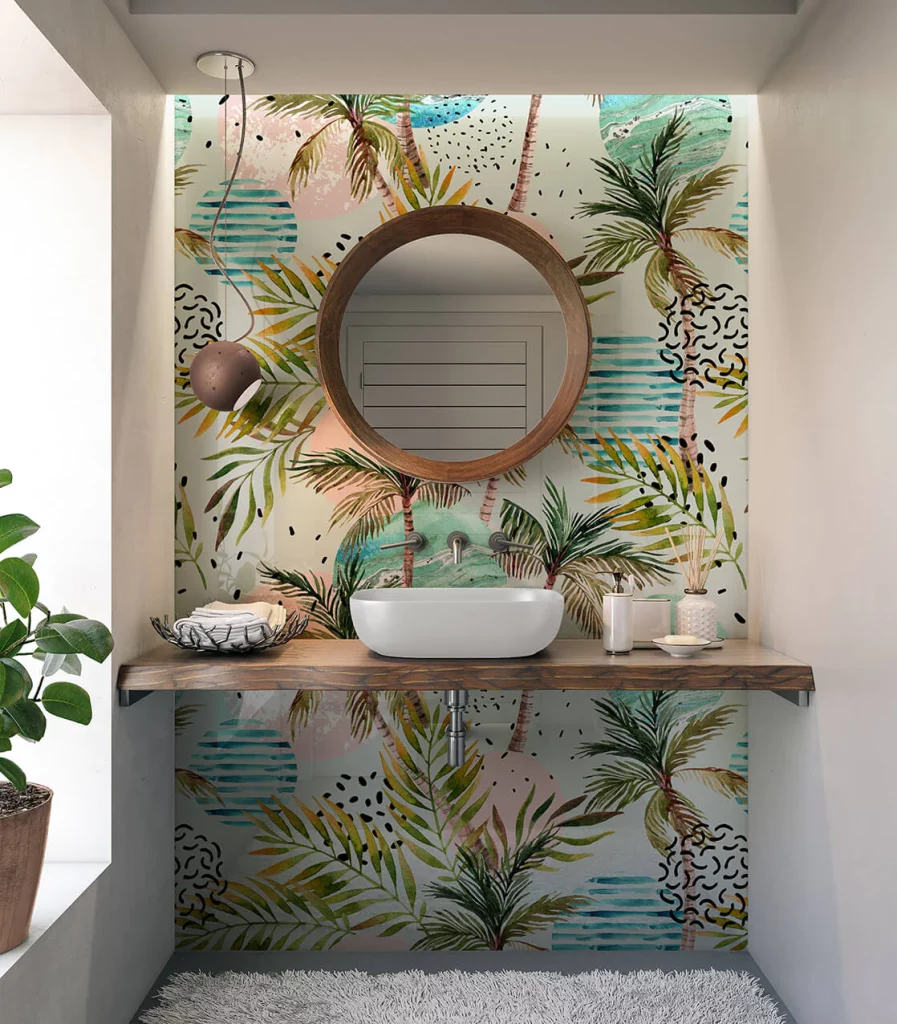 A tropical-inspired look in the powder room is a great way to add vacation vibes to the atmosphere of the space. To bring a proper tropical look into your room, you can add well-fitted wallpaper with tropical prints on it. If you want to enhance the experience of beachy vibes in your room, then you can also install some air diffusers with fruity and citrusy fragrances. A green plant on the side and a fluffy soft rug in the room would also be an amazing addition to tropical aesthetics.
13. A Good Quality Wood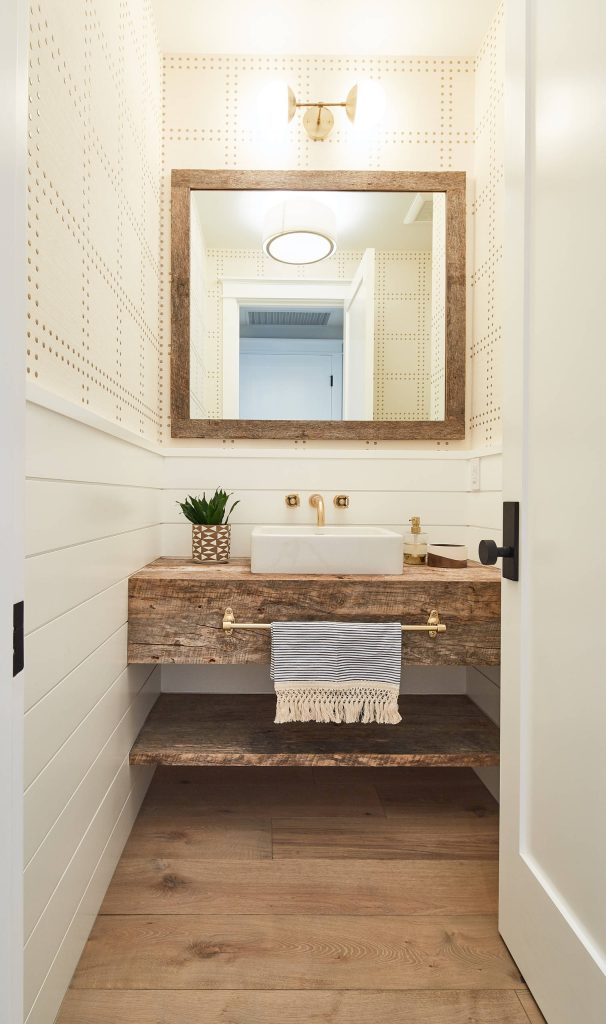 The type of furniture used in the room says a lot about the quality and interiors of the house. Having a well-built wooden cabinet, wooden shelves, and a mirror with a wooden frame makes a really good impression on the room. The wooden elements in the room give a warm and traditional aesthetics to the interiors of the room.
14. Install a Good Vanity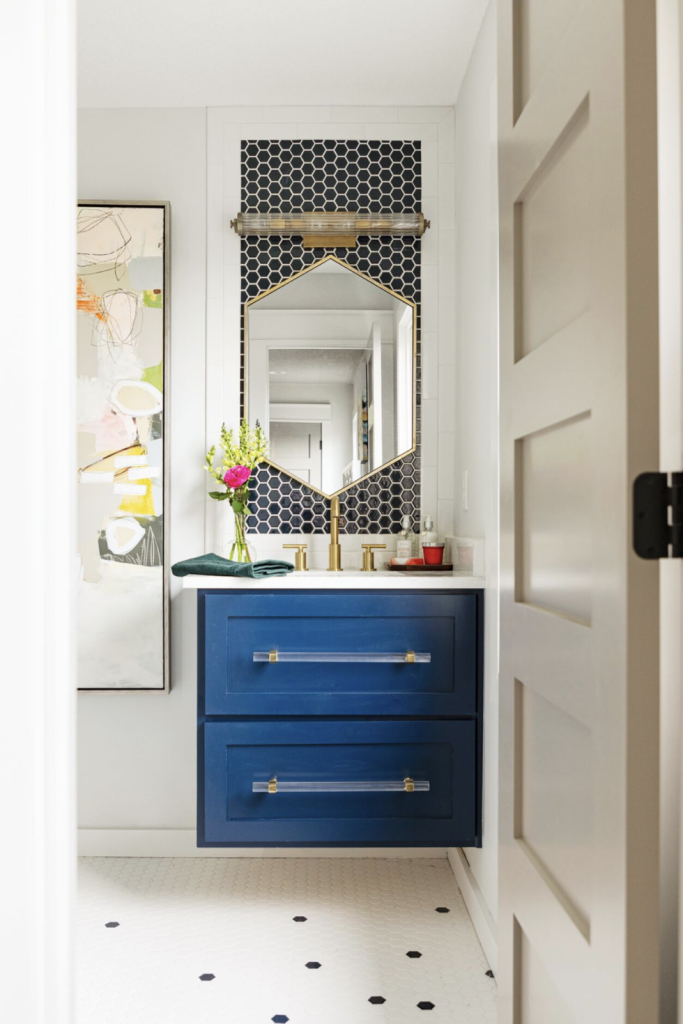 A vanity is the main attraction of the powder room in the house. Having a good quality vanity, whether it be in a unique color, shape, or style, makes a huge style statement in the space. It is a very beautiful and functional piece of furniture in the powder room. So do try this makeover idea and create your designer vanity. There are endless options available when it comes to having a vanity in your powder room.
15. Having a Neutral Theme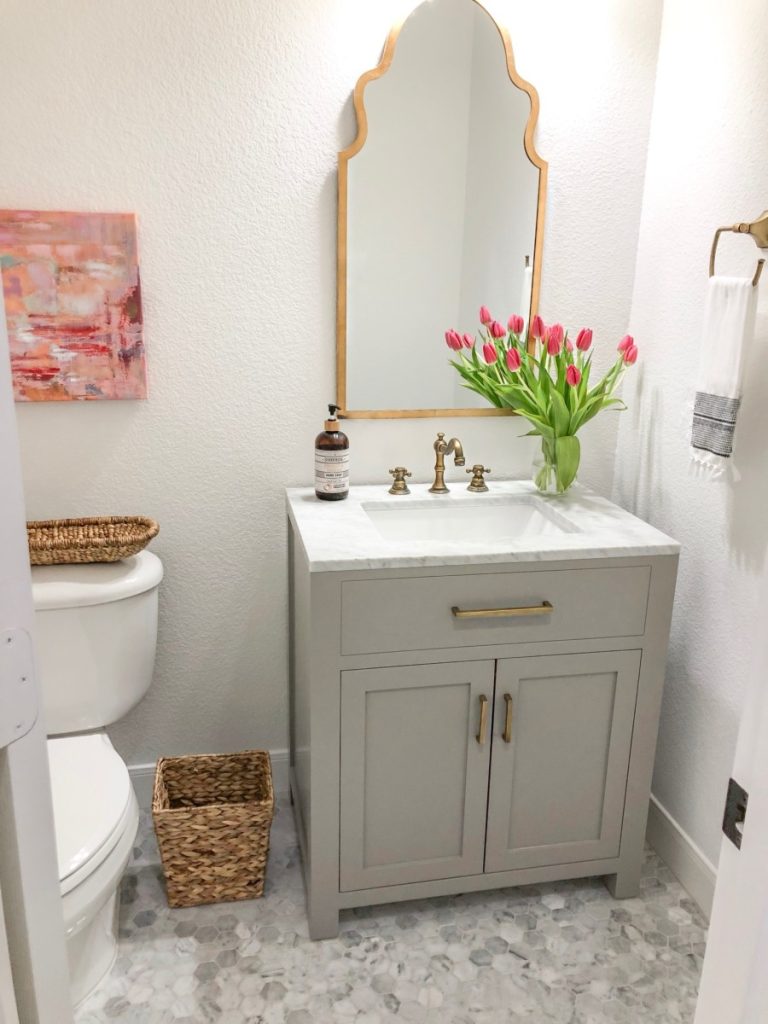 A neutral theme works best in small rooms as it makes the room wider and more open. Make sure to go with a color palette of grey, white, and beige when selecting the paint and tiles for your room. Slight touches of wood on cabinets, baskets, and shelves would be a good addition to the overall neutral theme.
16. Industrial Decor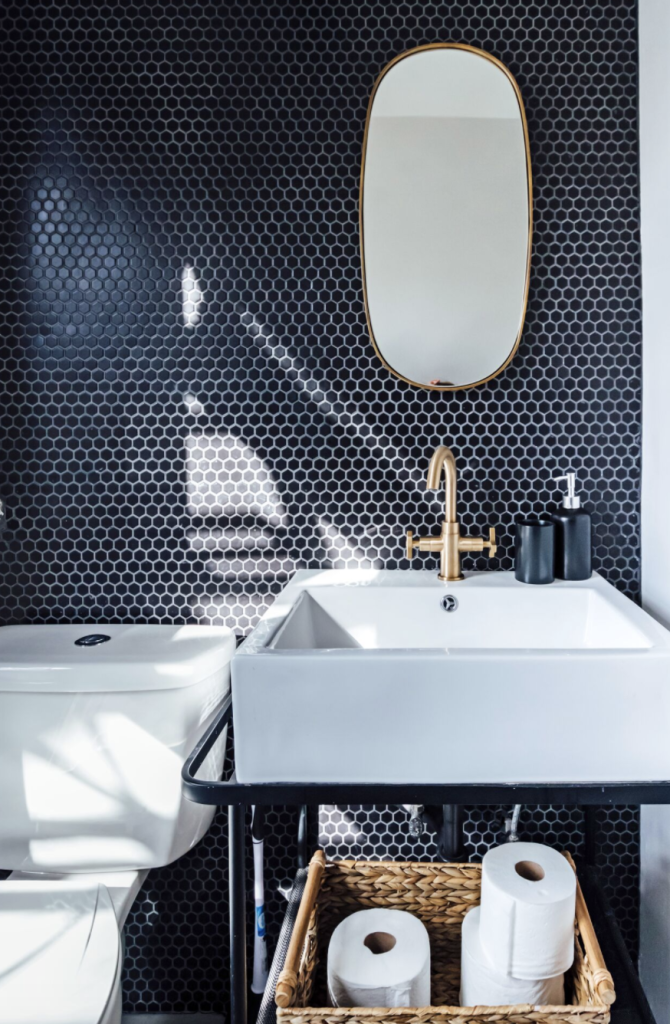 The industrial decor has its old-school traditional charm that can make any room look beautiful and well-designed. And if you want the same vibes in your powder room, then make sure to add a chunky sink in it. Also, the brass hardware looks stunning with the industrial decor. A big mirror with golden or copper frames above the sink makes the room appear more open and spacious.
17. A Correct Shelf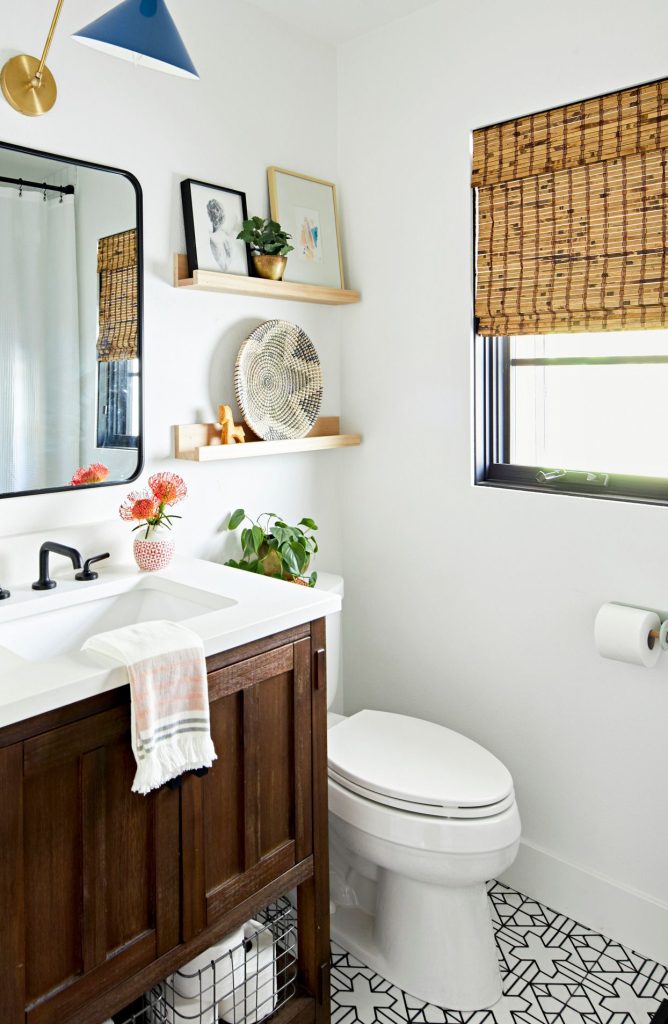 Installing shelves of different shapes, sizes, and surfaces can be a very helpful addition to your powder room. It acts as a great storage space for small rooms and also gives a fun character to the room. You can style decorative items like frames and art pieces on the shelves to make the room look more attractive. The shelves are a functional option that can easily store items, and it also looks very chic.
18. Good Lighting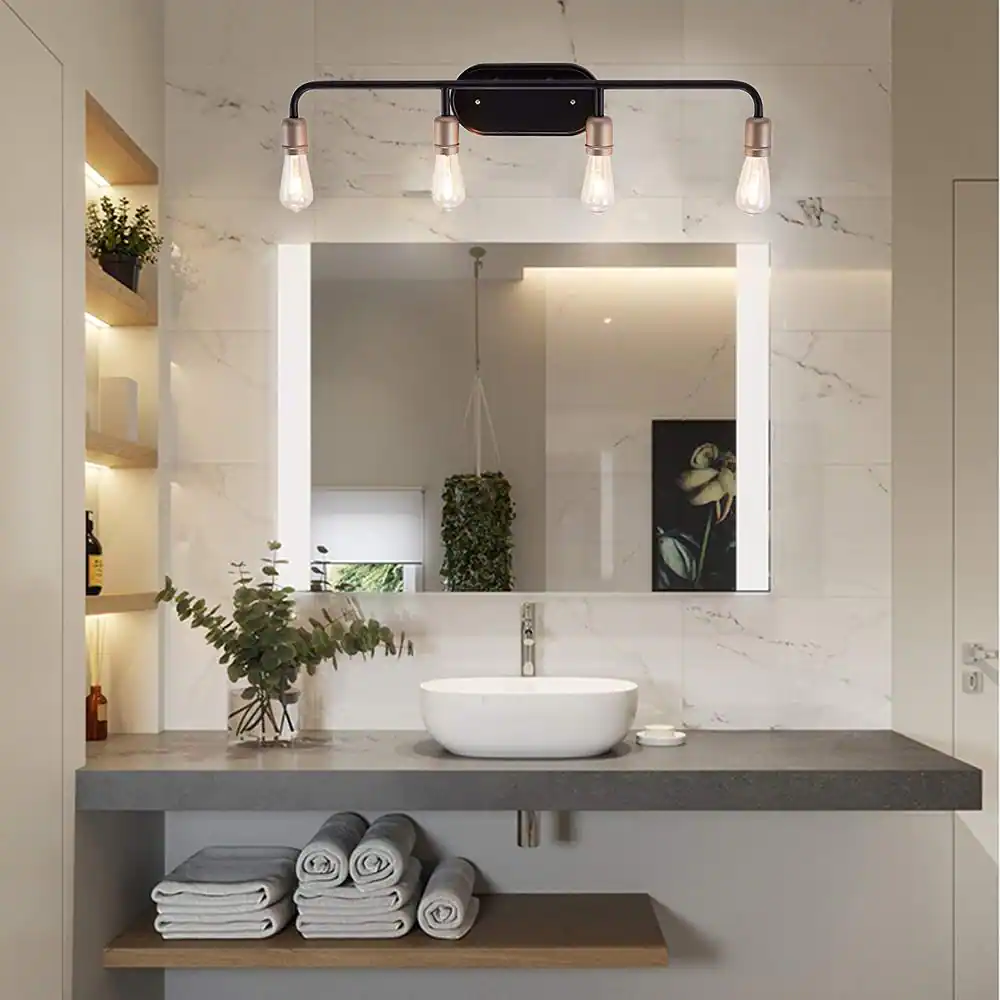 Good lighting is a very important decor piece as it makes the room look more enlightened and bigger. There are many options for lighting, like pendant lamps, hanging lights, and chandeliers. The lighting in your powder room will make it shinier and prettier in an instant. So not only does it look gorgeous, but it also is an essential part of the powder room.
Conclusion
All in all, we hope that you liked our makeover ideas that are budget-friendly and elegant at the same time. It can truly transform your tiny room into a beautiful, well-designed space.
After reading the ideas presented above, one clear thing is that it is very easy to decorate your powder room. All you need is some inspiration and decor elements to get started with the creative work.
And we are sure after reading this article, you are just a few steps away from creating the best powder room for your house, which will win the hearts of all your friends, family, and guests.
Other Articles