What Makes Blue The Most Preferred Wall Paint Color?
Blue is one of the most popular primary colors and is often considered a safe option when it comes to interior design. The blue wall paint design ideas are the favorite choices of interior experts as...
Blue is one of the most popular primary colors and is often considered a safe option when it comes to interior design. The blue wall paint design ideas are the favorite choices of interior experts as it widens the scope of creativity and innovation.
This calming color is the topmost favorite choice for almost every room. Whether it is the denim blue and white combination or pale blue and pastels, the blue wall paint design ideas can be as imaginative as you want.
Blue represents good times, happy thoughts, a breezy pleasing sky, calm water, relaxed surroundings, etc. It will be a delight to have all of these in your own place. Blue is certainly the favorite color of many people, isn't it?
The Psychological Facts About Blue 
It is no surprise that every color has its impact on our mood, emotions, and mindset. Similarly, the color blue contributes its own share to every individual's thinking, behavior, and emotional stability.
The color is symbolized as a non-threatening color that is traditional and conservative. As a result, many people like the color blue more than any other color.
Blue represents calm, peace, order, and security. Thus, it comes with a relaxing and calming effect that is loved by everyone.
Businesses aiming to attract a loyal audience base with a sense of high reliability and security use the color blue in their advertisement and social campaigns.
The blue color is also the preferred color choice for offices as it motivates the employees to become more creative and productive.
Interestingly, the color blue is one of the least appetizing colors. Thus, if you are willing to lose weight, you may often be recommended to eat your food on a blue plate.
The blue wall paint design causes a sleepy effect by reducing the heart rate of the person. It also soothes the body as it lowers the body temperature within no time.
Reasons for The Popularity of The Color Blue 
1. It Has a Calming Effect
Don't you feel relaxed and calm as you see the blue daytime sky or the sea? According to the experts, the color blue brings a sense of calming and relaxing effect. Thus, everyone who wants to enjoy the same relaxation and calm in the comfort of their place prefers choosing a blue wall paint design. In addition, it is also observed that the blue color triggers and attracts happiness.
2. It Soothes with Its Cooling Effect
Have you ever wondered why you feel soothed when looking at the ice from a distant location? Well, that is because of the cooling effect of the color blue.
Yes, you read that right. The blue color is associated with a soothing, cooling effect that contradicts the high temperature. A room painted blue or beautified with blue décor also brings the same cooling effect and, thus, is preferred by many people.
3. It Reflects a Professional Look
Have you ever been attentive to the blue-colored walls in offices and professional meeting rooms? It is not coincidental that the majority of offices prefer blue color; however, the color represents professionalism.
Various research highlights the fact that the blue color tends to increase the productivity, performance, and concentration of employees. Additionally, the color blue also represents trust and confidentiality; thus, it is majorly used for advertisements as well.
4. Compatible with Different Decor Styles
Last but not least, the color blue is extremely compatible with different décor styles. You can easily mix-match the blue wall paint design with any contrasting décor idea; it will not disappoint your expectations.
The dark brown furniture, golden frame painting, pastel-colored accessories, etc., all suit the best with blue color without any hassles. It can be rightly said that blue is an easy-to-handle color that goes with everything and anything.
The Top Blue Color Shades for Your Place  
Blue remains one of the most popular and preferred color choices. Thanks to its ability to justify bold and neutral shades, blue can never disappoint when talking about a calm and safe color. It is the right choice to give your walls a refreshing and crispy look.
However, if you are looking for the perfect shade of blue that can help create a lasting impression, we are here to help. These are the top favorite shades of blue that dominate the market:
1. Denim Blue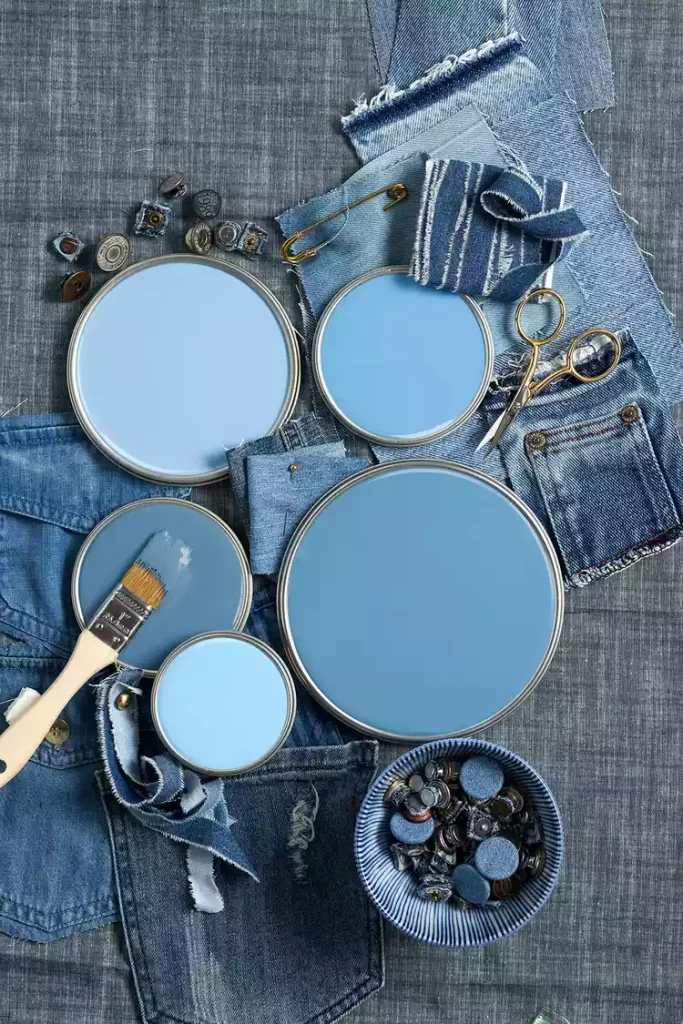 When talking about the color blue, we cannot miss talking about the denim blue shade. It is certainly one of the popular evergreen shades that are the preferred choice of audiences of all age groups.
This soft, elegant, and charming blue wall paint design color makes the surroundings lively and lovely. Moreover, you can choose from a variety of ranges between lighter to darker denim blue shades. Additionally, the color looks more magnificent with contrasting brown accessories and furniture.
2. Teal Blue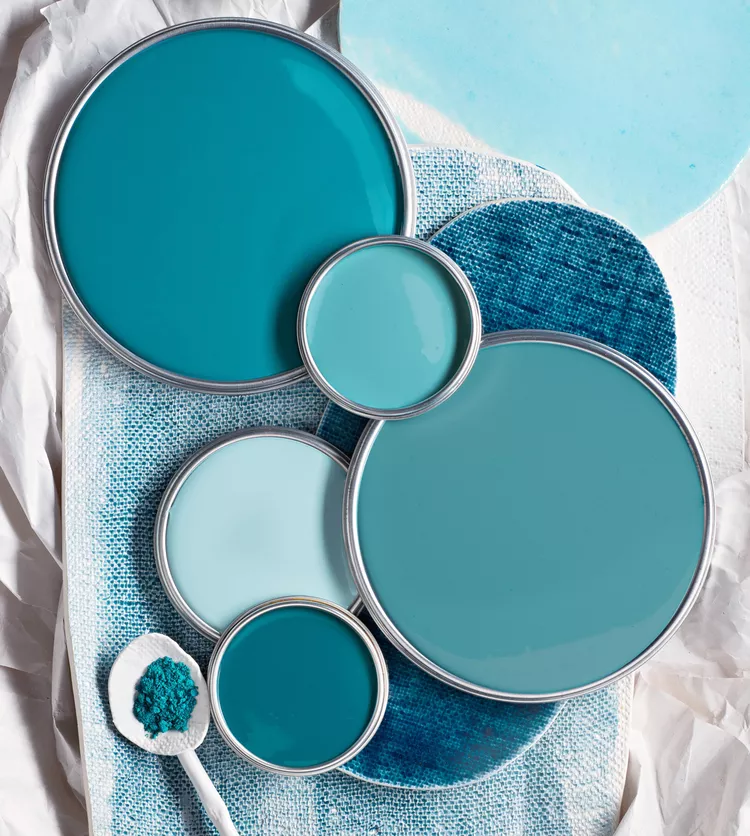 Another eye-catchy shade of blue that is hard to resist is none other than teal blue. This dramatic blue shade is not just a great option for a monochrome theme but also embraces other colors. Thus, it is surely an evergreen blue shade that can never be a wrong choice.
Teal blue also adds a certain warmth, elegance, and attraction to the room. The color beautifully reflects its true essence while being a timeless choice. You can also make a bold statement with this blue shade without exaggerating the whole idea.
3. Light Blue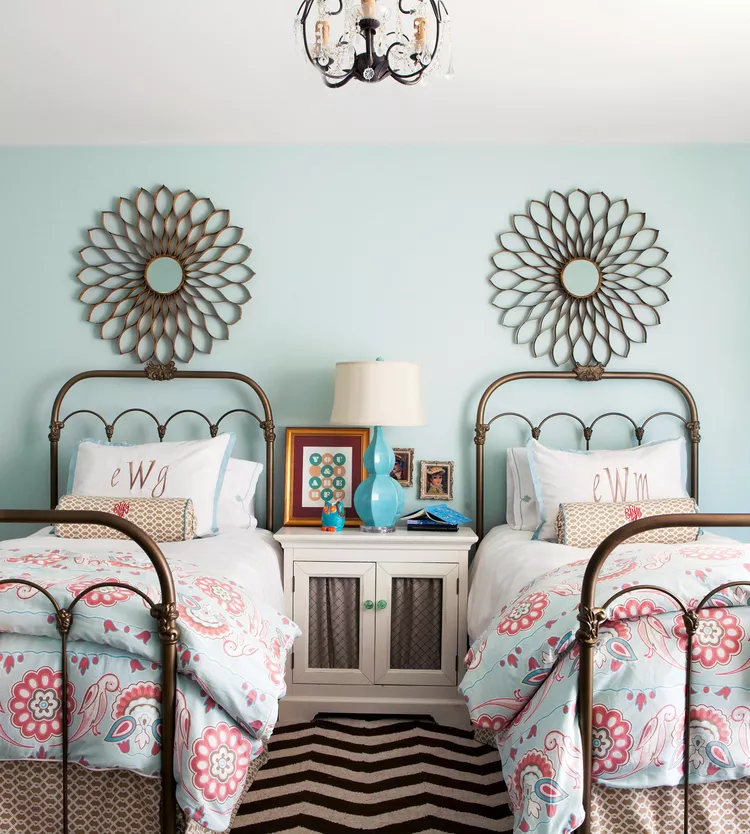 Add freshness, calmness, and relaxation to your room by choosing a light blue shade. Enhance the beauty of your room by making it airy and soothing without any unwanted hassles. This beautiful shade is all you need to add depth and texture to your place for a more visually appealing style.
You can create a more visually attractive room by adding contrasting darker furniture pieces and accessories. To make your space more lively, you can also use other pastel colors along with some pinks and reds.
4. Green Blue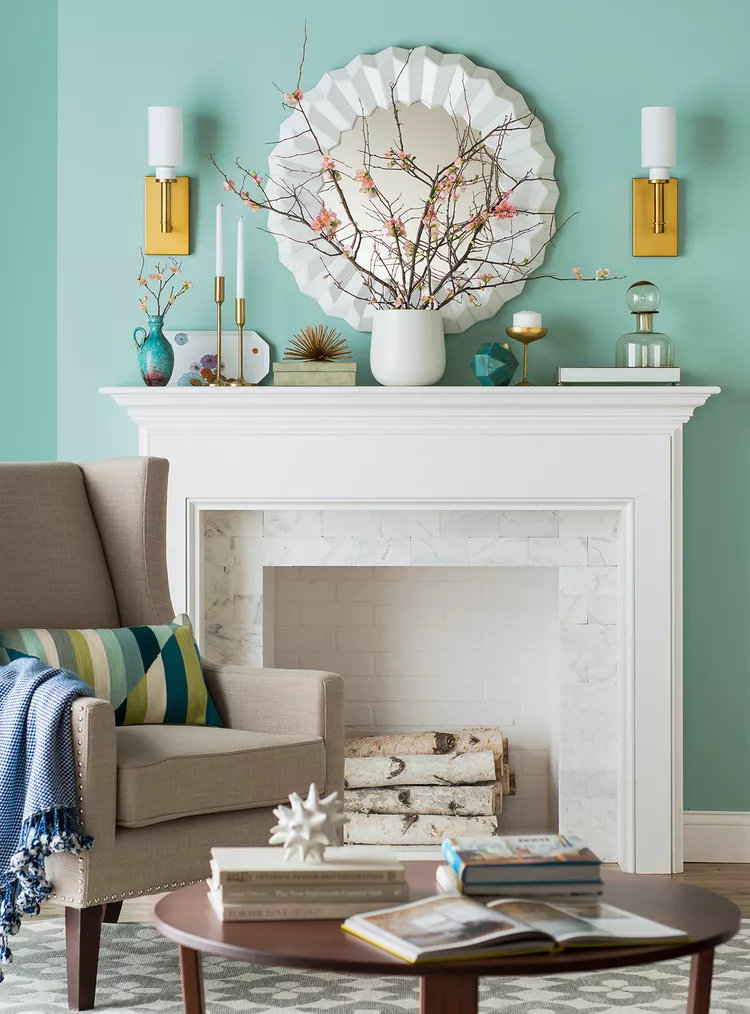 If you want a certain sophistication and elegance in your blue shade, look at nothing other than the green-blue shade. This shade is so attractive that it instantly catches your attention to make you awestruck.
You can obviously experiment with the intensity of the shade; however, it is suggested to opt for neutral and light shade. It is also recommended to use light-colored furniture pieces and accessories to enhance the beauty of this amazing color. The dark color accessories might drain off the cheerfulness of the color.
5. Aquamarine Blue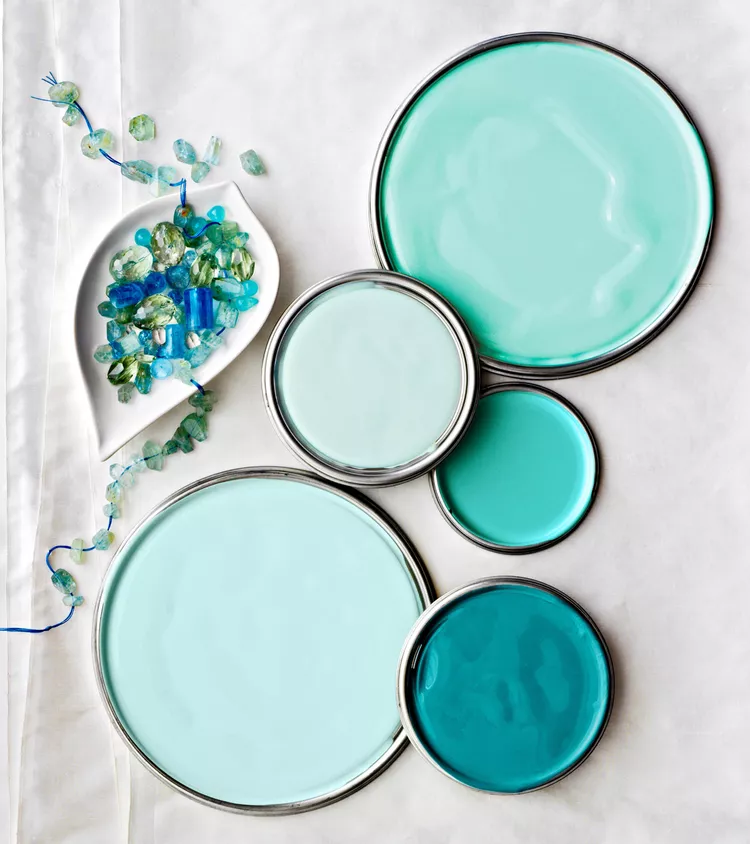 The shades of blue are not just limited to the lighter and neutral shades, but you can also go bold with it. The aquamarine blue color is the perfect bold blue shade that makes the whole place super vibrant. As a result, it is one of the most popular blue wall paint design options.
However, when planning to choose this bold blue shade, it is all about maintaining the right balance.
Quick Tip – don't overdo the use of this aquamarine blue shade; rather, create a lasting impression with its planned use.
6. Ocean Blue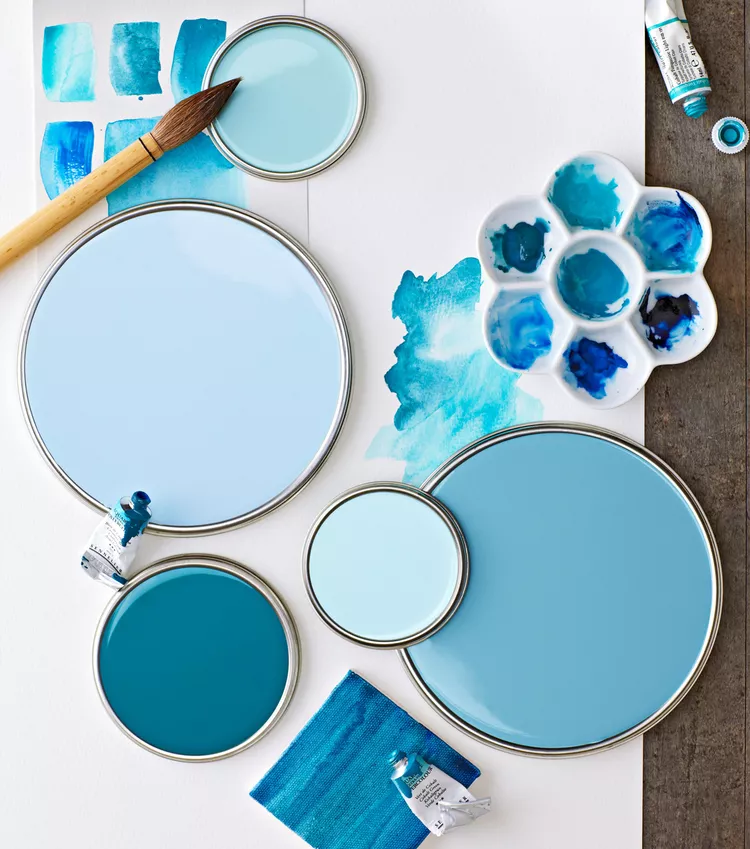 Who isn't inspired and attracted to the deep and meaningful ocean blue color? You obviously feel connected and relaxed when looking at the sky or ocean; the ocean blue shade leaves you with the same impact.
This gorgeous blue shade adds to the beauty of your place, making it more soothing and comforting. Also, if you are blessed with natural sunlight, the color will look even more magical and amazing. You can choose from the desired shade of ocean blue color that easily identifies with your personality.
7. Pale Blue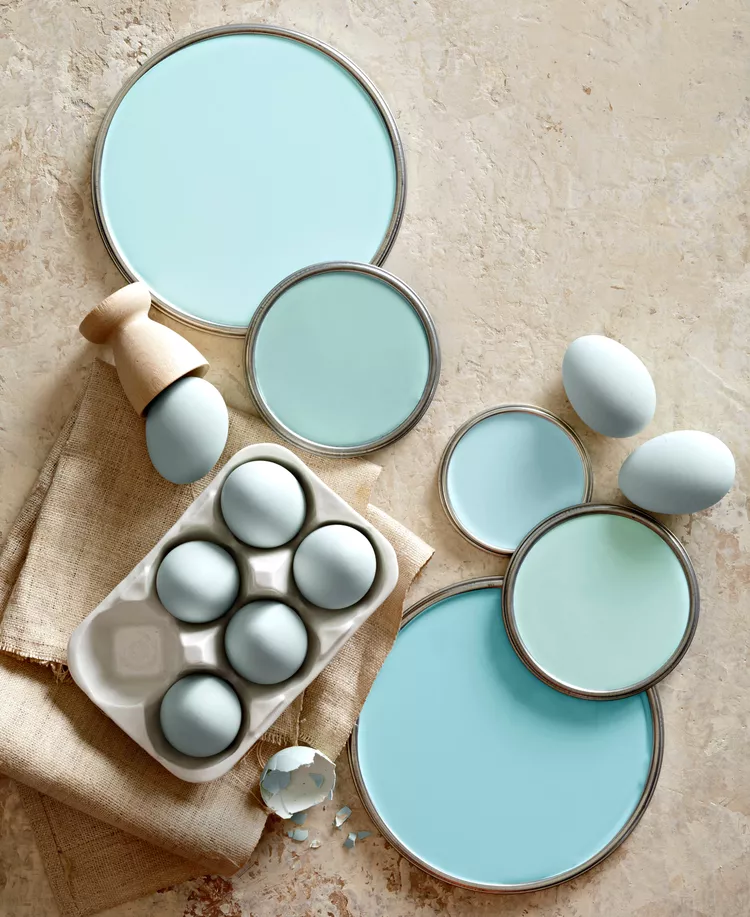 The pale blue color symbolizes peace, elegance, and beauty. Thus, if you want your room to have any of these elements, pale blue should be your choice. In the past few years, the color has impressed everyone to be the topmost favorite blue wall paint design choice.
This soft shade of blue is so comforting that your eyes instantly get used to it. It can be rightly said that the color maintains the perfect balance of softness, relaxation, and sophistication to make a lasting impression.
Many other appealing and amazing shades of blue stand out from the obvious choices. These are some of the expert-approved choices that are the popular choices for brightening up your space with the right balance.
The Most Favorite Color Combinations with Blue
Be it blue of any shade or intensity, it becomes more subtle, beautiful, and attractive when used with some contrasting colors. Though the color blue can be combined with any other color, there are certain color options for the best blue wall paint designideas.
1. Indigo and White Combination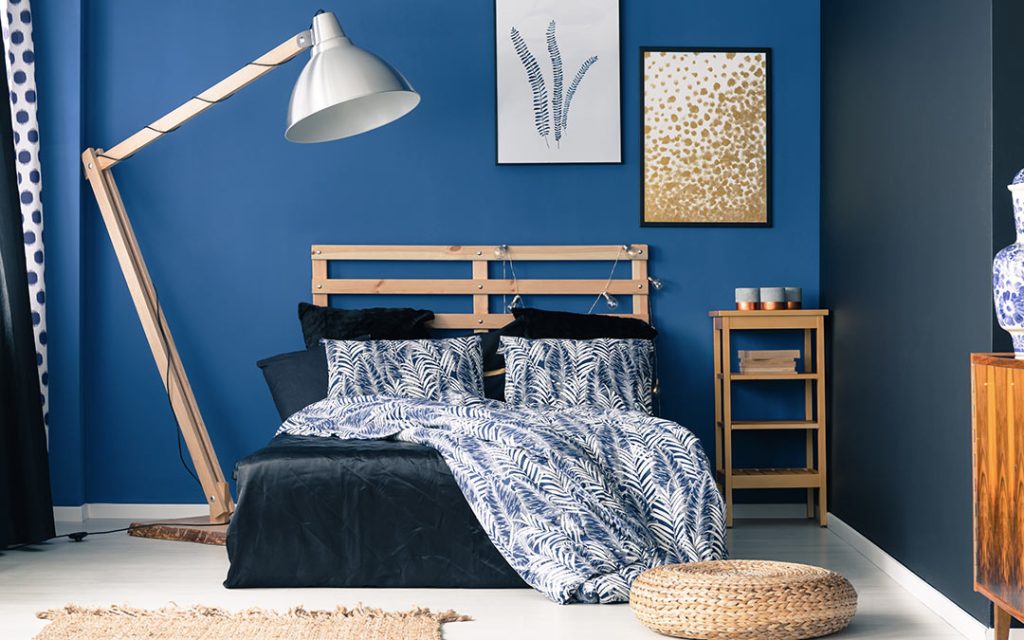 Talking about the combination that can never go wrong, the indigo and white combination is everyone's favorite. Go with the idea of making indigo the center of attraction in your room, surrounded by white accents. The whole combination is clean, elegant, and charming in all possible ways.
2. Cobalt and Yellow Combination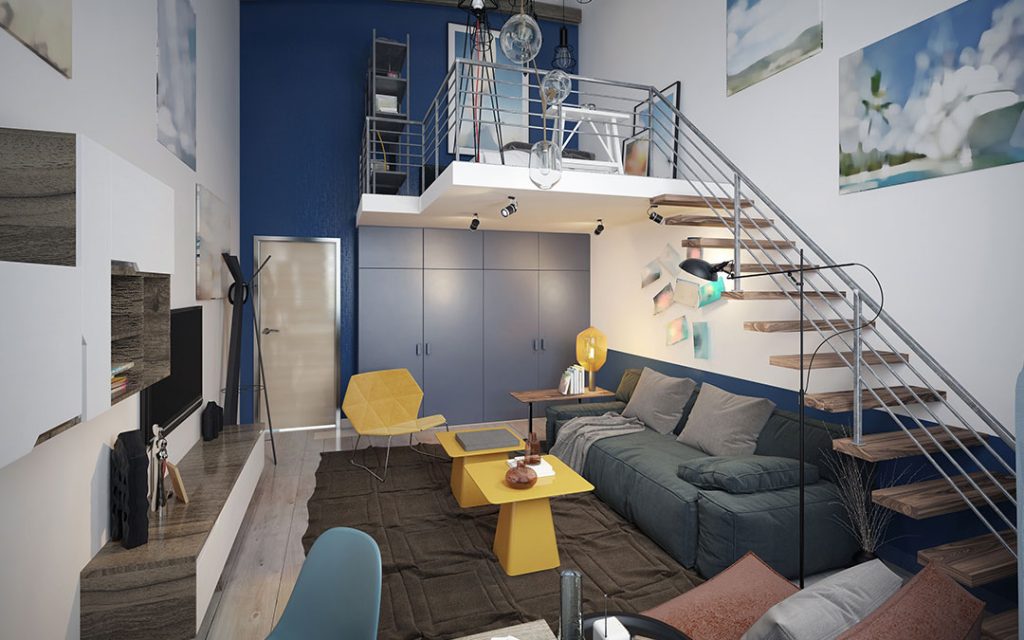 The next combination to make an impressive impact is none other than cobalt and yellow. Both the colors are so fantastic that they convincingly complement one another as the obvious favorite choices. The cobalt and yellow combination makes your space vivacious and charming.
3. Pastel Colors Combination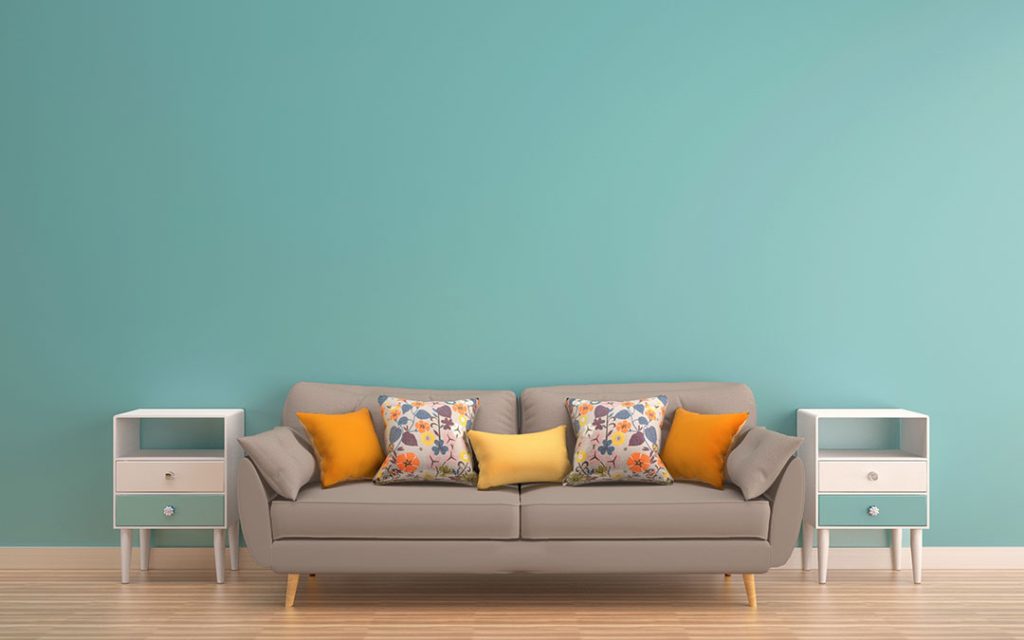 The pastel colors are the fashion statement for this season and many more to come. Be it any pastel shade, it is made to enhance the neutral beauty and soothing charm of the color blue without fail. For blue wall paint design, you can combine blue with pastel pink and mauve shades.
4. Indigo and Orange Combination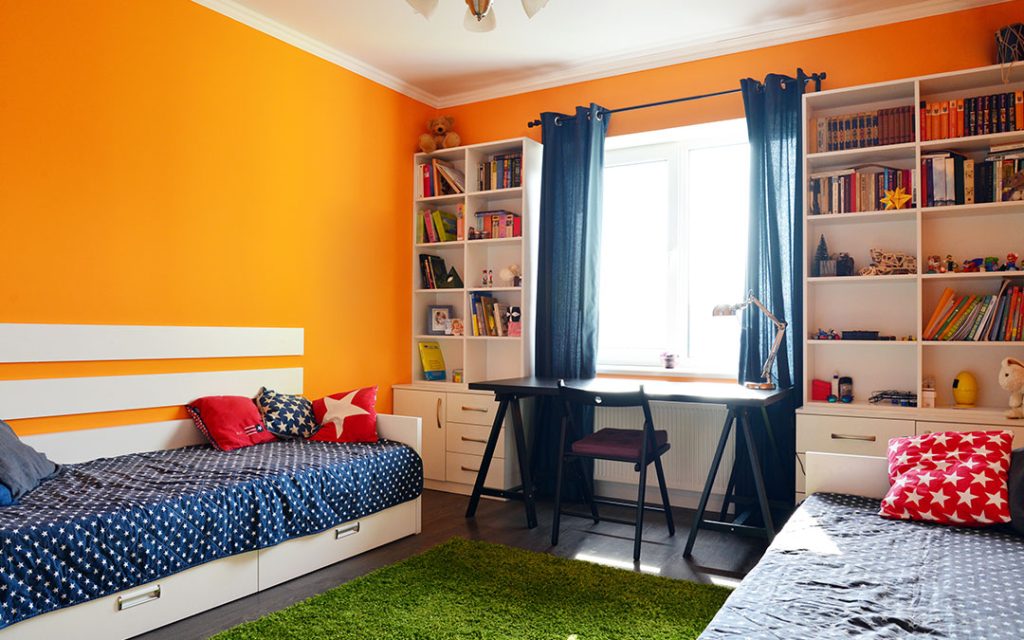 Indigo is surely one of the top-rated blue shades that can easily blend with any neutral or bold contrasting color. While you can use any neutral color with indigo, combining a bold orange color makes a lasting style statement. This versatile combination can make your place perfectly vibrant.
5. Coastal Blue and Coral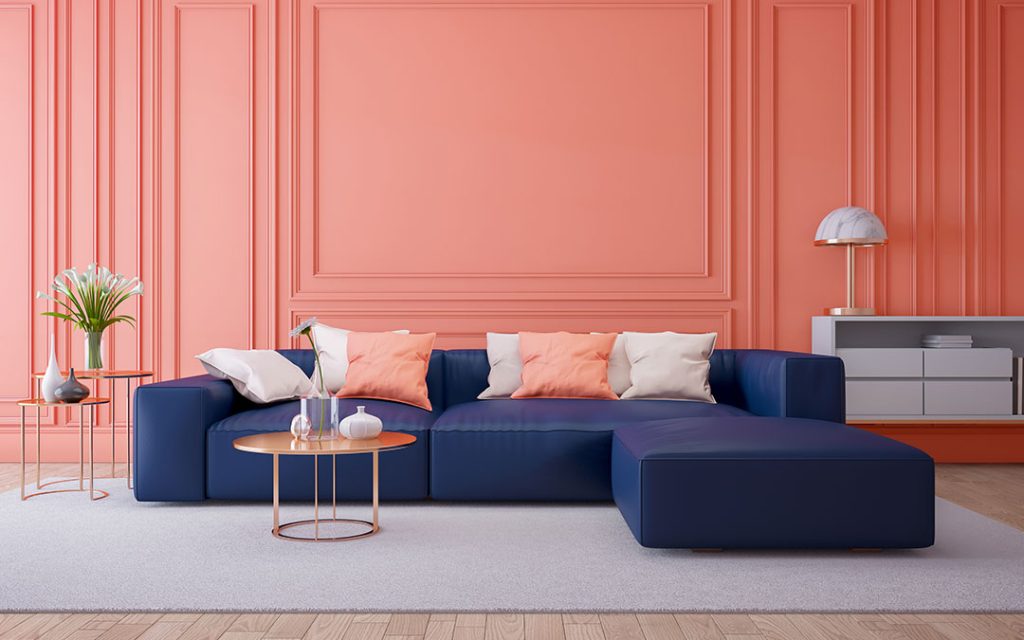 Coastal blue is a youthful, appealing, lively, and energetic shade of blue that also brings the required warmth. To enhance its beauty, the refreshing coral pink color makes the right choice. Both colors make the place so visually attractive to fall in love simply.
6. Sapphire and Gold Combination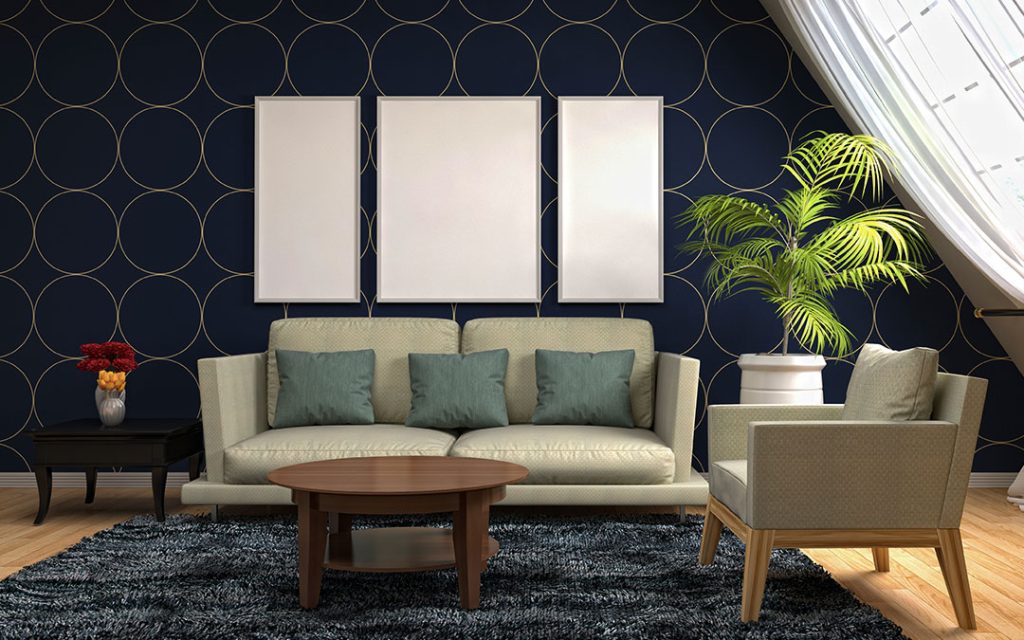 If you want a royal and classy color combination, the sapphire and gold combination stands no competition. This combination also makes the place look more spacious, elegant, and beautiful. This dreamy color combination will instantly catch your eyes and heart.
Summing Up!
Colors can have different impacts on different people. While some may consider blue as a somber color, many others may visualize it as a happy, inspiring, and relaxing color. You can easily pay attention to how you feel about the color blue to understand how it influences your emotions and feelings.
It will also make it convenient to choose the best blue wall paint design ideas that can beautifully reflect your personality. What are your thoughts about the color blue?
Share your favorite blue wall paint design ideas in the comment section.
Frequently Asked Questions 
Which Rooms Can Have Blue Color?
Honestly, the color blue can be chosen for any room as it makes a perfect choice. However, the color can have a desired effect depending upon your choice and liking. For instance – you can have dark blue shades for the living room, light blue shades for the bedroom, calming blue for the study room, etc.
Is Blue Wall Paint Design the Right Choice?
The blue wall paint design is certainly the best and right choice as it can either be used as a neutral shade or as a vibrant shade. Additionally, the saturated and delicate shades of blue can be contrasted with any other color to leave a lasting impact.
Is Blue Color Suitable for Elderly People?
Yes, the lighter shades of blue make an interesting choice for blue wall paint designs for elderly people. Make sure that the blue shade is not too loud to ruin its elegance. Choose the shade that attracts positivity, calmness, and comfort.
Other Articles