10 Inspiring Coastal Grandmother Style Home Decor Ideas
Coastal grandmother decor, also known as coastal grandma decor style, is the latest social media sensation. So, you've probably seen some beautiful interiors with this decor style, which looks...
Coastal grandmother decor, also known as coastal grandma decor style, is the latest social media sensation. So, you've probably seen some beautiful interiors with this decor style, which looks so peaceful and comfortable. But are you confused about how to incorporate this look into your home?
The first step is to understand what the coastal grandmother style is and what makes it so special that it has flooded the internet!
What is Coastal Grandma Style?
Coastal Grandmother Style Home Decor is a design trend that combines classic elegance with a beachy, coastal vibe. It all comes down to creating a warm and welcoming environment that is both comfortable and stylish. This type of decor combines natural elements such as shells, driftwood, and rattan with traditional furnishings such as tufted sofas and wingback chairs. It also frequently employs a soft, pastel color palette of blue, green, and beige.
In this article, we will explore 10 inspiring ideas that can help you create the perfect Coastal Grandmother Style home.
Coastal Grandma Decor Ideas and Inspirations
Do you know that coastal grandma decor is infamous for being featured in many classic movies? One notable example is the romance movie "The Notebook." The film's protagonist, Allie, lives in a beautiful coastal home that's decorated in a classic and comfortable style.
The popularity of this style can be traced all the way back to the 1980s and 1990s! Let's take a look at some of the best and most versatile ideas for Coastal grandma-style decors.
1. Shades of Ocean Blue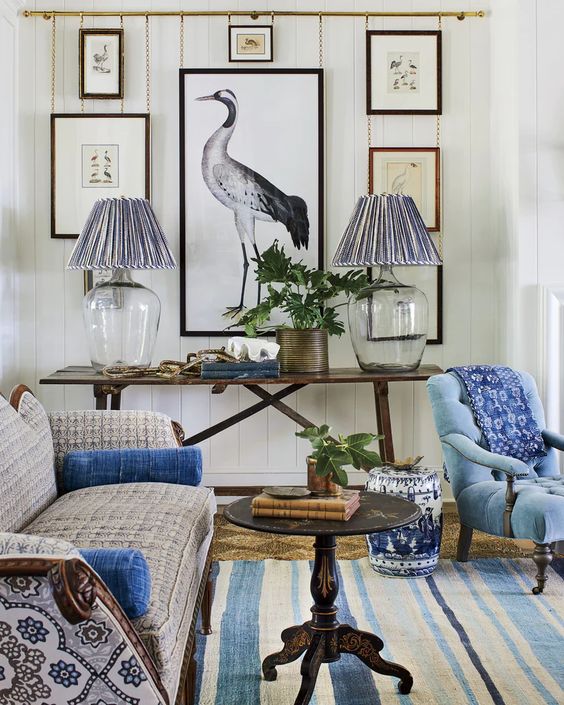 The nautical aesthetic is well-known for its use of lovely shades of ocean blue. If you have a small living space, you should decorate it in a minimalist style. A blue-striped carpet can help set the tone for a nautical scheme. The space is enhanced by a lovely loveseat sofa with rolled oak arms. To add further elements, go for a neutral, same-themed gallery wall. You can amp up the coastal vibe by adding blue cylindrical pillows and a blue tufted accent chair to create a reading corner.
2. Welcoming Rattan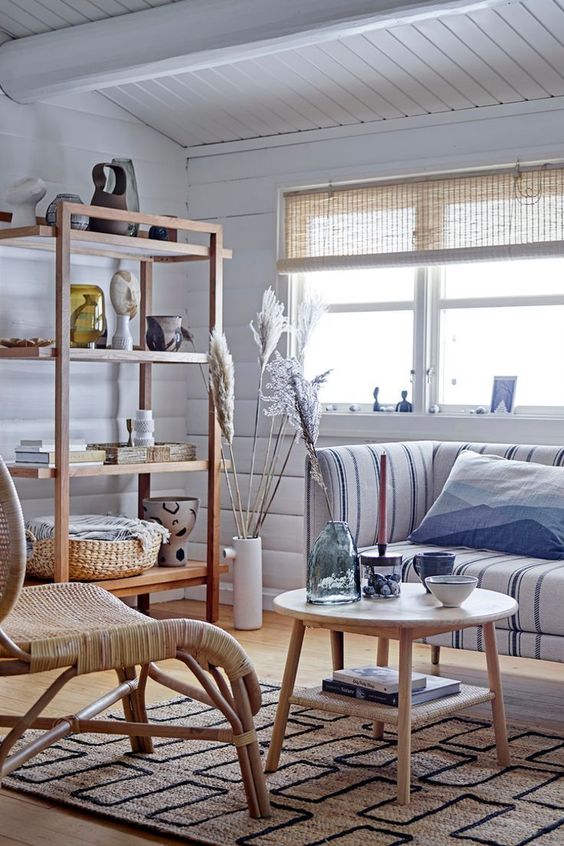 This coastal grandma-style living room displays a majority of gentle colors and rattan elements, resulting in a warm and inviting space that will remind anyone of a modest seaside cottage. The open wooden shelf provides character to the space and can be used to exhibit coastal retro elements. The rattan chair, basket, and curtain provide a natural touch and a bohemian vibe to the room. During the day, the rattan curtainsensure that the room is never dark. The little accent table brings attention to the stunning geometric rug.
3. Effortless Kitchen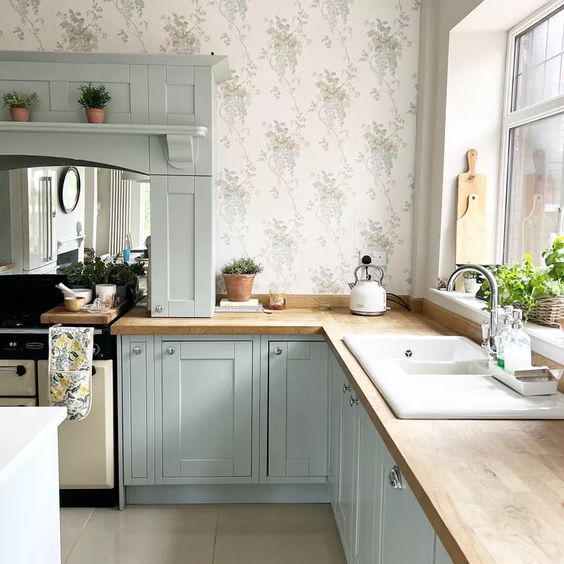 Do you want to update your kitchen with just a few new elements? Take a cue from this elegant and understated kitchen design. You may achieve this look by painting your kitchen cabinets and mantle a soft, neutral blue that reminds you of the coast. There is one accent wall with floral wallpaper that will take you back to your grandmother's house. This simple design has every color and accent needed for a coastal grandma-style kitchen. House plants are used to offer a splash of color.
4. Mixing Up Some Glam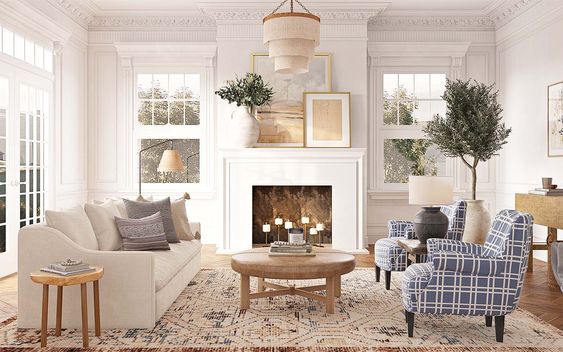 If you have a huge living room, add a touch of glam with coastal grandmother décor to make it look breezy and elegant. Painting the entire room white makes it appear larger and lighter. The fireplace, like the accent chair, is glitzy. The geometrical carpet stands out in the space and complements the coastal chandelier well. Accent tables, which come straight from old collections, bring a rustic appeal to the decor. The gallery wall is small yet displays a coastal theme.
5. A Vintage Room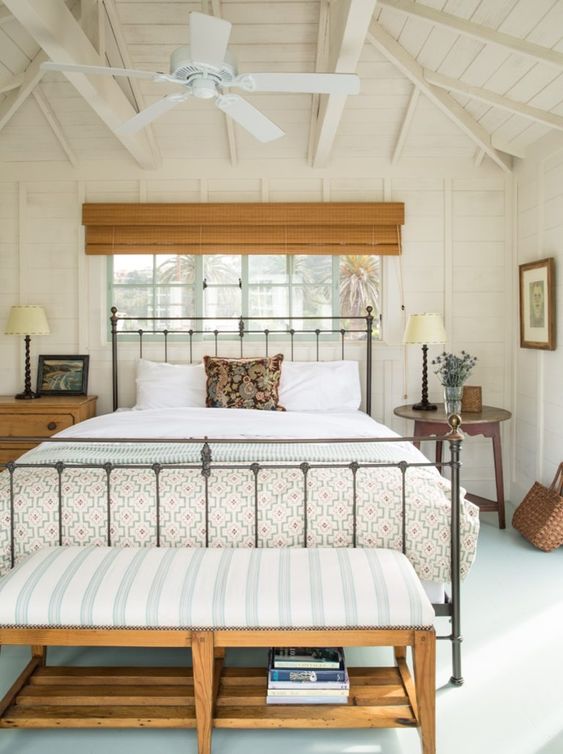 This bedroom appears really pleasant and welcoming, thanks to the great combination of neutral shades and wood. High ceilings are popular in coastal bedrooms and living spaces, making the space appear larger. Grandma's decor style is added to the room with vintage lamps and bedsheets. The bamboo curtain stands out well against the off-white wall. The eye is drawn to the comfortable bed by a patterned throw pillow. An open bookshelf has been cleverly transformed into a reading area with nautical upholstery. This room has a simple décor that everyone can pull off.
6. Taking in The Sea Breeze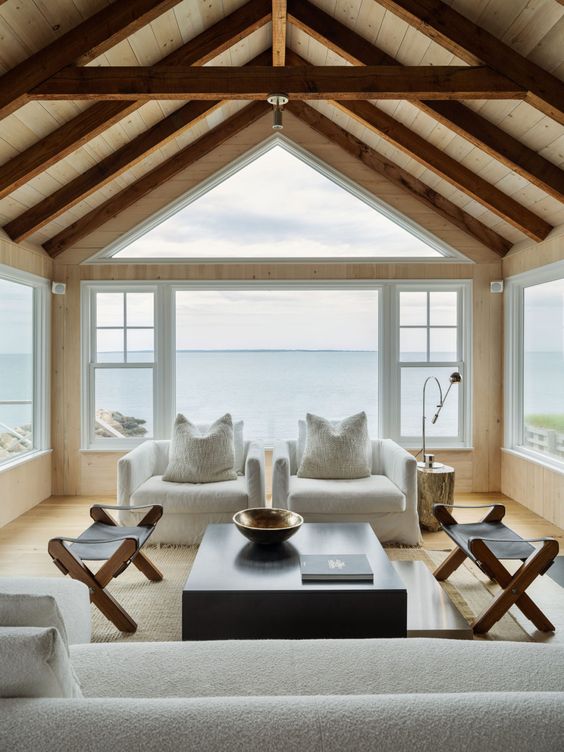 If you can't get enough of the ocean, then be inspired by this lovely coastal grandma-style living room with a modern twist. The high wooden ceilings provide a Victorian flavor, and the open windows let in a soothing sea breeze that everyone can enjoy. The view is breathtaking and will captivate all of your visitors. You don't need a large room to achieve this decor because the open windows and high ceiling will give you the sense of more space. For further detail, solid wood and metallic accents are used.
7. Inspired by Nancy Meyers Movie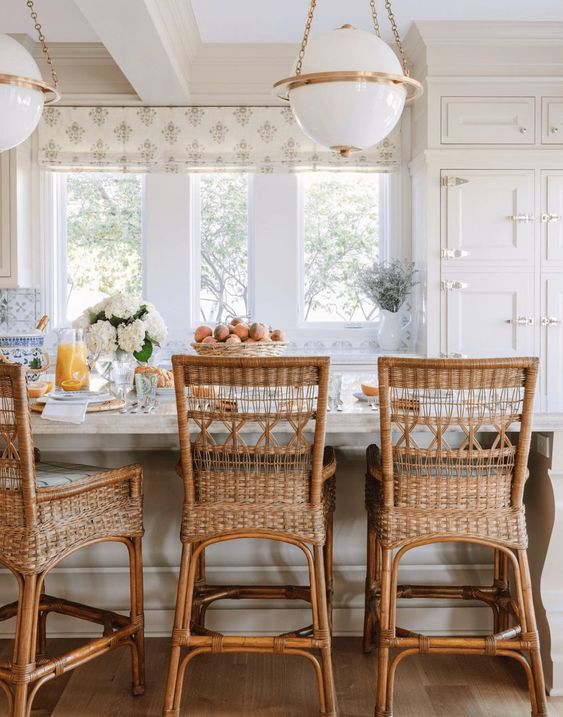 Have you ever watched Nancy Meyer's film and appreciated the interiors? Do you know that the coastal grandmother style is influenced by Nancy Meyer's films? She is well-known for having several design styles, such as beach home styles and transitional boho. To obtain the famed design, you can modify your dining area by adding elegant and natural accessories. Paint your dining room a basic white and accent it with printed wallpaper. For a bohemian-chic vibe, use rattan dining chairs. The centerpieces of the decor can be a flower vase and a chinoiserie bowl. A metallic chandelier can be used to provide a touch of class.
8. Lovely Hydrangeas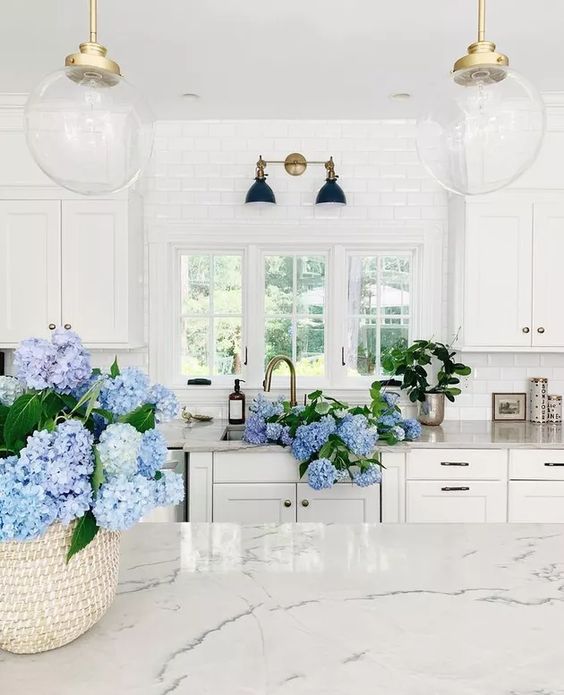 For coastal grandmothers, hydrangeas are the flower of choice. Choose a blue variety to complement nautical themes and place them in a basket to give the impression that you just clipped them from your yard. This kitchen has a sleek and minimalist design. Hanging wall lights are both functional and enticing. The golden tap, silver vase, and hanging lights provide metallic tones. The subway tiles, which lend nuance and flair to the area, are the focal point of this kitchen. This kitchen will look great in any season.
9. Blue and White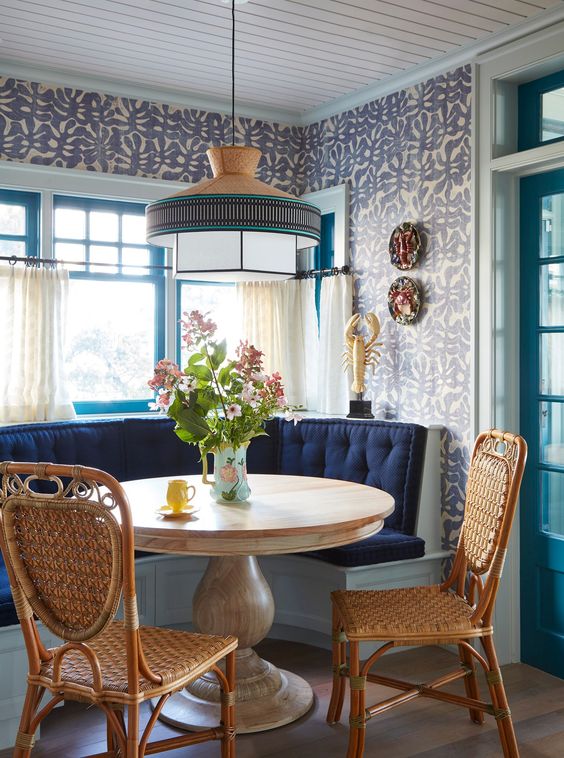 Do you want to feel both cozy and classy? Then be inspired by this stunning tearoom, which can be the ideal setting for countless conversations. The combination of blue and white is a popular choice for nautical design, but it's astonishing how many different looks it can create. The accent wall in a royal blue classic design contrasts beautifully with the custom-built corner sofa with navy blue upholstery. The flower vase, vintage center table, and rattan seats add a rustic touch.
10. A Relaxing Soak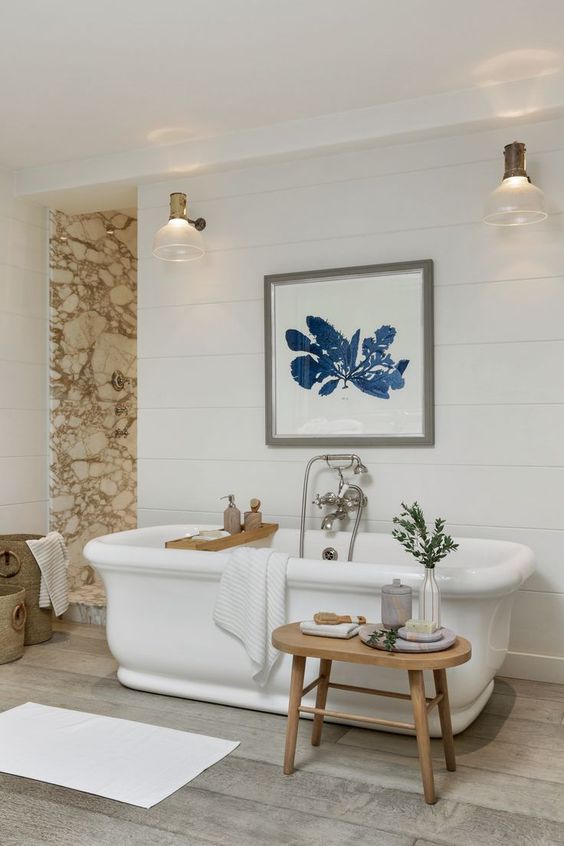 This coastal grandma-inspired bathroom, with its combination of pristine white and soft neutrals, will provide you with a calming soak after a long day. A marble shower accent wall is fashionable, as is seaside-themed bathroom art. The wooden stool and tray display are meant to evoke the spa experience. Rustic vases provide a unique touch to this modern bathroom. Wall lamps are both stylish and functional. This easy bathroom design style does not require a lot of space, and you can quickly put it together at home.
Wrapping Up!
We hope you like our coastal grandmother decor ideas and are excited to try them out for yourself.
The finest décor style is one that complements the available area and expresses your personality.
Coastal Grandma's design is modern and sleek while incorporating retro aspects.
This style is ideal if you want your home decor to amaze your guests at all times of the year.
Other Articles