The first cave paintings in history were made on rock, but as textiles like canvas and other advanced materials, paintings could be moved, and the art world could grow into the thriving business, it is today.
Canvas – Being a durable fabric, it is the best option for creating crafts and iconic paintings. But when it comes to framing it safely, people often get stuck with the process.
Framing artwork is a great way to preserve it; it protects against dust, moisture, excessive light, and mold. 
So if you have a canvas painting that holds a special place in your heart, then framing it will be a great move, for you must be aware of how to frame a canvas.
It sounds baffling, but trust me, after reading this article, you can do it easily on your own. 
Before getting deep into framing a canvas painting, let's get a little knowledge of what exactly it is and why one should choose it. 
Similar Post: 20 Black Bed Frame Full Room Ideas to Design an Inviting Space
What Exactly is Canvas & Why One Should Choose It?
Paintings on canvas proved extraordinarily resilient to fading and breaking in ancient Europe as compared to wooden panels.
By that time, canvas overtook wooden panels as a medium of the most demanded painting surface. You can buy a canvas that has not been bleached and is waterproof, and it is made from linen, cotton, flax, hemp, or any kind of similar textile. 
Canvas is probably the most widely used painting surface. Artists throughout the world use canvas for a variety of reasons, including its availability, professional quality, durability, ease of hanging, and variety of shapes.
There are some special art supply stores as well that sell high-quality canvas instead of low-quality pieces that are usually sold in craft shops.
High-quality canvas can be purchased in art supply stores that are designed specifically for artists. There are four types of canvas available in the market. Such as:
1. Stretched Canvas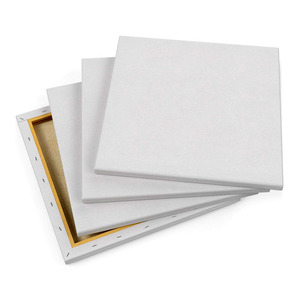 Stretched canvas is an ideal option for both beginners as well as experienced artists. As they are pre-stretched canvases, you do not need to waste your time stretching them before painting.
They are stretched over wooden frames of various thicknesses. And they are easily available in the market, local art galleries, and artisan stores.
As the texture of the canvas will be more prominent on unprimed canvas, you should go for this, available in different shapes and sizes. 
2. Canvas Boards/Panel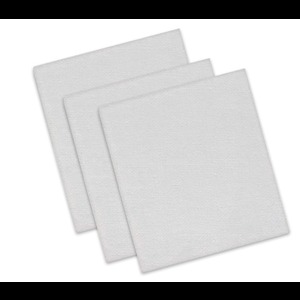 Applying primed cotton canvas to one surface of rigid board results in canvas panels.
However, applying less pressure to the surface, which would loosen the cloth in the case of a stretched canvas, is a fantastic alternative if you are just getting started.
Having different sizes, they are completely weightless, affordable, and transportable. You can choose from other options as well, like "professional quality," but it is a bit expensive as compared to the stretched one. 
3. Canvas Pads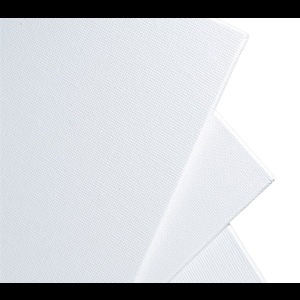 Canvas pads containing primed canvases are very similar to notepads. They can be easily mounted, stretched, and used as it is.
As they are acid-free, there is no stress of being damaged in the artwork. Being one of the inexpensive alternatives, you can practice on Canvas as many times as you want to.
But remember one thing these are not for long-run use. If you are looking for a long-term canvas, then better to avoid these. 
4. Canvas Rolls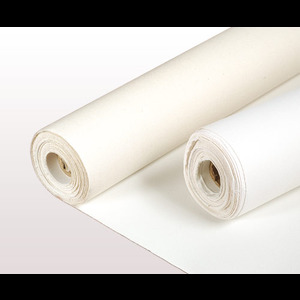 An artist who does endless painting prefers canvas rolls the most. The more you paint, the more you need these essentials.
Starting from various textures, weights, fiber, primed and non-primed, it is abundantly available in the market. As they are made from cotton or linen, the price is higher as compared to other types of canvas. 
Also Read: Step-By-Step Guide On How to install Modern Wall Molding
How to Choose a Frame? 
It's a perfect time to choose a frame once the canvas is completely stretched.
Because every piece of art would be framed in an ideal world with a microenvironment made of glass, which would act as a protective barrier, if the painting is delicate or expensive, then the canvas should be properly framed with glass or acrylic.
But make sure you always choose a standard frame size, as custom framing is pretty expensive. If you know the available frame sizes, just work on them to save a lot. 
Generally, there are two different types of frames available. One is a regular frame, and the other one is a floating frame.
Regular frames can be used on any artwork, whereas floating frames are specially designed for canvases and panels. However, both carry distinctive pros and cons. 
What Are the Materials Needed to Frame a Canvas Painting? 
1*2 Common Board
Offset Clips
Rubber Pads
Screw Eyes
Looping Wire
What Are the Tools Required While Framing?
Canvas framing has always required a set of desired tools. Well, you might be thinking of any heavy tool. But guess what? With simple, at-home tools, you can fix your framing issues. It is a low-cost and easy thing to try on. Below are a few common tools listed to make it easy:
Nail Gun
Rag or Foam Brush
Chop Saw
How to Frame a Low-Cost Canvas Painting?
Everyone cannot afford canvas painting as it is quite expensive. But you can fix this problem of framing in your home now.
With hands-on techniques and easily available tools, you can frame your favorite piece by following a few simple steps.
Have a look.
Step 1: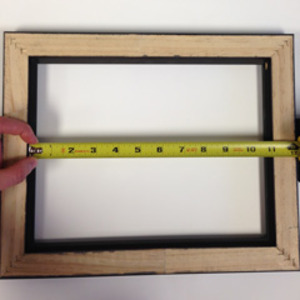 Measure your canvas from the inside, like how big it is.  Accordingly, you can adjust the outside dimension. 
Step 2: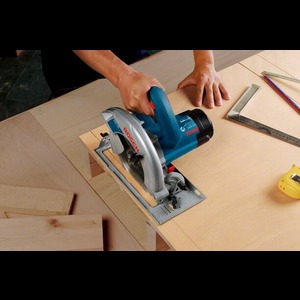 Having the dimension of the outside of the frame, cut them by hand using a chop saw. Make sure to cut all four sides of the frame.
Step 3: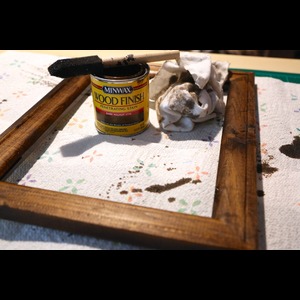 Assemble the frame without fixing the canvas print inside of it. Create an in-shallow effect. Just attach the box with wood glue and leave them to dry. 
Step 4: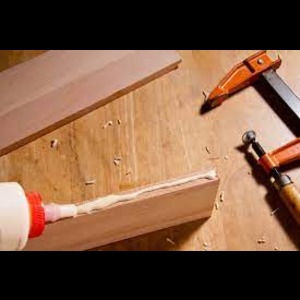 Once the wood glue dries, apply your favorite stain to your frame. Remember that staining the frame is optional. Leave for 24 hours to dry the stain and seal it with polyurethane. 
Related: 11 Stylish Platform Beds with Storage You Need to See
Step 5: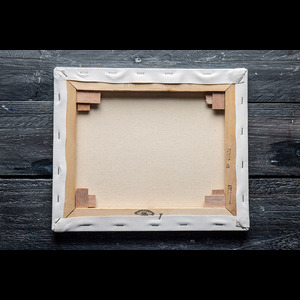 To install the canvas, choose the depth of reveal you want around it. In the front corner of the painting, hold the spacer and then apply the hot glue to all the other backside corners of the canvas to fix it precisely. 
Step 6: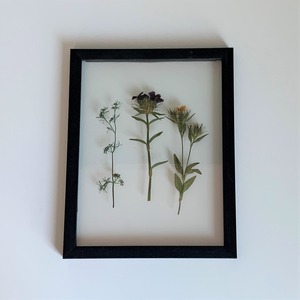 Once the glue is dried, the frame is ready. Hang it on your favorite wall to add a wonderful style to the entire decor.
You can check out this YouTube link for more details: 
What Are the Benefits of Framing a Canvas Painting? 
As you are now done with how to frame a canvas, the next big thing that you need to look after is its benefits. Let's get into that.
1. Added value
Framing a canvas painting makes it more valuable and worthy. By framing it beautifully, you are increasing its value, and at the same time, if it is signed by the artist, then it is considered to be a precious one.
It not only adds protection but also helps in preserving your valuable things with utmost safety.
On an additional note, if you are adding it to any exhibition or gallery, then the chances of getting sold become double just because of its precise framing.
Giving it a completely professional look, it enhances the overall view of your room too. 
2. Increased protection
The main objective of framing a canvas painting is its protection. There are high chances of getting affected by dust and molds if the canvas is not properly coated with a protective layer.
And by framing it you can save it from these unwanted particles along with the UV radiations, ensuring its longevity. Apart from that, it creates an amazing barrier between the canvas print and the spilled liquid items. 
3. Attach personalization
A framed canvas print adds a complete personalization to the entire decor of the room. No doubt, custom framing provides more personalization value, but due to its high cost, people do not prefer it.
To enhance the aesthetic appearance and protect them from internal damage, it is important to frame a canvas painting. So, increase the versatility of these amazing paintings just by framing them. 
4. Maintains versatility of the canvas prints
Maintaining the versatility of the canvas print is one other benefit of framing it. The frames make it look more professional and polished.
After framing and hanging them on the wall, you can feel the difference between a valuable asset. So after acquiring a brief knowledge of how to frame a canvas, you can get it done at your home only.
No need to visit any nearby stores and spend a hefty amount. Instead, do it yourself to save a lot. 
Check This Next: 25 White Wall Decor Ideas to Revamp Your Home
Final Words
Every canvas framing is different. So to get started with the right tool and technique, one must be aware of how to frame a canvas.
Unless you carry adequate knowledge of frame size, you cannot make it work because every single frame demands a unified solution.
Like the weight of the canvas, the type of paint used, the age and condition of the painting, to the depth of the stretcher bar.
Every single thing should be checked on precisely to avoid any kind of damage. Framing is always fun until handled with proper care and precaution! 
Other Articles