15 Budget-Friendly DIY Water Fountain Ideas
Are you willing to add serenity and reduce the noise in your backyard? Then, the water fountains work wonders incorporating extra charm into your garden. But what to do if you want to save yourself...
Are you willing to add serenity and reduce the noise in your backyard? Then, the water fountains work wonders incorporating extra charm into your garden.
But what to do if you want to save yourself from buying expensive water fountains?
How about DIY water fountains? Just collect some tools and take the help of your close ones to make dazzling water fountains. In this manner, you will create something alluring which will speak volumes and saves you money.
Also, producing one is too simple, and it boosts the amount of time engaged in the outdoors. For instance, you can recycle some old items in your home, like an old watering can, as the basis of waterfalls if you are contemplating generating a water feature.
Let's explore 15 top DIY water fountain ideas that will adorn your backyard.>
1. Rustic Window Pane Falling Water Feature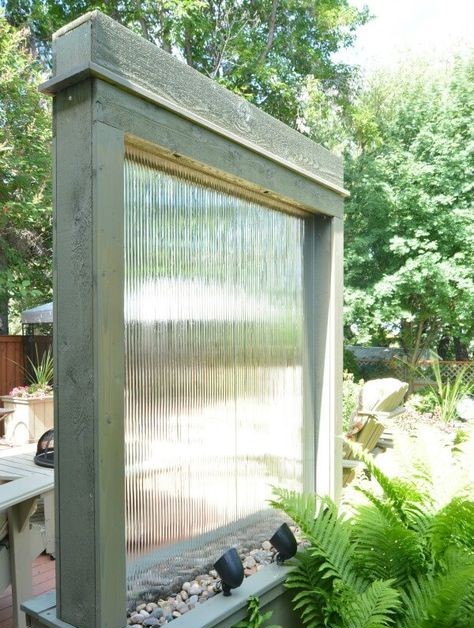 This incredible homemade water fountain consists of an old window pane at the top held by a perforated tube. The falling water is similar to corrugated glass, excluding you can pass your hands feeling the sensation of cool water. Install uplights in the gravel-filled basin at the bottom to enlighten the wall of water at night
2. Beautiful Bamboo Trickling Waterfall Basin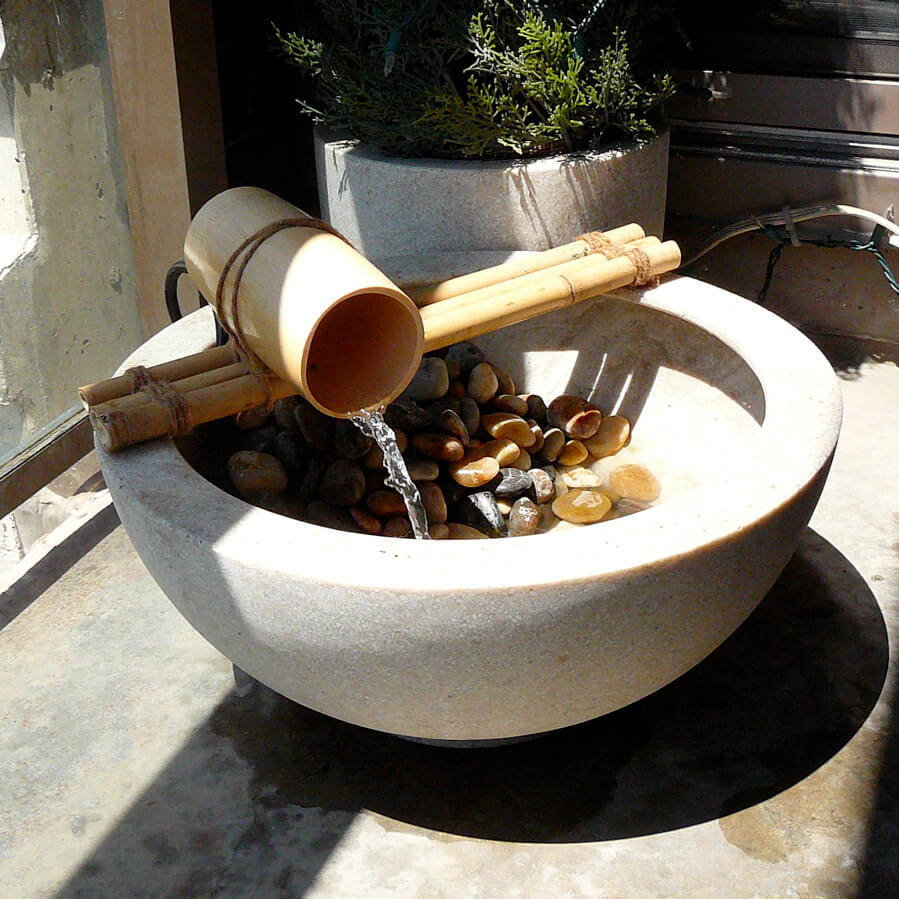 Inspired by the essential fountains in Japanese gardens, this DIY water fountain has a length of bamboo lying on two narrower lengths of bamboo to ooze water into a ceramic basin filled with gravel. A similar ceramic pot filled with juniper is kept nearby, which has immense peace that you and your peers can feel it.
3. Fool the Eye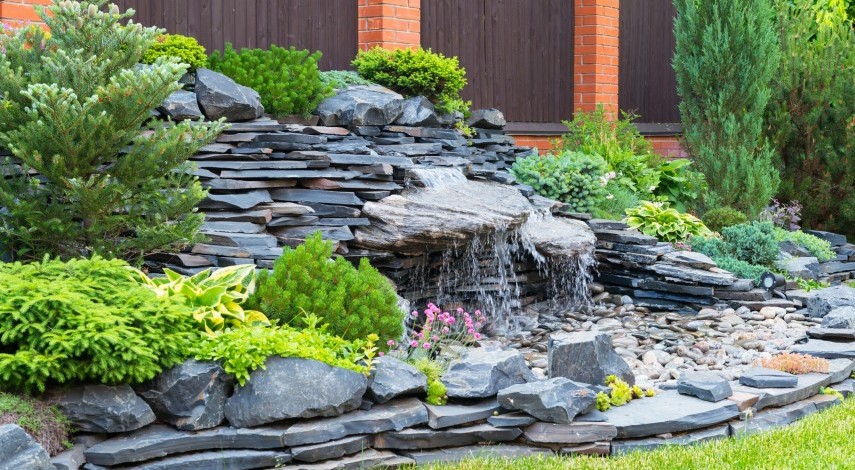 At first sight, this diy water feature might look like great magic, but you need to look carefully. Although the antique watering lets the water pour incessantly, the can is filled with water through a clean tube. To re-establish this look, bend the tube up and out of the bucket and back into the water can. After the water goes into the spout level, it will drop to the low level to recirculate in a new loop.
4. Uncork It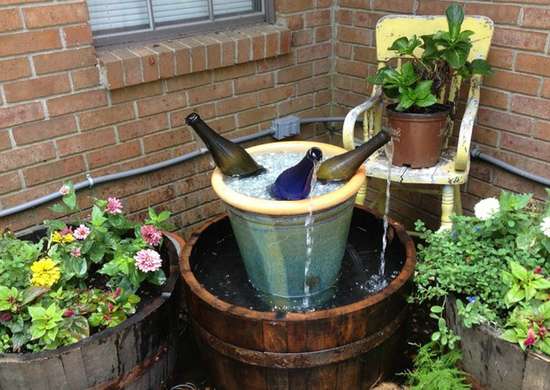 Once you have polished an exclusive vintage, repurpose your bottles into a garden fountain. This DIY idea comprises a whiskey barrel, three wine bottles, a huge wooden planter, and glass chips to form a homemade fountain resembling a chill wine bucket.
5. Go for a Geyser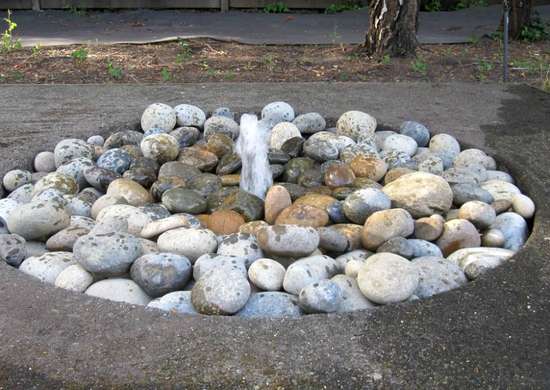 Are you worried about your pets or kids falling into the fountain? This homemade fountain resolves this problem. How? The water disappears into the craggy land. Below the stones are a tank of 15 gallons of water, a tub, and a pump jet of water in the open air.
6. Pipe Dream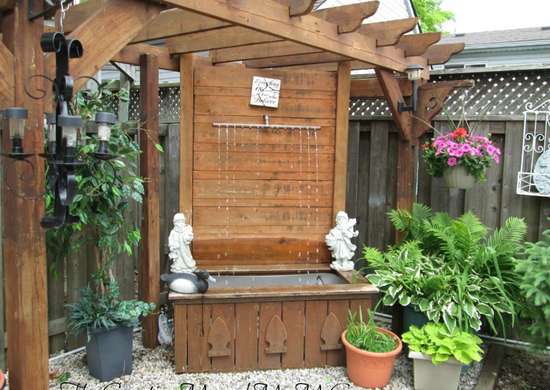 With copper plumbing attachments, extra decking wood, and a huge plastic storage tub, an attention-grabbing diy fountain enhances your backyard. The back wall conceals the pipes which pass the water from the bucket and gives an eye-catching background for the drape of water droplets falling down.
7. Stacked Stones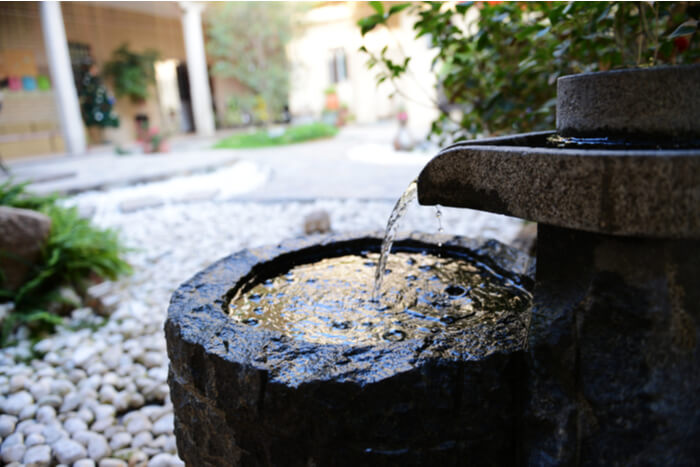 How about stacking stones on one another using an adhesive? This is a brilliant homemade water fountain idea since the huge pieces will be at the base, and the small ones will stay at the top. Also, keep an underwater pump for the fountain and gaze at the water flow down the stones incessantly. It is reasonable and will enhance the natural beauty of your outdoors.
8. Tippy Tea Pot and Wooden Barrel Fountain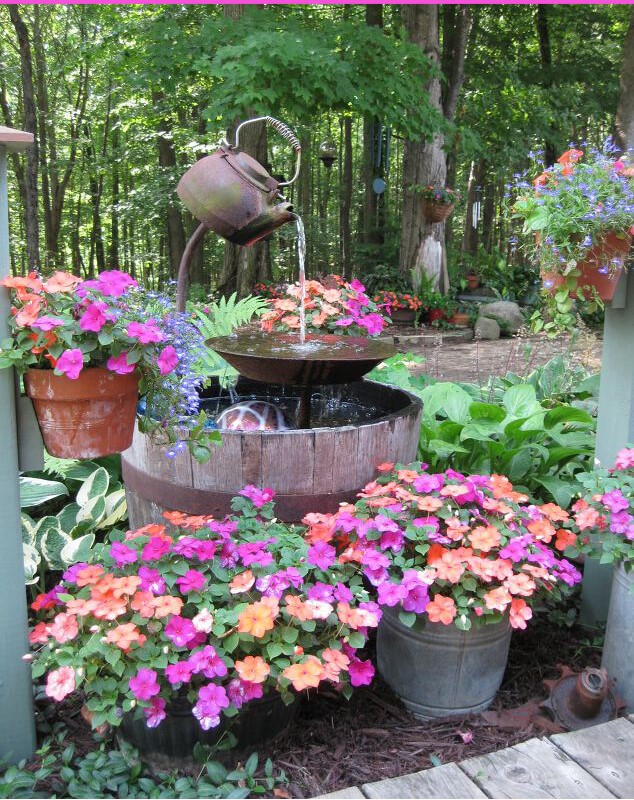 This is one of those quirky water aspects that will amaze a visitor. You might even speculate how it was done after its installation. In this dazzling fountain, water pours via an old repurposed teapot into a shallow bowl and then into a container. Plant hostas and prepare pots of busy lizzies to enchant this corner of the garden
9. Mini Oasis with Waterfall Water Feature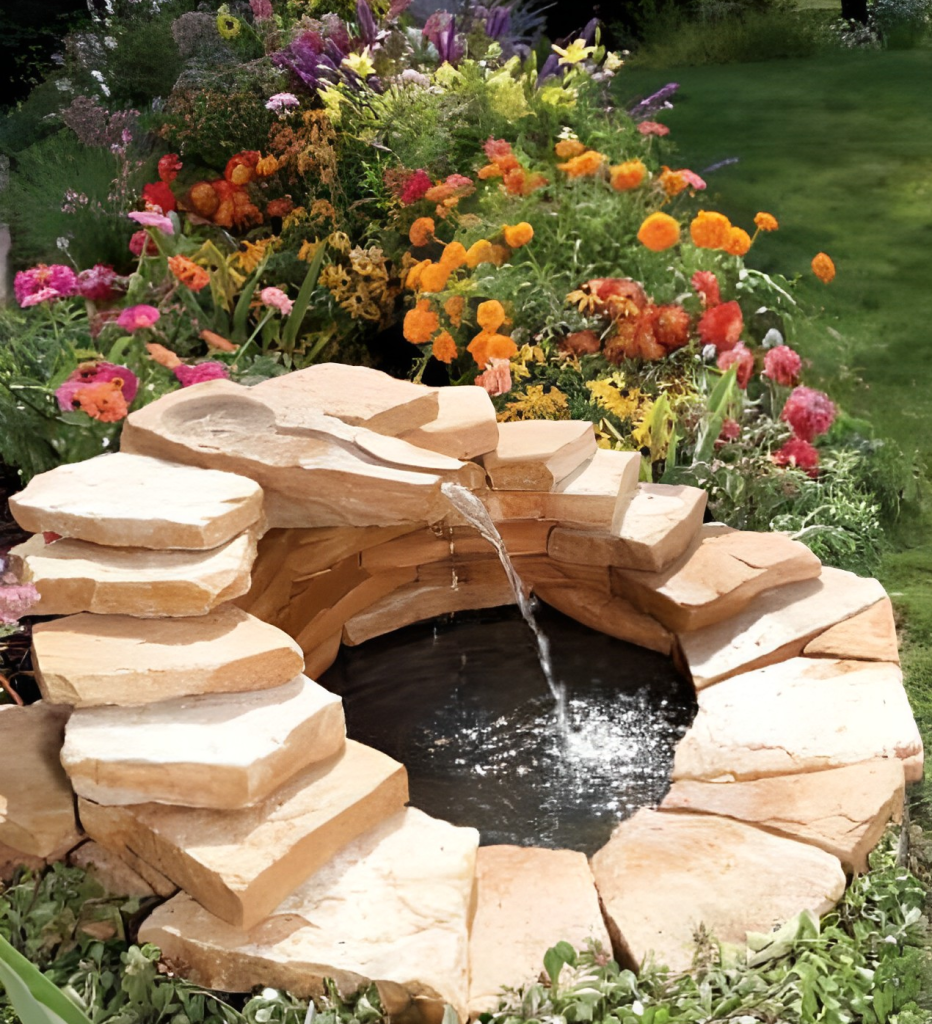 Unwind as you listen to the sound of a magnificent waterfall in your garden. You build tiers of grain stone built surrounding a reservoir with a foundation utilized for water distribution. Adorn the fountain's stone by planting plants and bright flowers like zinnias, chrysanthemums, and lazy susans.
10. Tiers of Happiness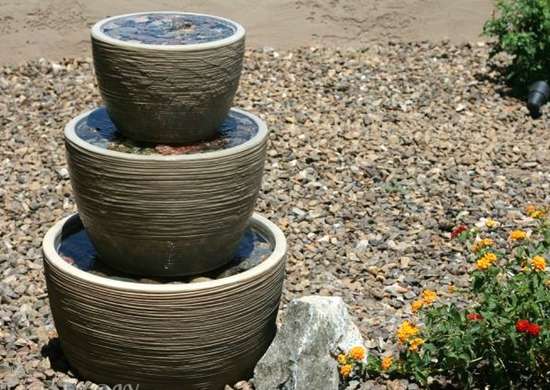 This stylish backyard fountain is affordable. In this design, a circulating pump converts a triplex of plant pots into a sparkling water aspect, adding charm to a desert home. Spare concrete stones are piled into the lower pots to endorse the ones over them and are concealed through a layer of rocks collected from the nearby landscape.
11. Fun and Fancy-Free Wheelbarrow Waterfall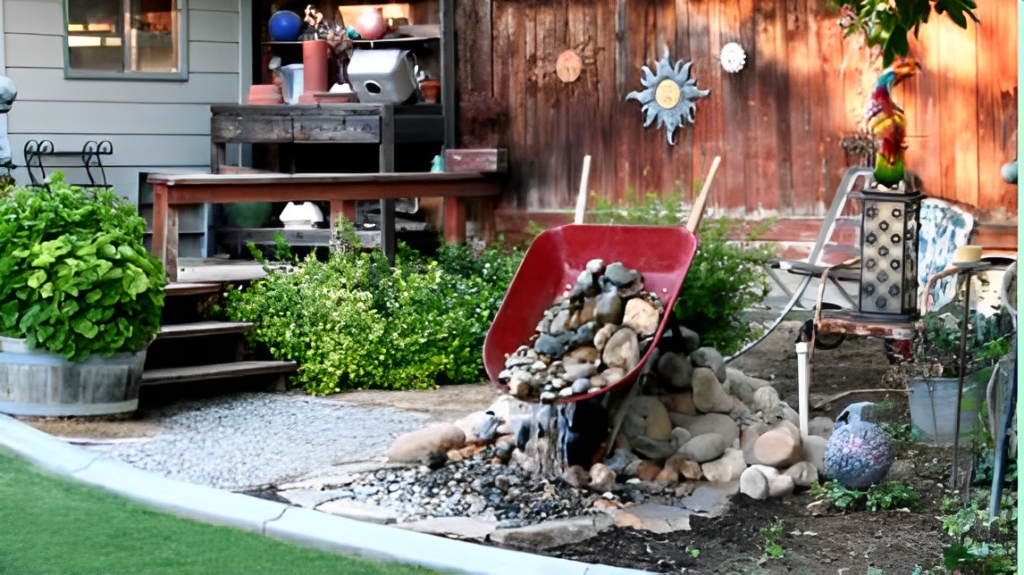 The other awe-inspiring fountain is made of gravel, boulders, and a wheelbarrow. This wheelbarrow is inclined in a way that makes you ponder that it is building its reservoir. Rather than rocks, water flows in a cascade. This approach is great for repurposing a wheelbarrow.
12. Incredible Stacked Rock Statue Water Feature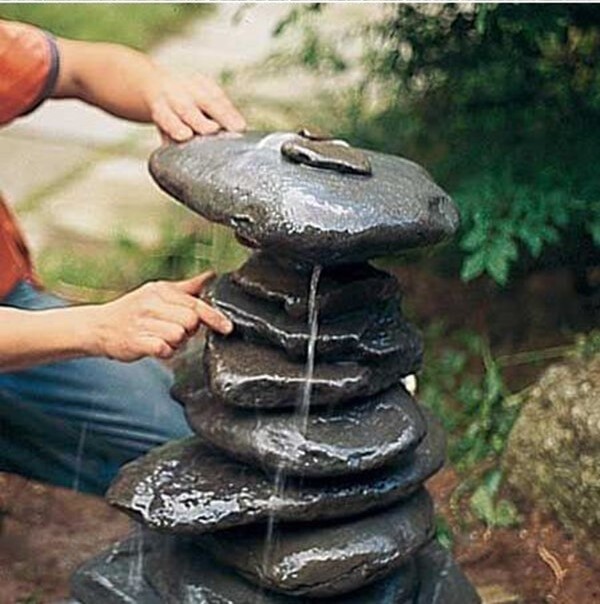 Visitors will contemplate how you topped flat rocks on each other as water flows through them. The top secret is to excavate holes via the rocks and stack them on each other. The delight lies not in the water's sound but also in the light hitting the wet stone.
13. Whimsical Floating Watering Cans Water Feature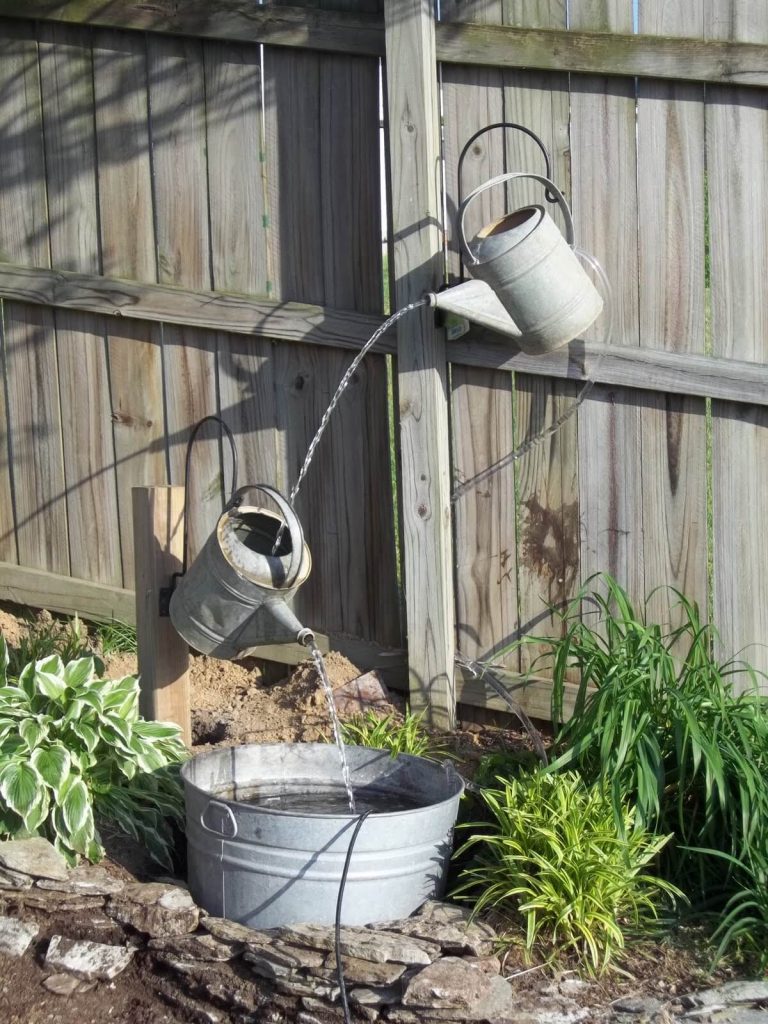 This fountain holds an old-fashioned watering can, emptying into another and surfacing into a washtub. One peculiarity is to append the watering cans smartly to your fence to appear to float. If the look is dull, include bright green and cream hostas and green decorative grasses.
14. One for The Birds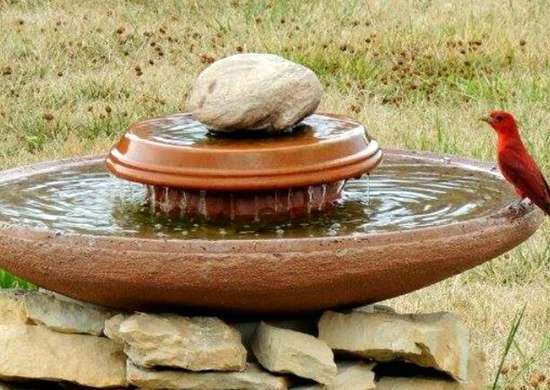 This amusing fountain is balanced on numerous captivating rocks which hide a 15-gallon plastic drum. Also, the rocks keep the circulating water cooler than it would be in a conventional birdbath, making this refreshment station mainly suitable for feathered birds in hot climates.
15. New Life for An Old Cask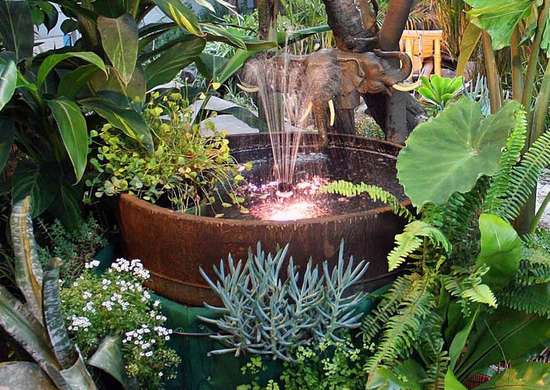 A wine container can be your next backyard main point. This was deodorized and sterilized before being converted using a store-bought container pump. To enhance, add aquatic plants and LED fountain lights.
Tips for Maintaining Your DIY Water Fountain
It is crucial to maintain your DIY water fountain to make sure of its great functioning and durability. Let's go through some tips which will aid you in its maintenance:
Maintain the water level constant – You must check the water level in the fountain and refill it when required. If the water level goes below the pump's uptake, it can harm the pump.
Clean the fountain frequently – Algae, dirt, and debris can mount on the fountain, which clogs the pump. Use warm and soapy water to clean and rinse it properly.
Examine the pump daily – The pump is the center of the fountain, and you must check daily whether it is working accurately. Please take out the pump from the fountain and clean it after some months to get rid of any debris.
Utilize a fountain cover – Utilize a fountain cover to safeguard it from dirt, leaves, and other debris from piling up in the fountain.
Use the correct water additives – If you need to add water treatments or additives, ensure they are harmless for your fountain. Do not use bleach or harsh chemicals that can damage the fountain.
Conclusion
Building your DIY water fountain can be an exciting and creative experience that brings aboard the serene sound of water to your backyard. With these 15 best ideas, you can save money and build unique water fountains that showcase your personality. The output will be up to the mark, from selecting basic materials such as rocks and pots to intricate designs that necessitate some effort and skills. Also, go through the important tips to maintain your DIY water fountain.
Therefore why not step ahead and try these ideas to bring relaxation and fascination to your outdoor space?
Frequently Asked Questions
How to Decorate a DIY Water Fountain?
To decorate a water fountain, plant flowers, utilize mosaics for an elegant look, and paint the bricks with bright colors. Additionally, you must install metal lawn art and insert a seat nearby your fountain to enhance the ambiance. Also, insert pebbles and rocks for a textured look.
How Do You Form a Small Indoor Fountain?
To form a small indoor fountain, keep the pump, particularly the nozzle, where you need the water to flow. Then, keep the colorful rocks in the bowl. Insert water to cover the rocks. Ultimately, plug in the diy water fountain and have fun.
What Is the Simple DIY Water Feature?
The simple diy water feature is a bird bath to sustain, drawing wildlife into outdoor space. A bird bath does not have filters, pumps, or expensive installation. It is a low-cost way to incorporate a water element into your back or front yard.
How to Install a DIY Water Fountain?
To install a DIY water fountain, select your fountain place and choose your fountain. Then, mark the relevant arena for excavation. Start digging the hole and level the basin. Further, join the pump and insert lighting and decorative gravel.
Other Articles