11 Outstanding Bathroom Floor Plans with Walk-In Showers
Are you looking for the perfect bathroom layout? Whether you're building from scratch or remodelling, designing the perfect bathroom layout involves rigorous planning. You need to keep in mind...
Are you looking for the perfect bathroom layout? Whether you're building from scratch or remodelling, designing the perfect bathroom layout involves rigorous planning. You need to keep in mind measurements, the locations of bath fixtures, the room size in feet and square meters, and more to bring your dream bath into reality. Bathrooms, whether small or big, should be well thought out and should function with multiple users in mind.
We have covered both simple as well as master bathroom floor plan with a walk-in shower in this article.
Impressive Bathroom Floor Plans with Walk-In Showers
Let's take a look at 11 outstanding bathroom floor plans that will help you lay out your bathroom correctly.
1. Simple yet Elegant Floor Plan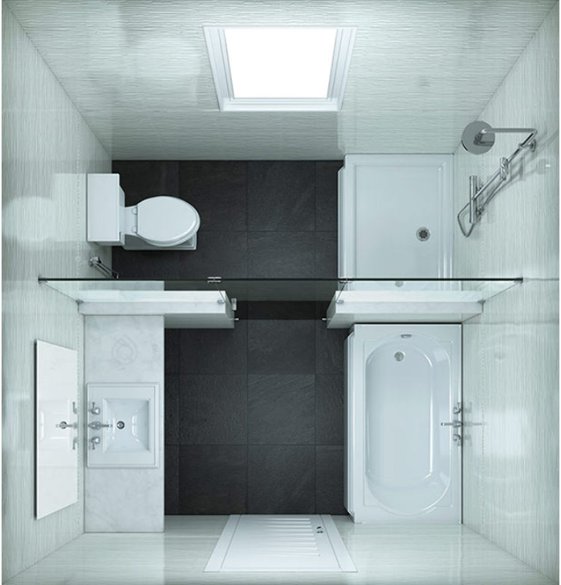 The picture above showcases a modern master bathroom floor plan with a walk-in shower spread over 85 square feet. The dimensions are 9'6"x9'0". It is a simple, no-drama black-and-white bathroom with black granite floors and milky white bathroom ware. All the elements of this bathroom have been pushed back to the corners, sticking to the side walls so that maximum space is available in the center, making the bathroom look airy, neat, and spacious.
There is a partition wall that divides the bathroom into two parts. The first part has a sink on one side and a spacious bathtub on the opposite. The partition is made of pure glass, combined with milky white marble division to provide privacy. The second part of the bathroom has a walk-in shower on the right-hand side, while the water closet sits in the opposite direction.
2. Longer Space for The Walk-In Shower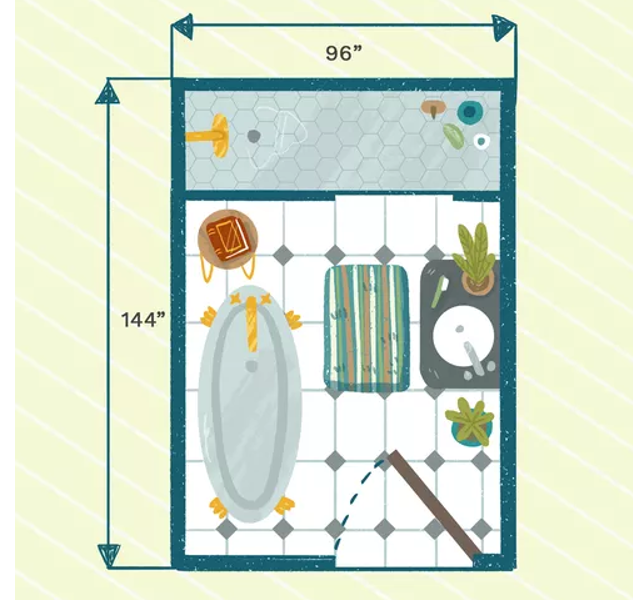 The picture shown above is a bathroom plan spread over 96 square feet of area. Its length is 144 inches, and its width is 96 inches. In this smart bathroom floor plan, the designer has used all of the narrow space available at the end of the bathroom to make a customized tile walk-in shower with ample space.
The clawfoot tub is medium-sized and sits on one corner of the bathroom, providing ample unused space which can be used to make a water closet if required. The toilet could be tucked neatly between the end side of the bathtub, aligning to the shower wall, or it could be positioned to the side of the sink, just where the door opens.
3. Spacious Rectangular Bathroom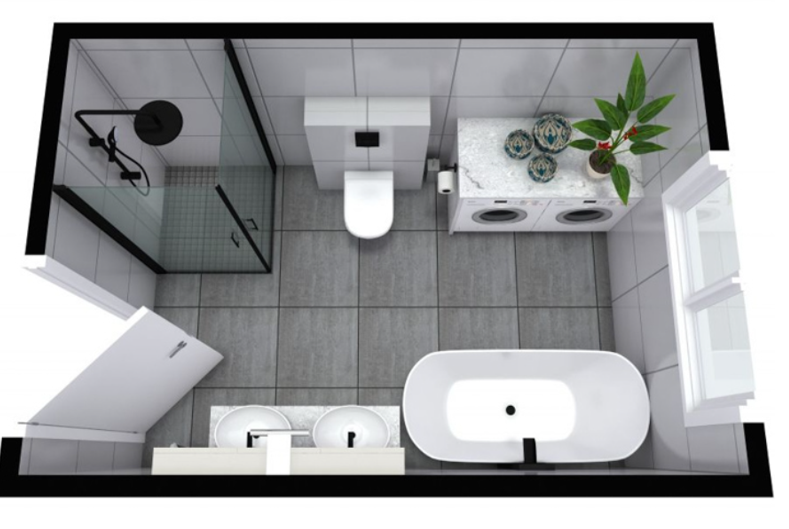 This is one of the cleanest and most spacious master bathroom floor plans with walk-in shower that you can imagine. There is a very clever usage of space in this bathroom. One of the most important benefits of having a rectangular bathroom is that its facilities can be settled on both sides, leaving a lot of room in the middle, making it appear open, spacious, and airy.
In the picture shown above, the bathtub is fitted on the extreme side of the bathroom while twin washing machines have been placed in the opposite direction. Next to the washing machine is a water closet, and on its opposite side sits the twin sink. This layout is perfect for two people to share one common toilet. The separate walk-in shower is guarded with glass diversions, not allowing water to spill over. Marble countertops, black faucets, and the natural grey decor add a luxurious feel to the bathroom.
4. Angular Bathroom Design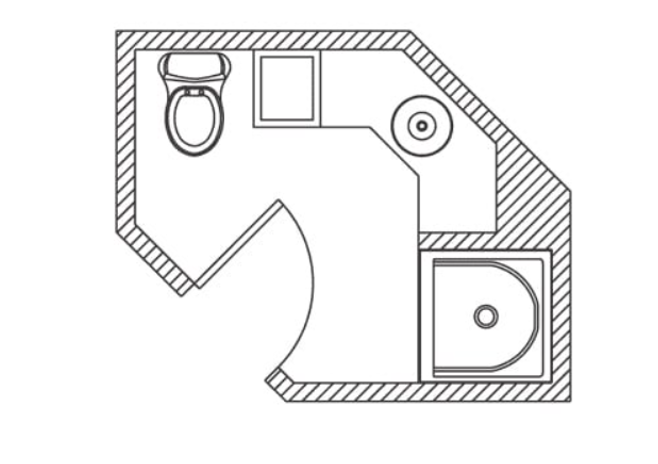 If you don't have the traditional square or rectangular space left for your bathroom to be constructed, you can always go with an angular bathroom. One such example is projected above. This symmetrical bathroom has very unexpected lines and corners. It consists of six walls, as opposed to the regular four-walled bathroom, making new areas to accommodate smart designs. In the extreme corner sits the WC.
The sink is fixed in a place where it would appear large and spacious. On the extreme right corner, at 90 degrees, sits a walk-in shower. In this hexagonal bathroom design, it is very difficult to install a bathtub; that's why the shower is given more importance.
5. Pretty Basic yet Spacious Bath Layout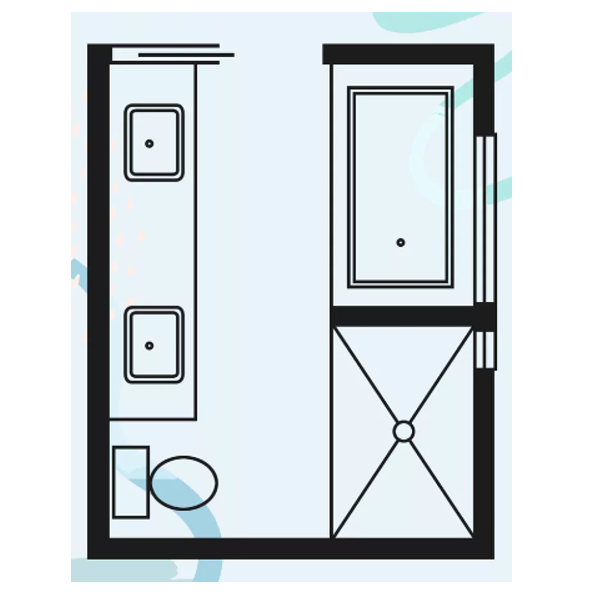 This is one of the most common bathroom layouts, featuring a 9×5 foot space. It is equipped with all the basic amenities like two vanities, a toilet, and a tub and shower. It is one of the ideal master bathroom floor plans with a walk-in shower when the space is very limited. The vanity and toilet are fixed on one side of the bathroom, while the tub and shower are fixed on the opposite wall.
One added benefit of this bathroom plan is saved expenses, as the walk-in shower does not require a door. If you wish to have a completely separate bathtub and shower, you can get no-view glasses installed in between them to block the view and assure privacy.
6. Family-Friendly Bathroom Layout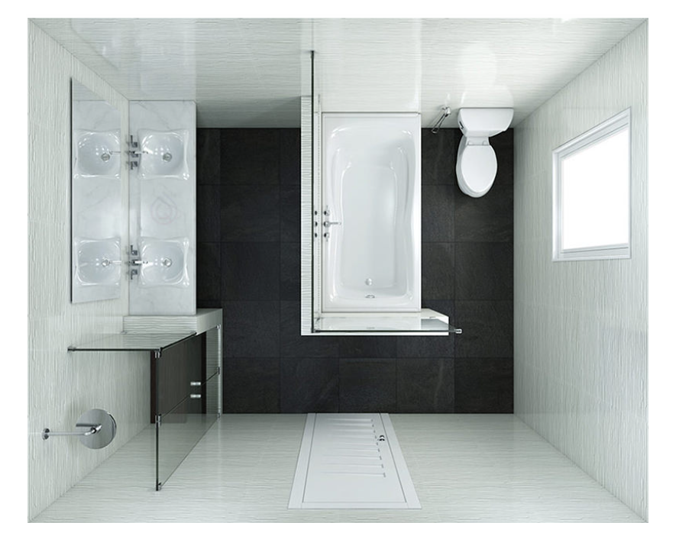 If one or more people in your family wish to use a single bathroom for multiple purposes, this layout plan can be perfect for you! Set over an area of 111 Square feet, the dimensions of this bathroom are 9'6" x 11'8". All the partition walls are versatile elements allowing independent usage by more than one person at a time. Layered with black granite marble floors, the bathroom is equipped with milky white marble that shines in all its glory.
At the extreme left corner are two sinks with shining silver faucets. Just opposite that sits a master bathtub, which is covered with glass to avoid water spillage from the tub. Just next to the tub, a water closet is placed, making smart use of the limited space. The walk-in shower cubicle is placed just beside the sink and is covered with rain glass to avoid water spillage while showering.
7. Master Bathroom Floor Plans with Walk-In Shower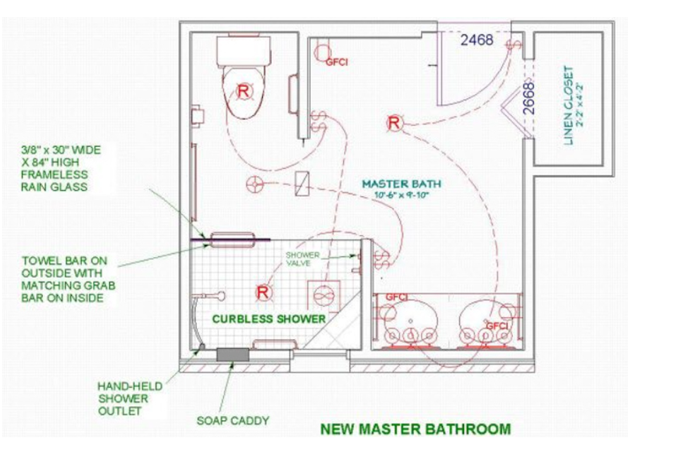 Owning a master bathroom is a dream for many people. It brings a sense of comfort and luxury to the owner. Apart from being easily accessible, master bathrooms are easy to clean as well. You can peacefully enjoy a long relaxing shower after a long tiring day or take a soak in hot water. When designing a master bathroom plan, you have to be very careful to inculcate all the facilities in a way that looks spacious, provides maximum utility, fits perfectly with the environment, and emphasizes an aesthetic design.
In the layout shown above, twin sinks are installed adjacent to the entrance door, and a huge walk-in curbless shower area is placed right beside the twin sinks. The water closet is placed opposite the shower area, and ample space is left in the middle of the bathroom, which makes it look airy, spacious, and open.
8. Recessing Sinks in Separate Places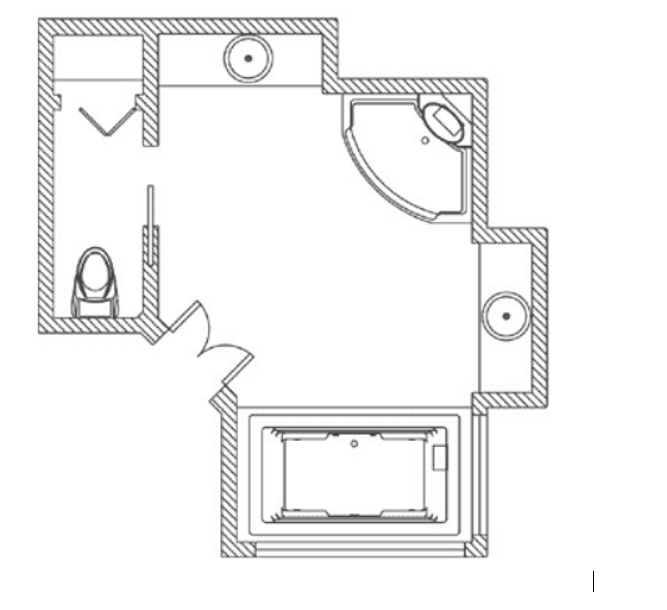 If your bathroom has a weird space left out on one side, you can make an extra sink. An extra sink always comes in handy when more than one person has to get ready in the morning at the same time. A great idea to make plenty of room in the middle of the bathroom would be to push all the sections to the wall. It makes the bathroom appear neat, tidy, airy, and spacious.
This particular bathroom shown above is spread over an area of 272 square feet, and it opens via double doors. This double-door feature comes in very handy when you have the bathroom connected to the children's room. One door directly faces the walk-in shower cubicle. The sinks are placed on each side of the shower, while the tub is placed opposite the shower room.
9. Basic Three-Quarter Bathroom Layout with a Walk-In Shower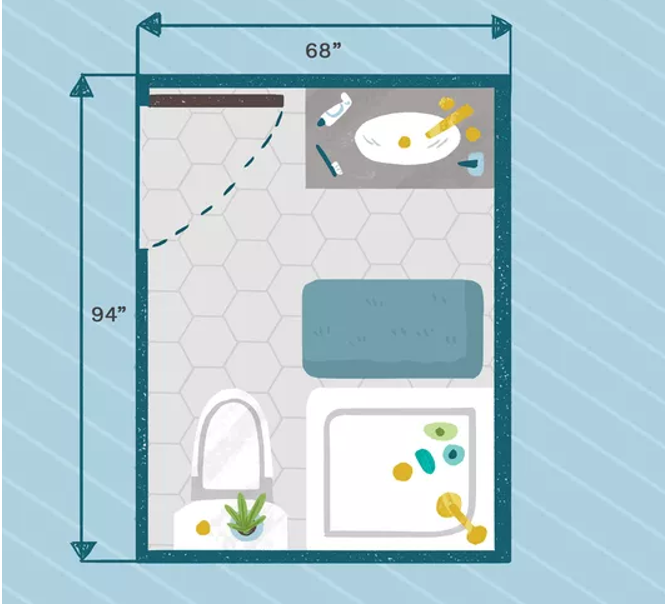 If you're looking for a spacious bathroom with a walk-in shower within a budget, we have the perfect layout idea for you. This three-quarter bathroom featured above is an ideal bathroom layout with all the essential facilities. The rectangular bathroom looks small but still manages to fit a sink, toilet, and shower into the space very effectively. Using a walk-in shower in place of a big bathtub saves space and makes the bathroom look tidy.
Spread across an area of 44 square feet, the shower space is situated effectively and has a dimension of 36 x 36 inches. The arrangement of this layout makes ensures that the toilet is not facing the doorway and the door can swing open easily.
10. Ideal Rectangle-Shaped Bathroom Layout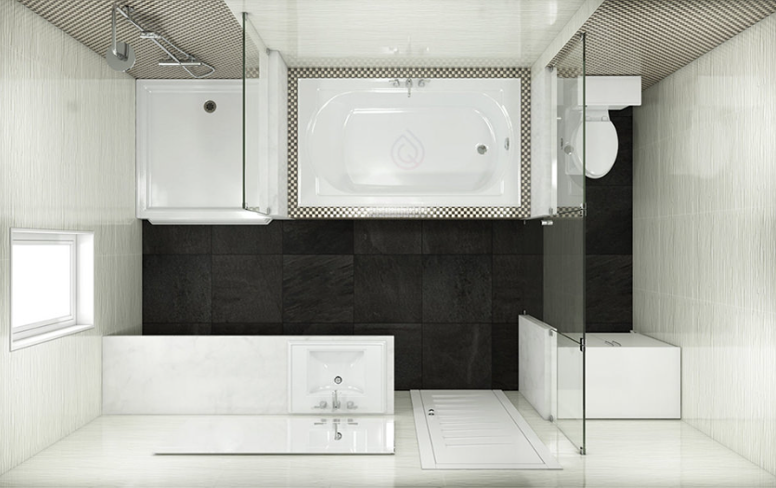 This floor plan is perfect for a rectangle-shaped bathroom. It can easily fit in a spacious sink with a vanity, a walk-in shower, a bathtub, a water closet, and a storage cabinet. The tiles are made of black granite, while the faucets are kept minimal. There is a window at the side to allow more natural light into the bathroom, making it look and feel airier.
At the center of this bathroom sits a large bathtub opposite the door. On its right-hand side is a water closet, and the walk-in shower is placed on its left-hand side. Located on the opposite wall on the side of the door sits the sink with a big vanity space. A big storage cabinet is placed at the extreme right corner. Glass partitions are installed to divide the space between the bathtub and shower and the cabinet to ensure maximum space utilization and also to make the bathroom look tidy.
11. Mid-Size Bathroom Layout Plan with Sliding Door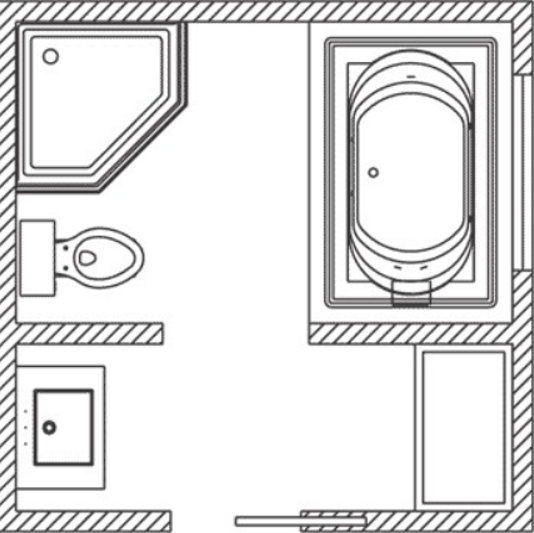 This mid-size bathroom is equipped with a sliding door, which is an efficient option if you wish to save more space and utilize it for keeping a cabinet. In cases of a small bathroom, this idea can be implemented to create more bathing space.
In the layout shown above, the sink is attached adjacent to the entrance gate, and a storage cabinet is placed just opposite it. The water closet is placed next to the sink with a partition to avoid water spillage and provide privacy. A walk-in shower is placed right beside the water closet, and a bathtub is placed in the opposite direction.
Conclusion
You can use these floor plan ideas to successfully pull out your bathroom remodeling and construction. Whether you're looking to build a luxurious bathroom or are a fan of minimalist bathroom design, these master bathroom floor planswith walk-in shower ideas will work for all. When you stick to these floor plans, you will be able to use the space efficiently and stay within your budget.
So get ready to design the bathroom of your dreams by following these floor plan ideas.
Frequently Asked Questions (FAQs)
What Is the Minimum Space Required to Build a Walk-In Shower?
Master bathroom floor plans with walk-in showers usually can not be constructed below 32×32 inches. But in some cases, the dimensions of 36 x 36 inches are required for a square-shaped shower and 60×30 for a rectangular shower.
How Much Does a Walk-In Shower Cost?
Walk-in showers are a huge trend due to their affordability. A prefab walk-in shower costs between $800 to $2500, depending upon the size and quality of the materials you are using. If you're well-versed in the field of plumbing and framing, you can save a lot in the installation of shower pans and doors. Professionals charge between $750 to $2500 for each installation, depending upon the layout and requirements of your bathroom.
Will Installing a Walk-In Shower Reduce the Value of My Home?
Home resale value will change if you're planning to convert your tubs into a walk-in shower. But in case you're planning to build a new walk-in shower and already have a tub installed, the value of your house will increase.
Does Water Spill out Of Walk-In Showers?
The spillage of water from walk-in showers completely depends upon the design. With proper planning and careful design of the walk-in, it is possible to reduce the chances of water splashing out.
Other Articles