20 Creative Small Bathroom Design Ideas to Upgrade Your Space
Designing a small bathroom may be difficult since you need to make the most of the space you have while still making the area useful and attractive. The configuration of the fixtures may...
Designing a small bathroom may be difficult since you need to make the most of the space you have while still making the area useful and attractive. The configuration of the fixtures may significantly affect how usable the space is, making it one of the most important aspects of a tiny bathroom. Finding the perfect small bathroom layout for your particular needs might be difficult because there are so many possibilities available.
We'll look at 20 tiny bathroom floor designs in this article to show you how to use the space you have available. There is a floor plan to meet your requirements and tastes, whether you choose a little design or a more luxurious alternative.
1. Redesign Your Sink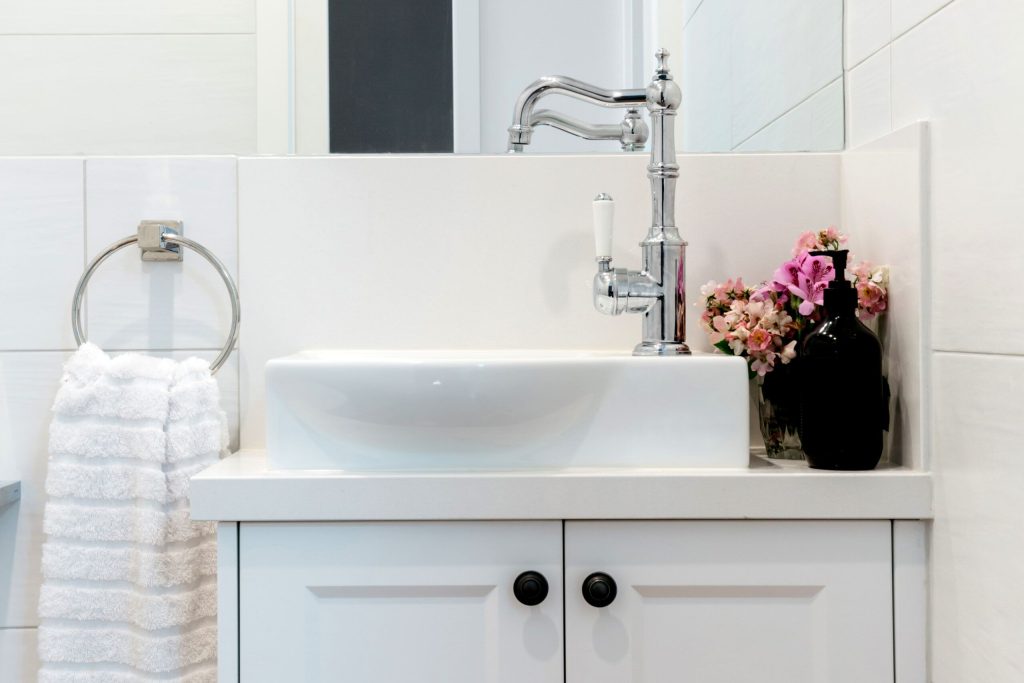 A little corner sink or washbasin could be one of the most practically easy small bathroom ideas if you're starting from scratch (or remodeling) your small bathroom. There is no need for you to have a full-size conventional washbasin or sink. A corner washbasin serves the same purpose and also leaves you with more room, and requires less cleaning.
2. Closed Storage for An Elegant Look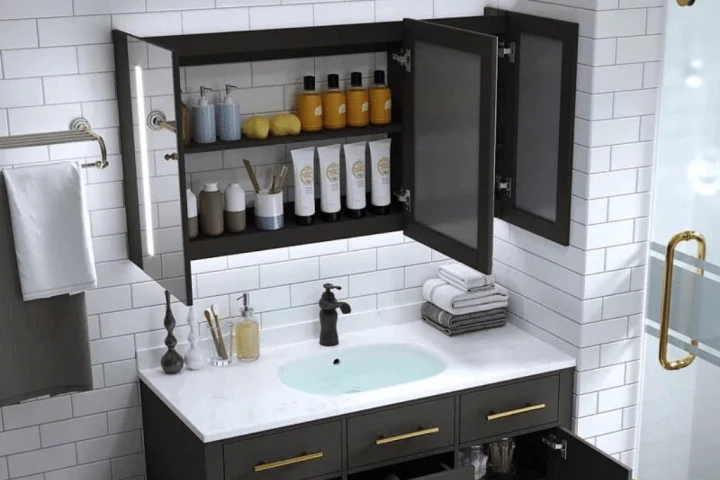 Even the most beautiful space will be marred by bottles and tubes strewn across the worktops. To keep items hidden, it would be better to use closed bathroom storage like a linen closet or a vanity with drawers and doors. Showcase your favorite and most used products which are well-designed, or you have created a small space for them. The lack of clutter in this small bathroom space allows the outside of the bathroom to shine truly.
3. A Ladder for Your Towels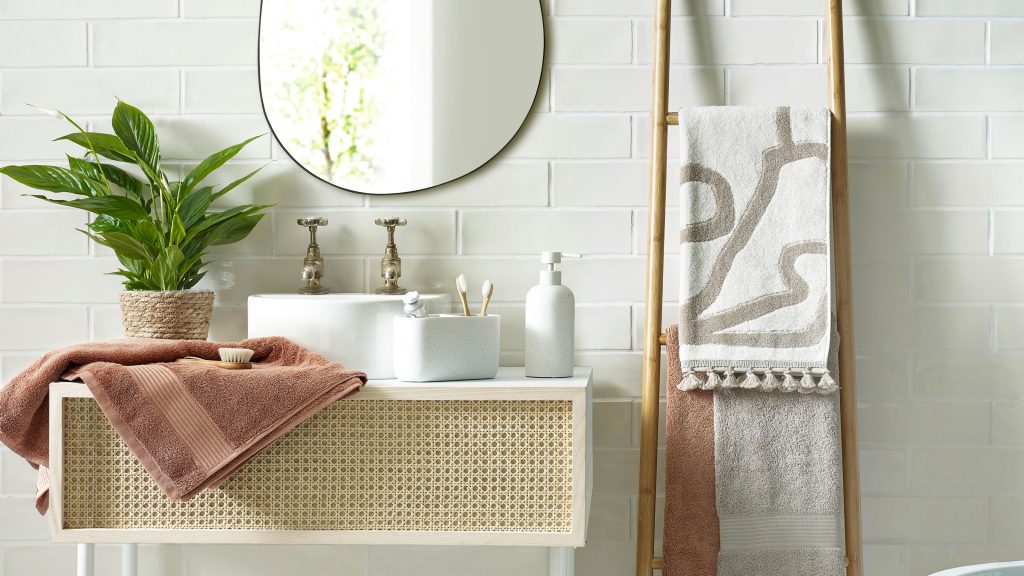 We adore this little, country-chic bathroom's inventive use of a ladder. It looks aesthetic, it can hang more towels than a bar, and it gives the bathroom a unique look. Pick a ladder designed to sit over a toilet if there isn't enough room for one that stands alone.
4. Natural for your White Bathroom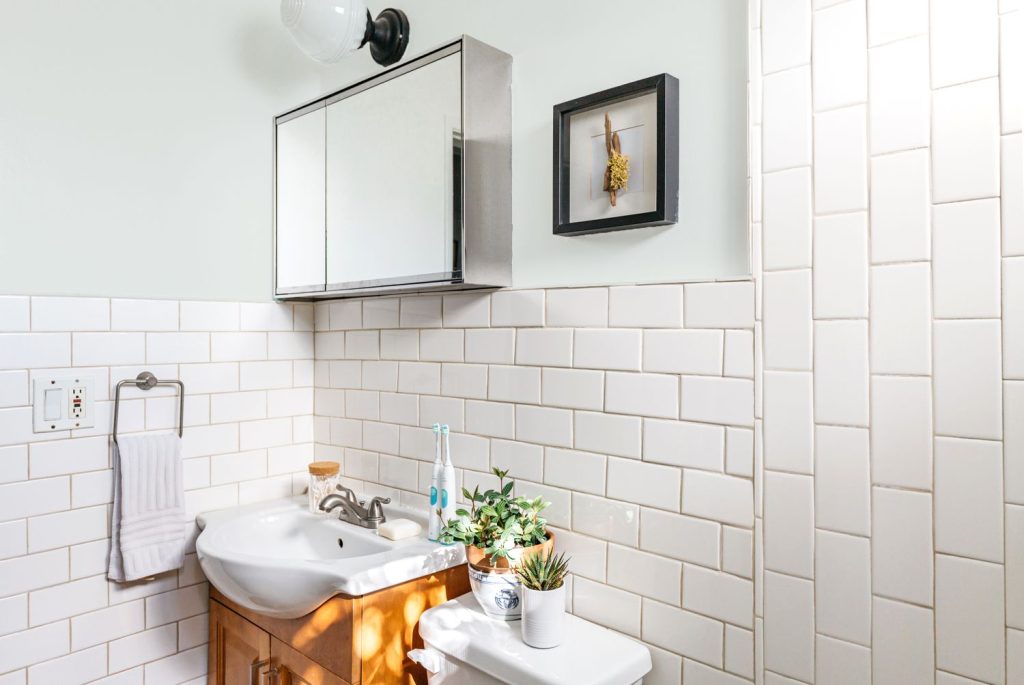 No matter how small or crowded your bathroom is, keep the color scheme natural, and don't bother about painting the walls. If you have bright flooring in your apartment, you can choose to make it paired with a terracotta curtain and bathmat with wicker baskets for storage. In case you love your subway tile and you don't wanna change that, then you can go with natural colors as it pairs well with them too.
5. A Big Illusion Mirror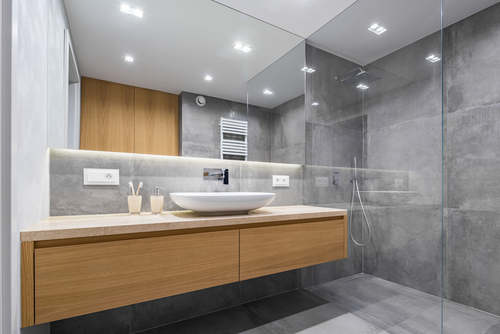 The ability of mirrors to provide the appearance of extra space is a well-known design fact. For instance, a design with a floor-to-ceiling mirror is a prime illustration of this strategy. The bathroom's elegant, spacious appearance is further increased by the floating marble vanity and a very simplified color palette which also make the bathroom look luxurious and aesthetically pleasing.
6. Dont Let Hardware Be Your Obstacle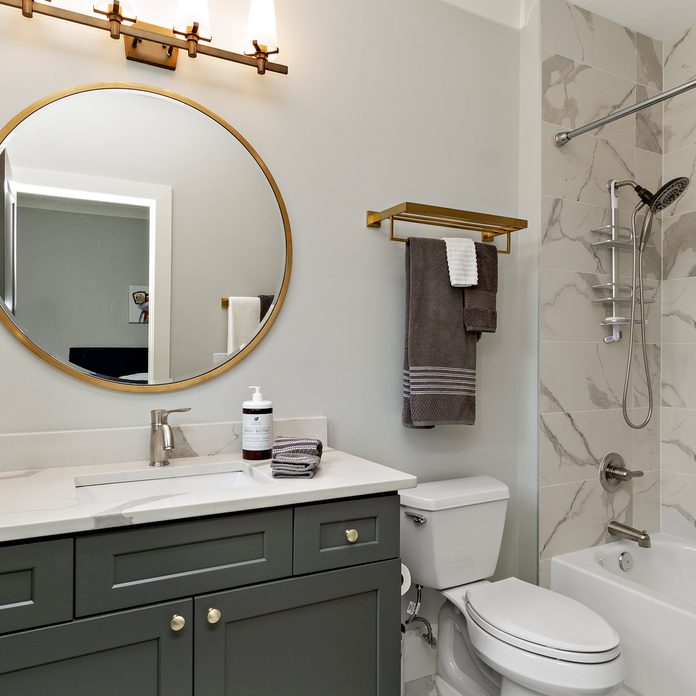 It's challenging enough to move about in a small area without having to bash yourself into protruding handles. What can be done is that drawers and cabinets can be made more streamlined if they have a lip or pull made of the same material, spring open, or both. The minimalist vanity, in this instance, highlights the room's spaciousness with its smooth lines that are unbroken by technology.
7. Be Creative with Your Design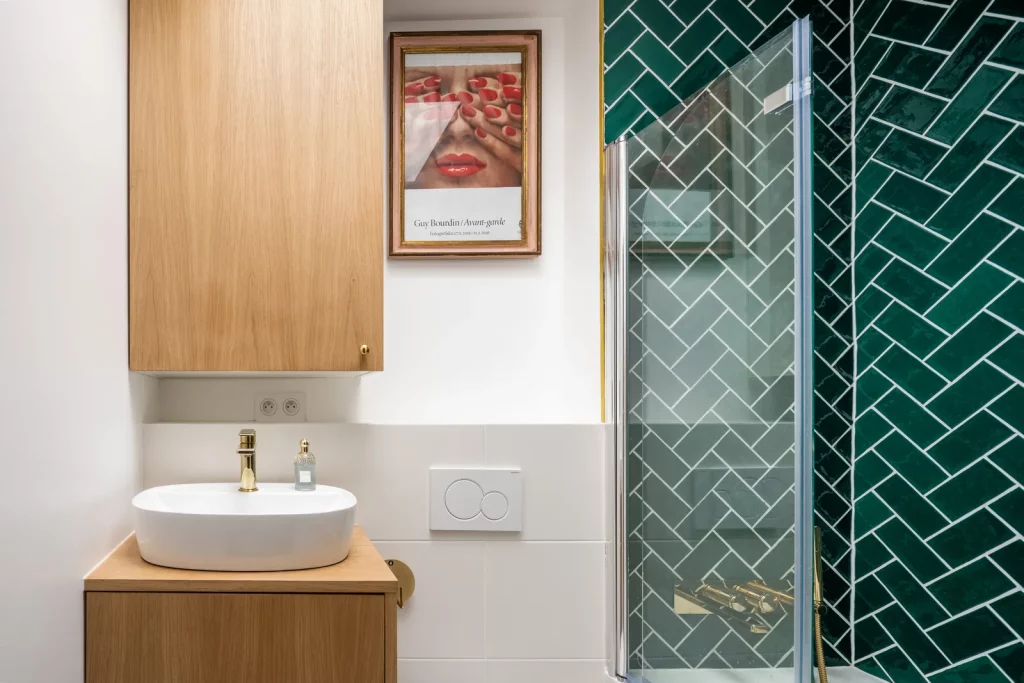 Whites and greys don't have to be the only colors used in small bathrooms. Use vivid, striking colors and patterns that could be overwhelming in a bigger area when decorating a tiny space. Rich colors, strange patterns, and geometric forms are some of the creative designs you can choose to have in your small bathroom.
The above images showcase a very creative form of design along with very rich colors which are all over this tiny bathroom.
8. Horizontal Is Not Bad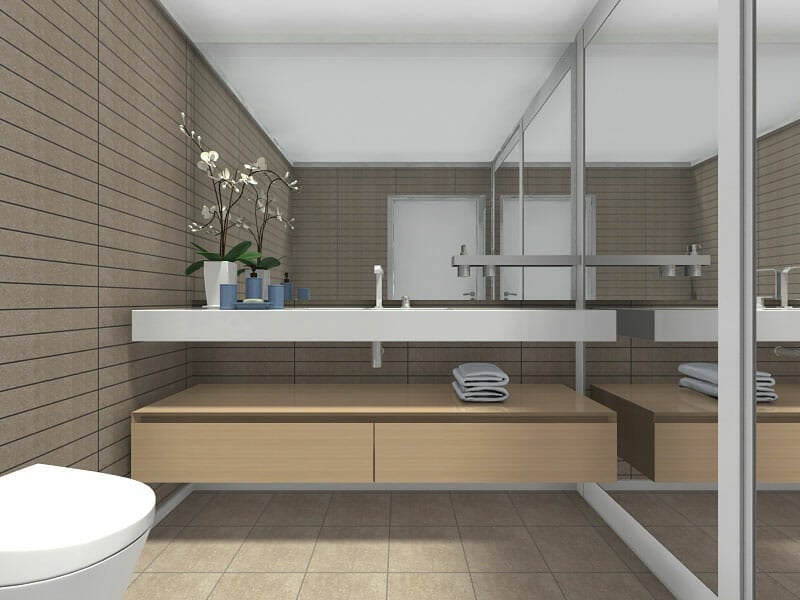 Another fantastic method to make a small bathroom appear bigger than it is is to install long, unbroken horizontal planks. The shiplap walls in this little bathroom make the most of the horizontal space and prevent the area from feeling cramped. It also looks aesthetically pleasing as well. If you don't want to go with the white color, you can choose other light colors as well.
9. Correct Lightings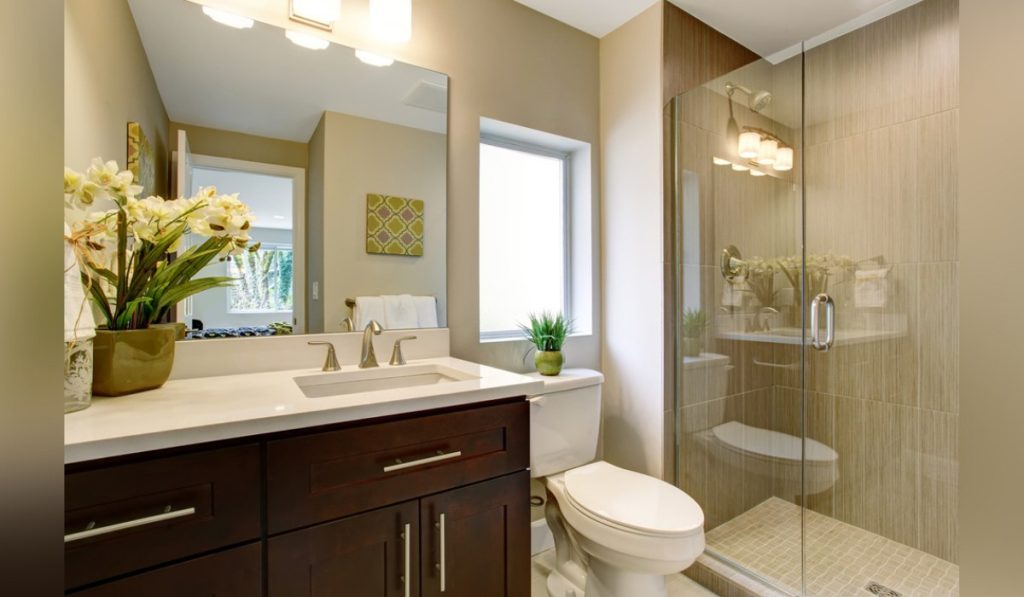 The appropriate lighting arrangements in a small bathroom may make the most of the available space and offer you the sufficient light you want for your regular bathroom activities. Recessed lighting from above illuminates the modern bathroom's black walls and backsplash, while contemporary sconces give job lighting over the vanity.
10. Glass Shower Door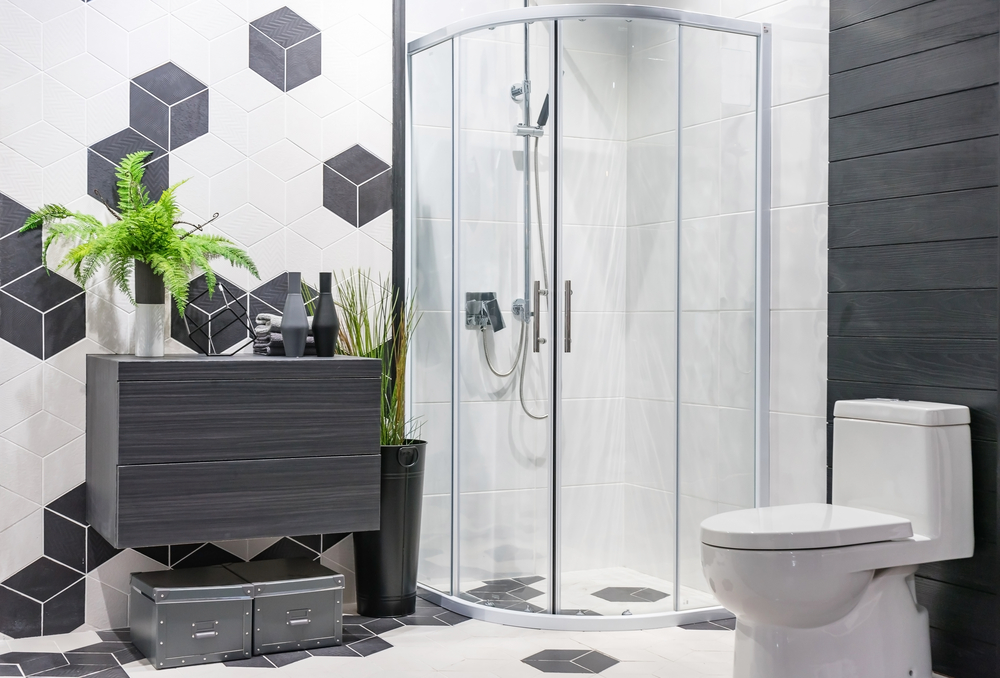 If you are entirely redesigning your small bathroom and you don't want curtains, opting for a glass door for your shower would be extremely modern looking. It would give your bathroom a more spacious look while also giving it a luxurious feel. It would also add to your aesthetics. You can choose to go with a darker color door borders, especially black, as it would go with any design.
11. Make Your Mirror Shine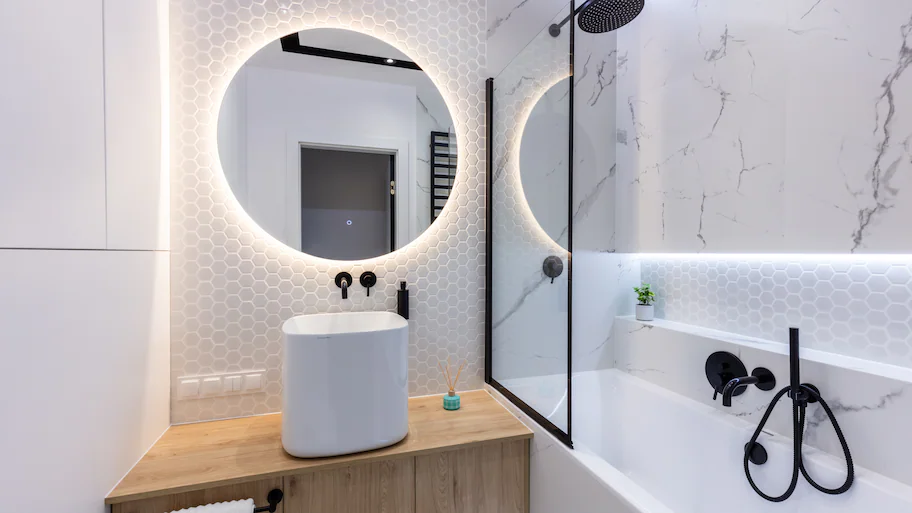 Backlit your bathroom mirror to give it a very modern and pleasing look. It would look very elegant and would give a more modern and luxurious vibe to your bathroom. Backlit mirrors also serve a very important purpose for amazing photographs, especially for your social media. So the next time you get ready and want a modern and luxurious touch to your pictures, backlit mirrors can provide you with that.
From the above design, we can see how beautiful a backlit mirror looks and how aesthetically pleasing it is. It gives bathrooms a modern look and is just perfect for a mirror selfie.
12. Shower Curtains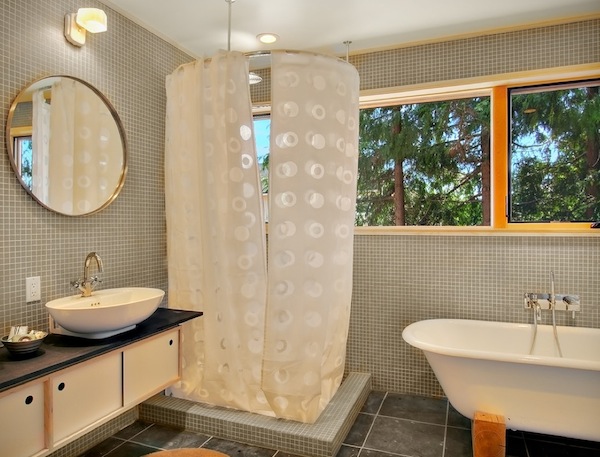 Many times we don't have the luxury to choose where our shower curtain goes, but if you have this luxury, then there is a very specific style you can choose to go with for your shower curtain. You can take the fabric all the way up past the usual height of the tub and then extend the curtain nearly to the ceiling, which will certainly elongate the walls. It will make your bathroom seem taller. In addition, if you have a taller ceiling, then this style would be very helpful.
13. Cover Your Walls with Designs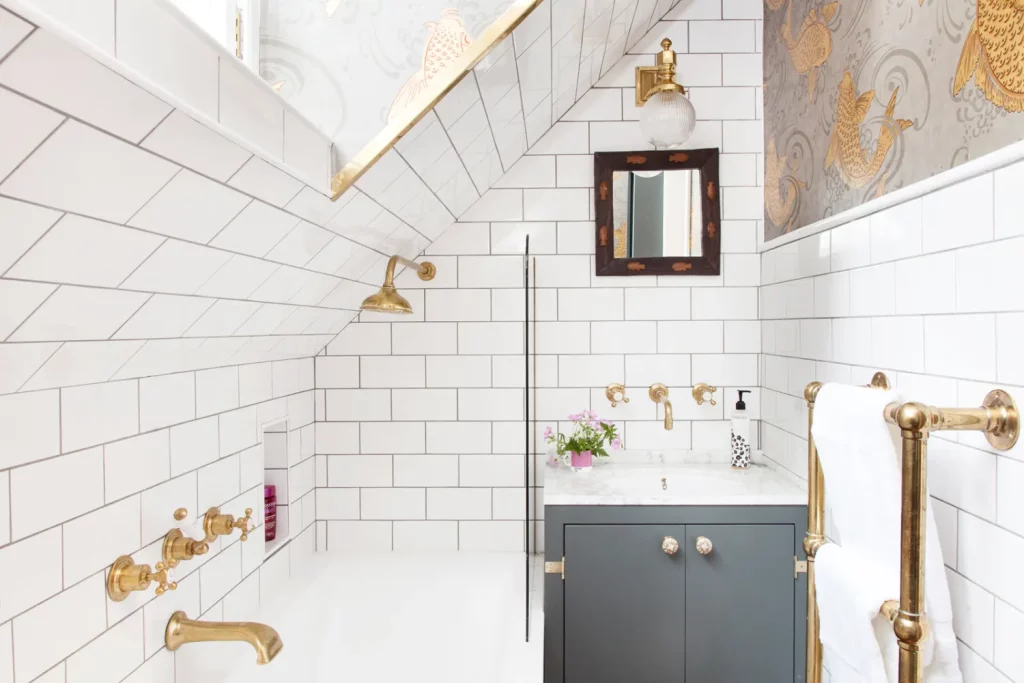 Although you would believe you should choose a little motif, it's actually preferable to go with medium or large. Medium and large-scale wallpapers and tile patterns can actually make the space amplify and feel larger. You can pick large tiles or a pattern that is even larger; both would give an enhanced look to your bathroom since it's in close quarters.
14. A Wet Room – the Best of Three Worlds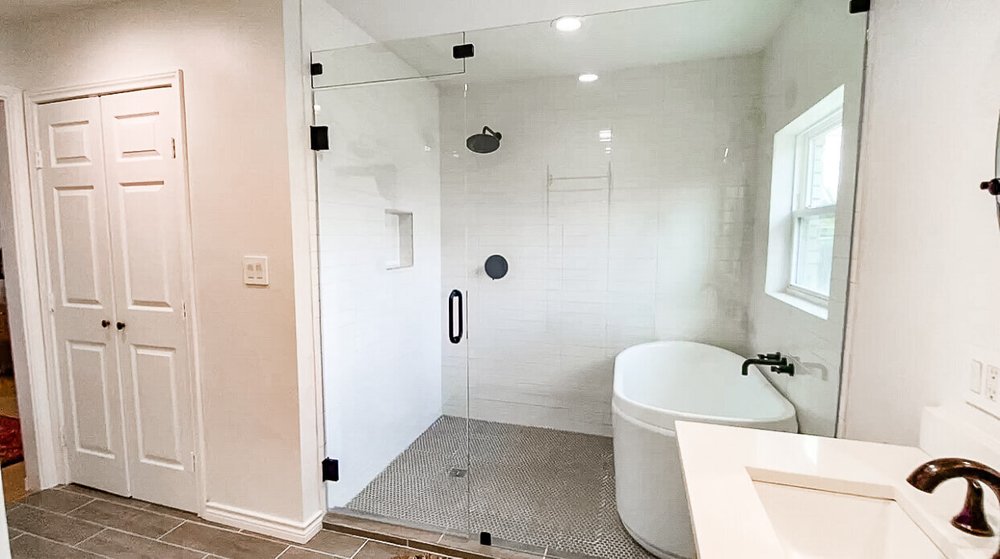 Want a spa-like feel in your bathroom or a walk-in shower and tub in one place, but there isn't much space? Well, the ideas are what this article is about. Consider a wet room to combine the best of both worlds if you've always desired a walk-in shower and a soaking tub in the same bathroom but don't have the room. Combining the tub and shower into one space enables the room to serve many functions while giving it a spa-like look. It also makes your small bathroom look bigger and, at the same time, luxurious with so many amenities.
15. A Ledge for a Space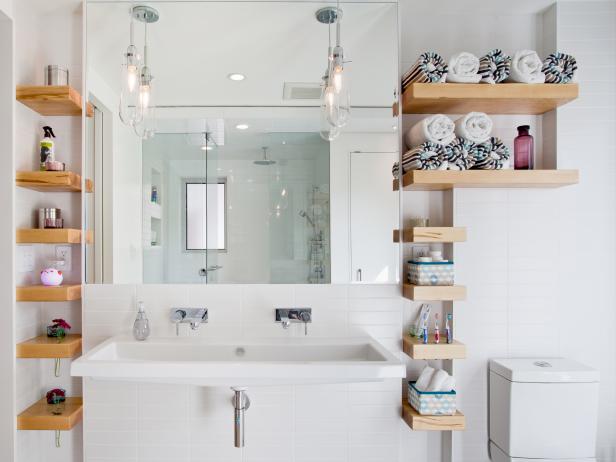 For more space, you can choose to install a ledge on the side of your mirror or on the window. It would be a good space to put any plants or flowers or any other essentials. It would also help to keep the bathroom looking elegant and cleaner.
16. Go with Compact Pieces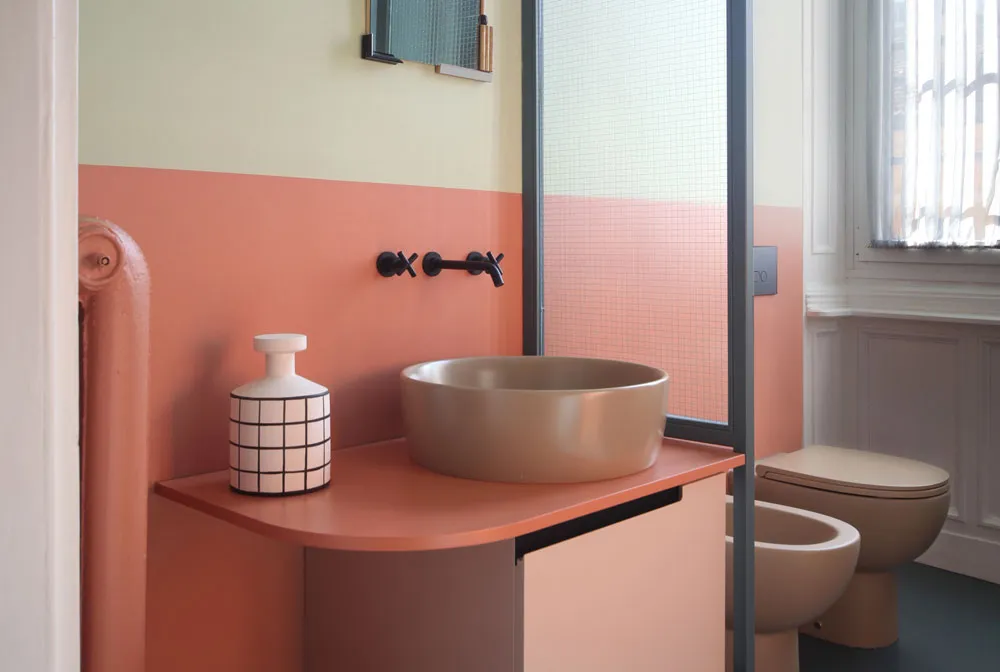 Huge vanities and square bathtubs may appear at home in a bigger bathroom, but they might feel cramped in a smaller one and can be suffocating at times. It would also make the bathroom less elegant to look at. Instead, install small sinks and toilets, or think about floating versions to provide more room. If you want a tub in your bathroom, and if it's necessary, go with a Japanese soaking tub to add serenity, as it would not end up taking up more space. This entire look will give your bathroom a modern and luxurious look. It would also look elegant and cleaner.
17. Give Your Bathroom Some Curve Surfaces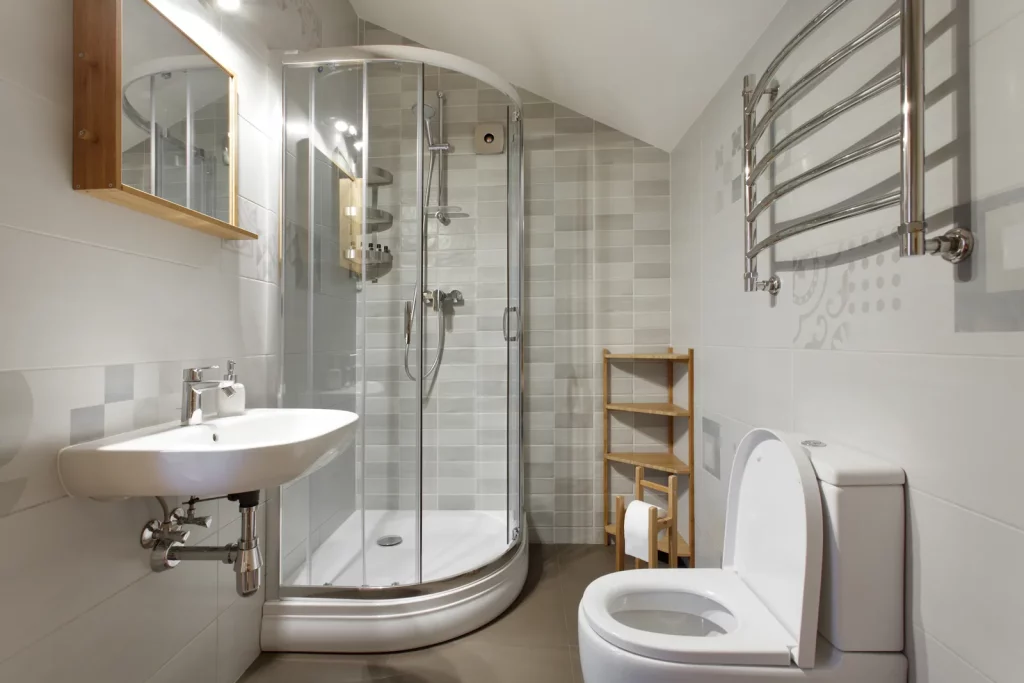 Smaller bathrooms have space issues, and that stops you from having more luxurious amenities in your bathroom. But not anymore. You can choose to install some curvy hardware items in your bathroom. Such as a curve sink or a curvy shower space which won't look bigger, but it doesn't have to be right. This curve surfaces makes a huge difference, especially when you have a small bathroom space, and it also creates room for more items if needed.
18. Half-Way Tile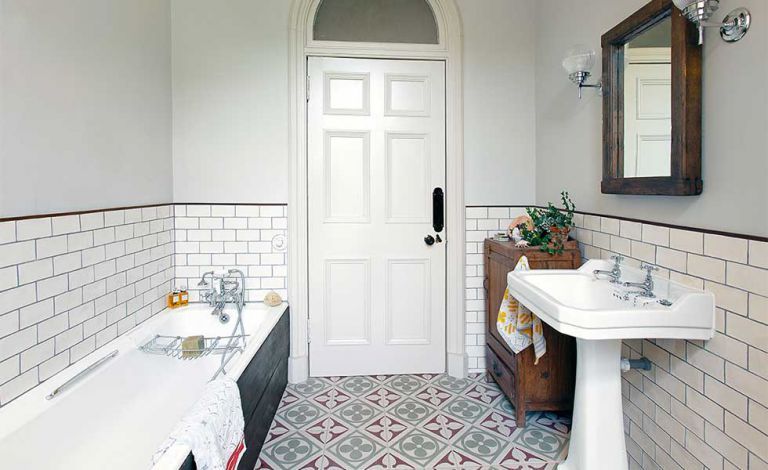 Halfway up a tiled wall, contrast and the sense of height are created. Plus, this choice may double as a shelf for additional accessory storage if you're on a tight budget and helps offset the expense of materials.
19. Floating Wash Basin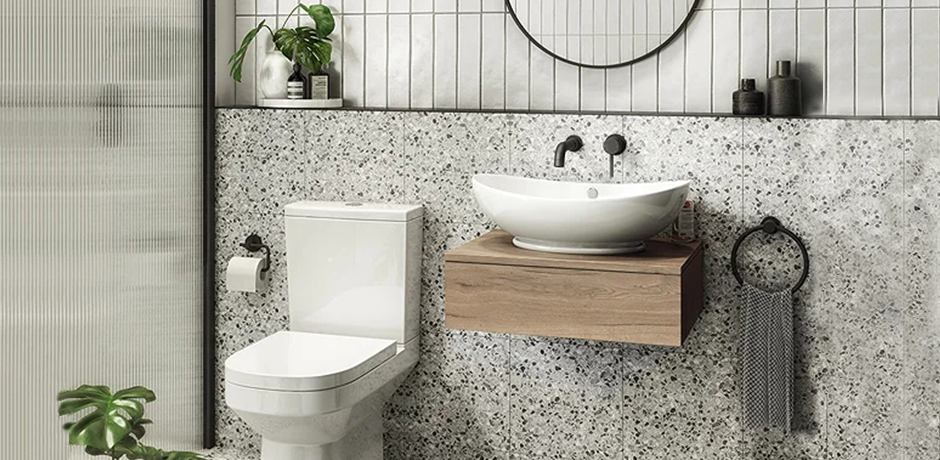 Since the vanity is frequently the largest piece of furniture in a bathroom, it greatly affects the perception of space in the space. You can go with a wooden floating vanity that uses up less room physically without sacrificing even the slightest bit of beauty. Installing a floating sink basin as opposed to a standalone sink or complete vanity will save room. You may always add additional beneath if you ever need more space for storage.
20. Skirted Washbasin – Covering It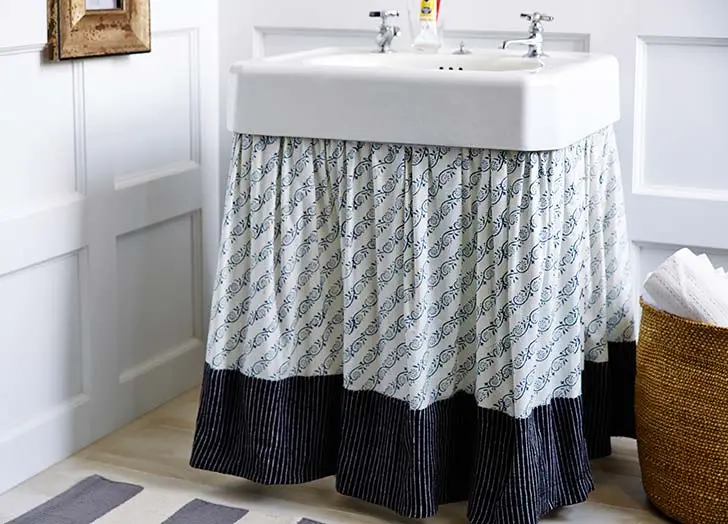 The already small bathrooms are designed with care so that they wouldn't seem too confined. But it might doesn't have much space for our products, and that's where skirted vanity comes into place. You can use it as additional storage that is provided behind the sink by a skirt, and you can design the wall inexpensively and tastefully decorated with taped-on pages from an old book. It becomes your extra storage, which helps you keep more things in your bathroom while making sure it looks elegant thanks to this creative arrangement. Other necessary amenities are also concealed by the attractive skirt.
Conclusion
In conclusion, creating a small bathroom might be difficult, but with the appropriate floor plan, you can produce a beautiful and useful place that makes the most of the available space.
There are many different floor designs for small bathrooms, so you may choose one that suits your preferences, whether they are minimalist, luxurious, or somewhere in between.
When choosing a floor plan, it's crucial to take into account your unique requirements and preferences, including the size and style of your bathroom, the placement of any existing plumbing, and your preferred aesthetic.
You may have a better knowledge of the many choices available and decide which one is ideal for your area by looking through the 20 small bathroom floor plans provided in this article.
Other Articles