Can you store all your bathroom essentials, like washcloths and towels, in one place? Yes. The bathroom vanity comes into play to save you from overcrowding your bathroom and to help you keep everything in place.
Since you always create a mess of your bathroom stuff, finding the right essentials amid busy schedules is tough. Hence, bathroom vanities are a total savior, which maintain your bathroom and keeps it organized as well as clutter-free.
The next question that arises is what type of material must you choose? Wood furnishings and their exquisite accessories are an evergreen look. Specifically, the natural wood bathroom vanity has the most organic and stylish look, which gives the space a different alluring look.
Also, a natural wood vanity can do wonders with any layout, color, and metal fixture. So let's take a look at some of these ideas.
1. Wallpaper Bathroom with Natural Wood Vanity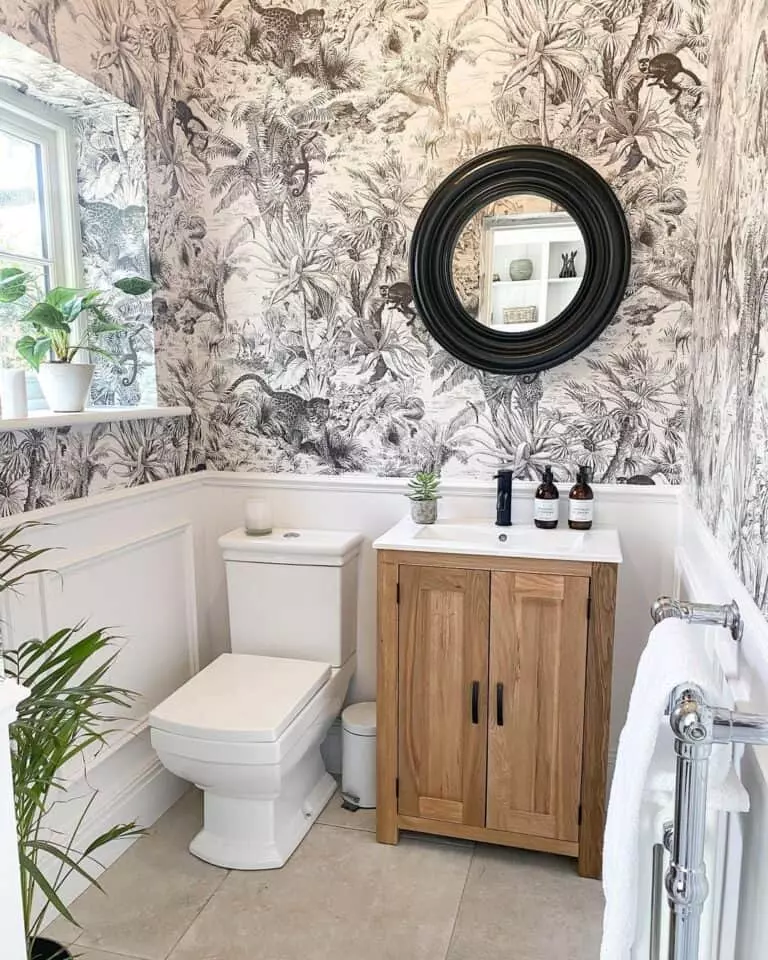 There is fascinating black and white botanical wallpaper. Additionally, there is intriguing white wainscot molding with the lower third of the wall. Further, a plain yet handy natural wood vanity is placed below a circular-shaped black frame mirror with a plant on the shelf of the surrounding window.
Similar Post: 22 Bedroom Makeup Vanity Ideas You Can't Resist Trying
2. Black Hexagon Bathroom Floor with Wood Cabinetry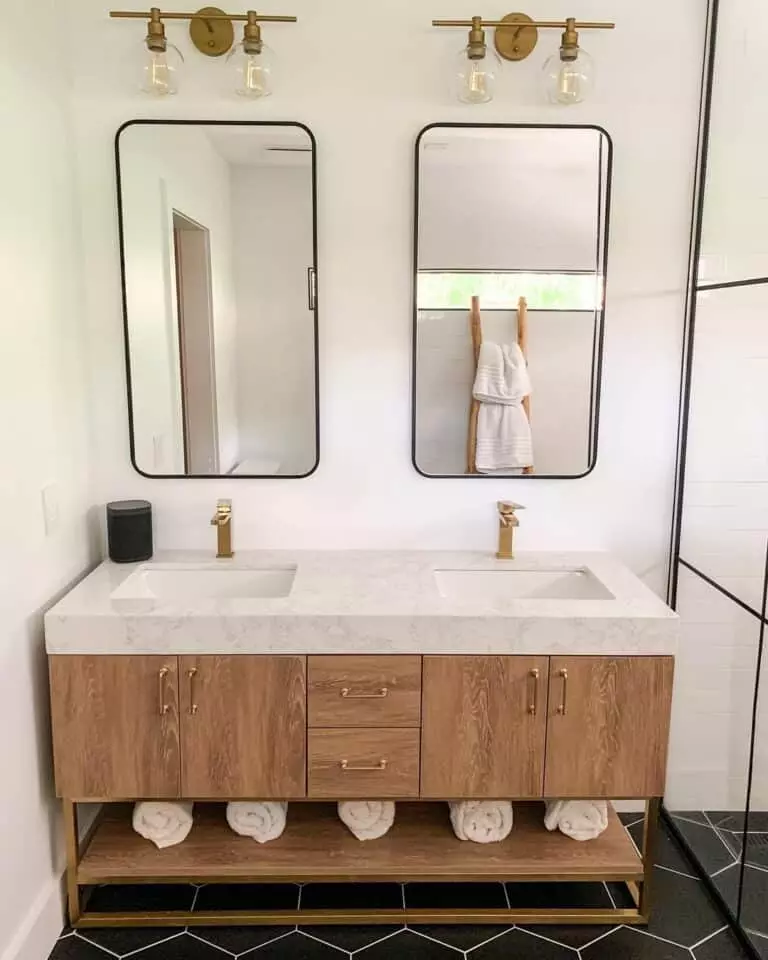 The peculiarity of this wood bathroom vanity is two curved rectangular mirrors above every sink. Also, brass light fixtures are mounted on the wall corresponding with the handles on the cabinet and faucets. There are huge black-colored hexagon tile flooring with fine-looking white-painted walls and a striking glass shower area.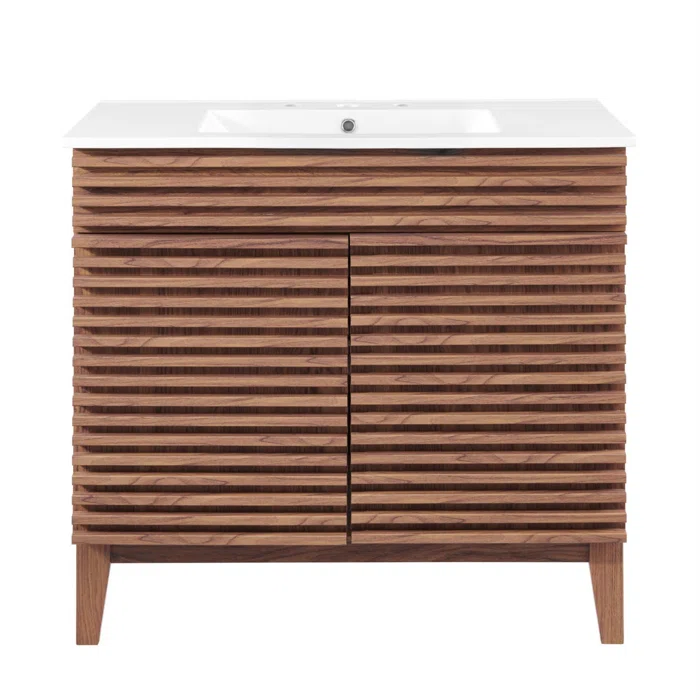 Step into mid-century aesthetics with this natural wood bathroom vanity. It has a sturdy medium-density fibreboard and particleboard fully-furnished frame with four conical wood legs, walnut grain laminate, and a modifiable storage shelf behind two hinged doors.
Moreover, a rectangular ceramic basin with a countertop with intricate designs and fine lines surely fits your requirements. This contemporary-style vanity has a rock-solid structure, an appealing look, and practical uses.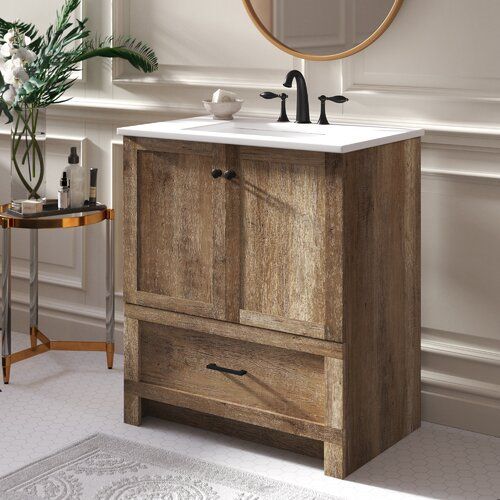 Explore a world of elegant styling and charismatic fashion with this single-bathroom vanity. The dazzling faux lines amplify the design. Also, the black rigid handle beautifies the two doors concealing the base of the porcelain sink.
In the bottom drawer, you can keep your bathroom toiletries and necessities. One of the best features of this vanity or powder room is its compact size.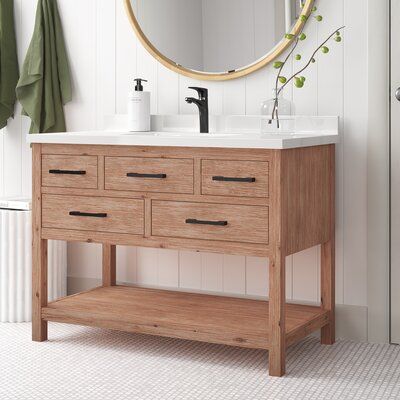 This eye-catching vanity has a seashore farmhouse look due to its top-notch wood grain variation and weathered finish. It has a solid wood base that includes five drawers with metal pulls.to store your toiletries.
On top of that, you can pile fresh towels on an open rack at the bottom of the vanity. Also, it has a porcelain under-mount sink.
6. Double Natural Wood Vanity With Gold Hardware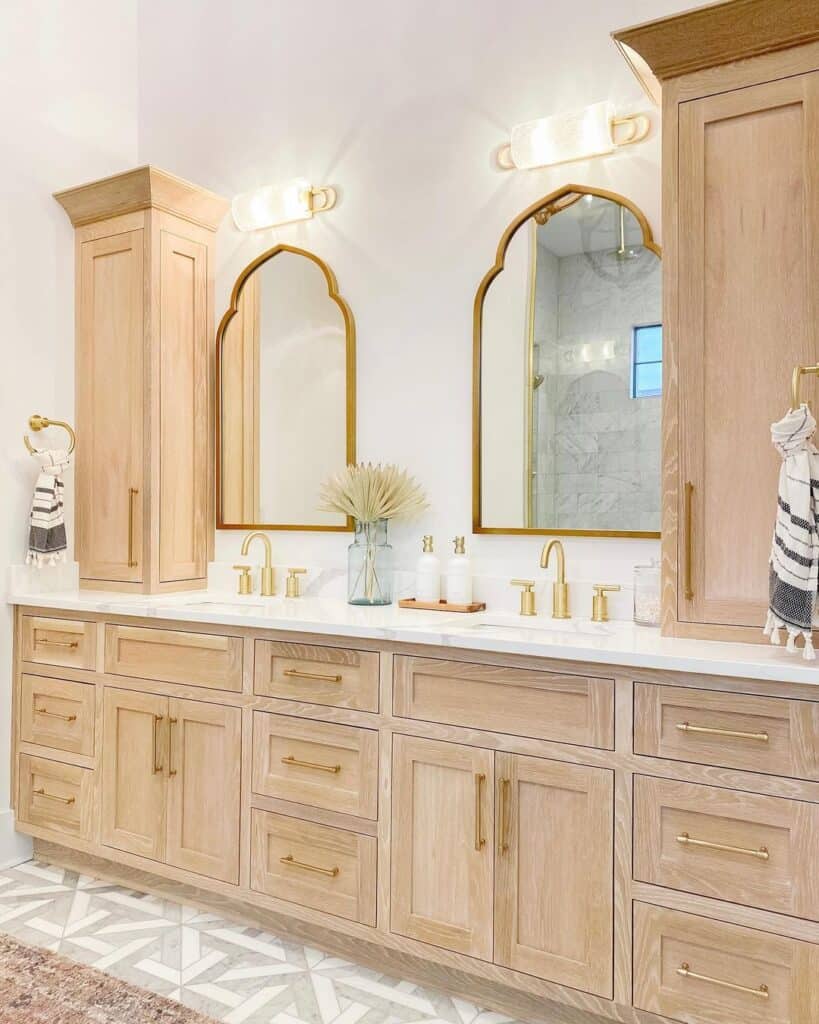 A natural wood double vanity has gold hardware and fixtures matching the wall lights and gold framed mirrors. In addition, the stunning quartz countertop adorned with a huge glass vase with dried grass adds a new look to your bathroom. Also, dark grey and white contrast towels are hung on towel bars facing each other
7. White Bathroom with Rustic Wood Vanity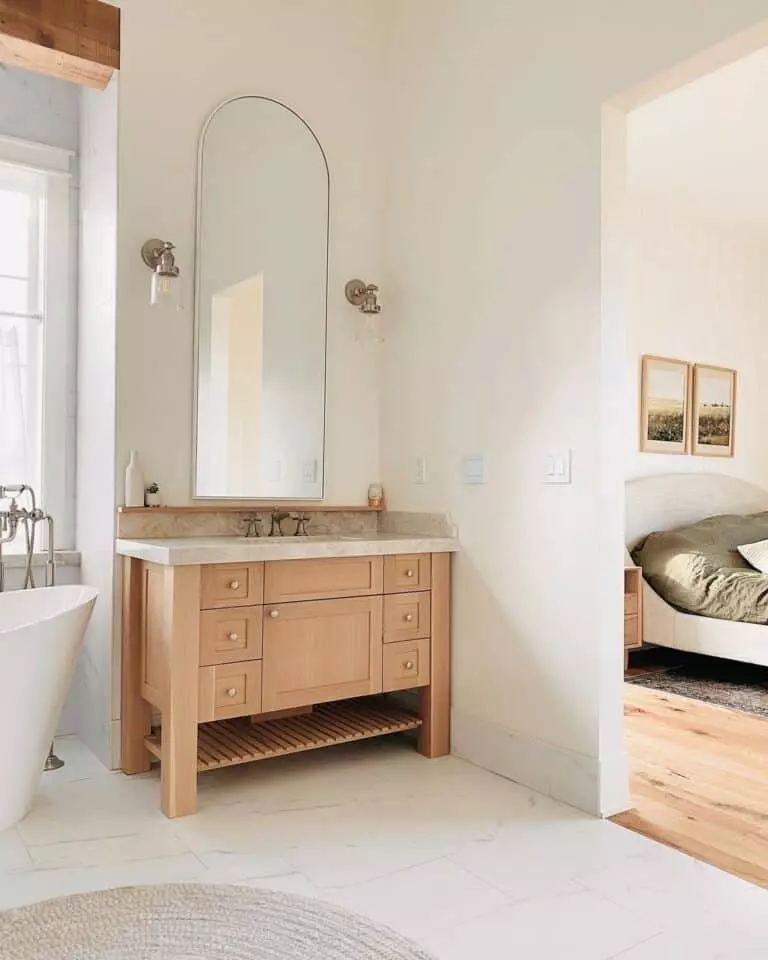 This vanity has a huge arc mirror stuck on the wall above a single sink with a remarkable natural stone countertop. Then, mounted wall lights lit up the vanity on each side of the mirror.
Besides that, there is a fascinating tub set below a surrounding window. On top of that, white marble floors magnify the bathroom's look.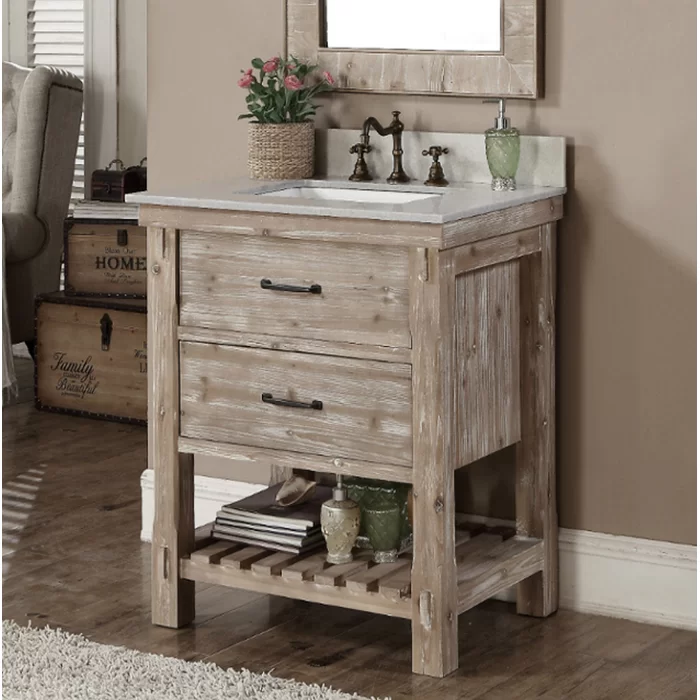 When customary magic meets farmhouse finesse, it turns into Gracie Oaks Eveny Single Bathroom Vanity Set White. A top is above a base of solid wood.
In addition, a pull-out drawer, a tip-out drawer, and a striking slatted shelf beneath the integrated ceramic sink for a hidden and display storage of cleaning supplies and fresh towels. It does not have a faucet but does have 3 holes to install it.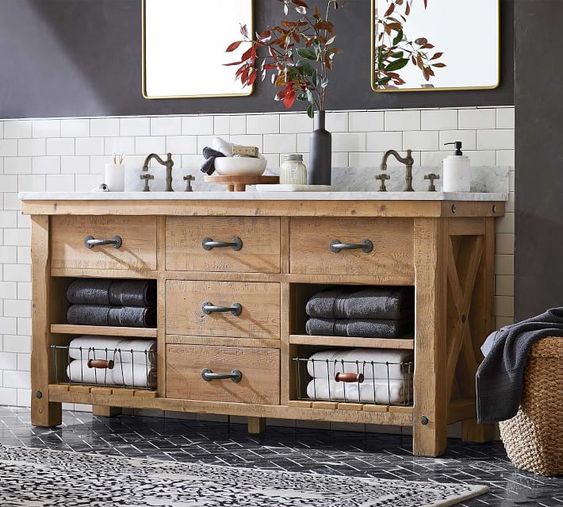 The construction base is made of MDF and solid pine. Backsplash and Carrara marble top are white with grey veining, which is well-known for its extraordinary quality.
It has English-based dovetail-furnished drawer box joints. There is a faux drawer below both sinks. Also, two cubbies have adjustable shelves and three drawers. Vanity has a white porcelain sink
Also Read: 20 Creative Small Bathroom Design Ideas to Upgrade Your Space
10. Modern Farmhouse Bathroom with Wood Floors And Vanity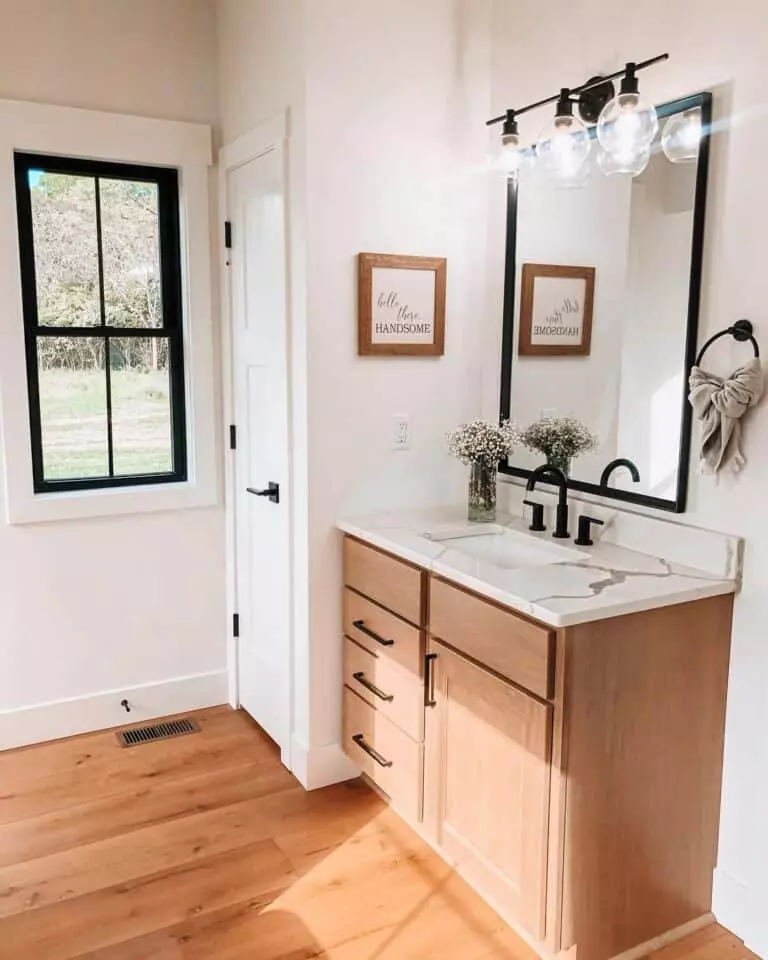 A blend of white walls and hardwood floors enhances the look of this modern farmhouse bathroom. The frame of the mirror and light fixture above the sturdy sink matches the black metal window. Also, the natural wood vanity has a black faucet and a white quartz countertop.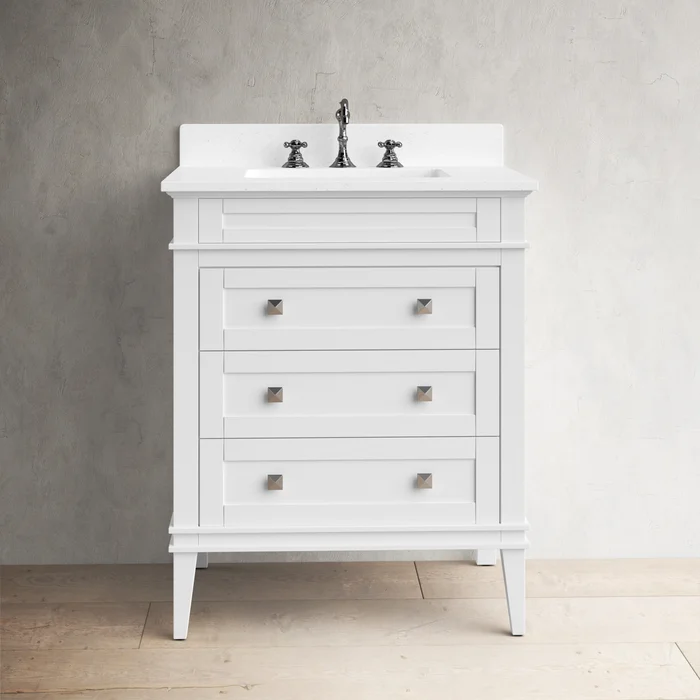 Rejuvenate your bathroom with this exquisite vanity set. It has plywood and solid wood with no MDF. Also, it incorporates Carrara marble on the top of the sink.
The solid wood drawers enclose a natural finish. Then, there is a top and sink pre-installed at your convenience.
12. Scandinavian-Inspired Forest Green Bathroom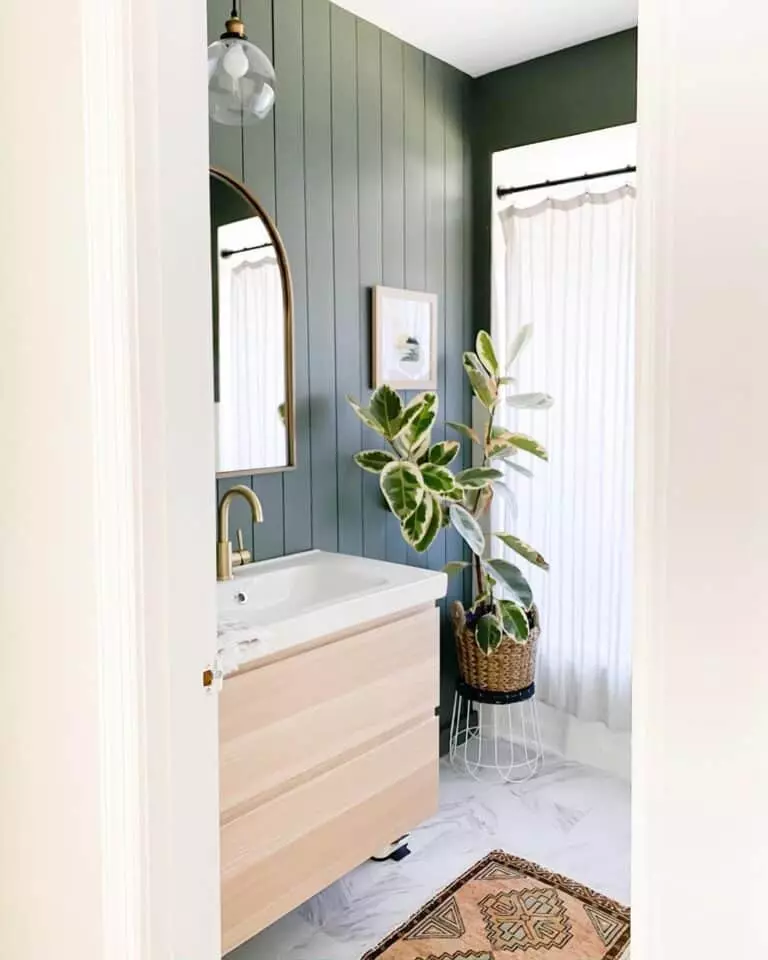 A huge window illumines the contemporary bathroom with forest-green groove walls and light wood vanity. A brown colored geometric rug lies on the polished white marble floors.
Further, a glass light fixture and curved gold mirror are there on the wall.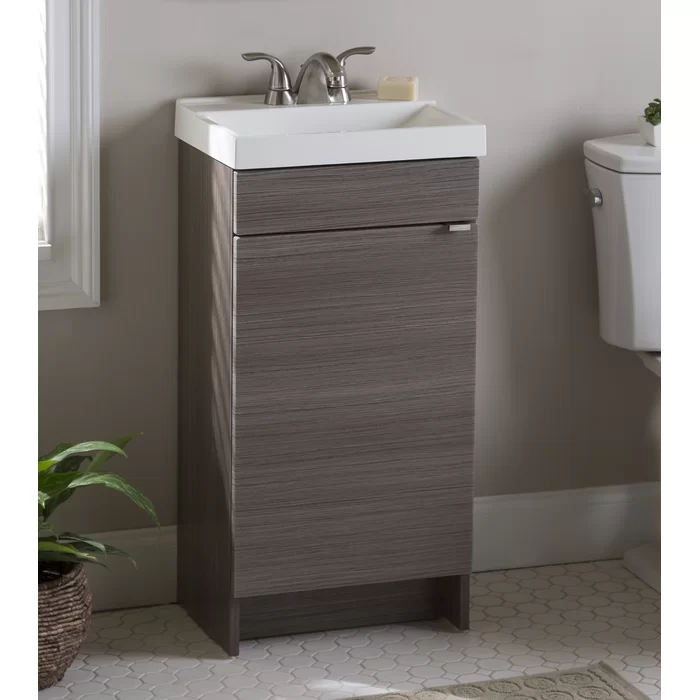 This Lulsgate teak natural wood bathroom vanity is suitable for close-packed spaces. Its gleam design and durability enhance the value of the space, having an open cabinet interior.
Also, the ash brown vanity comprises a single slab door with a captivating satin nickel pull for the stylish bathroom.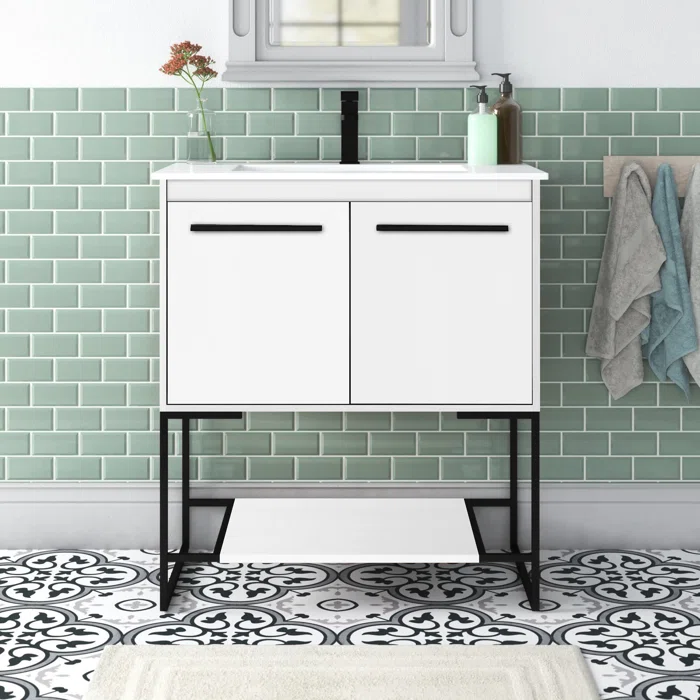 This freestanding single-bathroom vanity gives an industrial look to your favorite bathroom with its contrasting hardware materials. It is marvelously created from engineered wood and has a resin countertop with a rectangular sink.
Two cabinet doors are below the sink to store cleaning stuff and toiletries. On top of that, its lower platform is appropriate for keeping extra linens. It has a single-hole faucet.
15. Gallatin Freestanding Single Bathroom Vanity with Quartz Vanity Top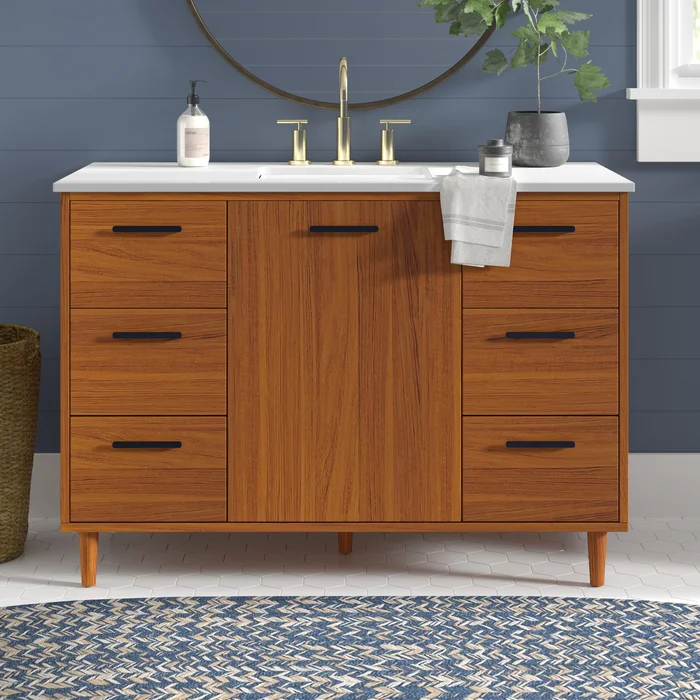 The bar pulls and lean tapered legs define the contemporary classiness of this vanity. Its length is the right addition to your bathroom. Also, it is a space-saver due to its storage area at the back of the six drawers and the single cabinet door.
Further, it has sturdy quartz and a porcelain under-mount sink, making this vanity the center attraction of your bathroom. The doors and drawer give a great touch to this well-designed bathroom vanity.
16. Modern Bathroom With Wood Vanity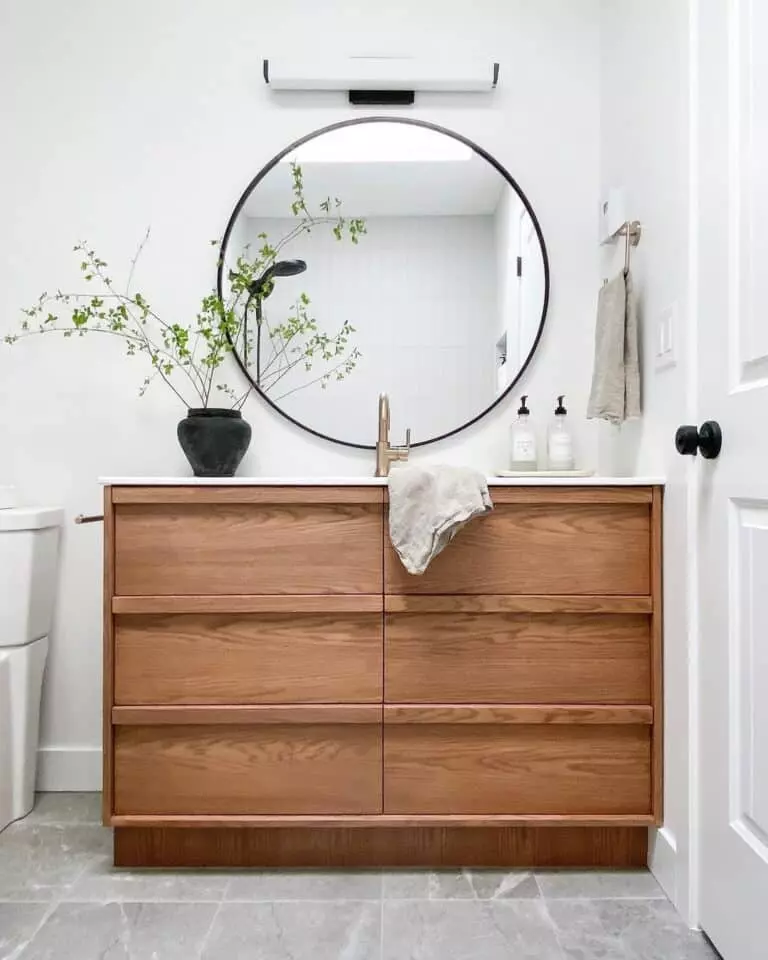 A black round metal mirror on the wall over a chic wood vanity enhances the magnificence of this bathroom. Besides that, a black potted plant has arching branches embellishing one corner, whereas a natural grey stone tile floor has textured elements.
Related: 15 Tips for Designing a Warm and Inviting Guest Bathroom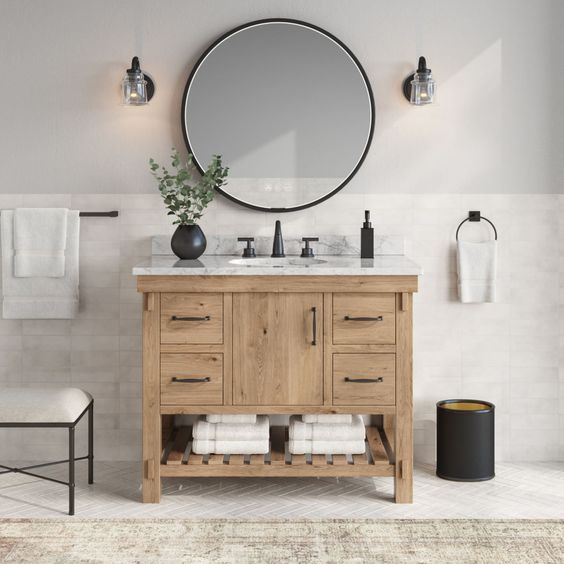 The Bosque bathroom vanity is a combo of incredible aesthetic and bathroom storage. The solid wood vanity structure and marble countertop surely elevate the splendor of the bathroom.
Additionally, the driftwood finish has a reclaimed look without compromising on modern advancements. The dovetail drawers have finishing touches to exhibit their beauty externally in your bathroom.
18. Light Wood Bathroom Vanity with Black Herringbone Floors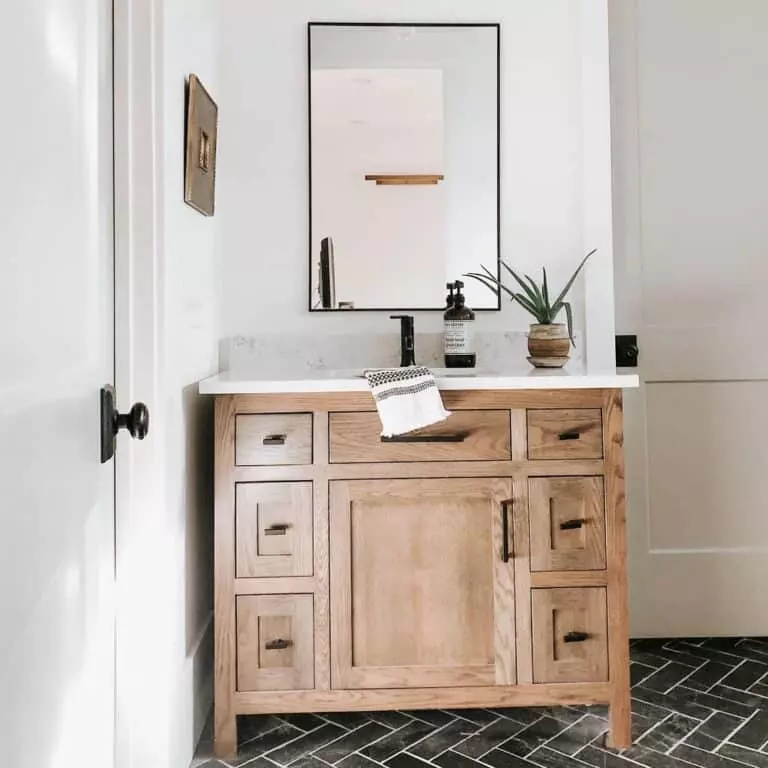 Black herringbone tile floors widen the bathroom's length, with a light wood vanity on the top. Also, a rectangular black framed mirror is on the wall over the sink, including a small aloe plant.
19. Napa Double Bowl Open Shelf Vanity – Sonoma Sand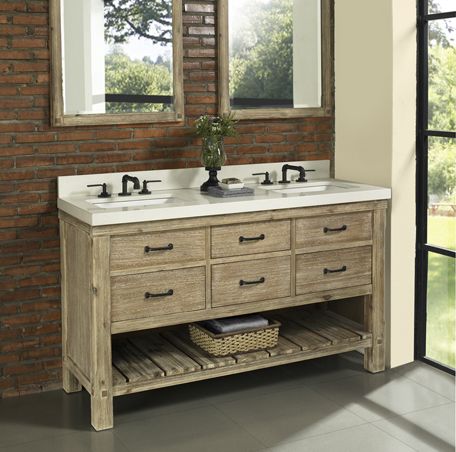 The Sonoma Sand finish on this vanity gives a fantastic natural feel. It is an unforgettable look that showcases the elegance of the California wine nation. Also, drawers enable the unit to fit into any space or style requisite.
20. Double Light Wood Vanity with Black Hardware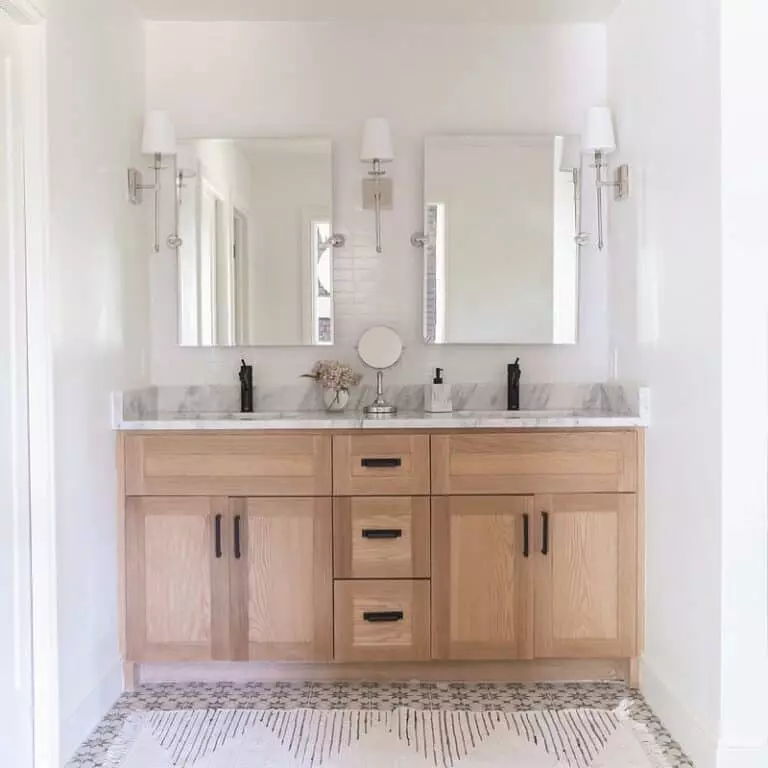 This mid-century bathroom comprises double natural light wood vanity with marble countertops. Also, it emphasizes black hardware and equipment.
A sleek stacked subway tile backsplash spans from the counter to the ceiling. Moreover, there are two splendor-mounted wall sconces and two rectangular mirrors.
21. Wood Vanity with Black Accents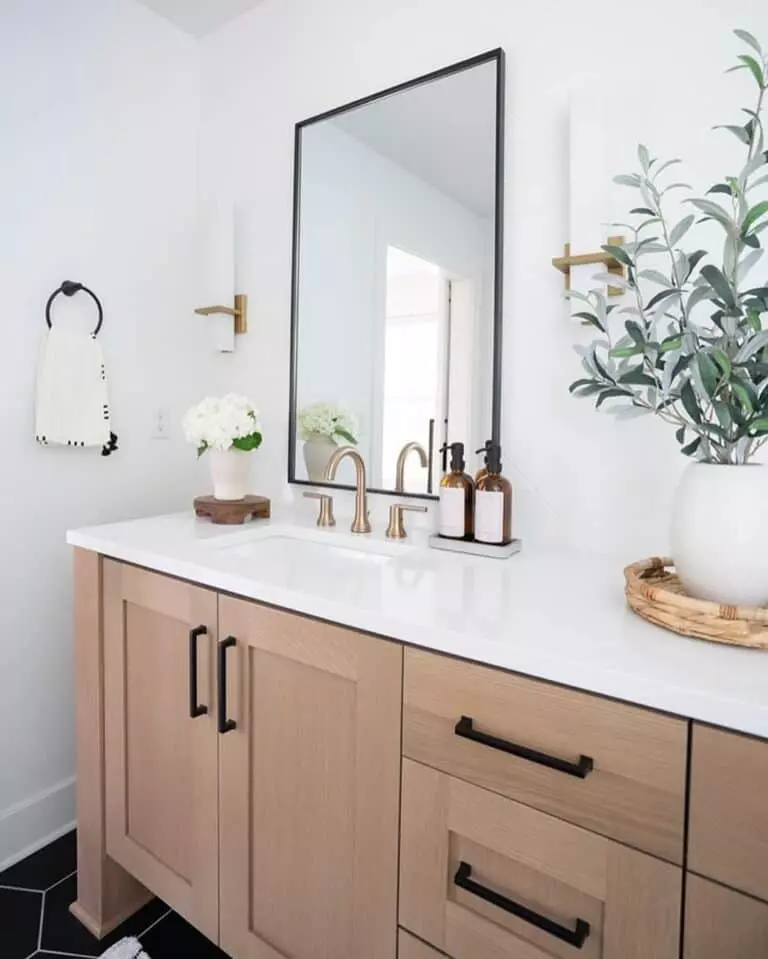 This double vanity of natural wood is perfect for creating a spacious appearance. Black hardware matches well with the gold fixtures and white stone countertop. The black frame mirror is also above the white countertop, which is quite exclusive. In the middle of the counter is a huge white vase with soaring leaves
Conclusion
How can you store your bathroom stuff in an organized yet stylish way? Bathroom vanities are essential to your bathroom. It boosts space usage and aesthetics. Also, choose the right style, size, and material, like natural wood, that can greatly enhance your bathroom's look.
The best part of natural wood vanity is that your design goes well with any layout, color, and metal fixture. On top of that, the durability and strength of solid wood are optimum for bathroom vanities.
Choose the vanity from the above-stated list per your preferred size, color, and single or double sink. I hope you organize your bathroom classy with these top ideas!
Check This Next: 15 Master Bathroom Floor Plans with Walk-in Shower
Frequently Asked Questions
Which Is the Best Wood for a Bathroom Vanity?
The best wood for bathroom vanity is solid hardwood close-grained plywood such as cherry, birch, teak, oak, and walnut plywood. Also, it would be best to choose that water-resistant and durable plywood. On top of that, it must match your bathroom.
What Is the Usual Bathroom Vanity Width?
The usual bathroom vanity widths are 24, 30, 36, 48, 60, and 72 inches. The average bathroom vanity width ranges from 30-48 inches for single-sink cabinets. On the contrary, the double-sink vanities' average bathroom vanity width ranges from 60-72 inches.
What to Use to Clean a Wooden Bathroom Vanity?
Mix dish soap with lukewarm water to clean a wooden bathroom vanity, and use a wet sponge to wipe the well-furnished cabinets. Ensure that you do not use excessive water and wipe surplus moisture. Also, clean it regularly to keep it dirt-free.
How to Protect Bathroom Wood Cabinets?
To protect bathroom wood cabinets, apply a clear coating or water-resistant paint, which is comprehensive proofreading. Thus, this aspect will prevent discoloration, swelling, warping, and any other damage.
Other Articles