15 Ideas to Create a Cozy and Stylish Small Studio Apartment
Owning a home is almost everyone's dream; it comes under the category of necessity than luxury. Initially, the accommodations that everyone has experienced consisted of minimal facilities in terms...
Owning a home is almost everyone's dream; it comes under the category of necessity than luxury. Initially, the accommodations that everyone has experienced consisted of minimal facilities in terms of furniture, tiles, and wall color. As soon as the rent or the annual CTC increased, it motivated everyone to own a property and fulfill all the wishes bookmarked on Pinterest or Instagram. 
Nowadays, there are people who believe in using the given space of the home to the maximum. Moreover, the caravan's ideas are replicated in studio apartments. When a bedroom, kitchen, and living area are contained into one space, it becomes easy to maintain and comes with a benefit of choice. You can choose to reside in any prime location near your office, having studio apartments that too with pocket-friendly rents. 
Here are 15 tiny studio apartment ideas that are brought to you to optimize the given space and create a compact, cutting-edge accommodation that has all facilities. 
1. Elevate Your Bed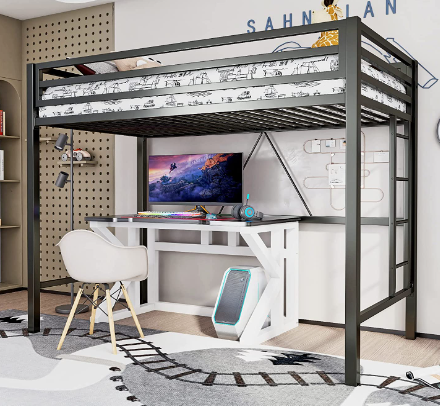 The average size of a studio apartment ranges between 500 to 600 square feet area, and people living here, with the help of designers, create the best out of every inch. One of the greatest hacks for saving space is utilizing the bed area, by placing it on an elevation and using the area around it for storage purposes, like making cabinets that store clothes, bags, books, etc.
These lofterbeds can further be designed according to the needs. For e.g., instead of building storage, you can choose to build a study area beneath the lofted bed. By doing this, you get the benefit of using your vertical area for creating a bookshelf or TV unit. 
Another option when it comes to utilizing the bed area is to get bed risers under the bed for storing extra bags and books. You get almost 6 to 8 inches of additional space under your bed for storage. This bed hack leaves you behind with enough room for a kitchen and living area. 
2. Utilizing the Area Vertically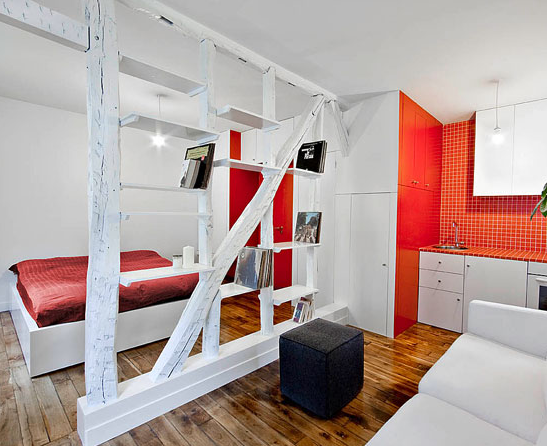 Studio apartments have cut-to-cut areas when it comes to choosing furniture. You cannot incorporate a permanent dining table or tv unit, as it will take up much of your space. Instead, try to utilize the vertical space from floor to ceiling in the form of shelves. These studios are devoid of a dedicated office or storage to keep everything organized. Instead, shelving your decorative accessories, books, and art pieces will help you hold additional things, making it easy to clean and de-clutter. 
The vertical shelf can act as a divider or separation knack between the living area and kitchen; then, there is no need to build a wall. With the help of a separation knack, the usage of bulbs will also decrease, as there is no solid separation between the rooms. 
3. Use Furniture that Is More Foldable than Rigid
Instead of filling your home with rigid furniture like a bed, sofa, and table, it is a lot more user-friendly to choose foldable items in your studio. The benefit of having folden furniture is that it can be shifted easily and does not take much of your floor space when you are already running short. 
Folded chairs and tables can act as office desks and dining tables, as and when required. Compared to conventional furniture, the foldable are affordable and yet good in quality. This makes it multi-functional and sustainable. These foldable furniture are durable, long-lasting, match any type of décor, and add aesthetics to your home.
4. Use the Ceiling for More Suspendable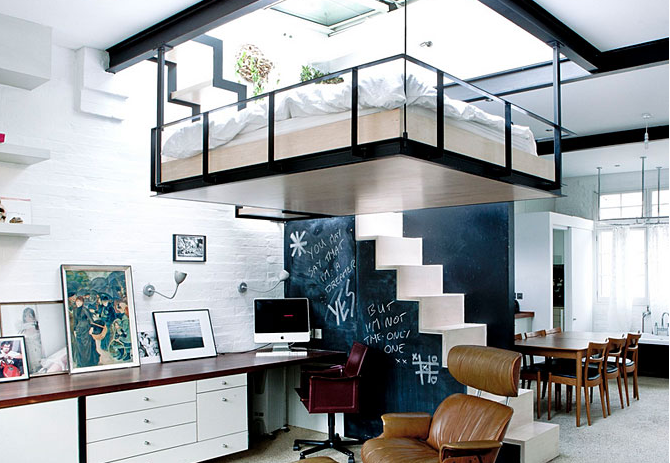 The kitchen area requires more cabinets than the entire apartment to store all the crockery and utensils. Instead of building storage and buying furniture, utilize the ceiling to build suspendable stands for utensils like glasses, pans, etc. 
Moreover, the suspendable metal frames can help as support to the flower pots, giving the apartment an aesthetic look. A suspendable bed can be a way forward to restrained space. Not only does it help get a larger area for work, leisure, and kitchen, but it also provides the bedroom platform to a charming skylight opening towards the roof, giving the little apartment a distinctive character.
By using the suspendable, it provides the benefit of saving space and bringing more personality to the décor composition.
5. Use Wheels Wherever Feasible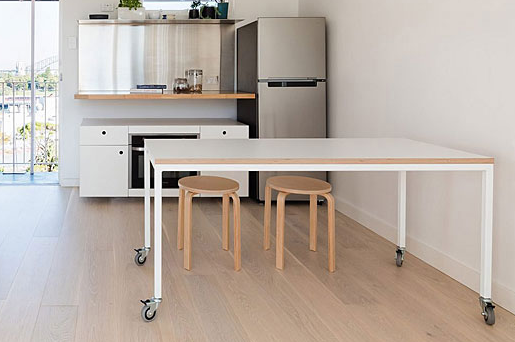 Having a revolving chair in the office makes it a lot easier, more comfortable, and more convenient. Imagine having wheels on your furniture in the studio apartment. When it comes to furniture and floor space in a studio apartment, it needs to be as minimal as possible. A way forward for this situation is custom woodwork, sliding partitions, and movable furniture. 
A dining table on wheels, which is sleek and lightweight and can fit precisely above and around the unit where you have the serving platform or oven stand. This innovative and fashionable approach not only frees up a significant amount of additional floor space but also highlights the aesthetic expression of the kitchen furniture arrangement.
Moreover, you can choose to put your bed on wheels too. It is not necessary to plan a bedroom, kitchen, and living room separately if your studio size is less than 500 square meters. Instead, you can build a cubicle on wheels with storage and your mattress. You'll have the advantage of waking up at different corners every day and with a different view. 
6. Multipurpose Use of Area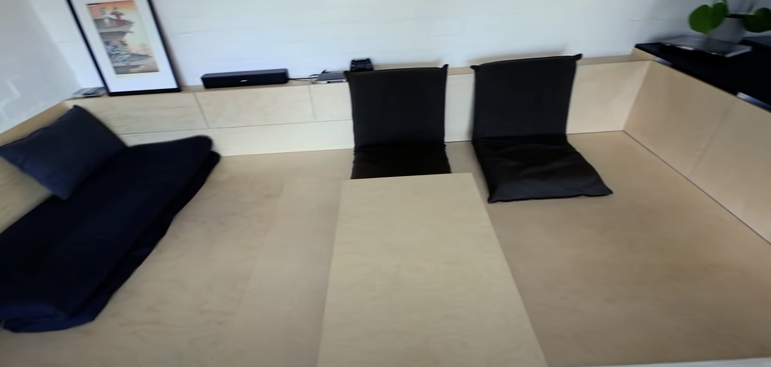 The less furniture, the more floor area you get in a studio apartment. Those who have experience or are about to live in one tend to possess the art of minimization and using each inch to the very best. It is feasible to live poshly in a 300 square meter area by applying the concept of multipurpose use and multifunctional furniture. 
One can always choose to keep the rigid bed, sofa, and proper dining table as an option. The best way to do it would be with a sofa that can also serve as a bed. Furthermore, you can choose to wall mount your bed to set up your room to accommodate your guests and give you more floor space. You can make a wooden elevation in your living area to make it multi-functional. 
The Japanese style of seating, also known aszaisu can be incorporated into your living area. This modern-day interpretation is a boon for studio apartment owners. In the daytime, utilize the wooden area as a dining table or sofa, or workspace; if needed, add your foldable chairs when guests drop by. By evening, add the mattress to turn it into a bedroom. 
7. Undercover as Much as Possible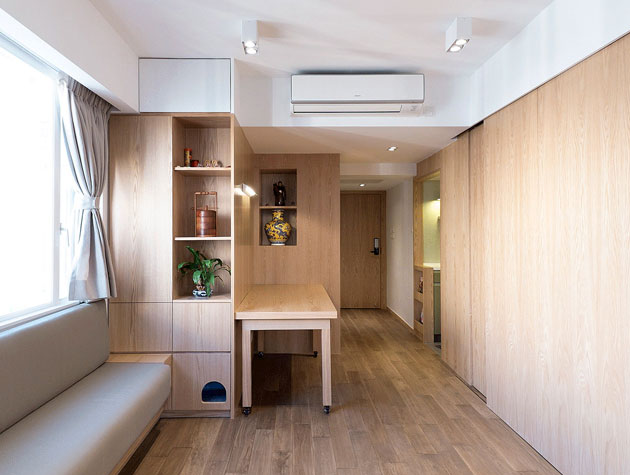 The greatest advantage of living in a small area is that it brings out the creativity in you. With less space, you gain the ability to live with the available material and cut down the accumulation of more things. Moreover, it is an art to reside in a space that is vertically long or turn an attic into a bedroom, etc. Under covering in a studio apartment means using the cabinets to store the washing machine, oven, fridge, etc., so they do not take up the floor space, and the apartment looks spacious. 
Furthermore, you can disguise the bed inside one of the sliding doors. This decor composition forms an elegant, sophisticated design that appears tidy and simple to manage. The bathroom components can be undercovered too. In a small bathroom area, it is hard but necessary to have a toilet, basin, and shower or tap all in one place. With the help of minimization, you can opt for a moving sink that can be pulled open to use the toilet underneath. 
8. Moving Walls or No Walls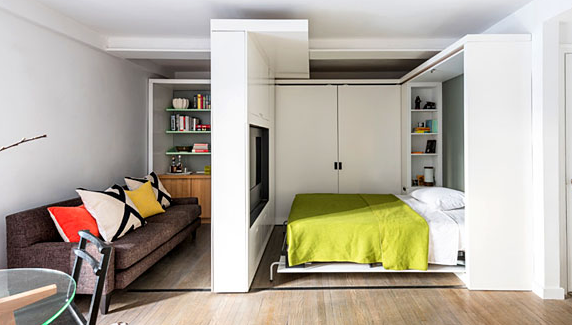 It is not necessary to create a solid partition in a small space. Shelves, cabinets, and curtains can be used instead of building an entire wall. Furthermore, instead of using doors in your cabinet consisting of kitchenware, clothes, and books, try to build sliding doors; this helps reduce the area occupation that the conventional doors usually use. 
Moreover, use glass doors for the separation of the bedroom and the rest of the apartment. Not only will it look classy, but it will give the composition some visual movement and a touch of aerial grace. Another breakthrough in minimalization is the motorized movable wall. This innovative, dynamic approach will create a significant amount of area for contemporary studios. The movable wall, which can be used from a bed or a sofa, also features a hidden closet, dresser drawers, and clothing storage, and when fully extended, creates space for a queen-sized fold-down bed.
9. Uplift the Interior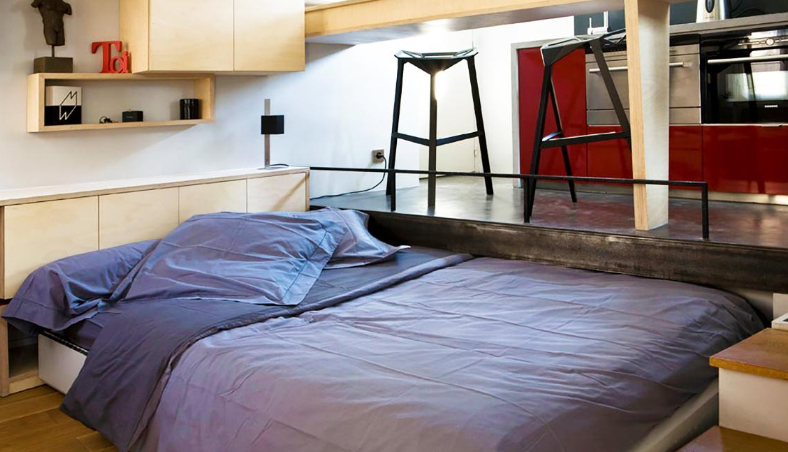 Building levels in a studio apartment is kinda mandatory. Not only does this help use the vertical space, but it also helps in storing things beneath it, like mattresses, pillows, books, etc. If it is feasible, level up your kitchen area so that you can use it to push the mattress or sofa beneath it when not required. With this design, the bed can be completely concealed beneath the platform, freeing up the floor for various uses. Elevating the kitchen zone's platform and including numerous intriguingly formed shelving not only provides the design with a distinctive feel but also serves as a clever way to save space. 
If you are intended to use your vertical space to the fullest, make your studio apartment multi-storeyed. Use ladders or a movable staircase to reach upstairs. Not only does this provide a clear distinction of space, but it also offers privacy. The design's clever, ample, and light features enable the optimal distribution of the restricted area.
10. Keep It Light and Bright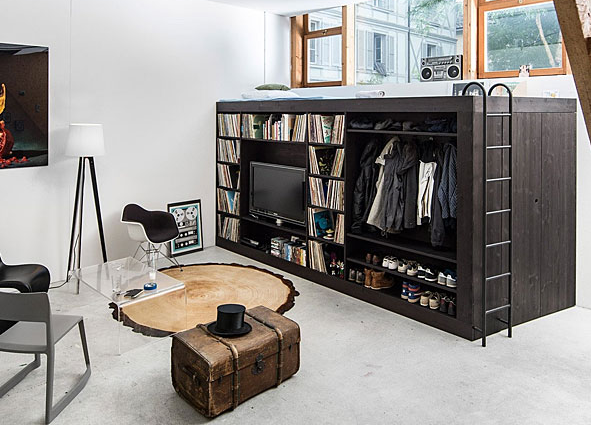 It is hard to give up all the rigid furniture when you opt for a studio apartment. Minimal furniture not only helps store your extra stuff but also helps de-clutter. When books, clothes, and other essentials are kept in the cabinets, it is easier to clean and maintain the tiny space. Moreover, keep the furniture color light, as it instantly brightens up and bounces color in the studio. 
Another option, when it comes to furniture, is choosing a multifunctional piece of wood. This attractive and original space-saving box offers a few storage options for a small apartment. For many studio flats with limited space, it provides a compact and beautiful solution that includes a platform with a queen-size bed, internal space for storage, or a desk underneath, and it can save a lot of room.
Try to use mirrors in your apartment. The advantage is that they have an amazing reflective element that definitely gives a lot more light to your space. Mirrors open up a space so much more, and they make it appear a lot bigger. 
11. Create Distinct Zones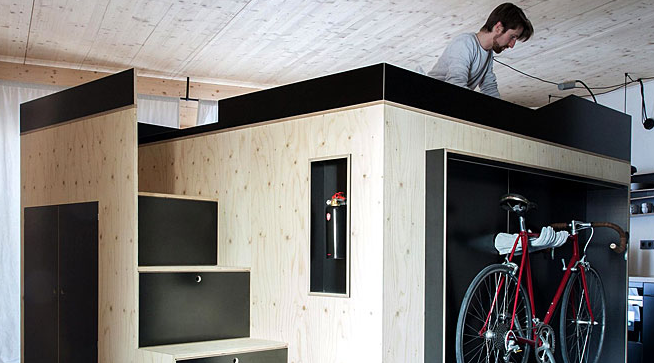 Living in a studio apartment is all about experimenting with space, furniture, and materials. As there is minimum use of separation, those residing in a studio apartment either use shelves, glass doors, or curtains to separate the living area from the bedroom. 
Sometimes in smaller spaces, especially studio apartments, it is hard to designate areas for specific things. So it is advisable to break areas up either with pieces of furniture or rugs. If the studio apartment does not allow space for shelving, you can always opt for rugs on the floor. Rugs create a basic distinction zone from the living area to the kitchen area, as it is present in the living area only. 
You can consider experimenting with your studio by creating a room within a room. A sleeping, eating, and working area are all included in the huge furniture set, which was designed in a modern and dynamic way. A space design with a double bed on top, a stairway with storage compartments, a walk-in closet or washroom, and many other adaptable elements are in response to current lifestyles that want to maximize every square inch of space.
12. Choose the Key Elements of The Apartment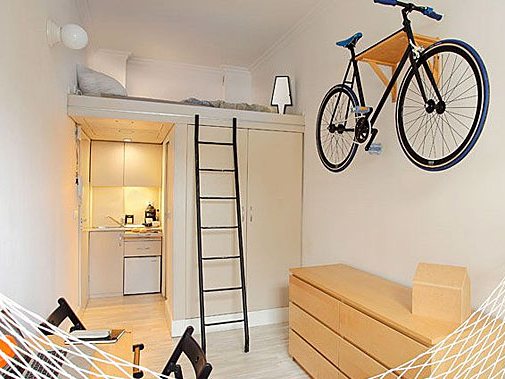 If you are a single, professional person, who has to fit the office and home in one, you need to choose the priority. Priority should be decided according to the number of people who will be residing in the studio and the type of workspace required in the form of desks, chairs, etc. 
You can always minimize the kitchen to the greatest extent if you have to incorporate office and home into one. The more kitchen appliances, the more cabinets will be needed. If one does not require a large kitchen if they do not spend a lot of time cooking in it. As a result, space can be used more precisely for other reasons. A mini refrigerator, oven, and chopping board, along with a few utensils, are more than enough to cook and sustain in a minimalistic kitchen. 
The strategy is to use the least amount of space possible in the kitchen while distributing exquisite design elements in a practical way. 
13. Storage to Declutter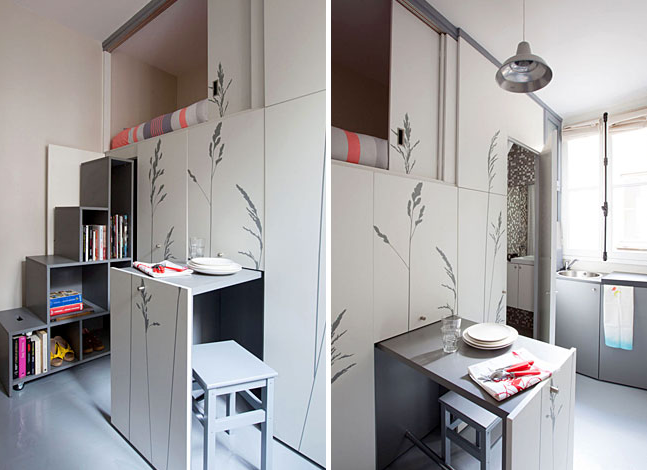 Most of the residents in studio apartments have incorporated their offices within the tiny space. It takes a lot of creativity and imagination to build and sustain in a tiny space, especially if you haven't experienced this before. 
Some of the studio apartments are designed in a hybrid manner, i.e., a place to live comfortably and work efficiently. This kind of apartment incorporates a dedicated bathroom, a kitchen with all appliances, internet connectivity, office supplies, and a king-size bed, as it needs the occupant to be productive. 
Those having their workplace indoors require proper storage to get rid of all the clutter. In these stores, there is room for clothes, office files, and a working table, and you can even park your bike indoors. Moreover, you can use a retractable staircase that fits inside the wall when not required, and you can just pull it out when you need to reach your elevated bedroom. 
14. Letting Loose on The Woods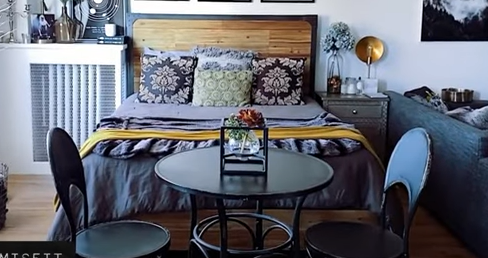 Furnishing and decorating a studio apartment is not as hard as it looks. Especially because there are certain things, you don't need in the tiny space. Studio apartments are cozy and warm in nature; all you need is the art of minimization and using one piece of furniture for multiple uses. 
In a proper home, you can afford to stock as many artifacts, antiques, and tables from across the globe, to increase the aesthetics. You can do the same in a studio apartment and yet not sacrifice. There is no need for a rigid dining table in your tiny space; you can buy a bistro table that works as a coffee table and a dining table. If you have visitors coming over, add your foldable chairs around to enjoy your latte. 
Moreover, if the table is not a dire need, you can always enjoy your meal and continue working on your laptop on the couch too. A dedicated tv unit is also not required while residing in a studio. You don't need to drill the walls to mount it, or you don't have to sacrifice your love of watching tv. You can use the dresser as a multifunctional piece of furniture to hold your tv and clothes in one. 
15. Differentiate with Colours and Textures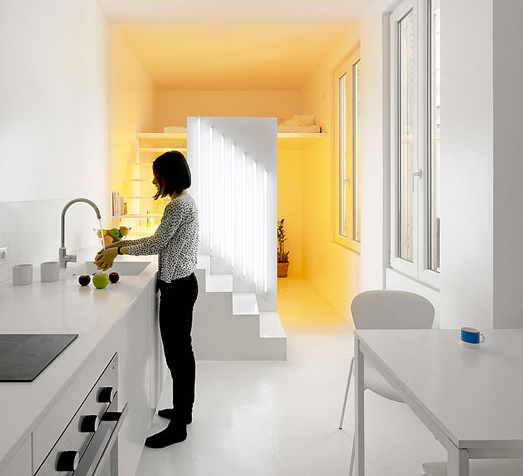 It can be challenging to combine several distinct textures and materials in small areas because their close proximity amplifies their visual impact. The studio apartment is an amalgamation of living areas, a kitchen, and a bedroom, which need to be separated for better functioning. Tile color, ceiling color, furniture color, and lights play an important role in marking a thin line of difference between these areas. 
One of the finest combinations is the sparkling white surface of the ceiling which is beautifully balanced by the wooden texture of the floors, making it a very astute statement. Furthermore, the play with light has an almost magical effect on the environment. The bedroom, bathroom, and kitchen are the three areas of the flat. The first two can be identified by their intense yellow lighting, which offers a beam of energizing emphasis. The remaining furniture in the long, narrow area is made of light, almost airy materials that blend in with the remainder of the room's simple style.
Conclusion
Dreaming about a luxurious abode? But just have 500 square meters in hand for everything? We have incorporated all the necessary points so that you find the right place for your bed, couch, and remote office. Living in a small space can be claustrophobic, but not when we have de-cluttered the vital points for you. Once you have walked through this article, the studio apartment dos and don'ts are understood, which makes the layout even simpler. 
Living in a studio apartment can be made a lot easier and cozy once you have formed a mindset and are ready to let go of certain redundant stuff. Create a structure on paper for your dream studio apartment and include the tips mentioned above, and see the wonders in the tiny space once created. 
Happy designing!
Other Articles