Aesthetics and pretty are the 'vibes' of this generation, and the home interior plays a major role in creating and maintaining it. Beautiful home décor is not just a status symbol anymore.
It is a source of good energy and positivity. Also, all of us have paid for the overpriced food items in the restaurant just for the aesthetics and 'vibe' and to click good pictures.
This creates a trend of being in aesthetically pleasing spaces, whether it is your kitchen, living area, or workspace. Clicking a cool picture with bad background is not an ongoing trend.
Whatever the reason, aesthetics has become a major part of life, and home décor is the basic part of it. If you are someone seeking new ideas and methods of decorating your house, you are at the right place. We are here to give you several contemporary interior design ideas to decorate your home. But first, let us understand what contemporary design means.
List of Best Contemporary Interior Design
Contemporary interior design is the one follows current ongoing trends. Usually, there is confusion between contemporary design and modern design, but they are not the same. Contemporary interior design might have some bits and pieces of modern design, but the concept is different. 
 If you are someone looking to implement contemporary interior design in your house, take a look at these ideas.
Here are 17 contemporary interior design ideas that can inspire you to design your house without the assistance of an interior designer. It will help you choose the best one based on your choices of colors, themes, looks, perceptions, and feels.
1. Skylight Pouring Out of the Hallway
Lighting and its reflection play a major role in making your place look fresh and beautiful. Hence, many houses have huge windows to maximize the amount of sunlight that comes in. Apart from it, people have been implementing wall-mounted windows in one of the four walls of the room.
Similar Post: 20 Colorful Living Room Ideas to Add Liveliness to Your Home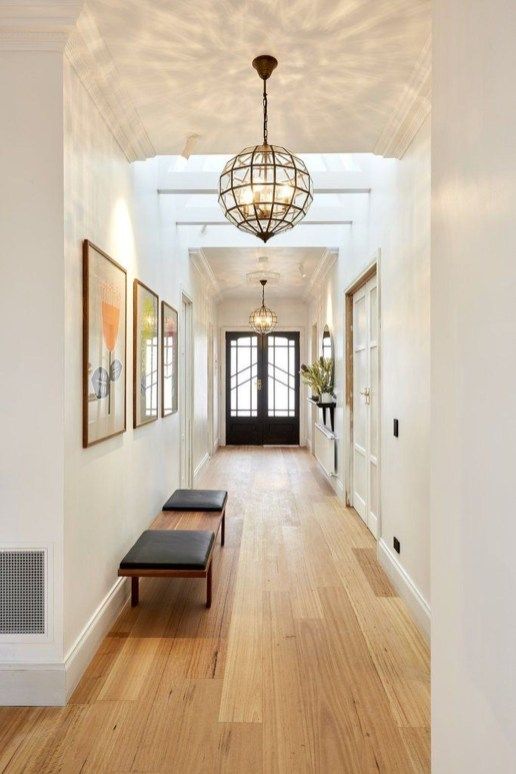 This may provide you with proper light if your room gets direct sunlight. But if your room is located in the middle of the house, there is no scope for lighting. Also, hallways rarely get direct light. In such cases, you can implement skylight windows in that place.
This gives way for the sunlight to enter the place. Further, the light will be coming from the top part of the room; hence it will spread equally and remove all dark shadows
2. Light Fixtures
Placing the lights in the right places and with the right intensity is important in contemporary interior design. Usually, people install lamps, chandeliers, and minimal lights in various places to change them according to the mood and occasion.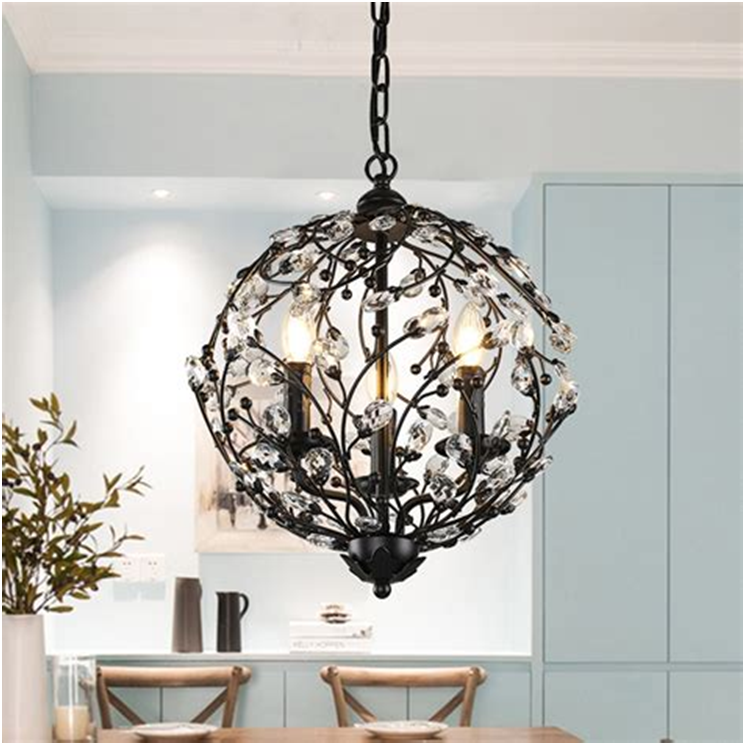 The light elements must not intrude on one another abruptly without a pattern. Further, you can install a chandelier in open spaces with everyone's access, and the rooms and closed spaces can be decorated with pendant lights.
Implementing the lights creatively as a part of the interior can make them look better and fit easier in with the aesthetics of the space. They are an important part of contemporary interior design trends.
3. Express with Colors
We all have our favorite colors, and we all want our rooms to be full of these colors with dramatic effects and details. So, design your room by yourself and make your style statement. Whether you want a minimalist design or a maximalist trend, do them unapologetically.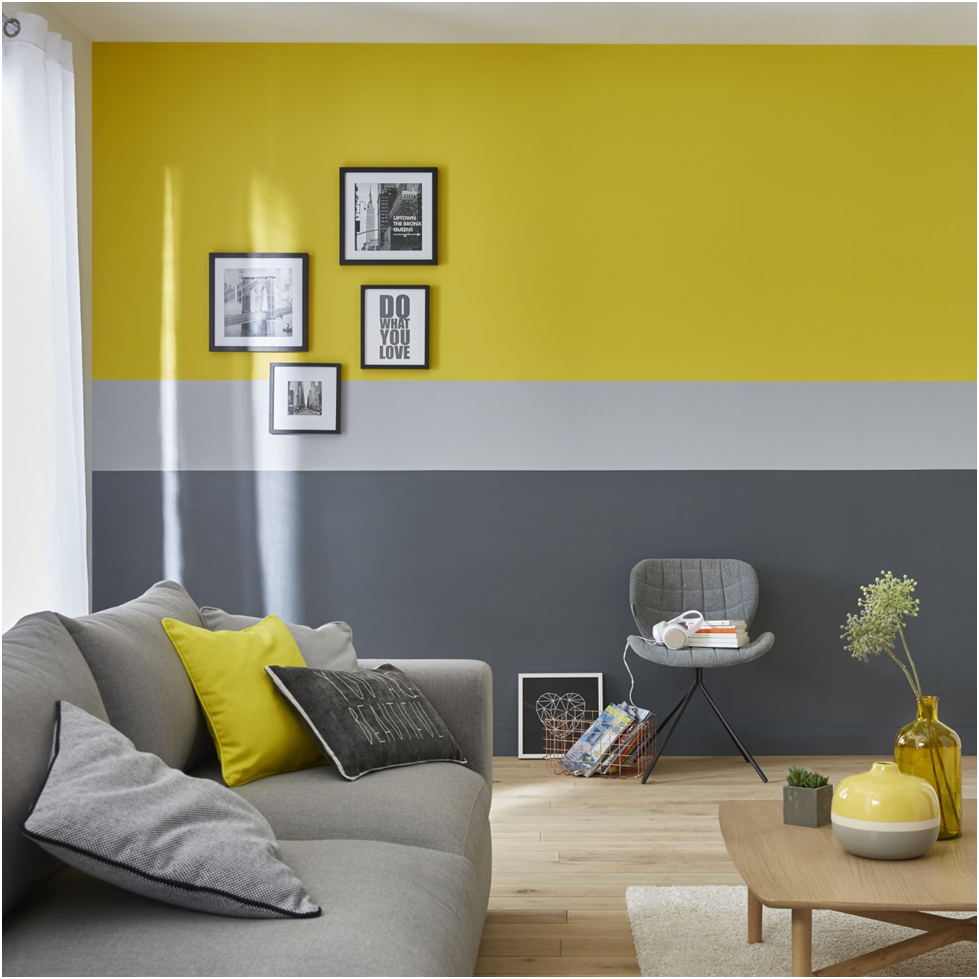 This can be done by selecting your favorite shade as the base color and then choosing any three contrasting colors that will go well with your base.
Fill the wall with designs and splashes of colors so it looks good for you. Give it a bold statement with the furniture you choose, the couch, paintings, and lighting to make it look pleasing.
4. Use Soft Colors
Contemporary interior design majorly uses neutral shades of colors, which give a feeling of calmness and peace. However, you can use any color of your choice and make it work well based on the contrast colors, furniture, and lighting. Making use of bold and pastel colors can make your room look more attractive and energy-radiating.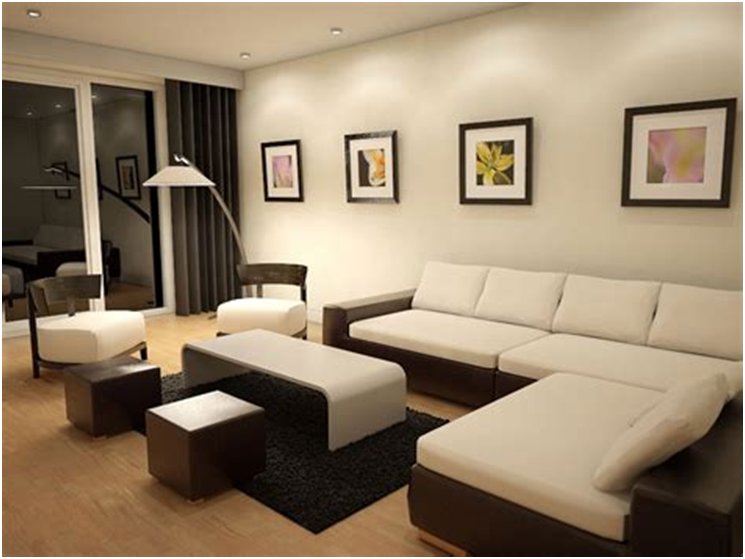 However, using soft and warm colors like pink, green, grey, etc., can make your interior look calm and quiet. Further, using darker colors for the accessories, details, and furniture can add a new look to the place, making it look well-thought and curated. It gives the warmth and peace of a 'home.'
5. Add Natural Elements
Contemporary interior design gives major emphasis on utilizing open space and natural elements. Making good use of the lights and air can help you take your room interior to a higher level. They must flow freely in the entire space.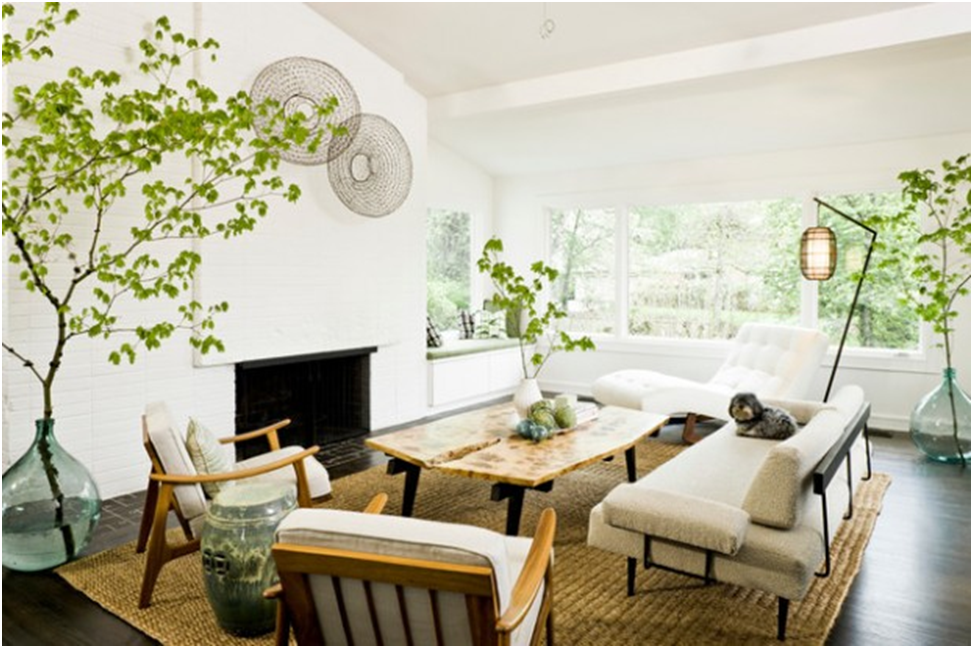 The room should have good lighting and proper ventilation for a fresh look and feel. Further, placing tiny saplings can make the room more breathable and comfortable. If you are planning for a minimalist look in your room, these elements help the room to level up aesthetically.
 Further, add wooden furniture to give a warm feel to the soft and neutral colors. In this way, your room can make you feel calm and in connection with nature.
6. Unique Stairs Design
If the walls in the bedroom begin from your living room, they deserve to have a uniqueness that fulfills the contemporary interior design in your house. The stairs can be an aesthetic spot in your house if you are looking to implement a minimal design.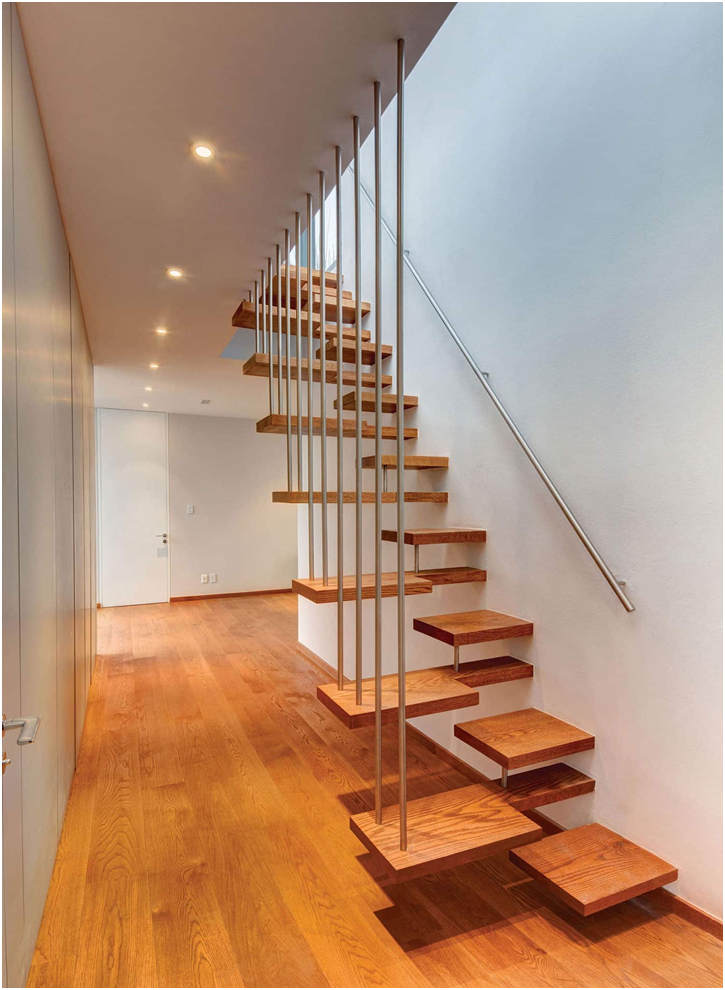 Using a color against your wall paint can help to add a statement to the stairs. If your wall is already ready and it is of a pretty common design, no worries; you can make it better with house plants and lights. The color of the walls adjacent to the stairs greatly impacts its look.
Also Read: 21 Stunning Dining Room Designs for Your Home!
7. Color Everything the Same
Even though we have been talking about painting our walls and buying furniture of different colors to make statements, we believe that contrasting looks are overrated. To give your living room a modern contemporary look, use the same color on all objects and surfaces.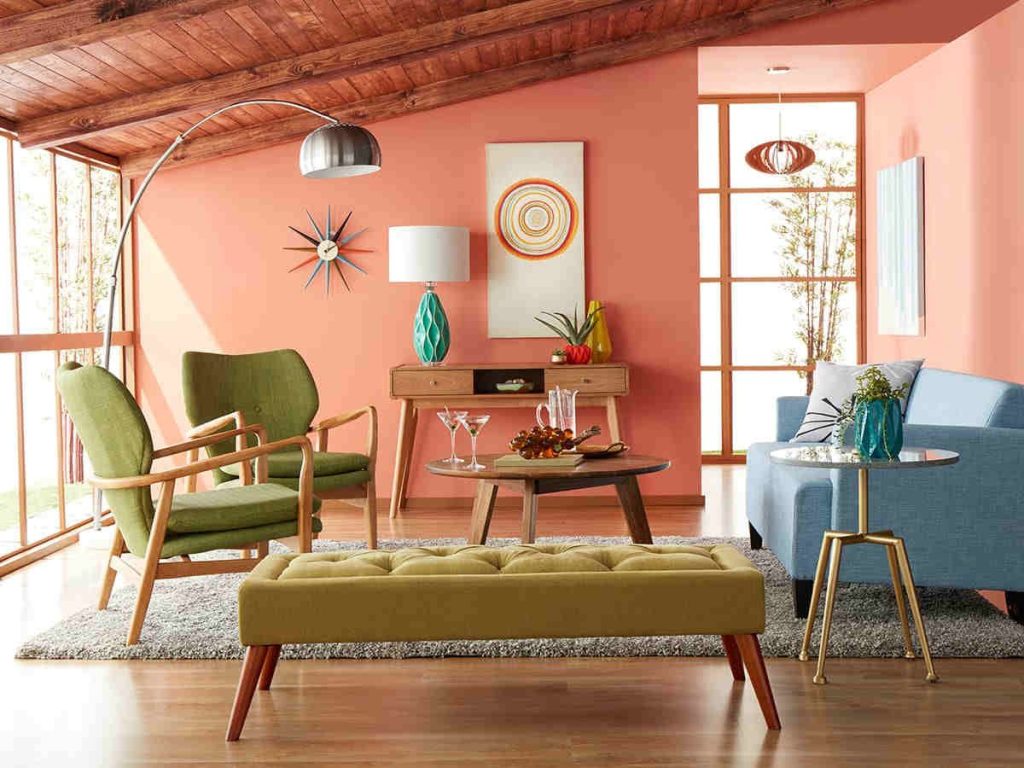 Whether there is a door on the wall, a table, furniture, a painting, or window shutters, use the same neutral color for all of them.
It gives a feel of a seamless backdrop in your room. If you are someone who wishes to color their room in dark colors, this is a great idea for you. Further, filling the wall with small accessories can surely add up to its look.
8. Stainless Steel Equipment
Stainless steel accessories have been gaining a lot of popularity as a part of contemporary interior design. It does the work of adding a modern touch to the interior and making the place feel warm.
You can use stainless steel appliances, fixtures, and even furniture sometimes. Filling your walls with gray or white can add to the look of your place.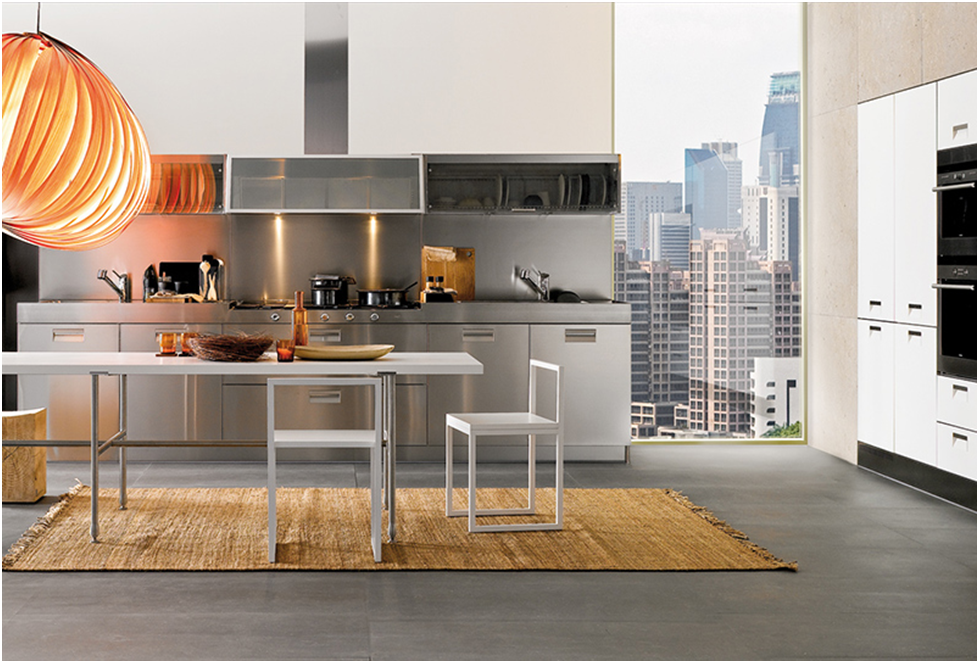 The steel appliances are polished and glossy, which adds glitter to your house. It gives a futuristic and modern vibe to the place. Hence, until the time you are working with robots in your house, give them the feel of a smart home using this idea.
9. Include Different Shapes and Sizes
When you are planning to decorate the wall behind your sofa, you can make it as stylish as you want with modern décor ideas. If you are a book lover, you can build a bookshelf combined with a showcase of artistic paintings and artworks that are equally spaced from each other.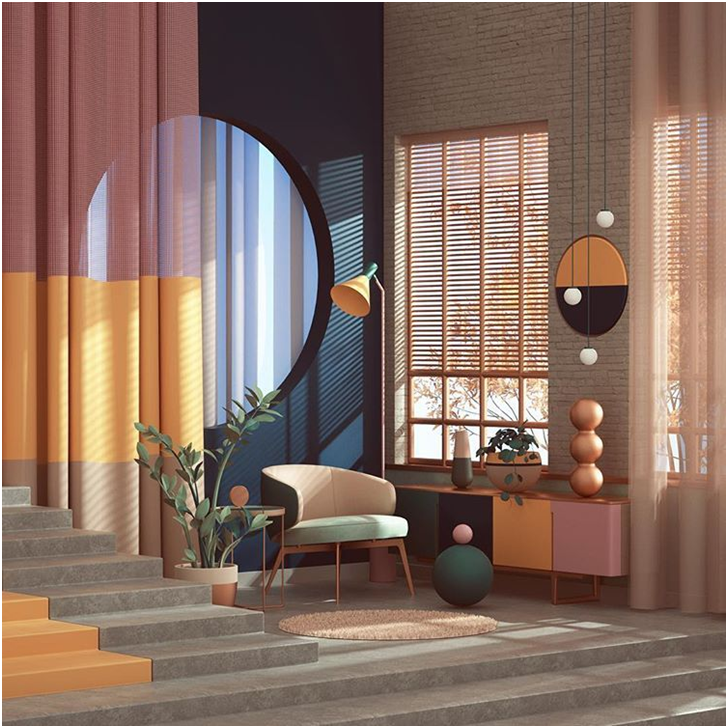 Using a light color to build the compartments and stands and a safe color for your sofa can make your living room visually appealing.
 Do not clutter the compartments with multiple huge objects. You can try different objects in various shapes and colors in your living room and put them in a pattern that suits you well. Keep a single color thread in all compartments to enhance the view and offer good finishing.
10. Huge Windows
A major part of great contemporary design is to avoid wall decorations but also avoid the place from being boring and plain. However, if you are going for a minimalist contemporary interior design, here's an idea to do so.
If your room has a great view from it, you can install a huge window that covers your wall entirely and gives a direct view of the outside.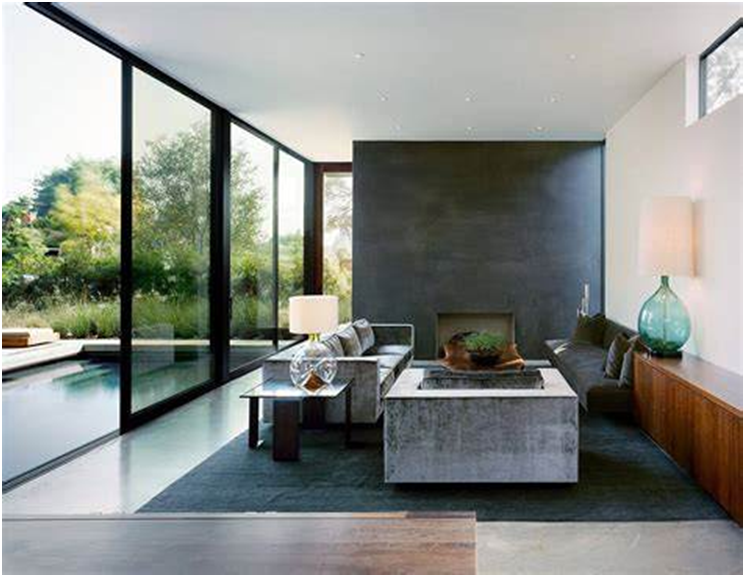 Here you won't require any accessories or decorative items to place on the wall; the entire work is done outside. Further, placing stylish curtains that go well with the wall can help the look of the place. The place will feel calmer with direct sunlight and air.
11. Multifunctional Room Ideas
Several times, we see the bedroom being converted to the dining room, the kitchen being the living room, and the hall being converted into the bedroom for our guests on special occasions.
Multi-purpose rooms are an ideology of modern contemporary interior design, which does not limit the functionality of the rooms as their names.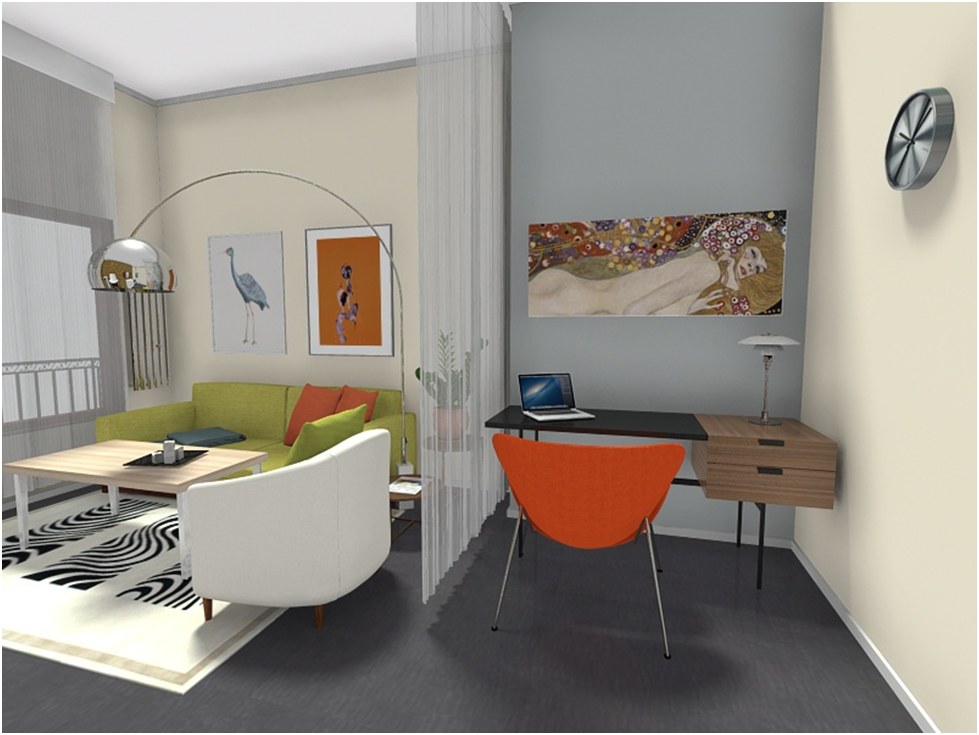 In this way, we must also plan our furniture to enable multiple uses. It involves the implementation of futons in the drawing room space, tables that can collapse, sofa-cum-beds, foldable chairs, and other such equipment.
Choosing the furniture that suits well with all these different settings is a difficult task. So you can buy the generic wooden furniture that goes with every room.
12. Wooden Ceiling
The wood-based interior gives a warm and cozy feel to your house. It is a minimalist design that helps you to decorate the house without much effort. Wood already comes in beautiful color and texture that brings a beautiful feeling to your place. Further, you can make a wood ceiling in various designs and patterns so that it fits well with the house and its interiors.
Related: 16 Beach Cottage Living Room Decor Ideas To Give You Coastal Vibes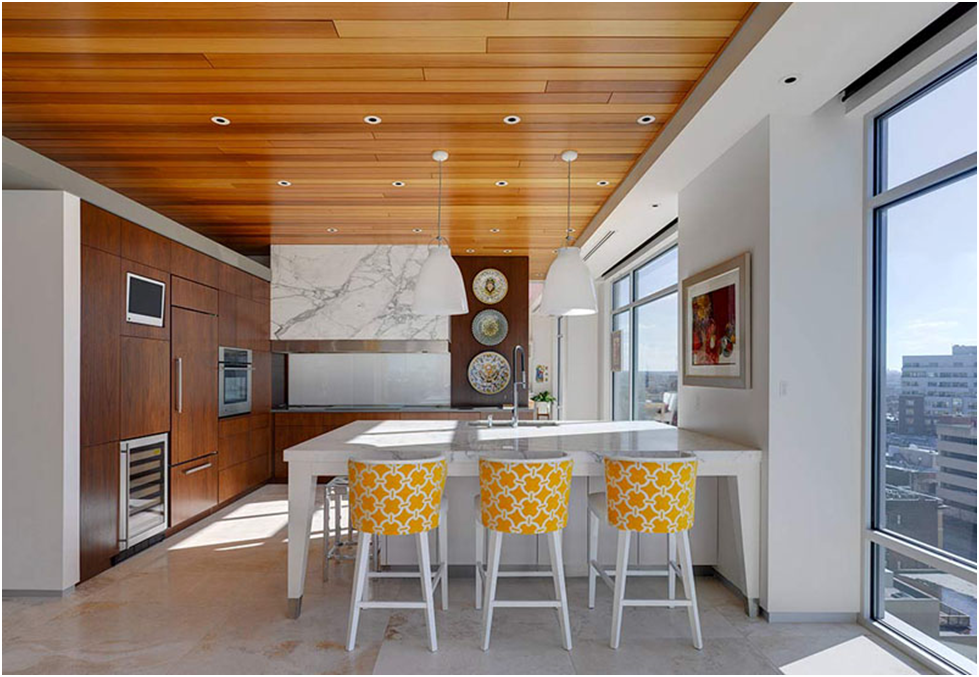 Use decorative items and pastel colors to color the wood if you want. Fill the room with soft and neutral colors that let the wood dominate the room and complement it. This is an idea of contemporary interior design that can be adopted based on the weather conditions of your city.
13. Cloud Pendant Lights
With the focus on minimalist design, you majorly focus on the natural lights and elements that add beauty to your place.
But that doesn't mean all room receives the required lights or accessories that make up for a beautiful décor. Also, using artificial lighting can help to light the room during nighttime.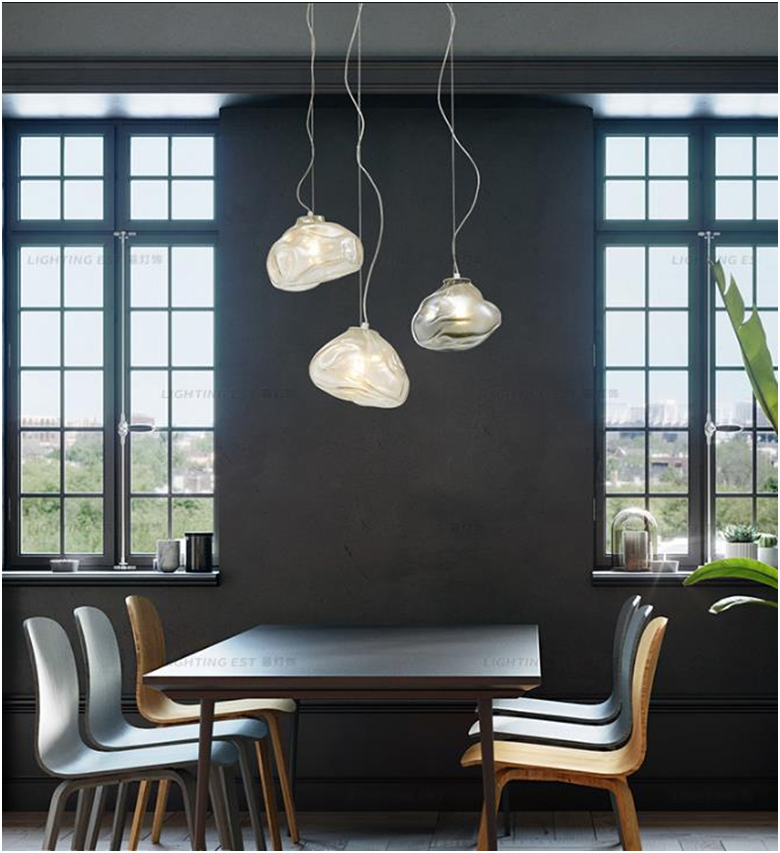 There are various lamp designs available in the market that can help you add beauty to your living room and also make up for your minimal accessories.
Installing a few lights in your living room can have a dramatic effect. The cloud pendant light is one among them, which comes in various shapes, sizes, and colors, and you can choose as per your room requirements.
14. Living Room Furniture 
We cannot deny the fact that even though you decorate your room, paint the walls, and bring the right accessories, curtains, and stairs for a beautiful room, one thing you cannot avoid is seating in the room.
They are not just an important part of the living room but also have a huge impact on how your room looks, as they are huge and occupy a lot of space.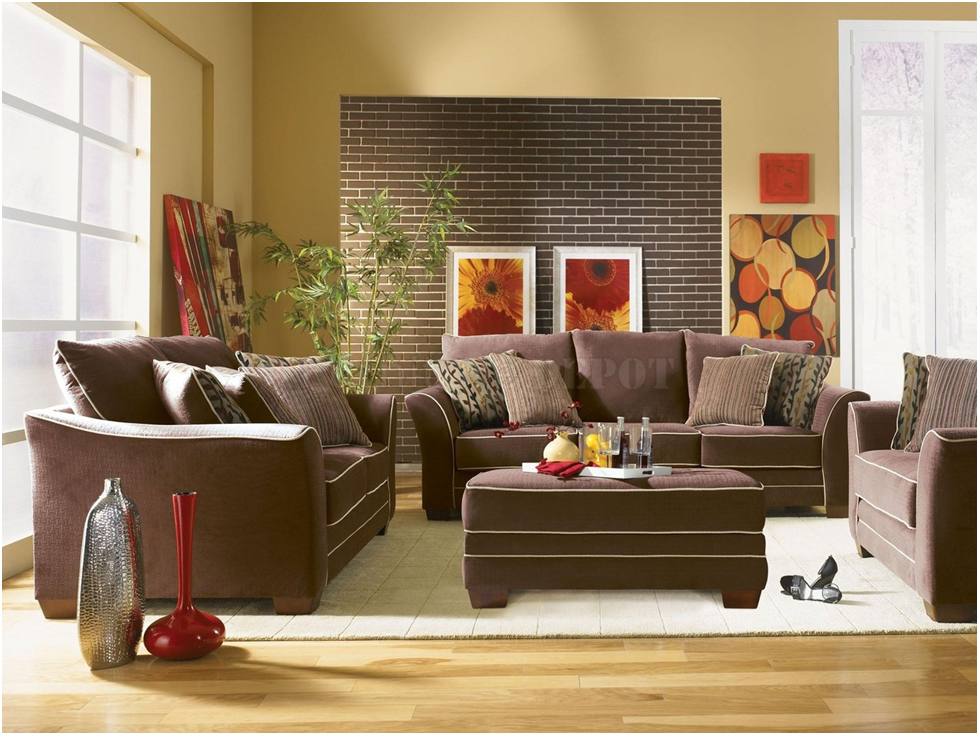 Hence, it is important to choose the right seating for your rooms because, whatever type of contemporary interior design you choose, it is a mandatory aspect.
To enhance your minimalistic look with furniture and seating, you can buy oversized chairs, L-shaped Sofas, and huge seating couches to fill your drawing room. They are available in different shapes and sizes.
15. Simple Art Wall
There are multiple ideas of contemporary interior design, one of which is wall art. If you are looking to decorate your house with simple yet elegant wall designs, you can use wallpaper of simple paintings and murals. It can be created with a maximum of two or three colors with basic designs or lines with a subtle look and feel.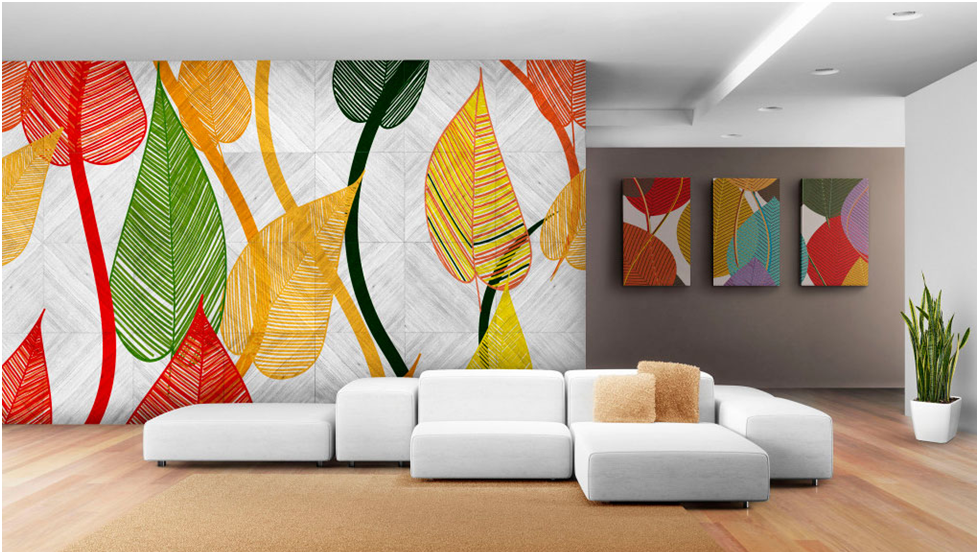 Further, using strokes of abstract can make the room aesthetically pleasing. They make your walls look rich and classy, along with maintaining the contemporary interior design idea of your house. It enhances your room with good plants and accessories around the wall that create a subtle glow.
16. Curate Modern Art Works
If you are planning to paint your walls neutral, the best way to decorate them is by making them the backdrop of your seating area and curating various accessories and paintings on them.
This place allows you to show your creativity and areas of interest. You can keep your book collection, fine artwork, and paintings and decorate them per any theme you have.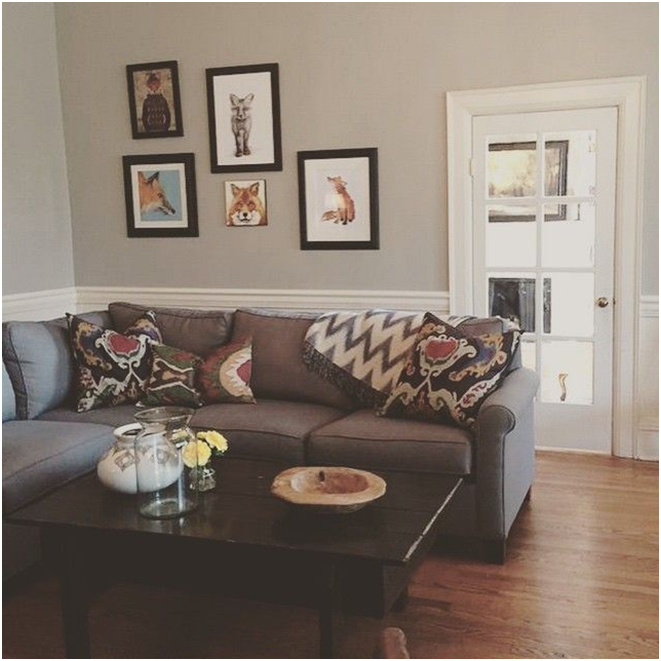 If you are an animal lover, you can put up their pictures, or delicate houseplants will also add enough beauty to the space in your living room. Also, you can invest in antique accessories or designs of artifacts and place them beautifully.
17. Declutter Your Space
Contemporary interior design is all about decluttering the items that we have been keeping safely for generations but not adding any beauty or use to us.
It focuses on things that add a purpose of beauty or aesthetics to your place. Minimalism is a concept that is majorly followed across contemporary houses.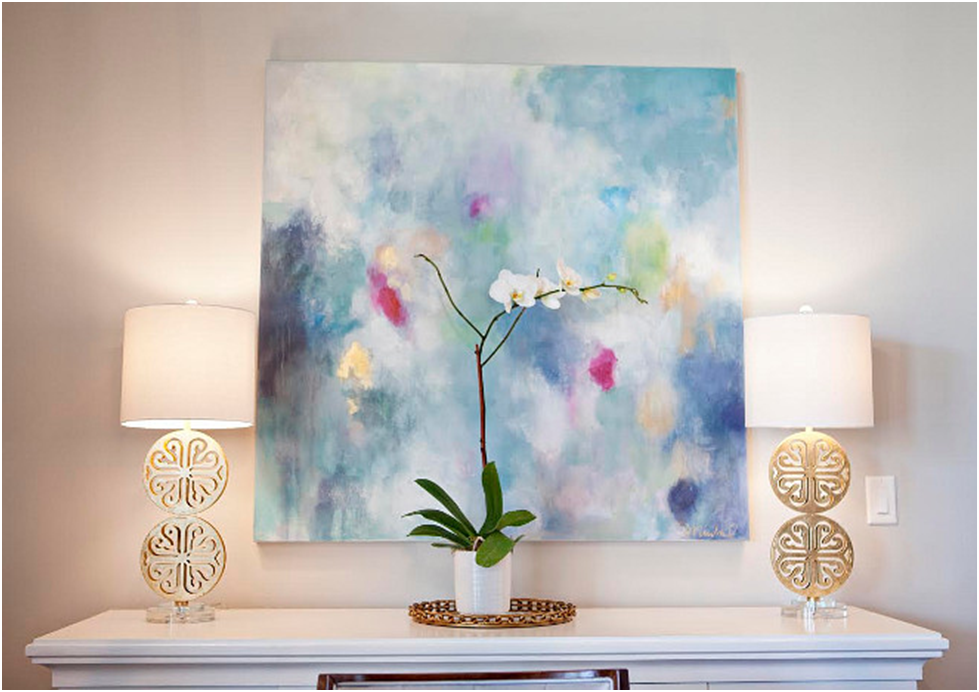 They also include open kitchens and living rooms. Wherever you decorate your house, minimalist design will help you keep your place pleasant and warm.
So do not fill in your rooms with unnecessary accessories or gift items you just received on your birthday. Ensure that everything adds value to your living room area to maintain the room's aesthetics.
Check This Next: 18 Amazing Colour Scheme Ideas for Your Bathroom
Conclusion 
Contemporary interior design comes with various methods, ways, and ideas to plan your home interior based on your budget, choices, styles, and themes. You can follow any of these ideas or mix them up to create your own.
Follow a few of these tips, and we are sure that you will end up in a space that would be not just beautiful to see but also great to feel and vibe. Tell us about how you decorated your house in the comments.
Other Articles