There is nothing more special than a family gathering at the dinner table. To make it better, a good way is to make your dining room a space where everyone feels at ease and comfortable, which can be easily incorporated with comforting dining room decor ideas.
Decorating and giving the dining room a comforting look does big wonders. It deserves to be decorated in a way that tells a story. All these big aspirations and Pinterest inspirations could feel a little overwhelming, but trust us, it isn't that difficult.
Whether it is with adding some light fixtures or coloring your ceiling, there are hundreds of dining room decor ideas out there.
In this article, we talk about 21 Dining room decor ideas & designs that help you level up your decor from average to extraordinary with minimal effort. Check them out here.
1. Put Up a Chandelier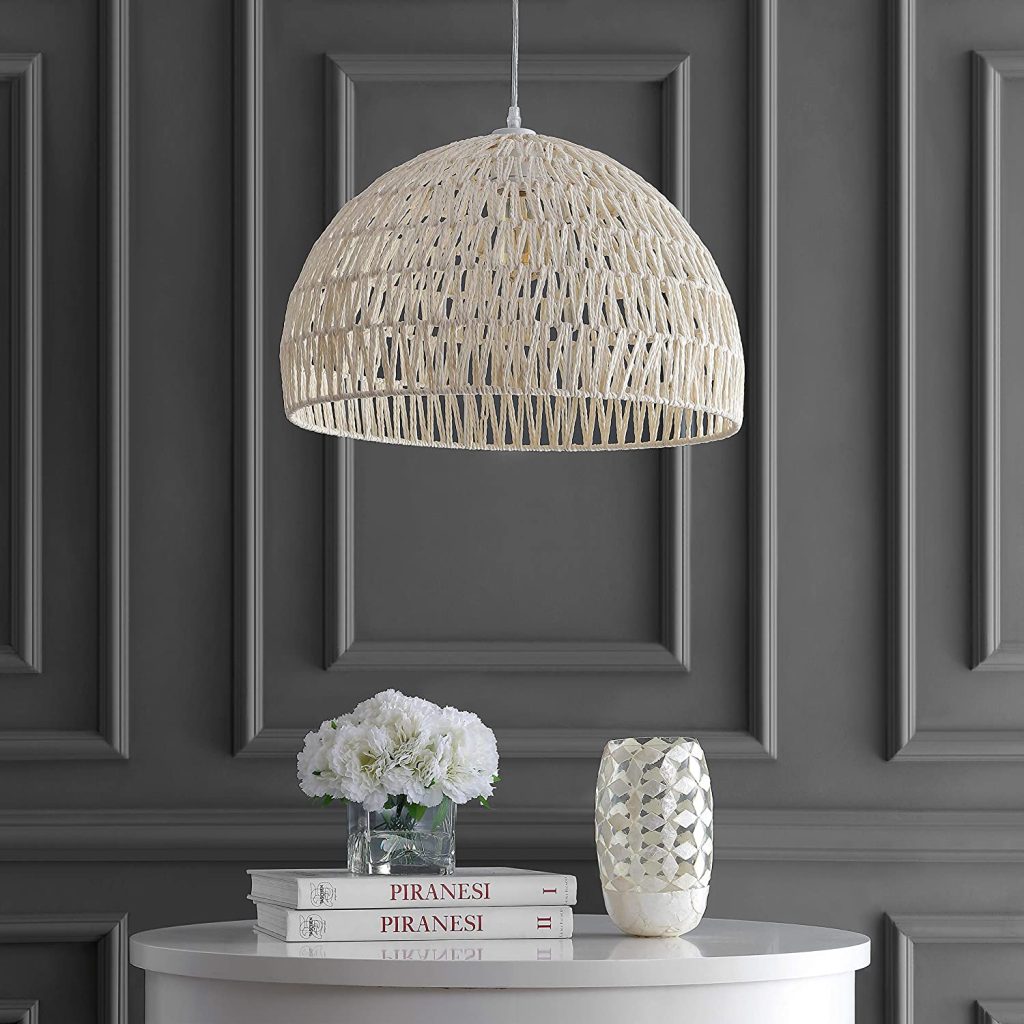 Lighting plays a very important part in any room; use it wisely. A great way to incorporate lighting in your dining room is by creating a chandelier. It doesn't necessarily have to be a fancy chandelier, but any lighting fixture would do the job.
You can add a statement light like a large globe pendant or one with a woven accent if you want to go big. Make sure you choose a light according to the theme you plan for your dining room. 
If you have Bohemian decor in mind, a lighting fixture made out of rattan or metal will go great with the decor. A great ceiling fixture that goes with almost all decors is the Jonathan Y Campana 20″ Bohemian Light.
This is a ceiling fixture that fits in most dining decors and gives a great statement look. It comes with a boho feel and gives a unique look to your room. Asnxcju Farmhouse Pendant Lightis another example of a great lighting fixture.
Similar Post: 21 Stylish And Simple Dining Room Table Decorating Ideas
2. Give Your Wall a New Look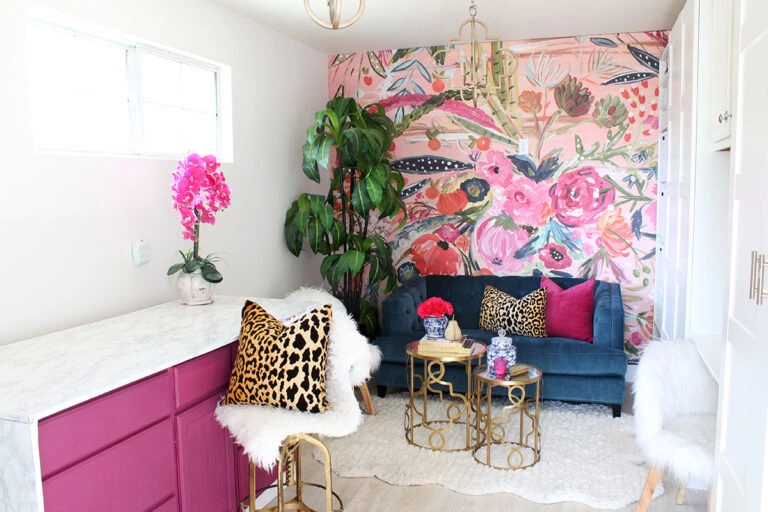 Giving the walls some play is a great way to give your dining room a perfect character. Adding wallpaper is one of the finest dining room decor ideas to give a dramatic look to your room.
It will bring some flow in, and you can go bold with this wall. Choose a wallpaper with an eye-catching design, and let it be the hero of your dining room.
If wallpaper is a little too much, you can make your wall a statement piece in the room by painting a wall mural on it. It will give your room some drama but in a tonal way.
Wall murals are great for an open-plan kitchen and dining room and are great for color blocking. You can go with some geometric designs or add some easy paintings to your wall.
3. Put Up Some Paintings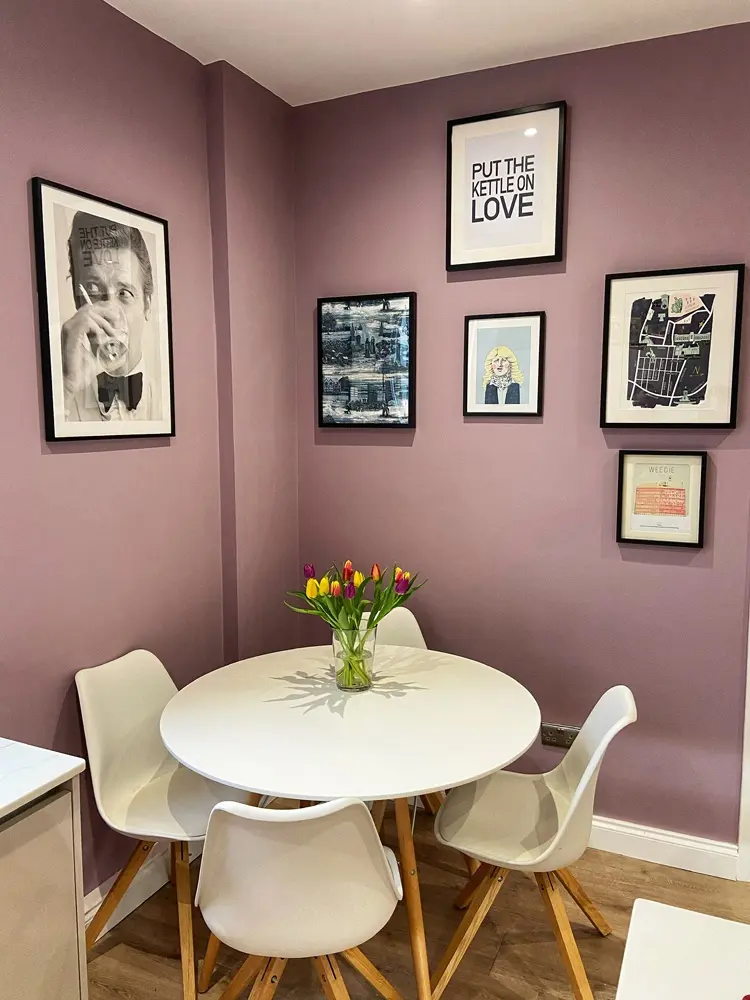 It is not always necessary to put wallpapers or murals on your wall to give it some character. Another way to achieve this is by putting up some frames or paintings.
You can add art if you want to go a little avant-garde in your living room. These can be made in bold colors, graphic pieces, or even something statement.
This will be a great conversation starter and add great character to your room. Depending on the vibe, you can also add traditional paintings. 
Remember, your room, your vibe. Pro tip: If you want to decorate your dining room on a budget, you can make some art yourself and show off your creativity.
4. Mix Dark and Bright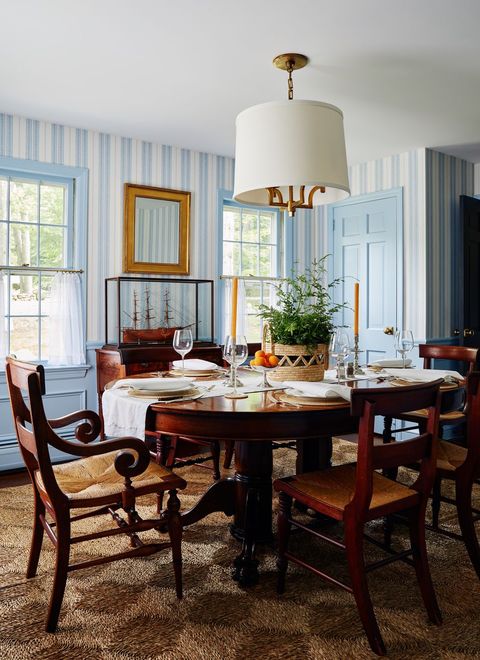 A great way to add fluidity to your dining room is by combining two accents in your room. A great way to do this is by pairing vintage brown furniture with rugged rugs or baskets.
You can add some white-colored lights, table tops, and candles to your dining table. This is easy to follow and a great way to bring fluidity to the room.
5. Add a Checkered Floor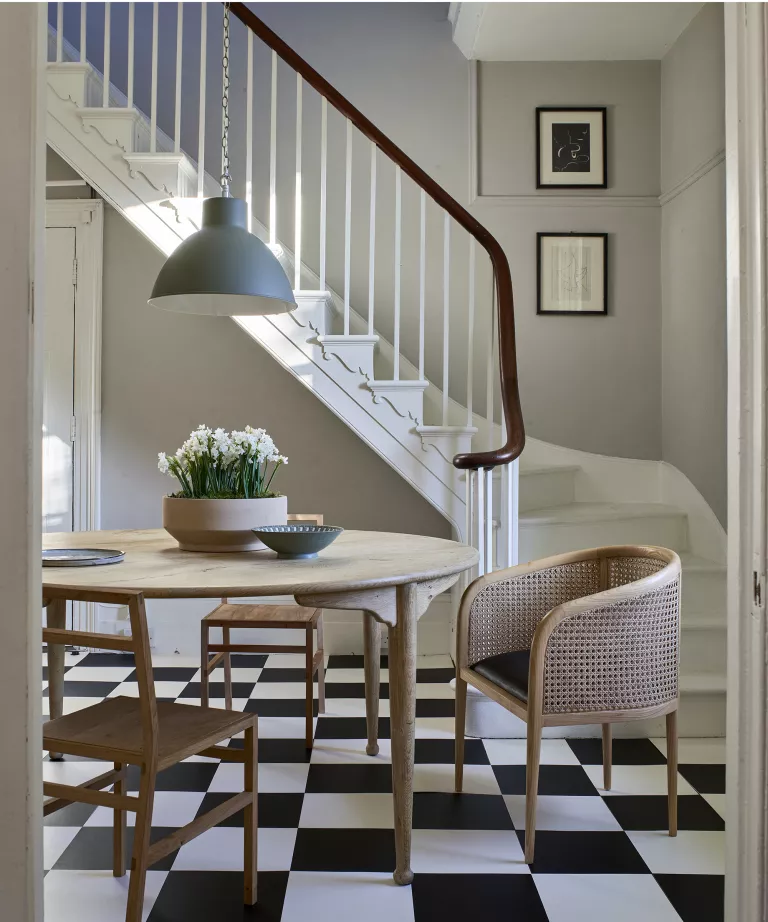 Floors play a very important role in any room; you can play by designing them too. You can give your dining room chic, black and white checkered flooring that will give your room a calm and neutral scheme. When combined with warm wooden furniture, it will give your room an inviting feel.
These black and white tiles are not just effortlessly sophisticated but practical and fuss-free options for any family space. This is a flooring choice that will never go out of style and is worth thinking about.
6. Bring in a Round Table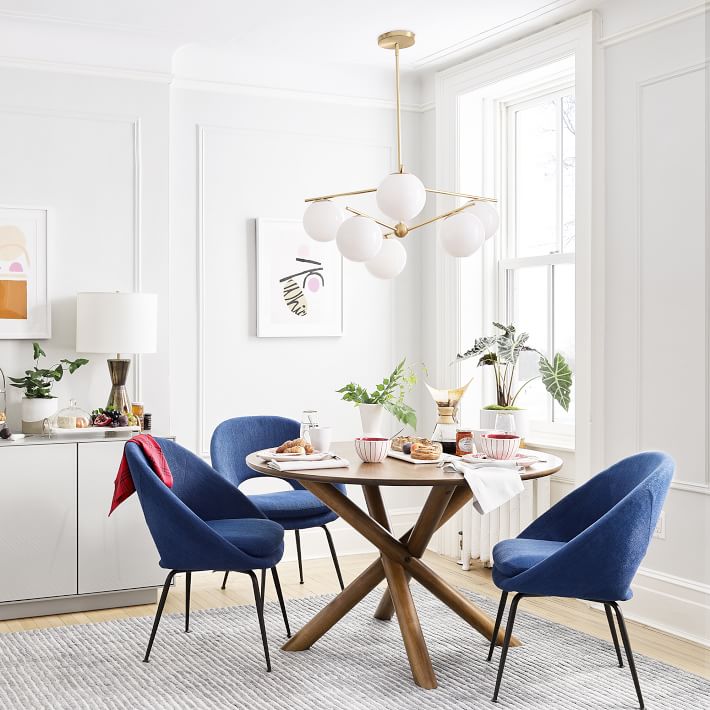 Give your dining room a relaxing, sociable atmosphere with a circular dining table. The good parts about adding a round table are that it is less formal and can squeeze in extra chairs and stools whenever needed. When it's not in use, you can tuck the table away, making your room a space for entertainment.
A round dining table that has caught our eyes is this Jax Round Dining Table, made of solid rubberwood legs. The top of this table is made of walnut veneer and is a great addition to your dining room. It has rich-grained walnut wood that brings warmth to the space and is very durable.
This Jax table is a piece of furniture that adds style to your dining room in a way no other furniture can. When entertaining many people, you can easily add some stools around this and welcome them all.
7. Add a Centerpiece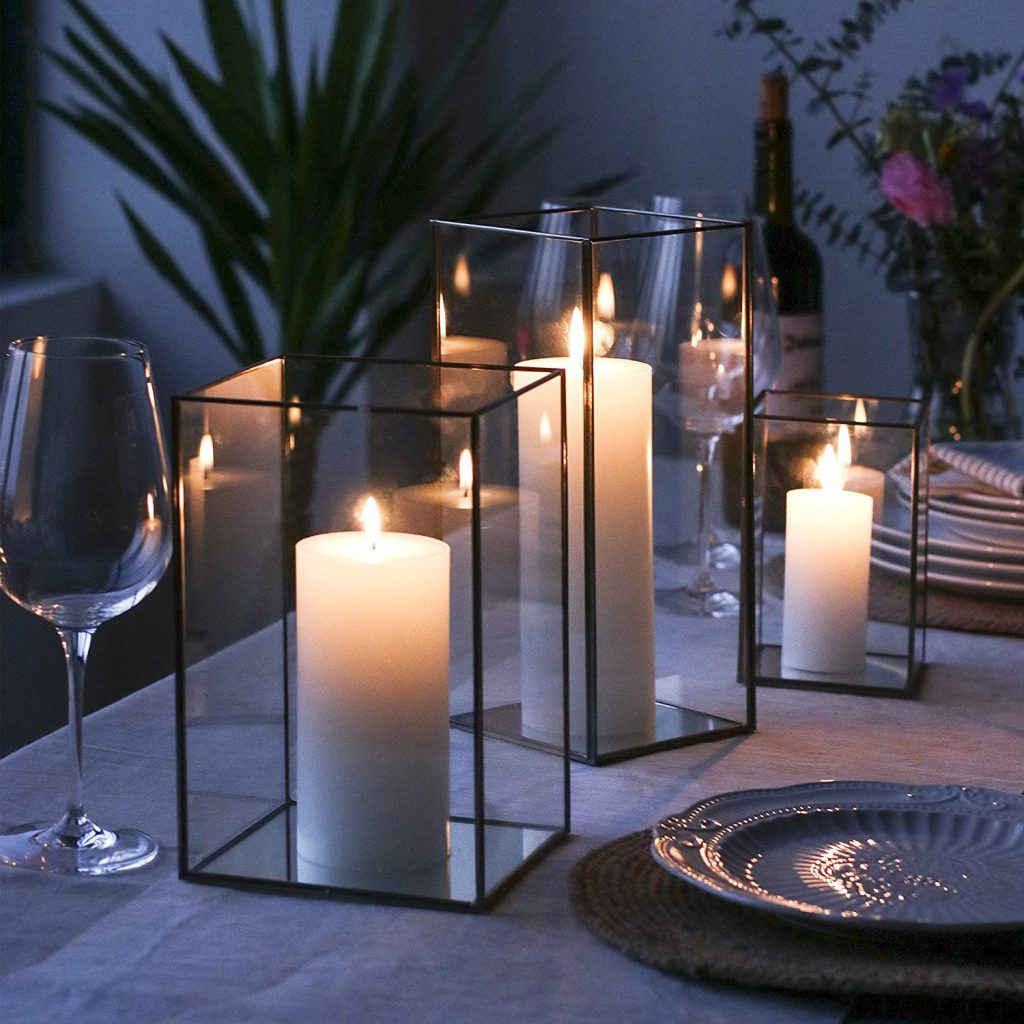 Adding a centerpiece makes the whole dining table very stylish. You can add candles, flower arrangements, or some sculptures as a piece of the centerpiece of your furniture. Lately, candle pieces and flowers have become the trend.
You can take your table-landscaping up a notch by using an older lantern and making it a custom vase to show your creativity and bring some of your personality to the table.
If making something is too much hassle, you can look for something like Square Glass Hurricane Candle Holders that make a great centerpiece in your home. They have vintage brass finishing and bring vintage charm to the table. The good part about this candle set is that it has tempered glass that is easy to use, and you can clean it very easily.
If you aren't looking for candles, these Mkono Mason Jar Lights Centerpieces are also great. They are perfect for any dining room. When paired with gorgeous artificial flowers, these distressed jars bring a unique decorative effect to your dining table. They are versatile and very easy to use in any decoration.
8. Match Your Drapes to The Tablecloth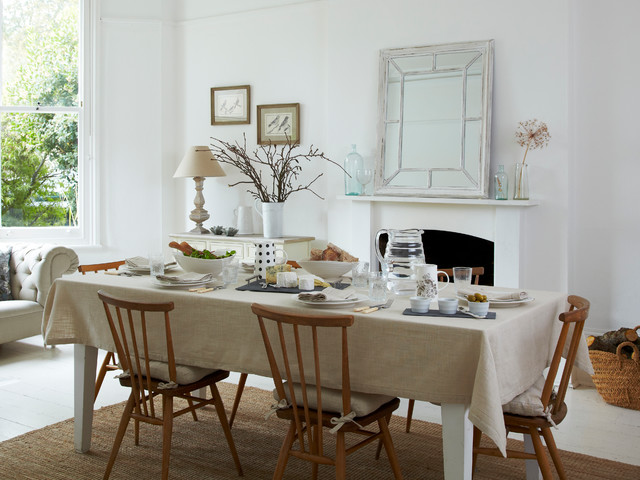 Back to the basics, a great way to elevate the dining room's look is by matching the decor items to each other. One of the simplest ways to do it is by matching the dining room tablecloth with the drapes on your window. Most home decor enthusiasts believe a dining table tablecloth is one of that room's most underutilized decor items.
From being used as an accessory to becoming a piece that gets lost a little every passing year, by getting used only on special occasions, a tablecloth is a great piece of clothing to elevate the whole look of your dining room.
You can match the cloth texture and color with that of your drapes. This will bring the symphony to the whole room and, in turn, give your room an elevated look.
Also Read: 15 End Table Decor Hacks to Try
9. Play with Colors. Give It an Earthy Look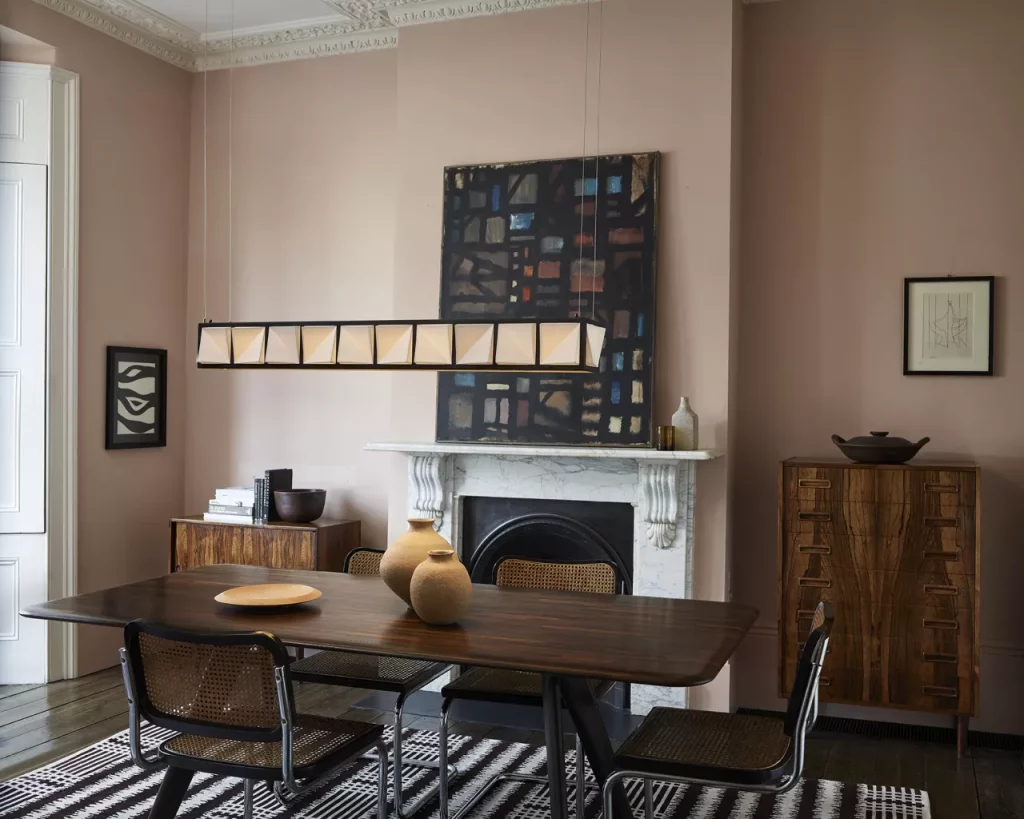 Any room that gathers the whole family for a great time would do very well with some calming and grounded colors. You can achieve this by bringing soft and earthy charms by using appropriate colors.
For this, consider using colors like earthy pinks and terracotta orange. These are inherently natural colors bring comfort to mind, and give a relaxing ambiance to the whole room.
By using these color palettes, you will be able to get a cozy environment that is best suited for dining, giving a sense of nourishment and tender love to anyone sitting in the room.
10. A Laid Back Indigo Is Also A Great Option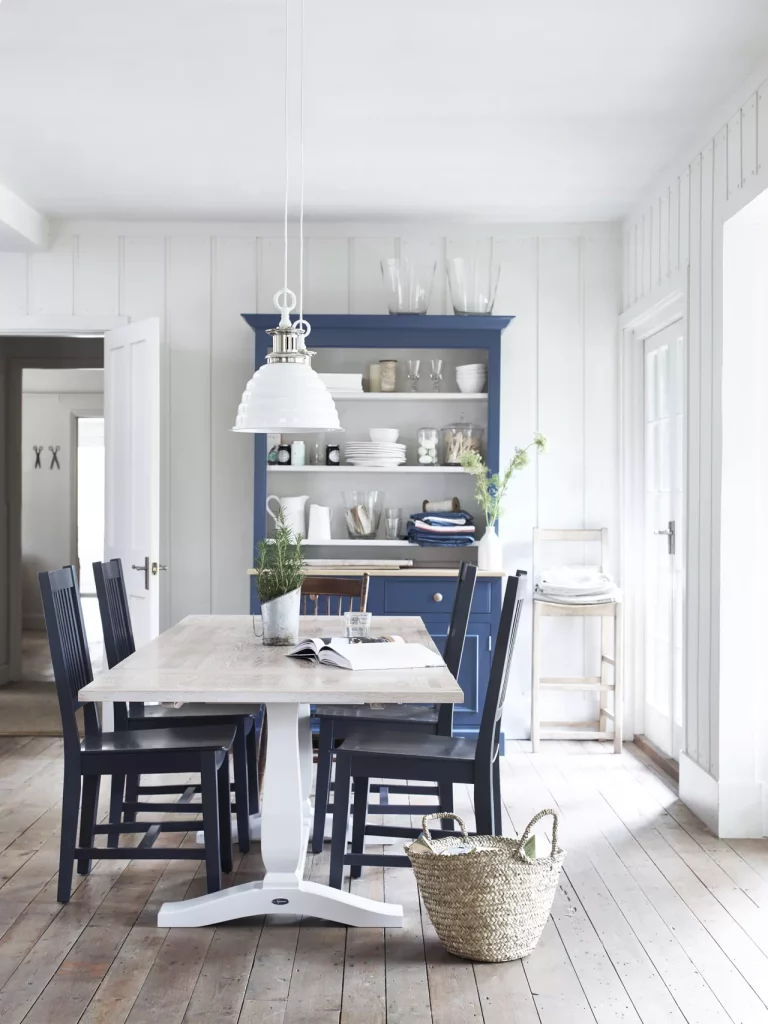 If earthy colors are not part of your color palette, you can also think about giving your dining room a laid-back look. This will give the space a comfortable feel for all your family members to gather and spend time together.
One way to do this is by bringing some textural variety and using a blue-and-white color scheme. This color scheme is a great way to give your room coolness and calm.
To use this theme, you can use a wooden flooring and wall paneling to give a cohesive look. Paint your furniture blue and white to achieve it. It would be a great idea to increase natural light in the room.
11. Add a Bench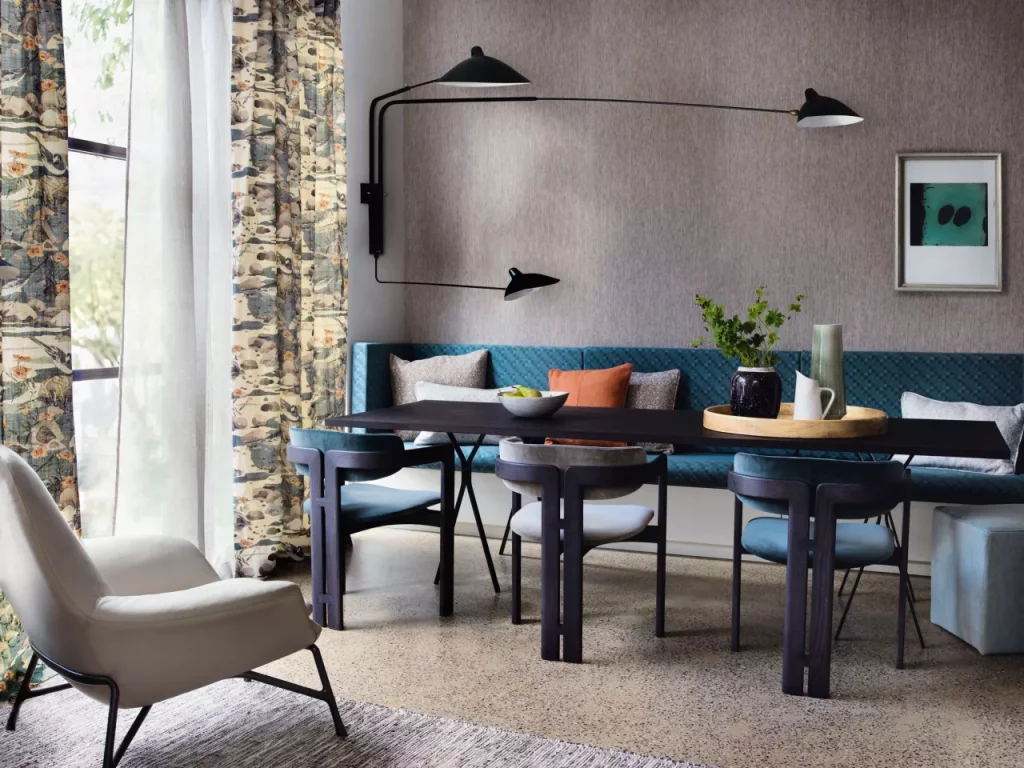 A new chic way to elevate the look of your room is by adding a bench to it. This is known as the new banquette-style seating, which is very famous in the new dining spaces.
It is a clever way to save space and incorporate some storage designs, like side tables. Not just practically, but the banquette-style seating is also a great way to include a number of textures and colors in the room.
The Banquette-style seating is also great for rooms that do not have a lot of space. So, this is a style worth putting some thought into.
12. Use Storage in Design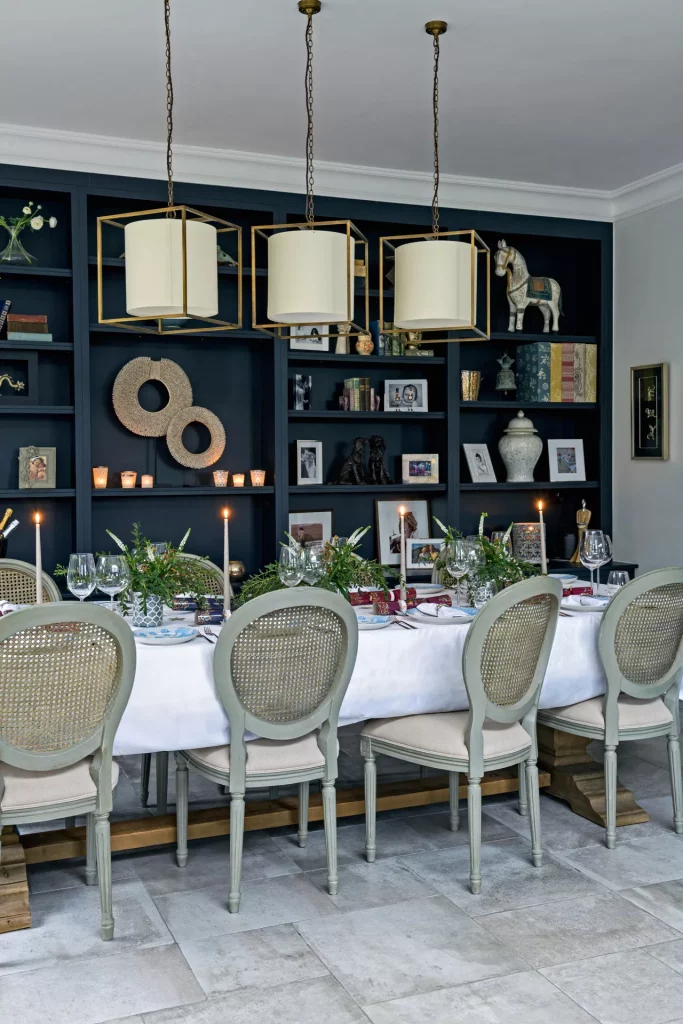 Storages are a key part of incorporating the perfect setup from a wide range of dining room decor ideas. It is a great idea to work with them as a design and decor element. Instead of overlooking them, opt for built-in cabinets and display all your good china.
Not only will this give a welcoming backdrop, but it will also become a functional place. If it pleases you, you can also add other decorative stuff to these cabinets.
You can very easily display your family pictures, candles, trophies, achievements, etc. This will give you an opportunity to show off your personality and is a great way to decorate your space.
13. Dine with a View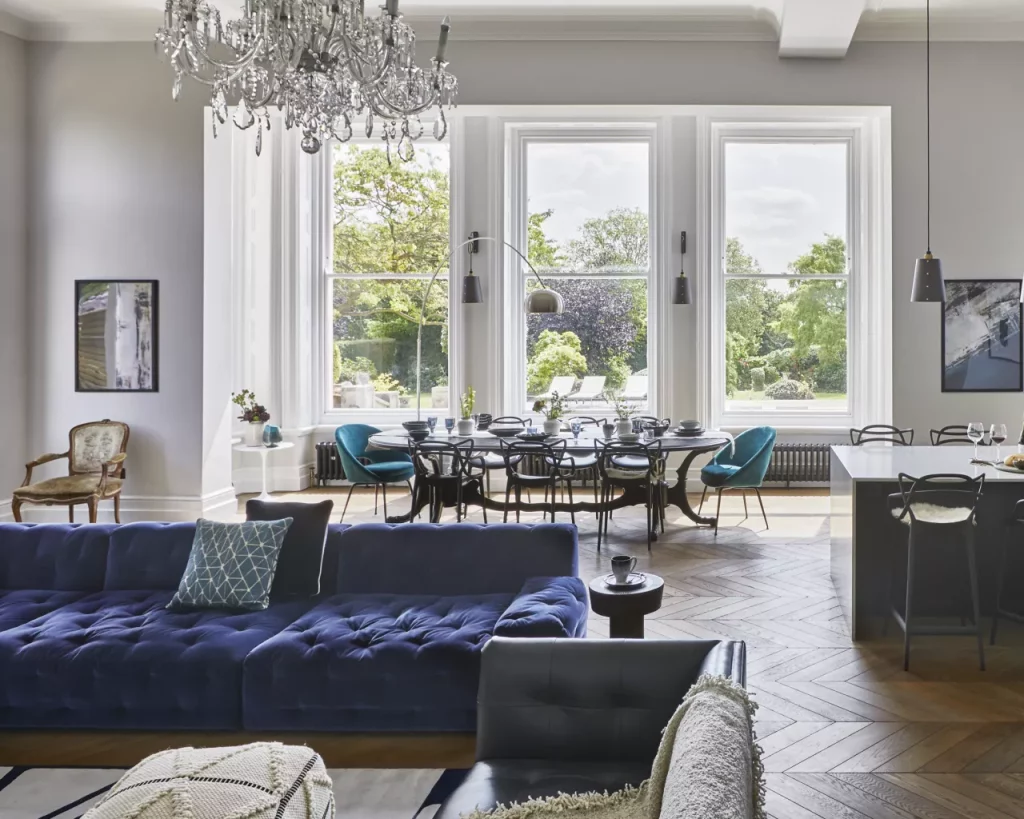 If you have a space that overlooks the sky or has a big window, take full advantage of it. No breakfast is better than the one you have basking in natural light, and no dinner is better than the food you have overlooking the stars.
So, if you have the advantage of a big window, consider making it the backdrop of your meals. It is harmless and gives a great view to you and all your guests.
See More: Top 25 Farmhouse Sofa Table Decor Ideas for your Living Room
14. Put in a Buffet Table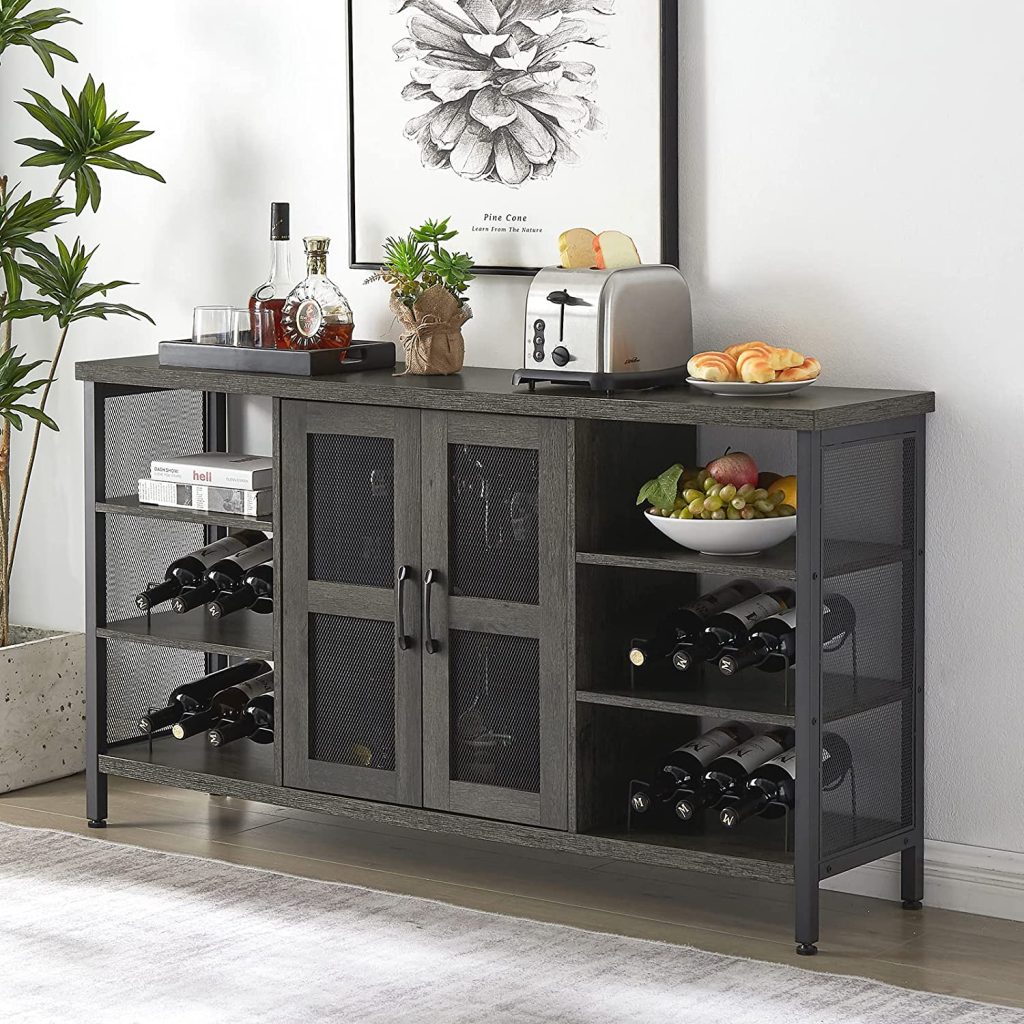 Another great way to elevate the look of your dining room is by adding a buffet table to the space. It is a hardworking piece of furniture that will give you ample space to store your valuables and a room to serve and display your food. It comes in handy when you are welcoming many guests.
A buffet/bar cabinet we are a fan of is this Kivenjaja Sideboard Buffet and Bar Cabinet. Made out of heavy-duty metal and premium particleboard, this is a long-lasting piece of furniture.
With a thick tabletop and bottom shelf, it is stable and sturdy. This buffet cabinet features a retro design with clean lines and a black metal frame.
As an added advantage, this table not only gives you storage space but also has removable wine racks that can hold up to 12 bottles of wine. Overall, it is a great-looking table to add to your living room.
15. Display Your Personal Pictures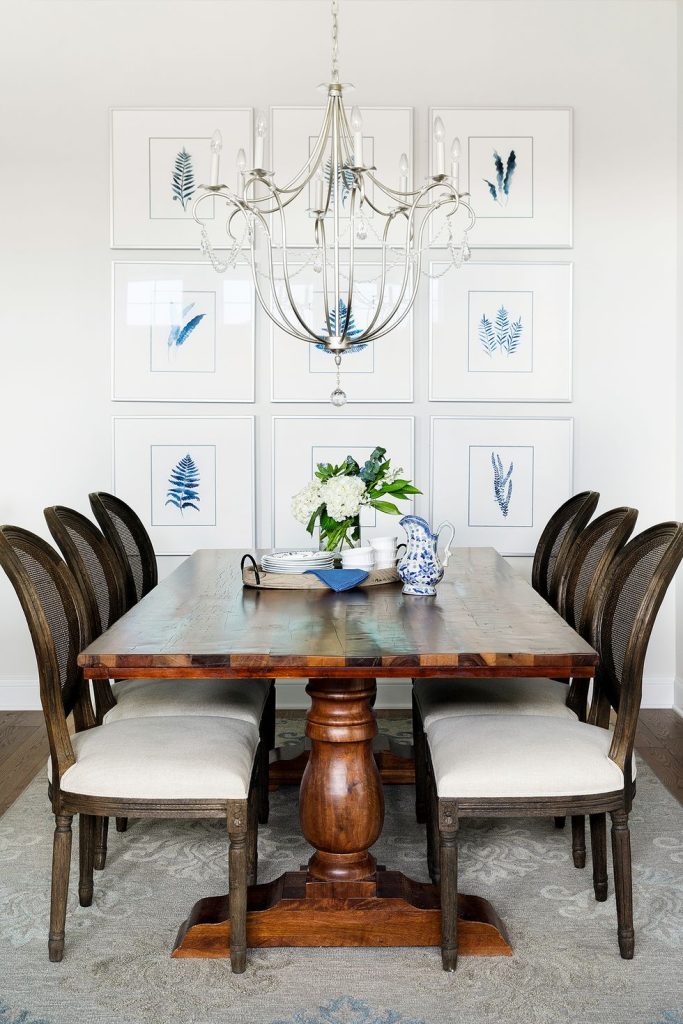 You can also let your personality shine through in your dining room by adding a gallery wall. An accent wall is a great addition, but instead of putting up wallpaper, put on some frames and show off everything you have.
This could be anything: pictures from a family vacation, a picture of you winning an award, a picture of you baking a cake, absolutely anything.
This will give anyone sitting in the dining room a look into your very core life and is a great way to bring your personality into the center. If you are not looking to make it very personal, you can also add some frames with cohesive prints of random things.
16. Paint Your Ceiling or The Floor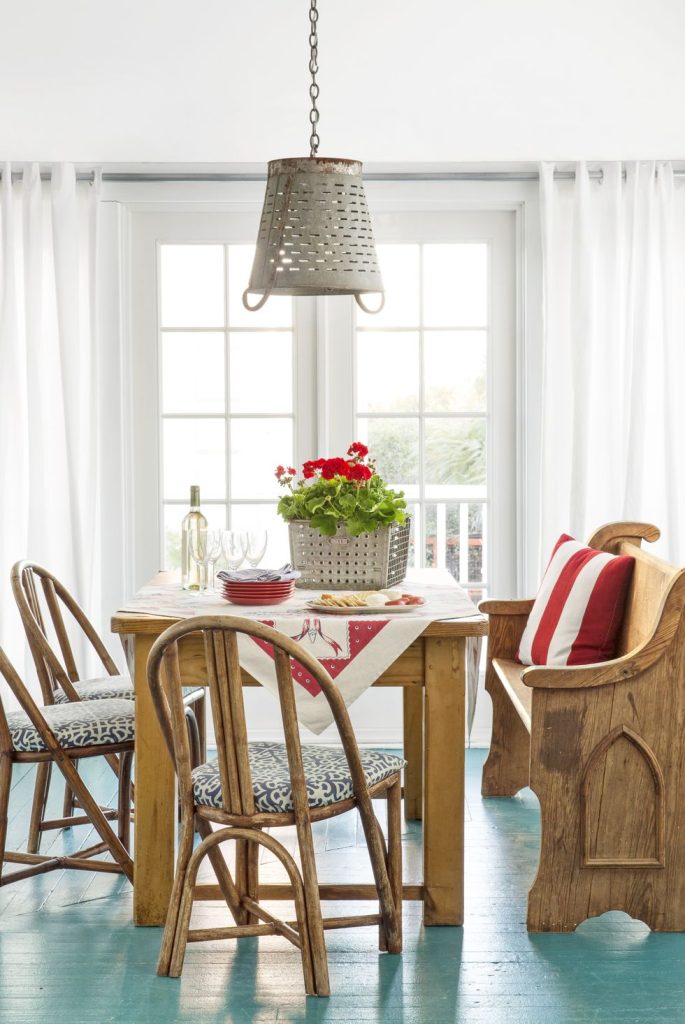 While painting walls in order to bring life to your dining room is the usual course of action, one of the eccentric dining room decor ideas is painting your ceilings or the floors instead.
You can paint your ceiling with a color of your choice. Or, you can also add a wallpaper up there. This will add a great texture to your room. You can also color the floors differently to bring character to your room.
17. Add Asymmetrical Chairs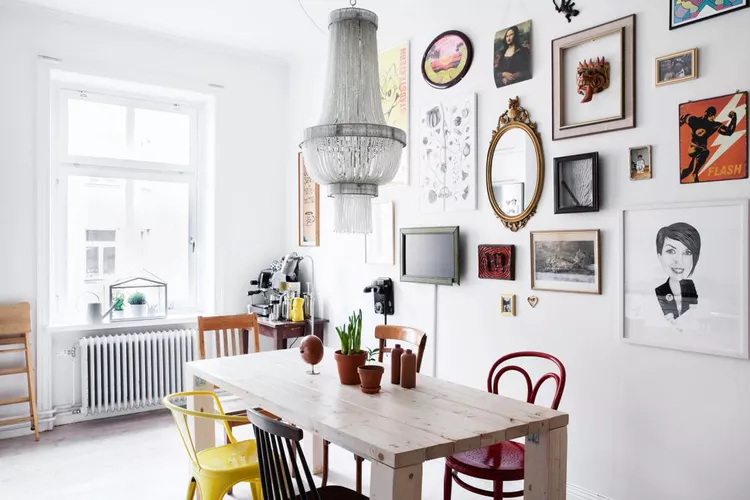 Sometimes, symmetry can be overrated. Choose an asymmetric look for your chairs to give your dining room a chic and fun look. It is playful, cheerful, and inviting. This kind of decor style will give a sense of spontaneity and is fun.
You can choose a variety of seating and put them all together in your dining room. Since this is a creative forte, you can mix styles, colors, and textures. Shuffle them around in whatever way you want.
18. Add a Transparent Table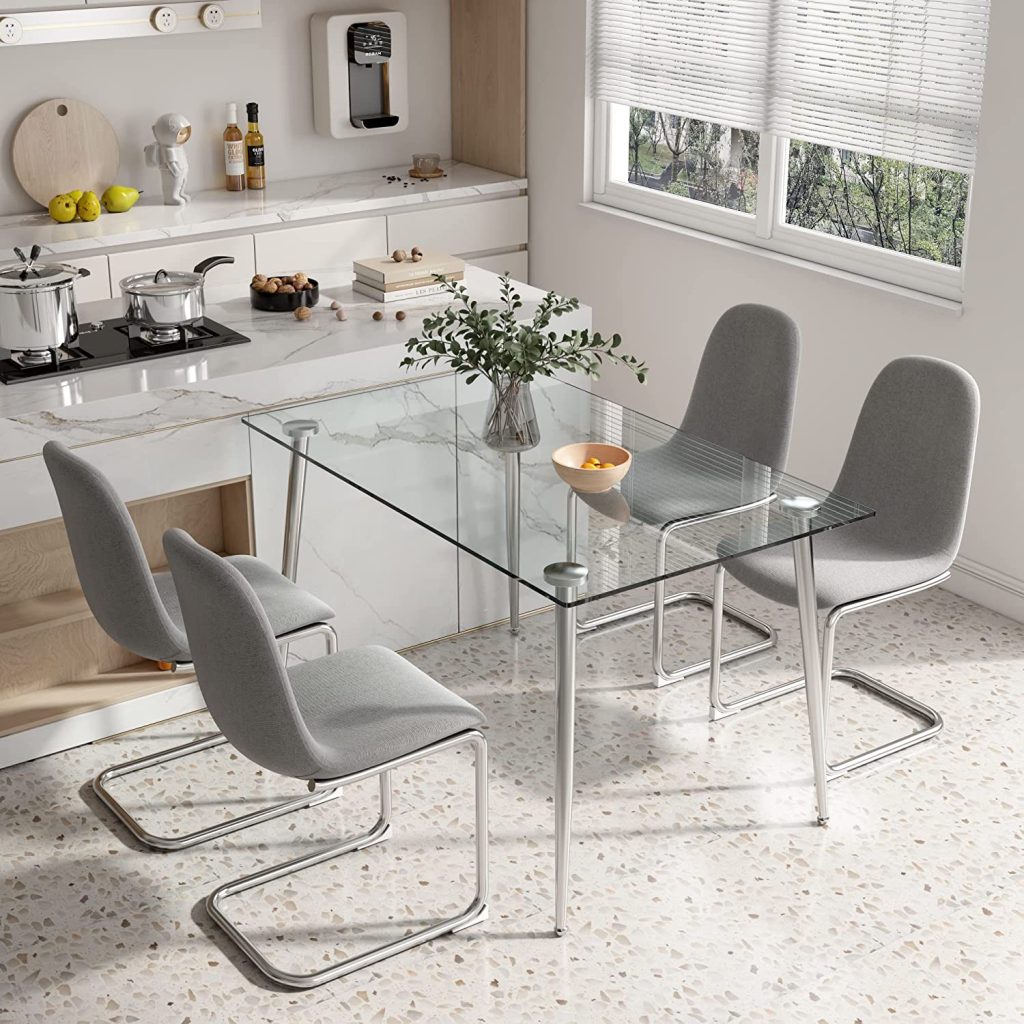 Dining rooms do not have to be serious all the time. Especially if you are making a dining room that is in a small space or is located in a pass-through, you must lighten up the room.
One way to do this is to add a transparent glass or lucite table. This will reflect the light and give your room the illusion of being bigger. You can choose dining chairs that stand out and are still light and breezy.
The Baysitone Glass Dining table is made for four people and is a great addition to your living room. It is versatile and, hence, fits in any decor. Made out of tempered glass and stainless steel legs, this table is chic and gives an elegant look to your whole room. You can give your family an inviting and comfortable space with this dining table.
19. Add a Coffee Bar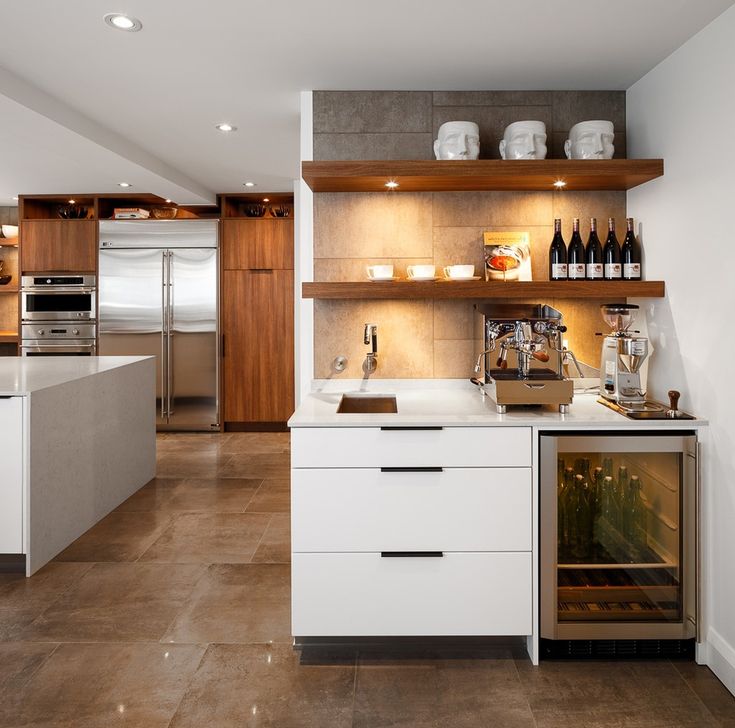 A self-serve coffee table is a great addition to your dining room. It is convenient for all those cappuccinos in chaotic mornings and after-dinner espressos on calm nights.
You can place this coffee bar station adjacent to the dining room. That will free up some space in the kitchen and give your guests a place to include themselves in your kitchen.
Not only this, but a good coffee bar will also provide you with storage options. You can keep your mugs, table linens, and other things in these cabinets.
Related: 12 Best Teak Dining Sets to Enhance Your Dining Experience
20. Add a Fireplace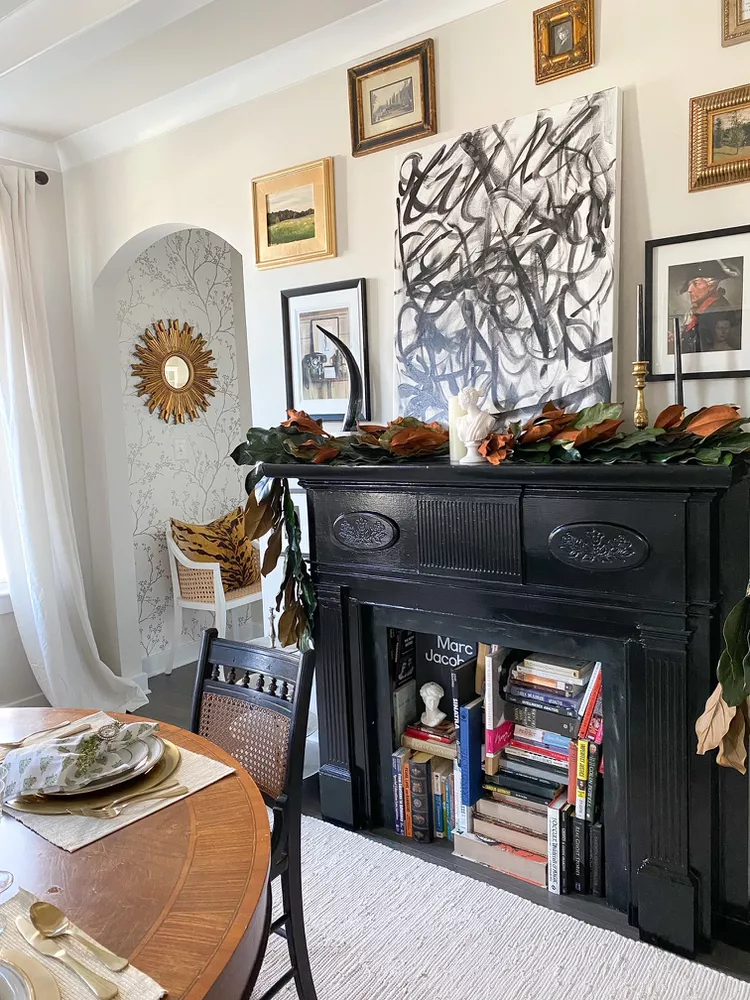 Bring a sense of coziness to your dining room with a fireplace. Add one to give your family and guests the warmth they deserve while they enjoy good hot food.
A fireplace is an elemental decorative addition to any room, and it adds to the visual value of the place. If you cannot build a real fireplace, you can easily use an electric one.
However, if you do not want to use a fireplace for warmth, you can repurpose it. You can paint it in glossy color and stuff it with books. This is a great decorative move and will please the book lover in you and everyone else.
21. Multitask Room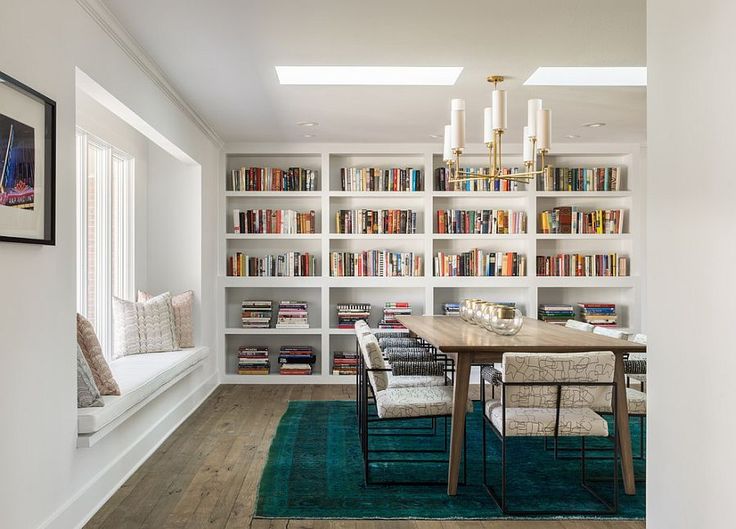 Last but not least, one of the best dining room decor ideas is to make them multipurpose spaces. With people working from home more and more, it would not just be convenient but also give your dining room everyday functionality.
Use the dining table as your work desk, and use the cozy ambiance to work relaxingly. However, with that said, make sure you build spaces around the room where you can stow away your work whenever needed. Do not let the work come in the middle of the family time.
Check This Next: 20 Best White Floating Shelves Design Ideas for Your Home
The Last Words
In conclusion, it is easy to decorate your dining space. Just make sure you are choosing cohesive styles. This is a place where you can be very creative. So, let that creativity shine through. You can go from playing with the lights to painting different spaces in the room to give it a creative look.
Since there are many dining room decor ideas, make sure you choose one accessible and applicable to your space. A dining room is an important place in your home; treat it like one.
You can do anything you want with your space. Don't forget that.
Other Articles