Are you looking to buy a side table for that small empty corner in your space? Then you may also be looking for end table decor.
An end table that goes along with the furniture and interior can amplify the elegance of the space. It also acts as a stand to hold books, TV Remote, snacks, and coffee mugs.
Along with their use, end tables also enhance the aesthetics of the space. After selecting a table, the end table decor is the next step. This blog helps you in this journey of selecting an end table and decorating it.
Decorate your cozy corners and enrich your living experience with these graceful side tables. Read on to learn about 15 unique side tables and their decor ideas for your personal and professional space.
Innovative Ways to Decorate with an End Table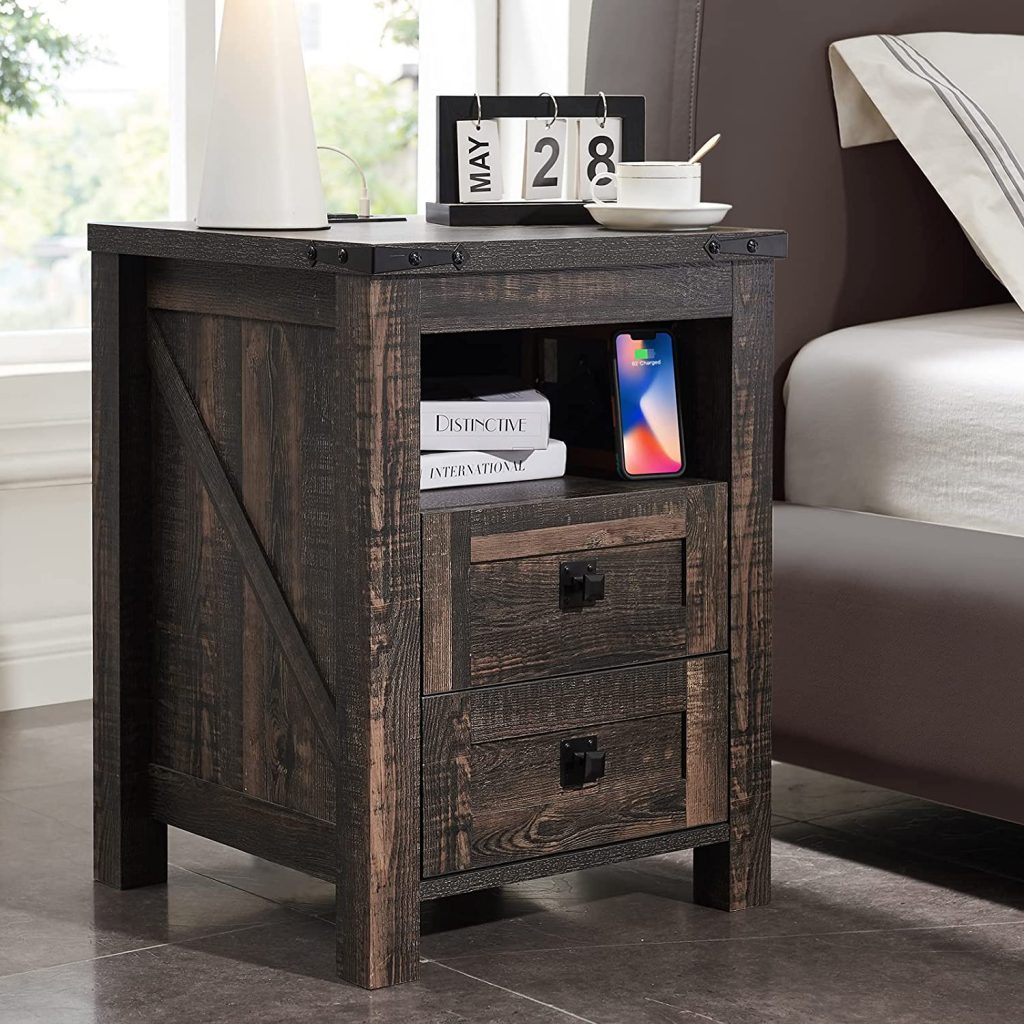 Similar Post: 17 Unique Farmhouse Coffee Table Designs for Your Home Décor
This rustic farmhouse design end table with drawers and an open compartment is perfect for your bedroom or living room. This nightstand with charging stations provides convenience while charging devices.
For end table decor, an artistic lamp will enhance the charm of your room. The rustic barn door is an inspiration by the farmhouse theme.
The spacious design of the cupboard exhibits a modern look. The table top is a great place to place your books, calendar, and charging devices.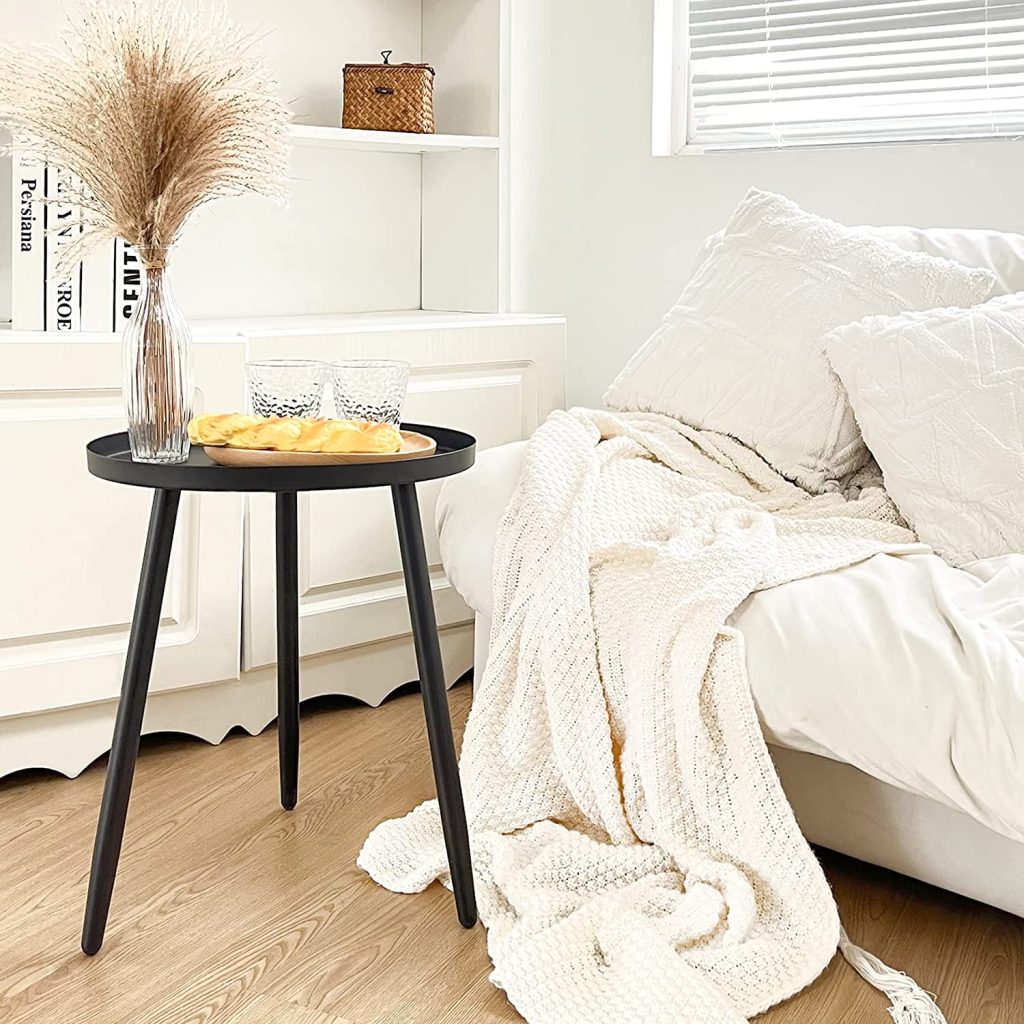 Your living room will enjoy the company of this modern black table made with metal. Fill up that space with this sturdy and stable round table. It creates a comfortable space for placing your cup of tea, coffee, or plate of snacks.
The material is comfortable for indoor and outdoor use. A small plant or flower sapling will be perfect for this end table decor. Highlight your whole room with this minimal coffee table.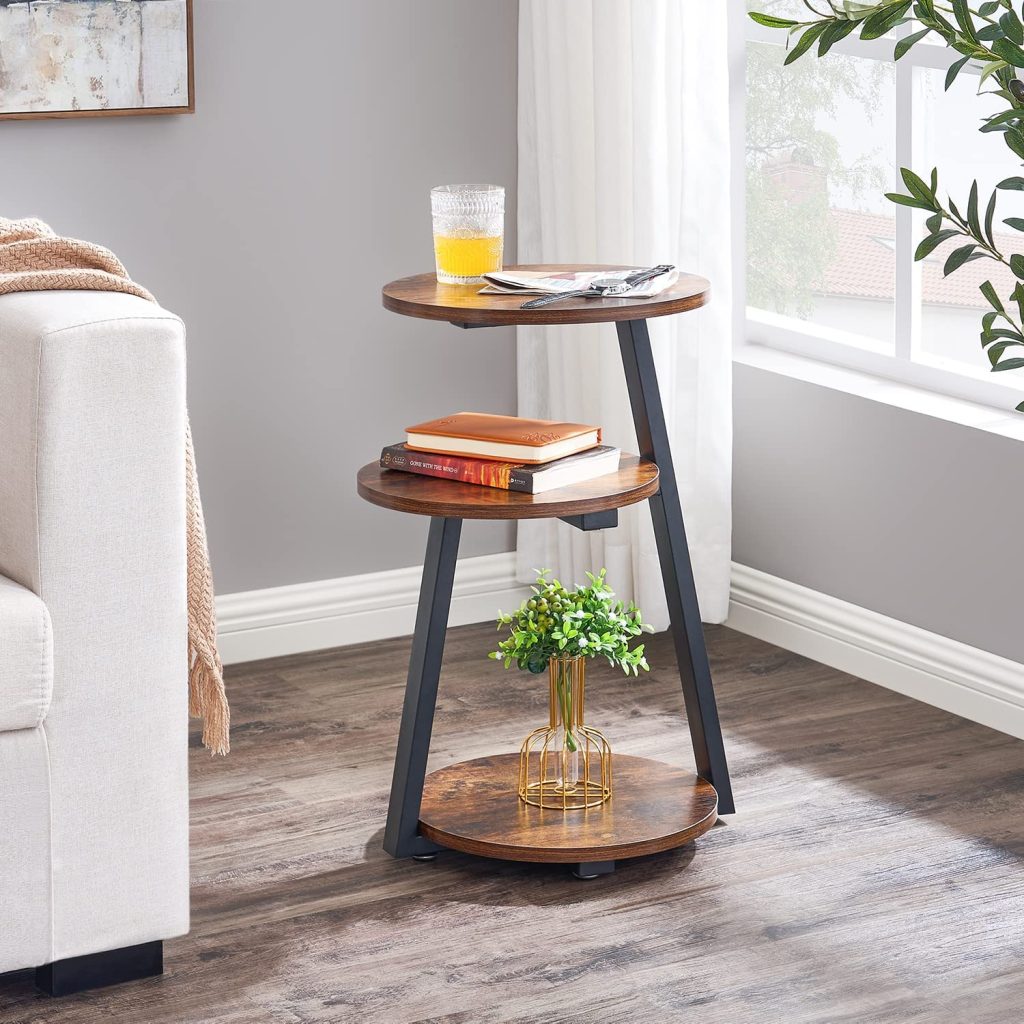 Are you looking for a table that takes up the least space but holds up more things? Then, accent tables are the best choice for your home. Such tables include two or more tables that can open up to hold more items.
This rustic accent table for your living room comes with 3 tier open shelves. The convenient storage space allows you to store books, magazines, accessories, and home decor. Battery-based lamps and artificial plants will add beauty to this vintage round table.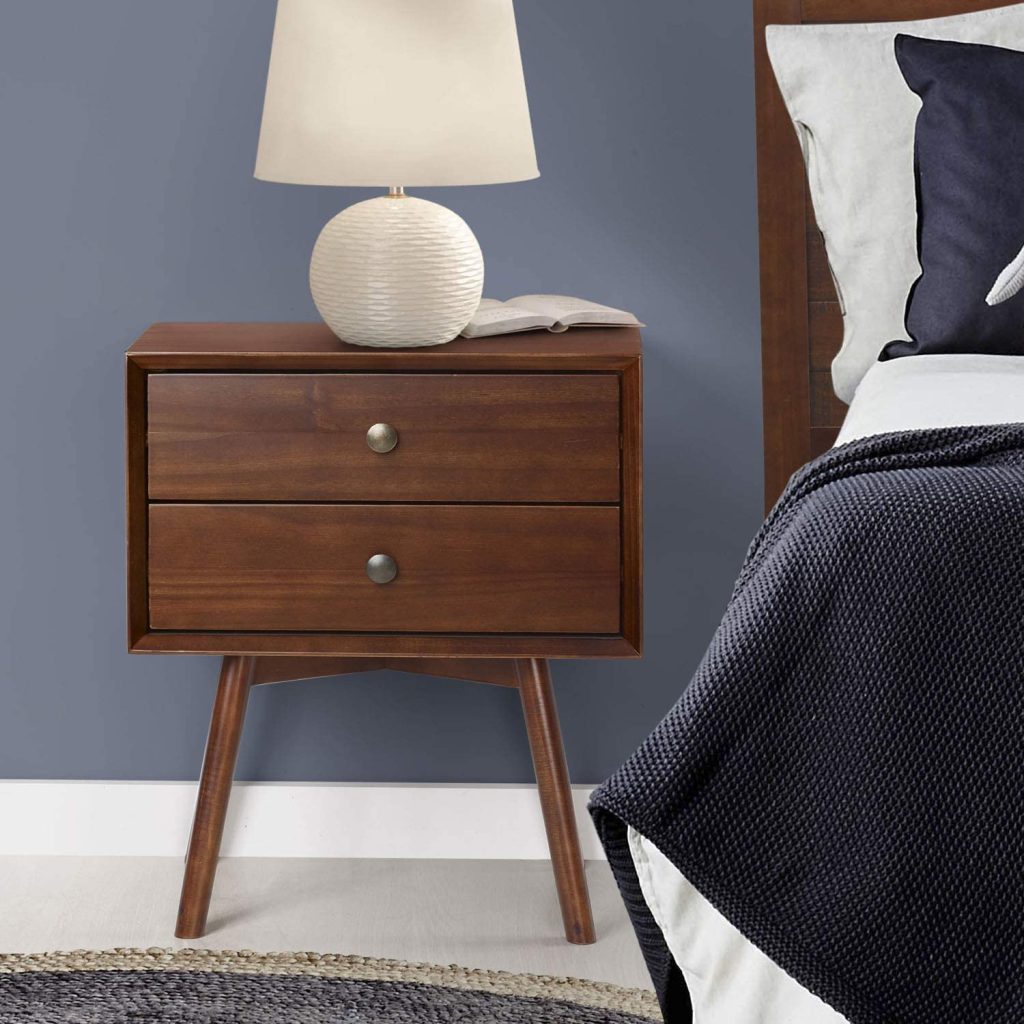 Fan of mid-century furniture but don't want to compromise on the modern look? This mid-century modern side table will satisfy both of your needs. Clean lines and organic shapes will add to the elegance and simplicity of your space.
The solid pinewood and stained finish give this piece of furniture a classic look. Don't forget to place an elegant lamp for this end table decor. A ceramic donut vase will also enhance the beauty of this mid-century side table.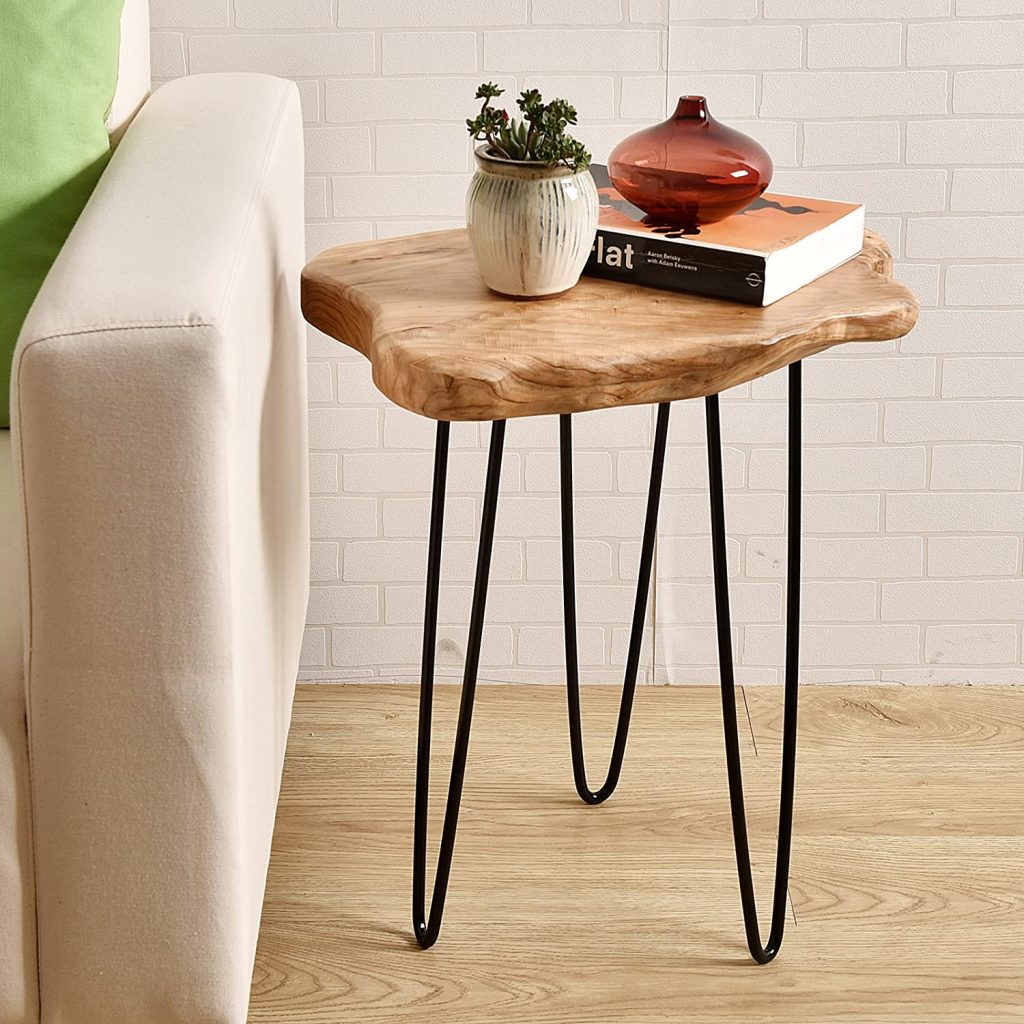 This rudimentary-looking cedar wood end table comes with natural imperfections. The craftsmanship of skilled artisans is visible on every table. The selected cedar stumps undergo a specific process to form this beautiful table with a natural lacquer finish.
Each table comes with a unique wood grain pattern due to the authenticity of the wood. Along with warming up your home, this end table can add elegance to your professional space. A small clock, plant, or centerpiece is perfect for this end table decor.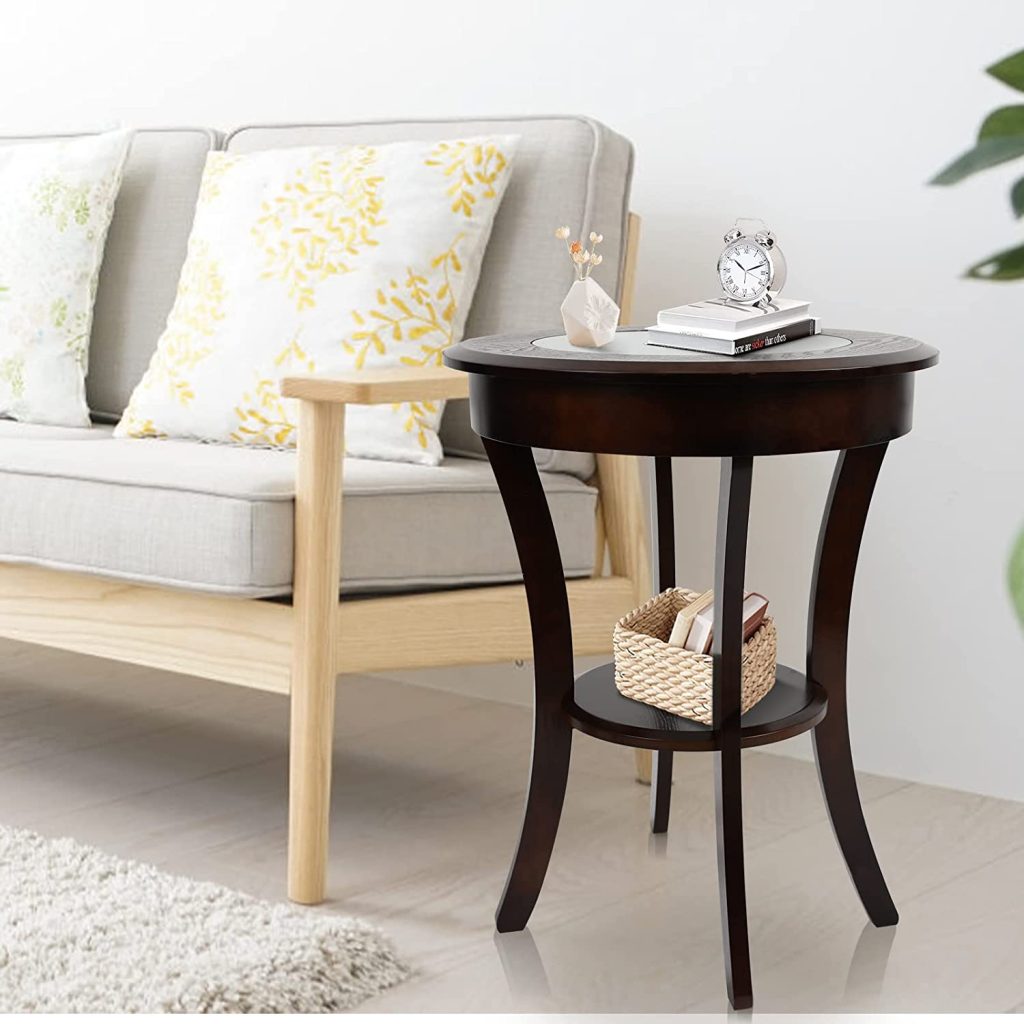 The European-style high-leg design with a classic brown shade will enrich your home. You can shift it as per your needs and convenience. In the bedroom, use it as a lamp stand. Place it next to the sofa as a side table to hold a clock, books, and coffee mug.
Carry it to the Balcony while enjoying your evening cup of tea. This classic vintage table is a multi-purpose creation designed with simplicity and fashion. The lower storage area allows the table to hold more items.
The end table decor for this classic brown can be a combination of vintage and rustic accessories.
Also Read: Top 25 Farmhouse Sofa Table Decor Ideas for your Living Room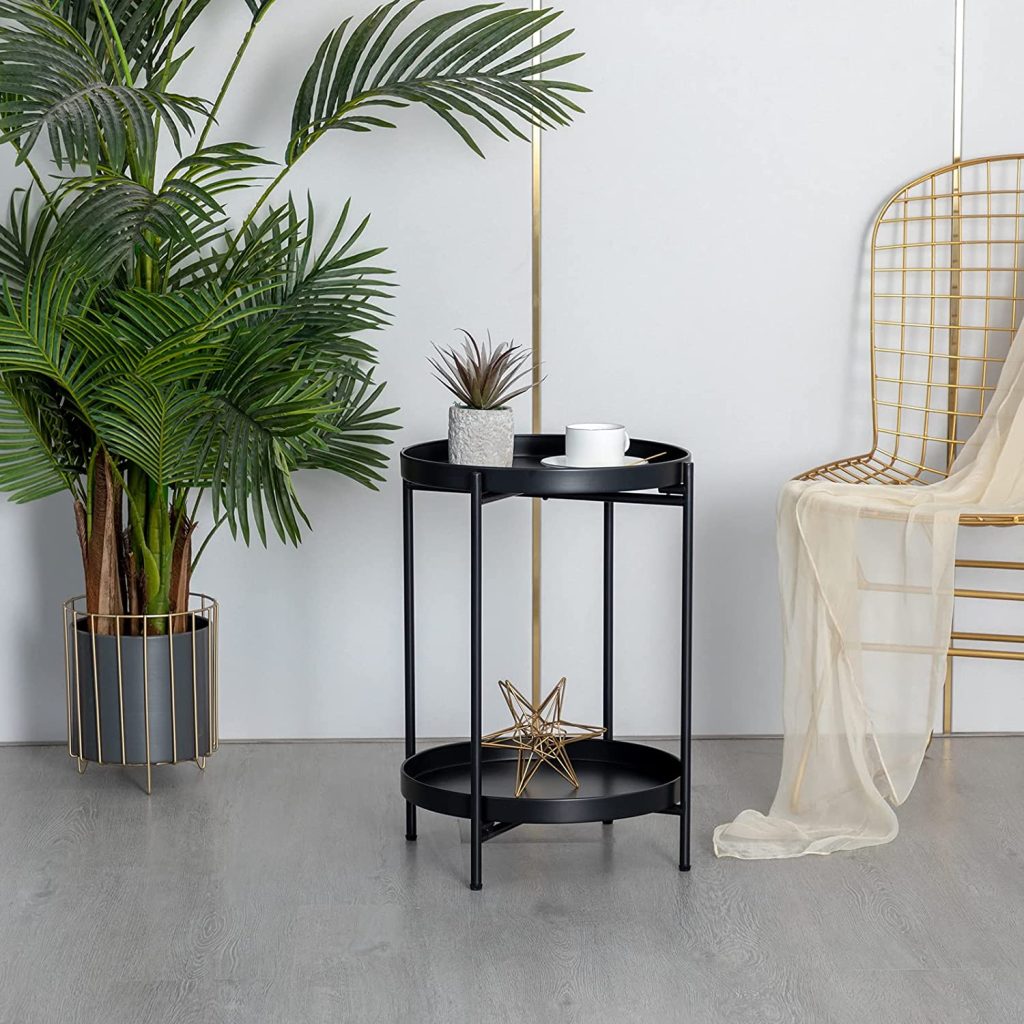 This timeless two-tier metal table is lightweight and versatile. The detachable tabletop, removable tray design, and foldable pattern allow easy movement.
The 2 tier metal table is rust-proof and has water water-repellant coating, making it a perfect fit for outdoors. Ace your end table decor game with this innovative accent table for the living room and Balcony.
It is easy to clean and convenient to use. Moreover, it also adds class and elegance to your space.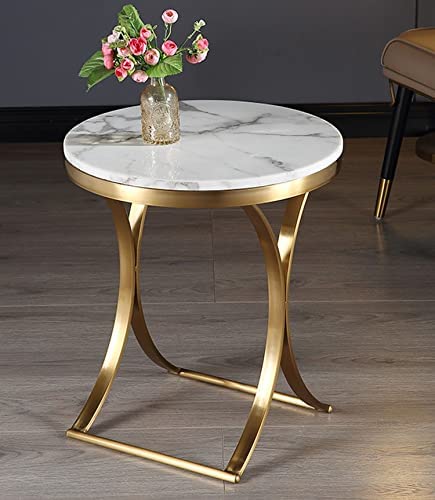 This luxurious table with a shining marble top and golden legs will brighten your living room. This extravagant piece of furniture is perfect for a modern-themed space.
The bearing capacity of the frame allows the marble to hold multiple items. You can welcome exuberance into your home with warm colors and smooth surfaces. The best end table decor idea is to bring home a table that looks unique and opulent.
Creative yet minimal, this is one such table that emits a luxurious vibe in your space.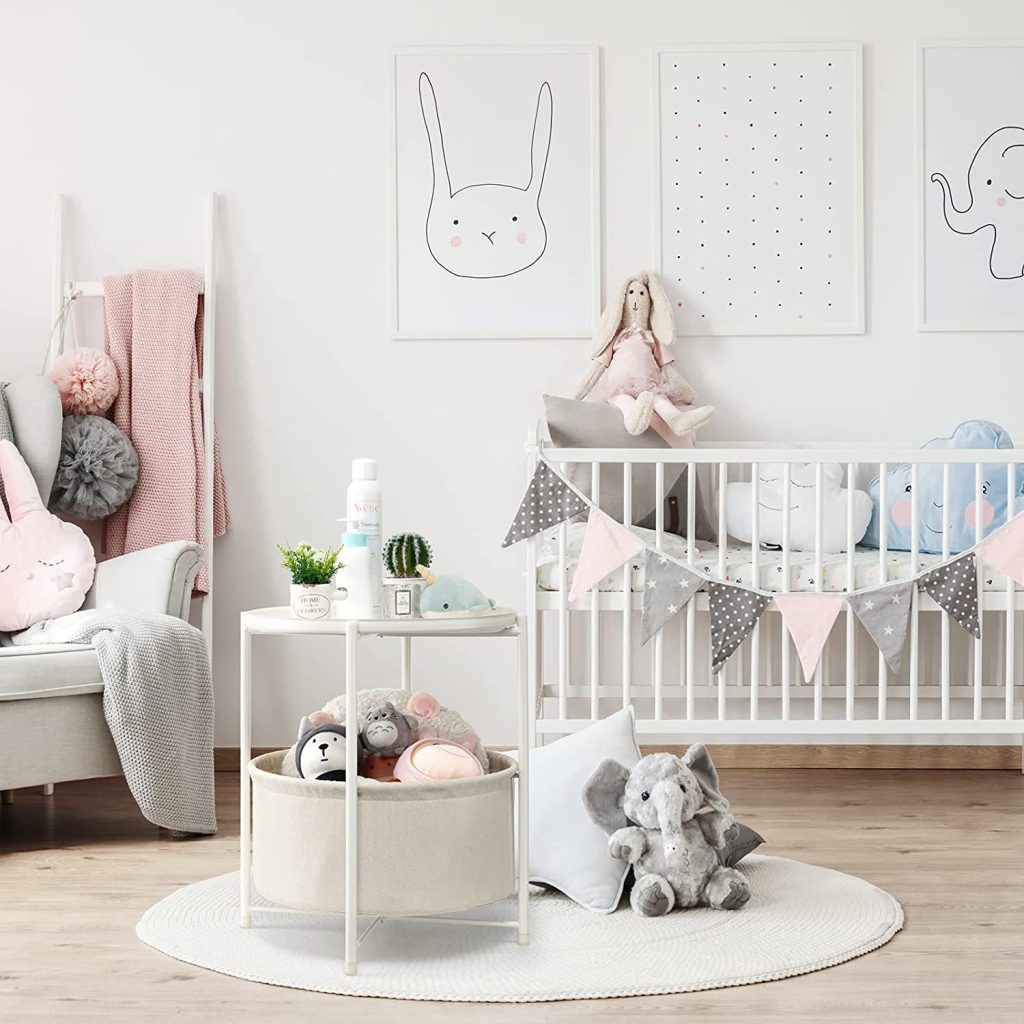 Are you looking for a cute side table that fits your kid's room? This side table with an attached cloth basket will complement the interior and fulfill your purpose. The removable tray top allows you to use this as a cloth basket.
One can swiftly move this functional metal table due to its lightweight. Use the detachable tray as a serving plate for your kid, and let the basket hold the extra items. The basket can also be a cozy bed for your small pets.
Here, the end table decor will change based on the placement of the table.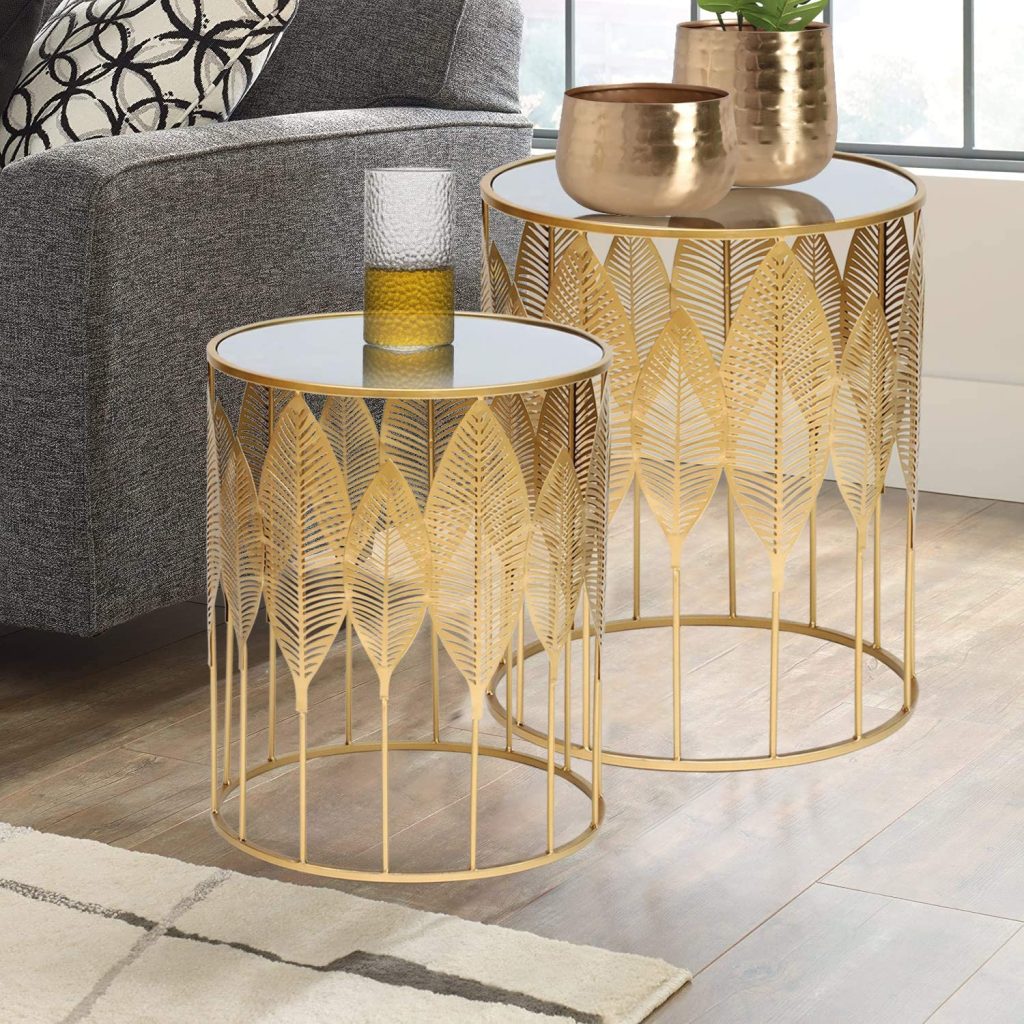 Adorn your living space with these eye-catching and graceful side tables. Impress your guests with the intricacy of the design of the table. The stainless steel and mirrored tabletop add a contemporary look to the interior.
You can use it as a coffee table or adorn it with some end table decor. The golden nesting invites warmth and touches the heart with its beautiful design and color.
Related: 11 Best Coffee Station Table Ideas to Design Your Coffee Corner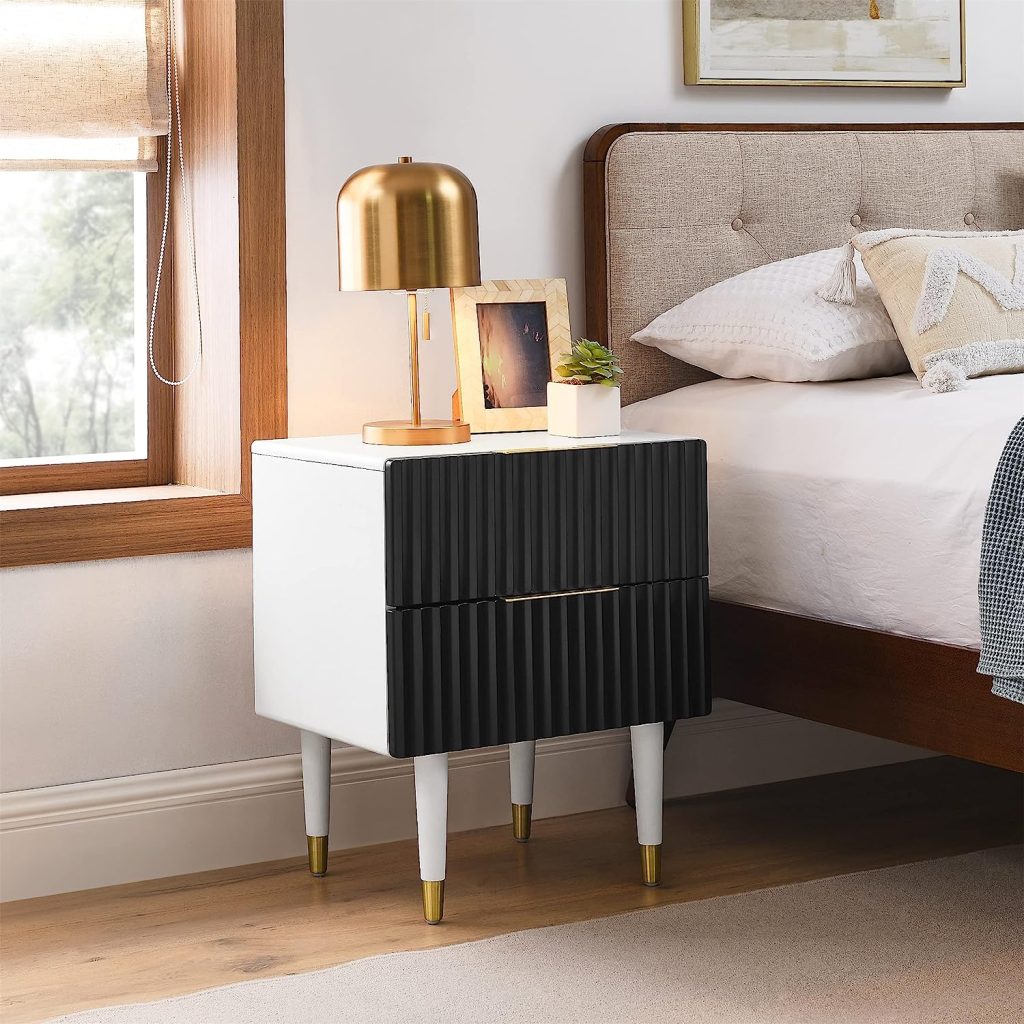 Let your bedroom shine with versatility with this modern bedside table. The chic functional additional is crafted from wood and has sturdiness and durability. This end table decor matches any furniture and enhances the richness of the space.
The unique waveform panel and aluminum handle showcase the modern mid-century design. Adorn it with a photo frame, plant, or lamp of your choice.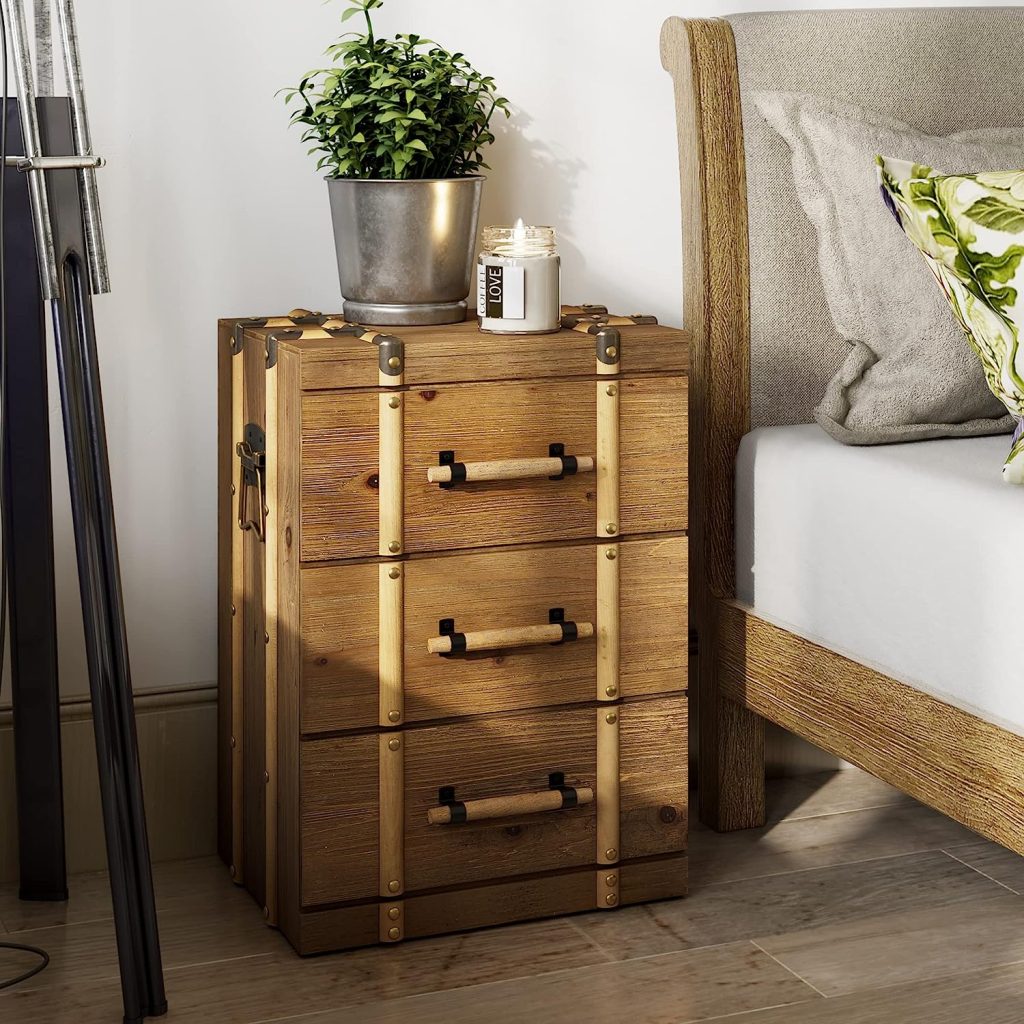 This treasure chest is the perfect end table decor for your farmhouse-style space. Made with the finest quality solid fir wood comes with three storage drawers.
Conveniently store your accessories and essential items in the drawers and adorn the top with your art collection and scented candles. Spark curiosity in the minds of your guests by placing this treasure chest in your living room or bedroom.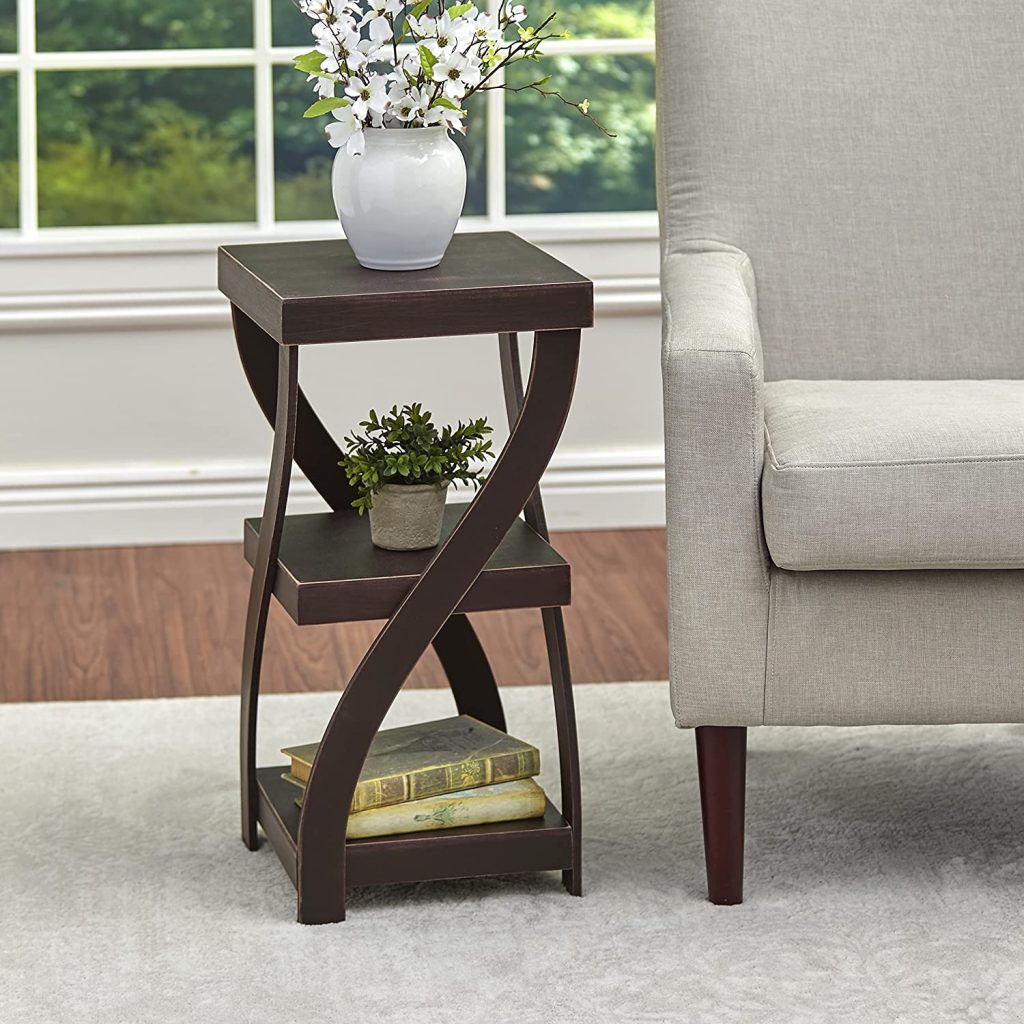 The unique twisted-leg table with three different surfaces is a classic addition to your home decor. The distressed finish and artistic silhouette make it ideal for rustic, farmhouse, and contemporary decor.
This versatile table can fit into your living room, bedroom, bathroom, or office. The three layers can help you store necessary items, and twisted legs add style to this piece of furniture.
This table is also available in antique grey and distressed white shades.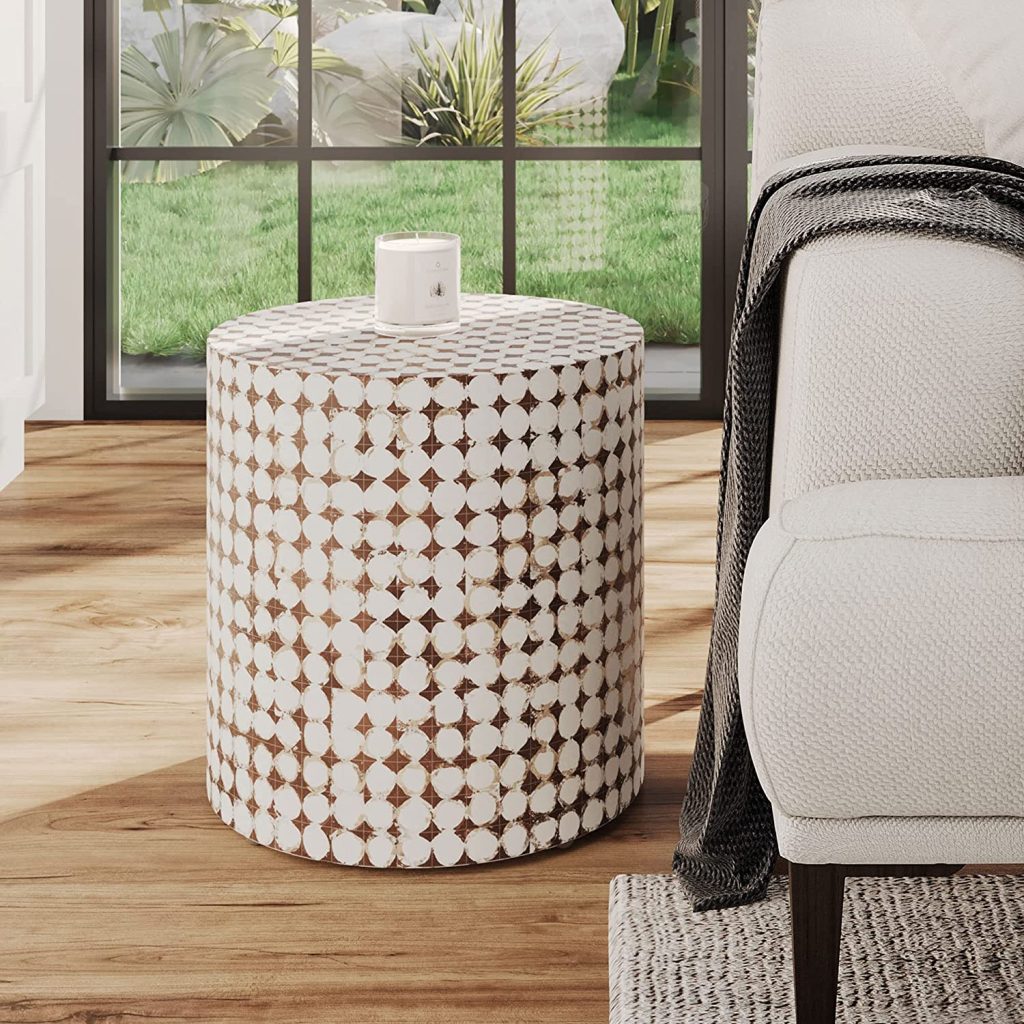 A table that does not look like a table? This mosaic table is a masterpiece made with natural coconut shells. The narrow end table is an exemplary piece of craftsmanship.
This handcrafted table uses recycled coconut covers cut into small pieces. The combination of natural wood and patina finish gives this table a nautical/coastal theme. This eco-friendly side table is perfect for small spaces.
Along with enhancing the creative energy of the interior, it acts as a nightstand and a coffee table.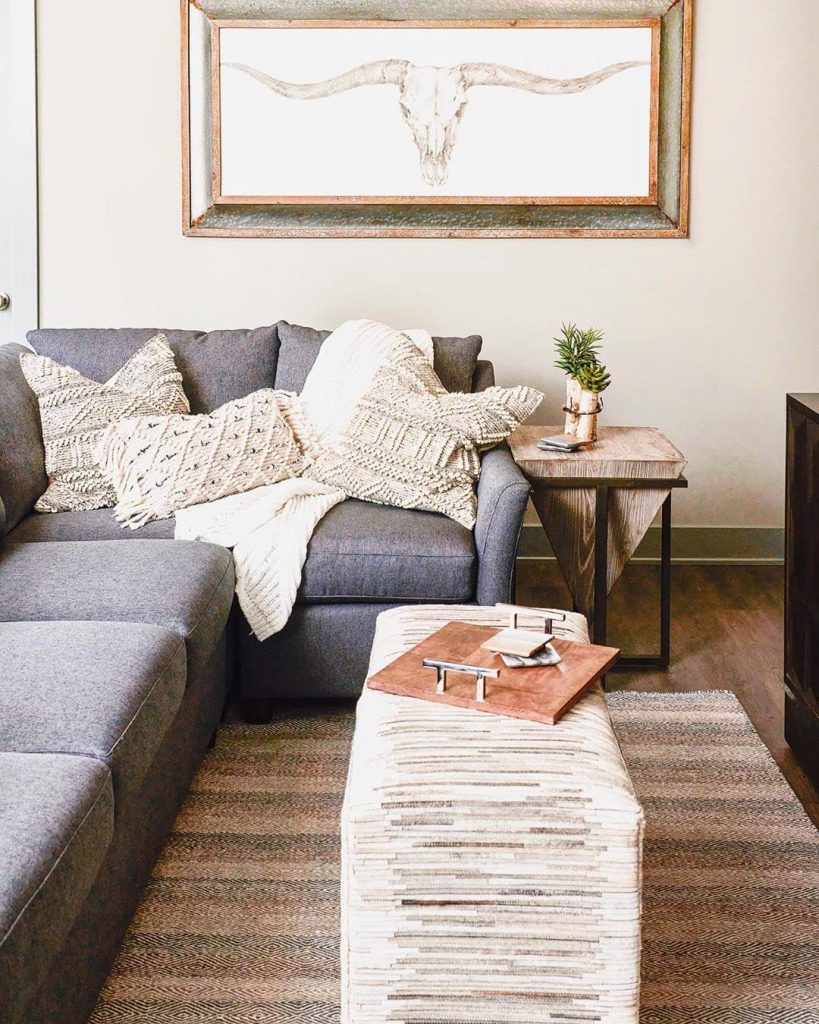 The industrial pyramid end table is handcrafted and hand-finished. With a strong and sturdy structure, it can hold heavy objects. If you love geometry-themed furniture, this table will bring you joy.
The pyramid wood nestled into an iron base gives it a unique look and strength. The rustic and vintage addition is perfect for your modern living room. Enhance the beauty with rustic antiques or plants of similar shade.
Final Words
The small tables in the corner of our spaces seem to be minute. However, they leave a lasting impression when it comes to interior design.
Selecting a table that fits the ambiance and matches the theme is extremely necessary. You can decorate the side tables with multiple accessories, antiques, and daily essentials.
Take this list as an inspiration and begin your search for a perfect side table. Experiment with the end table decor and keep changing it regularly to change the energy and welcome some newness.
There is no limit to what you can put on your end table. Feel free to try new things and see how they complement the interior.
Check This Next: 15 Genius Bedroom Storage Ideas You Have to Try
Other Articles