Do you want to give your home a makeover rather than just do a basic spring cleaning? We have just what you need to help you get started. Once you have your wood wardrobe designs planned, you have the basic home image reference point for you to start your style guide.
Here's your comprehensive guide to wooden wardrobe designs that will help you plan your storage solutions without any stress.
Not only are these trending wardrobe designs in 2023, but they are also organized based on factors like material, space, style, and utility. This makes it much easier for you to make your decision, so let's get started.
Similar Post: 15 Trendy Wardrobe Designs for Your Dressing Room
Wood Wardrobe Designs Based on Material
From particle board to ply and solid wood, what would work best for you?
There are many factors that you should consider while picking your material, including a budget, the time you can spend on maintenance, moisture content around the planned wardrobe site, the theme of interiors, and more.
1. Plywood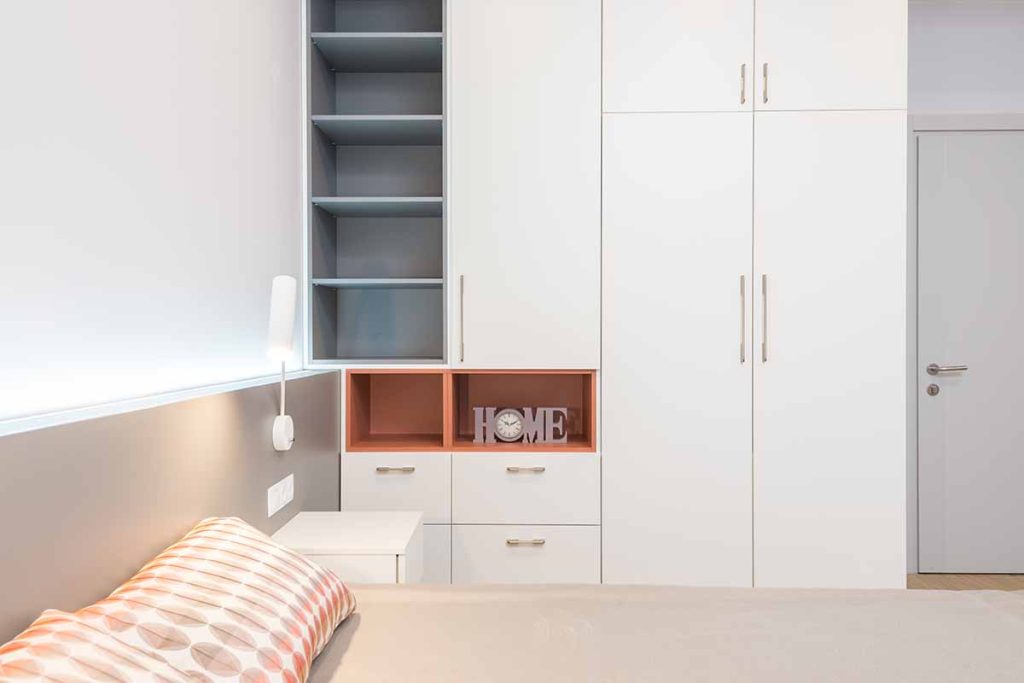 Veneer or laminate works best for those who live in low-moisture areas. While that might seem like a downside, the fact that plywood and veneers are both reasonably light on the pocket should perk you up again.
The right finish can give you a look that rivals natural wood and add a touch of class to your home without the hassles of maintenance. Not just that, you can also experiment with shades or colors to suit your interiors for a seamless decor style.
Small wonder, then, that plywood with a finish is one of the first choices for those looking for an easy, pocket-friendly, good-looking wooden wardrobe design.
2. Particleboard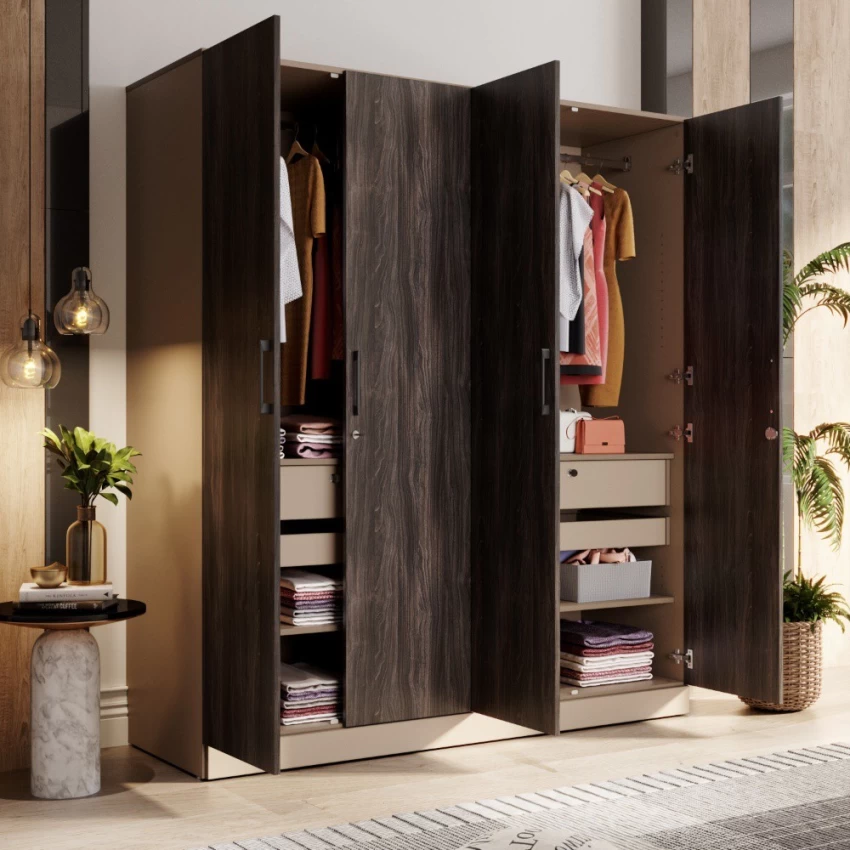 It has the twin virtues of being affordable as well as environmentally friendly. If you are passionate about the planet and are trying to create a sustainable space in your home, this option will fit right into your plans.
From wood wardrobe designs perspective, particle board forms an excellent easel for your creativity – from the perfect base for painted wardrobes to being best suited for carving or decorative work.
It even supports wickerwork finishes, which is one of the most sought-after wooden wardrobe designs this year!
Also Read: 15 Different Types of Interior Doors for Your Home
3. Medium Density Fiberboard (MDF) or Wood Plastic Composites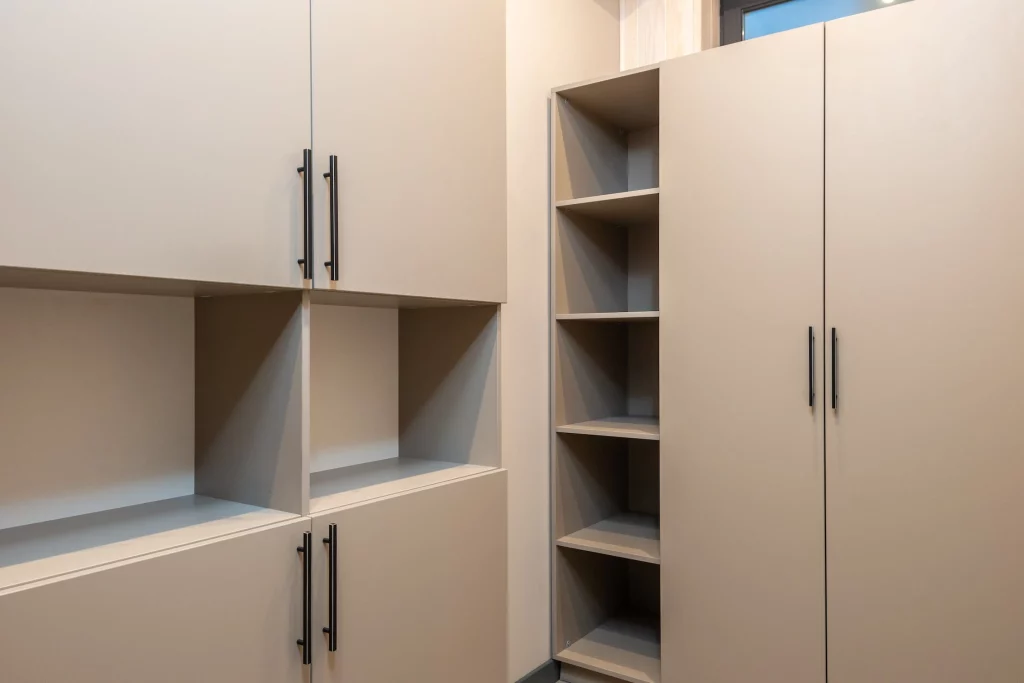 These are some more options if you are leaning towards making an environmentally friendly choice. Even the wood plastic composite materials are entirely biodegradable, albeit slowly.
The only drawback with MDF is that it has low moisture resistance. This means that it will warp in areas with known moisture content (think walls adjacent to bathrooms or facing the outside), causing an increase in maintenance costs or rework of finishes.
If you are looking for wardrobes that practically take care of themselves while looking great, just pick wood-plastic composites.
4. Solid Wood Finish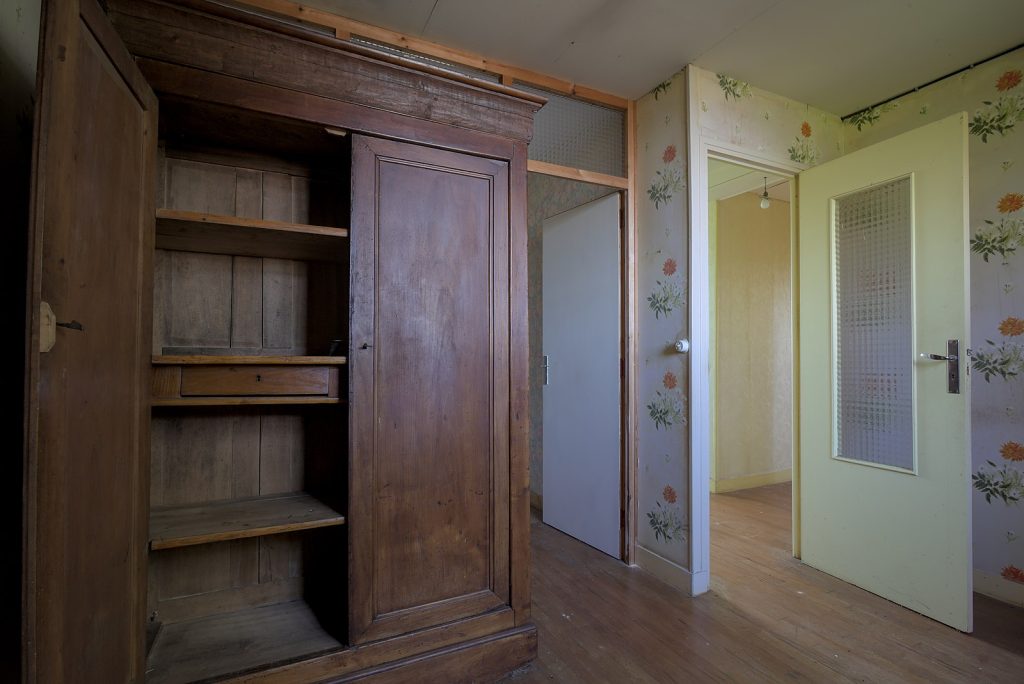 This one is hard to beat. In fact, it's the first choice when people start searching for wooden wardrobe designs.
It lasts for years, but you don't have to worry about it going out of fashion. The solid wood finish is a timeless classic that never goes out of vogue.
However, you must keep in mind that this ageless beauty does need a great deal of care and time to ensure that it stays pristine. You will have to guard against wood borers, termites, and other such pests.
If you want your solid wood wardrobe to retain its looks, regular maintenance is a must, making this a somewhat daunting prospect for homeowners, especially working couples and those with young children.
Wood Wardrobe Designs Based on Style
Once you know what material you'd like, turn your attention to the style of trending wooden wardrobe designs.
Your interiors and wardrobes must blend as seamlessly as possible to present a harmonious finish that aligns with the look you worked so hard to create.
5. Classic Style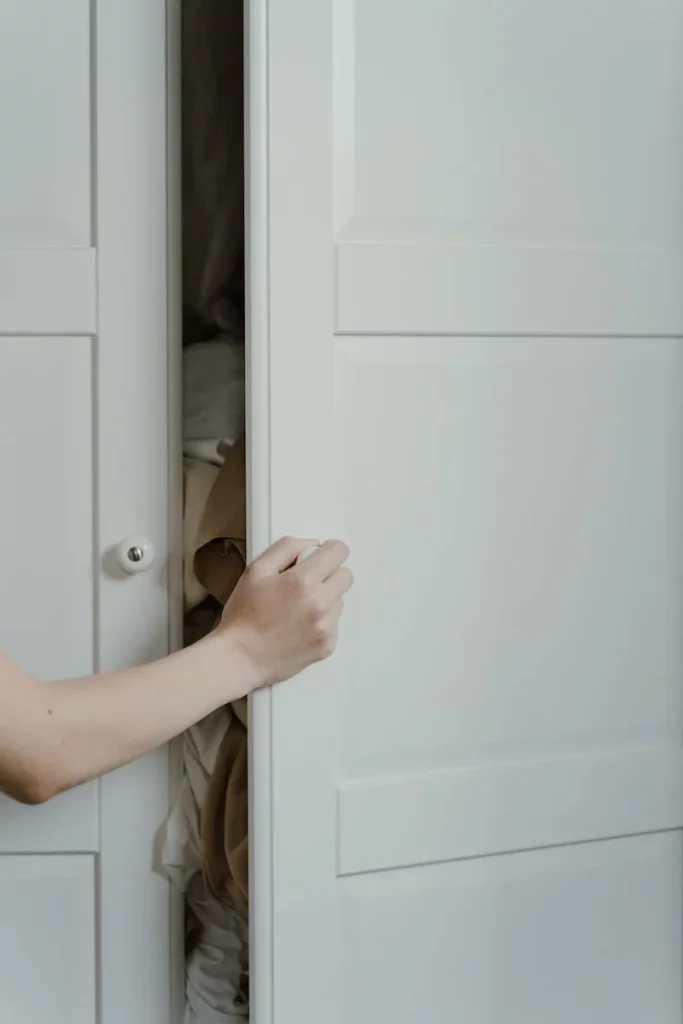 Nothing beats a good solid classic style. From a simple yet serviceable look to a more elaborate "period-piece" wooden wardrobe design, you can imbue your house with a touch of luxury and make the wardrobes a focal point.
Refrain from confusing classic with plain or boring, however, as nothing can be further from the truth than that. Depending on the style of your interiors, you can decide just how fancy you want your classic wooden wardrobes to be.
6. Wickerwork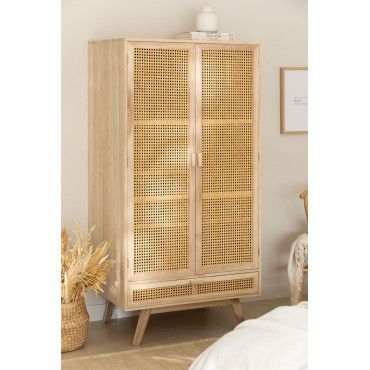 Terms of rattan finishes or quaint arches are a style that has been around for several thousand years. Despite this, the air of sophistication it lends to the room is impossible to recreate with any other wooden wardrobe design.
This may be why, even in 2023, a little touch of wickerwork – either in terms of finishes, overlay, or decorative work – is still very sought-after.
To get the best out of this style, try to work with a woodworker who specializes in this. If you have yet to be exposed much to wickerwork, their experience can guide you.
If you have a design in mind, then you can work with an expert who can recreate it for you. Either way, it's a win-win!
See More: 22 Closet Door Ideas for a Refreshing Look
7. Painted Wardrobes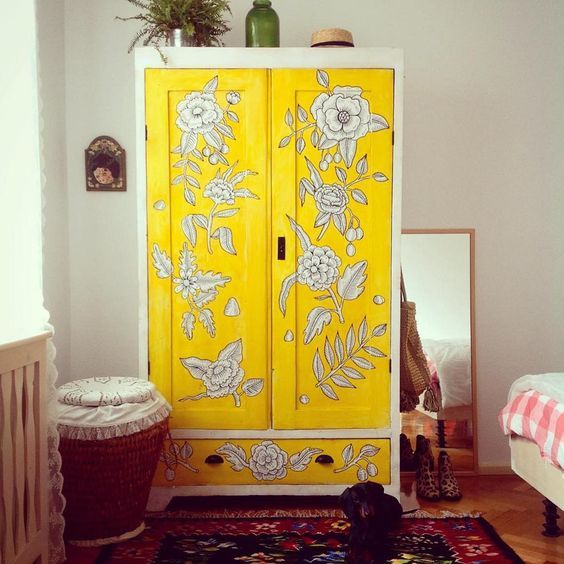 Let the artist in you rejoice with some painted wardrobes, maybe in the kids' room. People are sometimes skeptical about how this finish would work, whether it would make the decor look tacky or somehow not fit into the design scheme of the interiors overall.
Yet, well-done, tastefully chosen painted wardrobes in pastels can make master bedrooms and guest bedrooms look warm and inviting.
Storybook, nursery rhyme, or cartoon themes can add a touch of fun and whimsy to kids' rooms as well, which is why they take their place as one of the top wooden wardrobe design trends of 2023
Wood Wardrobe Designs Based on Space
As with other practicalities that creep into everyday life, space is one of the most significant factors when it comes to finalizing your wooden wardrobe designs.
Whether you have room for a 1, 2, 3, 4, or 4+ door wardrobe, make the most of your space with these trending wardrobe designs in 2023. Who says that space saving has to be dull or ugly anymore?
8. Walk-In Wardrobe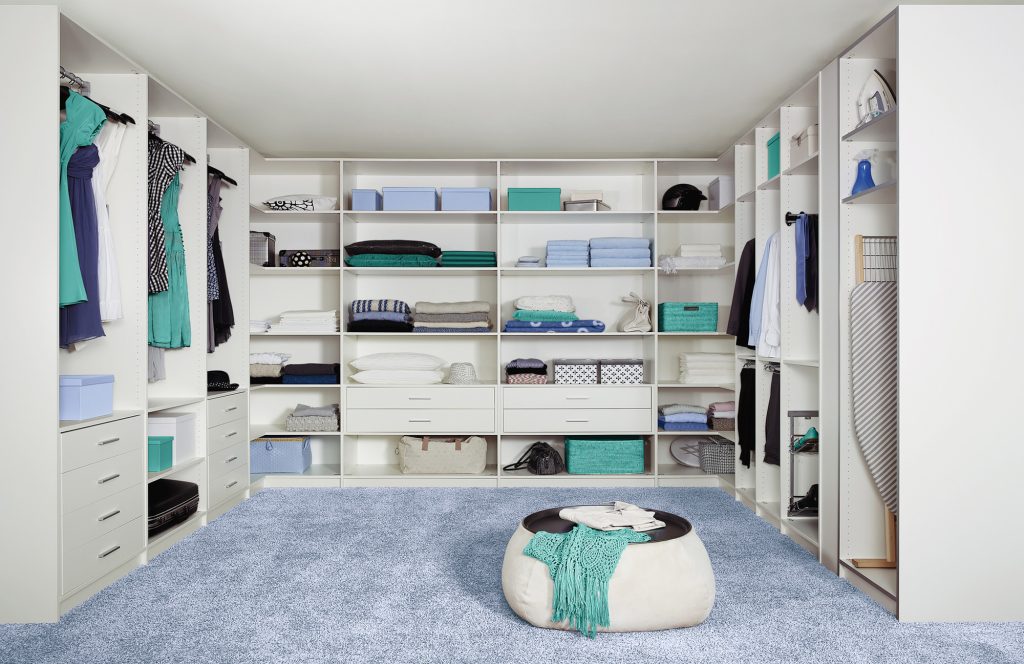 If you are ready to go all out and opt for the king of wooden wardrobe designs, go for the walk-in wardrobe!
Just imagine all the space for the shopaholic in you to fill with the sheer scope to organize your clothes, shoes, coats, boots, jewelry, and more. Nothing is too over the top for a walk-in wardrobe, from his-and-hers sections to dedicated makeup stations.
Let's be honest; we've all fantasized about waltzing into our own walk-in wardrobe like something out of a Hollywood movie. So if you have the budget to bring it to life, go for it!
9. Sliding Doors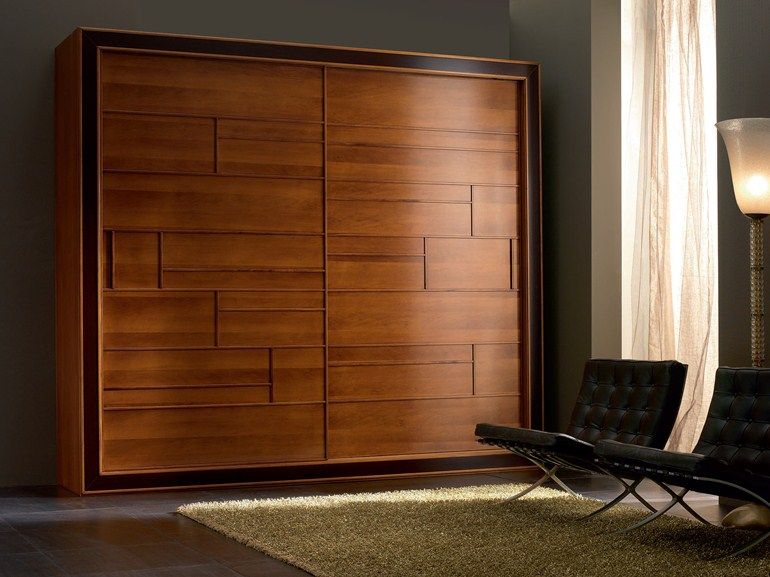 If you are hard-pressed for space, why waste even a foot that regular doors can take up? Say hello to sliding doors and goodbye to your space woes.
With these silent doors, your wardrobes look sleek, you don't have to worry about squeezing between the bed and door while opening them, and they're entirely noiseless. Here's a quick tip for you if sliding doors are your choice.
Remember to pick a wood that is moisture resistant if you have trouble with leakage, dampness, and so on because otherwise, wood warping could cause channels to bend and throw the mechanism out of gear completely.
10. Open Shelves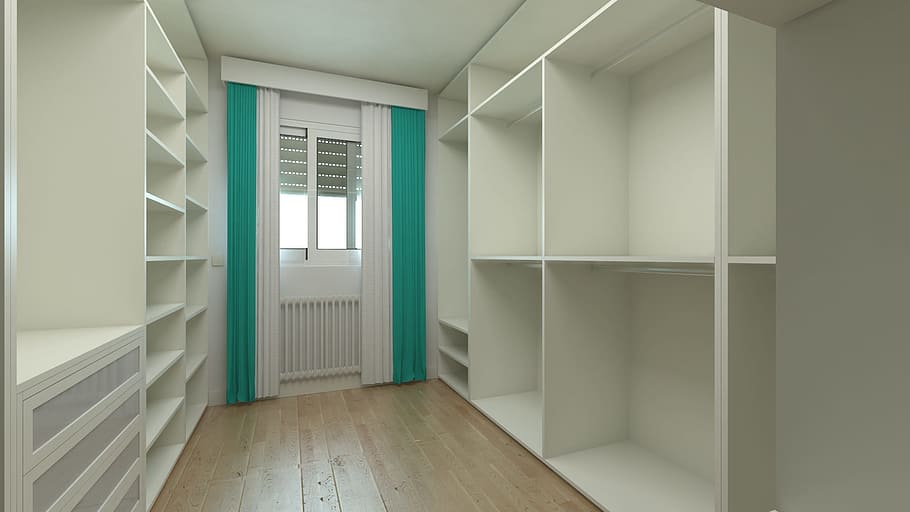 If Maria Kondo has been your inspiration and you believe in minimalism, why not reflect this in your wooden wardrobe design choice as well? Open Shelves have been trending recently, bringing a whole new meaning to the word airy in your bedroom design.
We would only recommend this if you are organized and not a hoarder, though! Just the thought of the sheer chaos that would unfold in that case is enough to scare you, right?
Open shelves require very little maintenance in themselves, but the arrangement does need time and effort to keep your home looking spick and span.
Related: 22 Bedroom Makeup Vanity Ideas You Can't Resist Trying
11. Glass Door Wardrobes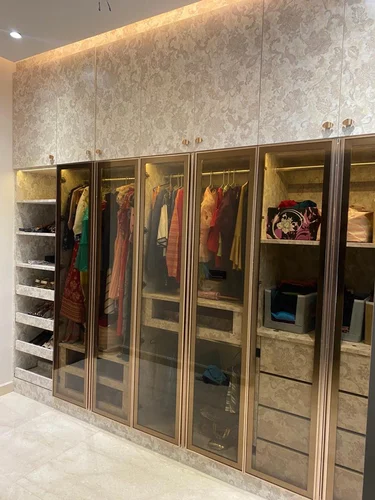 What if you like the thought of an open design but can't bear the extra dusting and vacuuming that would inevitably follow? Glass door wardrobes are your answer!
This clever wooden wardrobe design marries the concept of space with the convenience of cleanliness so well that you really wouldn't want to try anything else. They also make your room look bigger and add a feeling of light and airiness to the space.
Wood Wardrobe Designs Based on Utility
For some, a standalone wardrobe might not serve the purpose. Especially where space is at a premium, it is necessary to use it optimally.
If you are looking to make the most out of what room you've got yet not compromise on style, read on for some incredible wooden wardrobe designs that serve multiple roles.
12. Dressing Table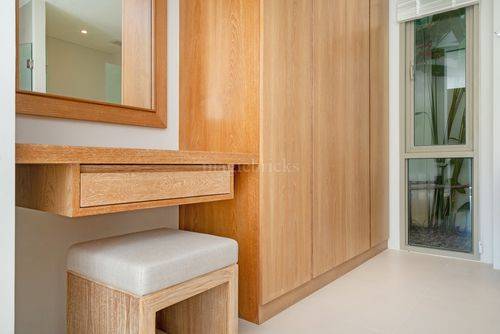 If you have your outfit in one place, your makeup all over the bathroom counter, and you frantically race between the two to get ready every day, how about you combine the two and solve your problems?
Build a dressing table into your wardrobe, and you have everything you need to get ready for the day in one place.
All you need to include in your wardrobe design is the dressing table, a stool that can slide in underneath, drawers for your makeup, a mirror, and some cleverly concealed lighting.
Voila! Your private dressing room now awaits you, with your dresses just arm's length away!
13. Headboard Wardrobe
If you are struggling to fit a bed and a wardrobe into limited space, why not combine the two? A headboard wardrobe is meant to create storage space around your bed and can also double as your headboard.
It has great utility, perfect for lazy folks who hate getting out of bed, and leaves enough space to make the room look larger than it would otherwise.
This works brilliantly when you have only one continuous wall because of windows or doors on other walls. Not only do you retain the light and ventilation of the room, but you don't compromise on the space you need for all your stuff.
Someone really had a bright idea when they came up with this one!
14. Study Table Wardrobe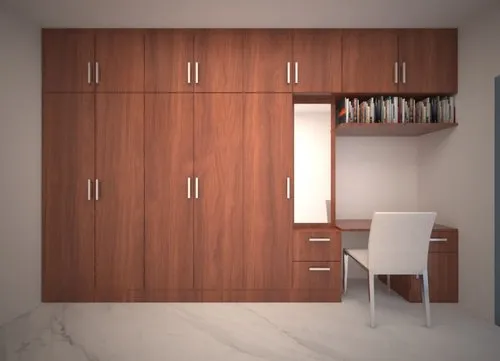 Want to optimize space in your kids' room? Use one wall and build a study table into the wardrobe!
While this leaves other walls free for your kids' artistic attempts, pretty wallpaper, photos, or any other decor you have in mind, it also creates a neat space for your little ones.
Everything they need is in one area, making organization easier and cleaning up time less of a battle!
15. Multi-Purpose Wardrobe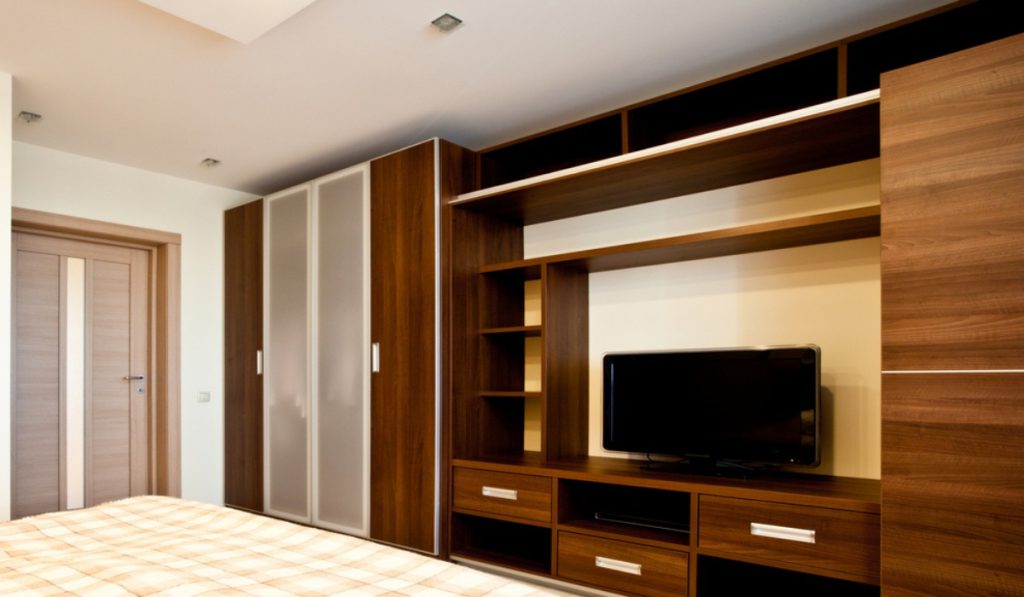 This wooden wardrobe design also works great for other bedrooms if you work from home and want to keep your hall neat!
Have plans for a full-scale entertainment unit, but your spouse has a folder full of gorgeous wooden wardrobe designs? Here's the ultimate compromise – multi-purpose wardrobes.
Work with a carpenter to create a built-in TV unit, entertainment center, or whatever else you need.
You may have a little less wardrobe space than you originally planned, but it's worth it for the peace it brings you.
Conclusion
Now that you've seen 15 amazing wooden wardrobe designs that you can use for your home makeover, we're sure you are excited to get started.
We can't wait to see what your choices look like! Don't forget to tag us on social media with pictures of your wooden wardrobe designs.
If you have any questions about what would suit your overall decor or about a particular type of wardrobe, do drop them in the comments below, and we'll be happy to help you!
Check This Next: 15 End Table Decor Hacks to Try
Other Articles