Are you looking to add style and functionality to your dressing room? You may be looking for dresser room design ideas.
With the right wardrobe designs, you can create a beautiful, organized space that can impress anyone. From contemporary to traditional looks, many choices are available for a fantastic dresser room design.
Whether you're looking for a sleek modern design or something more classic, there are multiple options available that can suit your tastes and needs. 
Read on for 15 wardrobe designs perfect for any dressing room!
Similar Post: 15 Wooden Wardrobe Designs To Give a Makeover to Your Space
1. Fiberboard Wardrobe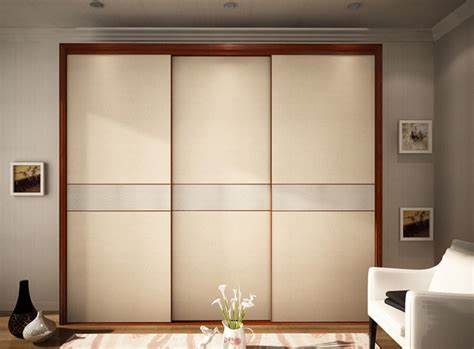 If you're looking for modern and lightweight furniture, then a fiberboard wardrobe is a perfect choice.
Fiberboard wardrobes are made from compressed wood fibers and are stronger than particle boards and plywood. They are known for their durability, strength, and stability.
With a wide range of colors and designs, fiberboard wardrobes are also affordable and stylish. 
As a bonus, fiberboard wardrobes require minimal maintenance, so you won't have to worry about them again and again.
Get ready to upgrade your bedroom with a modern and lightweight fiberboard wardrobe!
2. Mirror Door Wardrobe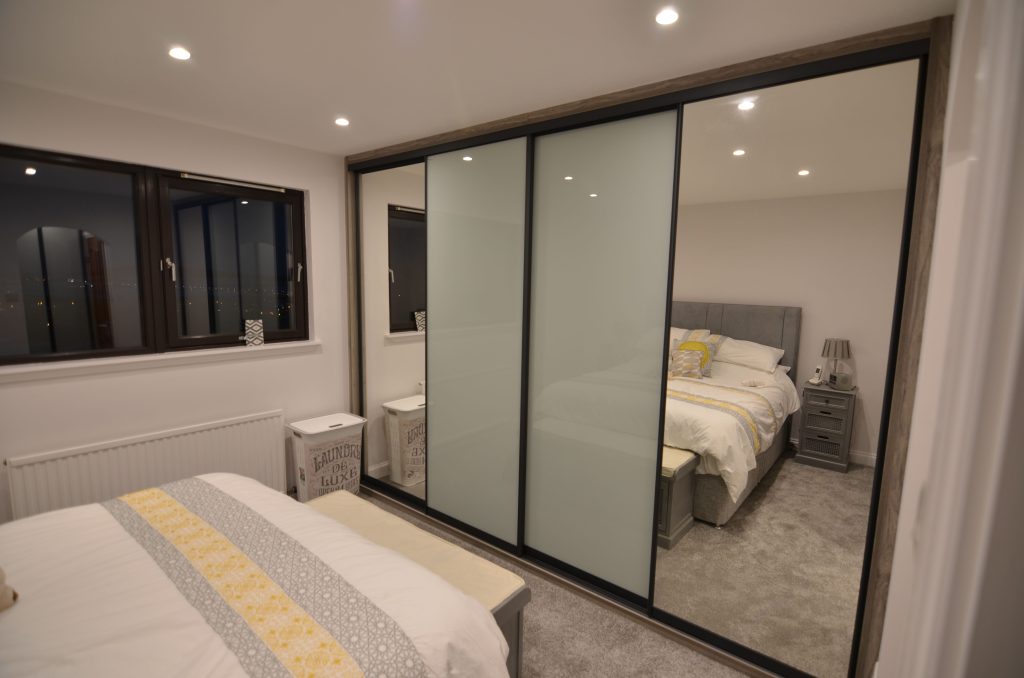 Mirrors are an integral part of modern home décor. They can be used to enhance the aesthetics of any room.
But when it comes to wardrobes, mirror doors have become the go-to choice for many homeowners. They not only provide an extra layer of sophistication and style but also add a hint of glamour to the entire look and feel of the room.
With wardrobe mirror doors, you can create a more organized and spacious look in your bedroom or living area.
From traditional sliding mirror doors to modern frameless panel mirrors, there are various options available that can blend in with any kind of décor theme.
So if you're looking for ways to upgrade your wardrobe in terms of both style and efficiency, consider investing in a wardrobe with mirror doors.
Also Read: 22 Creative Dresser Decor Ideas to Refresh Your Bedroom
3. Pastel Pink Panelling Wardrobe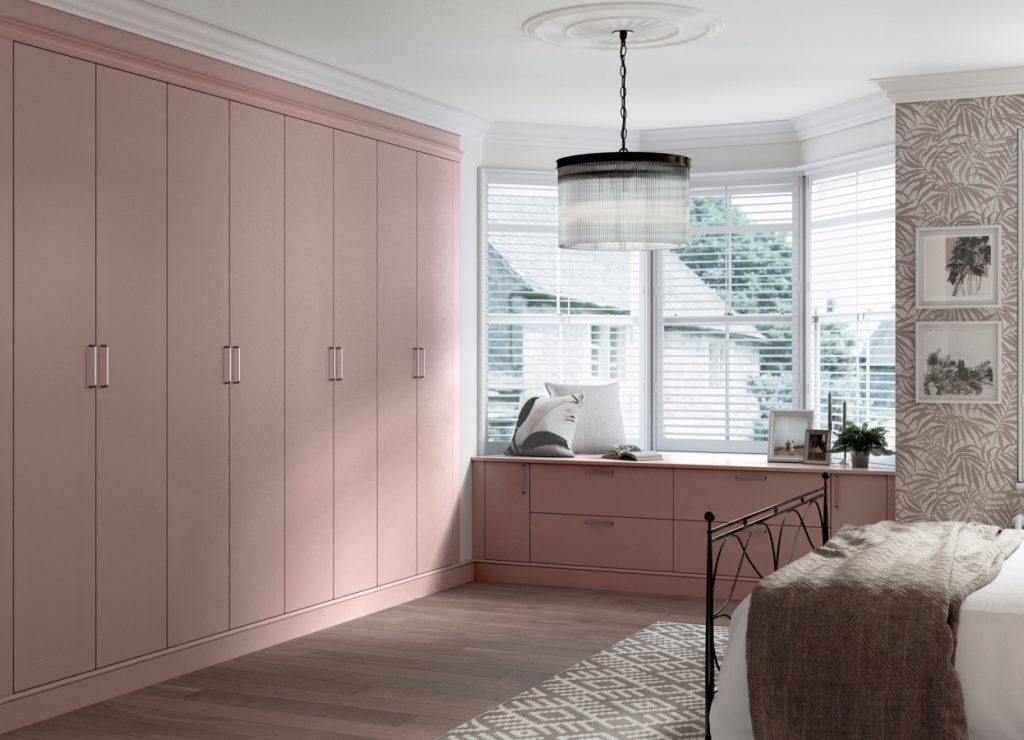 Bring out your inner femininity with a pastel-pink wardrobe! Whether it is for the bedroom, living room, or hallway, this classic color has the power to create a warm and inviting atmosphere.
With its subtle 'barely there' hue, it can add a calming touch of softness.
You can incorporate panels of pastel pink in an otherwise neutral space to brighten it up and bring in a splash of color.
By combining this light shade with natural materials such as wood and stone, you can create a stunning interior.
4. Wardrobe with a Study Table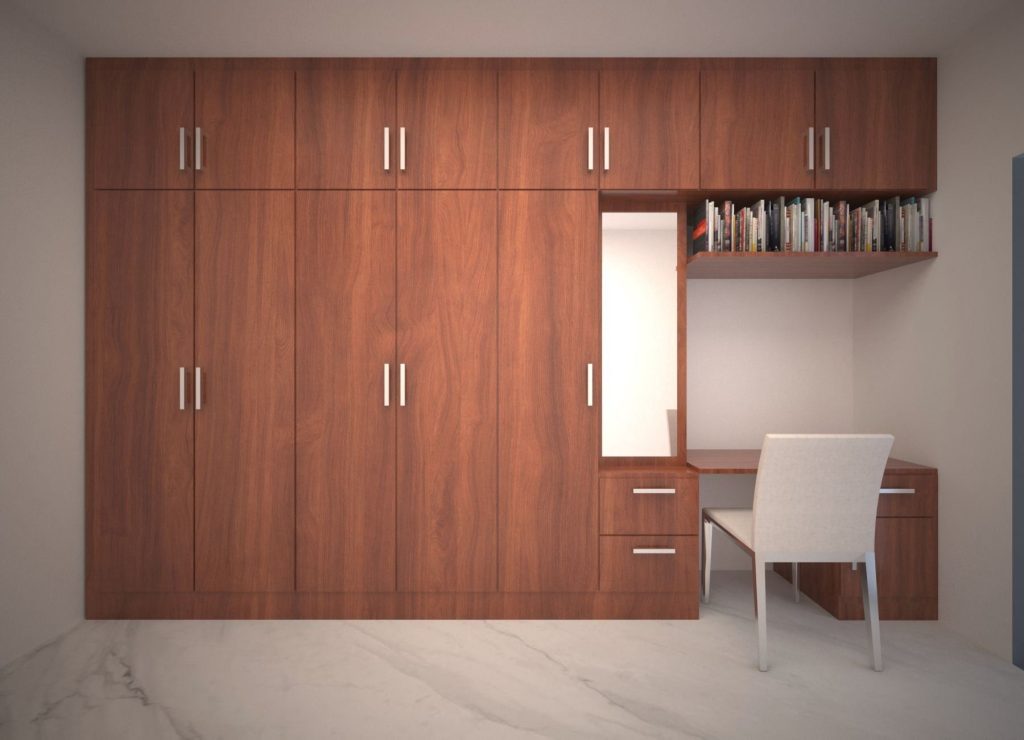 This closet design with a study table is both practical and fashionable, making it the ideal choice for a small house or a room belonging to a student.
Choose a wall in the space and place cabinets on half of it, saving the other half for a table like in the illustration above.
Fill the vacant space on the walls with shelves so you can store important items like books, food, and other items. We are in awe of this wardrobe design, which is lovely and elegant and made of wood.
5. Wardrobe with a Rustic Finish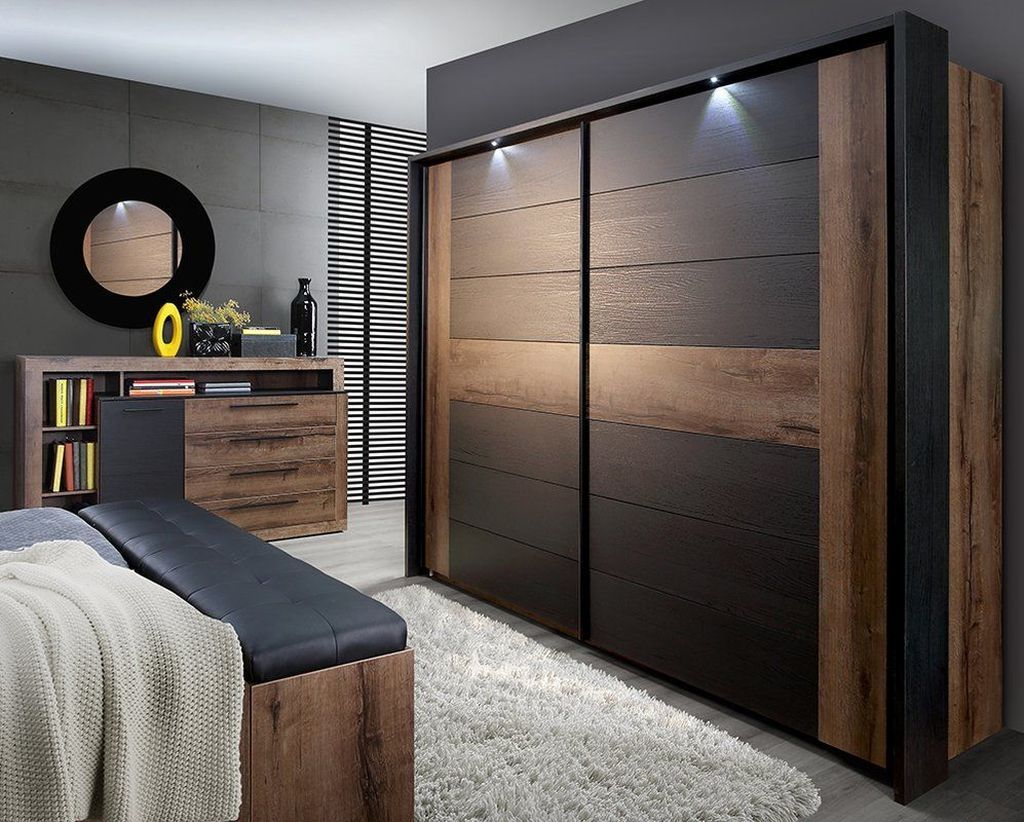 Are you looking for a wardrobe that boasts a rustic finish?
If yes, then you have come to the right place. This wardrobe, with its wooden texture, is sure to give your room an earthy and rustic feel.
The distressed look of the wood and the subtle texture gives it an authentic look that your guests will surely appreciate.
The wardrobe is perfect for those who want to add a touch of rustic elegance to their bedrooms or living rooms. With its unique design and natural finish, this wardrobe will be a conversation starter in any space!
6. Wood Wardrobe Design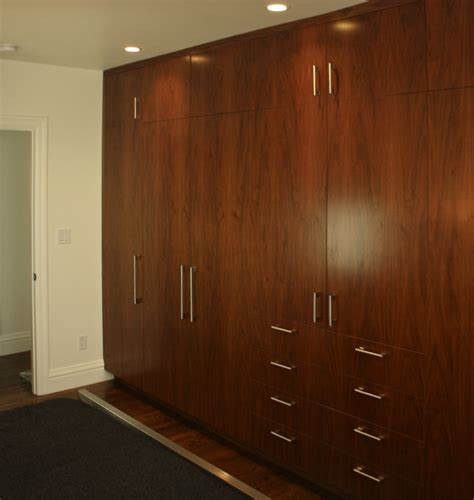 A wood wardrobe design gives it more style and sophistication. In addition, the design of your room is elevated if the solid wood cabinet matches the furniture and the interior decor as a whole.
A solid wood design with one door is an option, as are designed with two or even three doors. We bet you won't stop getting compliments if you choose wood with intricate details, like teak or mahogany.
The solid wood wardrobe construction is strong and lasts for decades, in addition to seeming very opulent and stylish.
See More: Bathroom Mirror with Shelf: 11 Unique Designs and Tips to Consider
7. Elegant Black Wardrobe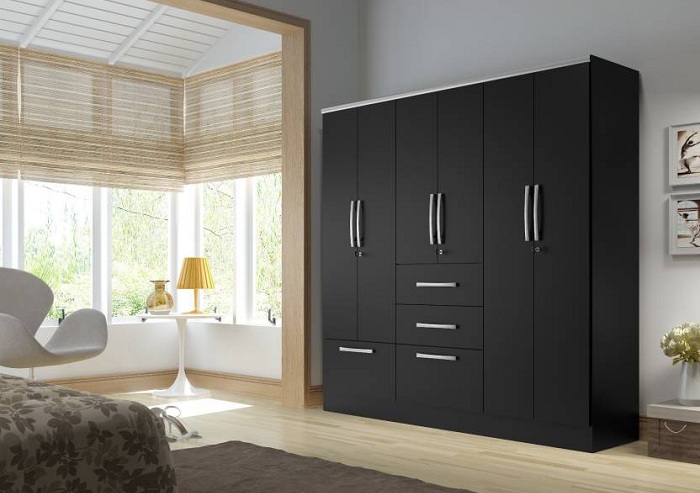 Black Wardrobe design is a classic yet modern fashion trend that has been steadily gaining popularity. With its elegant and timeless appeal, the black wardrobe can be used to create a polished and sophisticated look for any room or space.
Whether you are looking for a wardrobe for your bedroom, living room, or office, the black wardrobe will bring an air of sophistication that can easily transform any space.
It is both stylish and functional, creating an atmosphere of elegance and comfort while providing ample storage space for all your clothing needs.
With its versatility, the black wardrobe will make a bold statement in any home or office setting.
8. White Classic Wardrobe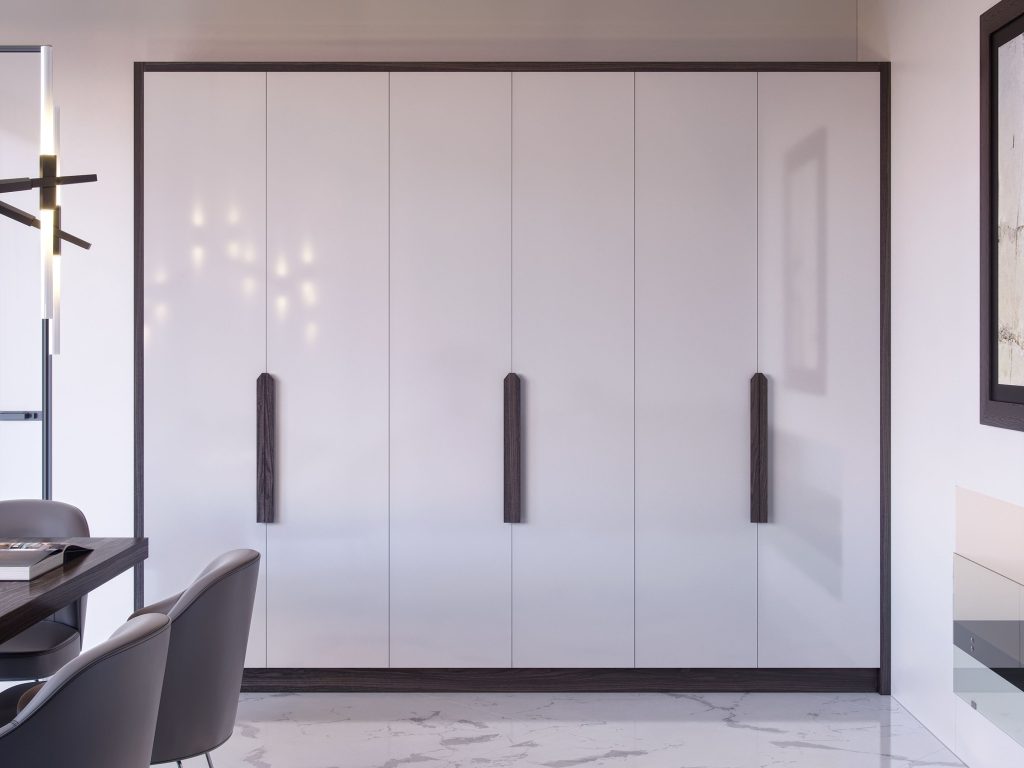 White Wardrobe design is a timeless classic with a modern twist. It offers the perfect combination of style, comfort, and peacefulness.
White Wardrobe design is ideal for any home because it can be used to create a peaceful and tranquil atmosphere.
The bright white color reflects natural light and creates an aura of serenity in any room. White wardrobes also provide a classic look that will never go out of fashion.
White Wardrobe design can be used in both modern and traditional homes, providing versatility to suit any style or need. With the right accessories, you can turn your white wardrobe into something truly special!
9. Sliding Door Wardrobe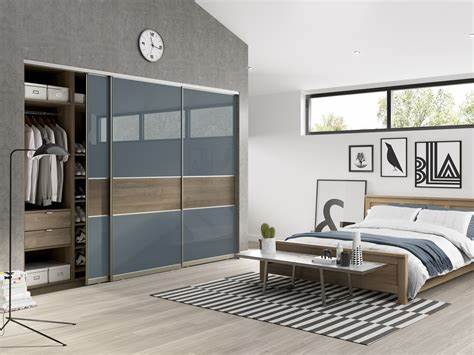 Sliding Door Wardrobes provide a stylish and versatile storage option for your home.
With the ability to open up large sections of wardrobe space with a simple slide, they offer both ease and convenience for those who are pressed for time or have limited space.
Not only that, but these sliding shutters also have the added benefits of providing privacy and keeping out dust.
With the help of modern designs, you can create an attractive wardrobe that not only looks great but also offers plenty of storage options.
Whether you're looking for something sleek and minimalistic or something with more character and detail, there are plenty of sliding door wardrobe designs available that will suit any style or budget.
10. Wardrobe with Shelves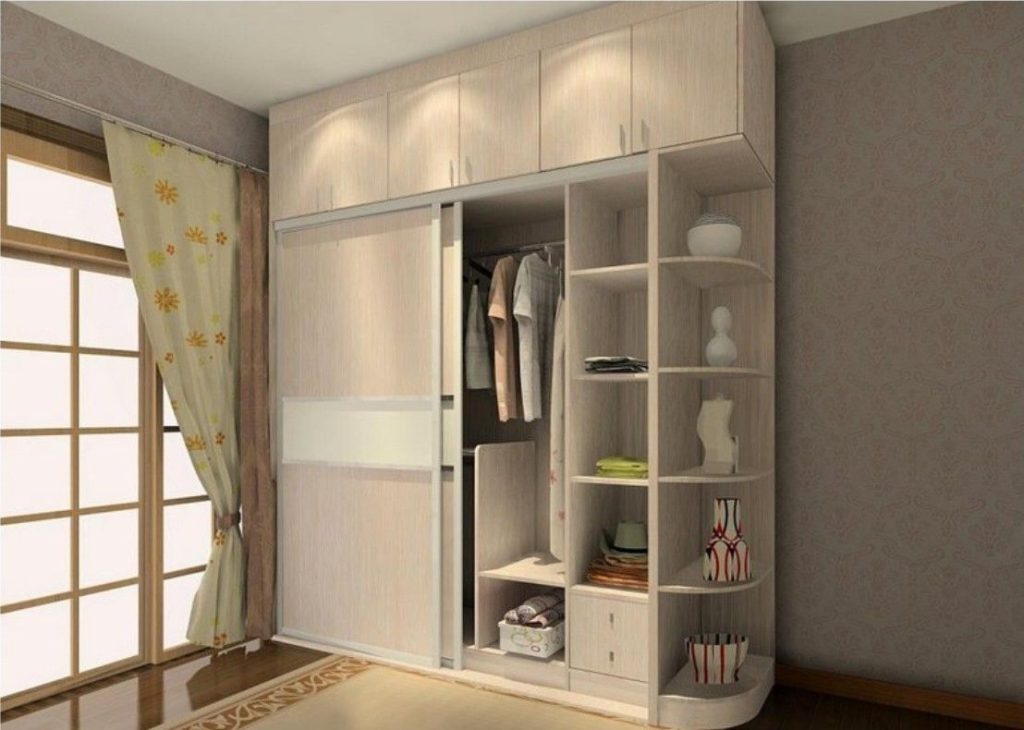 A decent contemporary wardrobe design takes into account both the aesthetics and, of course, the storage needs. Families love having lots of storage that are well-designed. 
But who said the doors of a wardrobe design had to contain all the storage?
You can decide to put some of the shelves on the outside, similar to the illustration above.
You might opt to build these shelves in the center of the design or on the side, and they could be triangular or even circular, a perfect area for tiny decorative objects as well as utility goods.
Related: 11 Mirror Barn Doors Ideas for An Interesting Home Makeover
11. Walk-In Wardrobe Design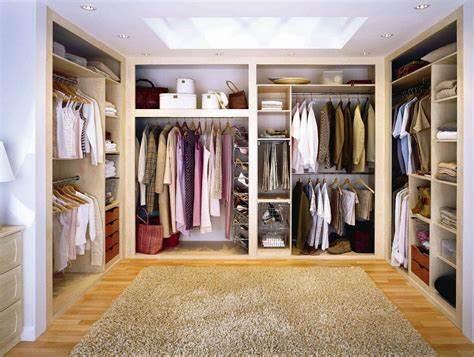 A walk-in closet is the ultimate luxury for anyone who loves to stay organized. By taking advantage of wardrobe design, you can maximize the space available and create a functional and stylish storage solution.
From built-in wardrobes to custom cabinetry, there are endless possibilities for creating a unique walk-in closet that reflects your style and meets your needs.
With careful consideration of the materials, lighting, accessories, and layout, you can create a space that is both practical and beautiful.
12. Acrylic finish wardrob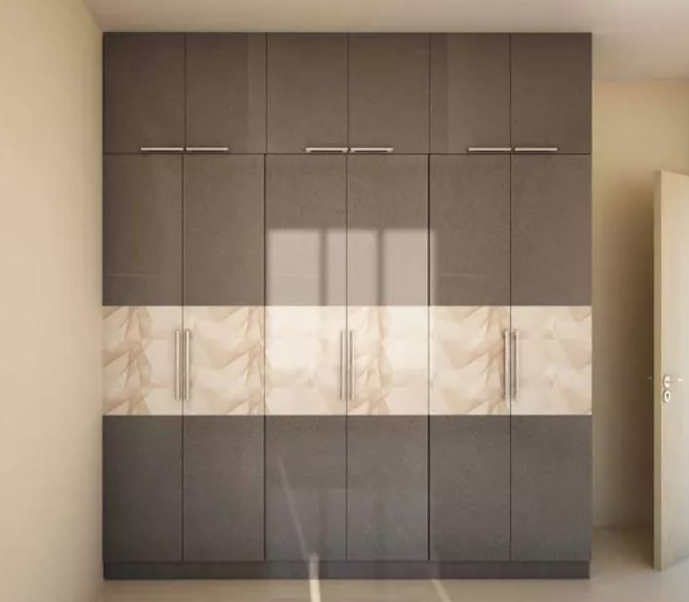 Acrylic finish wardrobe designs are the latest trend in home decor. They are great for adding a modern touch to any room while being creative and stylish in equal measure.
By making a few adjustments, you can give your bedroom a unique look. Acrylic finishes come in various colors, shapes, and sizes, allowing you to choose the best design that suits your taste and lifestyle.
Whether it's modern or classic, an acrylic finish wardrobe design can bring out the best in your dressing room. So get creative with your acrylic finish wardrobe design today!
13. Wardrobe Design for the Kid's Room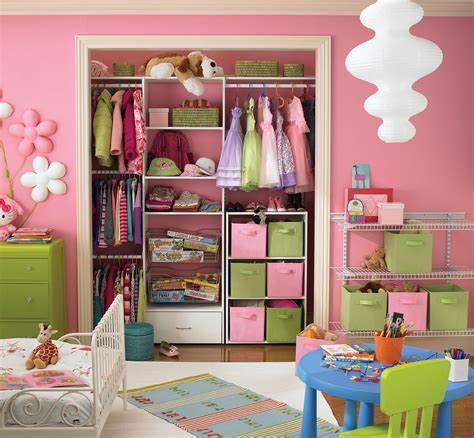 Designing a wardrobe for your kids is both fun and challenging! You can make it as cute, colorful, and funny as you want.
From the cutest closet designs to the most hilarious elements, you have endless possibilities when designing your child's wardrobe. So why not get creative and have some fun?
Let's explore the world of kid's wardrobe design!
14. Louvered Door Wardrobe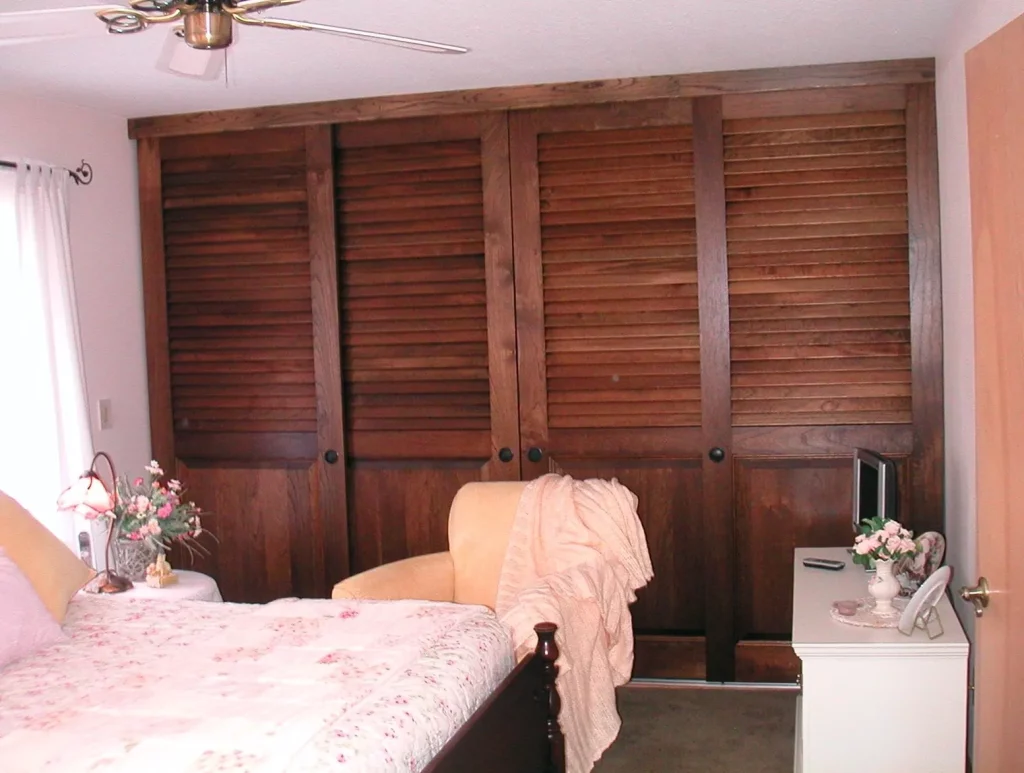 Wardrobe design has been a part of the culture for centuries. In particular, louvered doors have been used to store clothing items and accessories in a visually appealing way.
The traditional design pattern of louver doors is characterized by narrow vertical slats arranged horizontally in rows or overlapping slightly at the top and bottom.
Louvered doors are ideal for creating an attractive wardrobe that is both practical and stylish. They provide great ventilation, which helps keep clothing items free from musty odors while also providing privacy from prying eyes.
In addition, louvered doors are used to create a unique design pattern that will last for generations.
Check This Next: Top 15 Round Bathroom Mirrors To Elevate The Look
15. Wardrobe with Mirror Detailing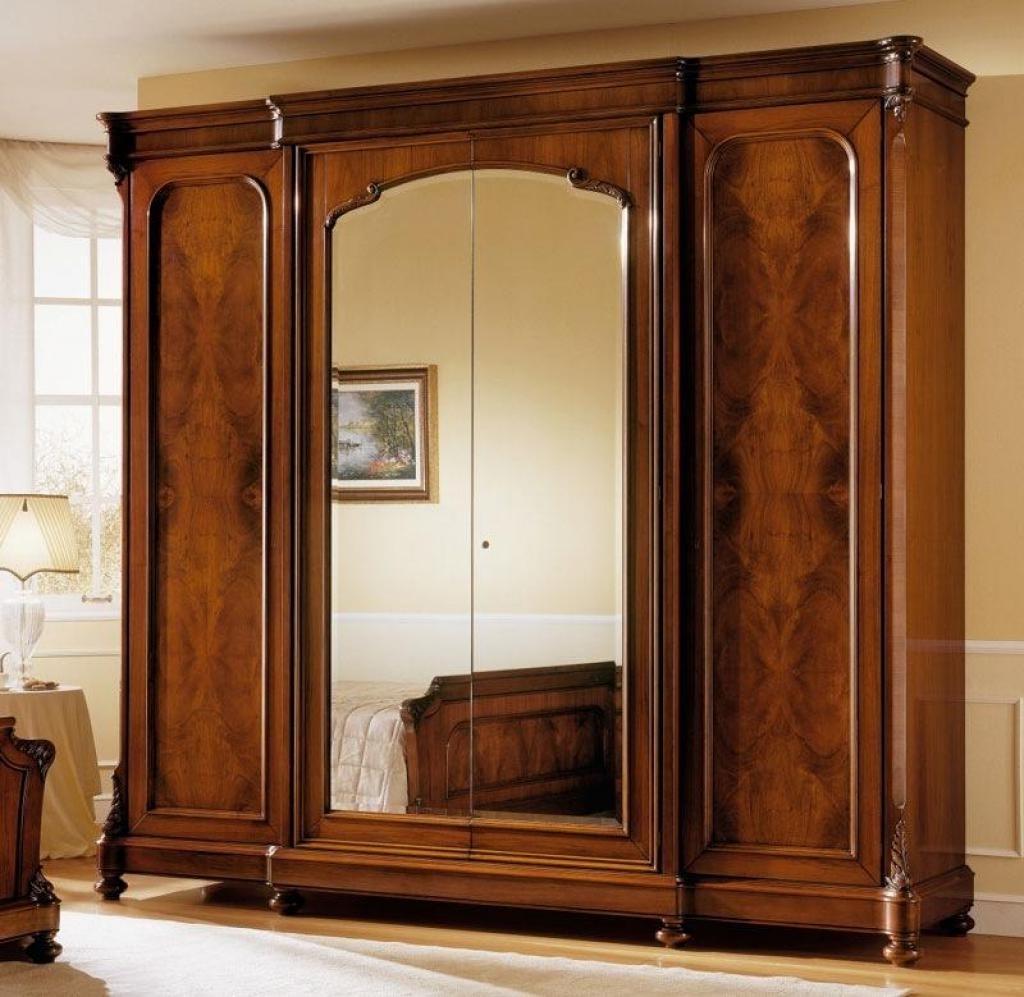 A wardrobe with mirror detailing is a timeless addition to any bedroom. It adds elegance, sophistication, and glamour to the space. In addition, the solid wood used for this type of wardrobe ensures durability and stability.
The polished finish gives it a sleek, modern look that will make your bedroom stand out from the rest.
With its mirror detailing, you can easily check your outfit before heading out or even use it as an accent piece in your room.
Investing in a wardrobe with mirror detailing is a great choice for any home looking to add some added luxury and style to their bedrooms.
Conclusion
Dresser room designs are essential to creating a perfect dressing room. From selecting the right colors, materials, and sizes to adding creative touches like drawers and shelves, there is a lot to consider when planning the perfect wardrobe design for your dressing room.
By carefully considering each of these elements, you can create a comfortable and organized space that will make getting dressed a breeze.
With thoughtful consideration of your needs, wardrobe designs can help you maximize storage space and make sure you always look your best.
Other Articles