Discover 12 Stunning Arched Bookcase Designs for Your Home
Are you tired of the same old rectangular bookcases that are nothing but a storage solution? It's time to give your home a stylish upgrade with an arched bookcase. Arched bookcases have been a...
Are you tired of the same old rectangular bookcases that are nothing but a storage solution?
It's time to give your home a stylish upgrade with an arched bookcase. Arched bookcases have been a staple in interior design for years, not for their practicality but also for their eye-catching designs. In this article, we bring you 12 sophisticated arched bookcase designs that will not only provide ample storage space but also elevate the aesthetics of your space, whether you are a lover of modern furniture or a Renaissance buff.
This list has something for you all. So, let's begin.
1. Arched Bookcase with Contrasting Wood Finishes
Are you looking to add some style to your home with a unique bookcase? Consider an arched bookcase with contrasting wood finishes! By combining a walnut body with maple arches, you can create a bold and eye-catching statement piece that will enhance any room. The contrasting wood finishes add depth and dimension to the design, making it appealing and sophisticated.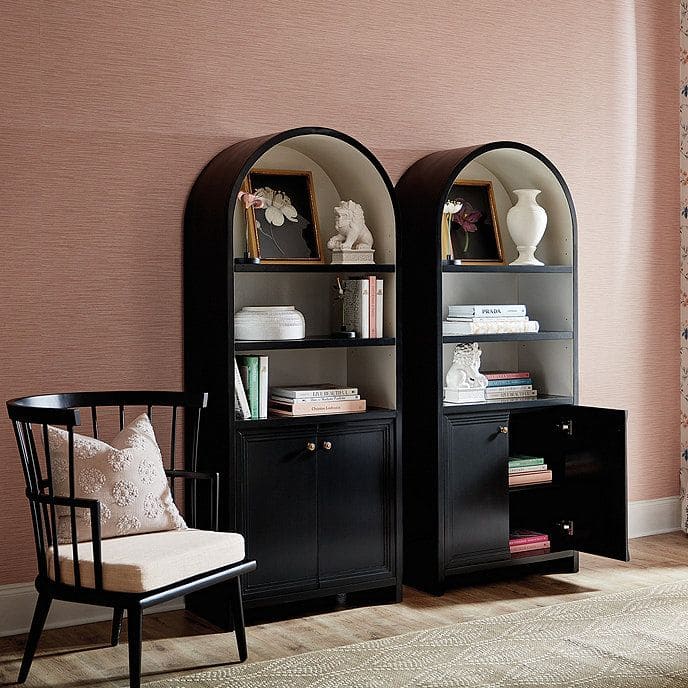 This type of bookcase is not only functional but also serves as a decorative element in any space. With its distinctive design, this bookcase is sure to draw attention and become a conversation starter. Whether you're designing a home library or need some extra storage space, this unique piece of furniture is the perfect addition to your decor. 
2. Arched Bookcase with LED Lighting
When it comes to enhancing the look of an arched bookcase, LED lighting is an excellent option that can transform the appearance of the furniture piece. By incorporating LED lighting into the arches, you can create a striking and dramatic effect that adds a touch of modernity to the bookcase.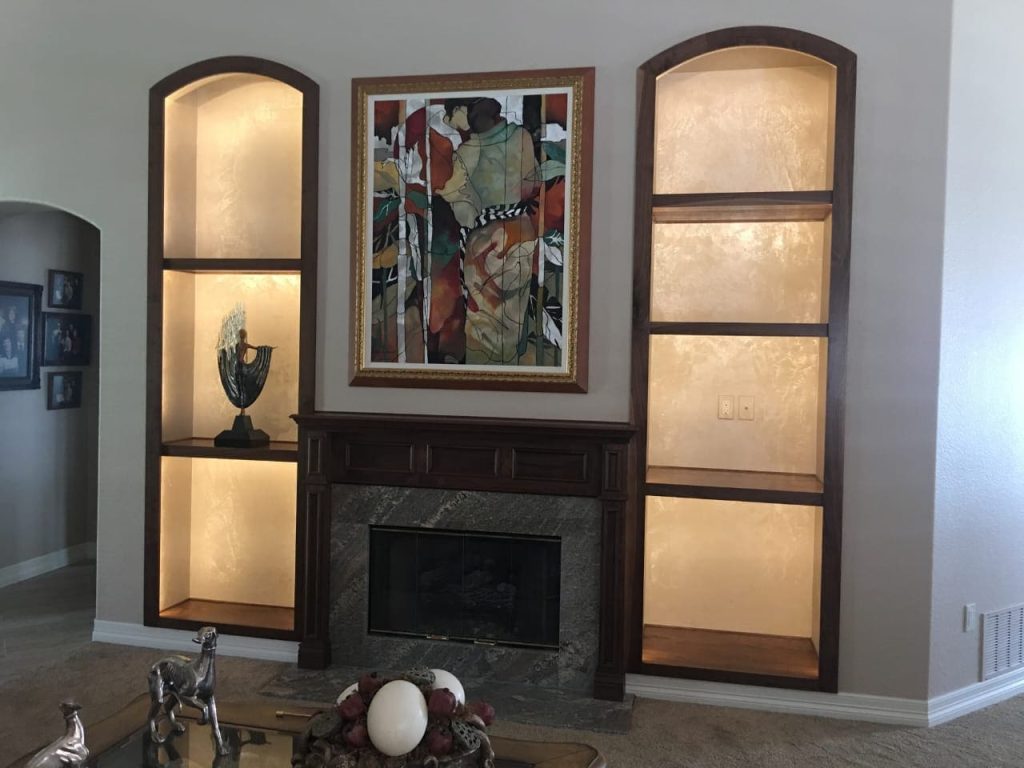 The soft and warm light emitted by the LEDs can beautifully highlight the texture and natural beauty of the wood, making it a perfect fit for any decor style. Moreover, LED lighting can serve as a stunning way to showcase the contents of your bookcase.
3. Arched Bookcase with Arched Shelves
Having shelves that have the same shape as the shelve can elevate the look of the arched bookcase. By creating shelves that follow the curves of the arches, you can create a cohesive and appealing look. This will also emphasize the unique shape of the bookcase.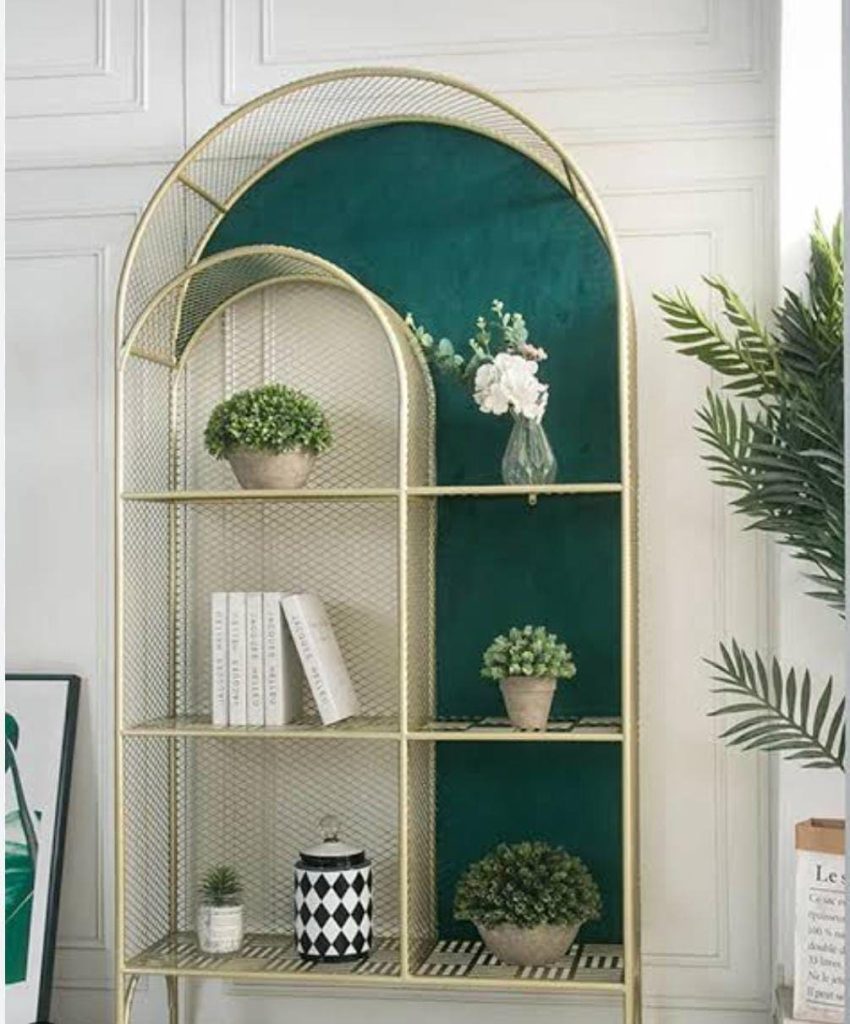 This type of bookcase is perfect for those who want to add a touch of elegance to their home or office decor. Thus, an arched bookcase with matching shelves is a stunning addition to any space. It offers both functionality and aesthetic appeal.
4. Arched Bookcase with Ornate Moldings
We all have been awe impressed by Ornate moldings in Victorian Architecture. But have you ever thought about adding these impressive moldings to your bookcases? Well, if you haven't, you should. Ornate moldings can add a touch of elegance and culture to your arched bookcase. Adding intricate moldings to the arches can create an instant wow factor.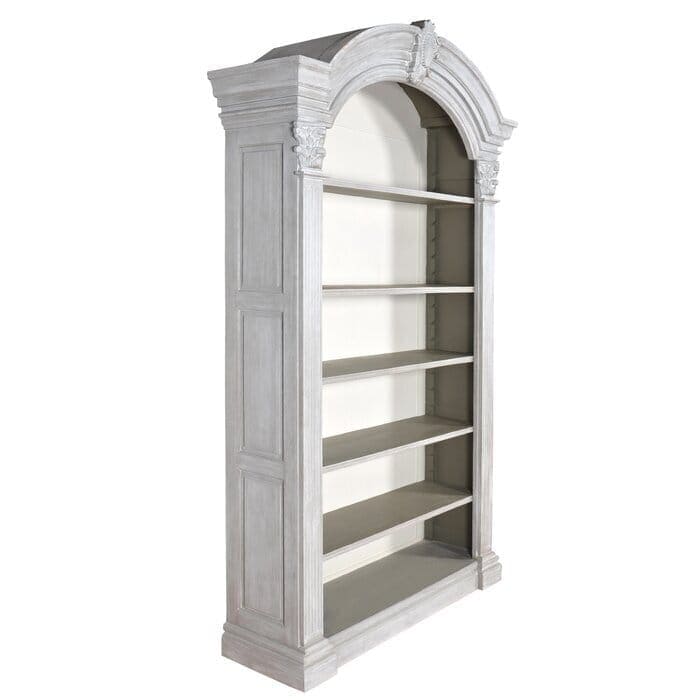 Ornate moldings make the bookcase look like a piece of art. And make your ordinary arched bookcase antique. These moldings are available in different styles and designs. 
5. Arched Bookcase with Adjustable Shelves
Are you tired of trying to fit your books onto standard-sized shelves? If so, it's time to consider an arched bookcase with adjustable shelves. Just like human bodies, books come in all different shapes and sizes. So, having the ability to adjust the shelves in your bookcase can make it easier to store your books and keep them organized.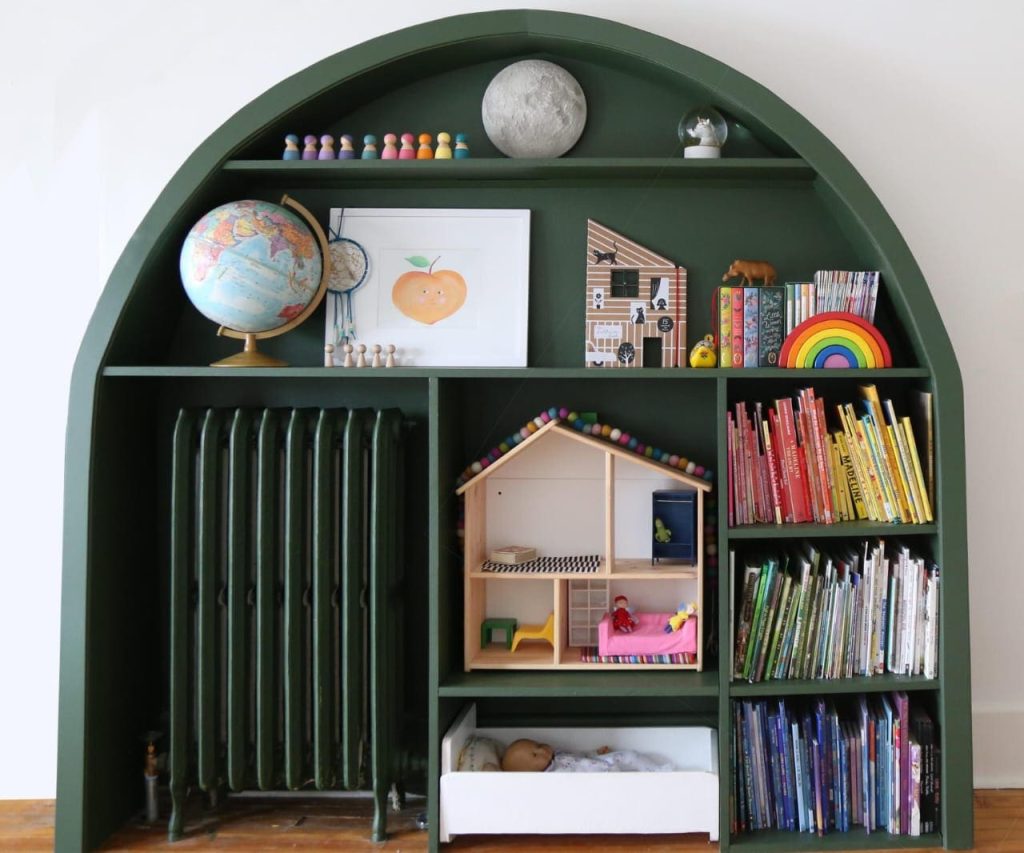 Not only does a bookcase with adjustable shelves provide flexibility in book storage. It also adds functionality to the piece of furniture itself. By being able to adjust the shelves, you can create a custom storage solution that perfectly fits your needs. 
6. Arched Bookcase with Glass Door
Are you someone who has always dreamt of visiting Alice's Wonderland? But always gets bummed out by reality. Well, if yes, then worry not. You have the chance to create your own Wonderland of books and antique items. And all that with the help of glass doors. Yes, incorporating glass doors in bookcases is a great way to showcase your favorite items or decorative pieces.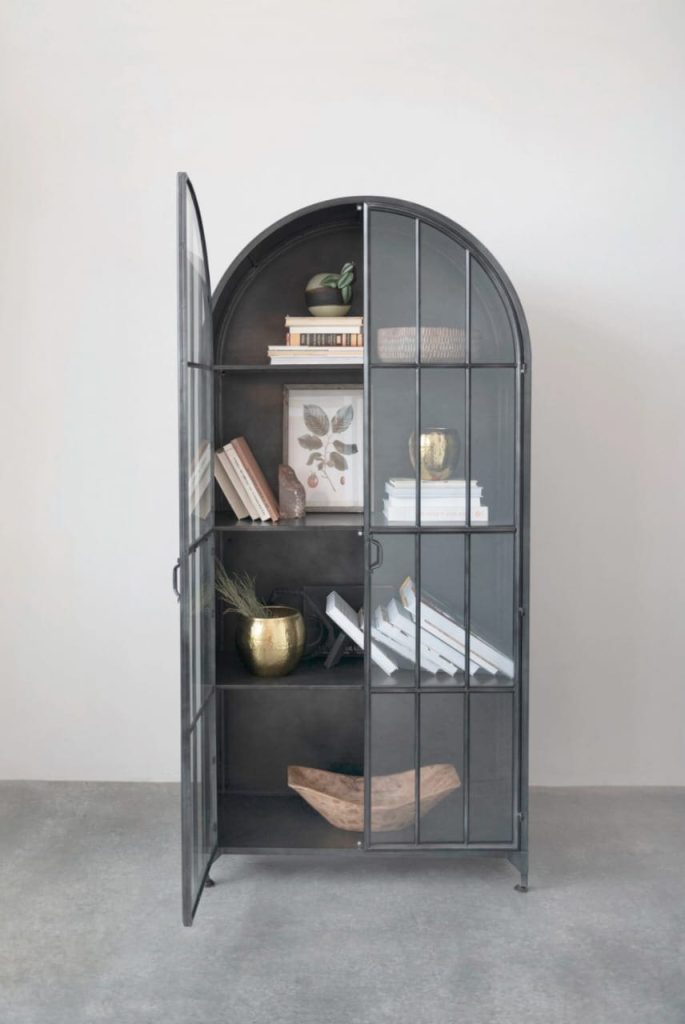 By using glass doors on the top shelves of the bookcase, you can create a display that adds a personal touch to the room. Glass doors also protect items from dust and debris. Further, ensuring that they remain in excellent condition. Thus, a glass door arched bookcase is an amalgamation of stunning sophistication and practicality.
7. Arched Bookcase with Asymmetrical Design
Have you always hated Geometry? And wish to make your room resonate with your love for asymmetry? Well, then, your arched bookcase does not have to be symmetrical. You can create an asymmetrical arched bookcase design. This will not only be your style statement but also create a unique and eye-catching look.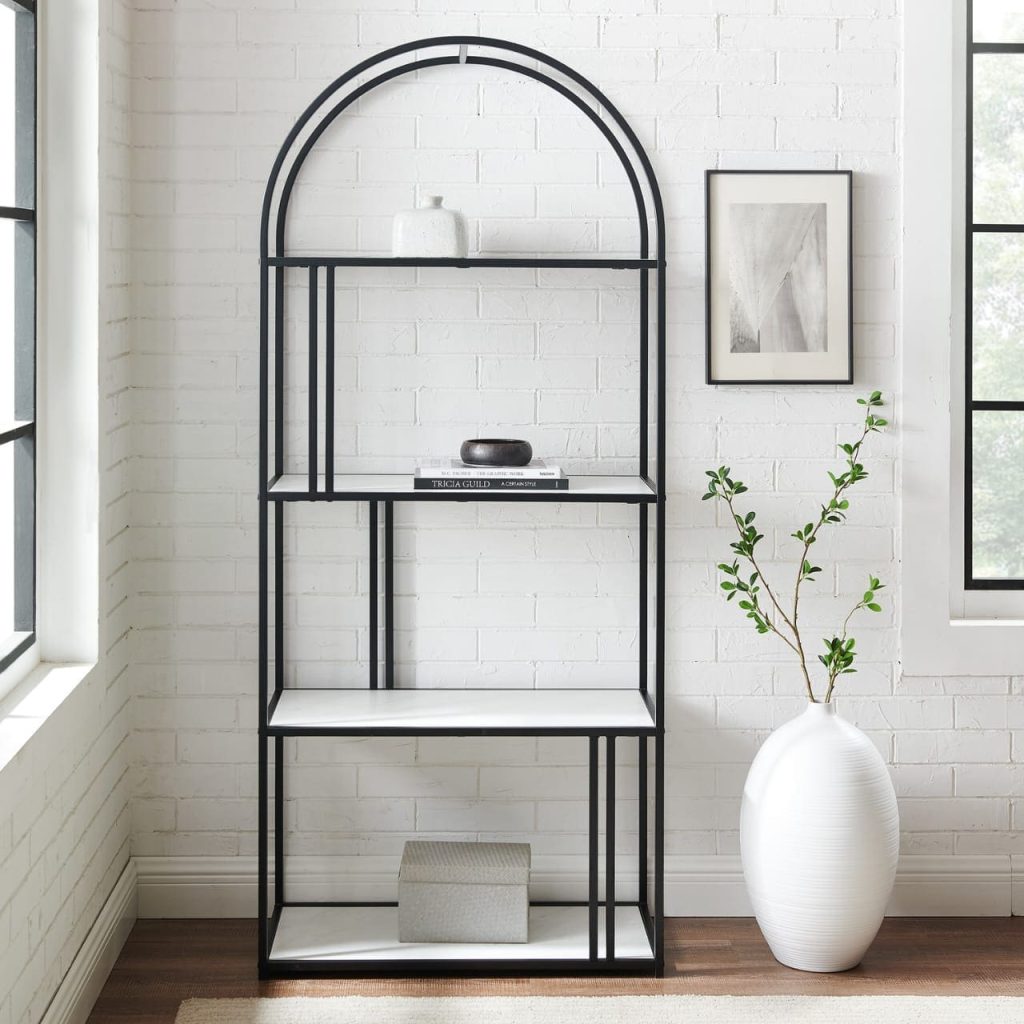 Using different-sized arches can make the bookcase look unconventional and creative. An asymmetrical design is ideal for those who want to make a statement and create a bookcase that stands out. Try adding an arched bookcase with an asymmetrical design now; it will also add personality to your room.
8. Arched Bookcase with Hidden Compartments
If you're looking for a unique way to add intrigue to your home decor, consider an arched bookcase with a hidden compartment. This design feature not only adds a touch of mystery to the piece but also enhances the bookcase's functionality by providing a safe and discreet storage space for your valuable items.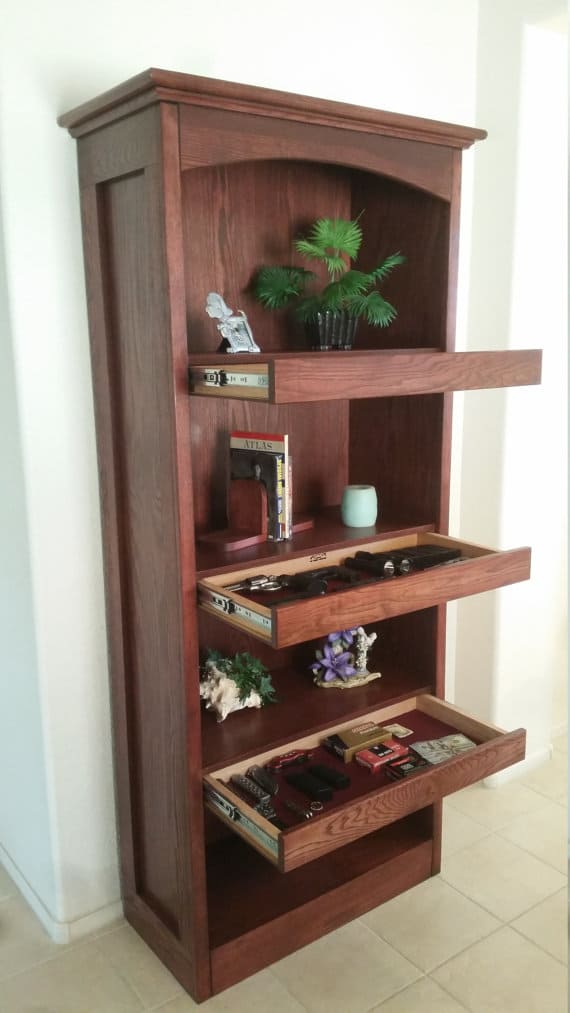 Hidden compartments in an arched bookcase are perfect for storing personal belongings, rare books, or any other items that you want to keep safe and secure. They can also be used to organize and hide cords or electronics, creating a more streamlined and polished look in your space. So why wait? Add a touch of style and mystery to your home with an arched bookcase with a hidden compartment today!
9. Arched Bookcase with Metal Accents
An arched bookcase with metal accents can create a modern and industrial look. The addition of metal accents or hardware to an arched bookcase can give it a unique edge that can make it stand out from other bookcases. You can incorporate metal accents in different ways, like in the form of metal frames or metal shelving.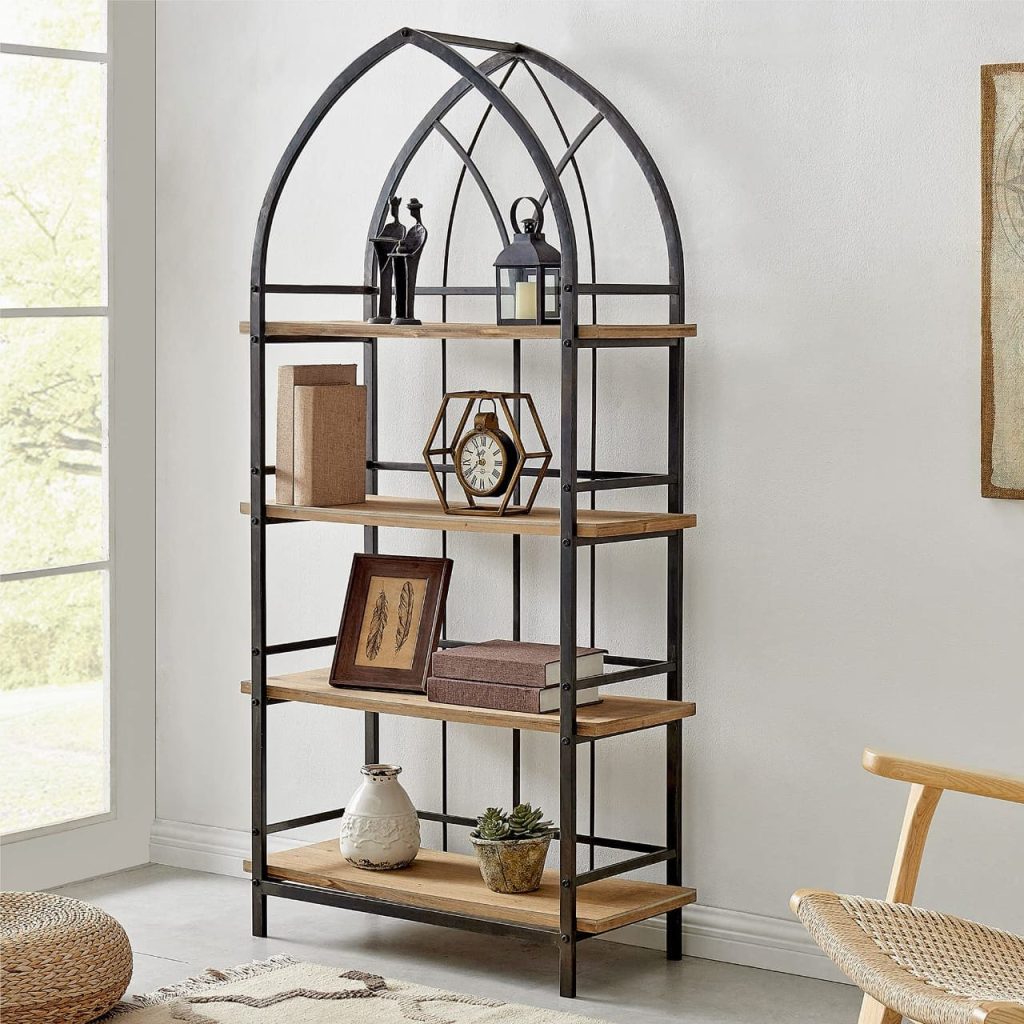 Pairing a bookcase with metal accents will give a modern furniture look. It will also create a cohesive and stylish aura. This design is perfect for those who want to add a touch of finesse and modernity to their home or office.
10. Arched Bookcase with Background Pattern
Adding a background pattern to an arched bookcase can make it look more dynamic and visually appealing. A patterned background can be created using wallpaper or paint to create an accent wall. This design can add depth and dimension to the bookcase. Consequentially making it look more interesting and unique. The pattern can be subtle or bold, depending on the owner's preferences.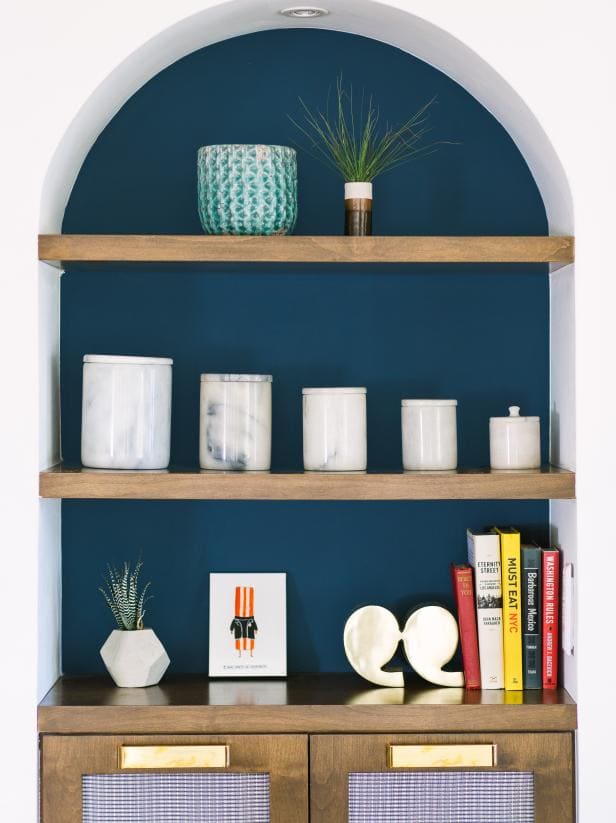 Pairing a patterned background bookcase with neutral-colored furniture will create a balanced look. So, if you are someone who likes to play around with patterns, then do try out an arched bookcase with background patterns.
11. Arched Bookcase with Sustainable Product
An arched bookcase made with sustainable products can add an eco-friendly touch to any home or office. Using materials such as reclaimed wood or bamboo can create a bookcase that not only looks beautiful but is also environmentally responsible.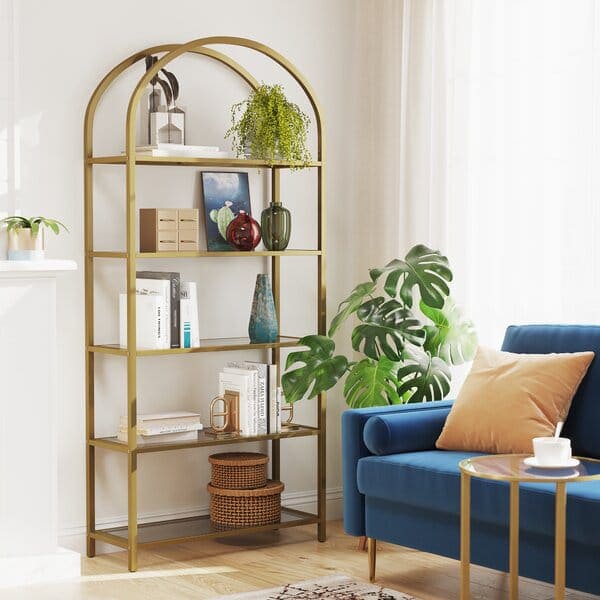 A sustainable arched bookcase can be designed to match the decor of the room and provide ample storage space for books and other belongings. This design is ideal for those who want to make a positive impact on the environment while still enjoying stylish and sophisticated pieces of furniture.
12. Arched Bookcase with Computer Desk
Combining a bookcase with a computer desk can create a functional and stylish piece of furniture. An arched bookcasewith a built-in computer desk can provide a space-saving solution that is perfect for small apartments or home – offices.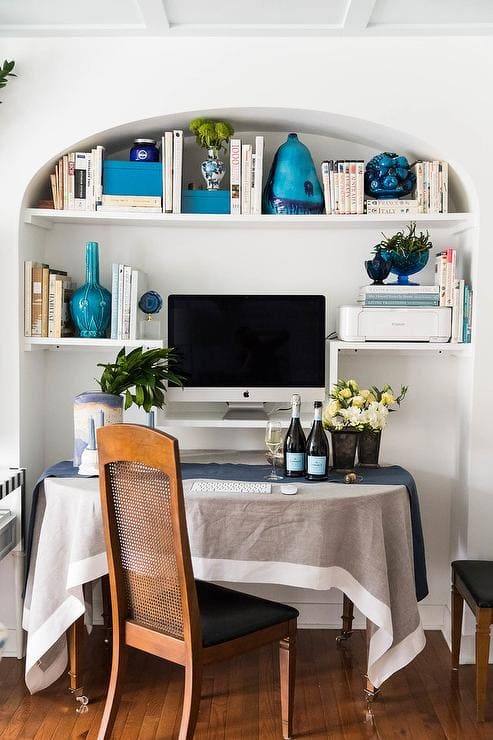 The bookcase can be designed to have shelves on one side and a desk on the other. You can also build the desk into the center of the bookcase. Customizing designs according to your preference is a good choice. An arched bookcase with a computer desk can be paired with a comfortable chair to create a cozy and productive workspace.
Conclusion
What a rollercoaster ride of stunning arched bookcase designs! In this article, we talked about ways in which we can enhance the look of our ordinary arched bookcases.
We covered 12 different types, including Glassdoor arched bookcases, Background pattern arched bookcases, arched bookcases with computer desks, and many more.
We hope that this article was helpful and you would have found your stunning design to enhance your arched bookcases.
Other Articles