16 Fabulous Cabinet Crown Molding Ideas to Transform Your Home
You have a brand new house and have the basic furnishing done. Now, it's time to get to the fun part and start working on making your house look like a home! Or you may be looking to ramp up...
You have a brand new house and have the basic furnishing done. Now, it's time to get to the fun part and start working on making your house look like a home! Or you may be looking to ramp up your home's aesthetic after redoing your interiors completely. Either way, you must check out these fabulous cabinet crown molding ideas that give your home a touch of elegance and turn it into a timeless beauty.
While the materials you use can range from solid wood to plaster, from MDF to polyurethane, you generally follow the theme you set with your interiors and cabinetry. Well-done cabinet crown molding adds to the detailing of your interiors and helps draw the eye along the cabinet to a graceful conclusion. Not just that, but using some of these crown molding ideas can actually help with spacing alignment and hide exposed sharp edges.
Creative Crown Molding Inspiration for Your Dream Home
1. Traditional Crown Molding
This is the most common type of cabinet crown molding idea used in kitchens worldwide today. While installing cabinets, we often find ourselves stuck with an unsightly gap between the ceiling and the top of the cabinets. The traditional crown molding is a great way to cover this area while adding a touch of elegance and grace to the room. It can either be installed on top of the cabinet or from the ceiling as well.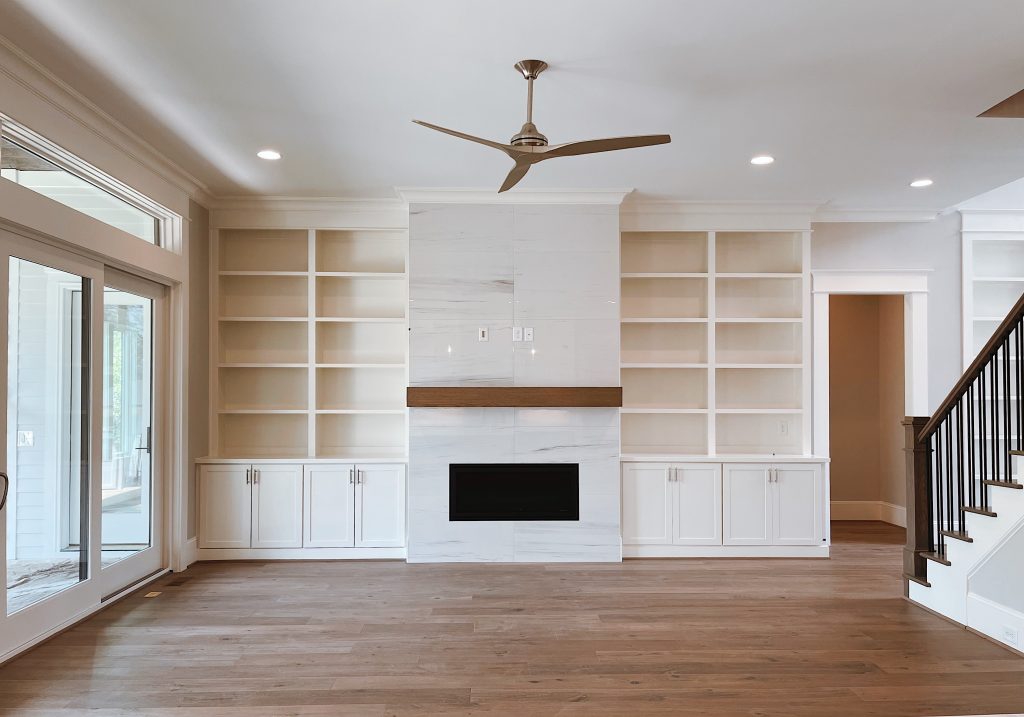 One thing that you need to keep an eye out for, however, is that this particular design aesthetic matches the overall look that you are going for in the rest of the house. If seamless, timeless elegance is what you aim to project, then traditional crown molding is one of the best choices for you.
2. Craftsman Crown Molding
What happens if you go for a more modern look indoors rather than a traditional graceful feel? Obviously, you'll also have to ensure that the crown molding ideas you pick reflect the same theme rather than clash violently. If ultramodern is your favorite style, pair it with craftsman crown molding.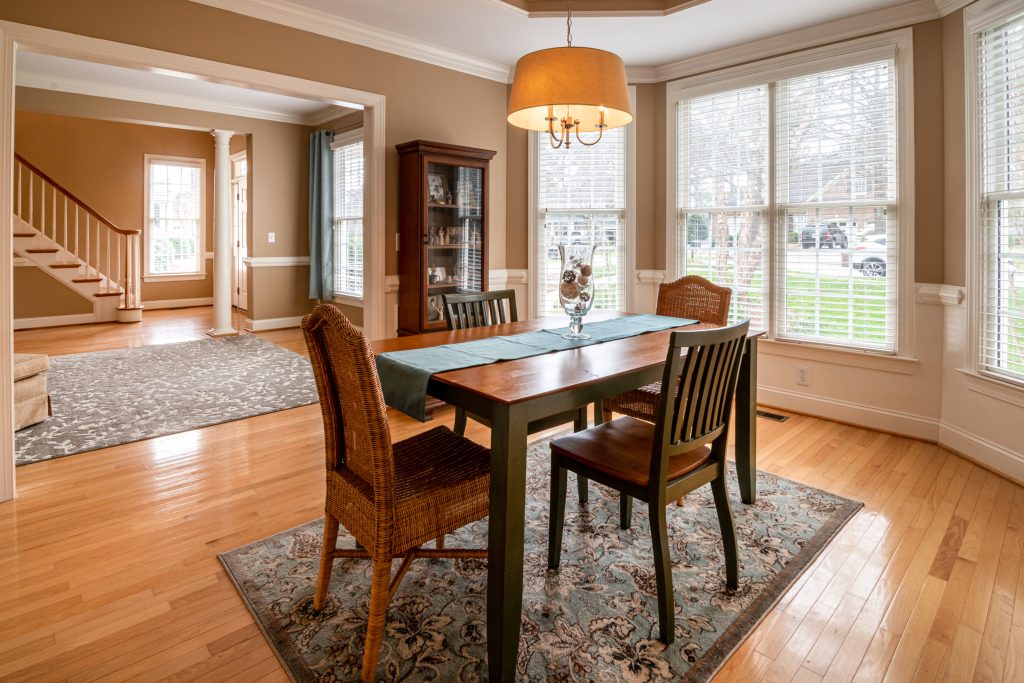 This type of cabinet crown molding is a clean one – with angles and straight lines rather than curves or decorative swirls. Since it's also relatively easy from a material and crafting point of view, craftsman crown molding is lighter on the pocket than some of the other, more elaborate styles of molding.
3. Stacked Crown Molding
Especially in the cases of older houses or those designed to follow an antique feel, ceilings are high. For practical reasons, the cabinets are placed within easy arm's reach. This creates a fairly broad and unsightly gap between the two. If this is a problem that you are facing, here's one of the best cabinet crown molding ideas to help you create a seamless look – stacked crown molding.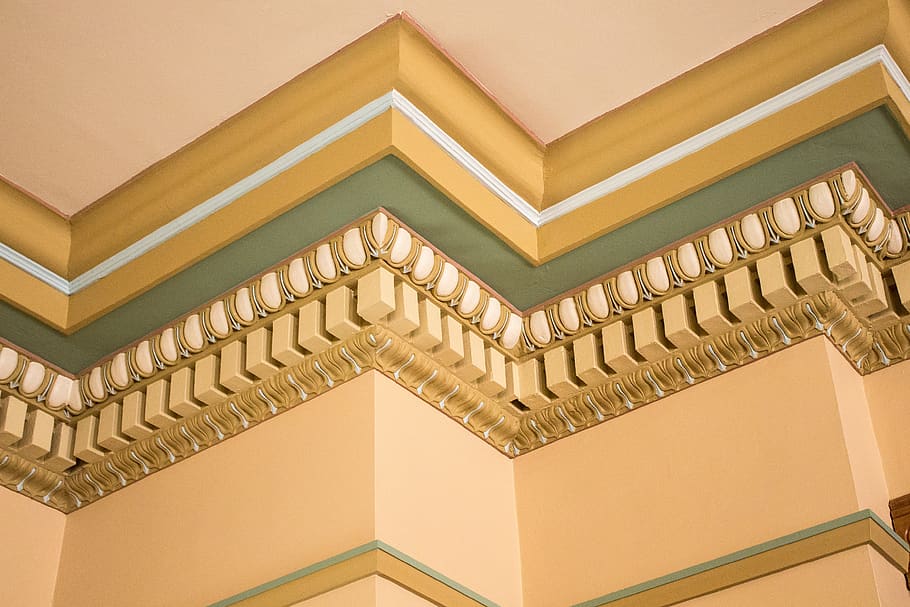 This particular cabinet crown molding uses layers of material to create a stacked feel – hence the name. Not only does this cover the gap and provide a flush finish, but it can also incorporate design elements to match the decor you've planned for the rest of your space.
4. Stepped Crown Molding
You can follow the stepped cabinet crown molding look when you have cabinets of varying heights. This is a dramatic style, and your crown molding can be used to accentuate it while reducing gaps and smoothing out sharp edges.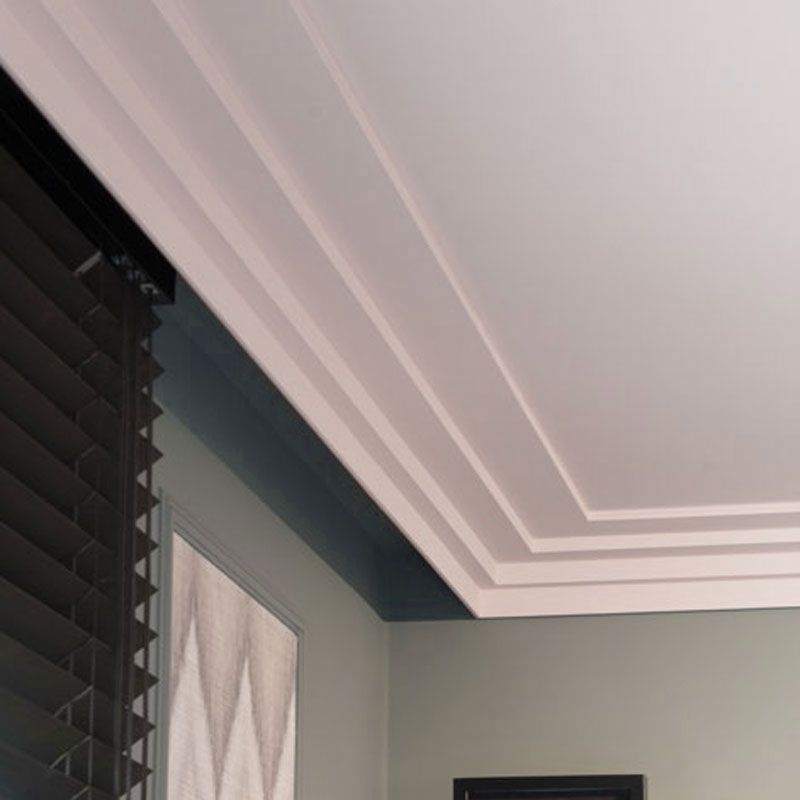 Also known as staggered crown molding, you need precise work to create this finish, as it requires exact measurements and careful cutting for that laser-cut feel.
5. Interior Crown Molding
As we said earlier, you can make the gap between the ceiling and cabinets disappear either by building cabinet crown molding or by dropping crown molding from the ceiling. When the crown molding design runs around the perimeter of your kitchen and abuts the top edge of your cabinets, you have the interior crown molding.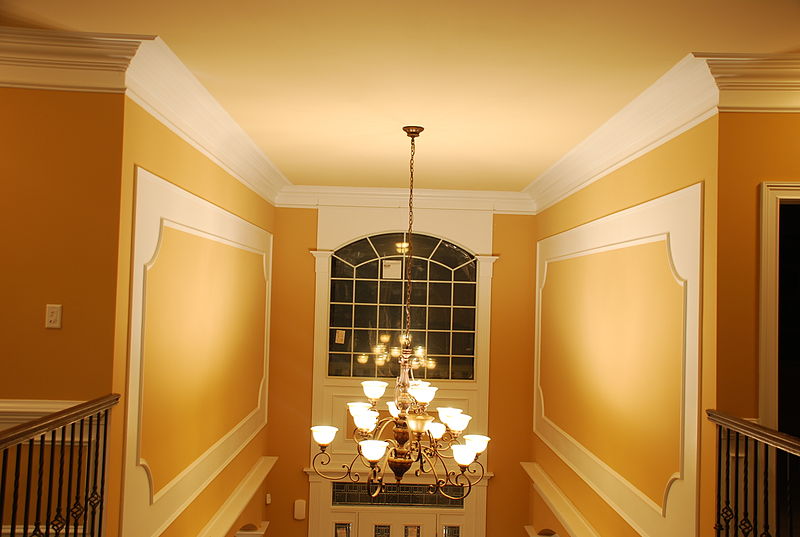 This finish is best when you want a look that's easy on the eye without being dramatic or unnecessarily fussy.
6. Edge Crown Molding
Edge crown molding has the unique benefit of being able to apply it to any part of your cabinets. It gets its name from the fact that it is created on the outside edge of cabinets or shelves. While curlicues and swirls can add character to an otherwise dull cupboard, we don't think that edge crown molding is purely aesthetic.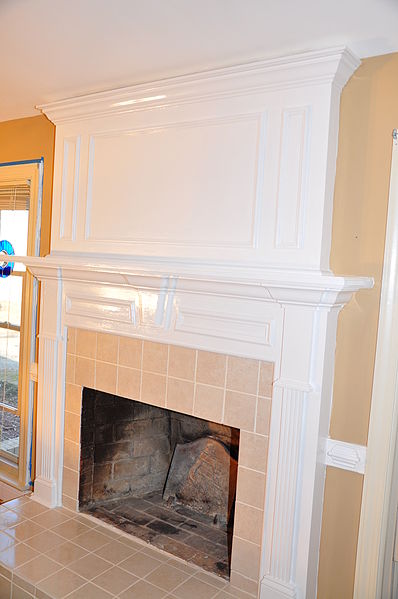 The edge molding method can be used when you need to add a little length or breadth to open shelves to ensure more surface for weight distribution to prevent the wood from sagging and warping. It's always great to have molding that is both pretty and functional, right?
7. Light Crown Molding
Speaking of crown molding ideas that are functional and aesthetically pleasing, you need to check out light crown molding if you've decided to use lights to create the mood and feel of your kitchen. Often known as a light rail, light molding is used at the base of cabinets to conceal lighting.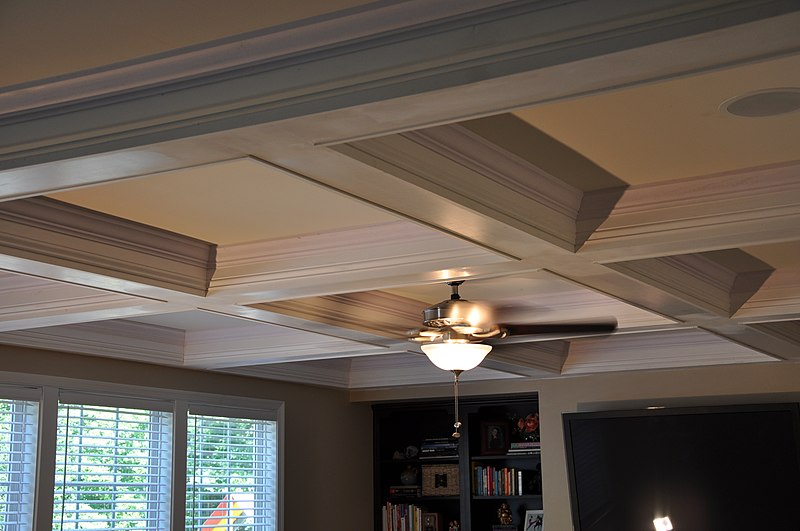 Available in a variety of sizes and adaptable to many different kinds of lights, the light crown molding is surprisingly light on the pocket as well!
8. Shoe Crown Molding
Just like a lot of cabinet crown molding ideas are used to conceal gaps between ceiling and cabinet tops, you need a solution for the gaps or flaws between the floor and bottoms of cabinets as well. Enter – the shoe crown molding!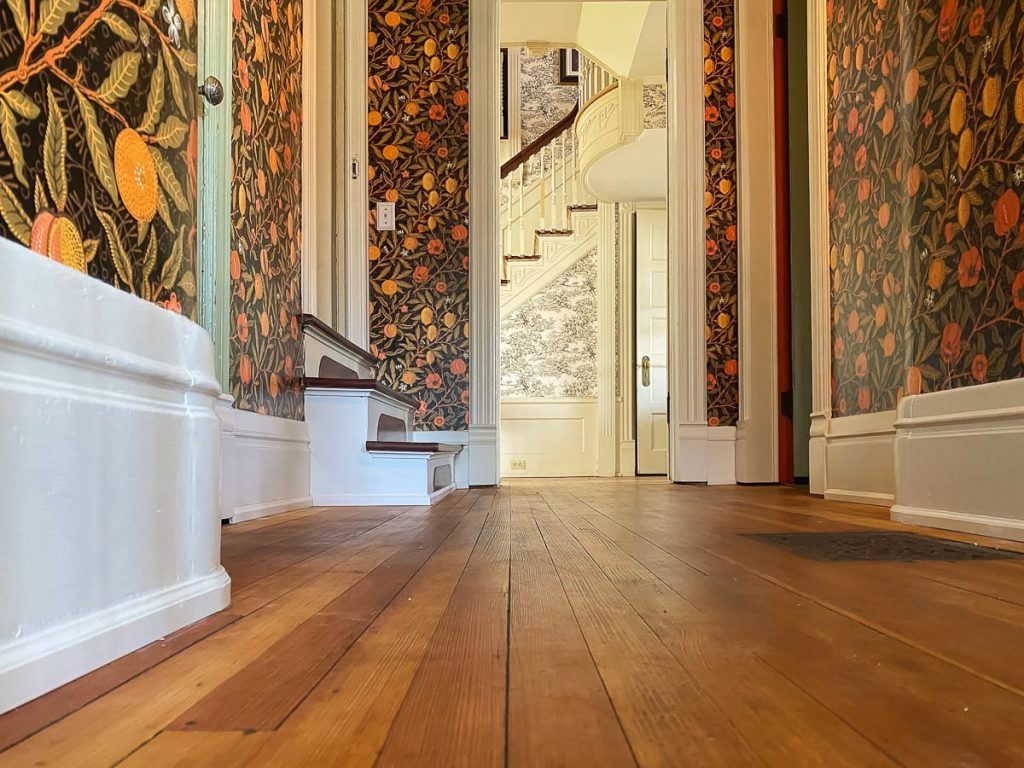 If you've been working on a tight budget or have chosen to only replace your floors without replacing the cabinet, you might be left with ugly gouges or scrapes near the base of your cabinets. Don't worry, you don't have to shell out considerable amounts to redo your cabinets, nor do you have to live with scuffed finishes. Adding shoe crown molding hides a multitude of imperfections at floor level, which provides a neat, smooth finish.
9. Applied Crown Molding
What happens in places like the kitchen, where you have appliances of different finishes, colors, and looks that disrupt your interior aesthetic? Just like the various crown molding ideas we've shared that help smoothen out the ceiling-to-cabinet and floor-to-cabinet imperfections, applied crown molding helps balance surface style imbalances.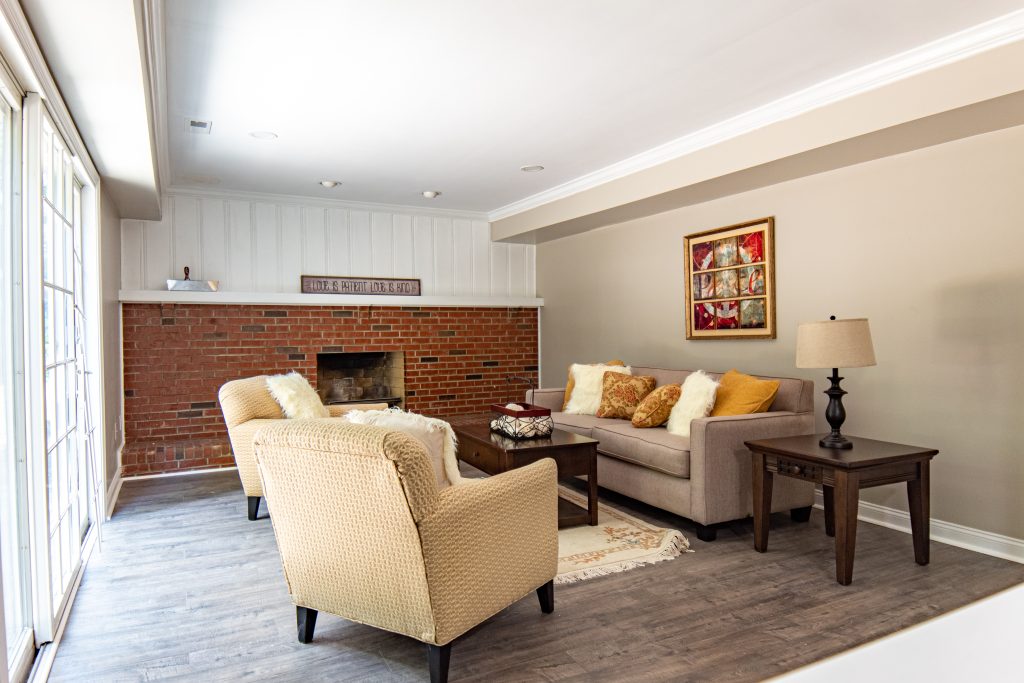 This molding can also be used to match or contrast the style and decor of the rest of the space. While matching the overall interiors allows a blended finish, many people prefer to go for a strong contrast with applied molding to allow it to pop and create a focal point in the room.
10. Riser Crown Molding
Sometimes, when you use molding to create a specific look, like in the stepped crown molding finish, you are still left with a gap between the ceiling and the top of the cabinet. In these cases, you can use riser crown molding to seal the space between the two and ensure that you have one less dust catcher surface in the house.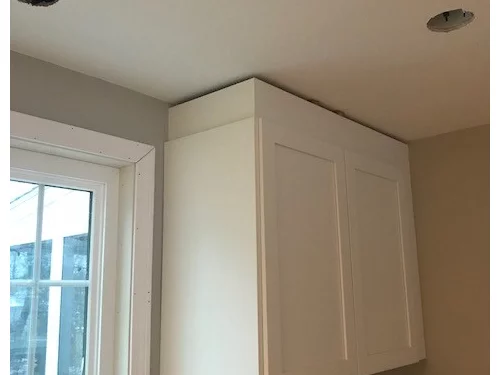 In some cases, riser crown molding is the only molding used. As this is more functional than aesthetic, you might not get a lot of style out of this. However, it does get the job done, which is what matters at the end of the day!
11. Minimal Crown Molding
Simple, clean, and uncluttered – if these words describe the look of your ideal home, here's a cabinet crown molding idea to match! In an ultramodern or contemporary style of interiors, you might want crown molding that not only covers the gaps but also looks good without being the center of attention.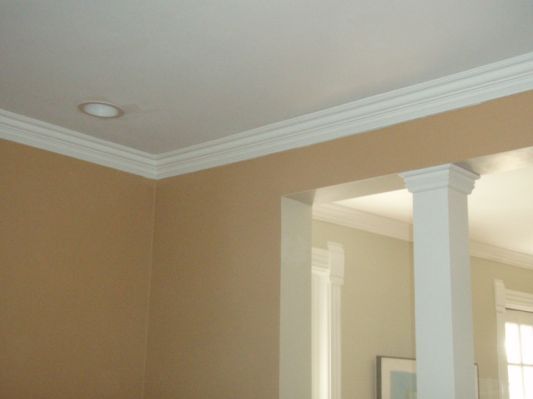 Minimal crown molding can come in different styles- concave, flat, monochromatic, and more – but the purpose remains the same. Be practical, blend in with the rest of the (minimalist) elements, and let the main highlights of the room shine.
12. Dentil Crown Molding
This one is purely ornamental! Are you looking to create swirls, motifs, or other decorative work? Dentil crown molding is what you should be looking for. Not only does this work as a standalone type of cabinet crown molding, but you can also use it on top of other crown molding ideas like interior molding.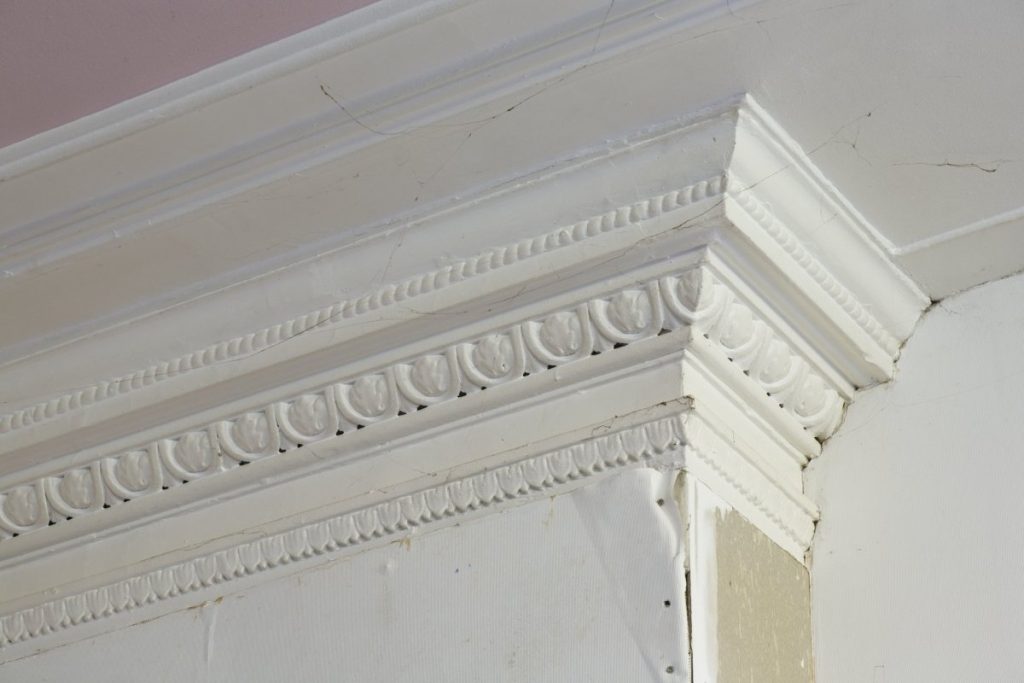 Generally found along the roofline, it is versatile and can be applied to any surface or edge of your cabinets and shelves.
13. Scribe Crown Molding
If you have uneven wall, ceiling, or floor surfaces, it stands to reason that you will be faced with gaps between your cabinets and the corresponding surface. Scribe crown molding uses a thin strip of your preferred material to hide these blemishes and inconsistencies.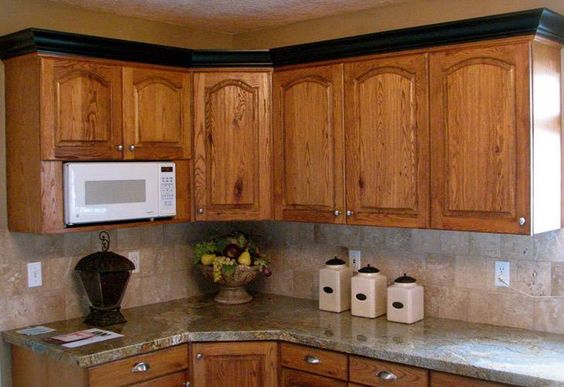 This is especially useful because one side can be straight to fit the cabinet end, while the other can curve along the irregular surface. The result? A smooth, cohesive-looking finish!
14. Corner Crown Molding
When you work with professionals to craft cabinets and cupboards for your home, you might have surfaces of different shapes and motifs. While this in itself can be a talking point, you need to ensure that the finishing is as smooth to avoid sharp edges and sloppy joints between the walls/ceilings and cabinetry. Here's where you'd need to use corner crown molding.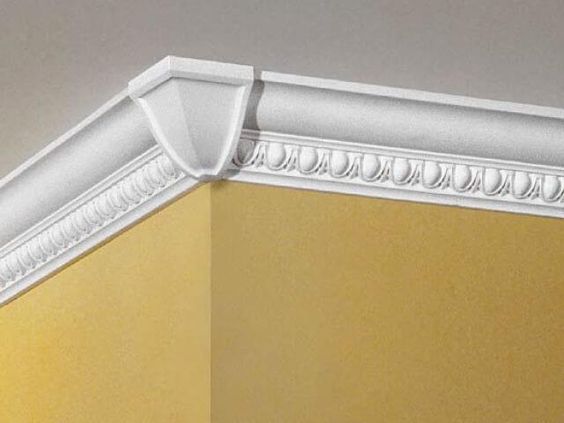 One of the most underrated crown molding ideas in the market, but one that you definitely should not do without – crown molding can make or break the finish of your interiors.
15. Cove Cabinet Molding
Are you thinking of elegant arcs and graceful curves to serve as a complement to your woodwork cabinets? You should work cove cabinet molding into your home interiors in that case! Not only does it have the distinction of working brilliantly with various finishes and materials, but you can also use the beaded cove molding to add an extra element of oomph and detailing to your design.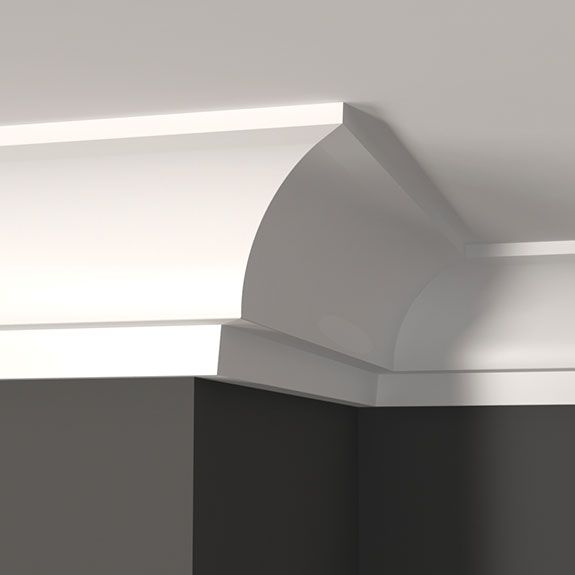 As the name suggests, cove molding has a concave appearance, which sits well with both corners and edges. Also known as ceiling trim, this particular crown molding idea can be used to hide many imperfections and errors in finishing.
16. Flex Cabinet Molding
There are times when you are content to let your molding be purely practical or entirely ornamental. But if perfection in every aspect is what you are working towards, you can't get along without flex cabinet molding in your repertoire of cabinet molding ideas.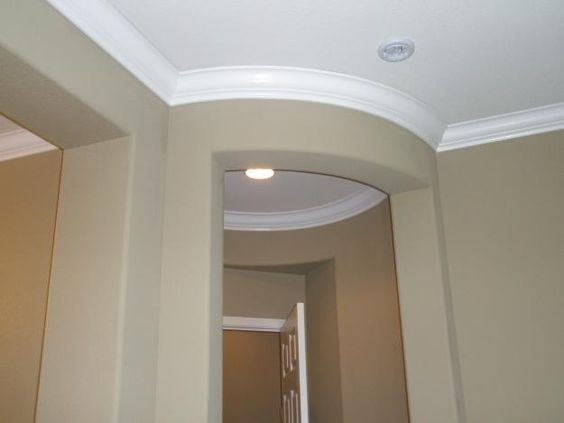 Flex or flexing molding is your best friend when you have curves or irregular surfaces along which you need to work. That being said, it can be used in tandem with other styles like interior crown molding or even traditional crown molding. While the finishes of different moldings can match the rest of the interiors, the material used for flex molding is typically foam based. However, they come in different finishes that can merge smoothly into your design ideas.
Your Final Checklist
We've given you a whole host of cabinet crown molding ideas for every situation with different types of interiors and design plans.
While you can mix and match and use precisely what suits your overall dream aesthetic, make yourself a checklist of things to find out before you make your final decision.
Once you have these answered, arm yourself with our extensive guide and hit the shops. In case we forgot to mention this earlier, a lot of crown molding ideas can be DIY projects, so if you are putting a bit of yourself into your house, go ahead! Just match your skill levels with the complexity of the task on hand, and you are good to go.
Other Articles