An accent wall is a wall that is painted or has a unique design that adds charm to the room. This decoration makes the room attractive, and who doesn't want their bedroom to have a special touch, especially if it's small and when you can get the option to explore form the wide range of bedroom accent wall ideas?
Yes! You heard that right; we have come up with 15 bedroom accent wall ideas you can incorporate into a bedroom, even if it is not quite spacious. With these ideas, you can turn your living space into a place you'd love to spend time in.
This post focuses on how to make a small bedroom aesthetically pleasing without being overwhelmed. Whether you have been living in your room for years or just moved to a new room and want to change the dull space into an attractive one, you have reached the right place.
Let's move to the 15 magnificent bedroom accent wall ideas that will add a touch of creativity to your wall.
1. Unique Wallpaper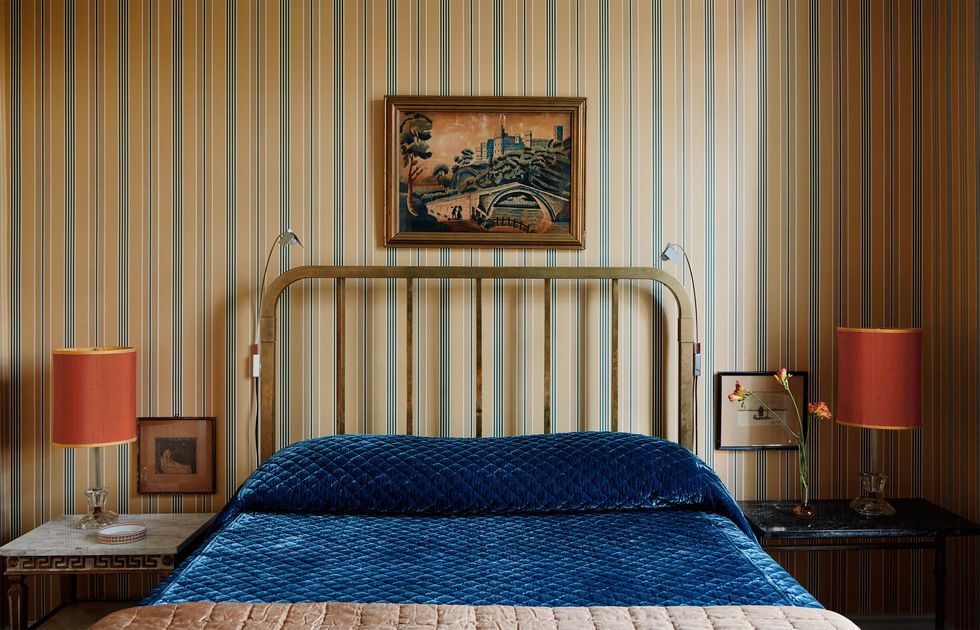 A magnificent wallpaper can breathe life into your living room. Any wallpaper you choose can play a vital role in bringing good vibes.
You can choose wallpaper, whether a portrait, an abstract pattern, or scenery. Ordinary things won't be able to make a statement. So you must invest only in wallpaper that has a punch.
A feature wall sets the tone for a room. Beautiful wallpaper with powerful shades can help you achieve a specific mood. For example, an orange-colored wallpaper can lighten up your wall. On the other hand,
pink accent will make it more calming and relaxing. A punchy wallpaper is better because it will keep your energy up.
Similar Post: 15 Stunning Accent Tiles in Shower Ideas for Your Bathroom
2. An Unordinary Pattern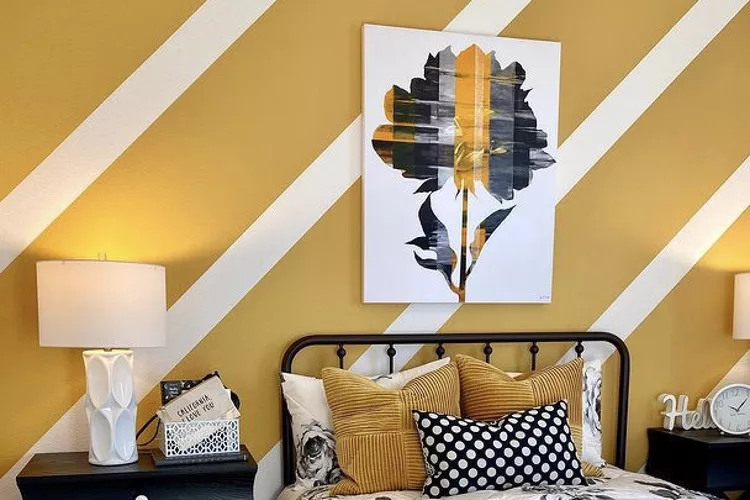 You can look for unusual patterns, achievable with paint that can soothe your visual senses. This approach has been the trend for a while. We can create a soothing gradient effect on our accent wall by painting one stripe dark and the other light.
Girls might prefer making a pattern by adding pink after white stripes to create a girly design, while boys probably pick dark patterns with bluish stripes after lighter ones to form a seamless striped pattern. You can choose from various other designs, for example, vertical, tinted, checked, or horizontal. 
If you want your bedroom to look calm and full of energy, you can prefer to paint it yellow with white. It is because yellow is known to trigger feelings of happiness.
It will add a texture to your wall and make your room look more sophisticated and welcoming. While adding purple with a cream stripe will make it a nice and soothing place to sleep.
3. An Unordinary Pattern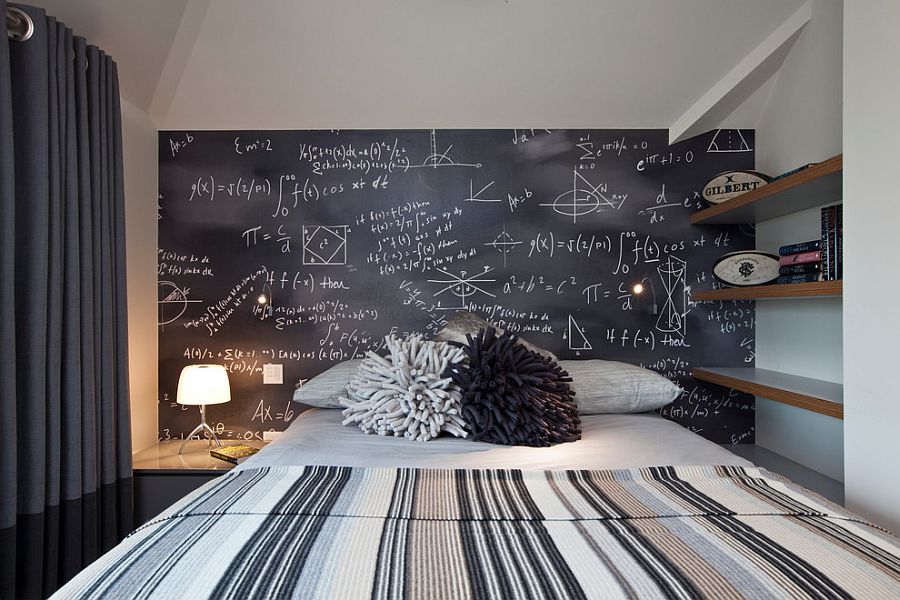 A chalkboard incorporated as a painting is also a go-to option for the best bedroom accent wall ideas. Children can use it to do their homework and explore their scribbling skills, and you won't have to worry about the wall being cluttered because it can be cleaned with a wet towel or washcloth.
A chalkboard hanging on your wall can be helpful in many ways; for instance, you can jot down notes and be creative. Moreover, you won't forget your best friend's birthday or marriage anniversary. There are even chalkboard wallpapers available online.
You can add a wallpaper that has the ability to work as a chalkboard. This way, you won't have to use extra space for attaching a chalkboard, and your tiny bedroom will start to seem more spacious.
4. Mirrored wall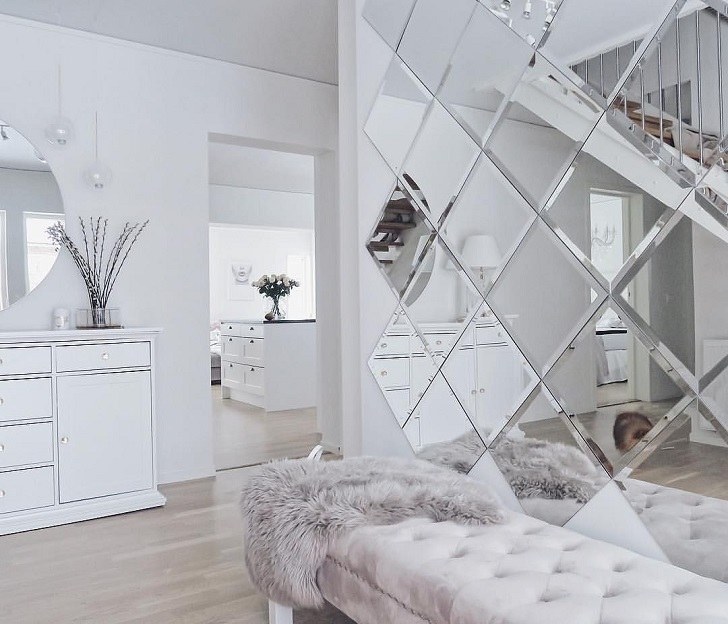 If you ask what a mirror can do in a bedroom with limited space, It can make you feel like there is more space in the room.
A wall with mirrored tiles can create an illusion of a spacious room, while panels of a mirror can reflect the light and brighten up a tiny space. All these shiny patterns will make your room look more appealing and luxurious.
Mirror stickers, on the other hand, are inexpensive but still look fabulous and give the room a creative look. These stickers can reflect light and emphasize your room's look. You can also install and remove these stickers easily and reposition them as you like.
5. Floral Patterns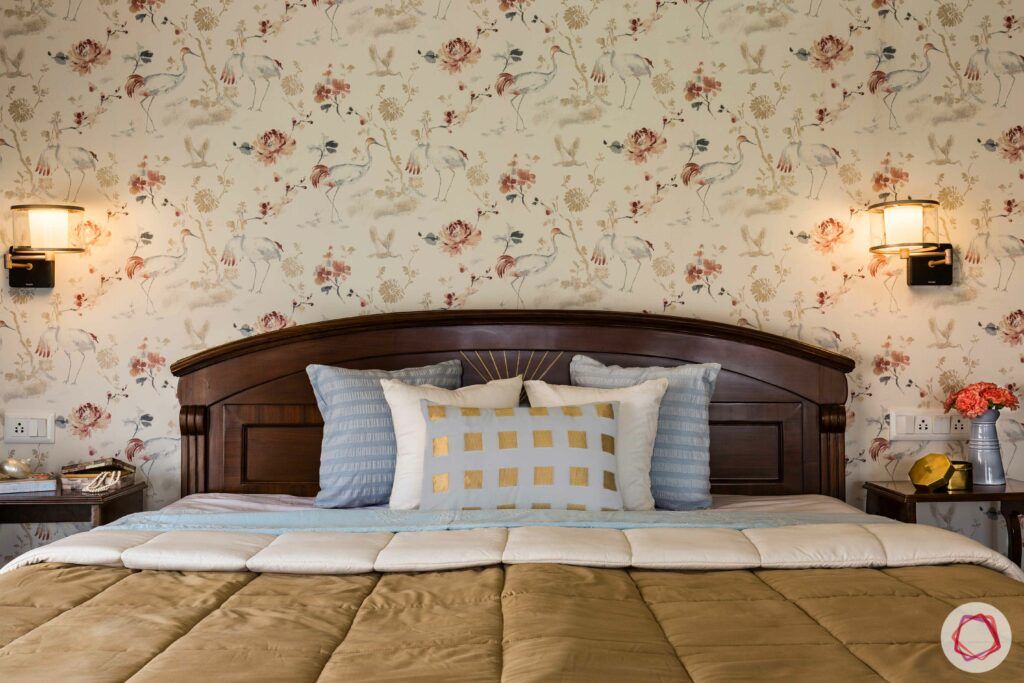 A flower-patterned accent is among the must-have bedroom accent wall ideas for bedrooms with little space. Decor pros always recommend having walls with floral patterns. 
Patterns that depict flowers with popping colors or bright blooms provide a relaxing atmosphere. Moreover, adding a shelve to that wall and putting perfume bottles will bring a touch of elegance to the space.
You can use bright colors to make the wall look sassy, but if you want to create a smoother tone, then choose flowery patterns with lighter hues.
6. Geometric Accent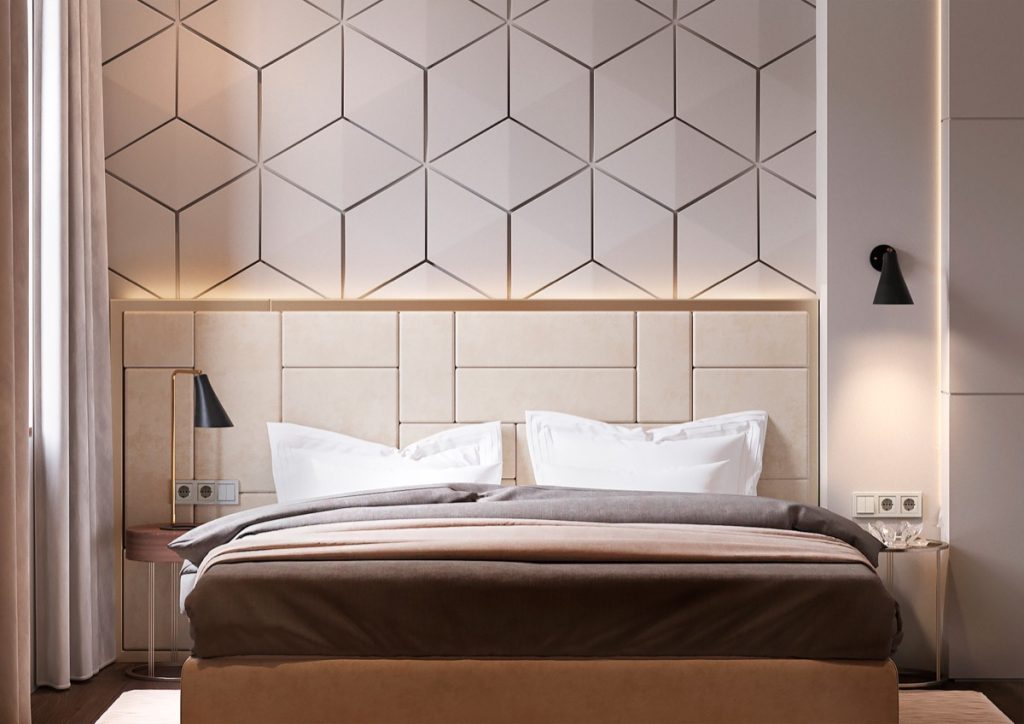 This particular accent is easy to have, but it looks spectacular. This is a prevalent way to provide bedrooms with a modern and stylish look. You can choose from circles and rectangles to hexagonal patterns.
Geometric decorations come in various patterns, colors, and styles. These shapes can also be used to craft visual interests that charm your bedroom.
When you are in search of a geometric accent, 3D wall panels are a unique way to add life to your bedroom wall.
These are crafted using PVC. You can choose from a plethora of color options, but these look more stylish in black or any color with a darker tone. Geometric elements can provide a trendy spin to a small bedroom.
Also Read: 11 Creative Ideas to Decorate Your Bedroom Like a Pro
7. Classic Wood Paneling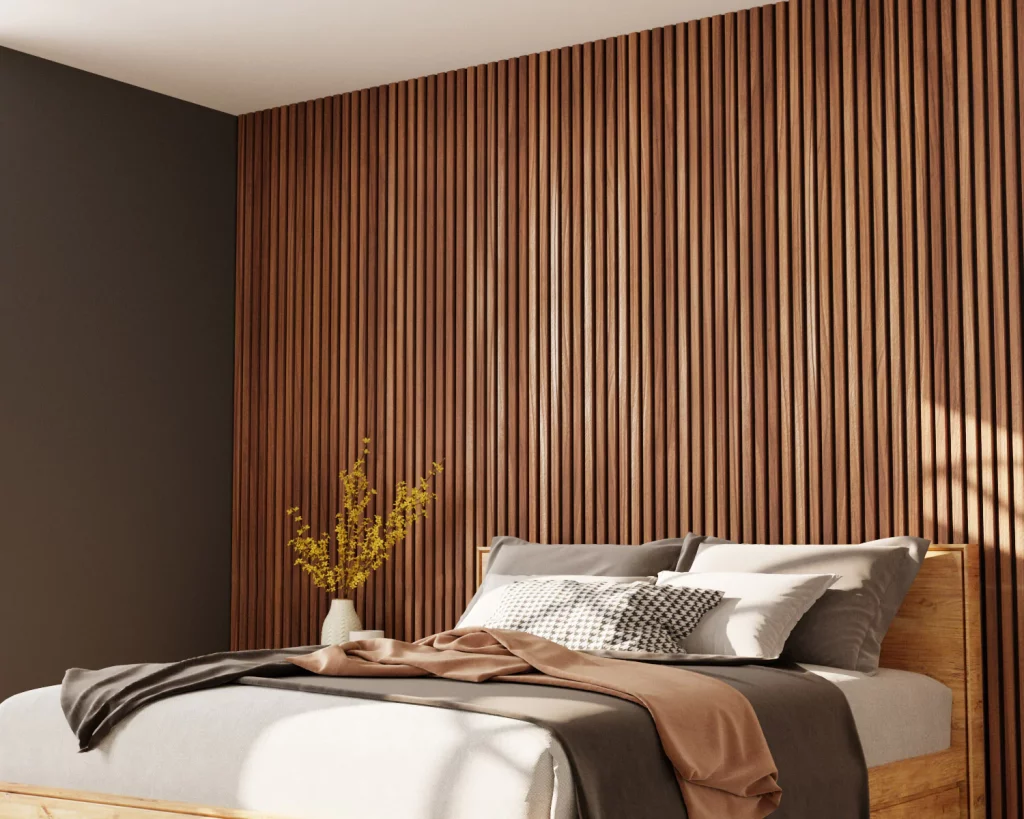 A wooden accent is spot-on for small bedrooms. Wooden paneling adds a touch of warmth and earthiness to the room. It also makes the room environment more inviting and soothing.
Officials had reserved Wooden Panels to improve and maintain historic homes. But the situation has changed nowadays, and it has become one of the most prominent accent wall decors in modern homes.
Nowadays, homeowners prefer these as an accent wall option. These panels make the room more magnificent and draw guests' attention as soon as they enter the room.
There is no need to add any extra embellishment; just the paneling and the accent wall in your small room are ready to capture the gaze of people.
8. Headboards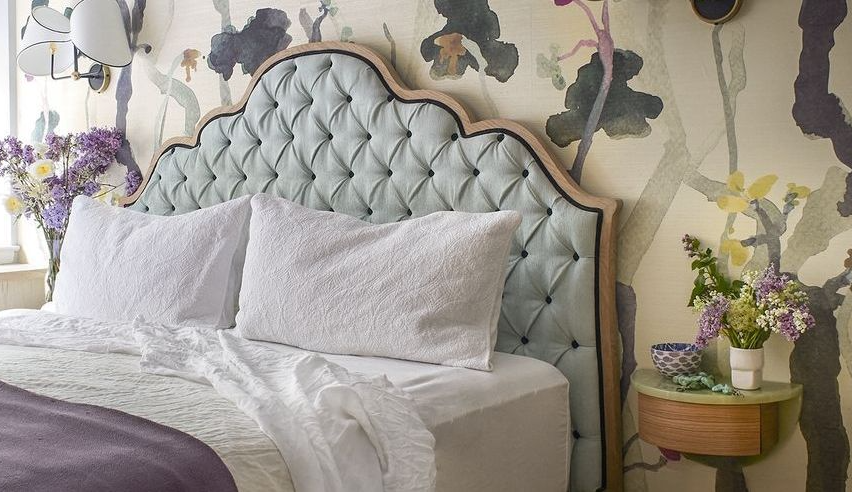 You can invest in uniquely crafted headboard Panels. When you enter a room with little space, you will find that the bed is a focal point.
And if we attach the headboard to the wall, voila! We can shift the focus to the wall, where you can add a shelf to showcase your awards and books or any precious collection of things you find charming. 
A dark green or blue color would look great in a tiny bedroom. This will keep the room calming and comforting.
Wallpapers with uncommon designs, artwork collections, or any other decor element in the background of your headboard can catch the attention of others. This is an excellent option if you are living in a room with limited space.
9. Create Your Own Gallery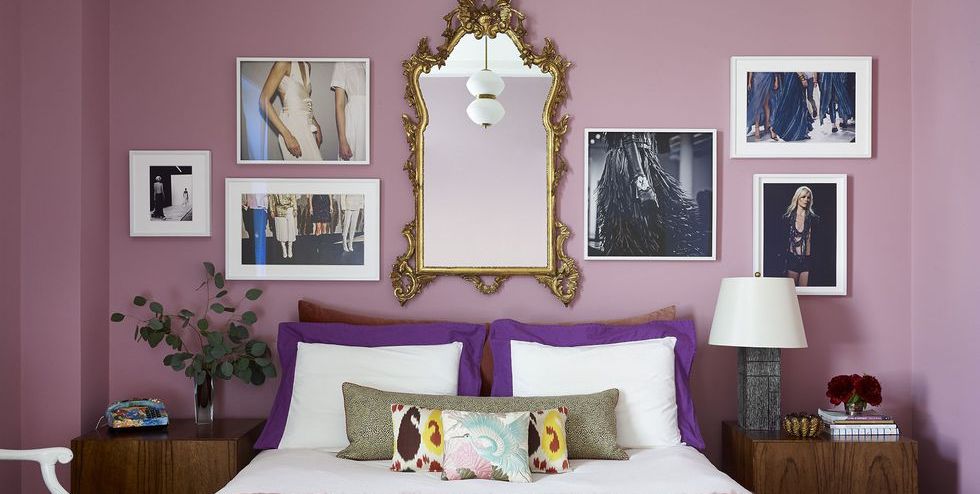 You can create a gallery of your own! You can preserve memories by hanging your family pictures on the wall to add the touch of elegance as one of the bedroom accent wall ideas. The collages are in trend; you'll find these in any of your friend's houses, who is a decor lover.
Not only are they trends, but these recollections give your room a personal touch. They will look adorable in tiny bedrooms. Even if you don't want to invest your time in getting your photos printed, you can still look for abstract art portraits on the internet.
These will add a touch of sophistication to your feature wall. This decor will keep the aura clean and minimal. The artwork can be inspired by anything from modern designs to classic masterpiece paintings.
10. Tropical Wallpapers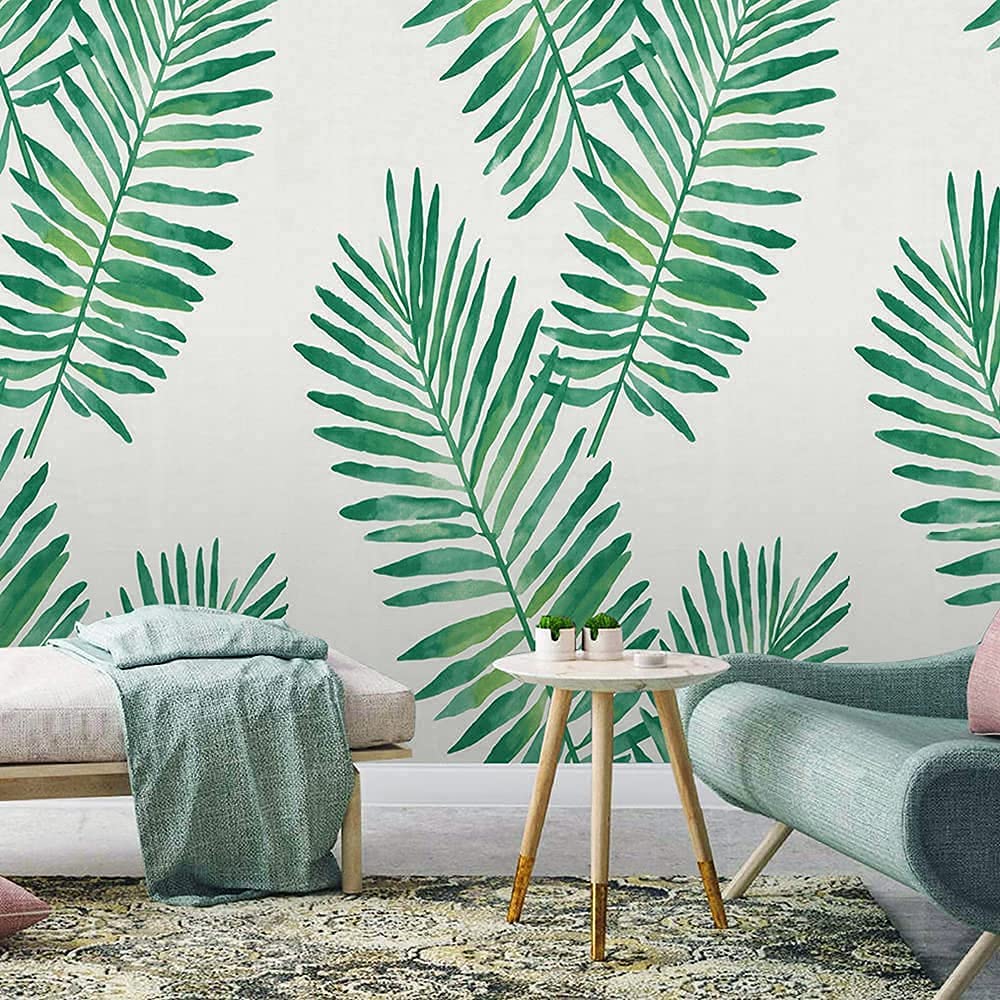 Such kind of bedroom accent wall ideas are appropriate to create a playful and vibrant atmosphere in a tiny bedroom. Beach prints and tropical-themed wallpapers are some inspirations to give your bedroom wall an iconic look. Lush green palm patterns can bring a bright, beachy vibe to your room.
You should prefer a green or blue colored accent wall for a small bedroom when considering a tropical decor theme.
A tropical wallpaper will provide the bedroom with a relaxed ambiance. Palm tree motifs and green leaves will work fine than overdoing decor. It is better to incorporate jungle plants that give a tropical feel.
11. Travel Inspired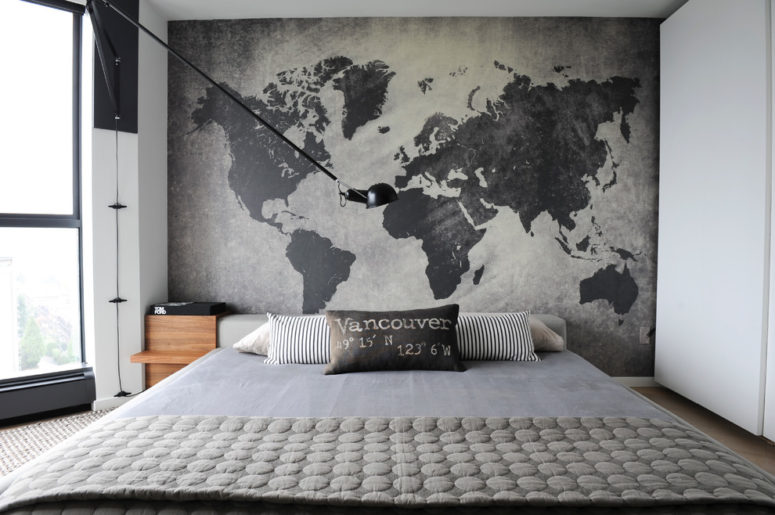 Bedroom accent wall ideas with a map or geography wallpaper is a fantabulous option for travelers and will turn a small living room into a live inspiration.
You can play with pictures, mix some of your favorite traveling photos or the places you have been to, and paste them on the wall. This way, you can inspire and excite yourself to travel more around the world.
Moreover, your room will become a source of constant inspiration. Hodophiles often put a map behind their headboard (on their bedroom wall) to stimulate their motivation for traveling.
If you also have the same emotion triggered, go with this decor idea. It would make a perfect way to express your passion for travel and exploration.
Related: 15 End Table Decor Hacks to Try
12. Rustic Theme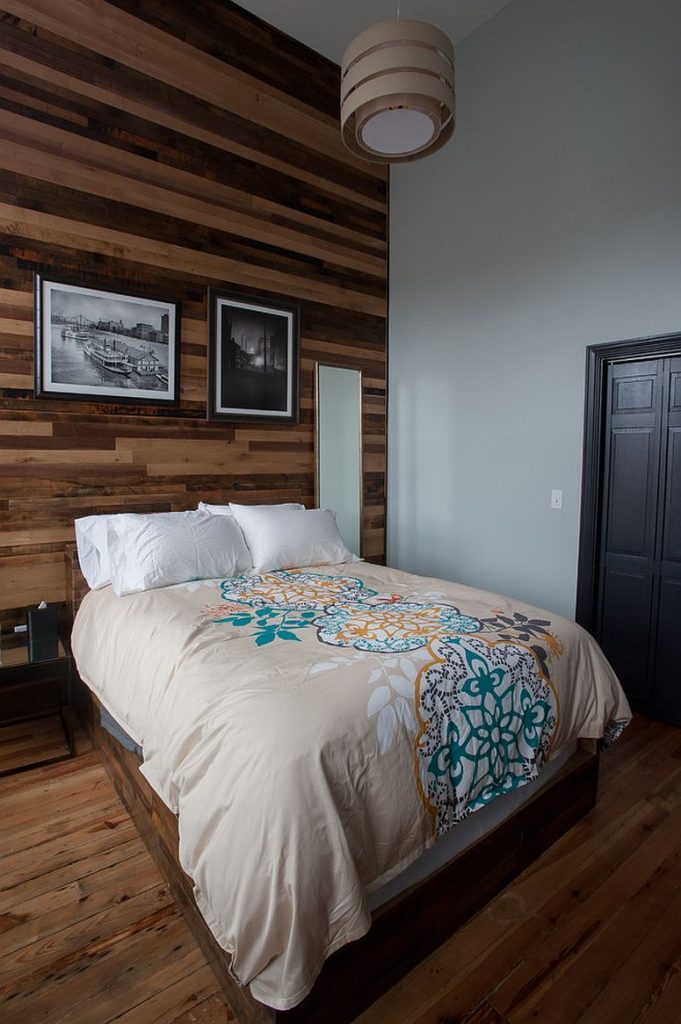 Go for reclaimed wood to add a rustic and old aura to the room. You can create a wood accent wall in your tiny living room without any hassle. Reclaimed wood planks are available in different patterns in the market.
Choosing a wood with a subtle finish is a crucial thing to keep in mind. It would be a brilliant alternative to keep your room's color scheme intact.
This would provide the room with an aura imitating nature. Reclaimed wood has an old and rustic feel that is becoming the trend. You can choose from a plethora of rustic options to make your bedroom look more antique and rustic.
13. Masking Tape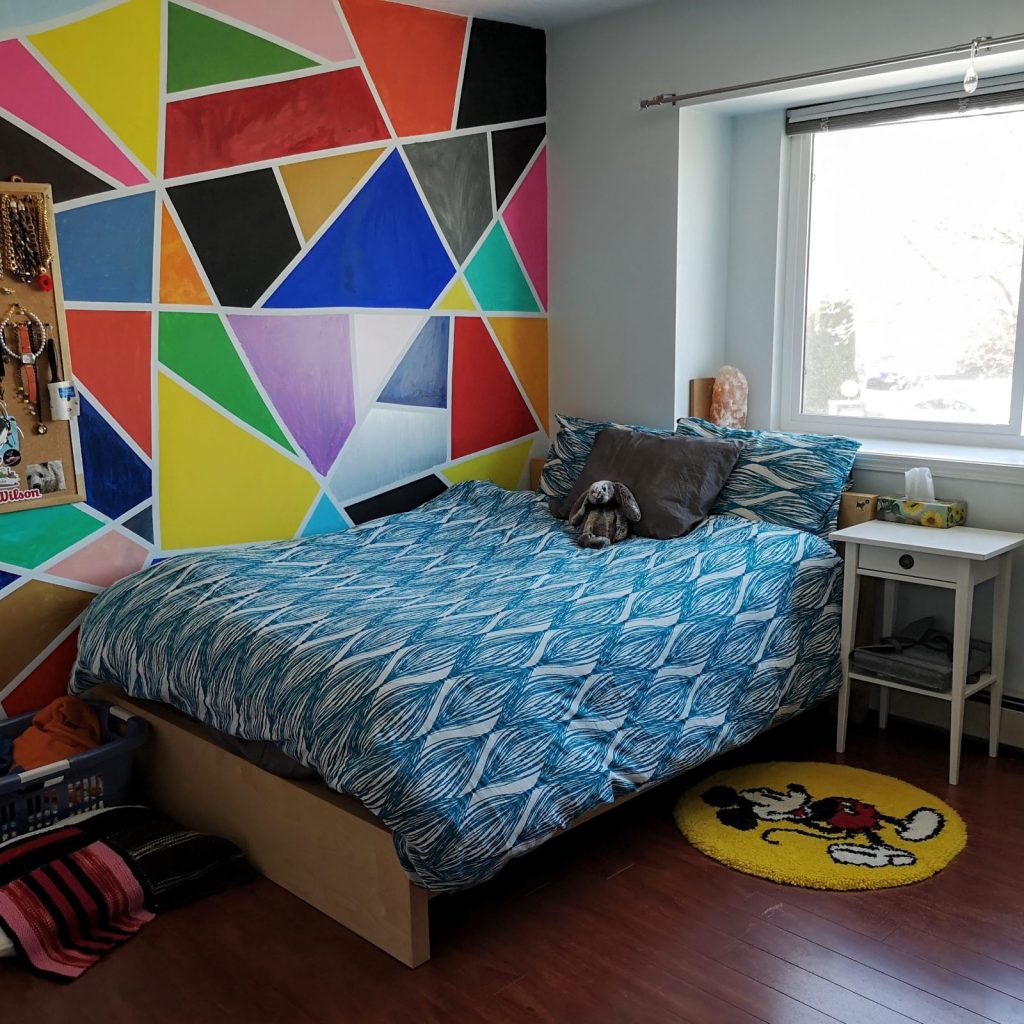 A masking tape is an excellent option if you are interested in redesigning your room frequently. It is easy to use and remove the masking tape. This means you can redesign your wall as many times as you want.
You can use this to create patterns and designs of your choice. Masking tape will give you the maximum control over customization over any other bedroom wall decor option on the market, and guess what?
It's affordable too! You will have to clean and dry the wall before applying the tape. 
Not only masking tape, but there are many other taping options when it comes to decorating the wall in your way.
For instance, Washi tape, which is typically utilized in decorating cards, is also recommended for designing feature walls. Golden tape is another option available in the market that you can use to make your accent wall more beautiful.
These are easy to apply and remove, so you won't have to worry about ruining the paint.
14. Boho Decor Items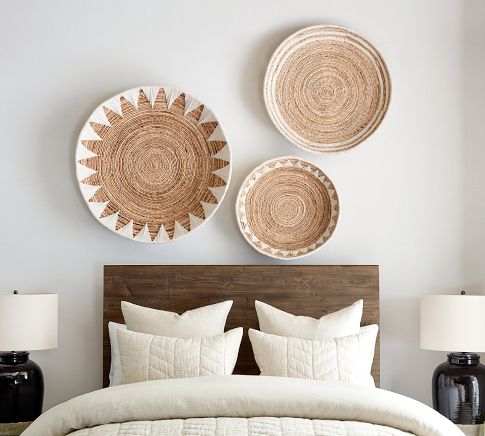 Use plenty of texture to make your bedroom less chaotic and more inviting. It is perfect for a wall in a bedroom with limited space.
You can create texture by including a patterned rug, handwoven baskets, etc. The area will become more of a shrine by incorporating these specific details. 
However, it would be best if you kept in mind that overstuffing the wall with such decors will make it look more cluttered and will be its perfection. You can pick colors that don't clash with the boho decor items.
For example, a lighter color would be ideal for driving guests' focus toward these items. While a darker color would hide these adornments' charm, You can play with different hanging patterns to have perfection.
15. Unusual Bookshelves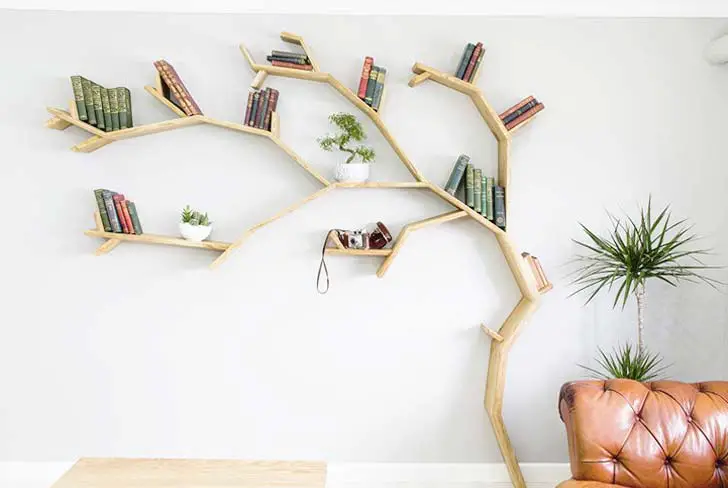 You can improve your small bedroom's look by incorporating a beautiful bookshelf. Your living space will seem more elegant with a specific sort of bookcase.
Making a statement is possible by adding a shelf with striking colors. It could be an ideal fit for a room with limited space. 
Bookshelves are not only a place to store literature but also can be used as a display to showcase technological gadgets such as mini robots, LED lights, and more. These elements will make it more attractive and valuable.
One might find it tempting to use voice assistants like Google Echo or Amazon's Alexa lying on one of those shelves. Do You get my point? The possibilities are limitless.
One thing to remember while planning an attached bookshelf is to prefer only a lighter tone. Try to place piles of books differently on each shelf and add a potted plant to give the scene more color and texture.
Check This Next: 9 Interestingly Unique Tools You Should Have in Your Toolbox
Conclusion
A bedroom with limited space can be decorated with many unique ideas that can provide fantastic themes, from traditional portraits to modern geometric designs. We also discuss an idea that will give your accent wall a personal character.
Are you fond of a natural theme, or was it a modern accent wall bedroom idea that excited you? Which one are you choosing for your living room? We are curious about which one captured your attention. We hope you find the most appropriate idea for your bedroom
Other Articles