Top 20 Colorful Living Room Designs to Add New Life to Your Home
We know the house's exterior is essential as it captures the eye. Along with it, so is the interior of the house. The place you live in should be colorful and lively. People know more about...
We know the house's exterior is essential as it captures the eye. Along with it, so is the interior of the house. The place you live in should be colorful and lively. People know more about your nature and likings just by looking at your house's interior.
When we talk about the living room specifically, we know it is the center of the house and should be decorated well. A colorful, bold, bright living room will make it more wonderful.
We have highlighted 20 colorful living room ideas that a person can use to make it a better place.
1. Mix of All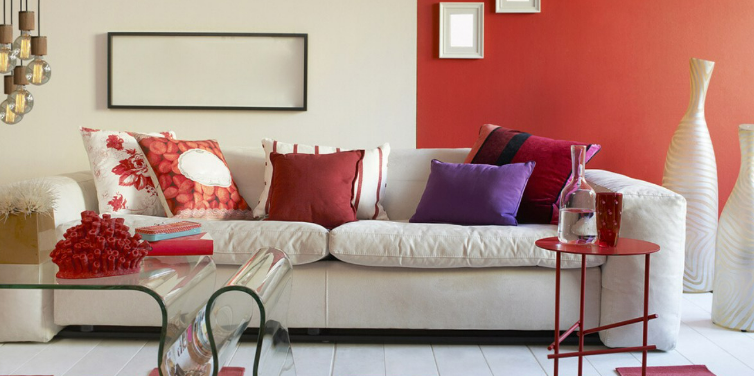 The most unique yet challenging thing to do is mix up the colors. You can use multiple colors, like yellow, grey, white and blue, and create something colorful. Bright living rooms are not just limited to the walls; you can now play with the sofas, pillows, furniture, etc., making a beautiful living room that gains everyone's attention.
2. Colorful Frames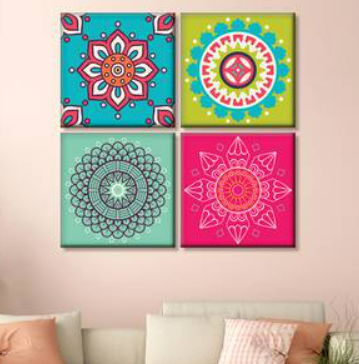 Frames are the most basic and traditional accessory for walls. Frames can be artistic and also add a personal element to the house. You can opt for a single large frame at the center of your living room or multiple smaller frames. Bright living rooms should include photo frames as it makes the interior a home to live in.
3. Adding Some Bright Colors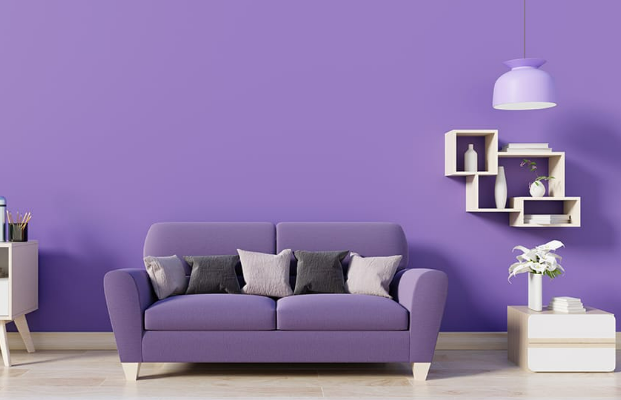 Many people do not like to keep it simple and dull. They want bright colors to take up the space in the living room. You can choose bright colors on the walls like red, yellow, green, and orange to make your living room bright and beautiful. In the colorful living room, when you opt for bright colors, remember that you choose the colors that go together and do not mix up so many stains that it looks jumbled. A mix of 3 to 4 colors will work.
4. Bringing Nature Home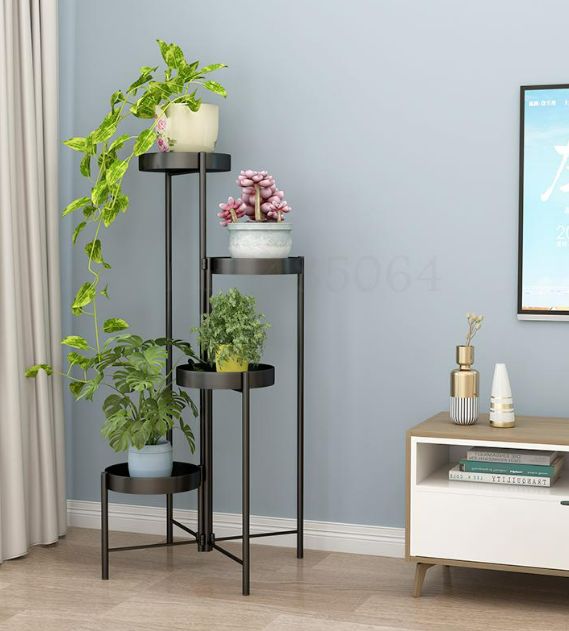 Bringing nature home is one of the best ways to décor your living room. What is more colorful than nature itself? You can add some wall plants and flower pots in the living room. Also, it will look beautiful and make it peaceful to live in. Plants may be a little maintenance, but they also make the place happy and healthy.
5. Colorful Carpets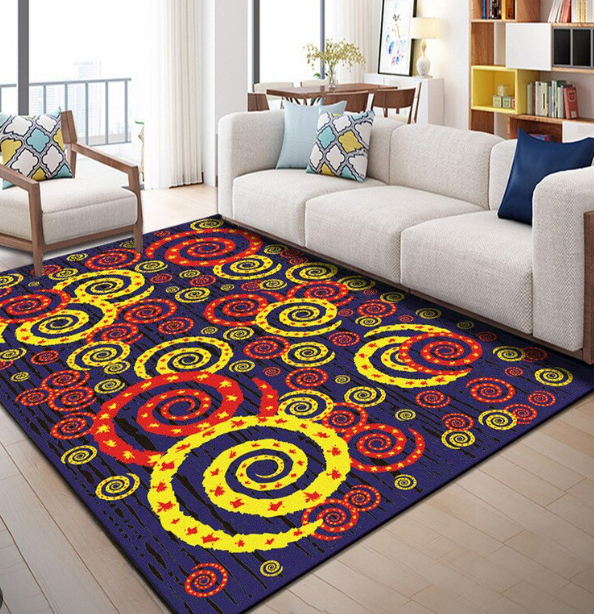 When you add a carpet to a living room, it makes the place more cozy and warm. Bright living rooms should include colorful rugs as they form a center of attraction when you enter the living room. If you highlight the carpet by making it colorful and join it with a small table on the top in front of your sofa, it will make the place modern and quite classy.
6. Classic Red and White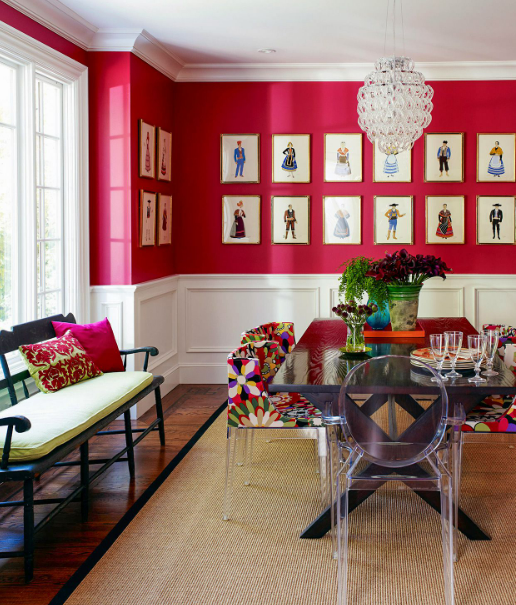 You can go with the classic Red and White color combination for a colorful living room idea. For this, you can paint the walls with red and white colors or paint the walls red, including a white sofa and pillows. Even if you choose either of the two, it will make the place look unique and special.
Tip: adding a giant frame on a red wall will brighten up your space in the living room.
7. Colorful Antiques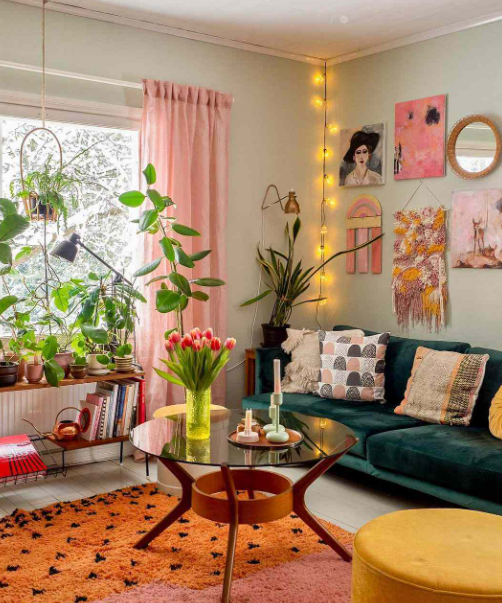 Many people prefer to avoid playing with the colors of the wall. They want to keep it minimal. You can still add spice of color to your living room with the help of antiques. If you are someone who likes to collect antiques, then what better place to highlight it than your living room? A colorful living room with unique antiques will brighten the room in a different yet memorable way. You can place the antiques on the small tables on the shelves on the wall. It will attract attention the minute someone enters your home.
8. Printed Sofas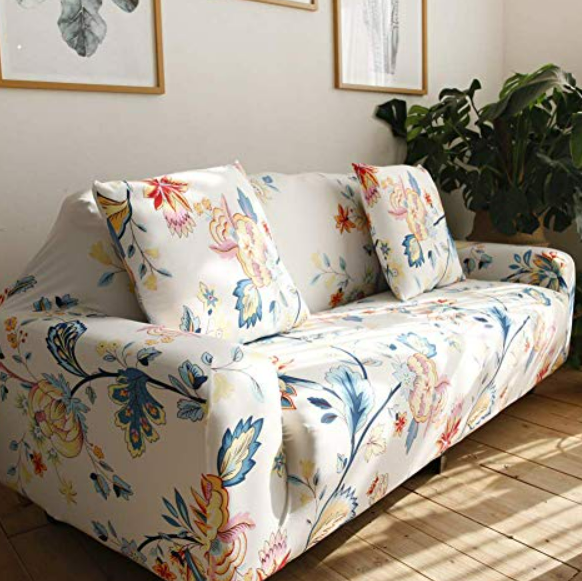 Sofas are an essential accessory to a living room. Have you seen a living room with no sofas in it? No right. You can play with the color of the sofa to make your living room more lively. Nowadays, printed Sofas are available. You can go for a printed sofa rather than a regular one. This will add color to your living room in a unique way. If you go for a printed sofa, we suggest you use a single-coloured wall to make the sofa stand out in a room. Printed Sofas are one of the modern techniques for a colorful living room.
9. Keeping It Light and Simple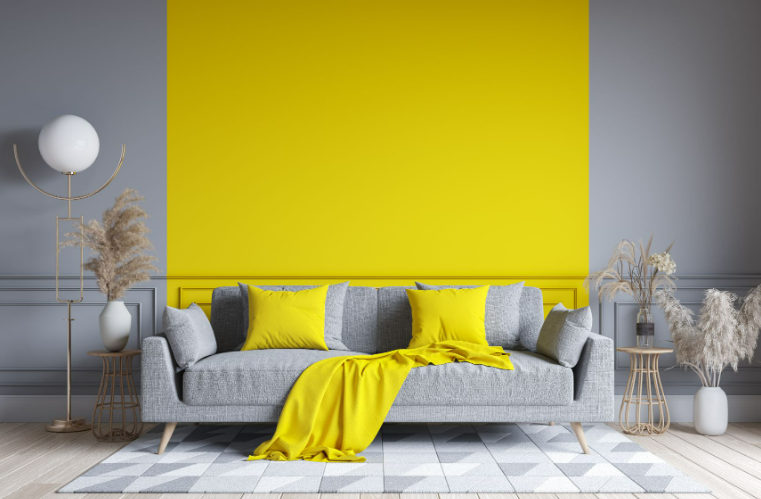 If you are a minimalist person and avoid bright colors, you need not worry. You can also have a colorful living room by keeping it light and straightforward. You can have a single wall color, sofas, and pillows with a different one. This does not look like something bold and bright anything, but it will keep it simple yet colorful, just the way you like it. If you want to keep it simple and precise, try to fill up the living room space, even with a single color. This will make your living room eye-catching.
10. Pastel Pink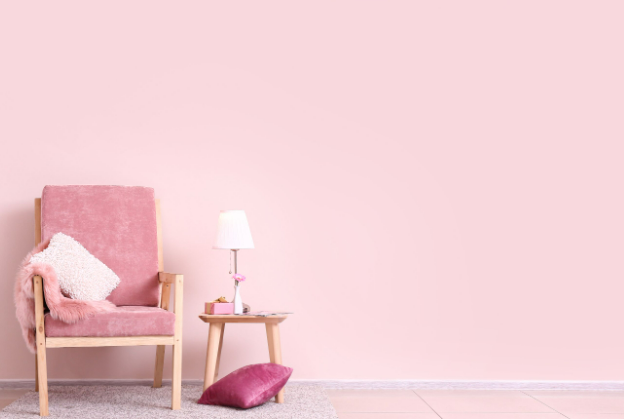 Even if we have many bright and beautiful colors on the list, the love for pink cannot go unnoticed. Especially if you have a girl child in your house, you can go for a pastel pink for your home, which your child might like. You can paint the walls pastel pink and go for a dark pink for the sofas and pillows. This will make the living room colorful but with a single color.
Tip: Pastel colors blend well with some lighter shades.
11. Going Traditional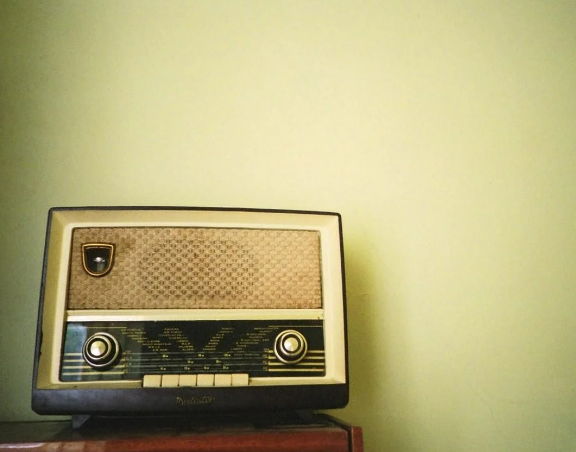 You can also go for a traditional theme for a colorful living room. This can include heirlooms that can pass through many generations. You can use the same to décor the living room. This will highlight something unseen in your living room. You can place it on the table, hang it on the walls, or use it on the shelves. However, you like it. You can use traditional accessories like the radio set, television, etc., in your living room, if not the heirlooms. This will make it look different and give the place an energetic vibe.
12. Contrasting Colors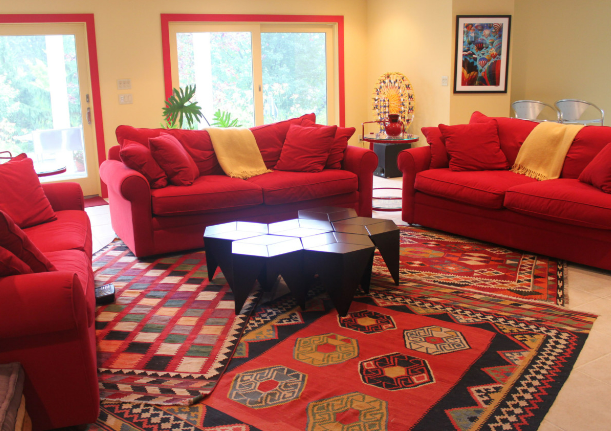 This idea is for people who prefer to avoid mixing up many colors and prefer dual combinations. Contrasting colors are the most basic colorful living room décor idea, but it doesn't make it out of style. You can use contrasting colors on the walls, like bright red and light yellow, violet and white, etc. This will make your living room colorful with minimal effort or supervision. If you go with the contrasting colors theme, we suggest you opt for evergreen colors, which you want to see throughout.
13. Hanging the Lights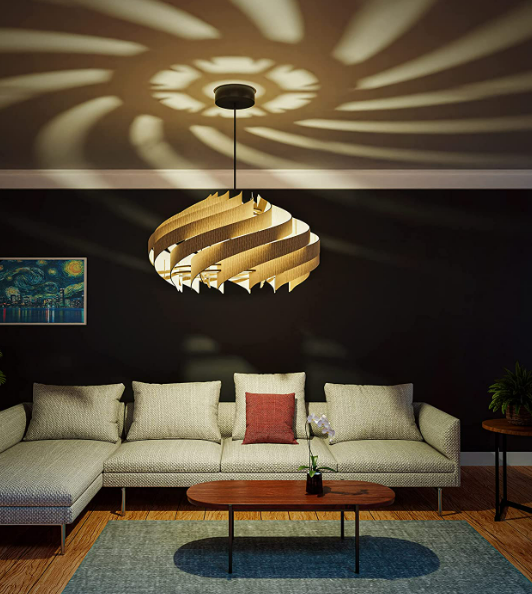 How can we miss the lights if we are playing with the walls and sofas? The lights of the living room can brighten up the space within seconds. So before you invest in a light, think it through. You can hang lights on the ceilings, which will complete the décor of your living room. You can also select the color of the lights as per your choice. To solve every issue, you can now get multiple colored lights in a single bulb. You can have different colored lights in the same bulb with a button switch.
14. Giving Some Personal Touch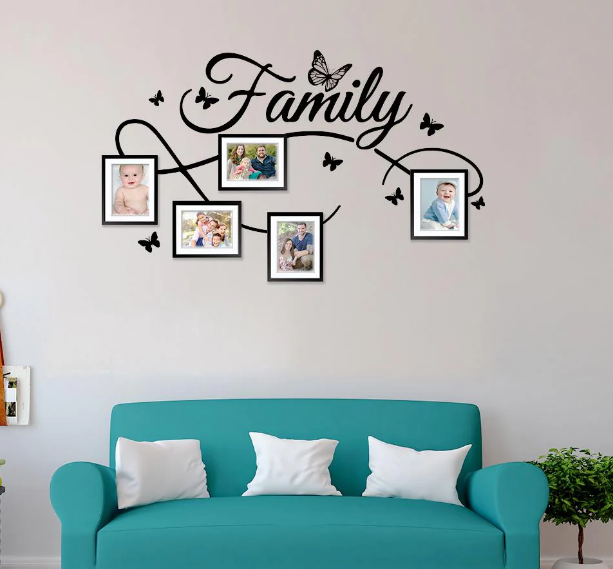 There can be several colorful living room ideas available. But, your living room is complete if you give it some personal touch. It will signify your love for your home. You can provide a personal touch by adding family photo frames on the wall or some antiques you received as a gift from your close family and friends.
15. Mirror Magic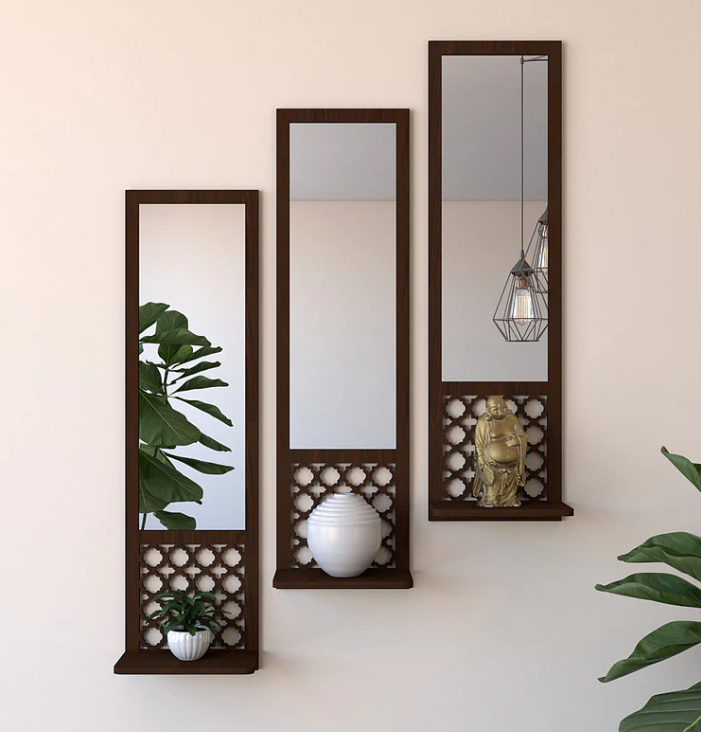 This is another unique way to décor the colorful living room. You can hang small pieces of mirrors on the walls or place a large mirror in the corner of the living room. It comes under the top 20 because not many people use this idea. So, if you opt for the magic mirror in your living room, you create something effortless and unique.
Tip: You can add mirror glass with an artistic frame or lights at the margin of the mirror to make it look more beautiful.
16. Play with Pillows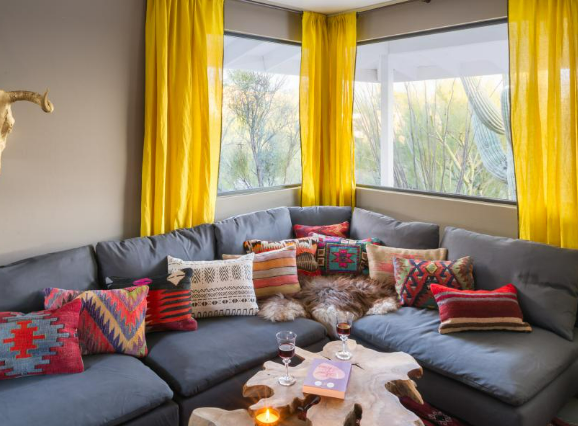 Every living room has a sofa at the center of the room. Pillows are the element that can make them attractive. You can choose to play with the pillow colors for the couches. You can choose a contrasting color for the sofa or a similar color. You can even use printed cushions to brighten up the space. There are many options available online as well as in retail stores.
Tip: Two to three pillows will work fine for a sofa. If you add more to it, then it won't appear eye-catching.
17. Trendy Wallpapers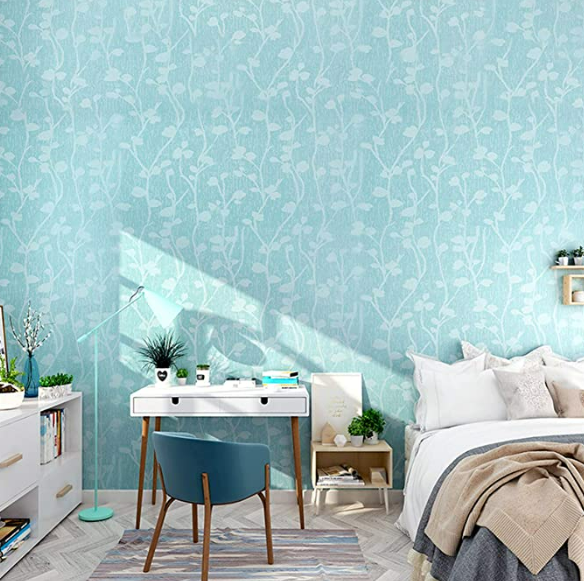 When we enter a living room, the first thing that we notice is the walls. If you are adding beautiful collections to your living room, paying attention to the walls is equally important. Walls cannot be dull or straightforward. The walls should seem more colorful and lively. For this, you can choose some trendy wallpapers. Wallpaper is available in different shades and patterns that are cost-effective. The wallpaper will not only make it attractive but will also save you a lot of time. So, while looking for a colorful living room idea, remember to pay attention to the colors of the walls.
18. Adding a Fireplace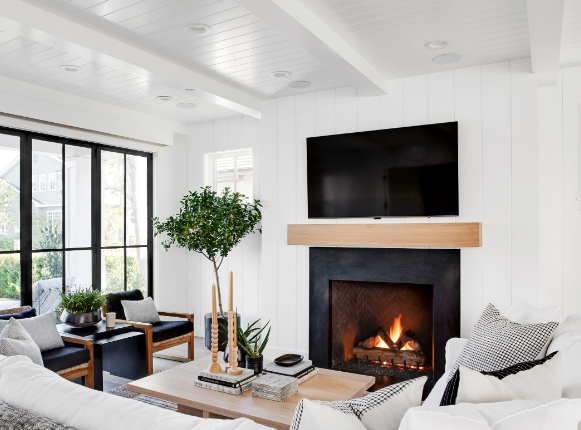 If you have a big living room where space is not an issue, you can add a fireplace to the living room. It should be placed in a corner where you can store some wood or at the center. Fireplaces were standard in the olden days but have retained their charm over the years. A fireplace can make your colorful living room look beautiful. You can spend some peaceful and quality time with your friends and family in front of the fireplace. These are best for the winter. You only need wood and a rug to spend a memorable evening in your living room.
19. Dark Divine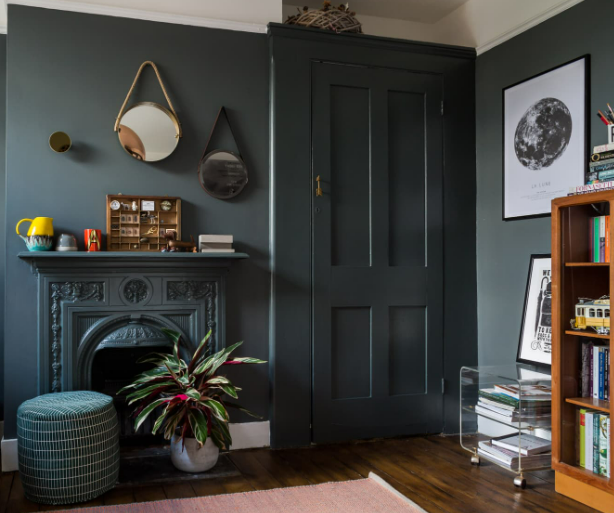 This idea is for the ones who cannot keep a place light and simple. They like everything dark and deep. The dim living room gives a cozy vibe to the site. You can choose some shades like dark brown, black or even grey. These colors blend very well with any accessory. Though common, you can mix these up with any combination of colors. You are likely to get a beautiful result.
Tip: when dark-coloured walls are mixed with yellow-colored lights, it gives the best impression of a place.
20. Colorful Curtains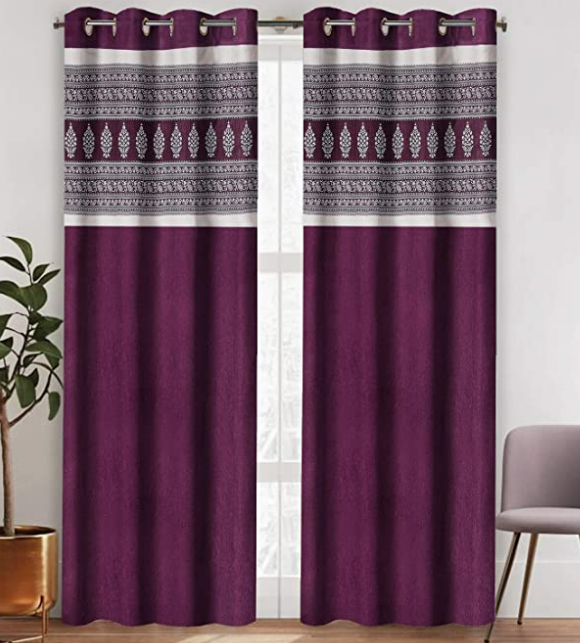 When we talk about colorful living rooms, curtains are an essential part of it. Your living room will have windows to get light, and you'll eventually have to decide what kind of curtains you would like to have in your living room. You can choose a single-colored curtain or a mix of colors. Just be sure that it blends well with your living room. Curtains are available in various sizes, patterns and colors, giving you several options. If you have ample living room space, then long curtains will work best for the place.
Conclusion
There is a color scheme and design style to fit your preferences, whether you want strong, vibrant hues or delicate, subtle tones. You may design a lively and inviting living room that reflects your personality and style using some of the above recommendations and ideas.
Remembering that a well-designed living room includes layout, furniture, lighting, accessories, and colors is crucial. By carefully choosing and mixing these components, you can design a unified, useful place that is aesthetically beautiful and comfortable.
If you decide to do the same, make sure you love the process and the look because what's the point if you do not have the energetic vibe around, right?
Frequently Asked Questions (FAQs)
What Makes the Living Room Look Bigger?
You can opt for darker shades on the walls or add more extensive artwork or frames on your walls. You could even add a vast television set in the center.
What Are Some Popular Living Room Color Schemes?
Neutrals like beige, grey, and white, as well as strong hues like blue, green, and red, are common color schemes for living rooms. Popular pastel hues for a softer aesthetic include light pink and baby blue.
Can I Design My Living Room with Multiple Colors?
Using a variety of colors in your living room decor can give the room depth and intrigue. For a unified appearance, think about selecting complementary or similar colors, which are the colors that are close to each other on the color wheel.
Should I Paint the Walls of My Living Room a Neutral or Striking Color?
Your own taste and the atmosphere you want to set in your living room will ultimately determine this. While bright hues like navy blue or emerald green can make a statement, neutral colors like beige and grey can produce a timeless and beautiful design.
How Can I Use Color without Painting the Walls in My Living Room Design?
You can use furnishings, decorations, and textiles to add color to the design of your living room. To add splashes of color to the room, think about putting colorful throw cushions, area rugs, or drapes.
Other Articles