Can you turn your living space into a coastal themed beach cottage? Yes.
The beach cottage has a palette of an appealing blend of sea and sand colors, with natural materials such as rattan and weathered wood.
Such natural materials work wonders in light-flooded, breezy living rooms with a waterfront view.
However, it is daunting to choose which color sectional sofa to choose, what light fixtures to select, which color to paint the walls, and so on.
So, decorating your beach cottage is not a piece of cakewalk. But we are here to simplify it by presenting simple yet elegant ideas to lift your space.
Firstly, curate a classy and rustic space, then add texture to a white space, adorn it with neutrals for a beachy look, and paint white and blue shades.
Did you find it interesting? Let's dive into 16 top breezy ideas that would turn your living space into a coastal one more intricately and stylishly.
1. Shades of Blue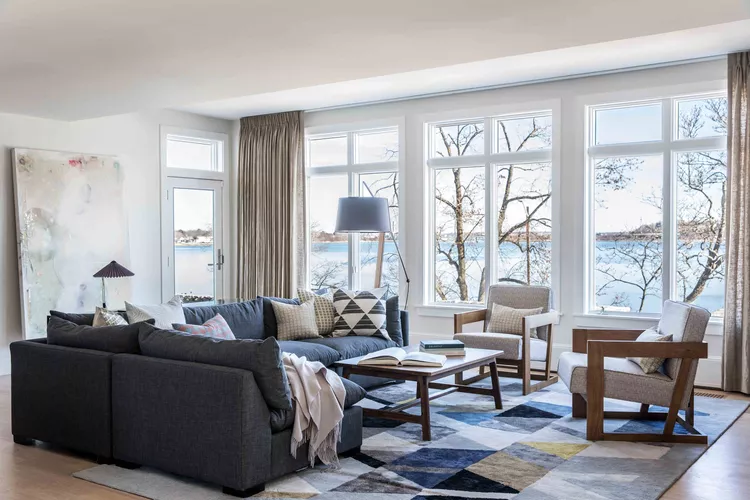 The proficient interior designer has designed this sophisticated waterfront beach cottage living room in Portland, ME.
It has a breathtaking view of the rocky coast, which envelops the dazzling shades of blue, sandy beige, and white.
The designer generated a natural yet elegant ambiance for a family, with geometric patterns on the throw pillows and rug.
On top of that, the coffee table and armchairs resemble the bare trees outside the window, and comfortable sectional sofas in medium blue are for lounging and gathering.
Similar Post: 17 Small Beach Houses to Rent for Your Next Vacation
2. White and Blue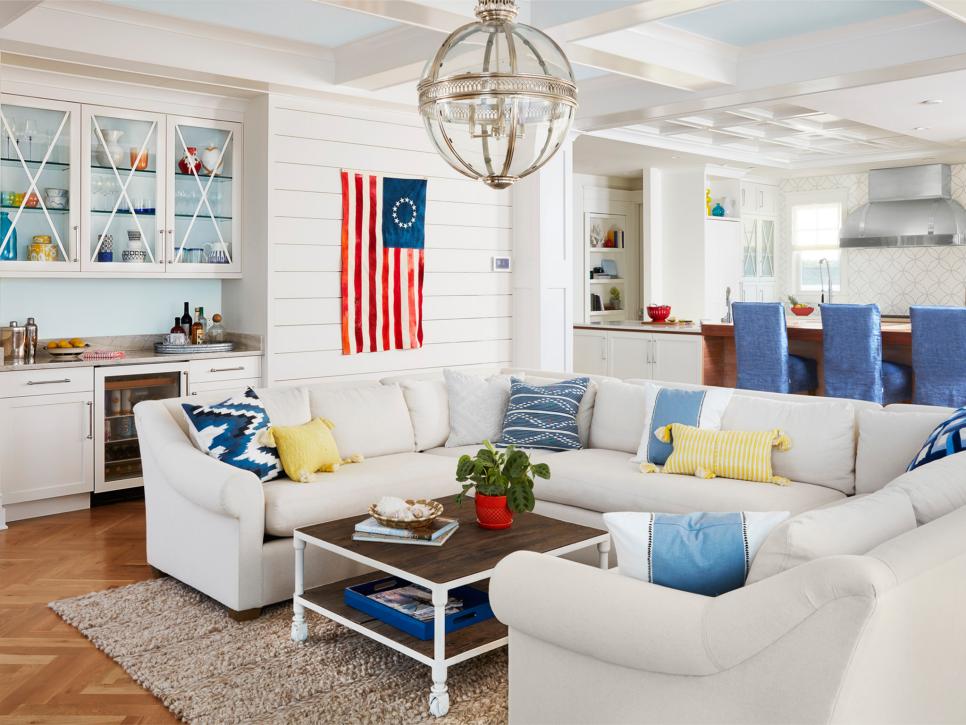 A U-shaped brushed-linen sectional sofa defines the utmost comfort in this beach cottage decor. The fireplace enhances the charm of the space.
The white oak floors, shiplap walls, and coffered ceilings pale blue adorn the grandeur of the living room. A stainless steel range hood tie and nickel light fixture bind the spaces.
3. Contemporary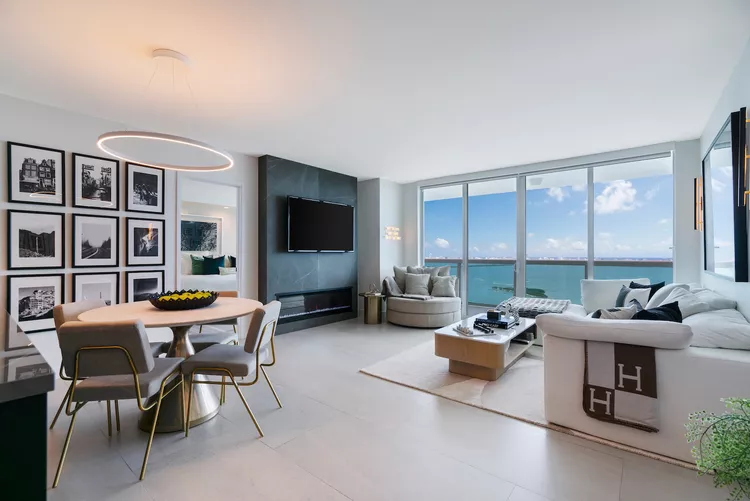 This contemporary coastal cottage living room decor has neutral furnishings, plain lines, light-toned sand flooring, white walls, wood accents, aesthetic lighting, and windows having a spectacular sight of the water.
4. Elegant Living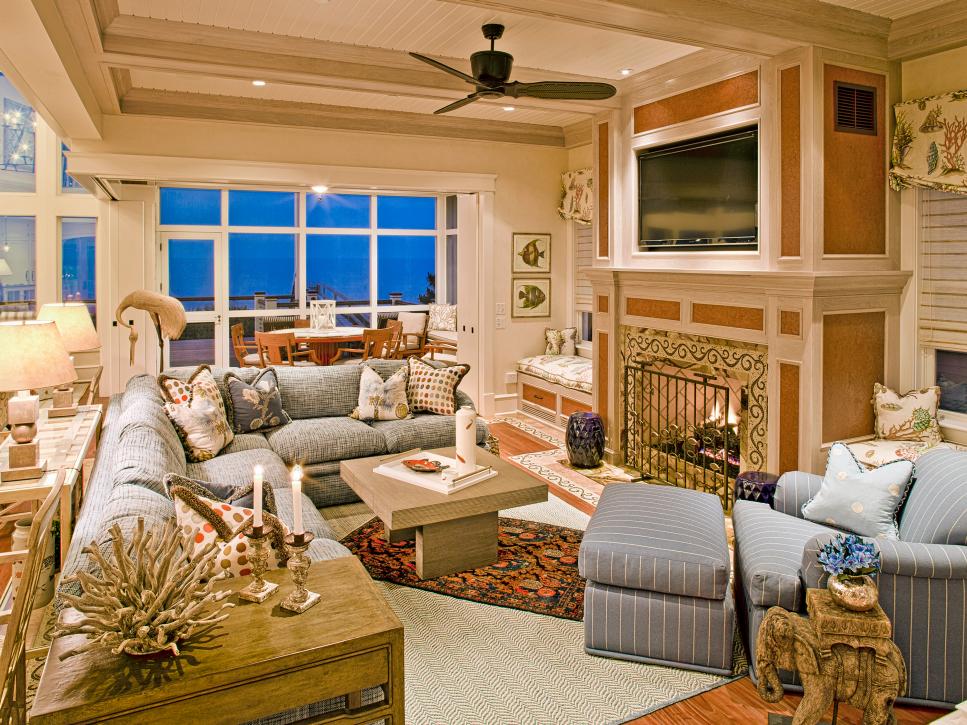 This classy Nantucket-style living room is the epitome of elegant waterfront living.
Even though the room has a hint of sea blue for a stylish look, a subtle shade of coral brings an air of tenderness and is the main palette.
Also, is any coastal interior design complete without marine life? No, right?
Hence, the interior designer, Bruce Palmer, incorporates amusing sea patterns on the throw pillows, window treatments, artwork, and window seat cushions.
5. Southampton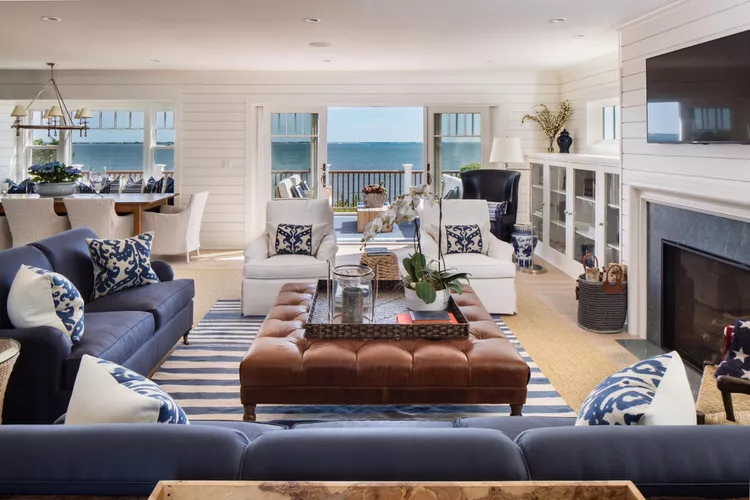 This Southampton's living room has a mixture of comfy lavish sofas and armchairs wrapped surrounding the fireside for meeting family and friends.
Shiplap walls and navy and white palette envelopes with wood and leather accents are textbook coastal styles with a conventional edge that matches the eye-catching ocean views.
6. New, Old, Beachy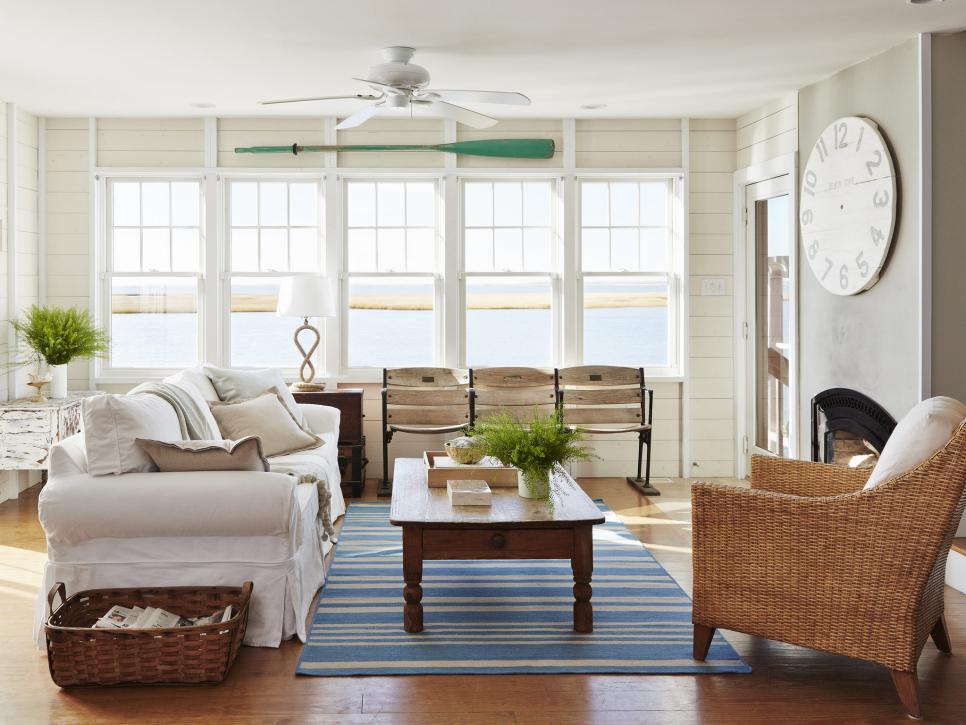 The walls in this coastal cottage decor have pine planks resembling studs. The fascinating striped rug and slipcovered sofa are an exceptional combo as they fit with the living room's vintage pieces, like the pine coffee table.
Also Read: 11 Easy Coastal Decor Ideas for Your Small Living Room
7. Moody Blue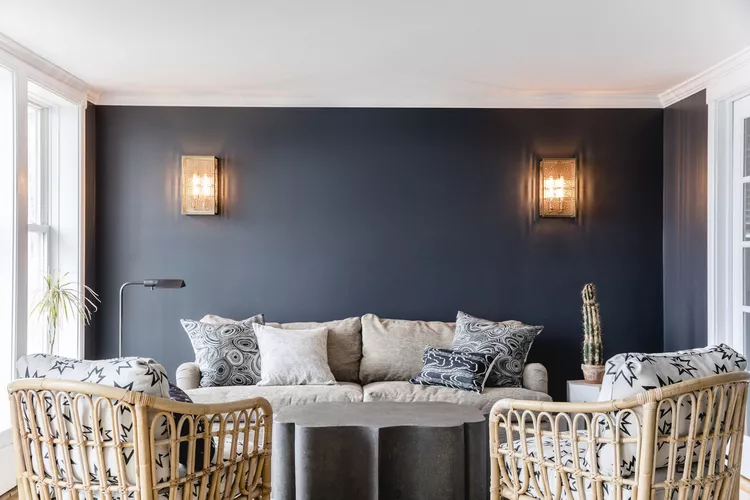 In this startling beach cottage by Tyler Karu, interior designer, a slate blue wall has a soothing effect that aligns with the patterned pillows, rattan furniture, light-toned upholstery, and antique-style wall sconces.
8. Waterfront Surroundings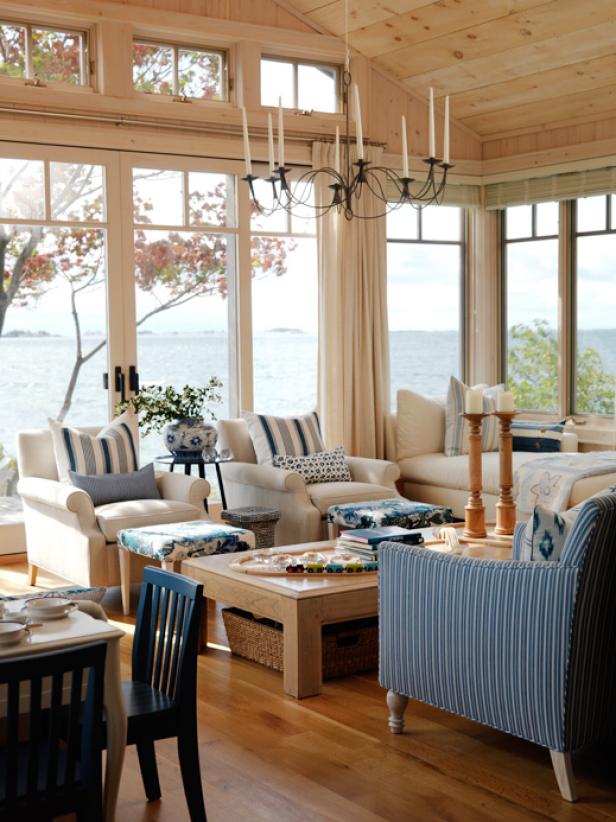 In this pleasant living space facing the water, you will witness the sea indoors.
Interior designer Sarah Richardson naturally merges numerous patterns in a sandy and blue palette with whitewashed accent walls.
With nominal accessories, Sarah lets the outside views and wall-to-wall windows be the living room's center point.
9. Fishing Village Chic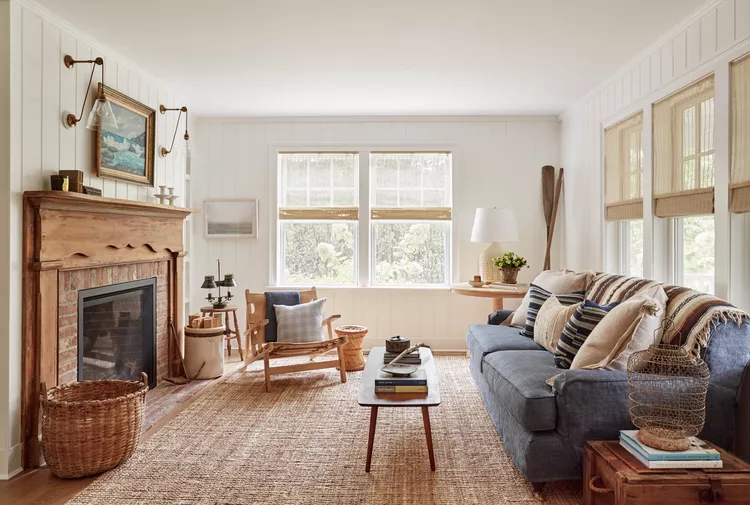 Professional Interior Designer Becca Casey embellished the fascinating cottage architectonic of this summer house retreat in the fishing village of Southampton, New York.
She put custom beaded-shiplap vertically on the walls to amplify the ceiling height and enhance the texture of the space. Also, she laid a vintage fireplace that appears as if it has always existed.
Basic furnishings in a marshy palette of beiges, whites, and blues have wood tones and natural materials that comprise a pair of attractive oars leaning in the corner of the room.
See More: 15 Coastal Living Room Color Palettes to Bring the Beach to Your Home
10. Contemporary Retreat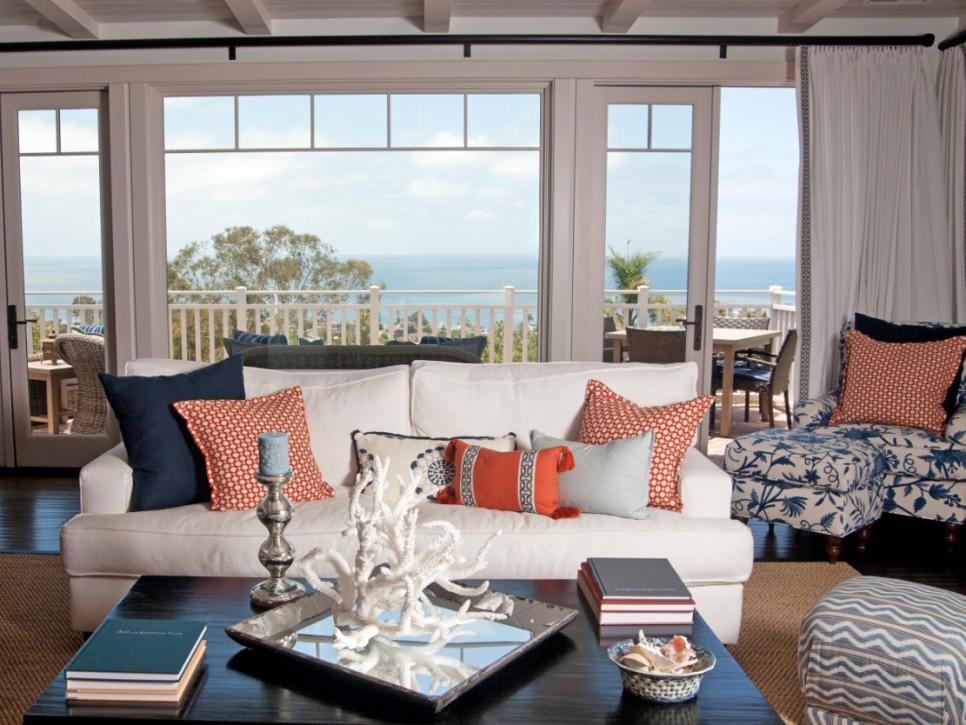 Your relentless love for the beach and modernization while designing this beach cottage living room is reflected by skillful designer Darci Goodman.
She uses hues of navy blue and white as the main palette and adds vivacious splashes of coral to form a summer-focused space.
Also, the oversized coral accessories and seashells lift the space giving a coastal feel.
11. Hamptons Waterfront
Marliana Teich, the interior designer, used an incredible palette of white and blue, constituting blue-and-white throw pillows on the oatmeal-coloured sectional sofas, with patterned accent wall of blue-and-white wallpaper, in the Hamptons, New York waterfront beach cottage living room.
A hurricane lamp and a side table are a great addition to the marine theme.
12. Porch Retreat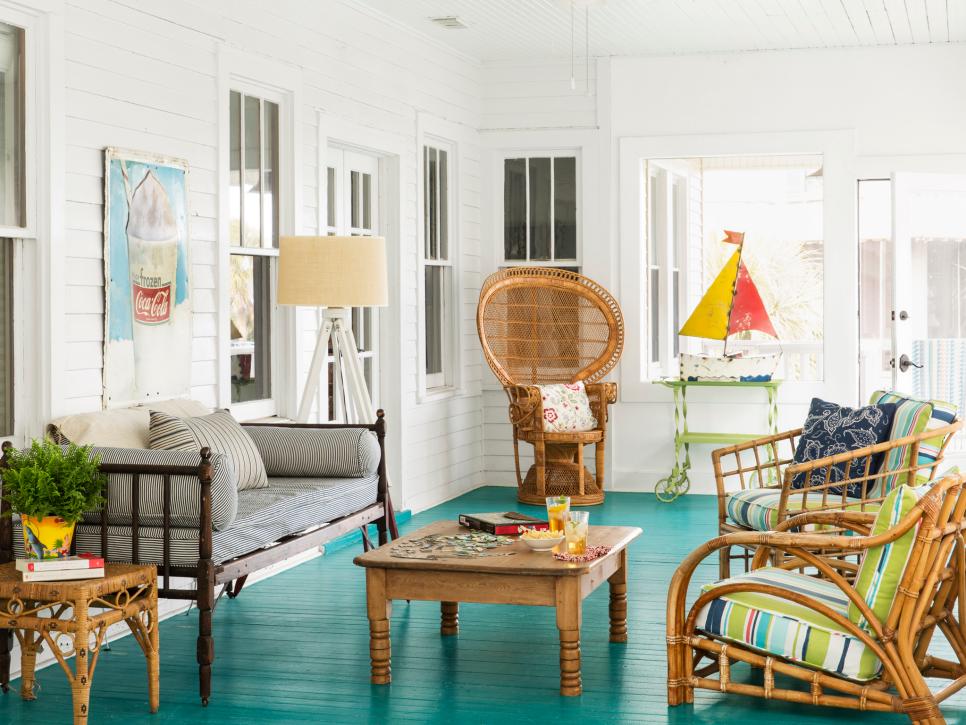 A mattress-ticking bolster and pillows are a great spot for naps and puzzles. Additionally, a walnut camp cot is for your baby to sleep peacefully.
The rattan chairs have similar cushions from an awning-striped fabric from Warehouse Fabrics.
13. Beach Vibes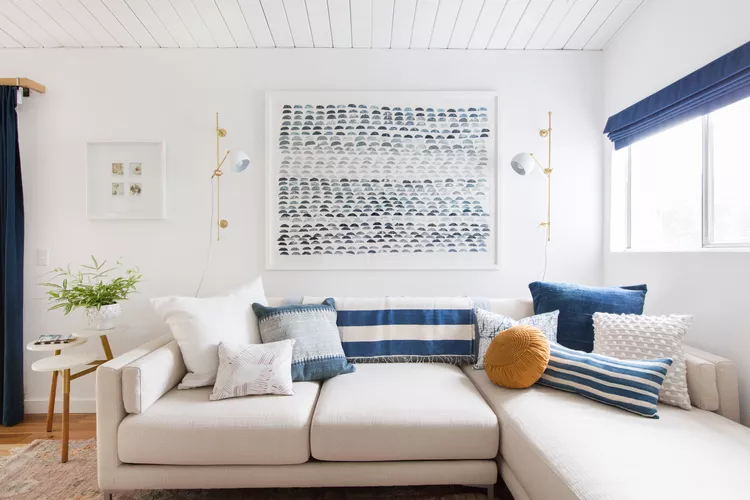 You can experience beach vibes by not being at the beach too. How? You can add a beach aura to your cottage.
Emily Henderson, the interior designer, adorned a beach cottage facing the waterfront with a navy blue and white palette.
Navy curtains, window shades, painted shiplap ceilings, a blue-and-white framed print, and a huge off-sectional fit well with a blend of solids and stripes in blue and white.
A circular mustard velvet pillow in the middle gleams like a sunset.
Related: What Makes Blue The Most Preferred Wall Paint Color?
14. High Contrast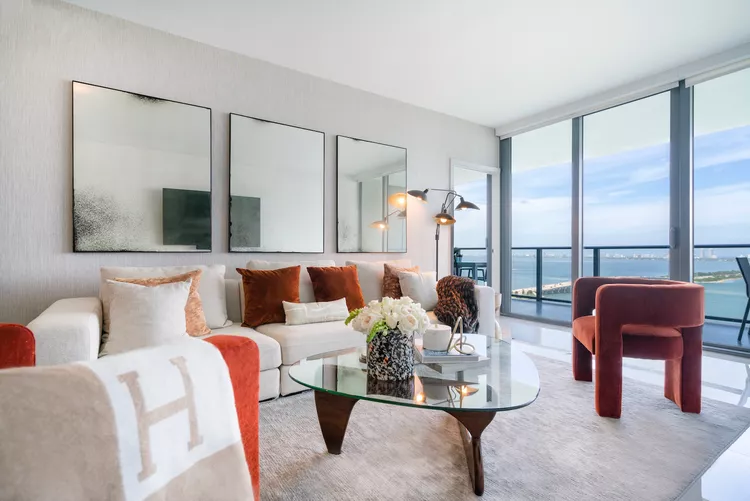 In this modern, sleek beach house made by interior designer Brittany Farinas, a beige palette of soft whites and sandy beige is collocated with striking contrast accents in rust and orange shades.
Based on the warm colors from the different side of the color wheel gives a peculiarity to the beach house color palette.
The interior designer accumulated the three-paneled floor-to-ceiling glass doors with a triad of square mirrors above the sofa that showcases light, whereas an industrial sconce and vintage midcentury glass-topped Noguchi coffee table add a few layers and organic shapes.
15. Shades of Seashell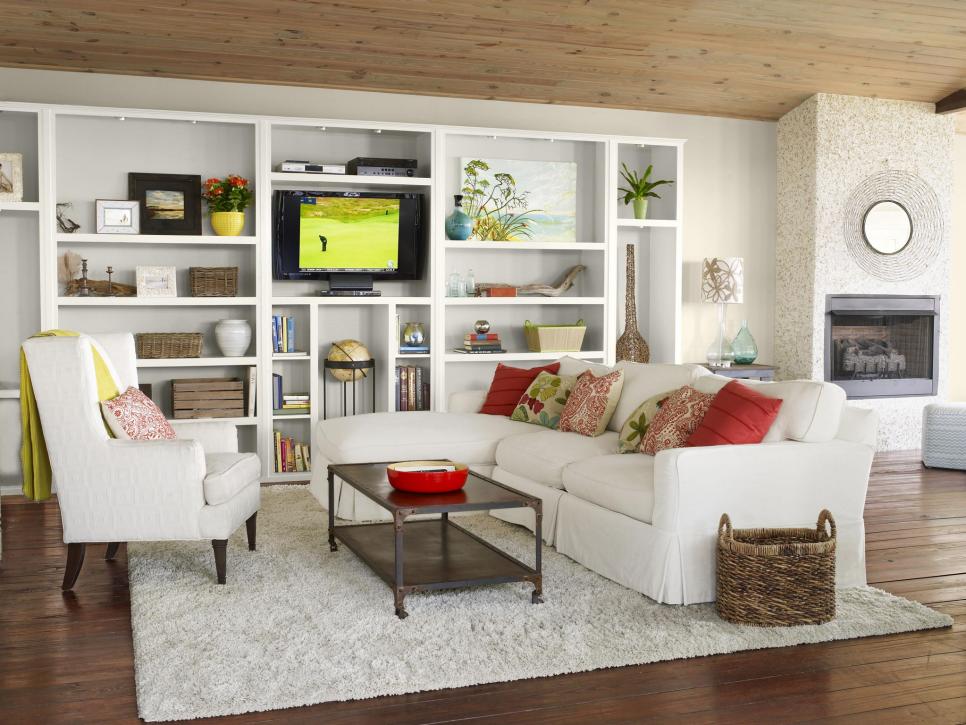 The setting starfish and real seashells in plaster of Paris make up the wall of this cottage which encircles the fireplace.
The sectional sofa has durable white denim fabric, and the shag rug is as smooth as the white sand outside.
16. Island Breezes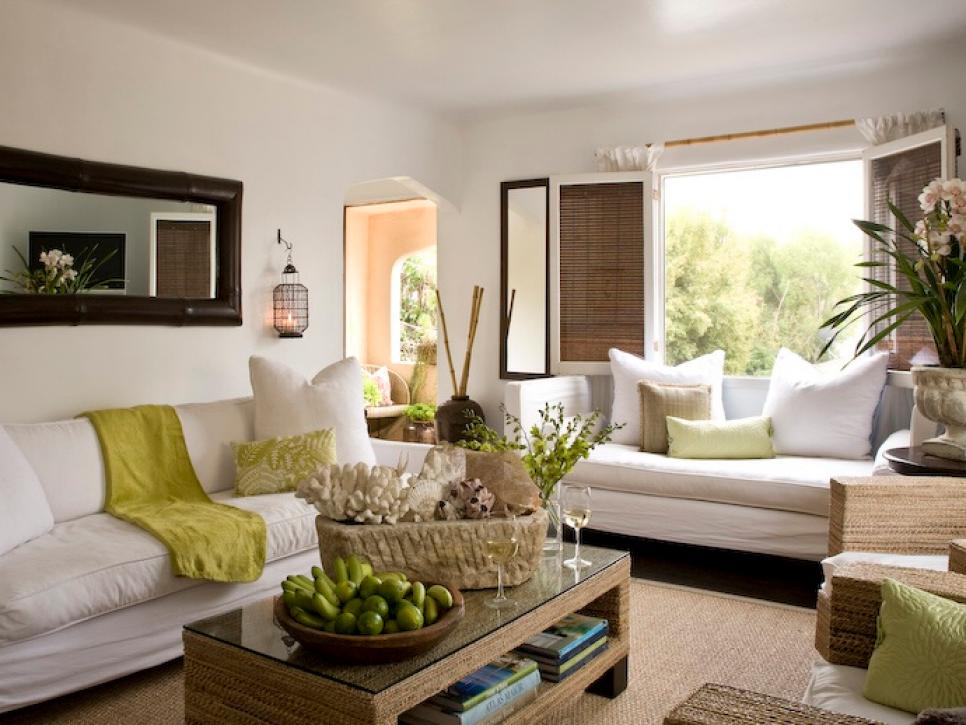 With cool beach breezy vibes and windows open, interior designer Trent Hultgren amazingly brought island aesthetic vibes to this serene living space.
He has instilled seaside vibes in the room's white palette accented by bamboo, seagrass furnishings, and nature-driven yellow-green pops.
Conclusion
Are you looking for a trendy way to beautify your beach cottage?
Then, remember that coastal design symbolizes the atmosphere of a stunning seaside retreat via furniture and color picks. Vibrant and neutral colors add to the style and texture of pieces.
Also, the coast is analogous to waves, sand, and sunny days. Therefore, coastal cottages are bright and light-filled.
Allow natural light by using huge mirrors or windows, giving twice the light. Light walls and high ceilings will make your cottage feel airy and lit.
Even adding boat wheels or ropes can miraculously uplift the living space.
We hope you will adopt any of the above-mentioned ideas to bring the beachy aura to your living space in an aesthetic way!
Frequently Asked Questions
How Should I Turn My Living Room Into a Coastal Theme?
You can turn your living room into a coastal theme by having natural color palettes with many white, ivory, and sandy neutrals and a mixture of blues.
Also, you can include earthy tones of yellows and greens. However, you will surely see the shades of blues in a beach cottage living room.
Which Colours Suit a Beach Cottage?
The colors that suit a beach cottage are light green or light blue hues. Greens and blues signify relaxing and calming, reminding us of the magnificent sky and ocean.
The colors you chose for your beach cottage's interior project are the same colors you see while sunbathing.
What Is Meant by Beach Cottage Interior Design?
Beach cottage interior design means they brings the peaceful feel of the coast with its open windows, sunny days, and chilling atmosphere, and it has beachy vibes with the stunning charisma of a cottage.
For instance, comfortable linens and rustic furniture.
Check This Next: 17 Contemporary Interior Design Ideas to Uplift Your Home Decor
Which Floor Is Right for The Beach Cottage?
The Hardwood floor, with a weathered finish, is right for the beach cottage.
It will sync with nautical components such as a surfboard hung, or a rowboat on the wall, and even the wet feet and wear from sand is not noticeable.
Other Articles