Interior doors are an important aspect of your home decor because they give you much-needed privacy and close-off spaces for peace.
A bathroom pocket door is a kind of door that slides off into a hole in the wall, literally a 'pocket' in the wall. Since there is no swinging door, these kinds of doors work well in smaller spaces.
Also, there is no dead space behind the swinging door, and since the door is inset into the wall, it makes for a much cleaner and more practical solution for smaller rooms.
Modern homes are all about being efficient in the use of space and being practical and fuss-free.
Also, modern homes are seeing a diminished availability of space which forces us to make use of better solutions and designs. Bathroom pocket doors are such practical solutions, especially for houses that have space constraints and also open plan houses.
Read on to learn more about Pocket Doors and how you can effectively use them in your home.
Similar Post: 15 Different Types of Interior Doors for Your Home
What is a Bathroom Pocket Door?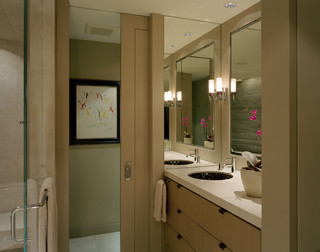 Once a popular feature in Victorian architecture, pocket doors had a falling out in the 1920s and are seeing a resurgence again in modern architecture.
A space-saving technique, it allows you to use space effectively for a modern, sleek, and stunning effect.
Pocket doors are essentially sliding doors with an overhead rack that allows them to disappear into the wall or the 'pocket' in the wall.
Since they disappear into the wall, there is extra available space owing to the elimination of a swing radius of about 10 sq ft or more, which leaves more room for essentials and also unhindered foot traffic access.
A welcome addition to ensuite bathrooms and powder rooms in common spaces, a sliding bathroom pocket door can help maximize space and make it look cleaner and more intriguing.
Best Bathroom Pocket Door Ideas to Elevate Your Space
Let us look into a few ideas that you can use to incorporate pocket doors when doing up your bathroom.
1. Contemporary Bathroom Pocket Door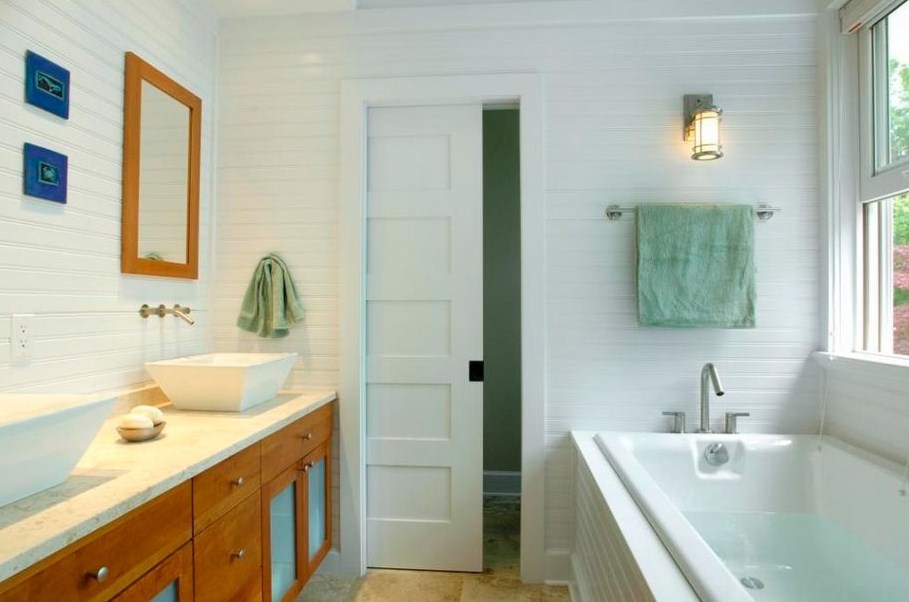 This white bathroom pocket door cleverly uses the wall space to slide into, leaving enough room to add the bathtub and vanity. The geometric pattern on the door and black hardware make it look stunning and sleek.
2. Plank Pocket door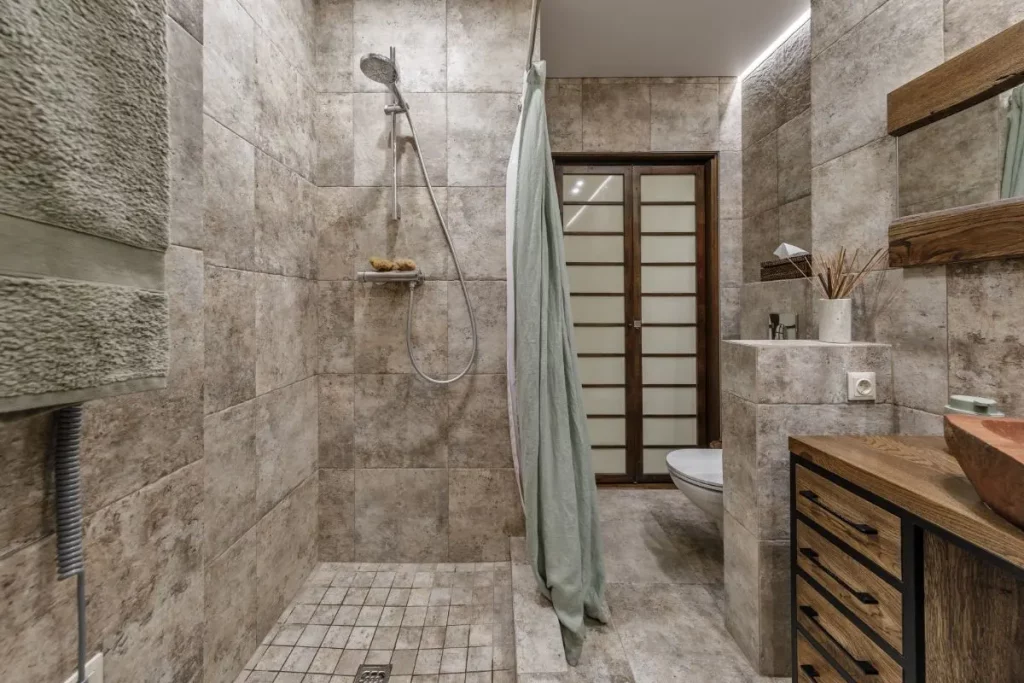 This bathroom room features a plank door which makes a stunning natural addition to this wood and tile bathroom. The same finish can be seen on the washstand and also the linen cabinet.
3. Classic White Bathroom Pocket Door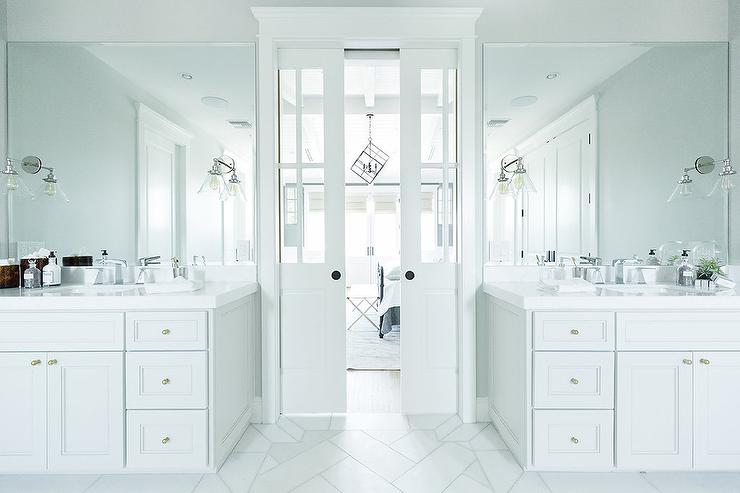 This master bathroom is a luxury haven. Featuring pristine white bi-parting pocket doors, it is flanked by washstands on either side.
The nickel hardware and quartz counters make it an all-around stunning bathroom to walk into seamlessly from the bedroom.
4. Water Closet Pocket Door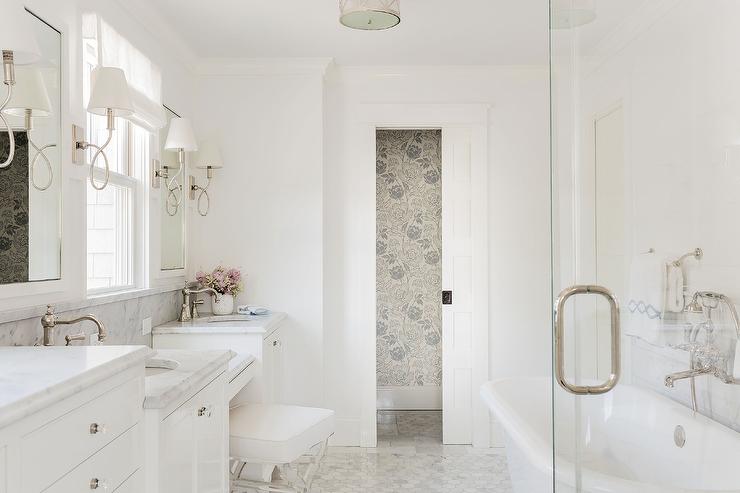 This luxurious bathroom features a sliding pocket door inside the bathroom to close off the water closet for added privacy. Stunning use of color and wallpaper helps cordon off the areas effectively.
5. Modern Luxury Bathroom with Pocket Door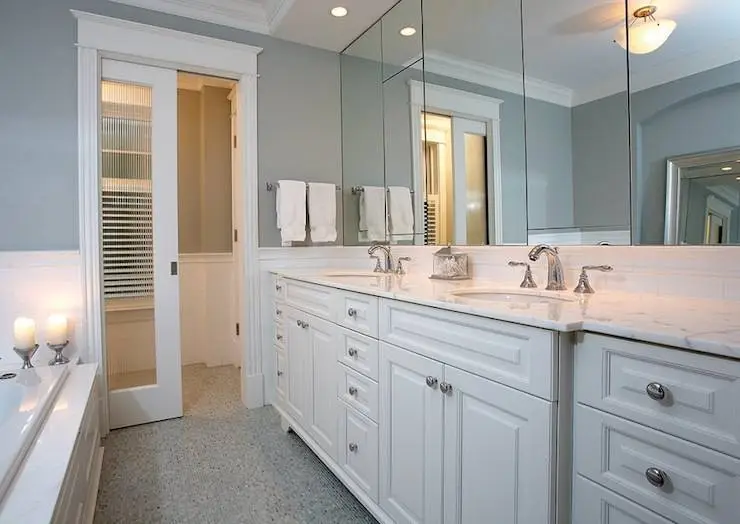 This modern luxury bathroom uses a glass pocket door with frosted glass. The use of rimless glass for vanity and white cabinets with modern hardware makes this a stunning bathroom.
The pocket door effectively makes space for the tub without taking up the floor space.
Also Read: 18 Stylish Powder Room Makeover Ideas That Won't Break the Bank
6. Powder Room Pocket Door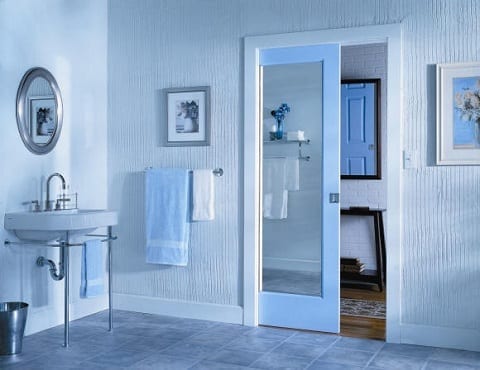 This pocket door with a frosted glass door discreetly tucks away into the wall separating this powder room from the living area. Notice the ample floor space that has been generated by the pocket doors, which gives it a look of unhindered luxury.
7. Double Pocket Door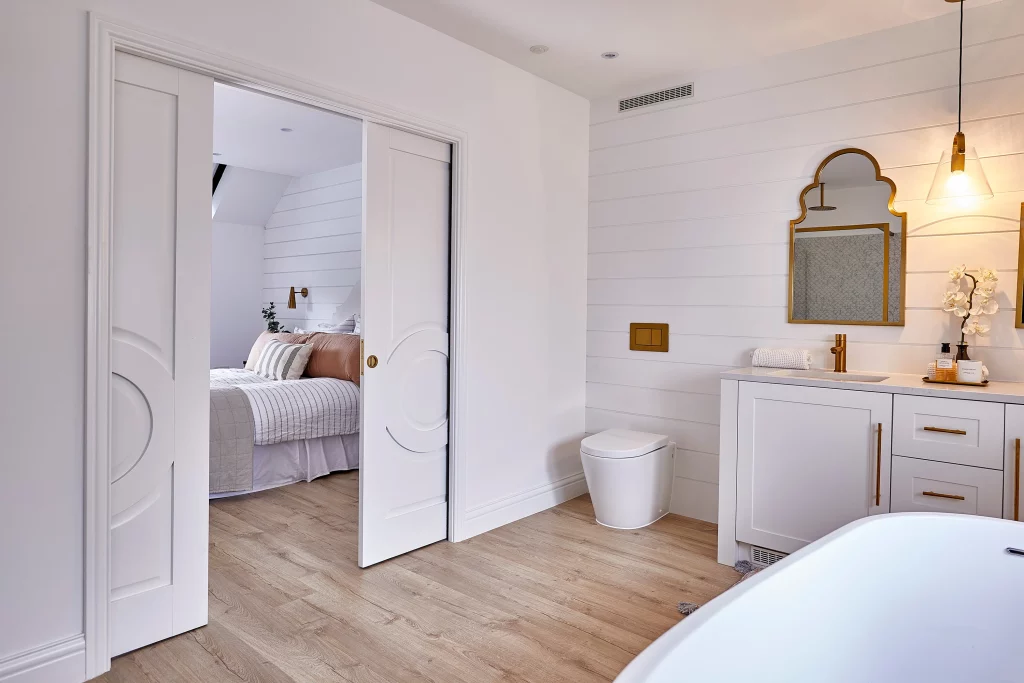 A double bi-parting pocket door opens up into the bedroom. The pocket doors give enough room for the water closet and add enough room for a shower and also a bathtub.
An excellent choice for bathrooms that are low on floor space.
8. Bathroom Pocket Door with Frosted Glass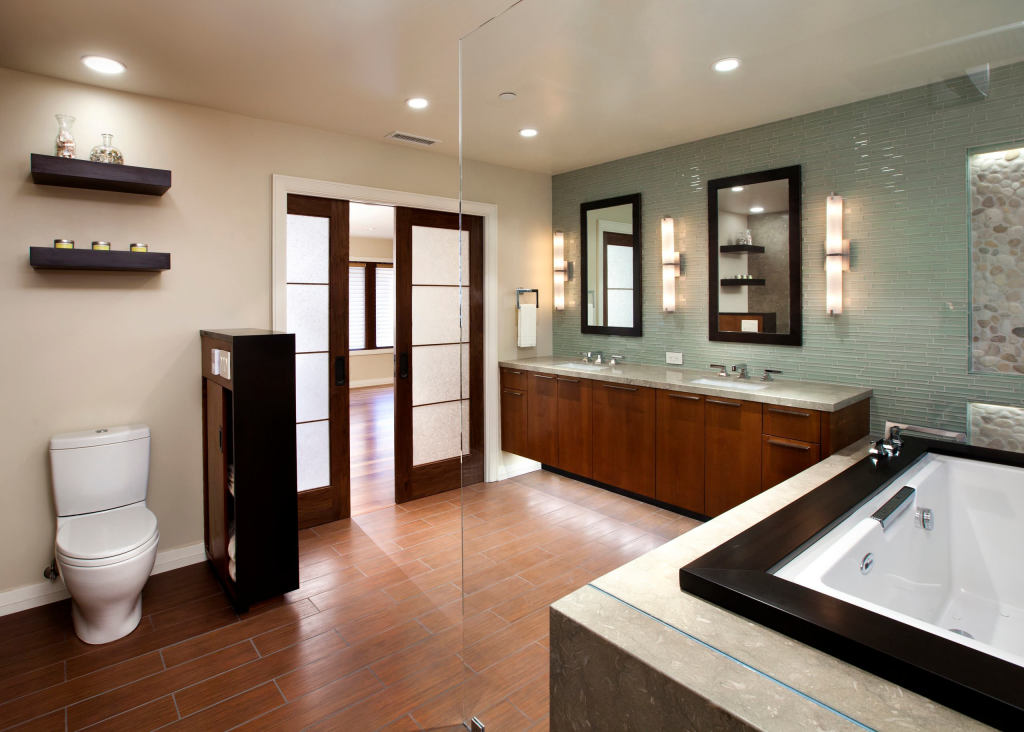 A frosted glass door adds to the illusion of space and makes the room look bigger and more airy. These bathroom pocket doors with frosted glass make this bathroom look spacious.
The frosted glass gives the right amount of privacy while also bringing in much-needed light.
See More: 15 Stylish Sliding Barn Door Options to Transform Your Bathroom
9. Mirror Bathroom Pocket Door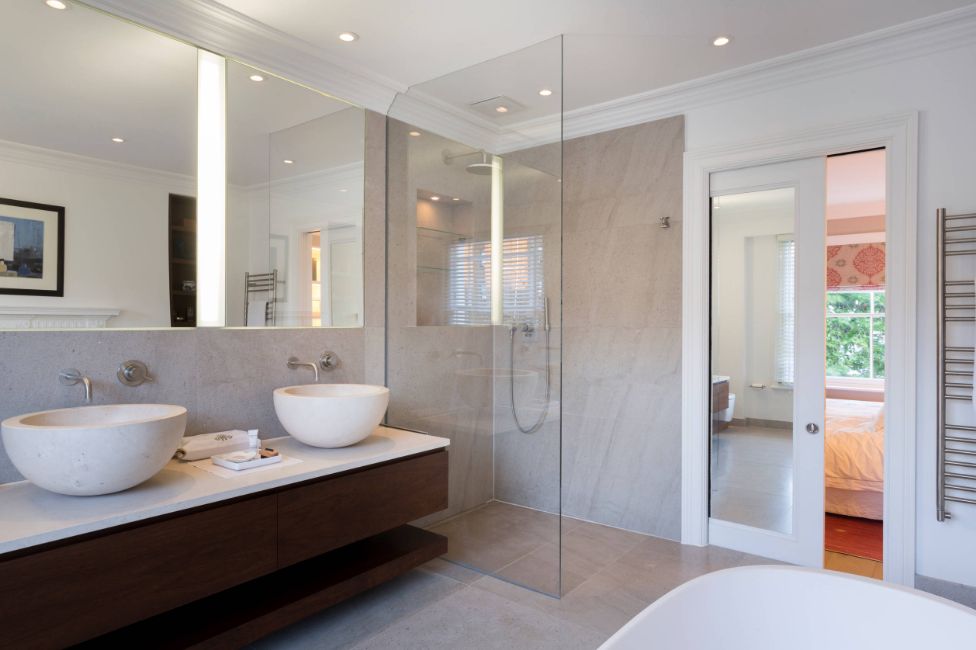 Adding mirrors quickly adds to the illusion of space, making the room look much larger instantly. Adding mirrors to the pocket doors can have multiple uses.
When added to the bathroom side, it can be used for vanity uses, and when added to the other side, like in the walk-in closet here, it can be used as a dressing mirror. 
10. Pocket Doors in Large Bathrooms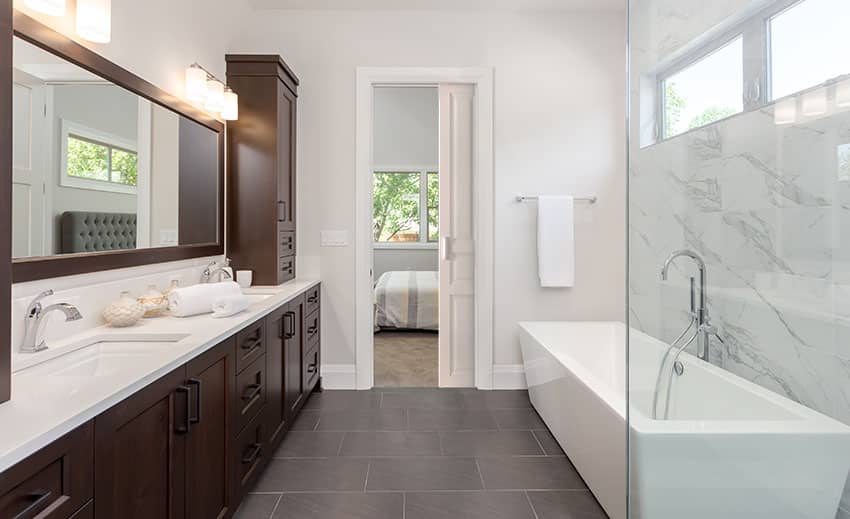 While pocket doors are mostly used for small bathrooms, they can also be used effectively in larger bathrooms to add to the floor space and make it look more airy and spacious.
The pocket doors here in pristine white wood, along with dark hardwood cabinets and tile flooring, make stunning use of this design element to create a luxury bathroom look.
11. Small Powder Room Pocket Door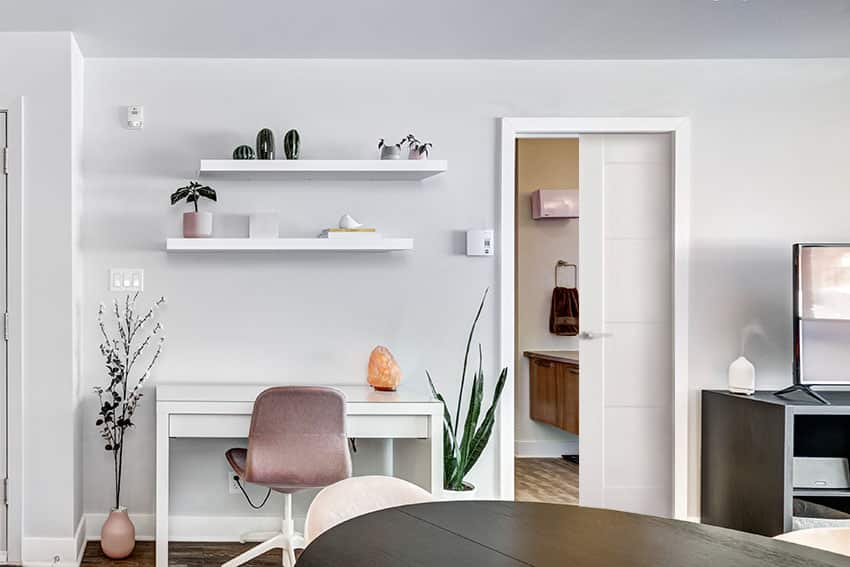 This small home office in the living area features a powder room with a pocket bathroom door.
It makes use of the wall space on either side to effectively break the space while also leaving the two flanking sides open for adding the furniture.
Like in the above picture, the bathroom pocket door is flanked by a home office on one side and the living area on the other side.
12. Industrial Chic Bathroom Pocket Door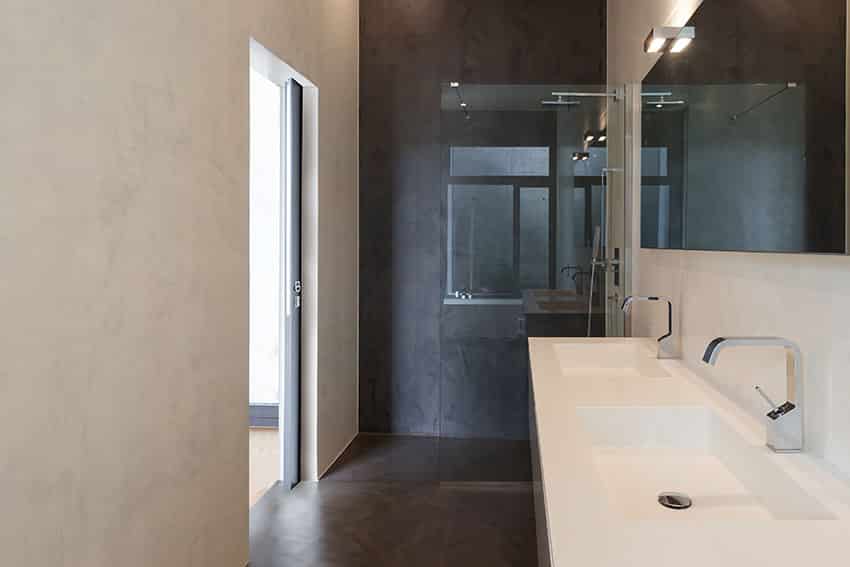 This monochrome bathroom uses a single sliding pocket door the other wall of which is open to use for a large shower. The double sink and doorless glass shower make this a minimalist dream.
13. Traditional Bathroom with Pocket Door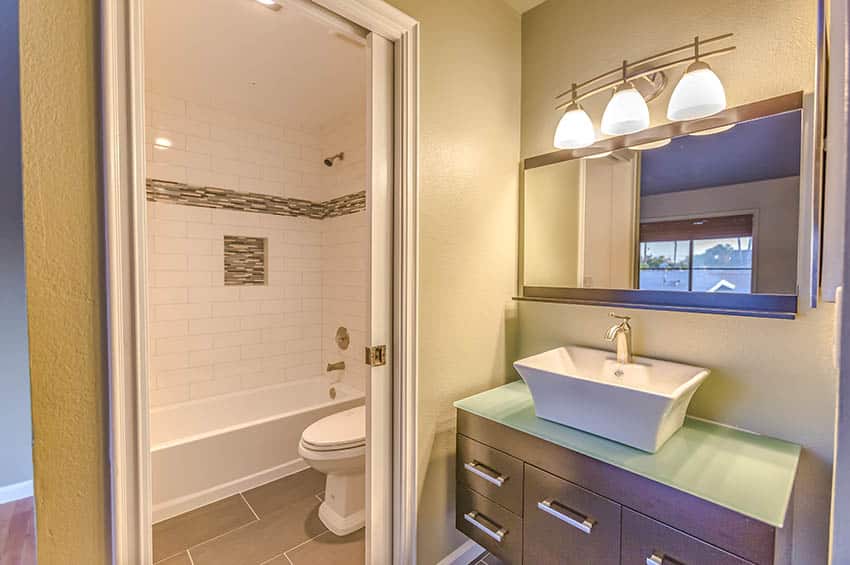 This traditional bathroom uses a pocket door to cordon off the wet and dry areas of the bathroom. The pocket door here is for privacy for the user and can be effectively used by two people at the same time without infringing on each other's space.
14. Double Pocket Doors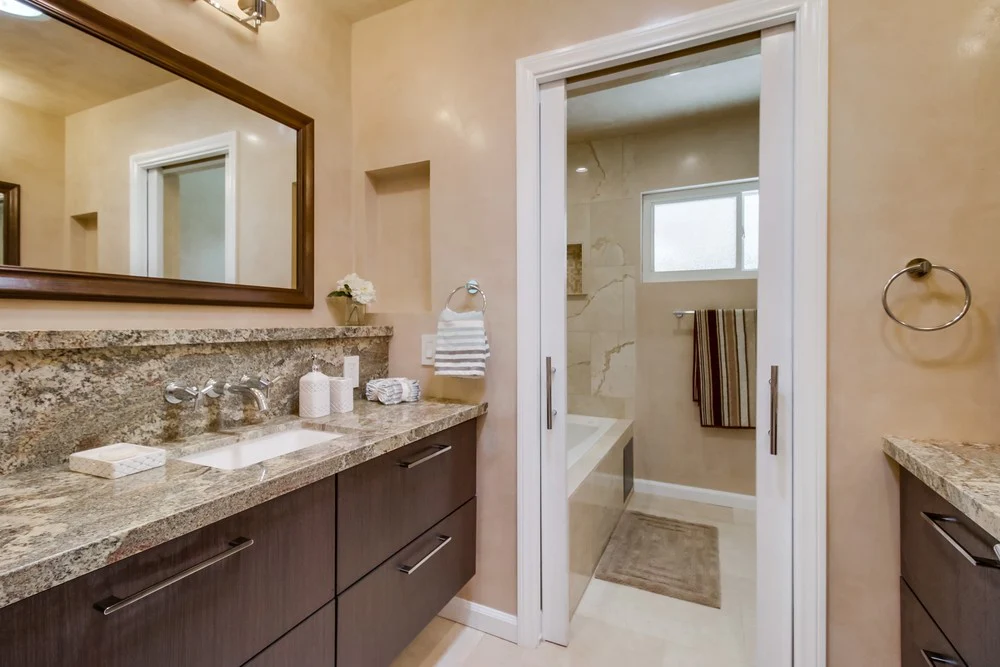 An open-concept bathroom and pocket doors have been used to separate the wet and dry areas. The pocket doors here are slab doors with no hinges or hardware. They slide smoothly open and are very sleek and stylish.
15. Modern Chic Bathroom with Pocket Doors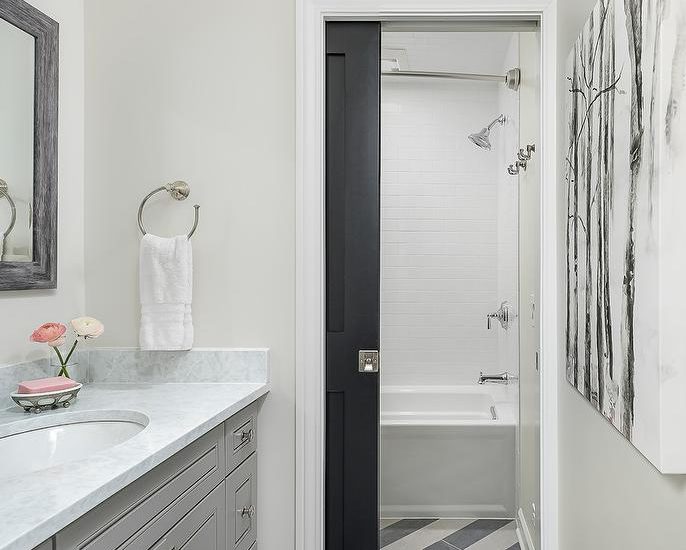 This bathroom features a pocket door in the exit doorway to the room. The plenty of natural light, ceiling, and sconce lighting add to the dramatic visuals of this stunning bathroom.
Related: 22 Closet Door Ideas for a Refreshing Look
Functional Possibilities with Installing Bathroom Pocket Doors
1. Space Saving Features
Bathroom Pocket doors help maximize space both in your bedroom and inside the bathroom, leaving you with space to play around with.
You can use the extra space to add a larger shower area or more floor space in the bedroom. 
Whatever your floor plan, pocket doors tend to make it more open with their flat layout and extra space all around.
2. Design Features
The design elements that you can incorporate with pocket doors are endless.
There are multiple materials you can use, like wood, metal, glass, or a combination of those, and also different kinds of hardware for handles and knobs.
Bathroom pocket doors can also be used to create dramatic effects with the use of contrast to create a visually pleasing aesthetic look to the room.
The doors themselves can be customized in various formats, like using a single sliding door, two bi-parting doors, an oversized door, and so on.
3. Accessibility Features
Pocket doors are a great feature to add to rooms that require more accessibility for wheelchair users and so on.
While traditional swing doors need you to reach out and grasp the door and pull, pocket doors can be easily slid to open and make for much easier solo use. 
4. Versatility
Pocket doors are highly versatile, and if you have a tight space, you can make it more versatile by adding a few features to the back of the sliding door, like adding a mirror.
How to Install and Bathroom Pocket Door
When installing a pocket door, there are some technical requirements to take care of, unlike in a traditional door.
Since pocket doors need a hollow wall space, technical requirements of having adequate wall thickness free of plumbing lines, electrical lines, beams, etc., are to be taken into consideration beforehand.
Determining the nature of the wall, feasibility of the wall space, mechanical requirements of installing the overhead slider, cutting the drywall, installing the frame and hangars, and finally testing if the door slides smoothly are some of the steps when installing a bathroom pocket door.
Disadvantages of Using Pocket Doors
1. Do Not Close Tightly
Pocket doors do not close tightly and also leave a floor gap which can lead to noise from the bathroom reaching the bedroom.
2. Not Friendly for All Users
People with certain physical conditions might find it hard to use pocket doors, especially since they slide and glide.
Since the door handles are flush in the door, it makes it hard to grasp for people with arthritis conditions. This is one of the major concerns while installing pocket doors.
3. Maintenance
Installing and maintaining pocket doors can be tricky. It is essential to choose high-quality hardware to make sure that the maintenance is stress-free. 
Conclusion
All in all, bathroom pocket doors can be a seamless addition to your existing space. It can add to the functionality without adding to the clutter.
There are plenty of designs and hardware to choose from when it comes to adding a bathroom pocket door.
They work in most modern homes, especially homes that could do with extra floor space, and also do extremely well in classic settings. 
So while it has some disadvantages, it does add to the beauty of the space with its clean lines and super sleek look.
Go for neutrals and always choose high-quality hardware, it could make all the difference in keeping your pocket doors maintenance-free.
They can be difficult to repair and maintain, but the visual delight they add is worth the hassle.
So which of these bathroom pocket doors are you adding to your bathroom? Tell us more.
Check This Next: 15 Types of Modern Closet Doors for Your Room's Aesthetics
Other Articles