What do you crave after a long day at work? Nothing calms down like a lovey body spa. However, it is only possible to get a spa sometimes. But what if you can turn your home's bathroom into one? You can add a little effort to selecting the right bathroom tile through a wide range of bathroom floor tile ideas.
Moreover, the most exciting aspect of bathroom design is choosing which gorgeous materials and colors to  emphasize.
If you're remodeling a bathroom, you could stick with the all-marble plan but think twice. You can make a statement with bathroom tiles from a solid pattern for a light and airy appearance. Selecting bathroom tiles is crucial since they have the power to change the appearance of your room entirely.
Elegant Bathroom Floor Tiles to Add Beauty to Your Space
Before making a final decision on your bathroom makeover plan, you should absolutely consider these recommendations.
1. Metro Pattern Tile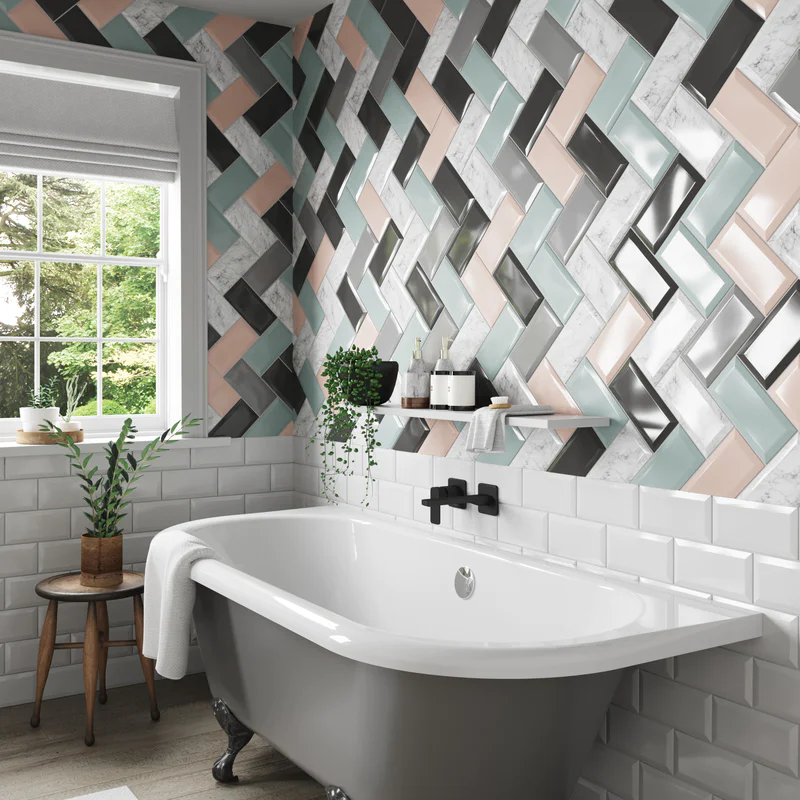 Metro tiles in rich hues can add opulence to your bathroom. Dark blue and green are excellent choices for a moodier atmosphere. Metro floor tiles, a subtype of subway tiles, are preferred for bathrooms.
One of the best ways to distinguish your toilet is with such kind of bathroom floor tile ideas. Choose bright metro tiles to enliven the bathroom. Traditional checkered metro tiles in a gloss finish raise the bathroom's elegance.
Benefits
Metro floor tiles are solid and durable.
They offer a slip-resistant advantage.
Similar Post: 15 Stunning Accent Tiles in Shower Ideas for Your Bathroom
2. 3D Floor Tiles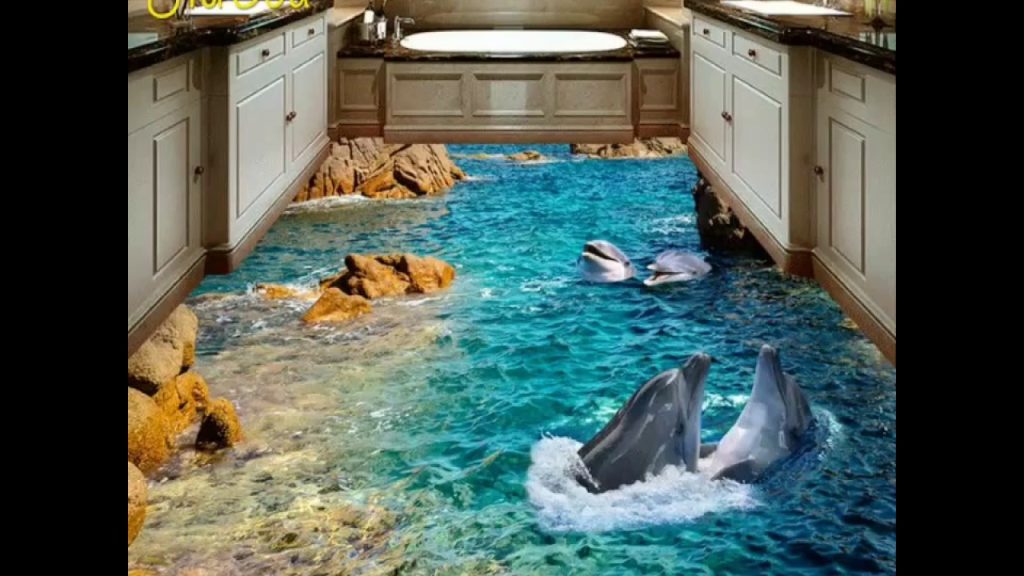 The three-dimensional tile gives the bathroom a wow effect. A 3D tile can make your modern bathroom floors look enticing and fascinating instead of flat and uninteresting.
The current 3D tiles give the bathroom a textured appearance that makes it appear open and light. Various patterns are available for these standard tiles, including the traditional 3×6-inch subway tile.
Benefits
3D tiles have excellent aesthetic appeal.
It gives the illusion of a larger space.
3. Ceramic Floor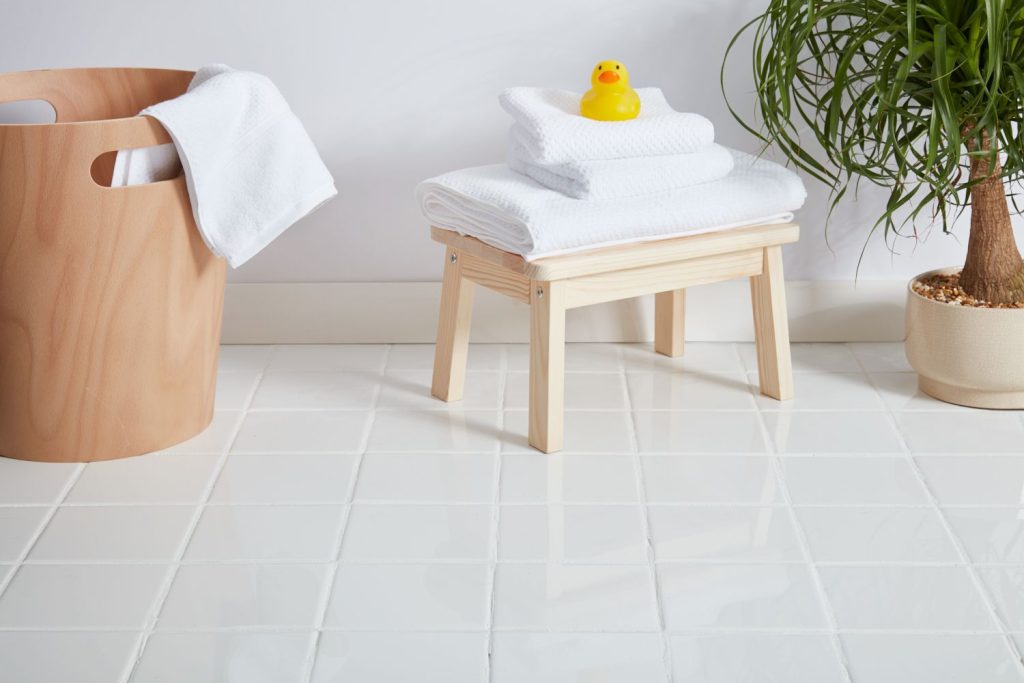 You can redesign your bathroom with lovely ceramic tiles. It creates a vibrant style that is strong and long-lasting. Ceramic tile is frequently used for walls, floors, and showers. It is constructed of organic materials like clay and quartz sand.
Ceramic tiles are readily available in a wide range of sizes and designs. It is much simpler to achieve design flexibility and choices for every application. Moreover, glazed ceramic tiles are simple to maintain and may be mopped or cleaned with water and a little detergent.
Benefits
Due to its strength and wear resistance, ceramic tile is excellent for places with heavy foot traffic.
Glaze-coated ceramic stain-resistant. It can bear tremendous pressure or come into contact with any heavy object without scratching or cracking.
Ceramic is fired at a high temperature during production. This prevents it from getting burned quickly and makes it ideal for usage around fireplaces.
4. Mosaic Tiles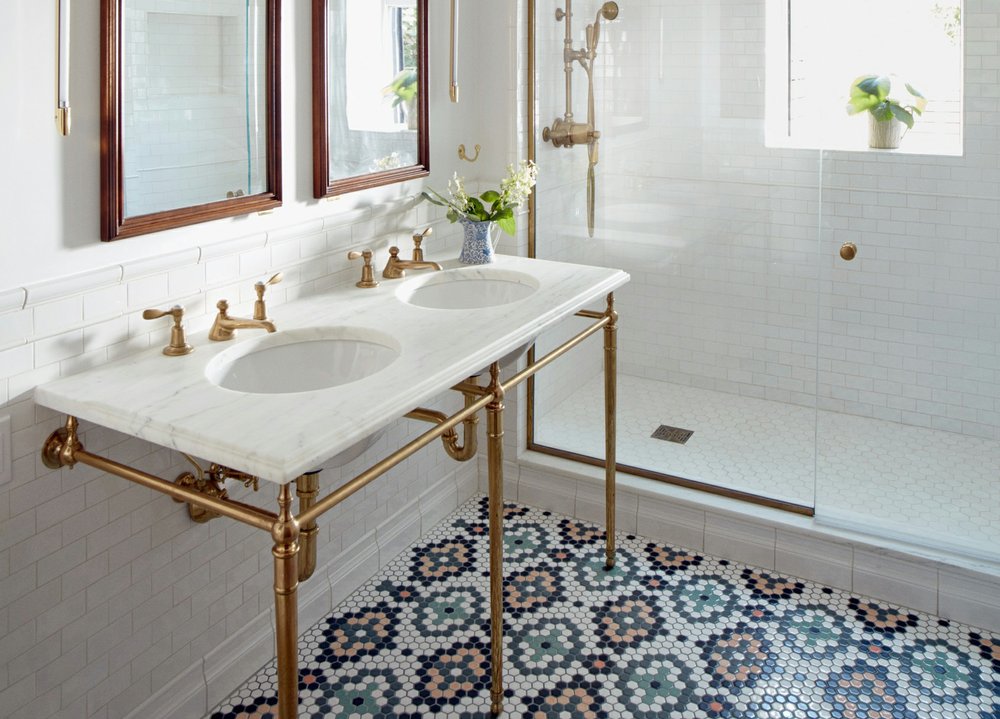 Using tile mosaics in your bathroom can improve its overall aesthetic appeal. These live works of art enhance any place you choose to set them in. Such bathroom floor tile ideas mosaic is elegant and stylish for the present.
Mosaic tiles speak to the superb taste of the homeowners or the design architect. You can even fuse high-resolution digital images onto the surface of the glaze to create patterned motifs.
Benefits
These tiles give the space a colorful appearance.
The calm surface of the tiles contributes to preserving a cozy interior temperature.
5. Porcelain Tiles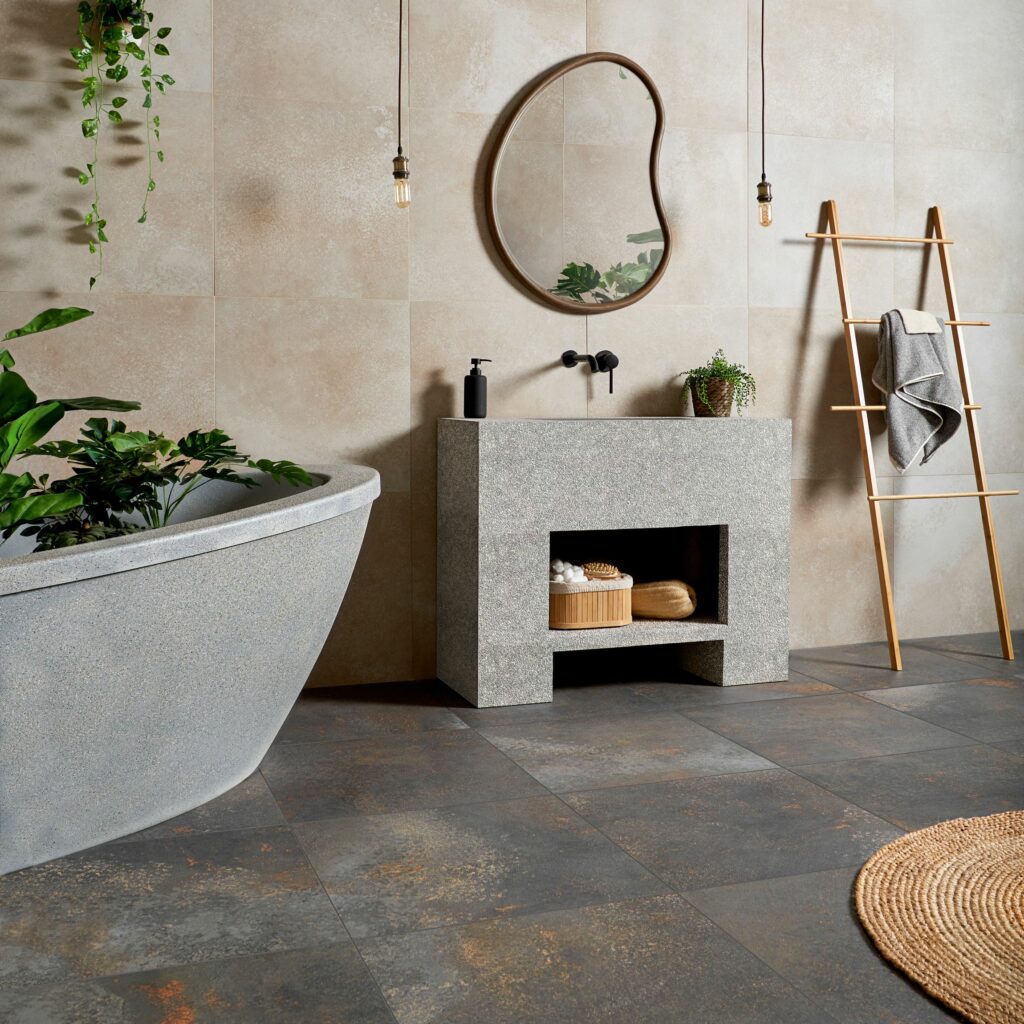 Porcelain is the material homeowners most frequently use to tile their homes. The adaptability of this tile allows for a limitless number of indoor and outdoor applications. Porcelain ranks highest among tiles for its abrasion resistance.
Benefits
It is solid and resistant to changes in weather and temperature.
This tile also maintains a very high aesthetic quality with various colours and textures.
It is appropriate for horizontal installations other than floors, such as walls and backsplashes.
6. Saltillo Flooring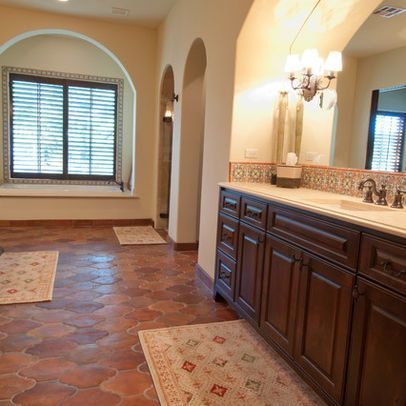 The bathroom's saltillo tile flooring is minimal maintenance and brightens the room. The most incredible option for bathroom flooring is saltillo tile because it has all the necessary components.
It is challenging to preserve a Saltillo's breathability and slide resistance. Using an excellent invisible impregnating sealer is crucial. Saltillo tile has a low density and is non-vitreous. They have a rough texture since it is dried but not burned.
The surface needs to be well sealed to prevent stains. Saltillo tile is elegant and conventional. You can find Saltillo floor tiles in a variety of sizes and levels of gloss. The surface will require routine resealing to prevent staining and etching.
Also Read: 10 Beautiful Walk-In Shower Tile Designs for Your Bathroom
Benefits
Saltillo floors are water-resistant.
They offer slip-resistant advantages.
7. Granite Tiles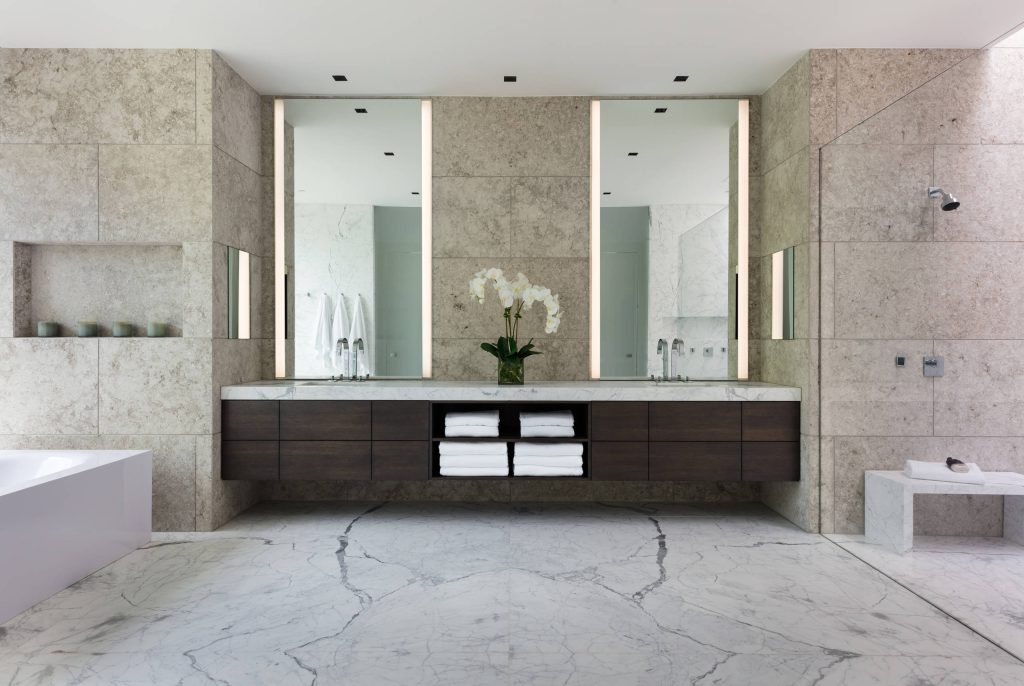 Due to the material's strength and longevity, granite tiles are becoming popular. The versatility of granite tile, which can be used for walls, counters, and flooring, makes it extraordinary.
Granite's clothing is stunning, robust, and long-lasting all at once. It has the capacity to survive heavy use due to its adaptability. Granite is one flooring material whose appeal has been soaring recently.
You are only constrained by your creativity regarding the possibilities for granite floor tiles. Granite tiles the perfect bathroom floor tile ideas and are ideal for spaces with heavy activity because of their natural toughness.
Benefits
Granite floor tiles are durable.
They are versatile enough to be used in practically any room of your house.
8. Bathroom Glass Tiles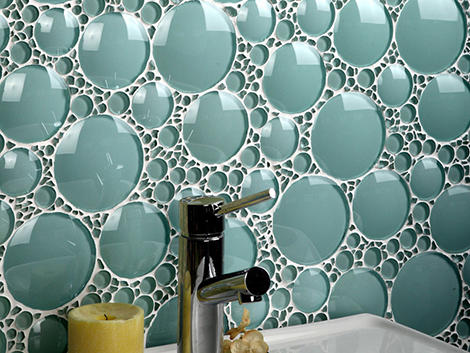 Glass tiles are well known for their beauty. They have been used for ages. Their non-porous nature prevents them from absorbing water. Hence, they are particularly suitable for bathrooms and kitchens with high moisture levels.
No matter how long you spend in the shower, the glass floor can bear it all. They are waterproof and stain-resistant. Glass tiles are better than other goods at capturing the beauty of color and light. Glass tile creates a luxurious, welcoming atmosphere in outdoor areas.
Benefits
They liven up tight spaces by reflecting light.
Glass tiles are simple to clean.
Extremely versatile
9. Marble Tiles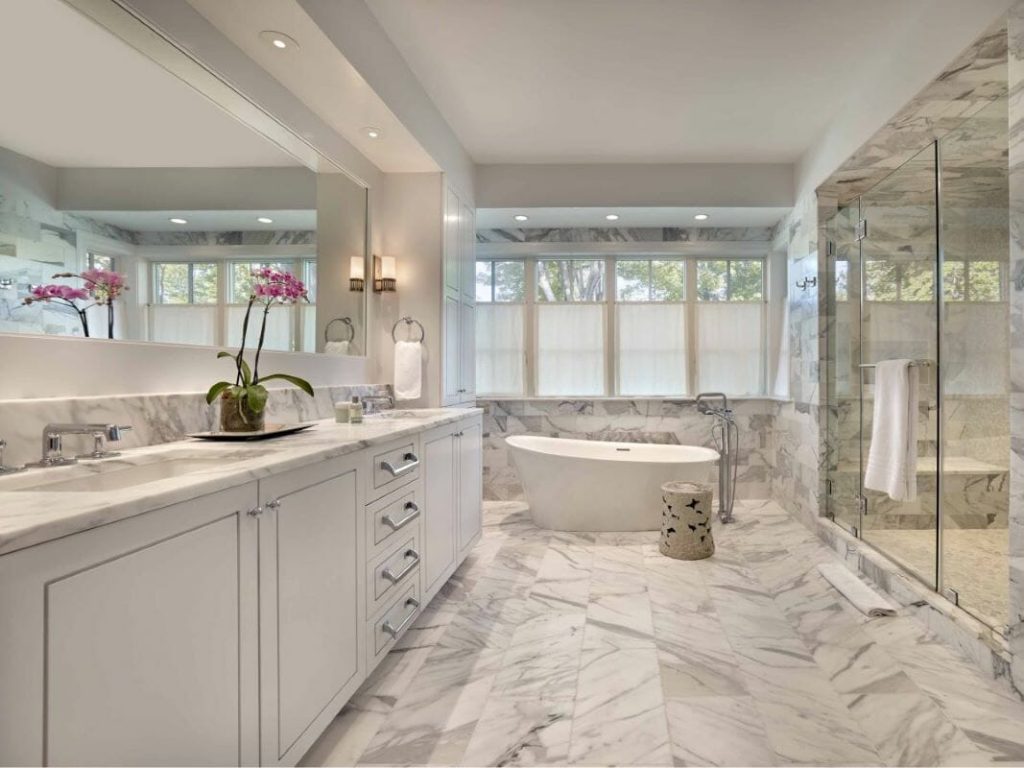 Artists have long employed marble tile in their creations. Marble flooring is one of the most basic ways to decorate a home. Marble might have patterns or veining, which brightens up a bathroom.
To preserve the beauty of marble flooring, proper maintenance is essential. Usually, it is polished before being sealed. Using marble tile as exterior wall tile, bathroom walls, living and sleeping areas, and significant barriers is ideal. It can be inlaid with plaster or mixed with wood.
Benefits
Marble tiles stand the test of time when it comes to durability.
You can combine marble tiles with different materials to increase their versatility.
10. Sandstone Floor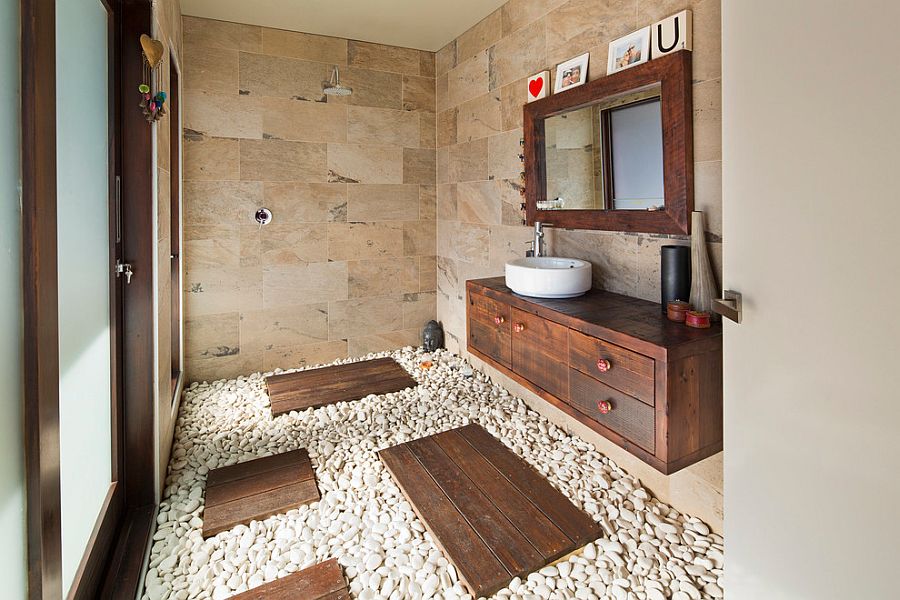 Sandstone tile is well-known for its distinctively grainy, gritty and tactile appeal. Everywhere, sandstone tile is a versatile flooring option and makes up the top choice in bathroom floor tile ideas.
Its swirling shades of gold, red, and yellow sandstone portray a desolate, wind-swept countryside. Sandstone appears delicate and elegant, but it is surprisingly resilient.
In addition to the fundamental ability of sandstone to withstand any domestic climate, the design aspects are a significant advantage.
Benefits
High-density sandstone floor tiles are as hard as a stone.
Sandstone tiles are non-porous.
They are highly durable to use for any floor area.
11. Limestone Floor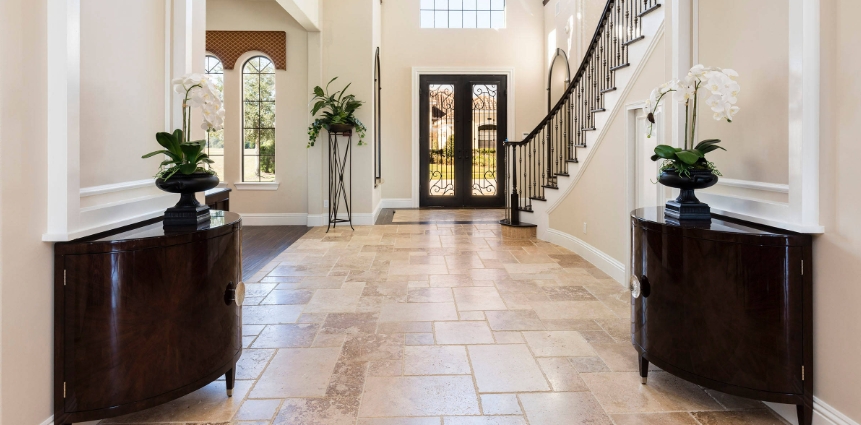 A typical natural material used in kitchen and bathroom decor is limestone. There are numerous variations of limestone flooring with various textures and designs. They come in a range of hues as well.
Finding the ideal design for your home that also complements the décor of other rooms will thus be extremely simple for you. Also, they are renowned for aging gracefully. The appearance of limestone tile improves with age. They are, therefore, both long-lasting and durable.
Related: 20 Creative White Subway Tile Bathroom Designs
Benefits
Limestone tiles are long-lasting.
They are resistant to stains.
Most limestone tiles do not quickly deteriorate in color.
12. Slate Floor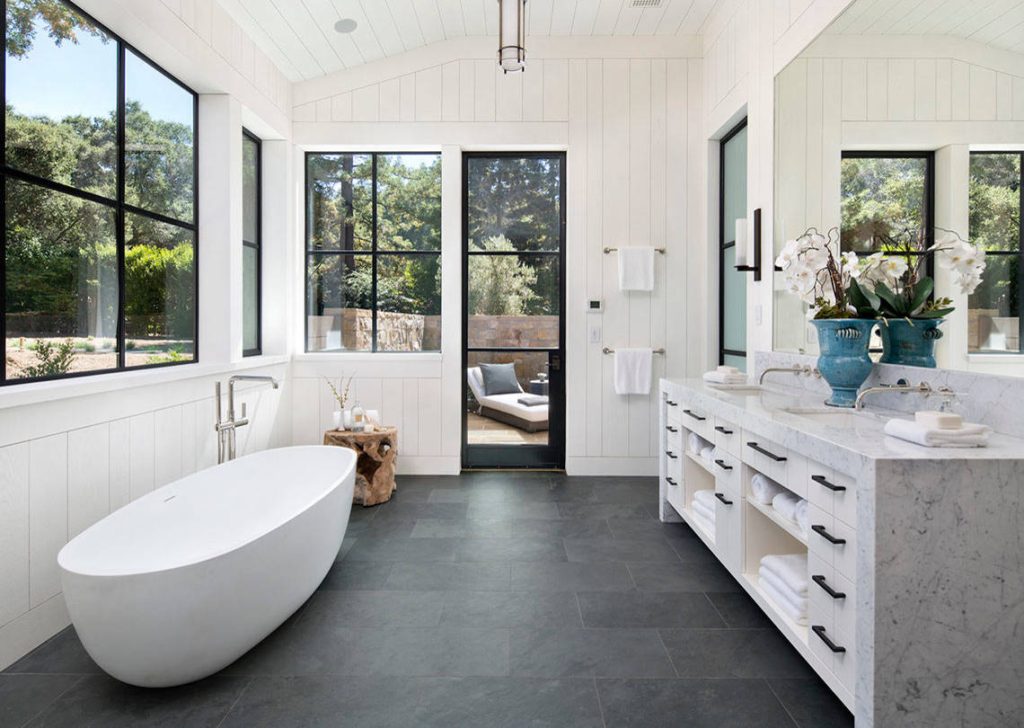 Slate floor tiles are made from sedimentary rock slate. It is composed of clay and volcanic ash. These slate tile rocks have a long history of use as heat and electrical insulators in single-family dwellings and multi-story structures.
The most significant benefit of such material is its abundance and natural occurrence. This makes it the material of preference for many. 
Slate tile is recognized for its unique layered design. Volcanic ash and clay sheets are used to make slate tiles. The slate has a beautiful, natural appearance thanks to the distinctive layering of this material.
Benefits
Slate tile's swirling arrays of blue, brown, black, and other colors.
It offers natural-looking tile flooring for your home or even the exterior.
13. Stone Tile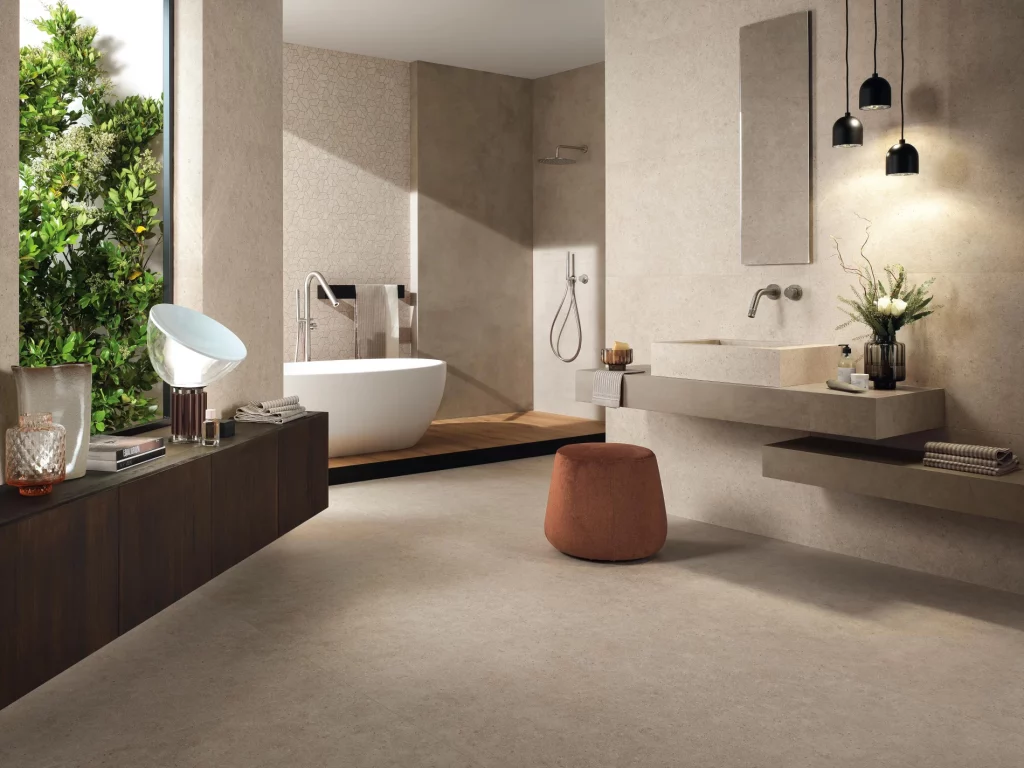 Whether people agree with it or not, stone tile is among the most elegant ways to adorn your bathroom. There are numerous tile selections available on the market nowadays.
Stone tiles are usually utilized on countertops and floors in large-format applications because of their inherently slip-resistant texture. Regular resealing is required for the surface to keep its glossy or matte appearance.
It is a sustainable substance. Hence, it conveys a view of untainted nature. Its appearance is quite appealing. A waterproof membrane is needed for stone bathroom floor tile to tolerate moisture in a bathroom.
Benefits
Tough and long-lasting.
Keep allergies out of your bathroom.
Stone offers a more significant slip-resistant benefit.
14. White Tiles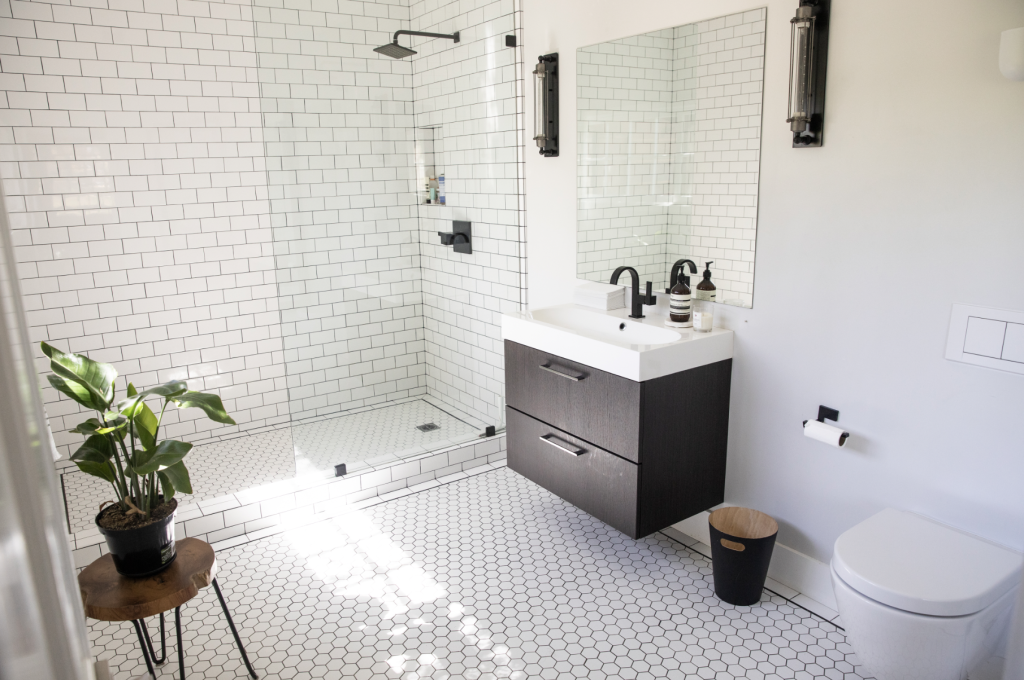 Since the Victorian era, bathrooms with white tiles have been popular. This sizable single-color modern bathroom tile is all you need for a gorgeous, lavish bathroom renovation.
The timeless, elegant choice of white never completely goes out of style. White can give your bathroom a sense of space and openness.
It gives off a refined, homogeneous appearance and looks best when paired with contrasting bathroom fixtures. You can combine white with complementary hues and the appropriate accessories to get a minimal look. You may use white tiles in laundry rooms and kitchen backsplashes as well.
Benefits
White tiles offer the bathroom a greater sense of organization and crispness.
Provides a minimalist look.
15. Rustic Bathroom Floor Tiles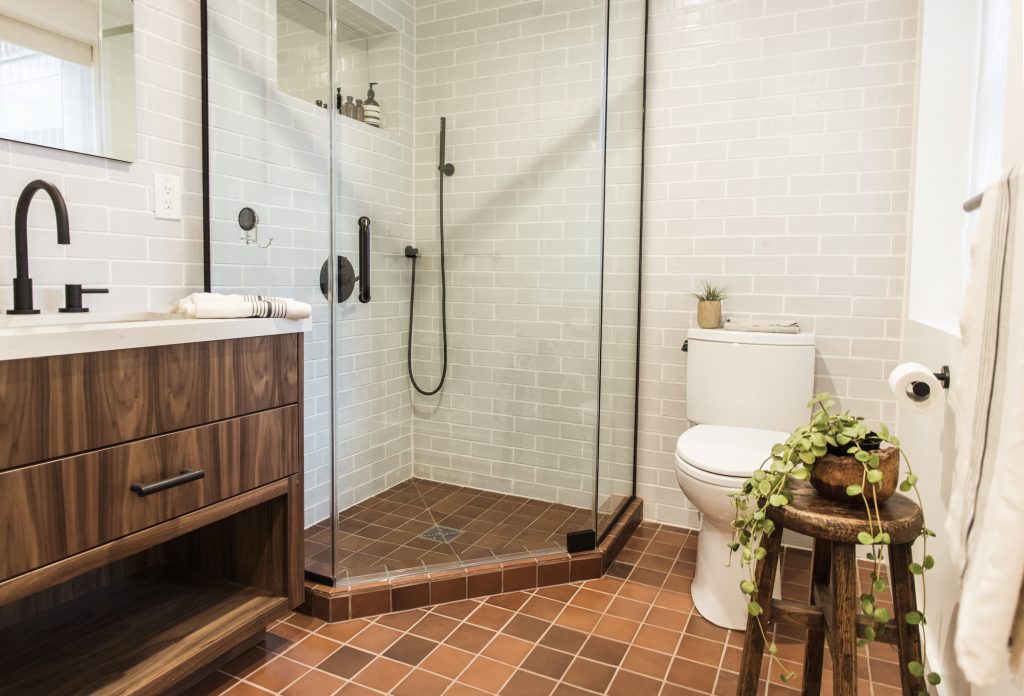 Despite the fact that we are all admirers of modern or minimalist architecture, there is one choice that cannot be disregarded. A rustic aesthetic may enhance the appeal of any room in the house by incorporating natural beauty and raw materials.
Rustic floors have basic patterns and eye-catching styles. This gives the space a streamlined, modern appearance, adding an intriguing texture.
If done correctly, your toilet can become one of your house's more rural and traditional spaces. There are several fixtures and accessories in bathrooms.
Benefits
Rusted floors emit a distinct warm old charm.
Instead of choosing a shiny pattern, you can choose a more shabby or conventionally patterned item.
Check This Next: 20 Creative Small Bathroom Design Ideas to Upgrade Your Space
Conclusion
You can discover different colors and designs from the wide range of bathroom floor tile ideas. The tiles, as mentioned earlier ideas always stay in style. These fifteen tile designs can improve the exterior look of your bathroom. The guests in your house will be stunned by such bathroom floors.
The majority of the tiles are durable, resilient, and slip-resistant. They also make your bathroom more relaxing and appealing to the eye. What more do you need? Feel free to pick any of these designs to give your bathroom a comforting spa appearance.
Frequently Asked Questions
What Standard Tile Sizes Are Offered in The Market?
Big tile dimensions are 600 x 1200 mm and 600 x 600 mm. Smaller tile sizes are available in the 300600 mm and 300300 mm ranges.
What Distinguishes Bathroom Wall Tiles from Bathroom Floor Tiles?
While bathroom wall tiles offer flair, bathroom floor tiles frequently include features like anti-skid and scratch resistance. Your bathroom will look glam with textured wall tiles or a wall-mounted backsplash.
Other Articles