Bedroom- the term itself conveys rest, relaxation, and leisure. A bedroom is not only a place to rest or retire- but also a place where a major fraction of the day is spent. A bedroom not only serves the purpose of a restroom or retiring room; a bedroom is our corner in the whole landscape of a whole house- a bedroom is an individual niche of a person in his or her dwelling.
The outlook of a bedroom reflects the taste and choices of a person and signifies a person's style and character. This season "gray is the new black in home decor." The novel gray shade can be altered to suit an individual's taste and choice.
Here are the 21 ideas to recreate your bedroom this year for a stunning and astonishing look with gray
1. Gray as a Whole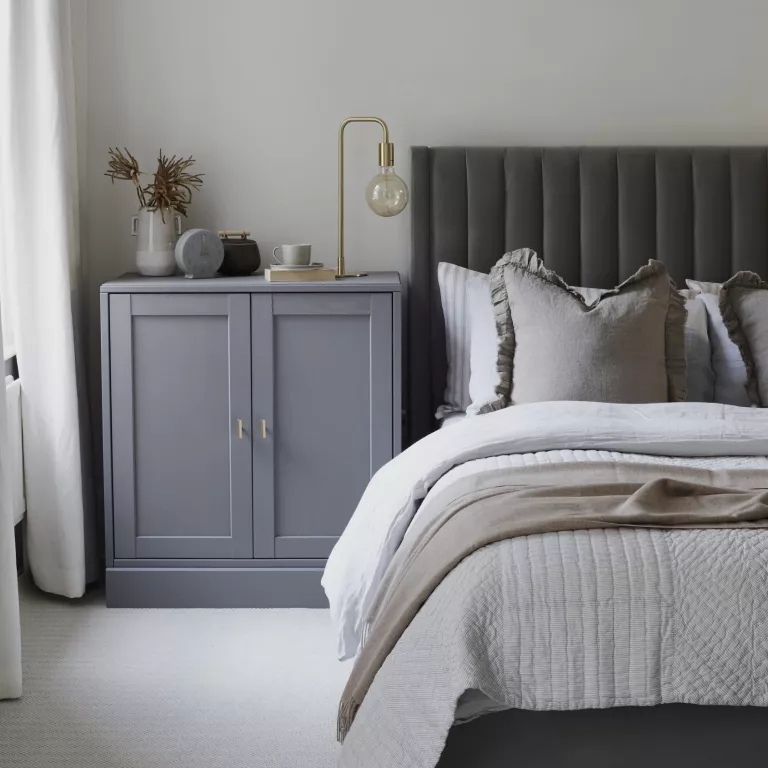 If you want to transform the bedroom completely into gray to achieve a monochromatic and elegant look, try this bedroom idea. Accessorizing it with a matching almirah and a charcoal textured headboard will highlight the room, giving it a classy and modern look. Using white bedsheets, curtains, and pillow covers will complete the look.
For a minimalist look, this is the perfect idea to implement. However, if you want to add more furniture to it, then either go for shades of gray or white. Using any other color furniture or accessories will kill the classy look of the bedroom and will make it look too loud.
You can also try adding complementary accessories, such as vases and lamps, for a more classy look.
Similar Post: 17 Bedroom Paint Ideas – Pick the Best Color for Bedroom Walls
2. Gray in Combination with Others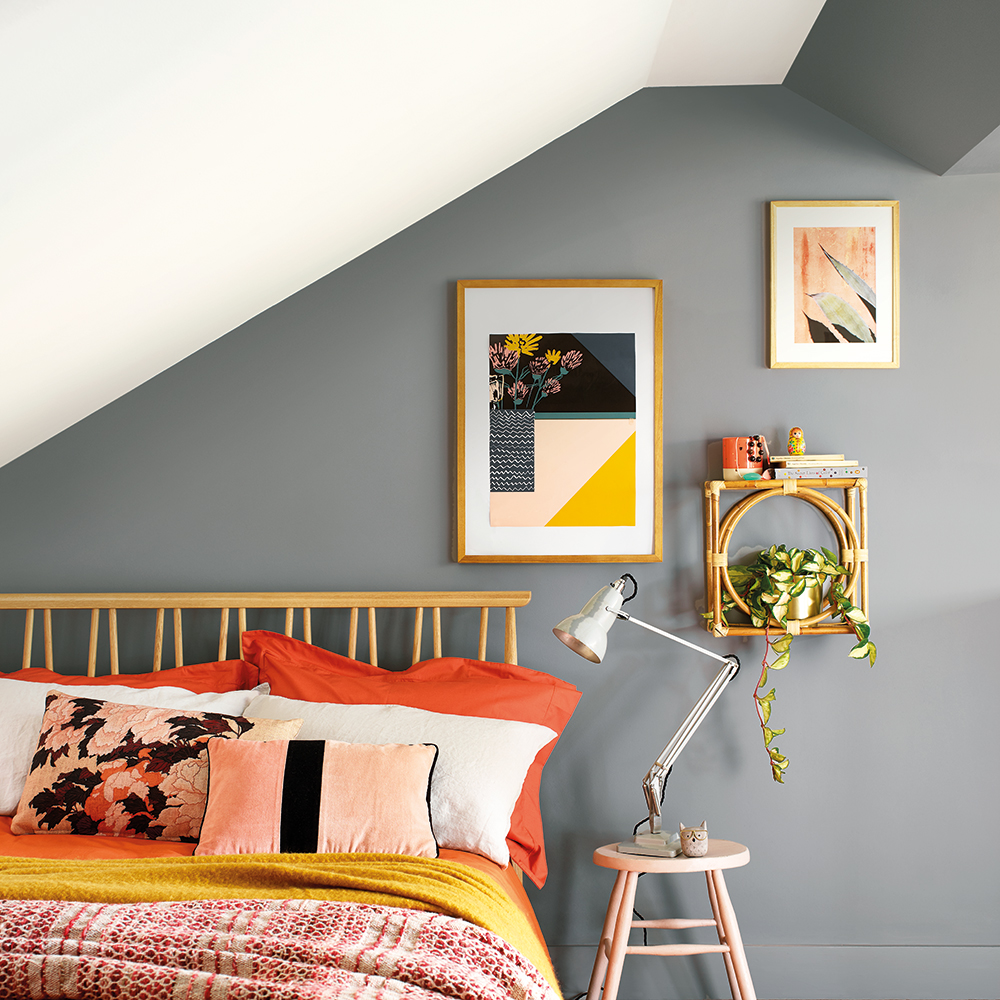 This is one of the gray bedrooms; ideas for those who want to use gray in the bedroom but at the same time want to add other colors to it too. The white ceilings of the room fit perfectly with the gray walls.
Cane furniture can be added as it will give a modern look to the bedroom. This kind of bedroom is appropriate for children also as it has minimal furniture.
Don't add heavy furniture, especially in brown or black, to it because the less you add, the better it looks. If you still wish to add an almirah to store things, then go for shades of light colors, such as pink and yellow, as they will complement the gray walls.
3. Elegance in Gray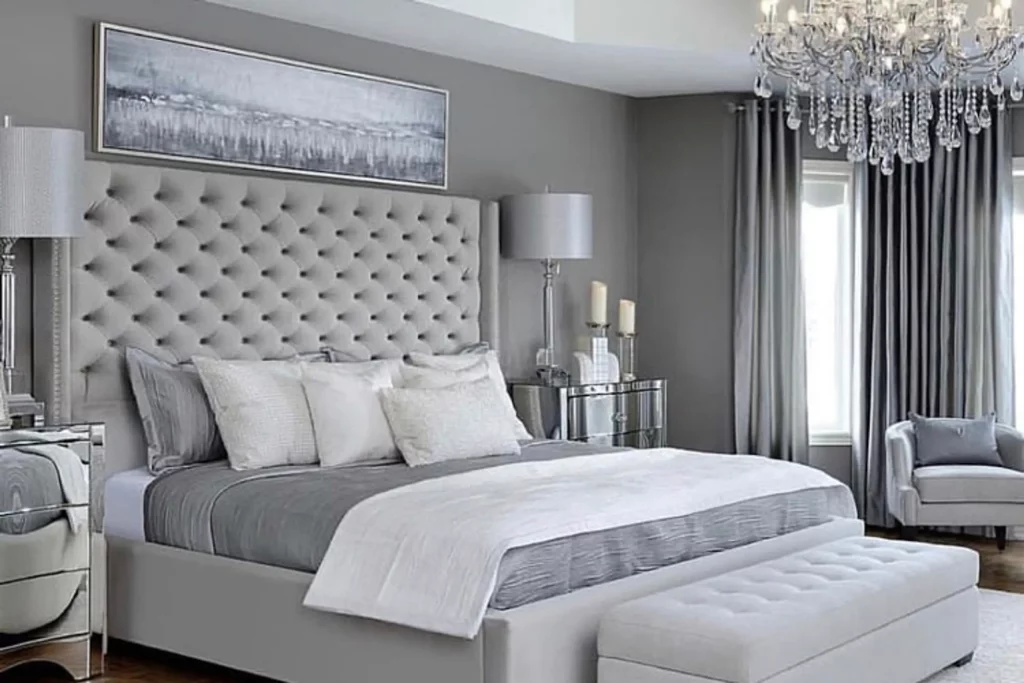 Paired flawlessly with the antiques, this bedroom is a perfect idea of how you can get a touch of elegance in your bedroom.
For larger bedrooms, this kind of bedroom decor idea will be apt to cover up empty spaces using accessories such as complementary furniture like sofas, tables, bed rests, and table lamps to showcase a luxurious and splendid look.
You can experiment with the headboard's length to achieve your room's desired depth. You can add lanterns, mantel pieces, paintings, frames, wallpapers, and other fancy items to enhance the aesthetic appearance of your dream bedroom.
This kind of bedroom will surely steal everyone's attention, making you feel proud of the choice you made.
4. Maximizing the Space Using Gray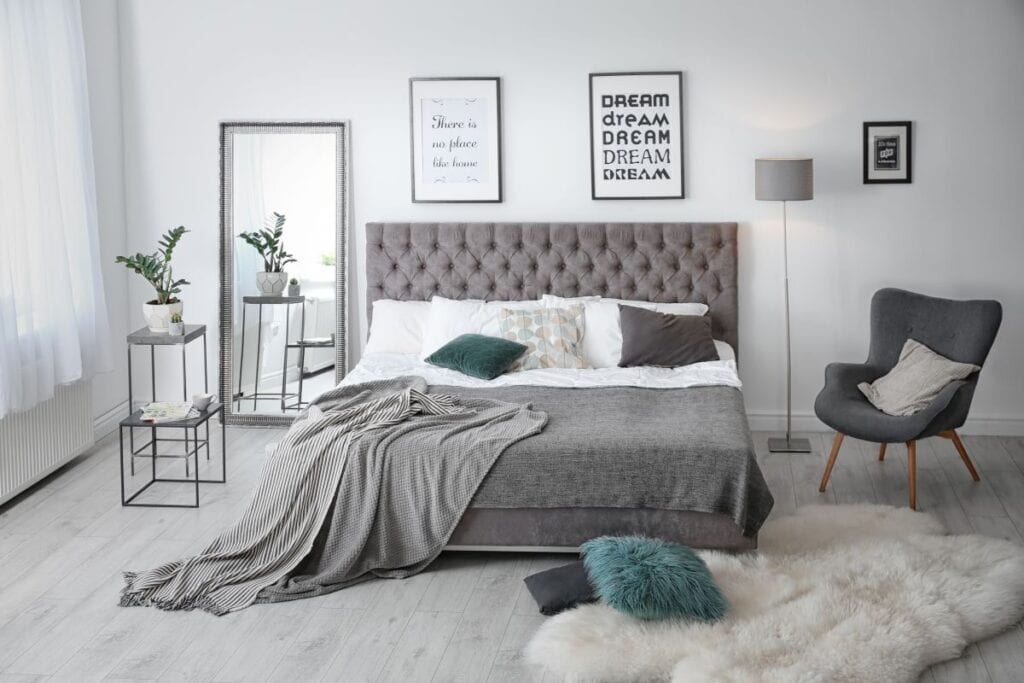 Gray color has an effect that can help maximize the space. Gray color helps to create an illusion of bigger rooms. Hence if we use gray wall paints and furniture, the bedroom will look spacious. 
Installing mirrors also makes the room look bigger and more spacious. So, you can consider installing mirrors in your small room to look big.
Contrasting dark-colored gray tiles will help in completing the look of the bedroom. Using white curtains will elevate the design of the bed and its surroundings.
Adding other accessories, such as wall paintings, will enhance the beauty of the room and will complement the simplicity this room possesses. However, this kind of room will look best if there is no heavy furniture added so that it looks spacious.
5. Experimenting with The Darker Shades of Gray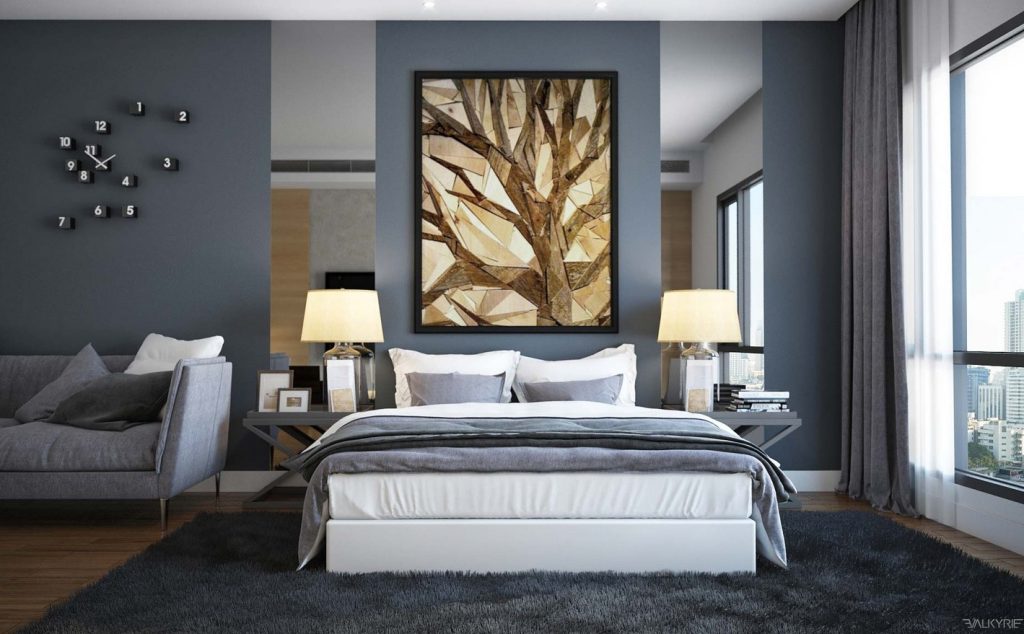 This kind of bedroom will help to flaunt the eliteness you possess. Perfectly suitable for luxurious and spacious bedrooms, experimenting with darker shades of gray will help to achieve an ultra-modern look for the bedroom. 
For people willing to ditch the other shades, such as dark blue or green, and ready to adopt something new, this idea would be the best. This shade of gray is successfully highlighting each and every corner of the room.
Accessorizing it with gray and white accessories will help achieve a minimalist yet stylish look. For example, the white or light gray colored curtains and the dark gray furniture are enough to enhance the room's beauty.
Paintings  and stylish  wall clocks  can be  used  to decorate  the  gray  walls.
6. Vintage Look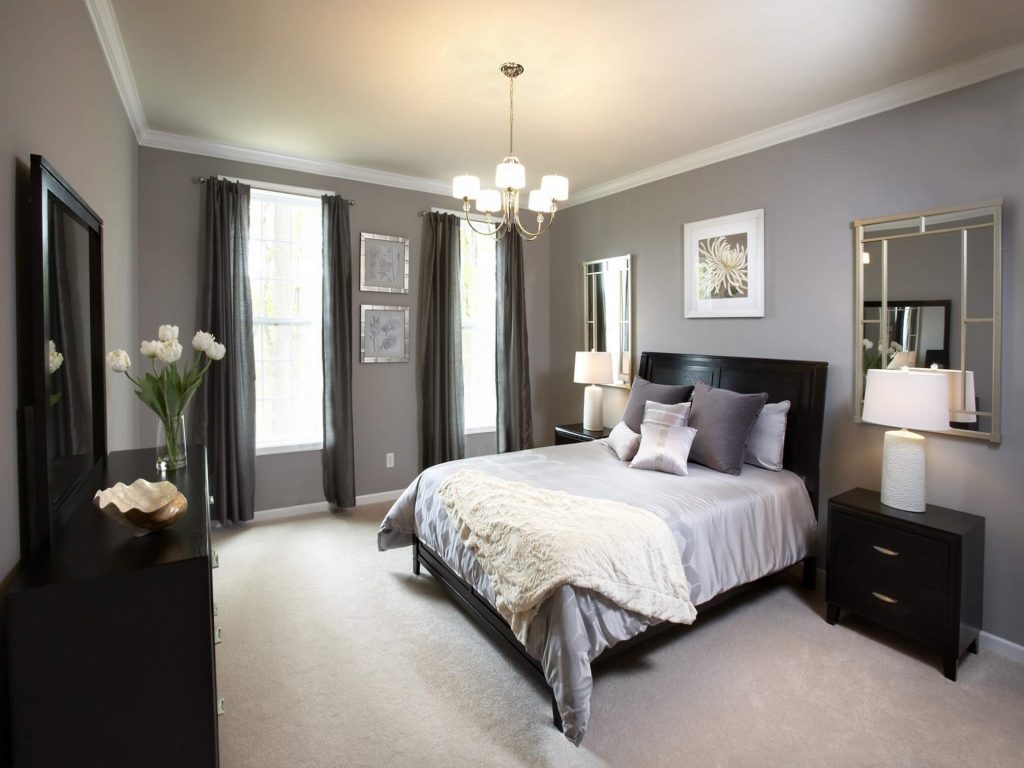 Another example of an elite design, this kind of bedroom idea is ideal for people who have old homes and are planning to recreate the bedrooms using gray color. This vintage look is complemented using dark brown furniture to give a cozy look.
People who seek comfort in old things can recreate their old bedrooms using this idea. This kind of  gray bedroom design idea adds warmth to the room in winter, so people who live in cold areas can give it a thought.
This minimalist bedroom idea is definitely a must-try for people who prefer decent and simple living bedrooms to live in. Adding the correct pair of antiques, such astable lamps, flower vases, and chandeliers, will elevate the look of the bedroom.
7. Rooms for Kids with Gray Walls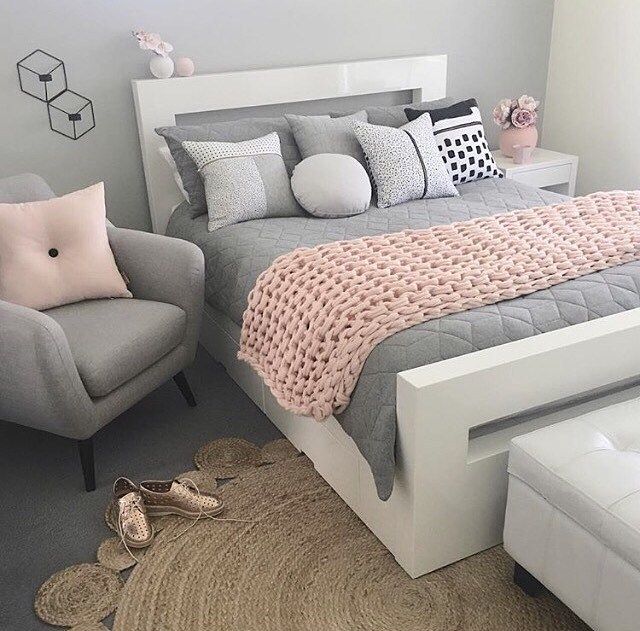 This can be a great idea for people willing to make a cute bedroom for their kids and add gray to the bedroom. By using this look, you don't have to compromise your love for the color gray.
If you combine pink, white, and gray in the right way, you will be able to achieve an elegant look that is both modern and cute at the same time.
The light shades of gray fit well with the pink and white furniture and accessories, giving a fine look.
You may or may not add furniture, which depends on the size of the bedroom. For spacious bedrooms, gray or white furniture can be added, and for small bedrooms, it isn't necessary to add furniture.
8. Modern Gray Bedroom Ideas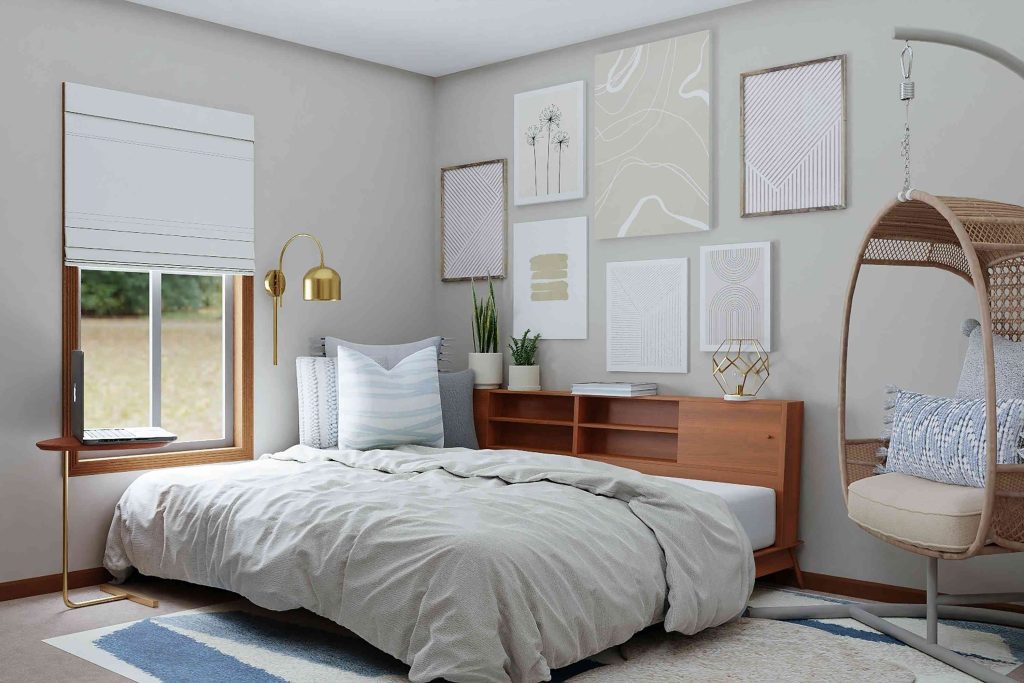 Light gray walls will be the most appropriate for a teenager, a college student, or a working professional who seeks comfort in light-colored bedroom walls. It will give the room a bright and spacious look. 
A person can add modern furniture, paintings, and a few decor items like vases and frames to achieve the perfect modern look and design the bedroom following the latest trends.
Since light colors are the trend nowadays, these kinds of gray bedroom ideas are worth a try. Adding white-colored bedding and light furniture to the bedroom will help to achieve a classic look.
This bedroom will also help achieve a minimalist look as it is complete, even without paintings and other artifacts shown in the image.
Also Read: 25 Unique and Inspiring Bedroom Chair Ideas for Your Dream Home
9. Gray for The Comfy Loo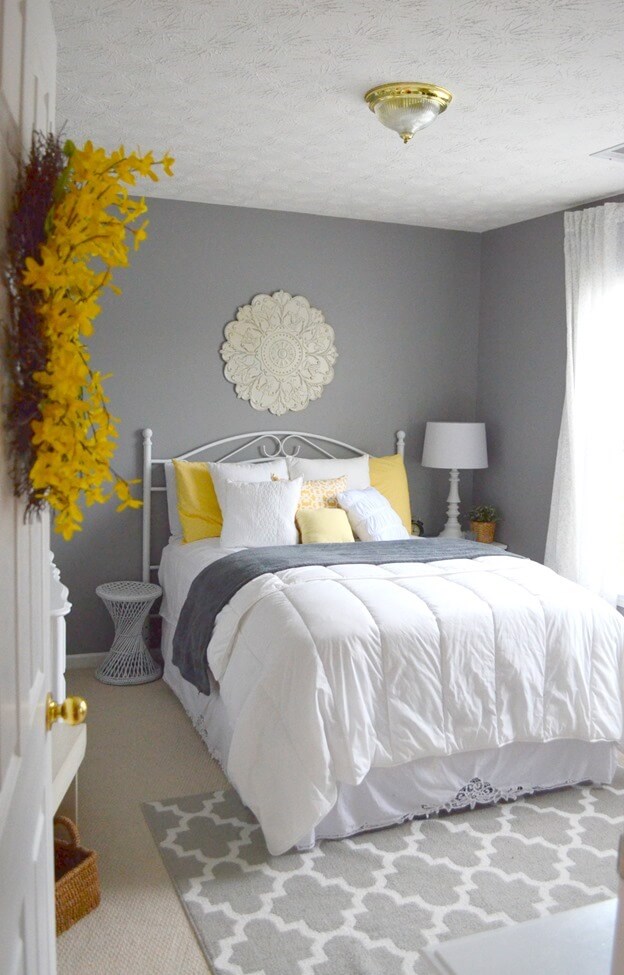 For a small bedroom to look big, this gray-themed bedroom with minimal furniture is all you need. Gray color never fails to create a dilemma of larger rooms.
The white-colored bed or a similar lightweight bed will give the illusion of the room looking bigger. The dark color of the bedroom wall, when complemented with the lighter ones, makes the room look spacious.
White doors and windows will serve the same purpose. On the other hand, dark-colored furniture and doors and bedrooms will spoil the look of the bedroom.
If you want to add furniture to it, then to compliment the bed and the walls, add white-colored lightweight furniture. This will give the room a simple yet classic look.
10. Vintage Look with Gray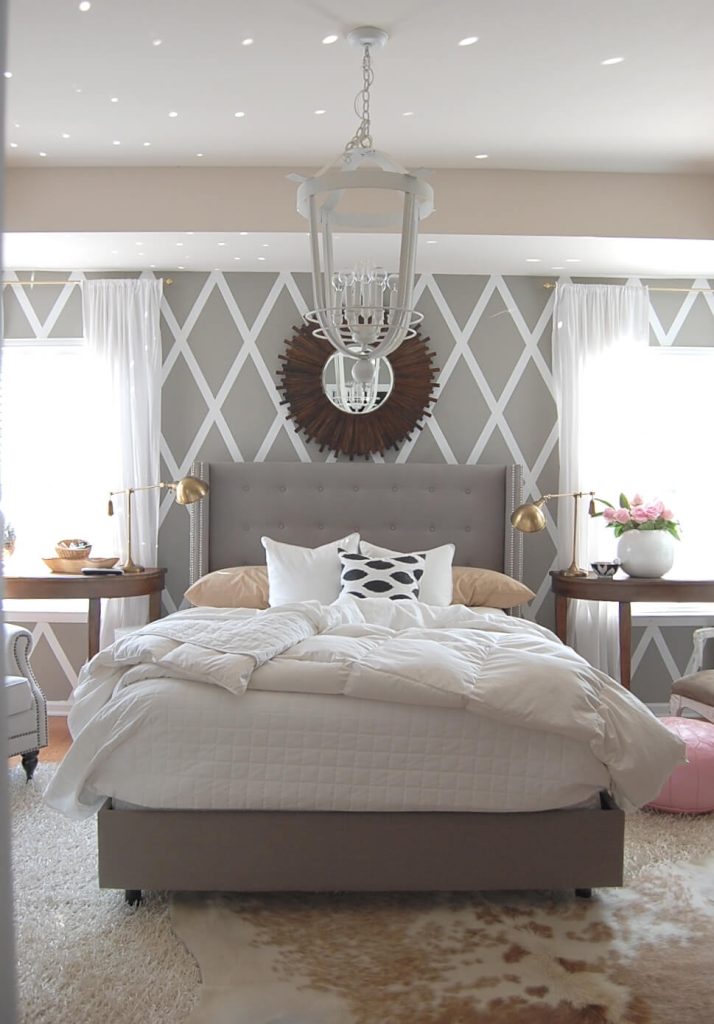 For people who love the vintage look and want to replace their existing monotonous room with a brighter one using shades of gray, this is one of the gray bedroom ideas that is worth trying.
This light-colored gray vintage bedroom will even help to showcase an elite and classic look. It is also soothing and will give a cozy kind of look.
People having ample space in their bedrooms can make use of the  space using white furniture and decor items such as flower vases, lamps, wall hangings, etc.
Brown color matswill also complete the look and will also help in covering the empty space helping to flaunt your room proudly to others.
11. Combination of Black and Gray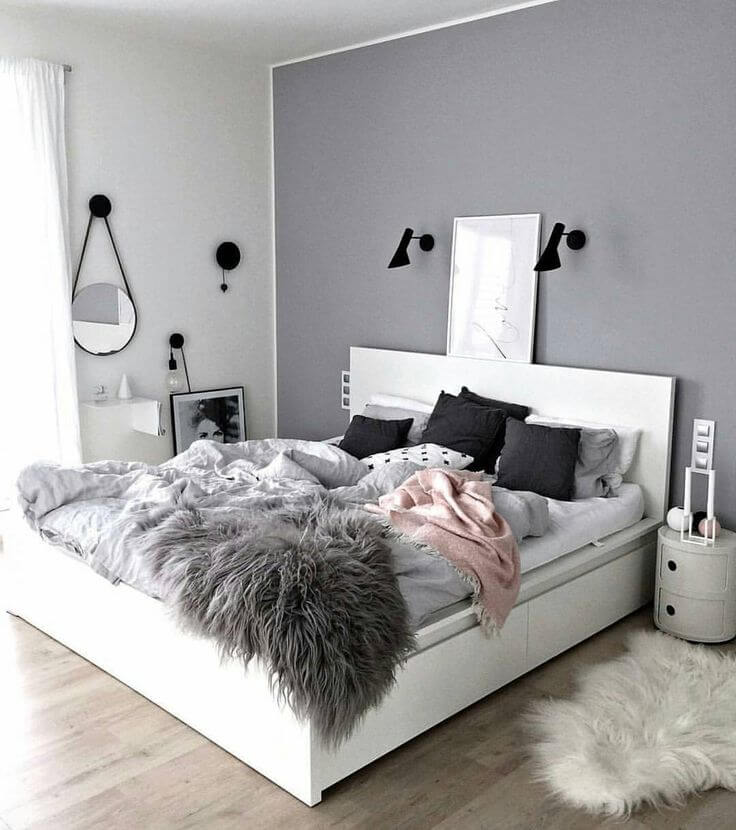 The best thing about black color is that when added to anything, it adds a new hue to the shade while maintaining its tinge, giving an important message of life to add shades to other life while maintaining one's own. 
This modern bedroom with black accessories can bring out the beauty of different shades of gray on the walls and the ceiling.
To add a classic look to the bedroom, white-colored furniture is provided. Overall adding black has enhanced the room's looks as it can highlight the gray color more than before.
Hence, this idea consists of black and with the minimum furniture will sharpen up the boring bedroom giving the bedroom a minimalist and modern look.
12. Warmth with Gray Color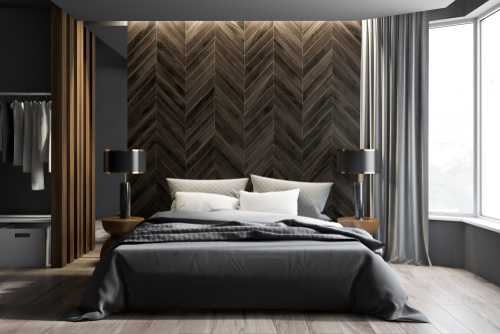 Gray color in the different textures can add a different look to the room. While the lighter shades of gray help in adding a brighter look to the room, the darker shades tend to add warmth to the room.
People owning apartments can recreate this look. People who have large bedrooms can also consider this bedroom idea to get a cozy and warm feel in their apartment.
In addition to this, this bedroom also has a classic and elite look which has been made possible by the use of dark gray color.
Perfectly paired with the right kind of wooden furniture and floor, this bedroom also has a modern look that fits well with the upcoming trends.
13. Minimalistic Look with The Color Gray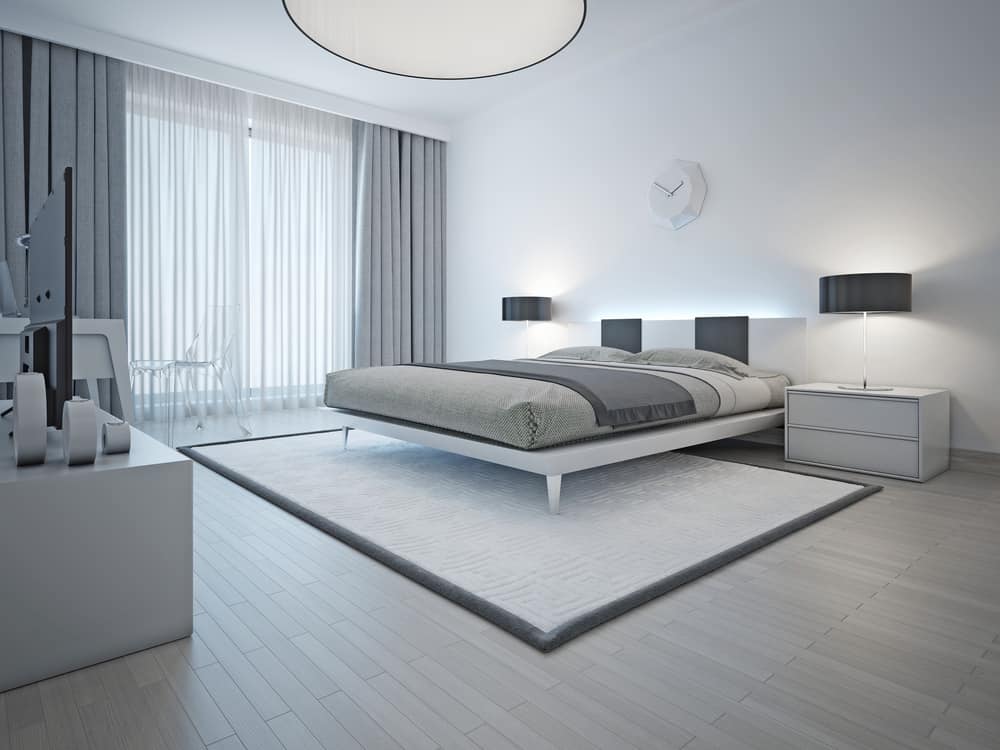 A bed, side tables and gray walls are all you need for a minimalist bedroom. The lighter shades of gray have the power to achieve a minimal look for the bedroom and also make the bedroom more spacious and livelier.
For people who are in love with minimal bedrooms, using gray for the walls and the wooden furniture and white bed, covers will serve as the perfect combination.
This bedroom has a simple yet classy appearance and will serve well for apartments as well as homes. These types of gray bedroom ideas also have a modern look and are, therefore, a must-try.
Adding lightweight show pieces and decor items of either white color or gray color will enhance the beauty of the room.
14. Modern Bedroom Look Using Gray Bedroom Ideas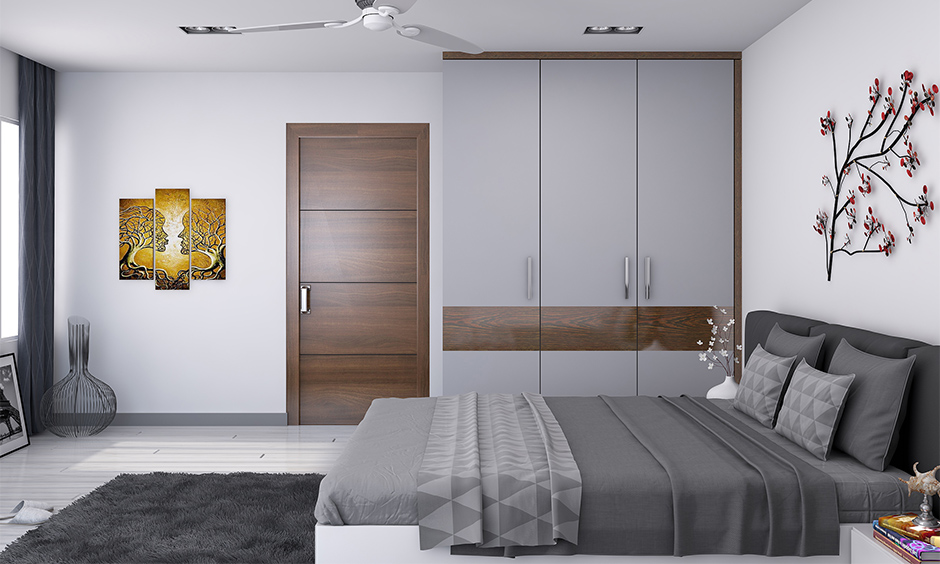 Related: 15 Gorgeous Farmhouse Paint Colors for Your Dream Home
A simple and well-organized bedroom with all the stuff also accommodated is the choice of many people. But the other thing that matters apart from this is that the bedroom doesn't look too congested by adding almirahs to it.
Gray color creates a spacious look; hence, people who have a lot of things in their bedroom and still want it to look spacious can try experimenting with gray bedroom ideas.
Gray color creates the illusion of a lot of space still available to use while you have already utilized a lot of it. This is the power it holds.
Apart from creating an illusion of bigger rooms, this combination of gray walls and bedding paired with gray cupboards helps to achieve a modern and elegant look.
15. A Cool and Smart Bedroom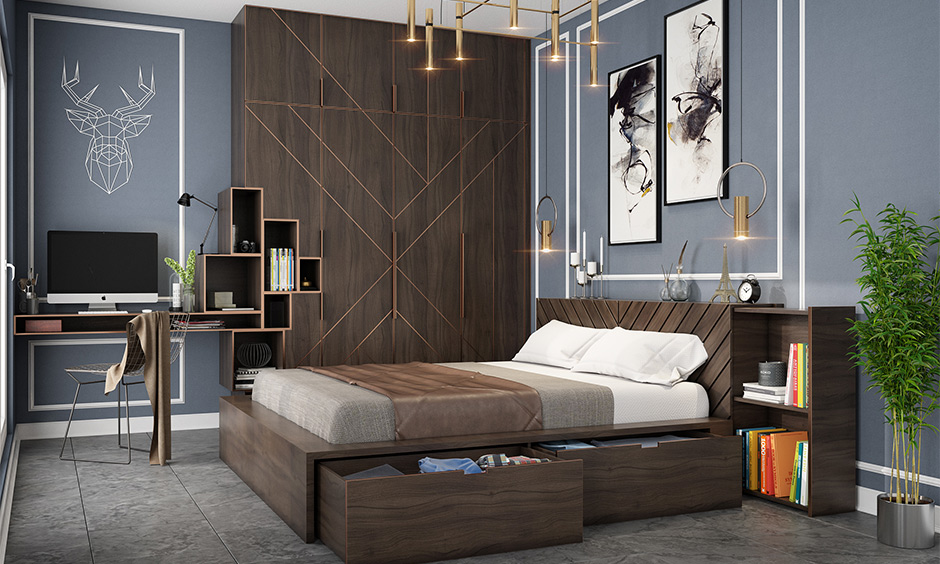 For working professionals, freelancers, and students who love to work in their bedroom only, this kind of bedroom, which uses a darker shade of gray is ideal.
Since when a person is comfortable, he is more productive and is able to focus in a better way to serve the same purpose, this bedroom has everything to offer.
A separate spot to work or study, in addition to the basic bedroom, is one of the options worth considering while designing or recreating the bedroom. 
The wooden furniture complements the room perfectly, enhancing its beauty and giving it a professional and relaxing look both at the same time. One can add more items to this gray bedroom ideas room, such as the shelves to keep the work-related stuff as per their choice.
16. Student's Dream Bedroom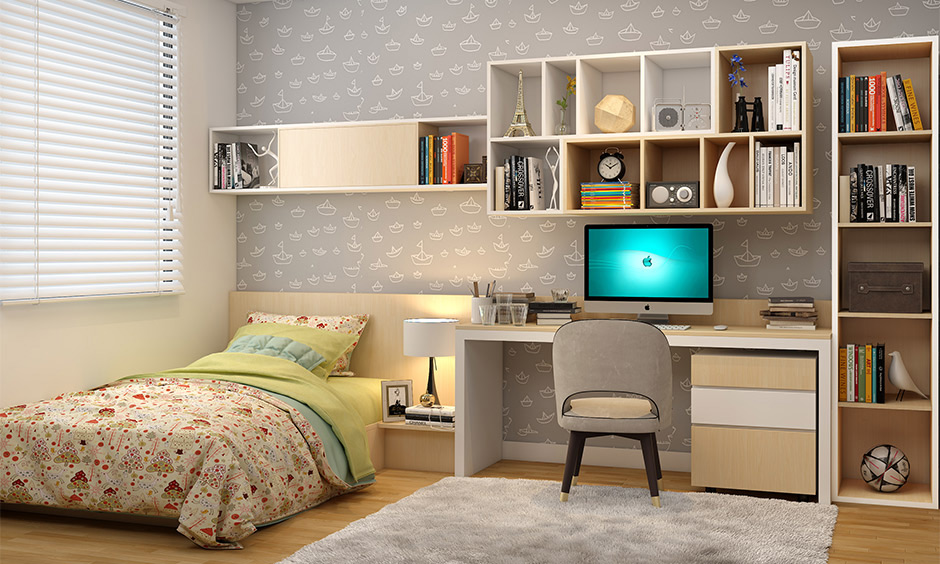 What's better than studying and sleeping in the same room? Studying and sleeping in the same bedroom is the dream of many children.
Many of them sleep and study in the same bedroom, but what is important is an organized bedroom where everything is managed well, including a bed and study space.
This customized bedroom has both of these qualities. Hence people who want a modular bedroom for their kids, this bedroom will be one of the best options that the kids will love.
Apart from the modular look, this bedroom is simple and sober, including no fancy items making it the ideal place for the kids to dwell and study.
17. Style with Gray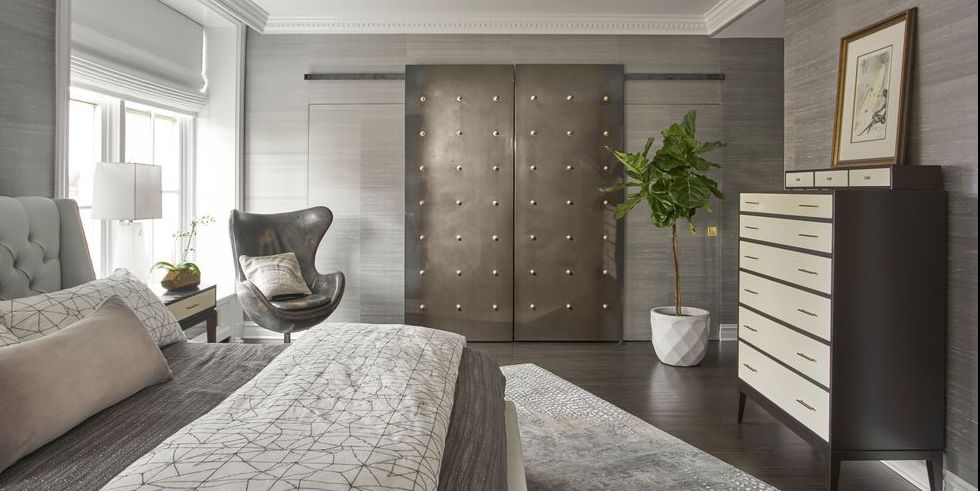 Though gray is not the color option that comes to the minds of many people while designing a stylish room, surprisingly, it has the potential to be used in modern and well as stylish rooms. Using the shades of gray has helped in creating many modern and spectacular living spaces, including bedrooms.
One such example is this vibrant bedroom which has a very elite look. Adding white vases, a grey headboard, and grey bedsheets have enhanced the look of the room.
Combining with white color ceilings has helped to elevate the grace of the bedroom and helped to utilize the space perfectly. The metallic doors have given a vintage look to this bedroom, giving it a unique look.
18. Experience Brighter Mornings Using Gray Bedroom Ideas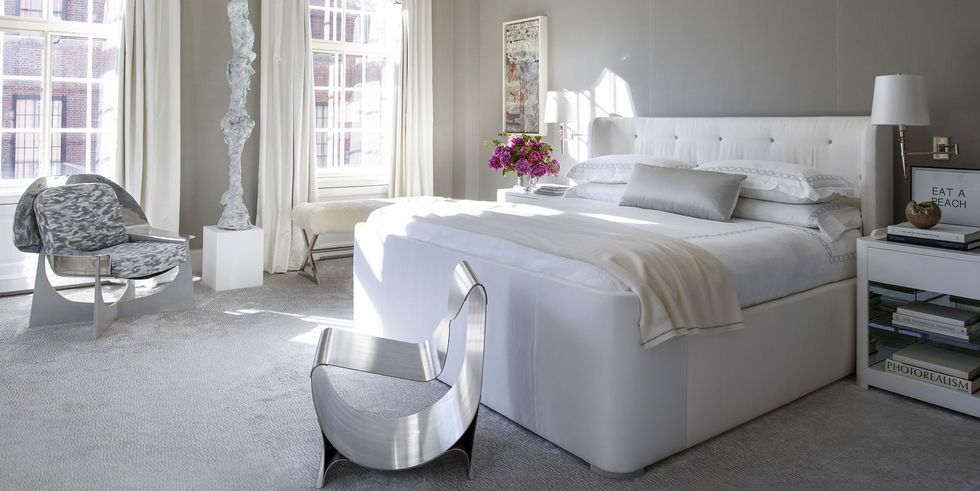 As stated above, the light gray color gives a brighter look to the room; by using one such gray shade, one can easily make the room brighter.
It is a perfect choice for people who love to enjoy the warmth of the sun in their bedroom. Waking up with sunlight welcoming is one of the best feelings for many, which can be fulfilled using the following bedroom design idea. 
For people dwelling in cold regions, this can be one of the gray bedroom ideas worth consideration as it gives a warm and cozy feel and will, therefore help in keeping the room warm throughout the day.
The white furniture and light gray mats have increased the classic and sober look of the room.
19. Classic Gray Bedroom Idea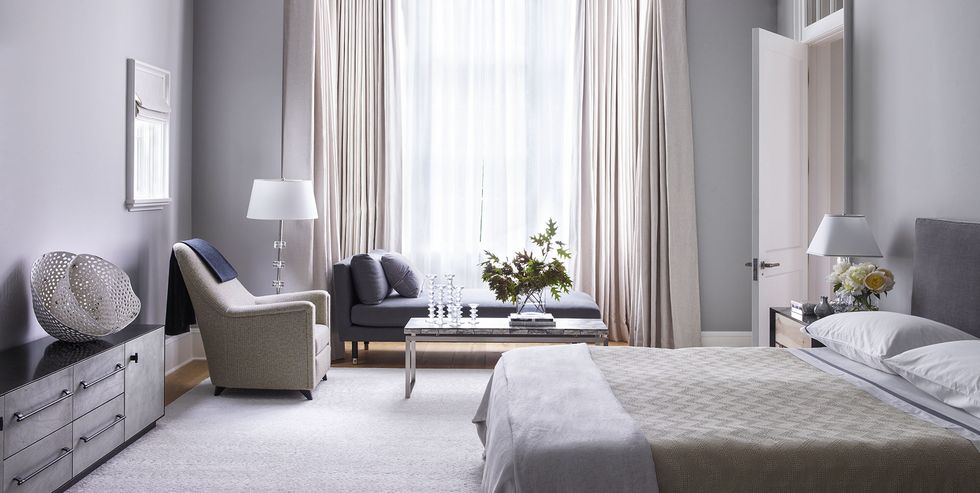 Many people love to dwell in a classic and modern bedroom. They can achieve the same using the modern gray bedroom ideas to ditch the traditional and old color patterns. 
Nowadays, gray color is used by many designers to create a significant impact, making people think at least once before choosing any other color to design or recreate their bedroom.
One such is this bedroom created with different shades of gray that has a classic and a modern look. Using alternative shades of gray has added eliteness to the boring-looking room.
It is perfect for the rooms that have one large window as they will highlight the window area using the dark sofa sets. It also makes the room look spacious and brighter.
20. Cool Feel in the Summers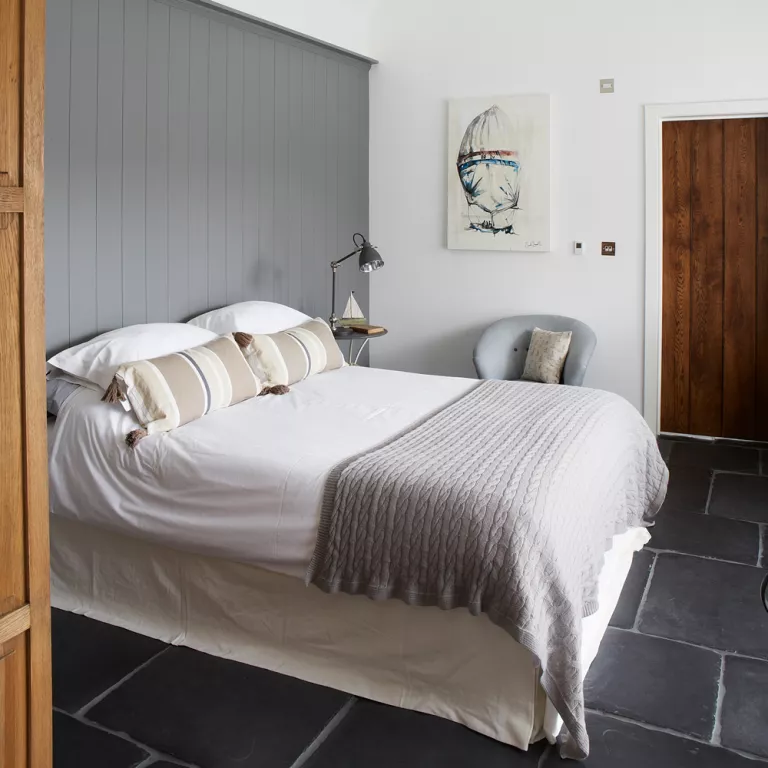 Another noticeable example of an elite bedroom using a combination of gray and white colors. The wooden textured door and almirah give the room a tint of countryside look.
It adds a cool look to the bedroom and therefore is good for people who love to reside in cool places. Accessorized with the least items, this room fits perfectly in the definition of the minimalist bedroom, which is in the trend now these days.
Since light shades of gray have been used to paint the room, people who have smaller bedrooms can try this bedroom idea to create the illusion of a bigger room. White ceilings also create the effect of bigger rooms and complement gray walls flawlessly.
Check This Next: 15 Coastal Living Room Color Palettes to Bring the Beach to Your Home
21. Feminine Gray Bedroom Ideas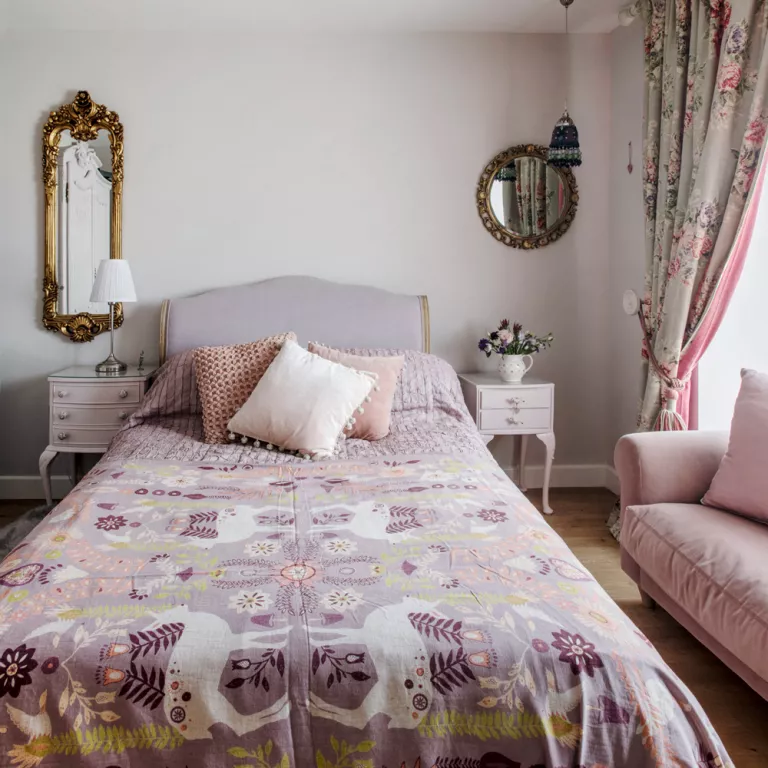 Gray combined with pink makes a perfect room for girls as girls love the shade "pink." The pink color adds a soft and delicate touch to the gray-painted walls. 
Girls who want to recreate their room can consider these kinds of gray bedroom ideas to get a new and different look this year. This bedroom has an aesthetic appearance and looks no less than a Barbie house.
The accessories, such as the vintage mirrors, add to the soft look of the mirror. White furniture is also complementing the look, making it an ideal room for girls.
Hence, this bedroom idea is good for those who want to add a little feminine touch to their monotonous bedroom.
Conclusion
Above are the 21 gray bedroom ideas that you can use to design a new bedroom or recreate one that you already have. A bedroom can be designed using different shades of gray to achieve a different style.
The lighter shades of gray will help achieve a cozy or warm look, but the darker shades will also help achieve a bold and sassy look. An Elite, modern, vintage look can be created by just doing a little mix and match.
However, it isn't necessary to copy the exact bedroom ideas. You can experiment a little with the designs, furniture, and decor materials, such as vases, almirahs, wall paintings, mirrors, etc., to create your spectacular version.
Other Articles