Your bedroom is that personal haven, away from the bustle of the public spaces of the house. This is the space where you can be yourself and express yourself. So, how does one go about choosing the best color for bedroom walls? The right answer is- it depends! Depends on the person inhabiting the space and their preferences and requirements.
Colors tend to affect us at a psychological level; while some may relax and calm us, others might stimulate and motivate us. Choosing the right color palette that can help you unwind and relax is one of the most important aspects to consider while designing your bedroom.
Here are some of our top picks for a bedroom wall color makeover.
So whether you like it calm or colorful, pleasing or purposeful, tasteful or trendy, here is something for everyone!
Warm Natural Tones
Warm Natural tones tend to have an instant calming effect on the person. An ideal choice for a North Facing bedroom that doesn't get its share of natural light, these tones can instantly uplift the mood.
1. Yellow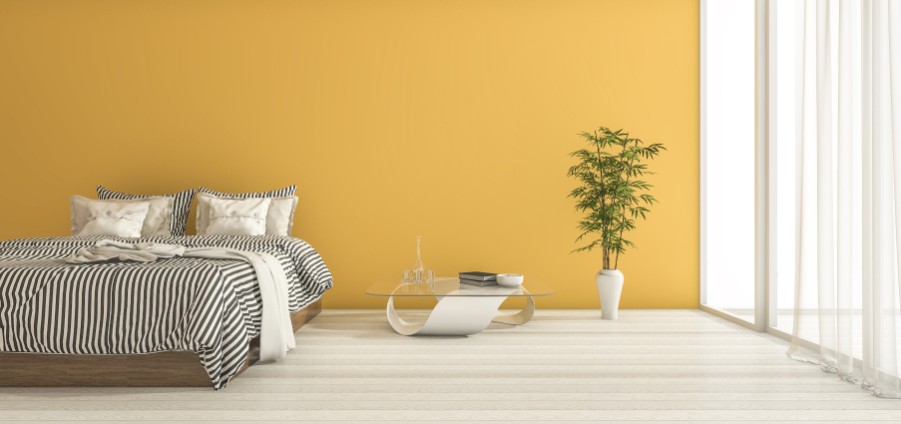 Warm yellows may seem like a risky choice of color, but when used correctly, they can transform the room into an airy, comfortable, and cozy nook and turns out to be one of the best color for bedroom walls.
Yellow works best when paired with Brown accents. So pair yellow walls with some wood furniture to make the yellows pop and add the cheering freshness to the room. Some of the other combinations that work best with yellows are white, black, navy blue, dark grays, and the alluring pinks.
Similar Post: 21 Decorative Gray Bedroom Ideas that will Suit Any Style
2. Orange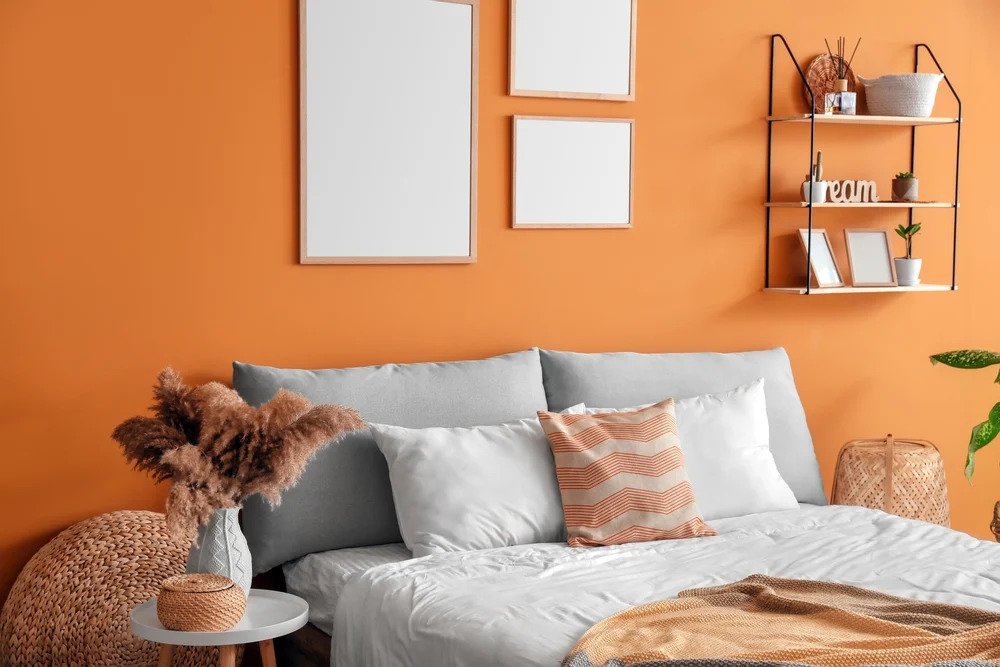 Orange evokes the nostalgia of the late fall season with its barren, earthy hues. A warm palette, orange can be both calming and healing in its appeal.
Pairing orange with other earthy hues works best. So, adding touches of brown, pale wheat, and a pop of color with green uplifts the space. Adding cane and wicker furniture adds to the vintage appeal of the room.
3. Red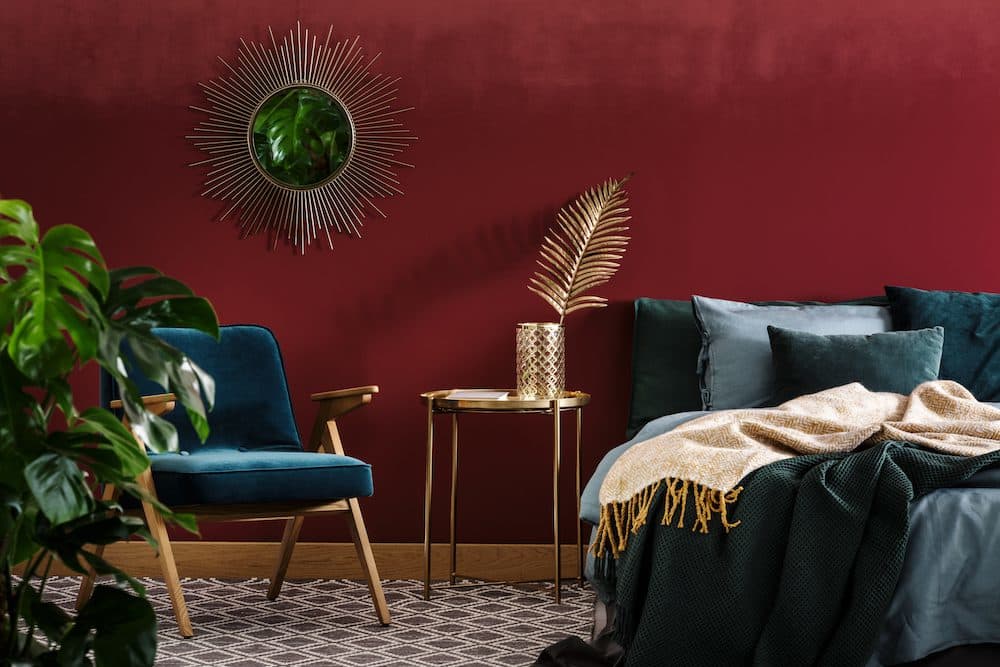 The warmest hue of the spectrum, red, can be invigorating, uplifting, stimulating, and sensual. A versatile color, it is often not the easy choice of color for a bedroom. But if your personal taste allows it, red can be a stunning statement of sophistication.
Deep reds, cranberry reds, classic garnet, cool corals too, and soft roses, there are many hues of a simple red. When paired rightly, each can hold its own elegance. Since red is a rich color, some of the complimenting colors are pale greens, olives, turquoise, blacks, and whites.
4. Amber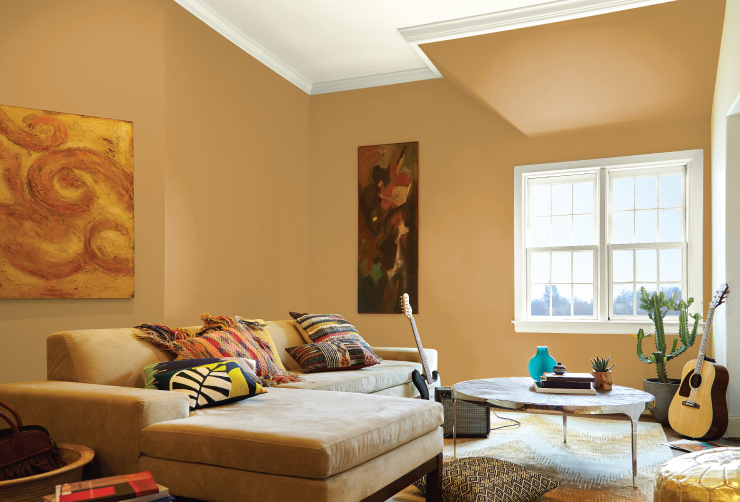 Amber, with its earthy tone, lends warmth to the room while also being modern and contemporary in its appeal. Decorating the room with amber can be tricky since regular wooden furniture might blend in and become inconspicuous.
The flooring is also an important element to consider while choosing this palette. Amber pairs well with all neutrals. Using cane and wicker is also a great option, as are rope-wrapped finishes for accents and elements.
Neutral Tones
Calming, relaxing, and soothing neutral tones are some of the most preferred bedroom choices. We all choose comfort over all else regarding our personal space, and neutral colors reflect comfort with their classic beauty.
5. Beige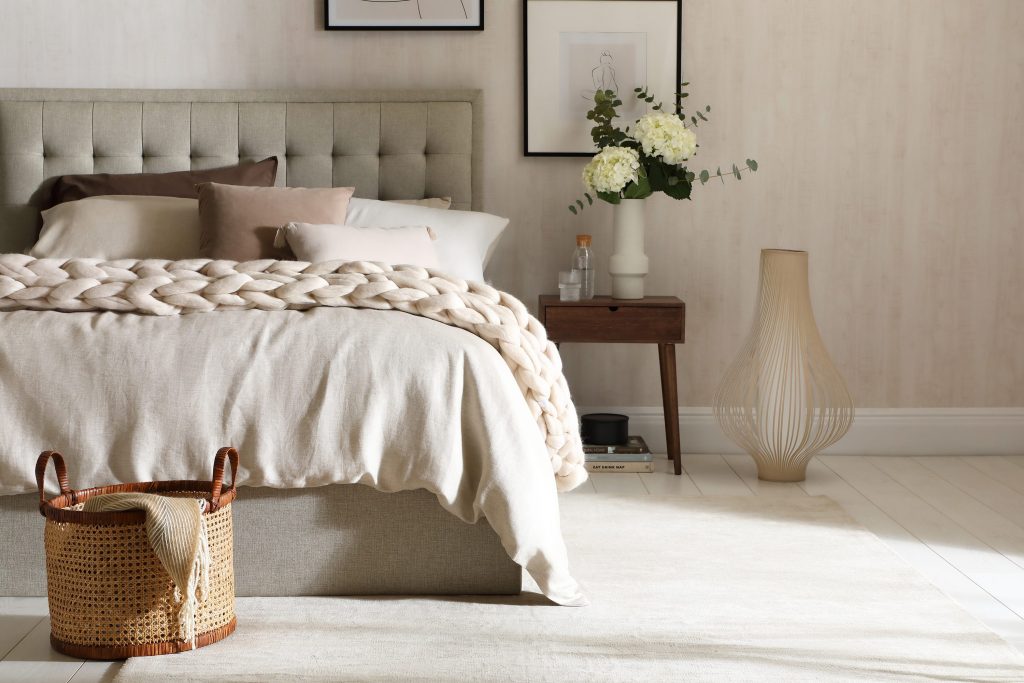 Reminiscent of the Scandinavian sensibilities in design, beiges are soothing in their understated elegance. Sometimes, we all crave the simplicity of a blank canvas. The beige palette offers just that with its versatility in adding accents and the choice of linens and furniture.
When paired with wooden furniture, beige tends to fall back on its inherent charm of quiet scenic beauty. Beige is versatile and can be paired with blue, sage, browns, terracotta, teal, powder blues, and most pastel shades.
6. Eggshell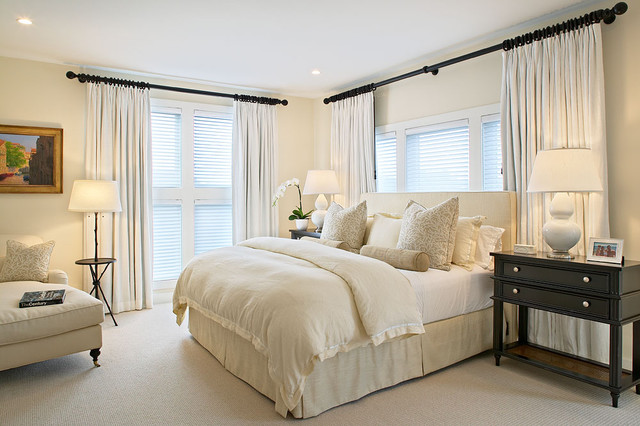 While eggshell bedroom walls could be considered boring and too stark, the pure serenity of eggshell white can never be denied. This soothing color can calm the busy mind and bring balance. 
When used in itself, Eggshell White can turn out to be too plain. Consider pairing it with the right accents in earthy, neutral tones like browns, greens, and other calming colors. Pops of color with accents can also be considered for a fun, playful look.
7. Light Gray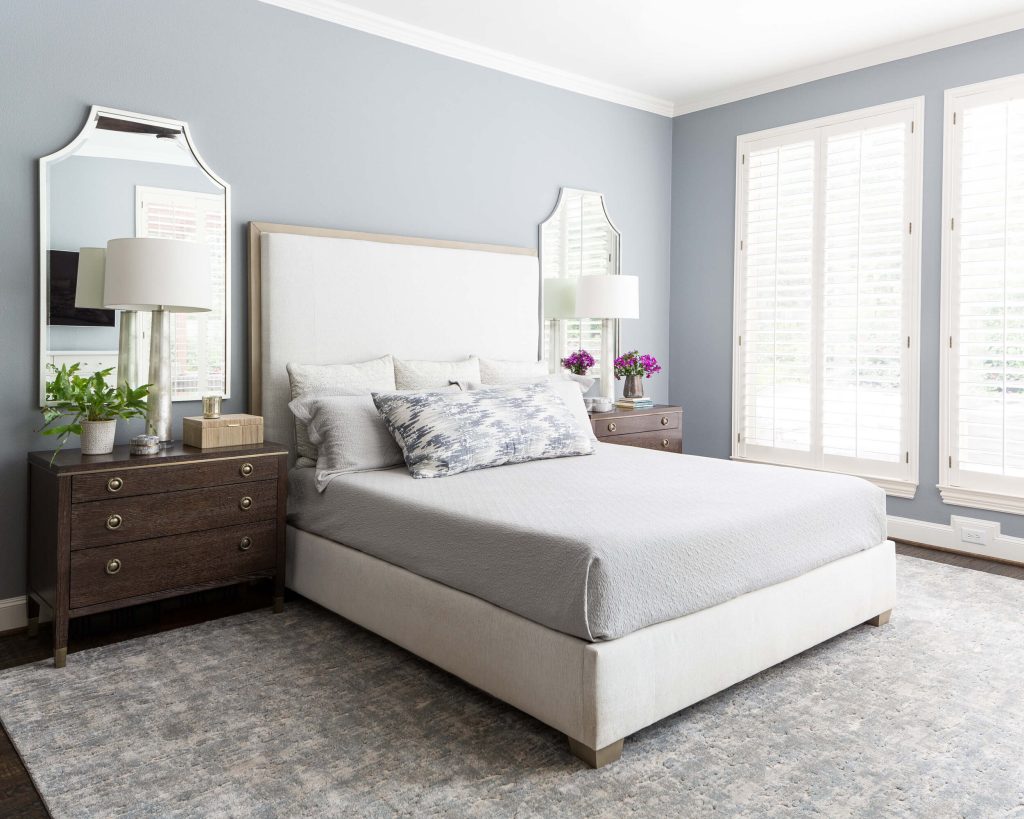 Stuck between wanting a classic look but none of the sterile ambiance of a white and not too-flashy black? Have no worries; we have you covered! Look no further than light gray, a color that is elegant and muted while trendy and sophisticated.
Gray is your quintessential clean palette, which you can design unhindered. It takes well to pops of color and also does great with a monochrome look with white. Some of the essential combinations that work well with gray are- yellows, pops of jewel tones, earthy browns, and delicate pinks.
8. Ivory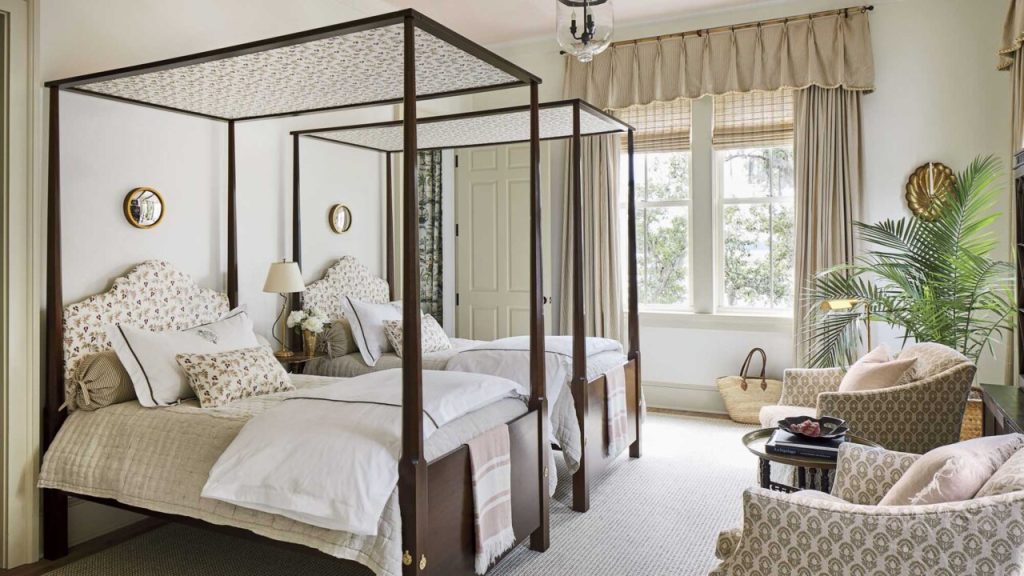 Ivory is one of the most elegant options when it comes to shades of white. This soothing neutral gives you the option to play around with contrast and textures. It makes the perfect blank canvas for adding elements that would otherwise be too cluttered.
Ivory works well on its own in a monochrome format and also when paired with other elements. Pairing ivory with browns, blacks, whites, beiges, and color pops like reds also makes for interesting palette choices without making the space too busy and cluttered.
Also Read: 15 Coastal Living Room Color Palettes to Bring the Beach to Your Home
Cool Tones as Best Color for Bedroom Walls
Cool tones have an instant calming effect on the bedroom and are ideal for people who want a relaxed and comforting space. Cool tones tend to instantly calm the mood and create an airy ambiance which is so important to unwind after a long day at work.
9. Blue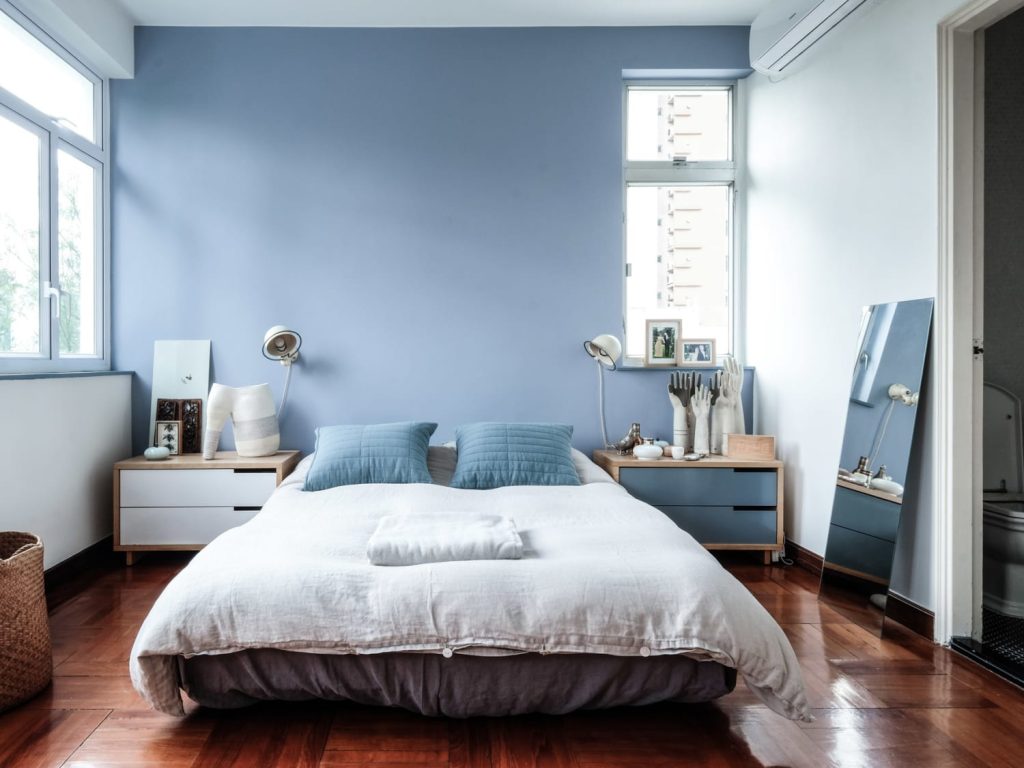 Blue is one of the best color for bedroom walls, with its ability to calm and relax the inhabitant instantly. Lighter shades of blue with pastel undertones, powder blues, and baby blues work well to create a bedroom where you can instantly calm the mind and elevate your concentration levels.
Invoking the tranquility of the sea and ocean waves, cooler shades of blue are very versatile in their pairing to create an ideal palette. The colors which work well with blue are whites, greens, yellows, blacks, browns, and some pops of color with red, orange, or purple.
10. Dark Gray Blue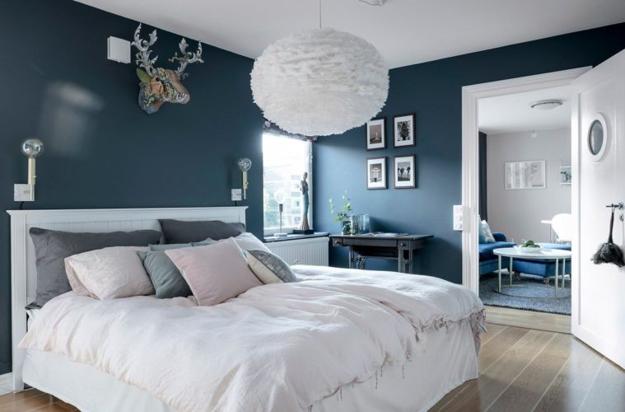 Bluish grays tend to add a sophisticated and fresh look to the room. On the cooler tone of the spectrum, this shade is unlike those stimulating colors which elevate your cortisol levels and disturb your sleep patterns. These colors add a functional elegance while giving the room a modern minimalist look.
Paired with neutrals, dark gray-blue hues tend to stand out and lend their minimalism. Greens, pinks, turquoise, gold accents, and metal furniture tend to elevate this color to its magical appearance.
11. Soft Green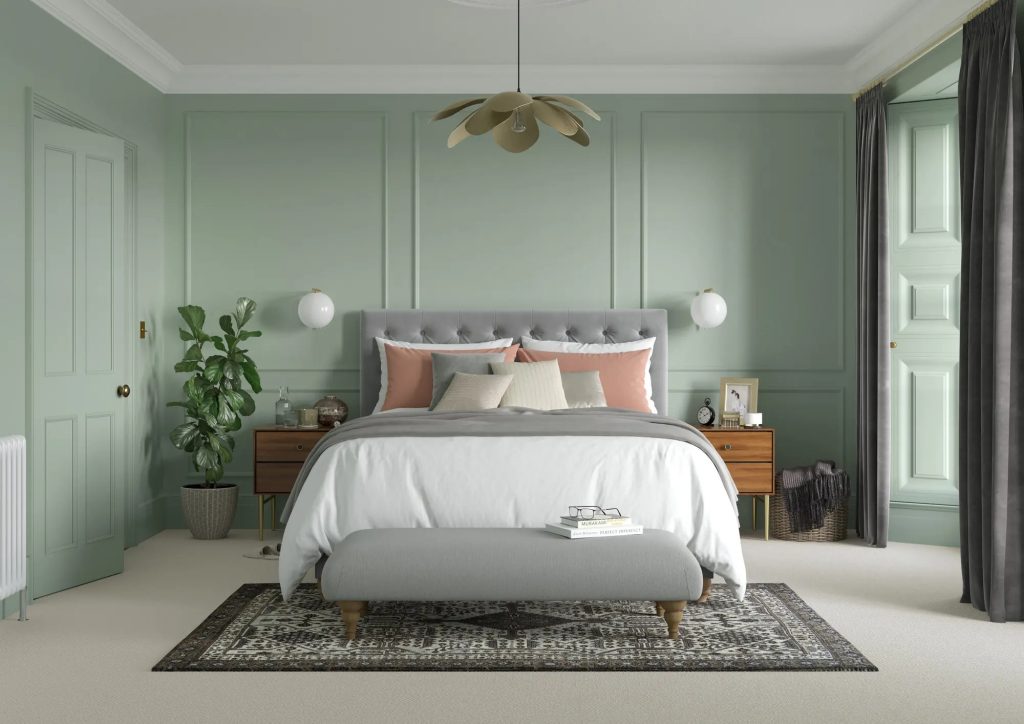 Our favorite pick of the lot, soft greens like Sage Green, Pistachio Green, and pastel shades of green, all fall into one of the best color picks for a bedroom.
Green is the color of nature which symbolizes tranquility. The energies of this soft green are often restorative and peaceful. This is the reason most of us prefer to add fresh plants to the decor of our bedrooms. But instead of just adding plants, why not go all out with this soft shade of green?
Pastel greens work well with neutral colors like whites, beiges, and ivory. Since it invokes a calm nature, adding wooden furniture and rustic finishes pair well.
Other soft pastels like pink and ivory also do wonders for a green palette. Accents of dark metal and wood create a sophisticated look for the whole room.
12. Lavender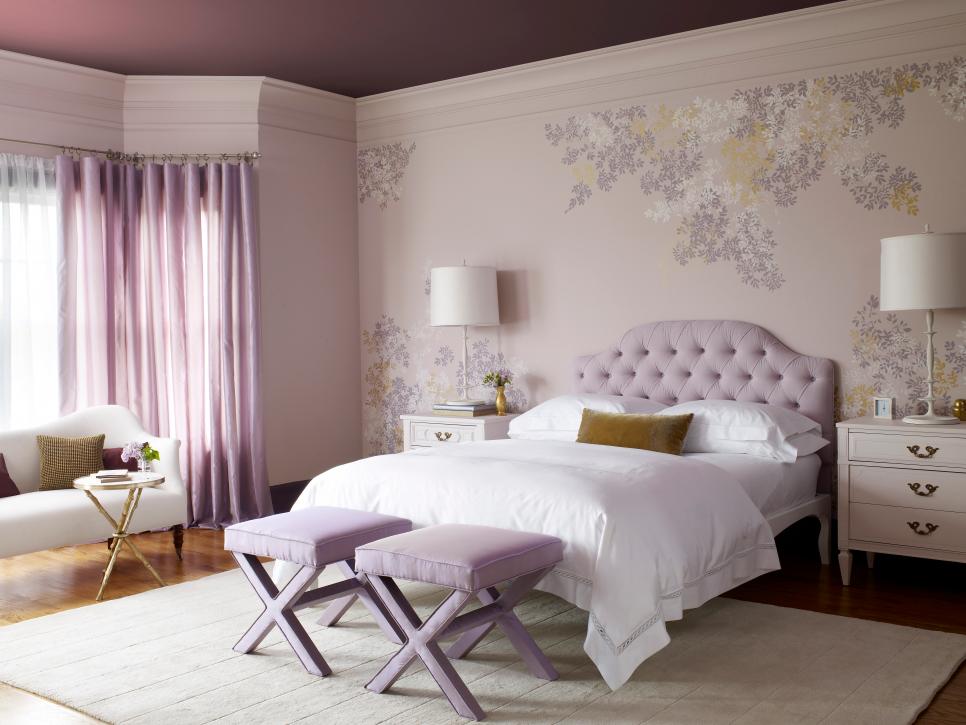 While purple might be a color most might steer clear of owing to its stimulating and opulent richness, lavender, on the other hand, is one of the best color for bedroom walls for reducing stress and aiding calm. Lavender has a proven ability to lower heart rate, blood pressure, and stress, making it an ideal choice for our bedroom.
Lavender paired with black and gray adds a touch of sophistication to your room. Pairing with neutrals like beiges and ivory lends a freshness to the space. A dash of yellow with lavender can break the monotony and add a playful touch to the ambiance.
Color Themes for Your Bedroom
If there is a certain vibe you are going for and you don't know where to start, read on to know more. Choosing the right color theme to match the vibe you are going for is half the task while designing your bedroom. So, whether it is romantic or sophisticated, here are your themes for the most stunning bedroom makeover.
Romantic
While the rest of your house can be austere and functional, adding a bit of romance to your personal space in the bedroom can make all the difference. We are not talking garish pinks or reds but more muted elegant options like dusky pinks, caramel shades, and peach golds.
13. Dusky Pinks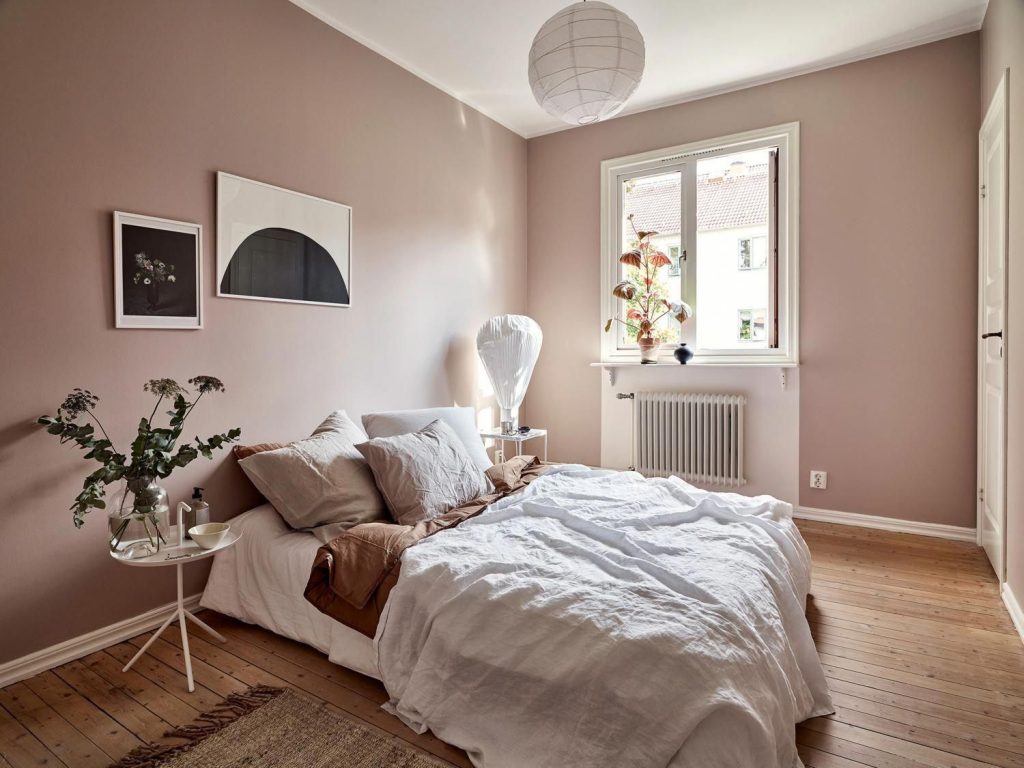 While pink tends to be a color that divides opinion based on its polarizing nature, lately, home decor design has started adopting pinks in its palette for its swoon-worthy elegance. We are not talking about shocking pinks or rani pinks but more dusky pink, which is more pastel and powdery.
Grey and pink is a match made in home decor heavens. These two colors work so well in decor design that it is hard to go wrong with this palette. Pink also works well with neutrals like white, cream, and mink.
Related: What Makes Blue The Most Preferred Wall Paint Color?
Earthy
The perfect palette for someone who wants to bring the serenity of rustic outdoors into their bedroom.
14. Brown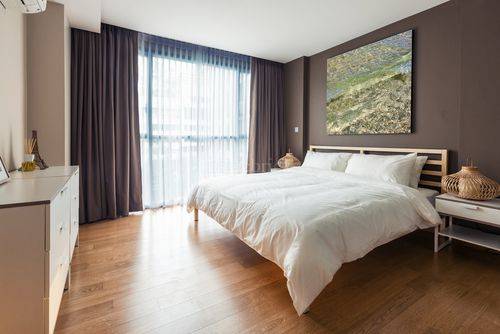 Brown is not a natural choice when it comes to a bedroom color palette, but it is definitely a color to consider if you are looking for a warm, cozy space. Browns have a calming effect on the body and lend themselves well to an elegant, sophisticated look.
Earthy browns pair well with darker shades of brown. Browns also pair well with neutral colors like beige and cream for an understated style.
Calming
The cooler colors of the spectrum have a calming effect on the space. If you look upon your bedroom as a place to wind down and relax and want to go for a calming theme, these colors are definitely your best bet.
15. White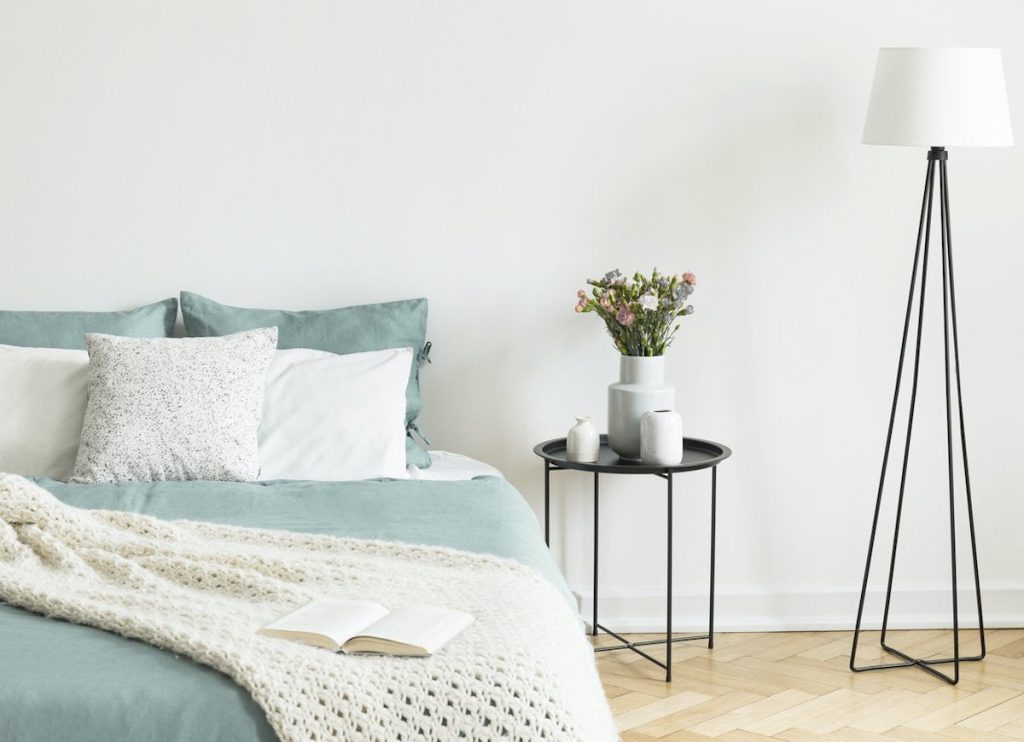 While white is considered a safe choice in home decor, it definitely is one of the colors which has stood the test of time in terms of its versatility. White, with its pristine beauty and untouched elegance, can be the best color for bedroom walls for someone who is looking for a minimalist aesthetic.
White on its own can be a little dull, so adding a pop of color can instantly transform it. Colors like teal, green, brown, and black can be paired together to create a cozy bedroom that you would never want to leave!
Simple wooden furniture, cane, and wicker, or even dark metal furniture and accents work best in a room with white wall colors. Adding a bit of green or a pop of freshness with in-season flowers can elevate a serene ambiance.
Luxury
This can be one of the hardest themes to achieve. There is a very fine line that can push a sophisticated look into an over-the-top look. Find out more on how you can achieve a luxurious look for your bedroom without making it look flashy.
16. Black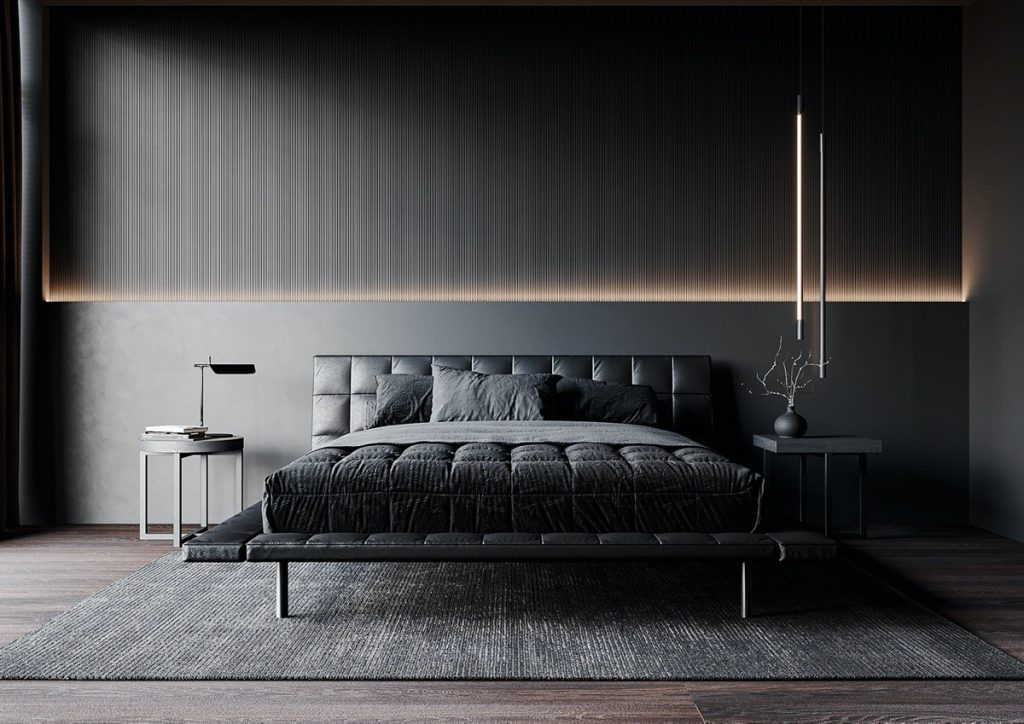 Black can be a tricky color to work with. But when done right, it can make your bedroom look swoon-worthy with its sophistication and edginess and is perfect for the dramatic look.
Black on black can be a very stark look. Try to brighten up with lighter-colored linens and accents. Black also pairs well with warmer tones like mustard. For a perfectly rounded look, consider adding a bunch of green plants to break the monotony of a completely black look.
Check This Next: 15 Tips for Designing a Warm and Inviting Guest Bathroom
17. Gold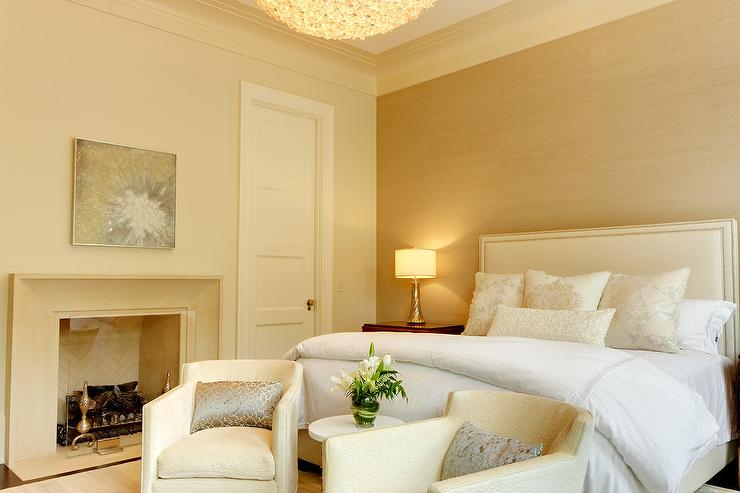 The visual impact of gold is unparalleled. Most of us are circumspect in using gold as a theme or color for fear of it looking gaudy. But gold, when used right, can be luxurious, stunning, and opulent.
When using gold as the color, go for a dull gold look for a dreamy effect. Gold pairs well with black and other neutrals. Tone on tone can be achieved with gold by adding soft burnished accents, which can help elevate the look of the entire room.
So, What is the Best Color for Bedroom Walls?
There are no real rules when it comes to designing your personal space. Your bedroom should reflect your sensibilities and be functional enough to take care of without drowning you in its upkeep.
Practical elements like the size of the room, natural light, and placement of the room should be considered when designing the vibe of the room.
As a general rule of thumb, for a smaller room, try using neutrals which will make it look bigger. And if your bedroom is large, then try to play around with bolder colors to make use of all the space.
So, which of these bedroom wall colors inspired you today? Is there any color you would like to pick for your bedroom design? Tell us more in the comments.
Other Articles