Are you planning to paint your bedroom and give it a romantic makeover? Selecting the right colors for your bedroom will be pivotal; they can make or break the look of your bedroom.
If you are looking to create a romantic vibe in your bedroom, there are some romantic bedroom colors that can help you with it. This article lists the 15 best romantic bedroom colors that will be perfect for any bedroom.
Whether you like pastels or you prefer bold colors, this article has a color scheme to suit your taste. From classic romantic color schemes to some unique chic ones, you can take your pick. 
Let us not wait any longer and begin exploring some romantic bedroom color ideas! 
1. Daintree Blue and Dusty Rose Bedroom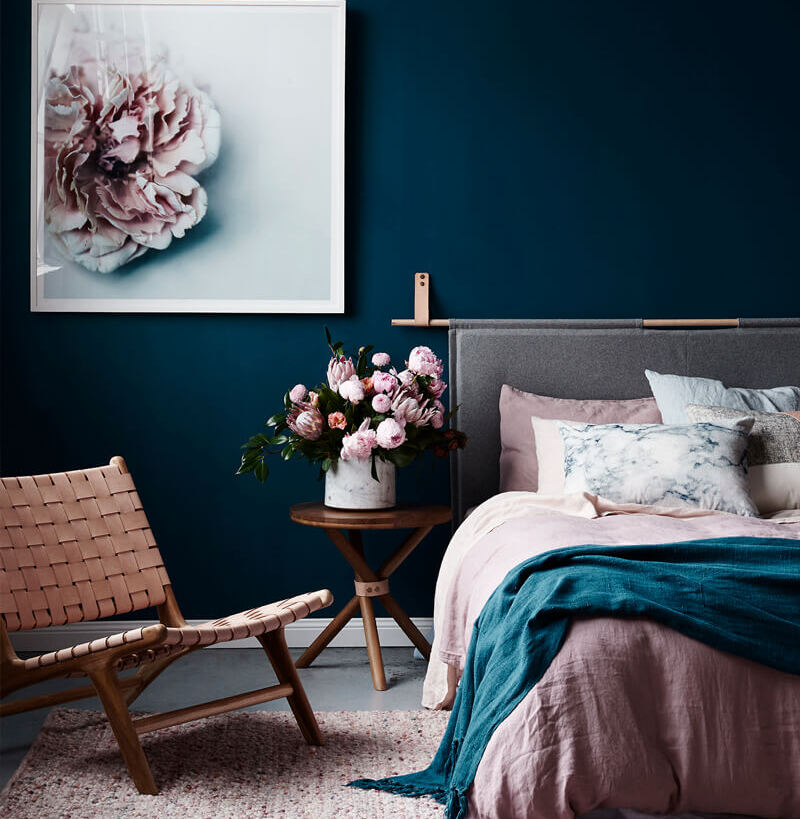 When you are looking for a romantic vibe for your bedroom, you should not shy away from going for some bold colors. Blues are an excellent choice for an accent wall.
Go for a beautiful deep Daintree blue. To add delicacy to the ambiance, add a dusty rose color to the room through a rug and bed covers.
These two colors play so well together and will give your bedroom a cozy, romantic feel. Some dusty pink roses on the bedside table will add that extra romantic seasoning.
They will also enhance the color scheme we have chosen. You can add some grey to the cushions or headboard. It will complement the color scheme. 
Similar Post: 20 Black Bed Frame Full Room Ideas to Design an Inviting Space
2. Purple, Grey, and Black Bedroom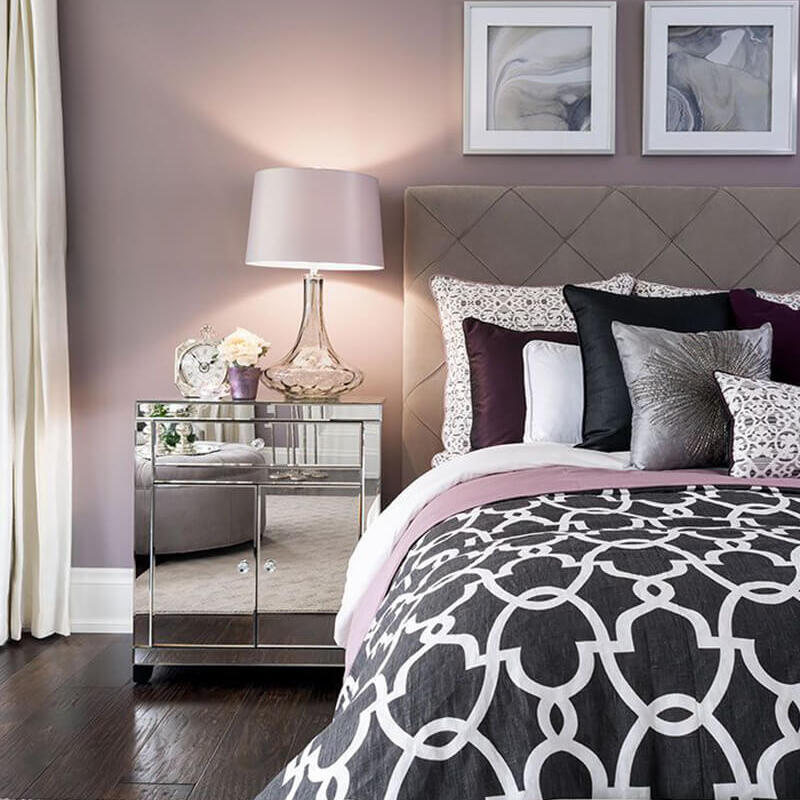 There is a story about the color purple; it was one of the most expensive dyes to make, which is why it was a color primarily associated with royalty.
Shades of purple will bring regality to your bedroom space. Light purple walls, deep purple cushions, and soft lighting are perfect for a romantic bedroom setup. 
Black and Grey and white cushions and bedding will go well with the shades of purple. Do not overdo the black; we are not going for a gothic look here. Keep the curtains white to allow enough natural light. 
3. Sage Green, White, and Cream Bedroom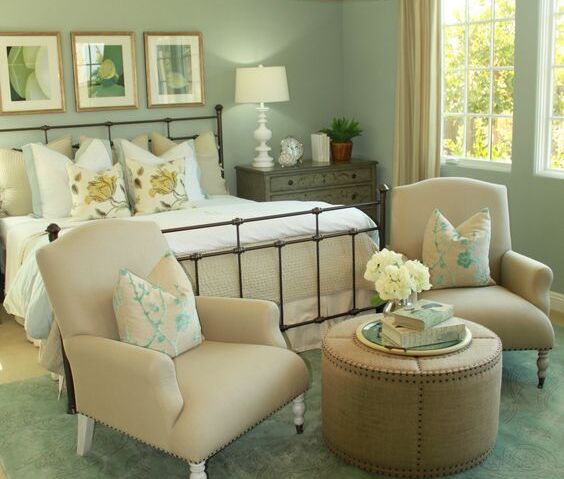 If you prefer a softer romantic vibe, then sage green is a color you should consider for your bedroom. There is no need for an accent wall, sage green is a light color, and you can use it on all the walls of your room. 
Opt for white bedding and incorporate some creams with cushions or sofa chairs. Paint the window frames white with cream curtains.
Stick to pastel colors and avoid bold reds or blues. White, cream, and sage green together are the perfect romantic bedroom colors.  
4. Lavender, White, And Grey Bedroom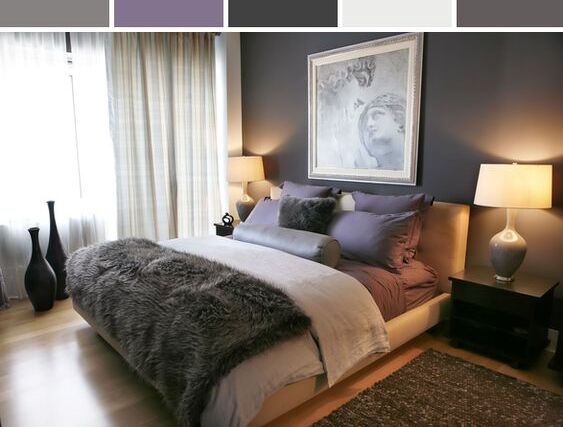 At first glance, it seems like greys should not work as colors that can give off a romantic vibe. It may be true if we are only using Grey alone, but grey in combination with lavender works well to create a romantic environment.
A grey accent wall complements the lavender tones of the bedding well. If you want, your Grey can have a hint of lavender tone to it.  
Keep the bedding grey, lavender, and white. Agrey rug and white curtains, with hints of black in the room (like through vases or side tables), will create a warm. Romantic and welcoming space.
5. Pastel, Pink, and Orange Bedroom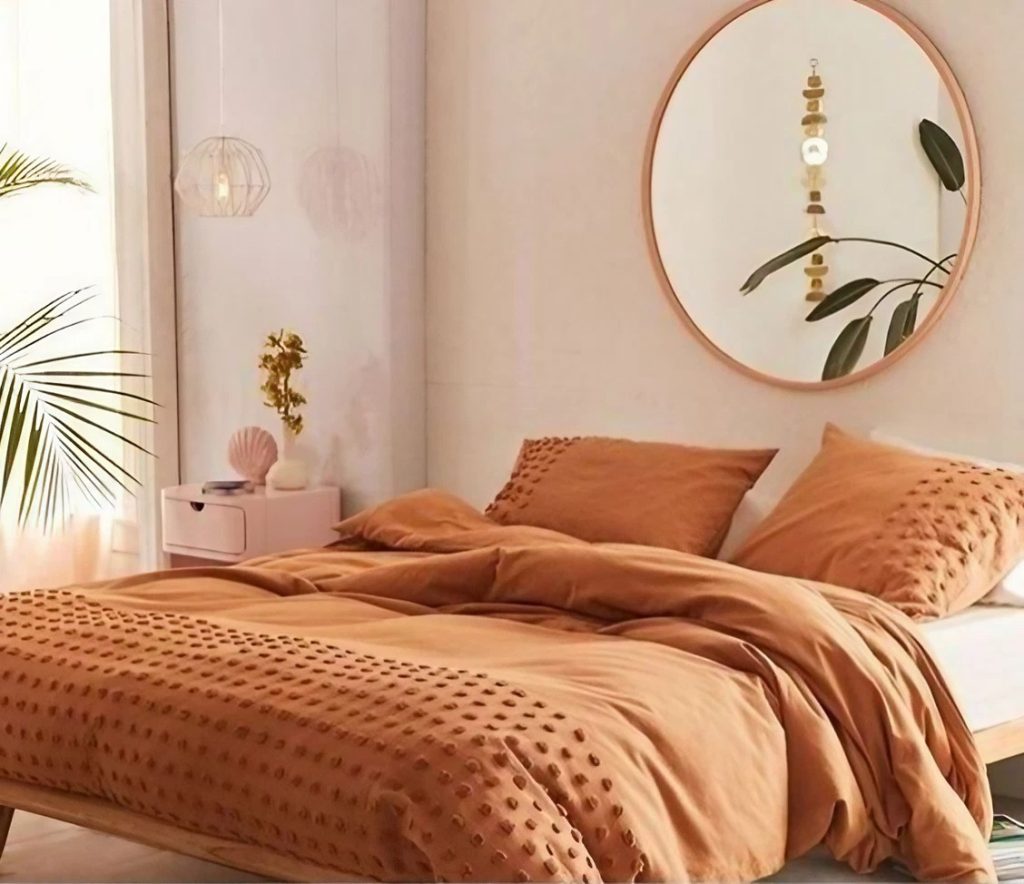 For a beachy sunny romantic feel to your bedroom, choose pastel pinks and oranges. These colors will bring a happy, sunny vibe to your bedroom. Paint the accent wall a light pastel orange and paint the rest of the in light pastel pink.
Ensure that your room has soft, warm lighting; cold white lighting will wash out these colors. Use a deep pastel orange for the bedding and add a hint of green by introducing some house plants. These are the perfect beachy, romantic bedroom colors.
6. Dusty Rose, Grey and White Bedroom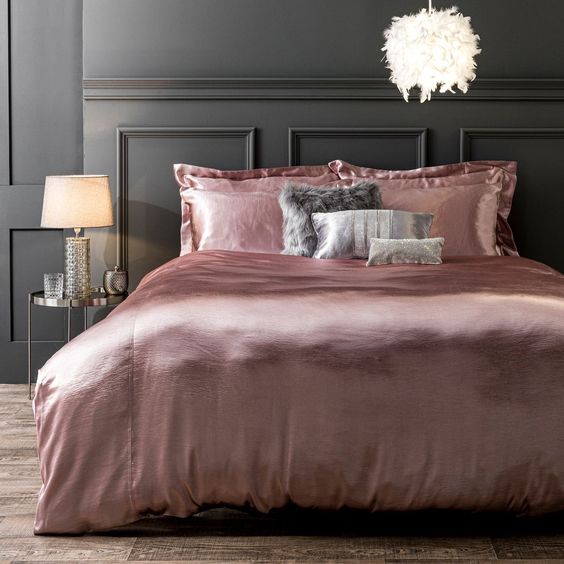 No color speaks of romantic the way the color dusty rose does. If you want a classic soft romantic vibe to your bedroom, dusty rose, white, grey, and a hint of brown are the colors you must consider.  
A grey accent wall combined with pale dusty rose walls will help you add a delicate softness to the room. The bedding should be dusty, a dusty rose color, and you can add some white to the room too.
Add a candle to the side table to enhance the romantic mood. They are classic romantic bedroom colors; you can never go wrong with this color scheme.
Also Read: Which Colours Blends Best with Grey Kitchen Unit or Cabinets?
7. Daintree Blue, Dusty Rose, and Pink Bedroom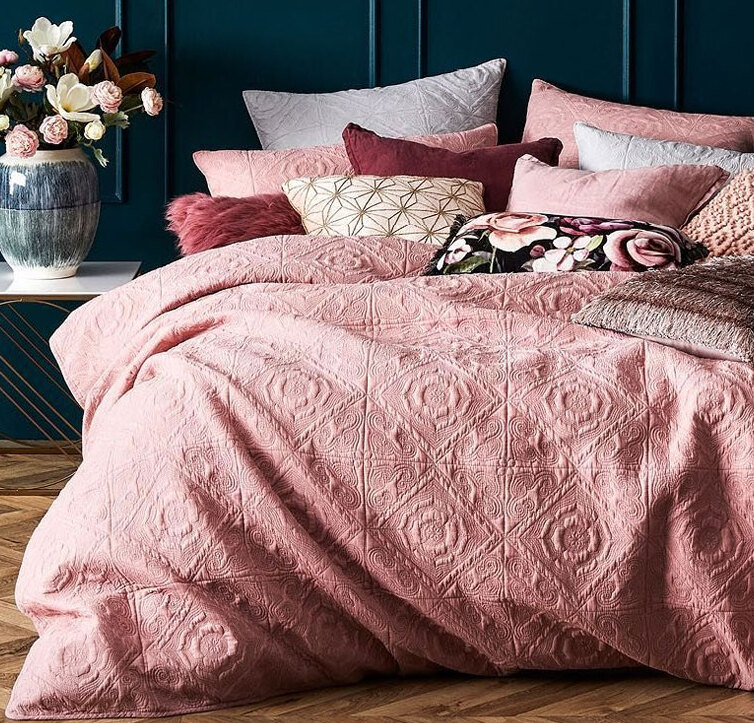 If you prefer bold colors for the room, then Shades of Blues is a great color palate to choose from. Bold blues like Prussian Blue, Dark Imperial Blue, or Daintree Blue are ideal for accent walls.
Ensure the bedding is in contrasting colors; you don't want the bed to blend with the wall. Pink, dusty rose, and white bedding will look great against the deep blue wall.
These colors have a romantic tenderness that plays well with a bold blue. This color palette exudes romance. It is a good combination of delicacy and blondness. 
8. Lunar Green, Woody Brown, and Pale Orange Bedroom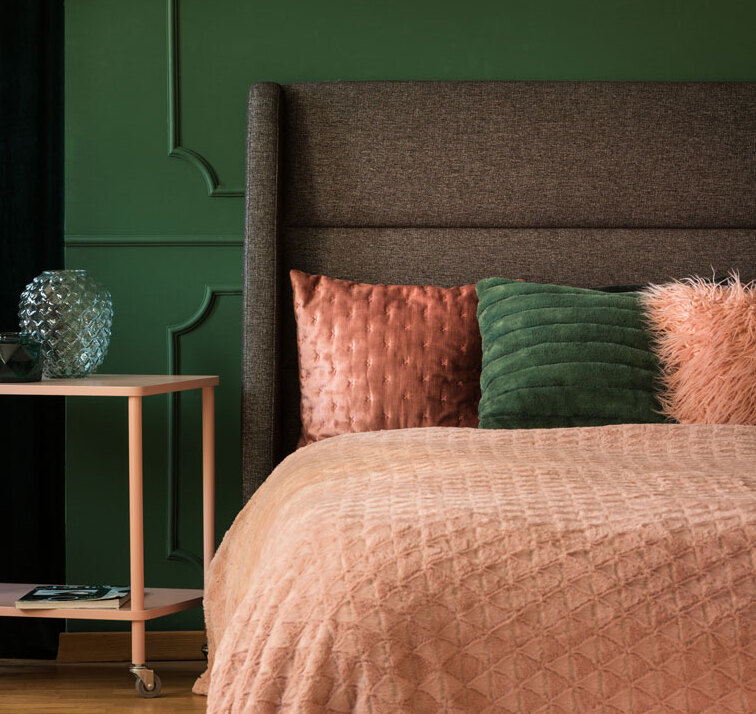 When it comes to bedroom colors, greens are in vogue these days. This lunar green accent wall complements the pale orange of the bedding perfectly.
The woody brown headboard works as a good transition color. The earthiness of the green and the softness of the orange make for a pleasing combination. 
With good lighting, these colors imbibe a raw romantic vibe. These colors will make your bedroom a cozy, welcoming space.
9. Beaver Brown and White Bedroom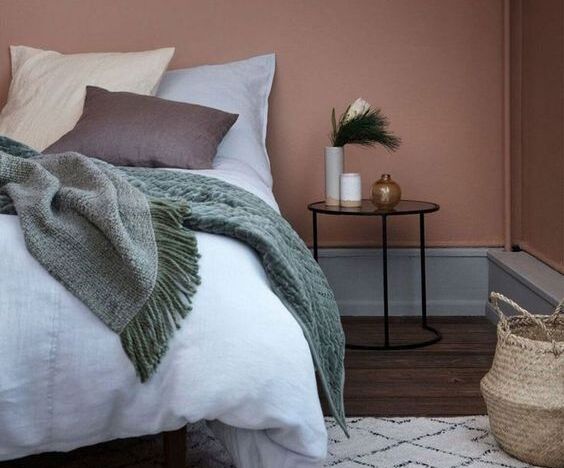 The combination of beaver brown and white is ideal for a relaxed, romantic feel. Beaver Brown is an earthy color with a soothing vibe. It is certainly a unique choice of color; you might not find this color in most houses.
The white bedding goes well with this color; you can add a lavender cushion or a grey bed cover. Lavender complements the color scheme perfectly. A white rug on the dark walnut floor looks every bit chic. 
Keep the furniture minimalistic, and you can relax in your earthy, romantic bedroom.  
10. Grey and Pale Dusty Pink Bedroom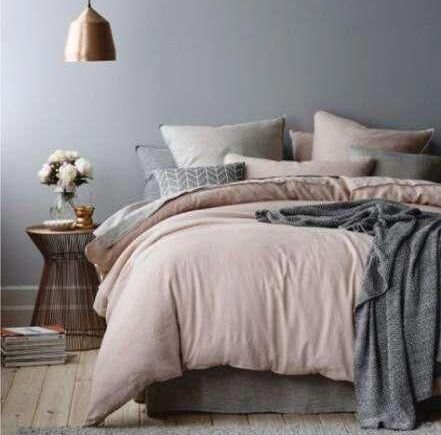 Greys and Pastels are colors that are unlikely to go out of fashion. This combination of light pastel grey and pastel dusty pink looks elegant and chic.
These colors go so well with each other; a light grey wall, with grey and pink bedding, gives a soft, romantic vibe. 
Try not to use bold colors; they will clash with soft pastels. If you wish to, you can add some lavender to the color in the room; it will blend well with this color palate. 
Related: What Makes Blue The Most Preferred Wall Paint Color?
11. Grey, Pink, and Beige Bedroom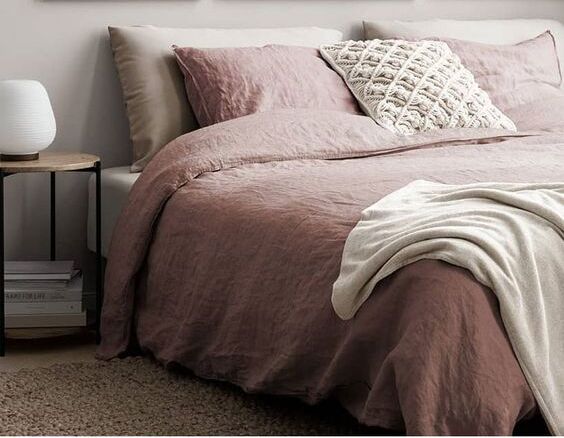 Another classic color theme for your bedroom to enhance the romantic vibe is grey, pink, and beige. Paint the wall a light grey; you can use this wall as an accent wall or paint the entire room in a light grey tone. 
Use grey, white, and pink bedding; do not go for a vibrant pink. Stick to pastels. A white minimalist bedside lamp and a beige or cream rug will complement the colors of the room.
White curtains will allow enough natural light to seep into the room. 
12. Dark Grey and Burgundy Bedroom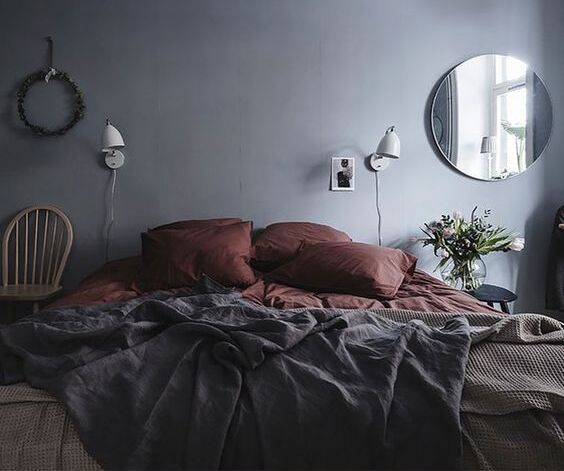 Dark-toned grey walls with warm lighting will be ideal for giving a romantic vibe to your Bedroom. You just need to ensure that the room has enough natural light in the morning.
Combine the grey walls with burgundy or wine bedding. Light-toned wooden furniture will complement the dark theme of the room well.
Fresh flowers, in green and white or powder pink roses, are a great addition to any room. You can use different shades of Grey for the bedding; for example, a deep blue-toned grey plays well with this color palette. 
13. Firefly Blue and Clamshell Pink Bedroom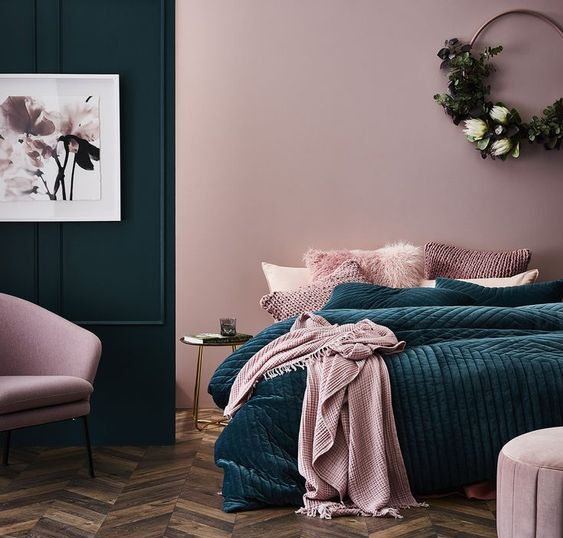 Tones of blue and pink complement each other well. But you need to be careful of what kind of blue and pink you're going for. I would suggest a deeper blue, like firefly blue, and a dusty pink shade, like a clamshell, would create a pleasing contrast. 
Pair this with wooden flooring and perhaps a copper shade lamp. These colors together delight the eye and create a perfect romantic vibe for your bedroom.
Notes of white in the room will also go well with the theme. Avoid any other dark colors that might clash with the firefly blue. 
14. Greyish Pink, Purple, and White Bedroom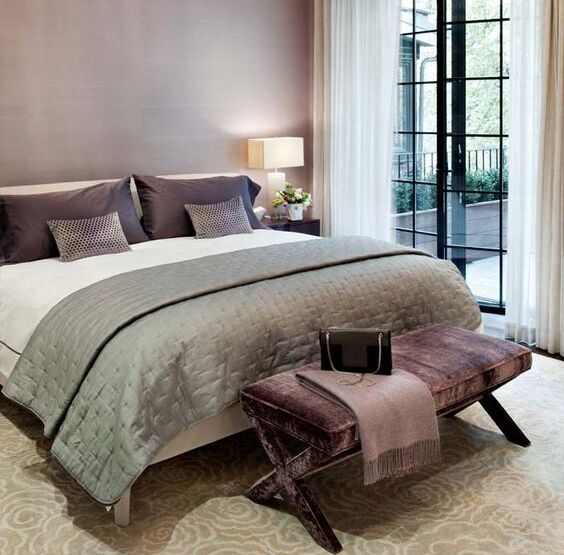 This color palate is a no-brainer when it comes to setting a romantic vibe in your bedroom. Grey-toned pink walls look beautiful against the white curtains and bedding.
Use purple pillow covers and a grey bed cover. A beige or cream rug will look good against this color scheme. Use a white or cream lamp for the bedside table. All the colors in the room are well in harmony.
15. White, Green, and Maroon Bedroom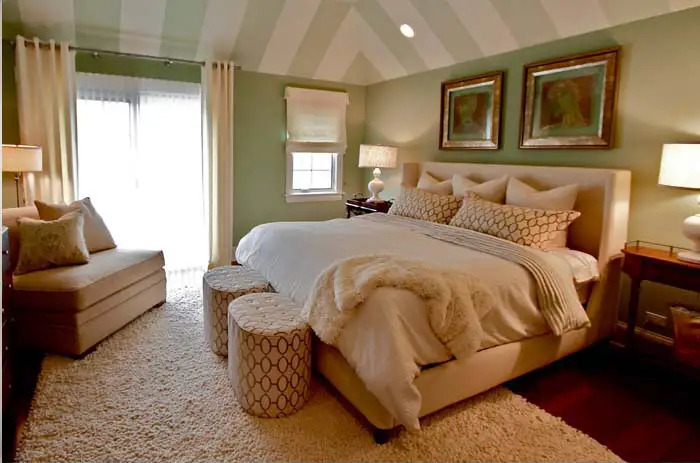 This is the time to go green. The right shade of green adds a pleasant freshness to the room. It is a peaceful and calming color for a bedroom. Whites and creams are good color choices to go along with the green.
Opt for cream and white bedding. Cream or off-white curtains will look elegant against the green. 
Usually, I would recommend against using any bold reds with this soft pastel color scheme, but a deep maroon or burgundy carpet will help enhance the romantic vibe. It looks striking without looking jarring. 
Check This Next: 17 Bedroom Paint Ideas – Pick the Best Color for Your Bedroom Walls
Conclusion
The color scheme of your bedroom is an important design decision, and it can make a lot of difference to the general vibe of the room. When one thinks of romantic bedroom colors, one limits their choices to whites, dusty roses, and creams. But there is a wide variety of romantic bedroom colors you can choose from. 
Blues are a great choice; find the right kind of blue, and do not shy away from using bold colors for accent walls. Another color to consider is sage green, which brings a soft, romantic feel to the bedroom. From pastels to bold blue, purple, and even maroon, they can be used to design a romantic bedroom.
Go through the ideas above and choose your favorite color scheme from among these romantic bedroom colors for your bedroom!
Other Articles