If you talk about decor, particularly country style, you can never neglect French decor. Many styles come and go, but this one has always been admired by home decor professionals and never fails to captivate.
French country decor has become a phenomenon that includes visually striking decor items.
French country decor has a rich character that sets it apart from other styles that is a fusion of rustic and refined elements (elements with a little detail but not too fleshy plus simple country-themed unsophisticated ones).
There are a plethora of styling elements to choose from, but which of them would make the most out of your home decor? Keep reading because we are about to divulge 15 French country-inspired decor essentials.
Along with the quintessential elements, we will also enlighten you on; the perfect location to place them, how to combine them with other items, and elevate your decor.
1. Vintage Silver or Gold Framed Mirrors
Antique Mirrors are an integral part of country-style decor. This element is primarily used in bathroom decoration but also works well in beautifying your bedroom.
They reflect the light in the space but not in a scattered but right way because of their frames. Such mirrors can create an illusion that the room is quite spacious.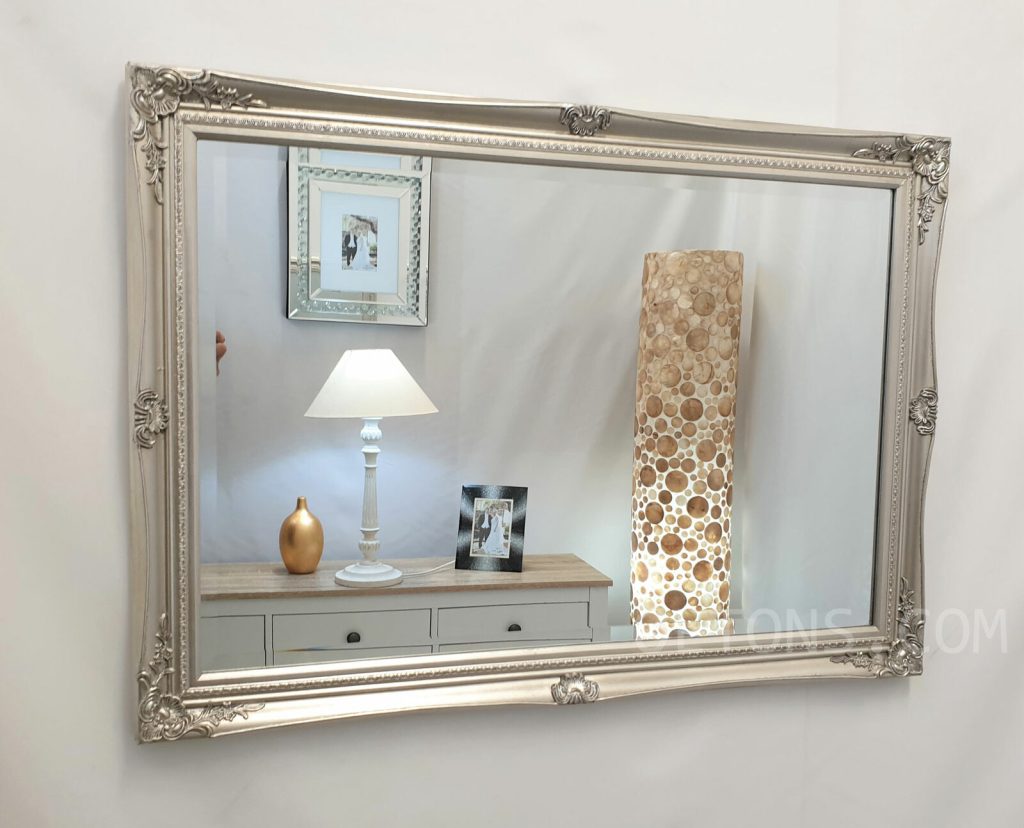 Ideal Complementary decor items:
Similar Post: 21 Stunning Country Kitchen Decor Ideas for Your Home
2. Vintage or Distressed Country Furniture
Vintage furniture is a staple element in French-style decor. Moreover, the decor will be incomplete if we don't use at least one vintage or antique item.
Distressed furniture has an aged character because it is deliberately made to look aged and worn. These are perfect for French-style country decor because of their rustic appearance.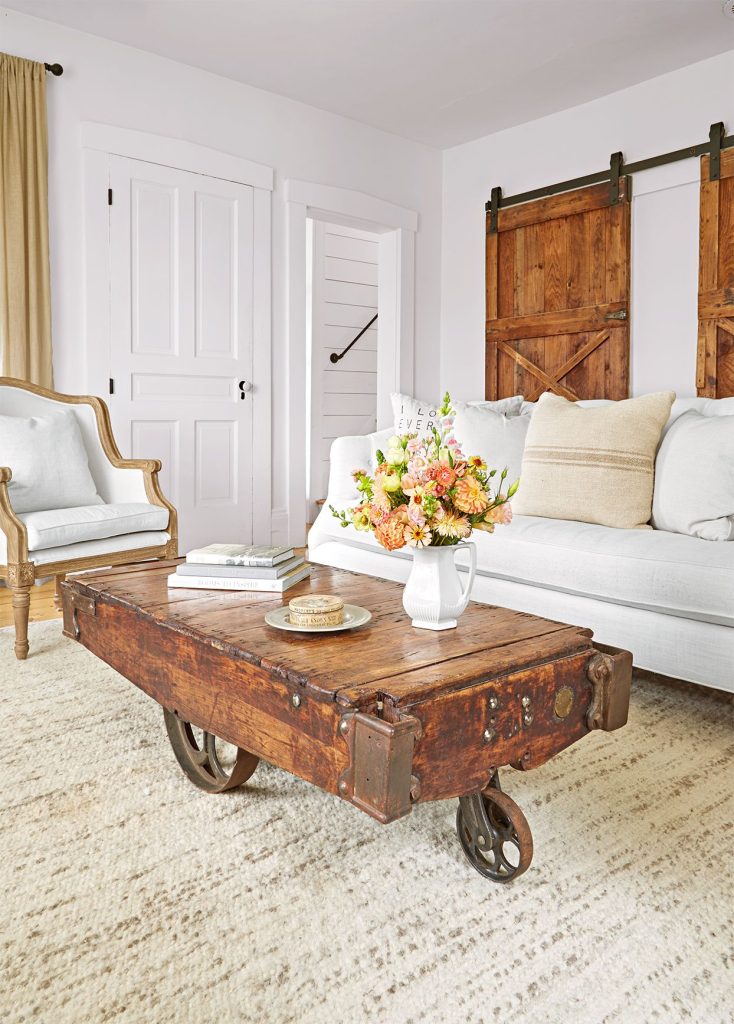 Ideal Complementary decor items:
Add character with a Bedside table, a captivating chandelier, and any other item that has an old-fashioned charm in it.
Choose only decor items such as dining chairs with a rustic look rather than pristine and polished.
3. Decorative Wall Sconces
Sconce not only adds light to the room but also brings a glamorous rich character to the wall. Sconces are found in numerous styles and colors, such as black or Victorian style and white for rustic walls.
Vintage-style accessories in silver go hand in hand with white sconces. These hanging lights are excellent for the bedroom as well as a bathroom vanity.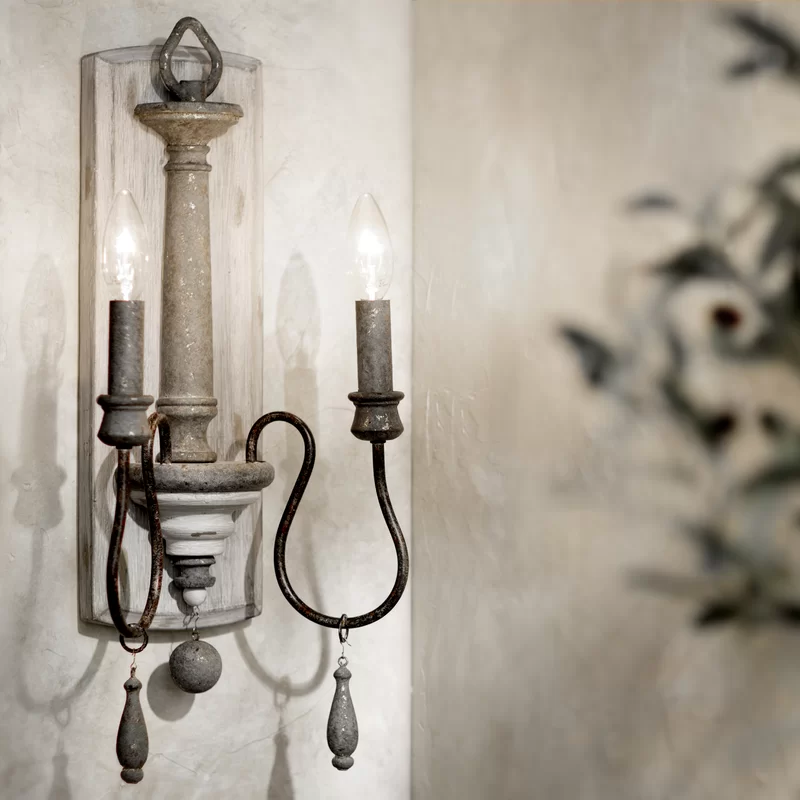 Ideal Complementary decor items:
You can place pictures with frames for a more vintage appeal.
No better combination can be found than a sconce wall light and gilded embellishments and crystals elements.
Do not be afraid of adding extra wall-hanging decors for a touch of complexity.
4. Country Wall Decor Items
Many things have been mentioned so far, but these particular items make a mesmerizing country decor when put together.
Dress up the wall with books, artworks, souvenirs, picture ledges, bags, and hats to breathe life into your wall. Any of these decorations in black, when combined with a cream background, work as a salt and pepper.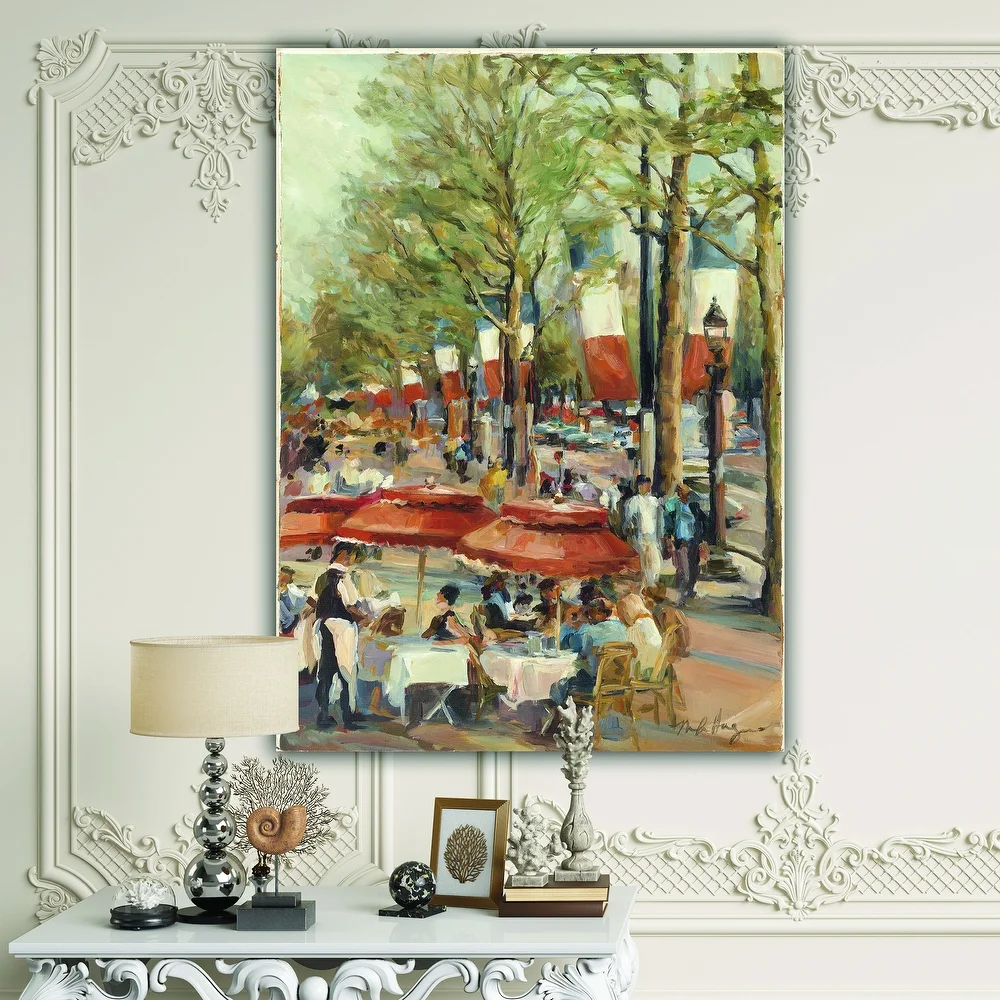 Ideal Complementary decor items:
Black sconce light on a white accent wall – a match made in heaven.
As French decor is not entirely country style, you can also mix with other modern elements, such as white tapestries ( fabric with pictures or designs) that fit well for Kitchen decor.
5. Rustic Dough Bowls
French dough bowls garnished with pinecones give an elegant warm no matter where you put it. It is a container that provides a rugged character to your home. Ways to use such bowls to achieve a rustic feel are countless!
Just a tiny adjustment can impart a key change in your room; consider utilizing dough bowls for a rustic appearance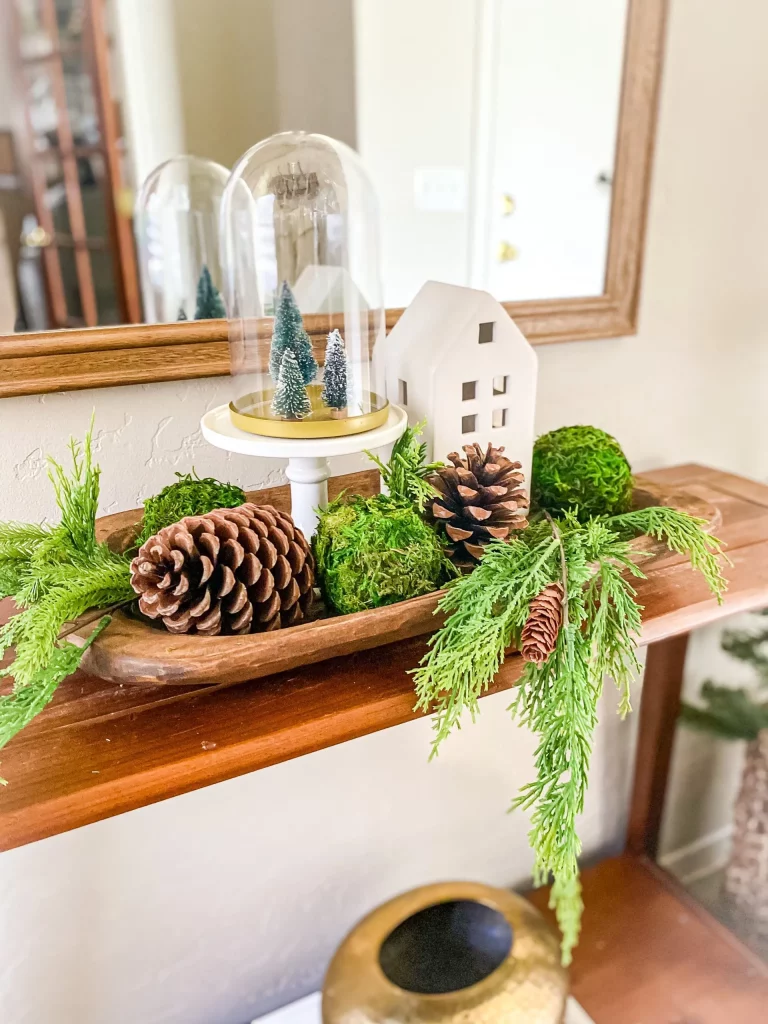 Ideal Complementary decor items:
Use it as a container- put a kitchen towel for a sense of awe.
Fill it with pinecones and place it on any side of the entryway… voila! Stunning exterior rustic decor.
A small dough bowl garnished with white flowers would make a stylish rustic centerpiece.
Also Read: 18 Stunning Modern Countryside Home Designs for You
6. Antique French Doors or Sliding Barn Doors
Antique French doors complement both interior and exterior decor due to their rustic character. No matter what else you want to add to the decor, these antique doors will never go out of style.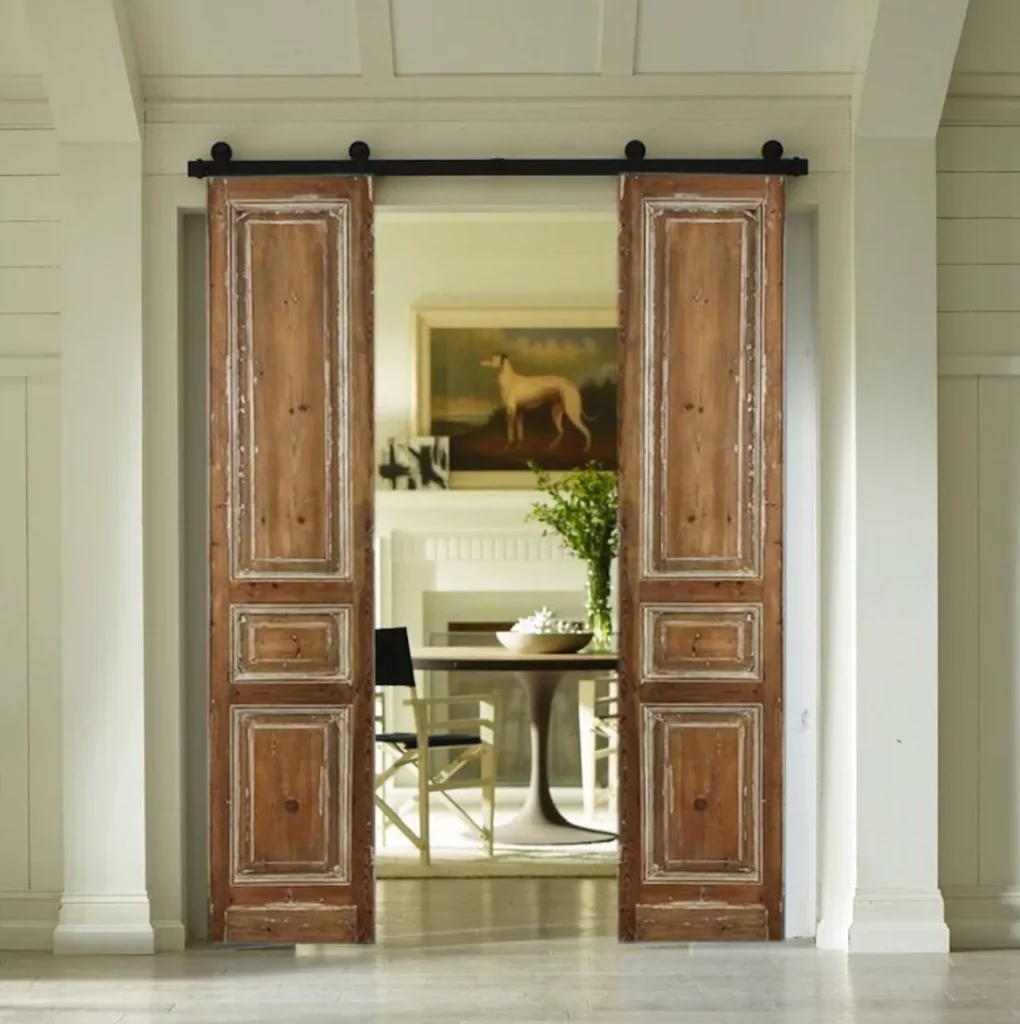 Barn doors are considered more beneficial for tight spaces since they do not require much space to open.
Ideal Complementary decor items:
A bathroom vanity with sliding barn doors will have a profound impact on the room.
You can use paint to give Antique doors distinctive floral prints, motifs, and patterns.
7. French Blue Accessories
French decor is incomplete without mentioning French blue, also called Bleu de France. Its light shades are a go-to for achieving a promising country-French look.
A gray cabinet harmonizes well with a French blue accent wall in the kitchen. Or you can have the wall painted with this washed-out tone of blue for timeless country decor.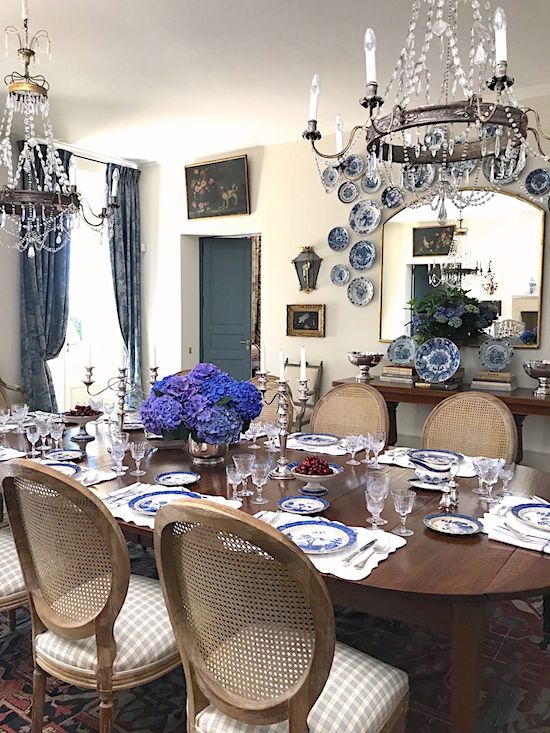 Ideal Complementary decor items:
Sprinkle French Blue Accessories Around The Dining Place
Wood ceiling or wooden paneling with a touch of French blue has the potential to complete the French country style.
8. Toile Wallpaper Patterns
These are favorites among decor professionals due to their country-side characteristics. Toile wallpapers are available in multiple combinations of colors like white and blue and pink and blue.
When decorating country style, you don't need to follow the decor rules strictly. Blend it with anything from Mirrors, and sconces to flower pots.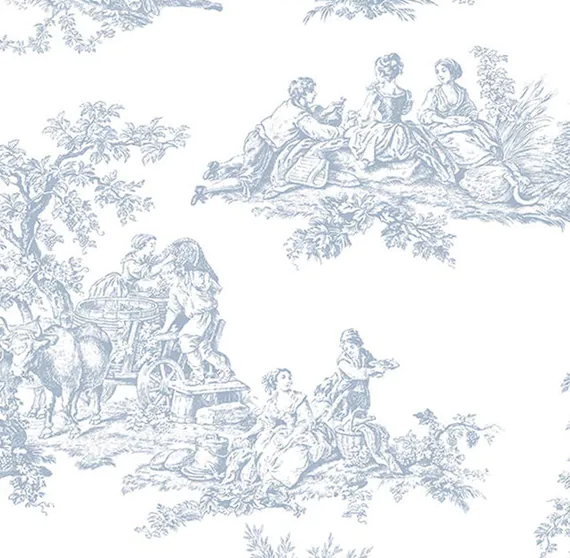 Ideal Complementary decor items:
Add it with some French Country Decor items such as table linens, throw pillows, drapes, or curtains.
You can apply wallpaper even on the other three walls, even on the ceiling, other than focusing on the accent wall because it is so captivating.
9. Elegant Antiques
Water cans, glass vases, and antique trays are all qualified for adding a rustic feel to a completely modern place.
More country-style decor elements, such as console tables and stone tile floors, have the potential to bring a vintage vibe to your house. The large antique lighting is an apt way to make your entryway look more rustic.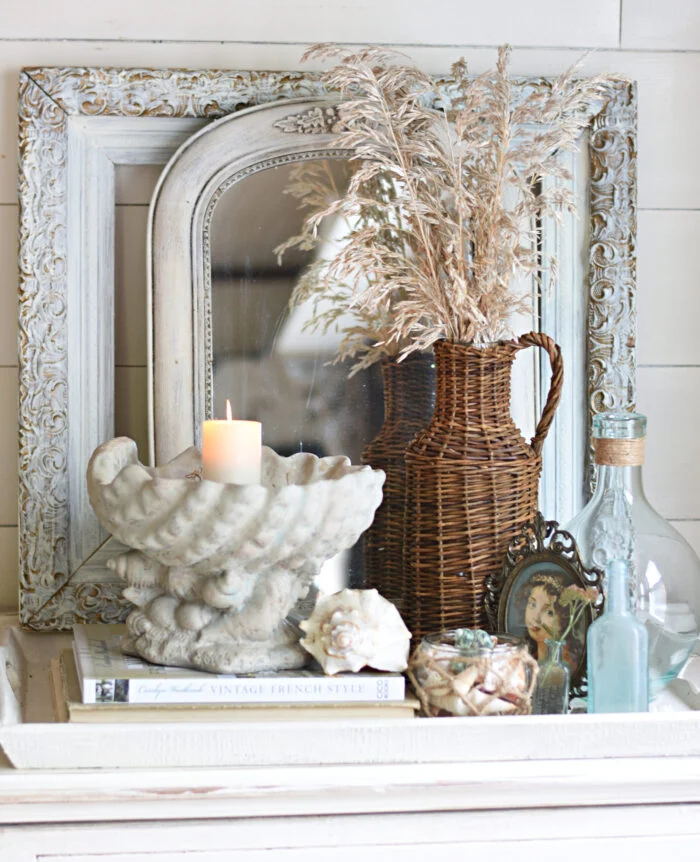 Ideal Complementary decor items:
Mid-tone blue colored throw pillows on antique chairs complimented a wooden accent wall- perfection.
A few contemporary items with classic chairs and antique paintings will make a contrast but will still be able to achieve the country style.
10. Traditional Fabric Patterns
A vintage dining table and chair set with blue gingham seat covers and Chinese dining Decor enchant a rustic charisma.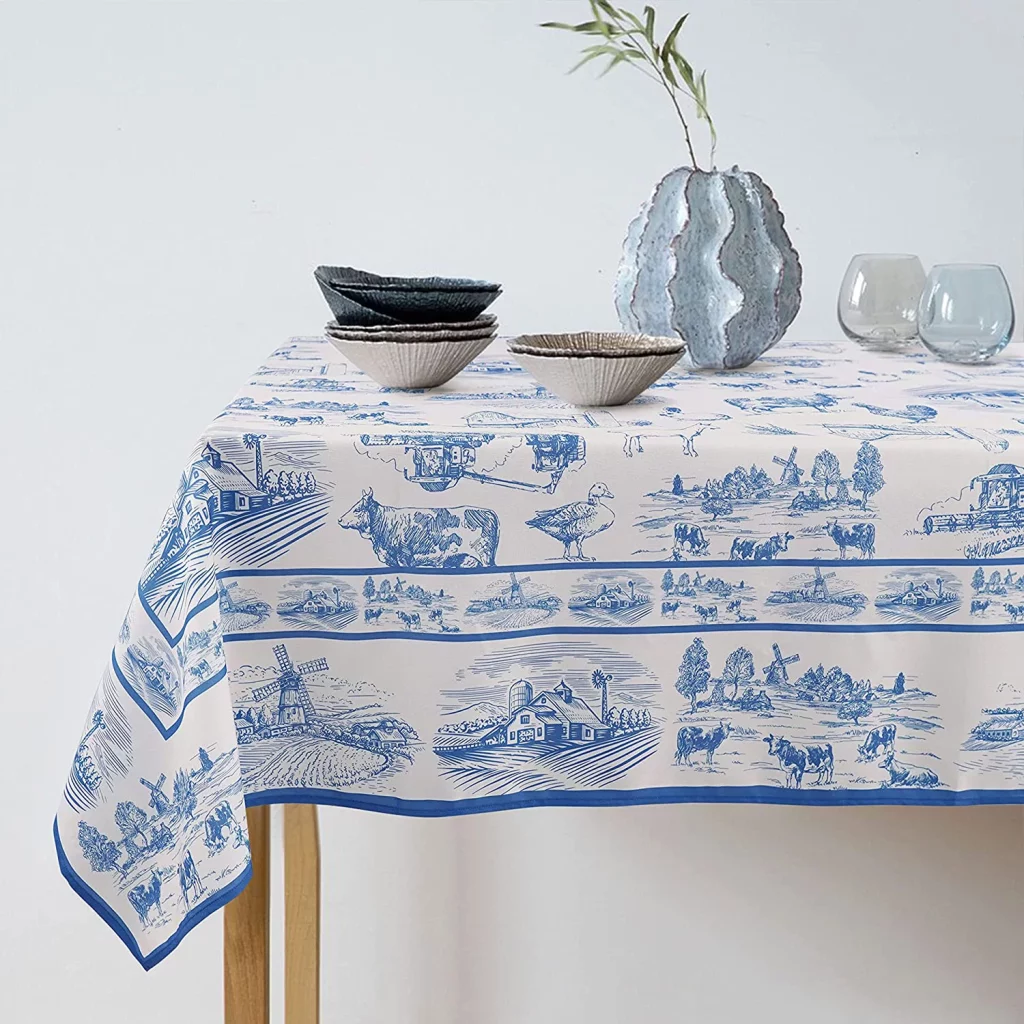 You may also like to use checked plaid with white and timeless blue and white buffalo plaid to add a touch of sophistication.
Buffalo plaid is often famous in red and black or black and white. On the other hand, gingham check is smaller in comparison and found in pink, tan, and green.
Ideal Complementary decor items:
Plaid provides a fresh look to the place but still leaves the country theme intact when there are large mirrors hanging on the wall.
A French-style dining table and classic chairs with blue buffalo plaid will add a punch to the room.
See More: 15 Best French Bistro Chairs for the Parisian Chic Home Decor
11. Copper Cookware
Copper cookware has an irresistible vintage charm that makes it an essential decor item for country-style decoration. It has an opulent touch and is capable of captivating attention.
They are recommended for the kitchen and can be placed unpolished if you prefer patina (withered look and feel, best for rustic decor).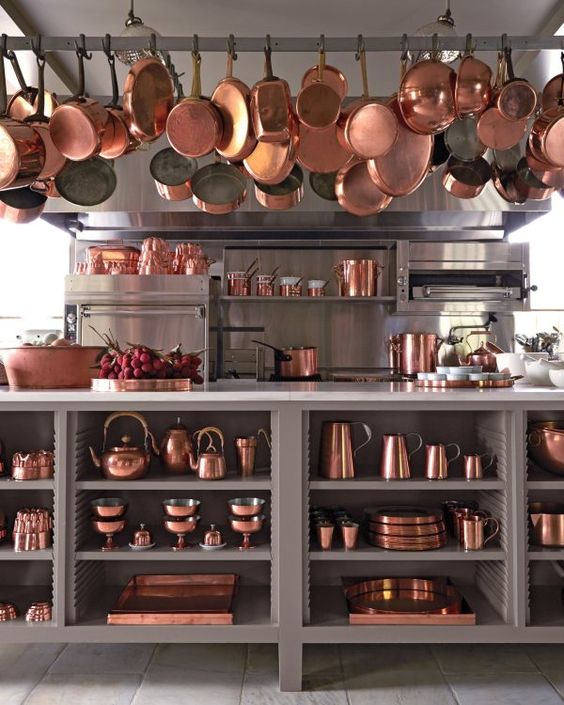 Ideal Complementary decor items:
Give your kitchen a white background with stone tile flooring, and adorn it with a collection of copper pots.
Wicker brackets and provencal plates with copper pans peeping through a gray glass front cabinet (also known as a glass display cabinet) create a feast for the eyes.
12. Cast Iron Urn
Cast iron urns add sophistication and elegance to the house decor. These urns have attractive designs and carved patterns that make them an artistic statement decor item.
Their aged and weathered finish, as well as rustic design, add a nostalgic charm to any place you put them.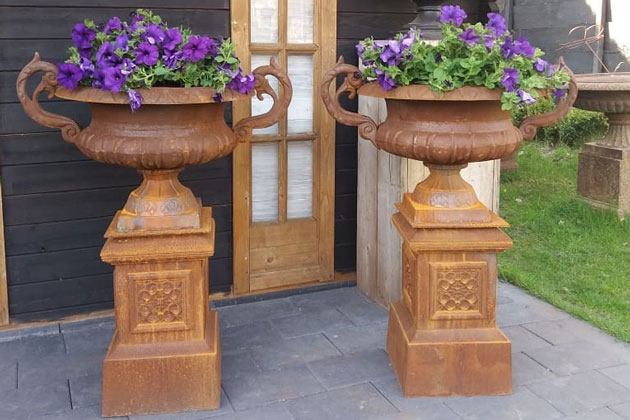 Ideal Complementary decor items:
Planter Urns usually go in gardens, but you can even adorn your patio, porch, deck, or entryway to create a unique focal point.
A wide-mouth trophy like an urn can be placed on the front porch, and if you plant a trailing flower, it will make a striking addition.
13. Crystal Chandeliers
Nowadays, the French country decor includes crystal chandeliers since they enthrall us with their dazzling shine and captivating light-reflecting qualities, but initially, they were used for enhancing and dispersing the flickering light of a candle.
These chandeliers are adored for their breathtaking designs for adorning our houses, but they served only a utilitarian purpose in the past.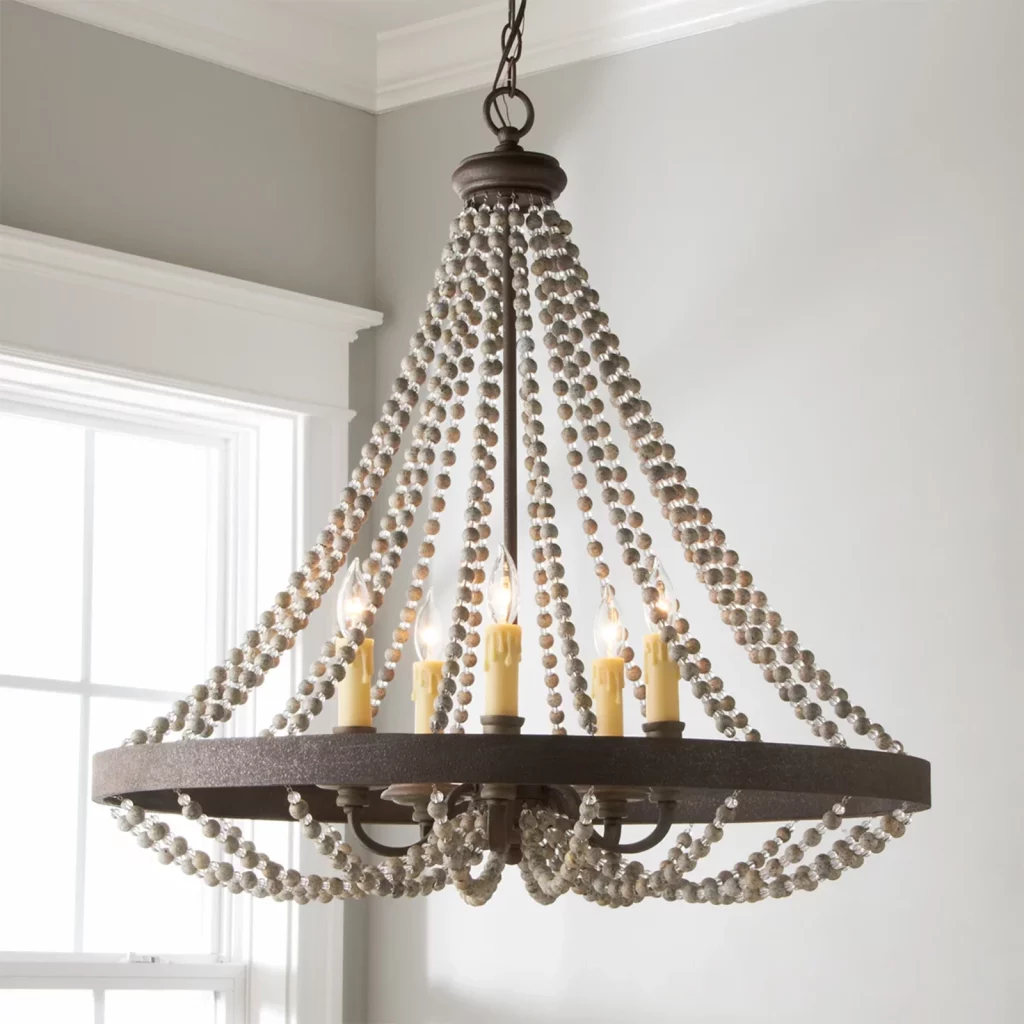 Ideal Complementary decor items:
Chandeliers are best for any room. You can have it in a powder room where you can have enough light, or you can place it in the dining room to cast a spell on visitors.
For a complete country decor, hang mirrors on a wall with distressed paint.
14. Garden Statues
Gardens statues infuse the outdoors with a captivating glow. They also complement other exterior decor items around them but still carry a rustic vibe with them.
Some of the designs inspired by ancient sculptures emit rustic, old-school energy that completes your French country decor. These are quintessential pieces of art because they are handcrafted out of stone and are perfected by concrete.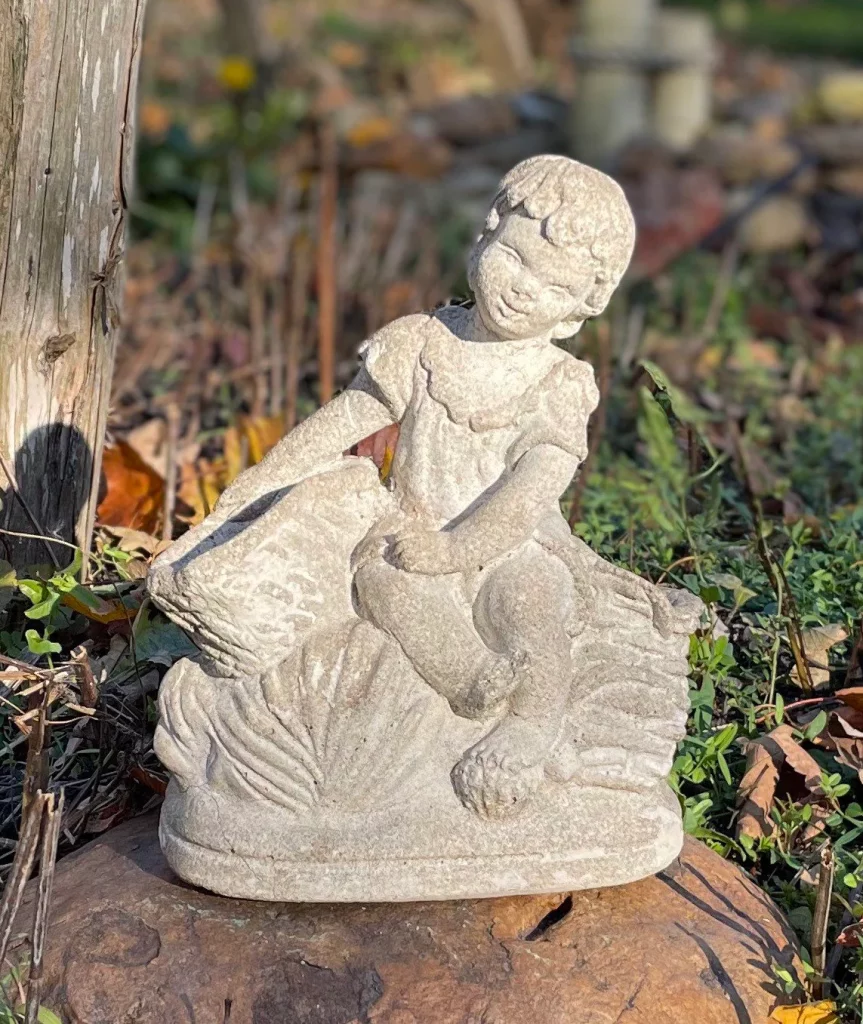 Statues made using stones are suitable for gardens, courtyards, lawns, and terraces.
These statues, when compared with cast iron urns, make an alluring effect.
Related: 11 Easy Coastal Decor Ideas for Your Small Living Room
15. Mantle Clocks
Also known as shelf clocks, Mantle clocks have a historical significance (they received an influence from an art movement) and are still crafted with inspiration from the artistic works of famous painters.
They received the name because they were small enough to be placed on mantles. These authentic pieces of historical art are worth beautifying your fireplace mantle.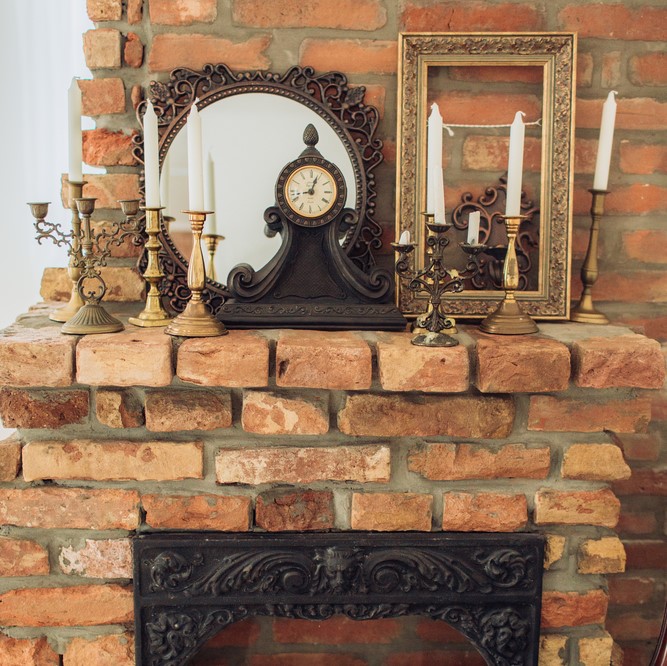 As discussed, you can display these antique pieces with scrollwork and statuettes on a shelf.
Surround it with paintings, abstract wall art, and frames for a spellbinding environment.
Conclusion
We discussed 15 French decor elements that have a country charm in them. We also mentioned a couple of possible combinations for each element that go side by side.
Furthermore, there are some elements, such as framed mirrors, copper cookware, and crystal chandeliers, that are best for indoors, while other decor elements, such as statues and urns, fit well when placed outside the house.
Another noteworthy aspect to consider is the use of some elements is excellent to spruce up and make a room with limited space look more spacious, like a barn door for the exterior and a Crystal chandelier with mirrors for the interior.
Overall, we wanted to clear your thoughts and present you with appropriate country decor options for achieving a perfect French country decor.
We are curious to know if these suggestions helped you.
Check This Next: 22 Closet Door Ideas for a Refreshing Look
Other Articles