15 Best French Bistro Chairs for the Parisian Chic Home Decor
The French bistro chairs are having their moment in home decor design. These unassuming rattan chairs – a mainstay on the many sidewalk cafes of France, are seeing a re-emergence in home decor...
The French bistro chairs are having their moment in home decor design. These unassuming rattan chairs – a mainstay on the many sidewalk cafes of France, are seeing a re-emergence in home decor across the world to add that bit of French charm and flair.
These chairs are very versatile and make for perfect accent chairs for both indoor and outdoor use. Originally crafted from rattan, these chairs are lightweight and easily stackable, making them ideal for storage and space management. But as with any natural material, wear and tear is inevitable. To combat this, new materials like Rilsan and PE plastic fiber are being used, which are bio-based but more resistant.
We have curated some of our absolute favorites, which can transform your space from drab to fab in true Parisian style.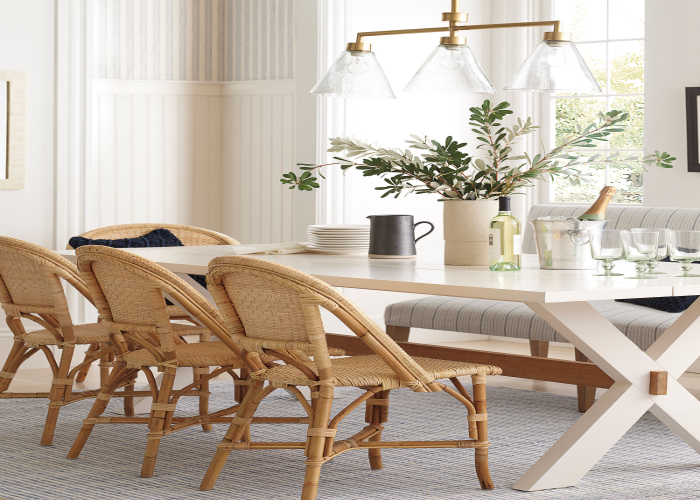 Serena & Lily, based in California, makes the most stylish Parisian bistro chairs. They come in many variants, but all of them have great craftsmanship and add beauty to any nook. Each piece is handcrafted in traditional techniques with slight highlights for a distinctive look.
These bistro chairs are not exactly a budget option. But the craftsmanship and quality make them one of the best choices.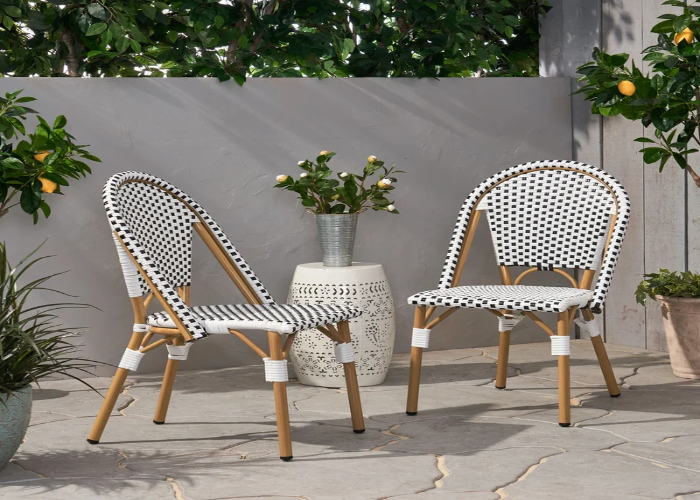 You can't go wrong with monochrome, and these black and white bistro chairs are sure to add a touch of glam to your indoor spaces. You can easily take these outdoors and pair them with a bistro table to transform your patio for a breezy brunch.
Made with bamboo-finished aluminium frames, the seat and backrest are finished with wicker/ rattan in a two-tone design for ultimate sophistication.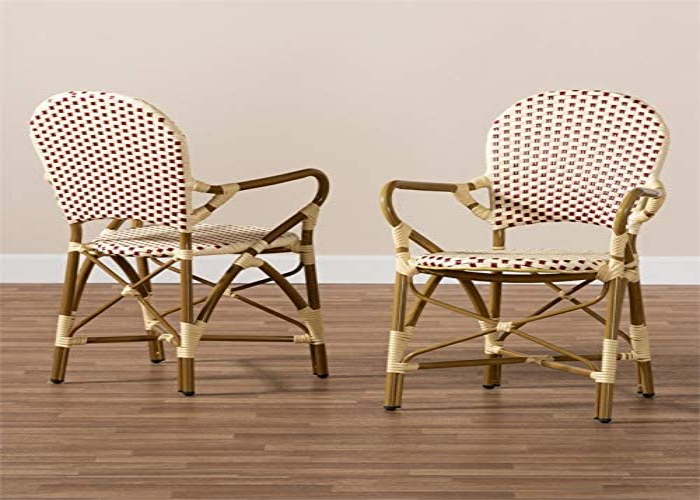 These red and white bistro chairs are ideal for both indoor and outdoor use. Unlike many other variants, these come with armrests, making them a more comfortable choice for casual dining.
Made with powder-coated aluminum, they have a bamboo-style frame with rattan/ wicker seats and backrests. These chairs are stackable, which makes them ideal for easy storage.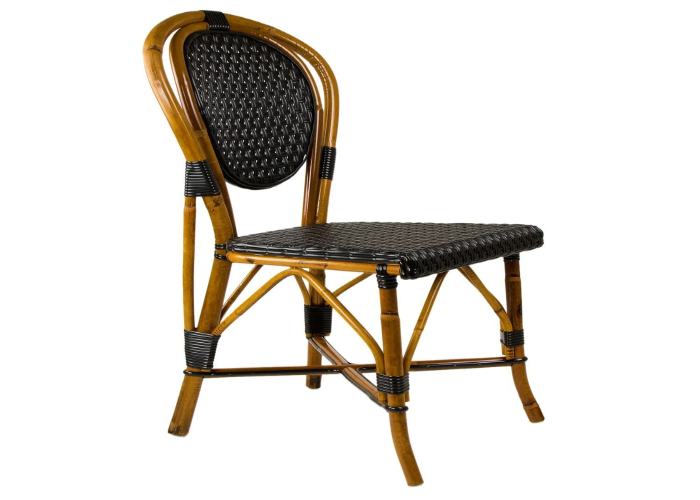 This Mediterranean-inspired furniture is almost a piece of art to add to your collection. The black bistro chair adds the right amount of sophistication and is perfect for alfresco dining.
These bistro chairs are all handcrafted in Italy and hand weaved with rattan and pe plastic weaving fiber.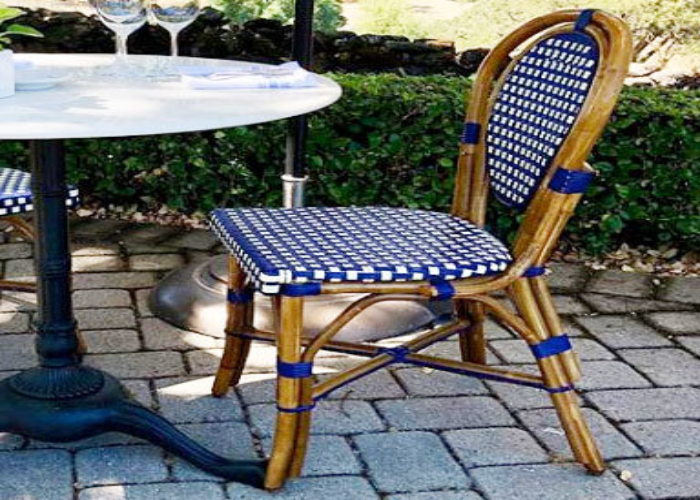 The quintessential Parisian chic, these blue and white bistro chairs can be spotted across some of the most stylish cafes in Paris. The blue and white woven design helps break the monotony of the space and adds a pop of color to uplift any space. Use it as an accent chair or use them as a dining chair for sinking in for a leisurely meal at the end of a long day.
These chairs are handmade with steamed bentwood rattan. The honey frame comes with a coat of marine varnish for the durability of the wood finish.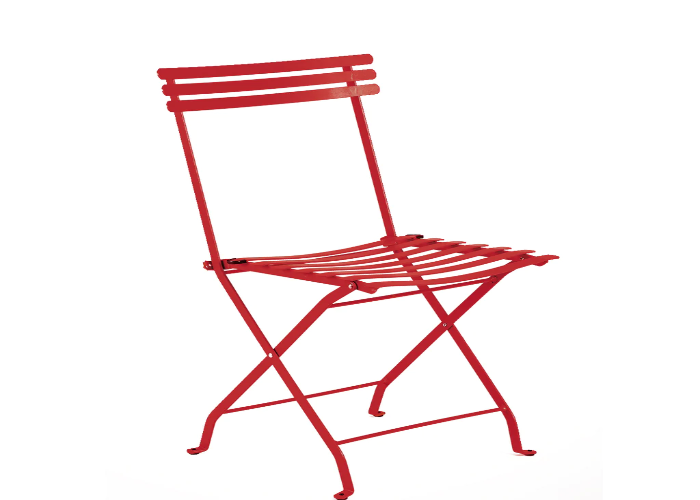 Looking for an easy, durable, and fuss-free option? This folding bistro chair is your best bet. These are larger and sturdier than most bistro chairs and are perfect for your patio to enjoy your cuppa at peace.
Available in more than 18 colorful tones, they are a perfect addition to your outdoor spaces to lift any dreary corner. Made with powder-coated, heavy-duty steel enriched with an anti-scratch material, these are UV resistant. These bistro chairs are durable for all-year outdoor use and can be easily stored and stacked when not in use.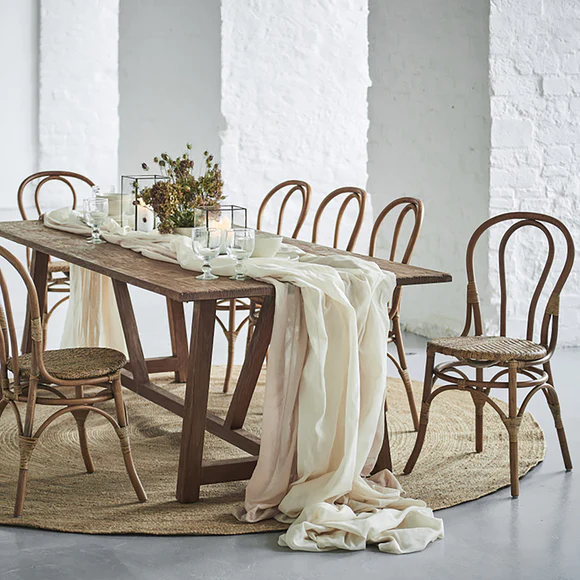 The Lulu bistro chair is a modern interpretation of the classic Michael Thonet bentwood chair. Designed by Sika design, these chairs blend the classic with modern sensibilities and functionality. The antique color of these chairs adds a touch of sophistication to the whole dining experience.
The frame is made of hand-bent rattan, and the natural and rustic finish makes these an heirloom piece with impeccable craftsmanship.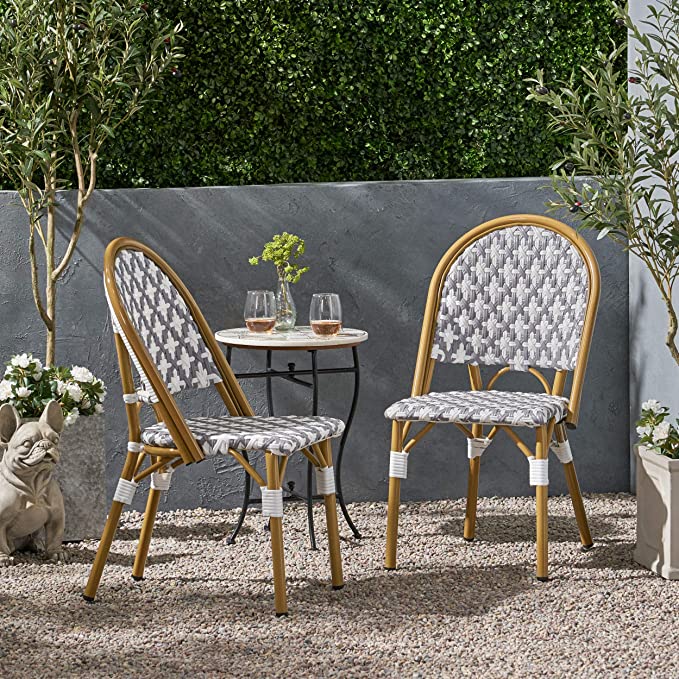 The Anastasia French bistro chair has been designed for outdoor use. The minimal color palette and clean aesthetics make these chairs perfect for adding a touch of French glamor to your outdoor dining and entertaining spaces.
Made with rust-resistant aluminum, the frame has a bamboo print finish for an all-natural look. The rattan, featuring a long-lasting woven finish, makes it both durable and versatile. The wrapping material is faux rattan.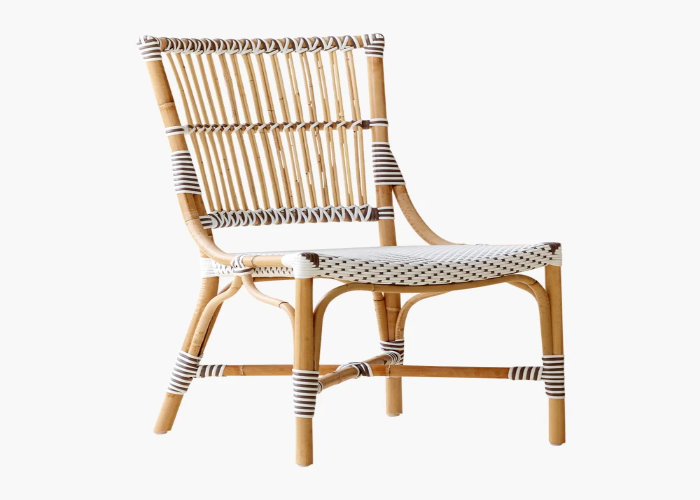 Inspired by the Parisian cafe life of the 1930s, these chairs will add French country charm to your dining space. A classic bentwood design, these chairs have a high-back design for maximum comfort.
Made with natural rattan and synthetic man-made durable fiber with cappuccino dots, these bistro chairs are handmade with high-quality craftsmanship. It is ideal for use indoors and in covered outdoor spaces.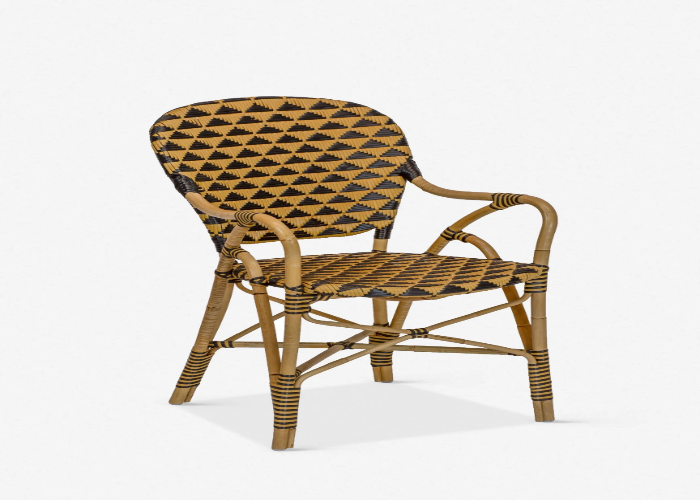 While most bistro chairs feature a simple design, the bistro chair features a stunning geometric graphic design. The warm color palette and natural tones make this a perfect addition to any decor style.
Made with skin-on rattan with a synthetic weave, these are ideal for breakfast nooks and patio furniture. The chairs are durable and versatile.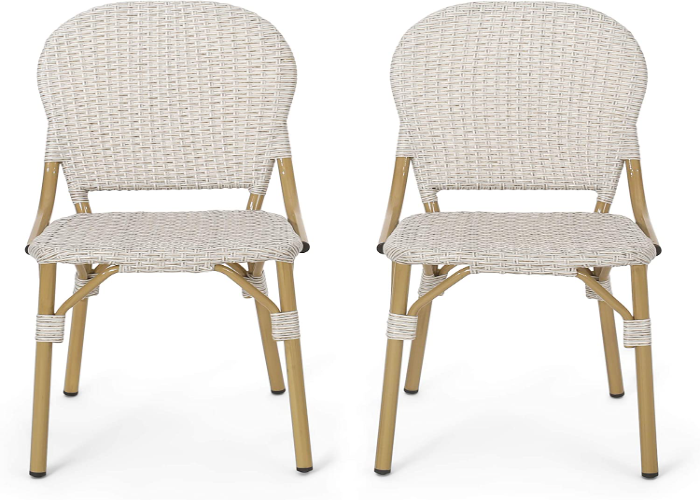 Featuring a stunning and sleek design, these bistro chairs are sure to add a touch to Parisian glam. These chairs blend modern sensibilities with their nuanced style elements, making them ideal for both indoor and outdoor use. If your home features earthy tones and natural color palette, these chairs will be a perfect blend with the existing decor pieces.
Made of a bamboo-finished aluminum frame, these chairs are sturdy and resistant to wear and tear. The aluminum frame also makes it extremely lightweight and rust-resistant. The seat and the backrest are made of polyethylene rattan, which makes them extremely durable.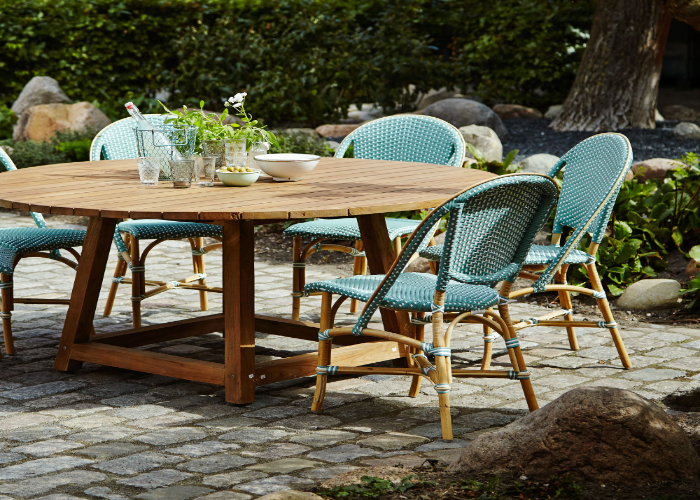 The stunning aquamarine bistro chair can lend a timeless elegance to any dining area. Perfect for indoor and covered outdoor use, these chairs can be paired with a bistro table for a perfect alfresco dining experience. The green and white dot pattern lends a soothing coastal feel to the entire look.
This collection comes in a variety of colors and finishes, like the all-natural look, the elegant two-tone bistro chairs in a playful dotted pattern, and these muted textural chairs with smooth, curvy silhouettes for a relaxed and refined look.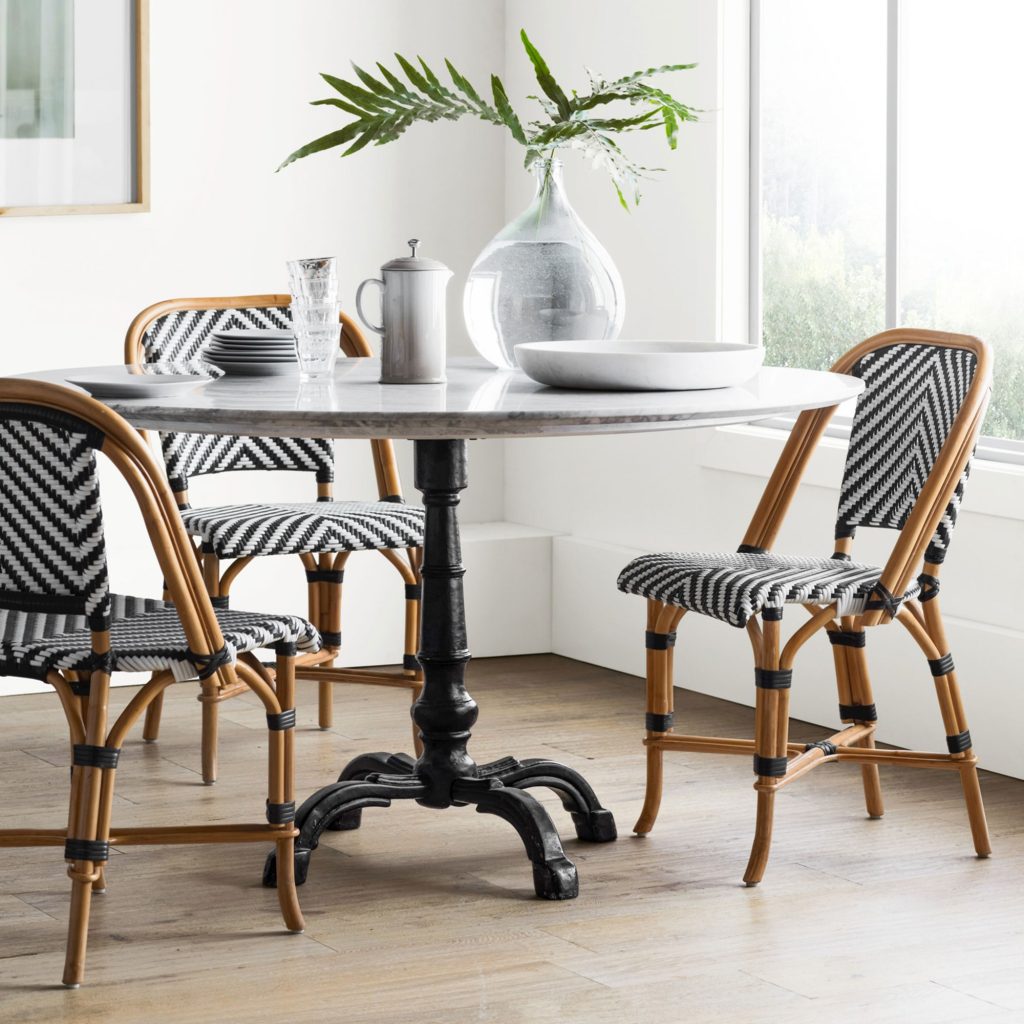 A stunning set of Bistro chairs From Williams Sonoma. Paired with a wrought iron bistro table, these chairs can elevate your indoor spaces. It can be easily used for outdoor seating setup with covered outdoor spaces or a patio.
Handcrafted by skilled artisans in traditional techniques, the frame is made of thick bent rattan with its signature roomy design for maximum seating comfort. The seat and backrest are made of synthetic wicker, which increases its durability and versatility.
Some of the other stunning pieces include the Bistro dining armchair In navy and the Traditional rattan weave chairs In natural hues.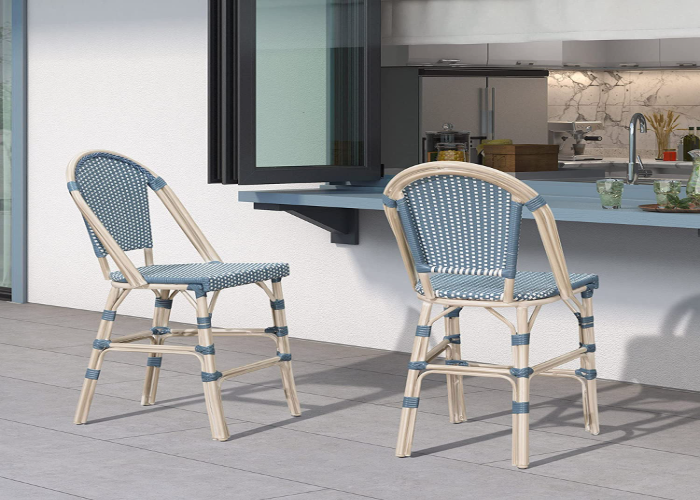 If you want to add a touch of glam to your kitchen counter or your bar counter, these bistro bar chairs are a perfect addition. Perfect for grabbing a quick breakfast or for lounging with your favorite drink, these chairs are sure to add a rustic French country charm to your home.
The frame is made of powder-coated aluminum with a hand-applied white look for a vintage feel. The seat and backrest are handwoven in durable rattan. The built-in footrest offers maximum comfort while seated, and the thickened aluminum frame offers maximum support and durability.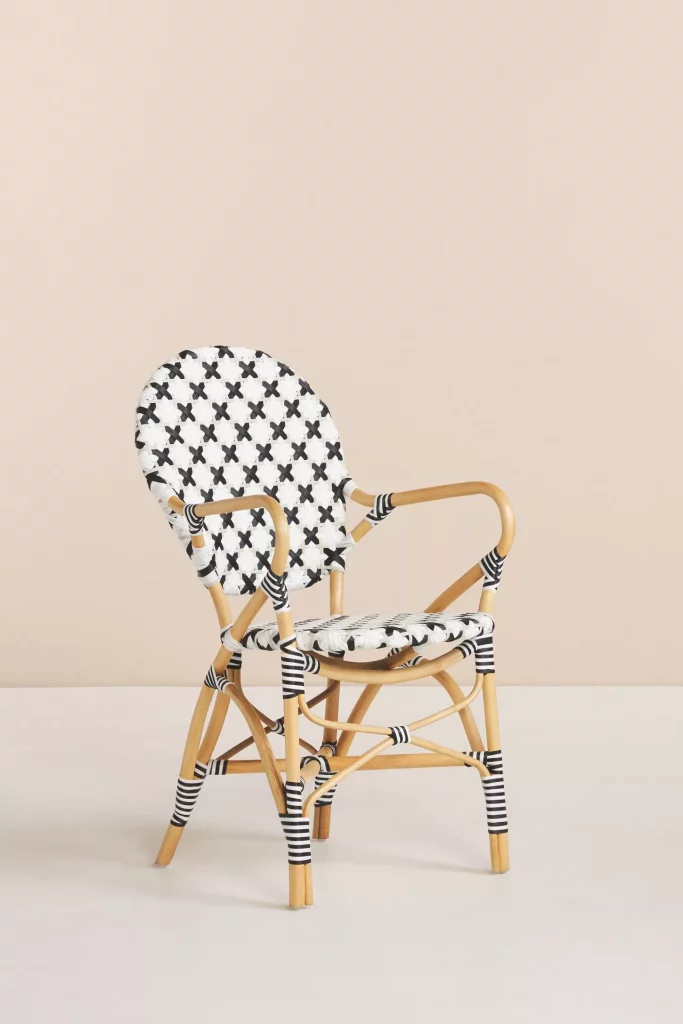 A modern interpretation of the classic French bistro chair, the un cafe chair is a perfect addition to your sunroom, patio, or terrace for those bright summer days. A beauty in woven rattan, these chairs, with their textured woven design, add sophistication and charm to elevate the space.
The frame is made of bentwood rattan, while the seat and backrest are made of synthetic rattan sealed with clear lacquer for durability.
For more inspired pieces, take a look at these Modern striped chairs, the Coastal rattan bistro bar stools, And these Striped warm weather classics in stunning hues.
Final Thoughts
French Bistro chairs Make a perfect addition to your patio, terrace, and outdoor dining spaces. But these chairs are so versatile and come in such different colors and finishes that they blend seamlessly into any decor style, making them stunning pieces of accent furniture.
The cool, breathable wicker and rattan in natural rattan frames make these lightweight and also durable. Just pick them and put together quick alfresco dining for those scorching summers. So whether you are looking to add a touch of Parisian glam or looking to bring a little bit of the French countryside to your home, these Bistro chairs are a must-have addition to the chic summer look.
We hope this article helped you find that perfect bistro chair for your home. Would you add any of these Bistro chairs To your dining space? Please let us know in the comment section.
Other Articles