Designing or re-designing a space requires effort. However, selecting a cover for your throw pillow sets should not be your biggest struggle. We have a list of sensational covers to help you find a suitable pillow case for your interior.
This list covers ethnic, luxurious, classy, and elegant designs. You don't need to search for different themes and prints in various places when it is available on a single page. Read this article to explore 25 sensational covers for your pillow sets.
So, let's get started!
Sensational Covers for Your Throw Pillow Sets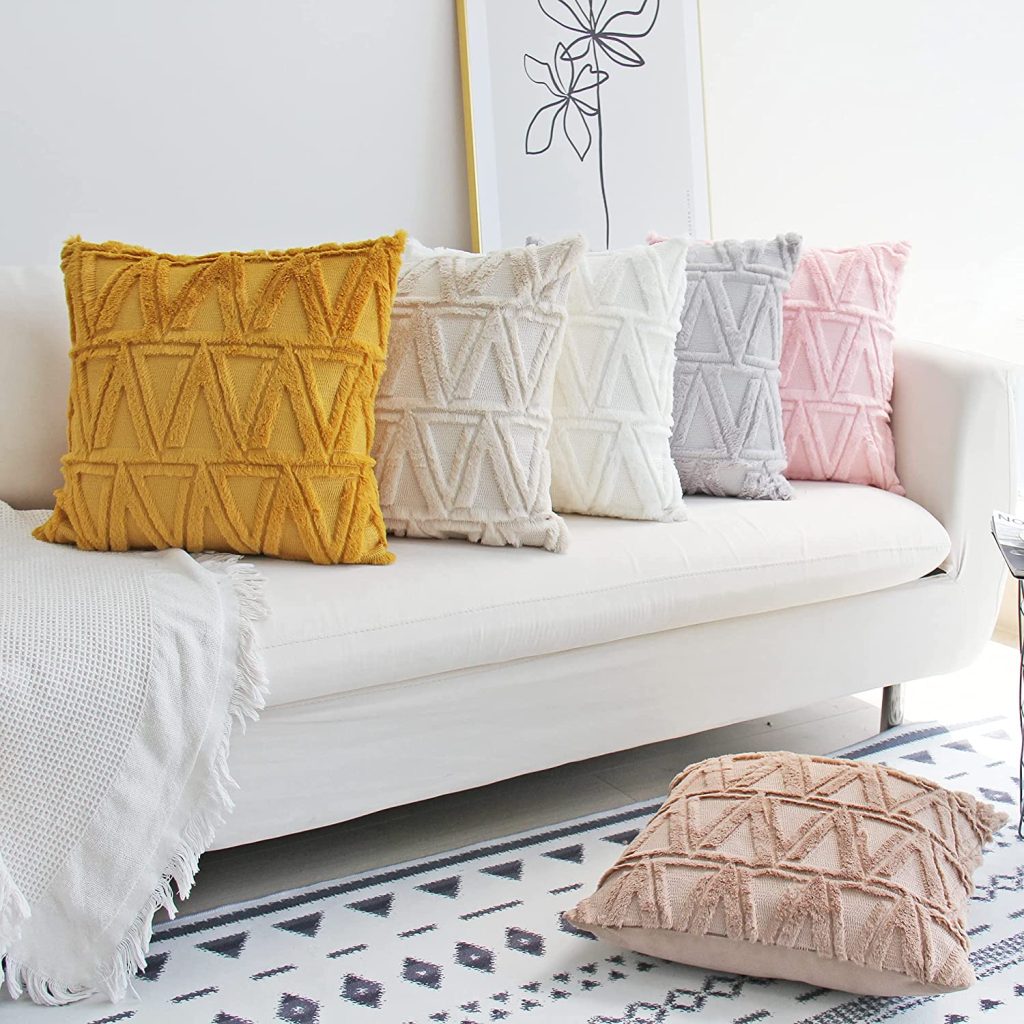 Decorate your throw pillow sets with this furry cover with a 3D embroidery pattern. Along with giving a beautiful view of your bedroom sofa, it brings you a cozy feeling. Yellow, White, Beige, and Pink colored pillows will complement the light hue of your home.
Get a fresh and modern interior look with the perfect merge of geometric patterns on this cover with pastel colors.
Similar Post: 25 Unique and Inspiring Bedroom Chair Ideas for Your Dream Home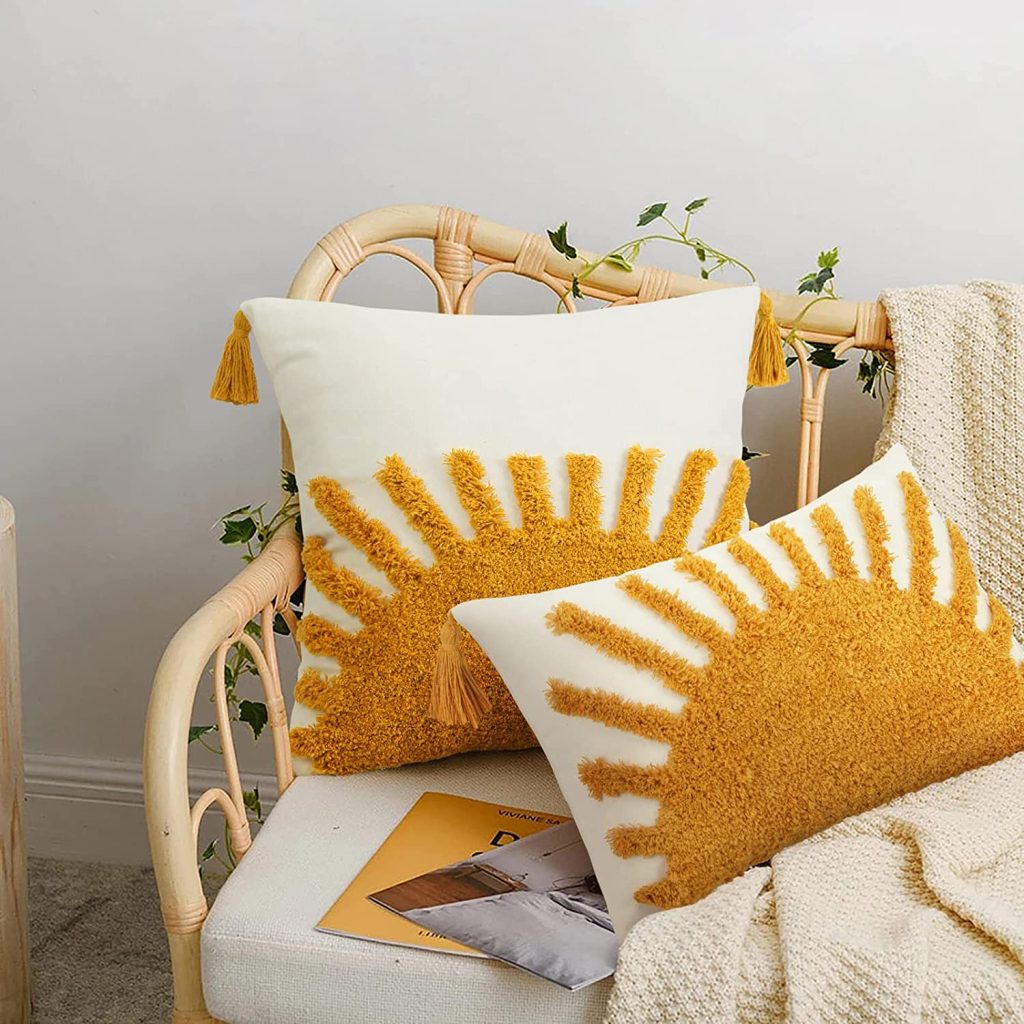 The beauty of your wooden couch will enhance with the neutral yellow and white tones of these beautiful boho-themed pillow covers. The throw pillow sets in these covers will leave nature lovers in awe of the design.
If you love to have an essence of natural elements in the interior of your home, you won't be able to take your eyes off these covers. It perfectly fits with any bohemian or farmhouse-style design.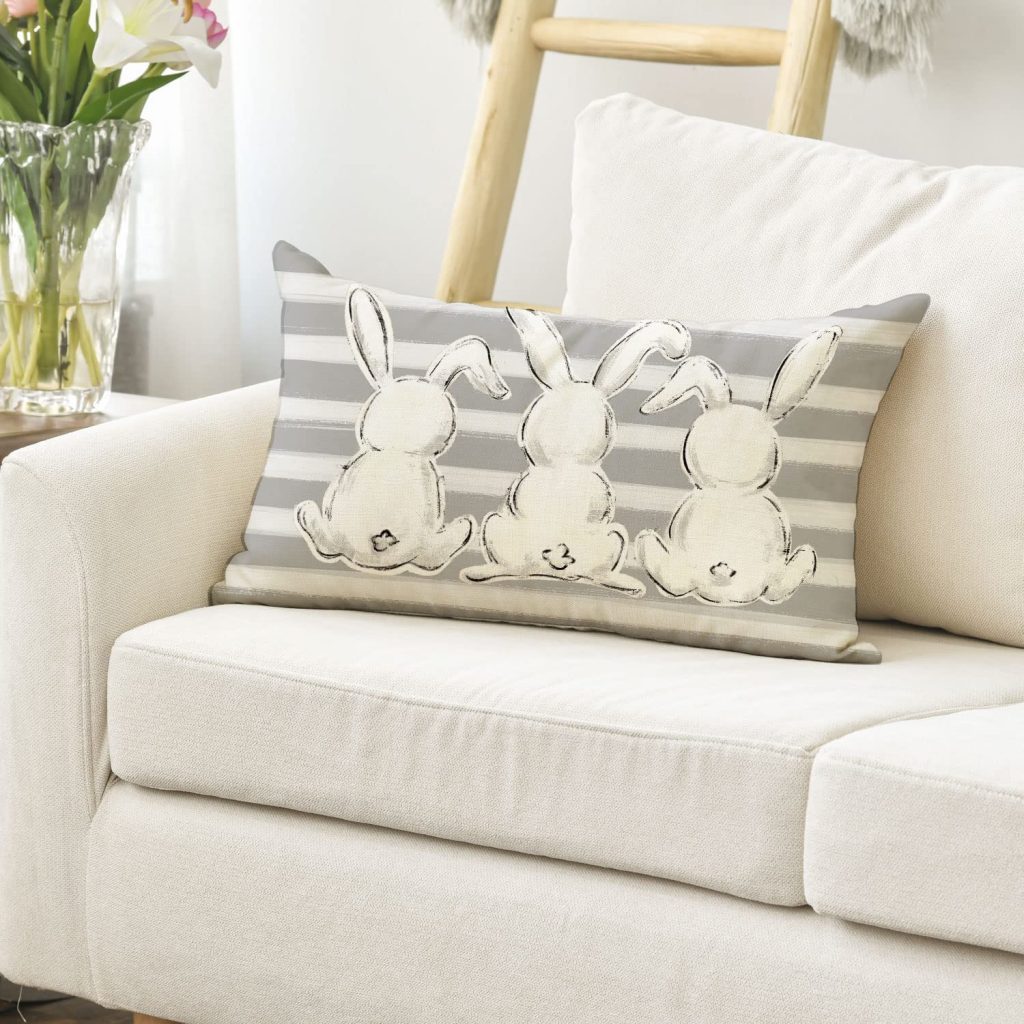 Looking for a beautiful cover for your kid's throw pillow sets? The polyester bunny easter cover with grey stripes and three bunnies is the perfect way to give them joy. You can gift them on Easter to bring a smile to their face.
However, waiting till Easter is not mandatory to see their joyful faces. Whether it's your child or your inner child looking for a cartoon theme, this pillow can bring smiles to everyone's face.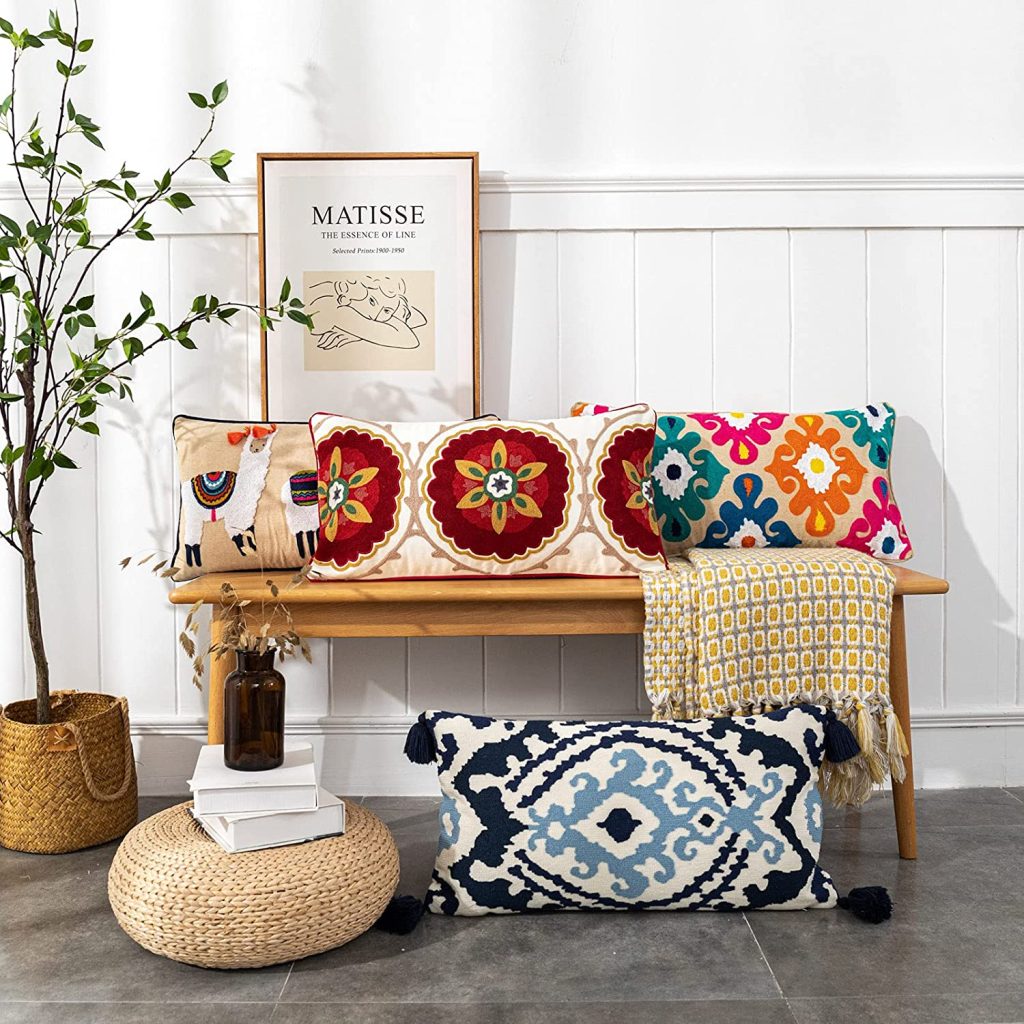 Does your space have a Vintage theme? Then, your pillow sets will look amazing with these colorful boho-themed cotton linen covers. The high-quality linen material makes the pillow kid and pet friendly.
They are durable, breathable, and have a beautiful feel. Multiple colors on the design and unique embroidery work will make them the center of attraction in your living space. These are perfect for your new vintage farmhouse.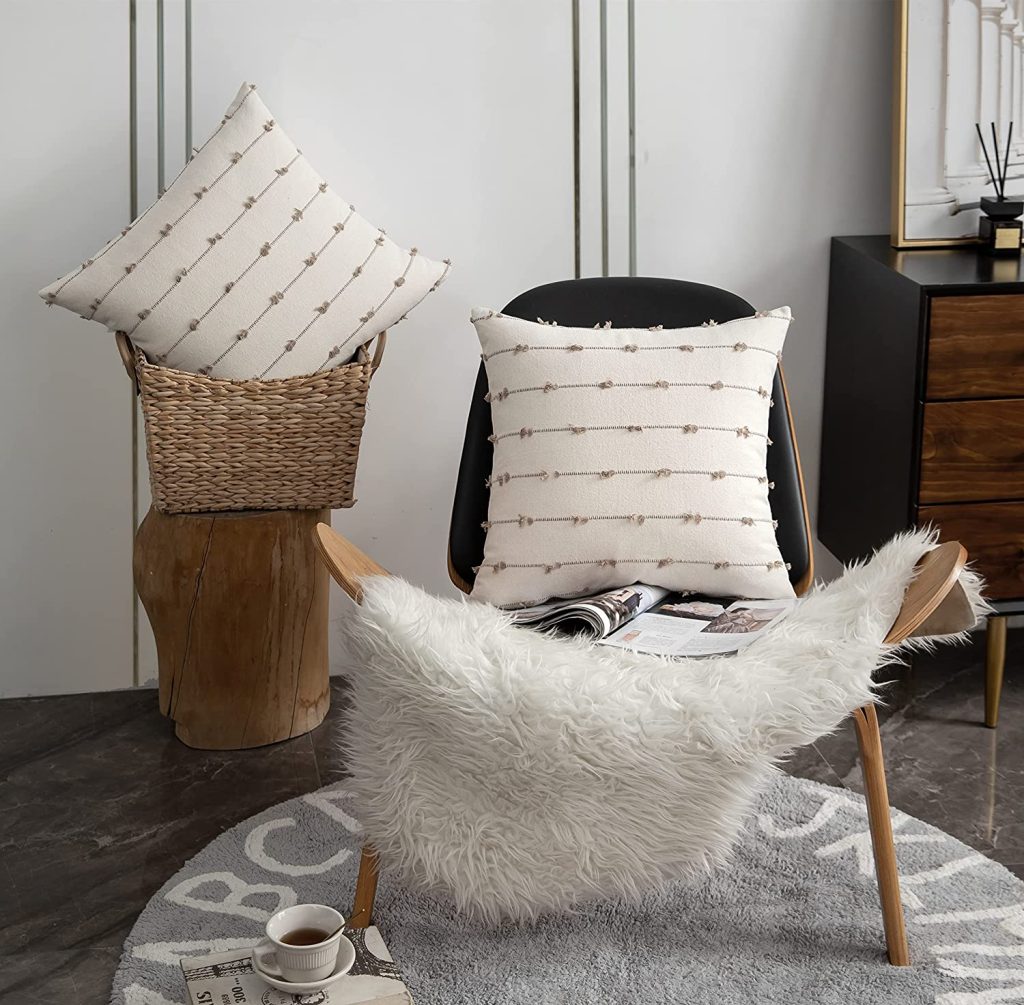 Are you looking for a mild-colored cover for your throw pillow sets? This beige boho cover might be the one. The mini tassel adds to the beauty of your home or office.
These cotton covers can enhance the interior with bohemian farmhouse, ethnic, retro, and chic style decor. This comfortable and flat pillow is best for your home, kitchen, car, floor, or any other place required.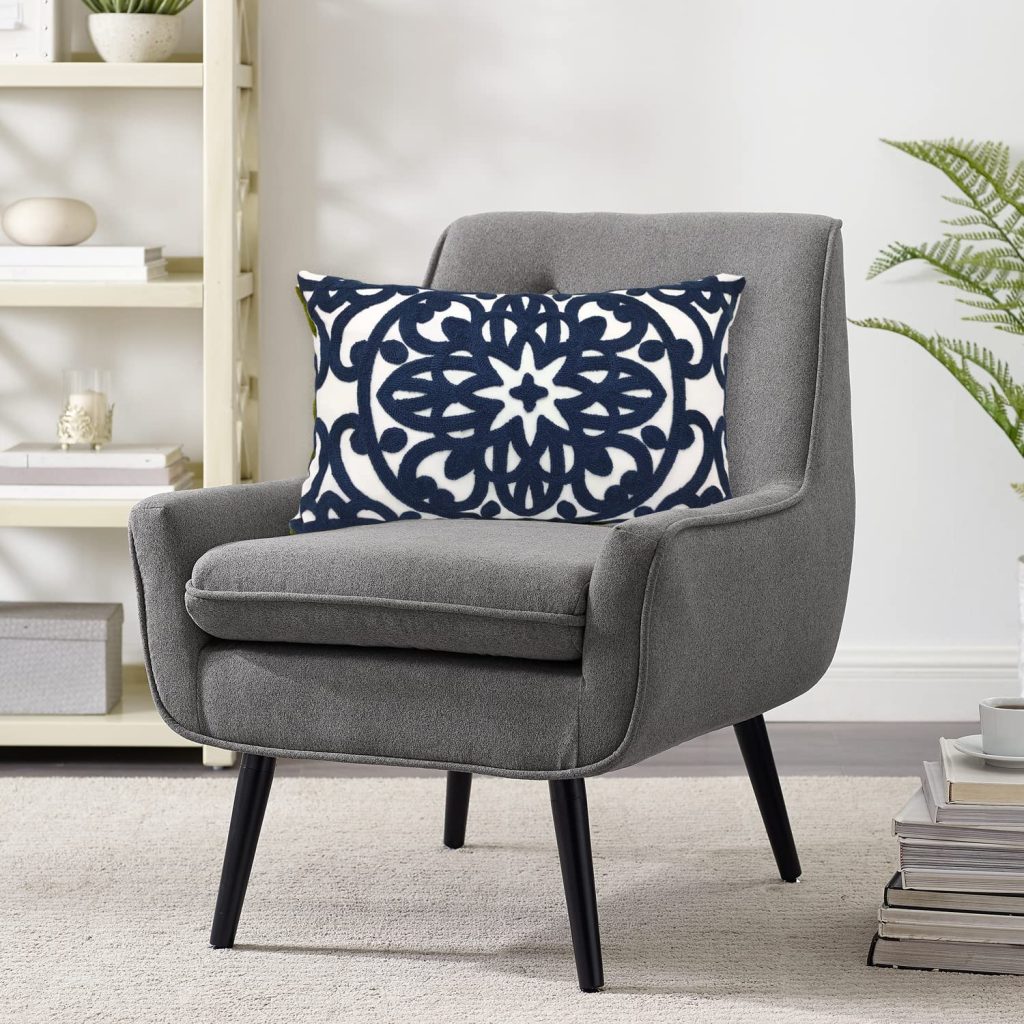 Individuals with a knack for creativity and a love for artistic work will surely fall in love with this design. The embroidered pillow is an aesthetically pleasing piece of accessory to have in the space.
The beauty of this art comes from the long hours of work invested by the artists in making it presentable. This Classic Boho Mandala Embroidery Pattern rectangle cushion is a beautiful gift for family and friends.
The best way to add colors and art to your workspace or personal space is through this beautiful artistic pillow cover.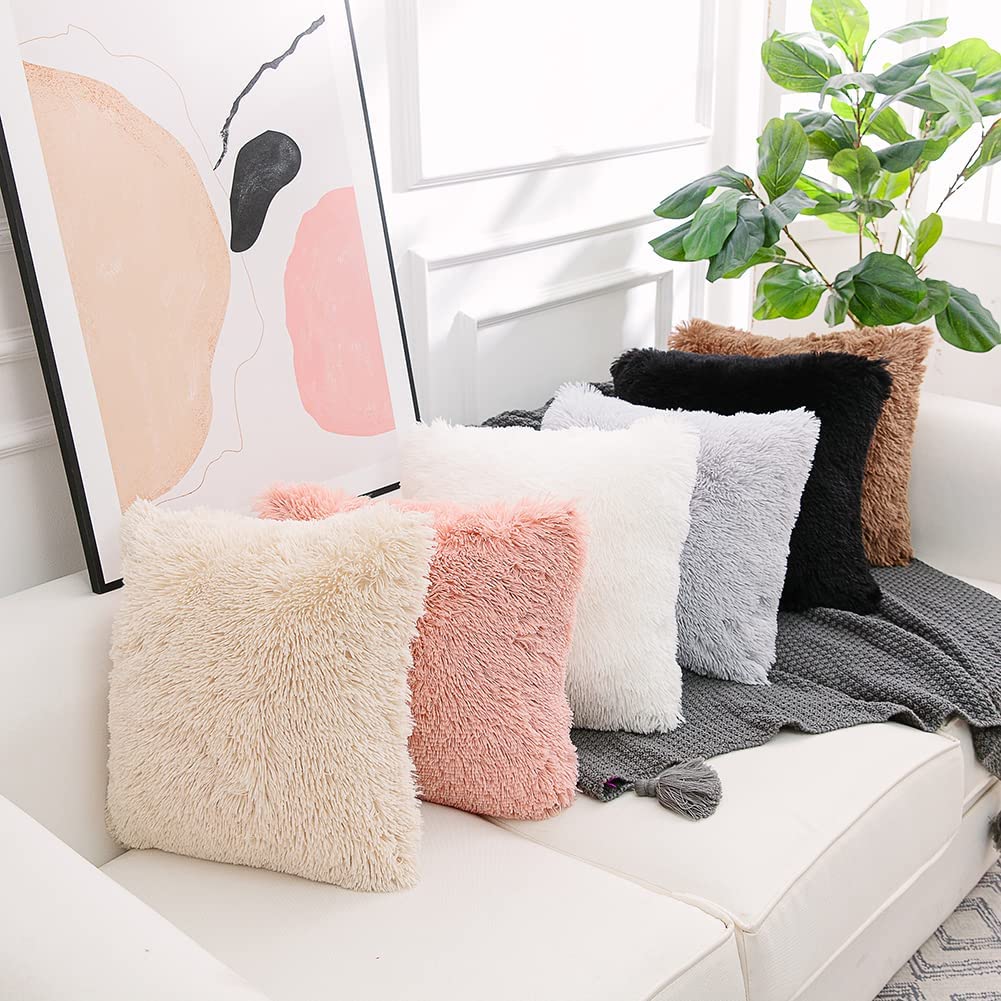 Giving your space a luxurious feel will now be easy with these fur fleece cushion covers. The cozy feeling of the extensive fur will make them desirable to anybody who touches them once.
This cover exhibits a perfect combination of softness, comfort, and luxury. It comes in various colors like khaki, black, light grey, white, pink, or beige. Bring an essence of elegance to your living space with these graceful cushion covers.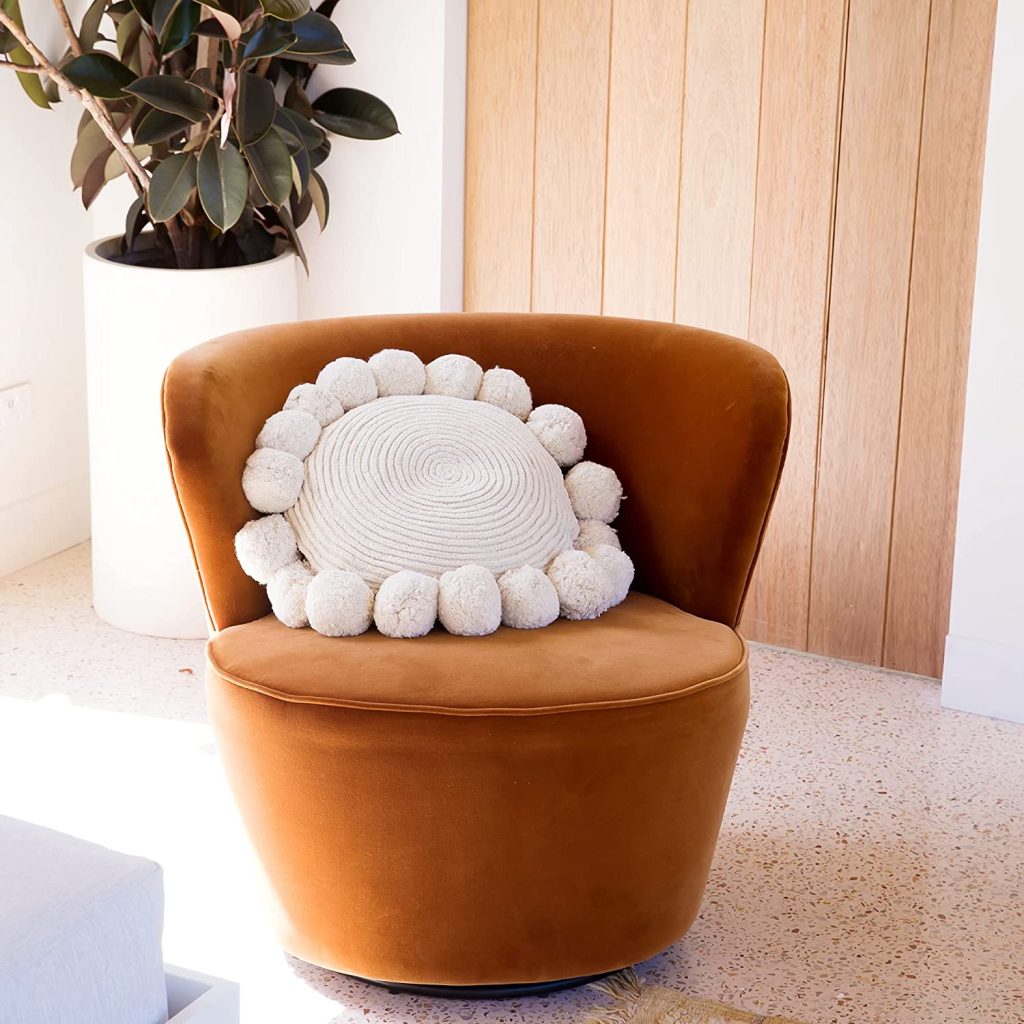 This beautiful, handmade enticing round pillow cover is something you should not miss. Leave a lasting impression with a 100% cotton boho pillow cover that exhibits 18 chunky texture poms on the border.
It is a super soft and easily huggable pillow cover that will leave your guests in awe. This off-white color bohemian single cover is also durable. It is easy to maintain and will last for years, no matter how frequently you use it.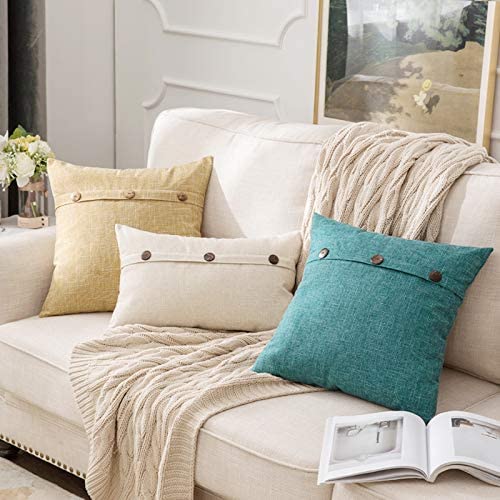 The triple button is for individuals looking for something out of the box. Regular cushion covers do not have such a design in general. These creative triple-button cover cases break the norms and bring in something unique.
Your throw pillow sets will give a unique look to the space when covered in a triple-button design. They also have a hidden zipper below to help you fit the pillow.
Some of the beautiful colors available in this design are turquoise, yellow, and cream-white. It matches well with your furniture and bedding set due to the buttons.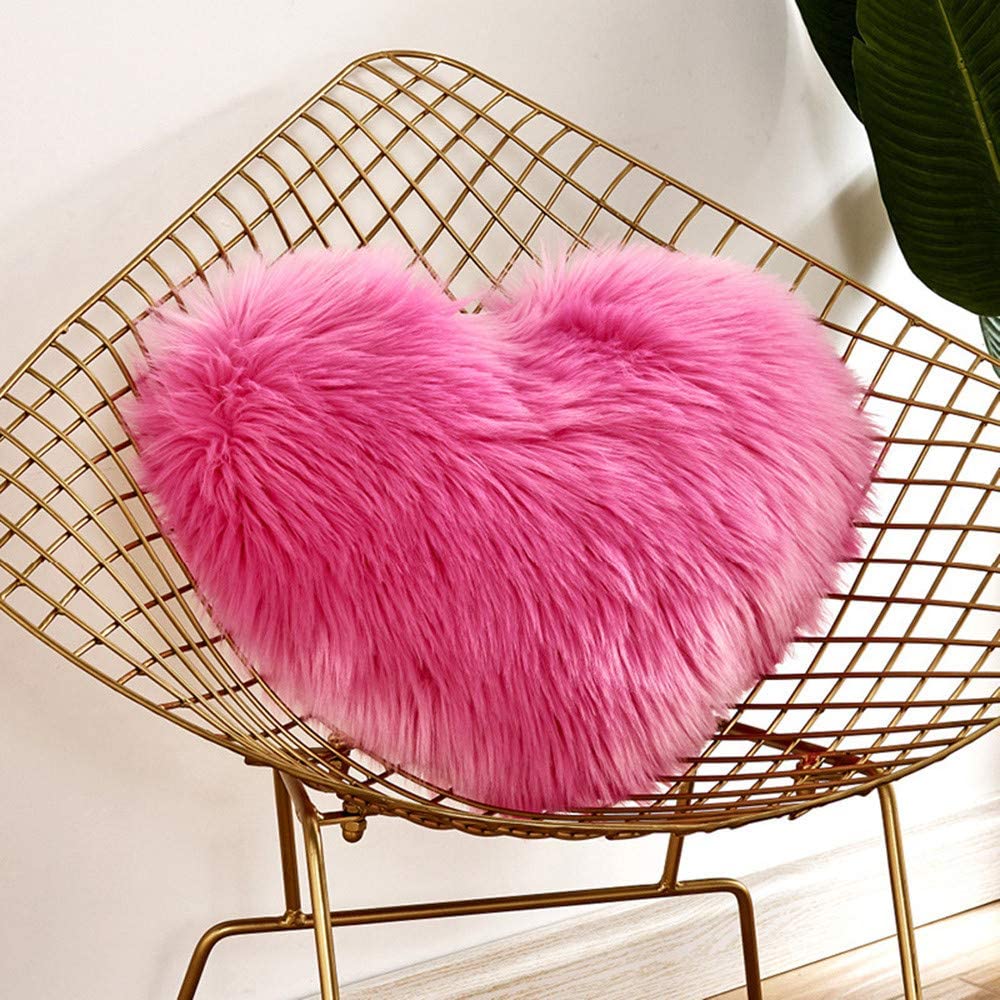 A heart-shaped case with your throw pillow sets can be a wonderful gift for Valentine's Day, an anniversary, or even a birthday. This pillow can be perfect for your bedroom to remind your loved one of your feelings for them.
It can look perfect on a sofa, couch, or even in your bed, along with other regular triangular pillows. This pink heart-shaped decoration cover is a dream come true for many couples.
These heart-shaped cushions are available in pink, white, black, khaki, purple, yellow, and light blue.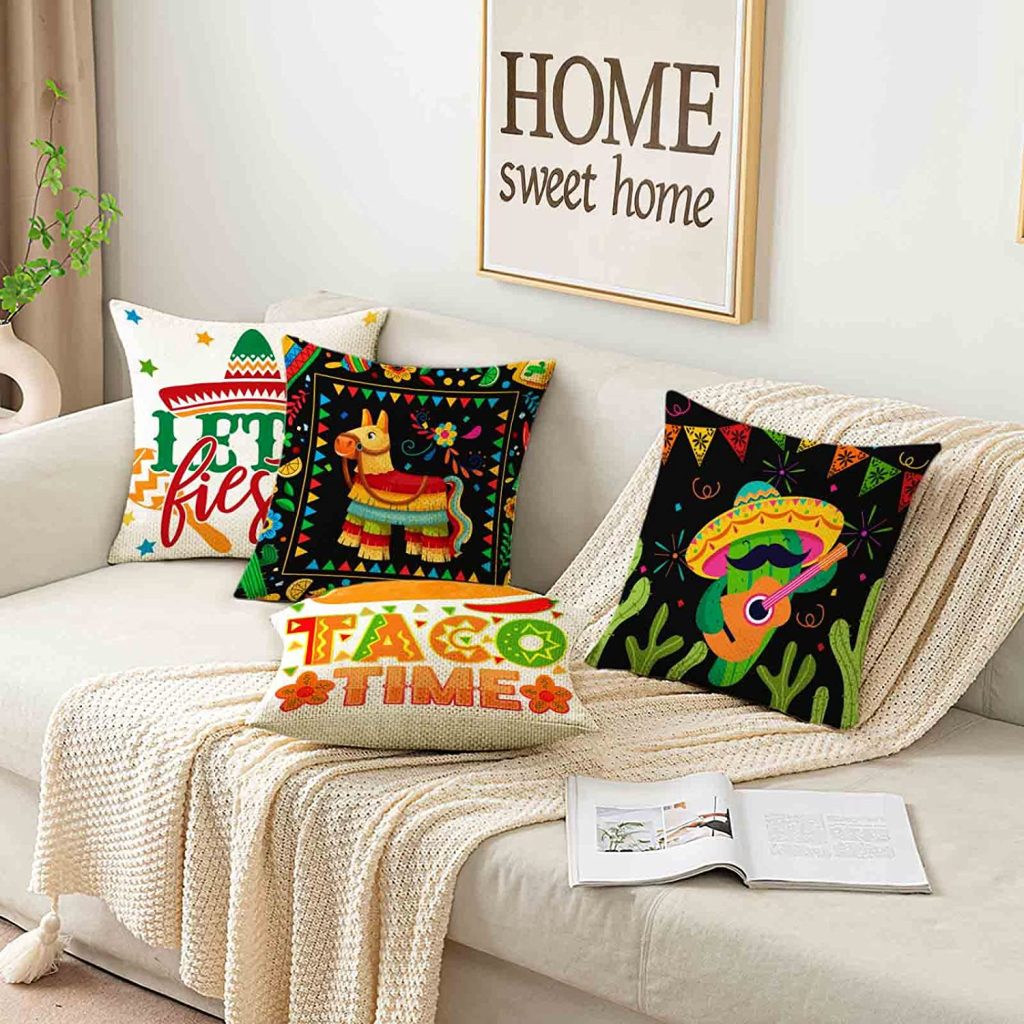 Want the feel of Mexican fiesta in your home? Or are you looking for some creative covers for your next Mexican theme party or a Mexican restaurant? These Mexican fiesta covers will do justice to your throw pillow sets.
The beautiful print, thick material, attractive colors, and theme-based designs will give the perfect Mexican vibe to your space.
Also Read: 10 Beautiful Walk-In Shower Tile Designs for Your Bathroom
The four covers include Taco Time, Cactus Mexican, and Party Supplies theme prints.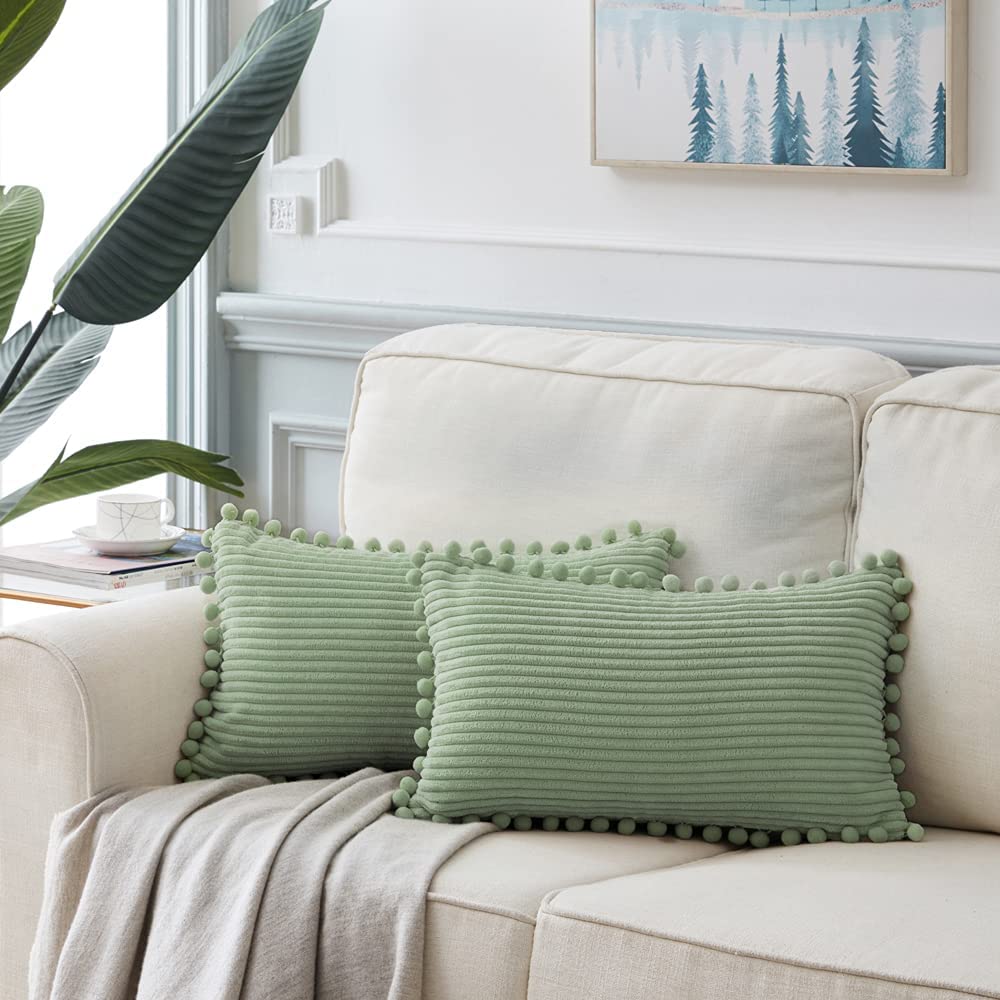 This pillow case brings forward a combination of elegance, trend, and fashion. This sage green lumbar corduroy cover will make your throw pillow sets the focus of attention. The intricately woven pom-poms add to the beauty.
They make it softer and fun to use. It can be a wonderful gift for your family and friends who have recently bought a new home or are planning to buy one. It can be a comforter for a small child or a pet due to its soft and friendly fabric.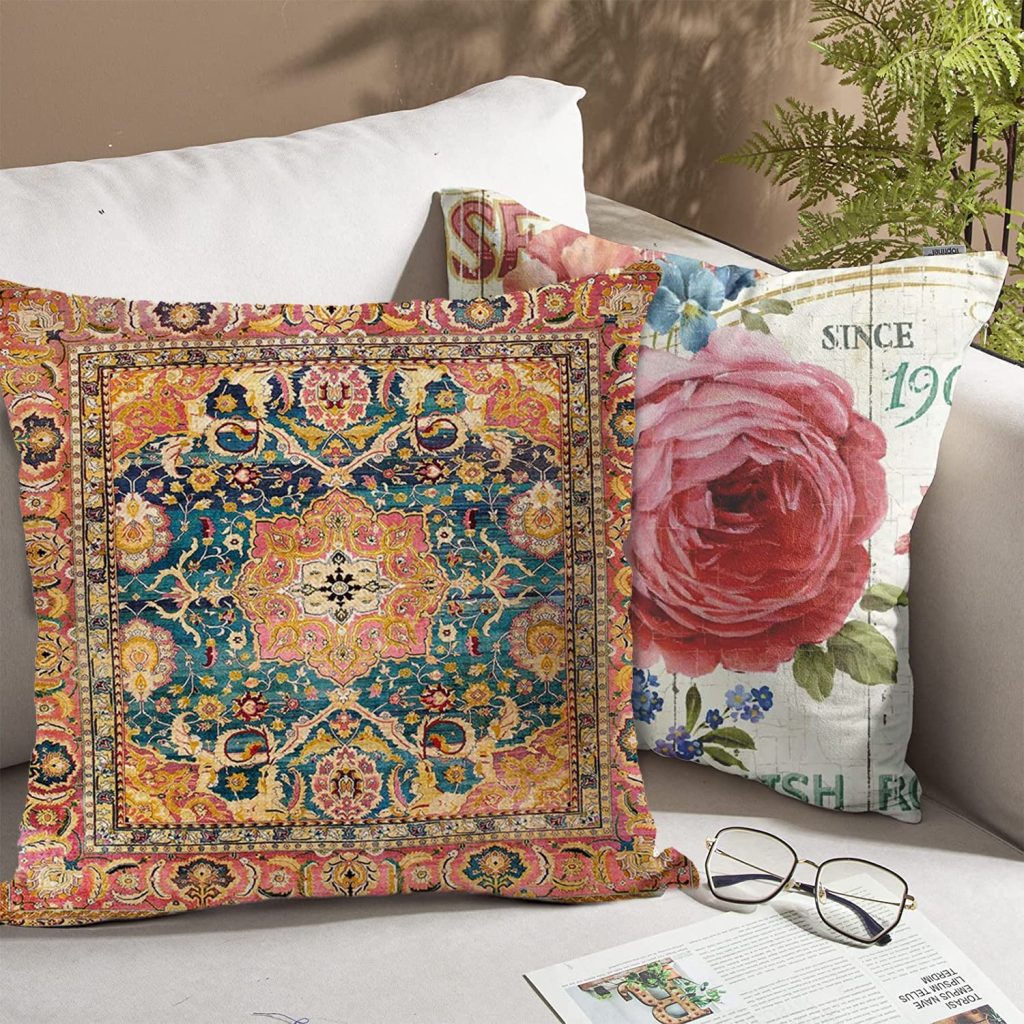 Tribal Tapestry is one of the most beautiful weavings that exhibits the creativity of a specific design. It is a textile art traditionally woven by hand on a loom. The threads used in making them are all hidden inside and not visible.
This design is made by taking inspiration from tribal tapestry and printed on the cover. The exquisite design of this pillowcase will bring your living space alive with creative energy.
These pillowcases are durable, soft, comfortable, and made with cotton & linen.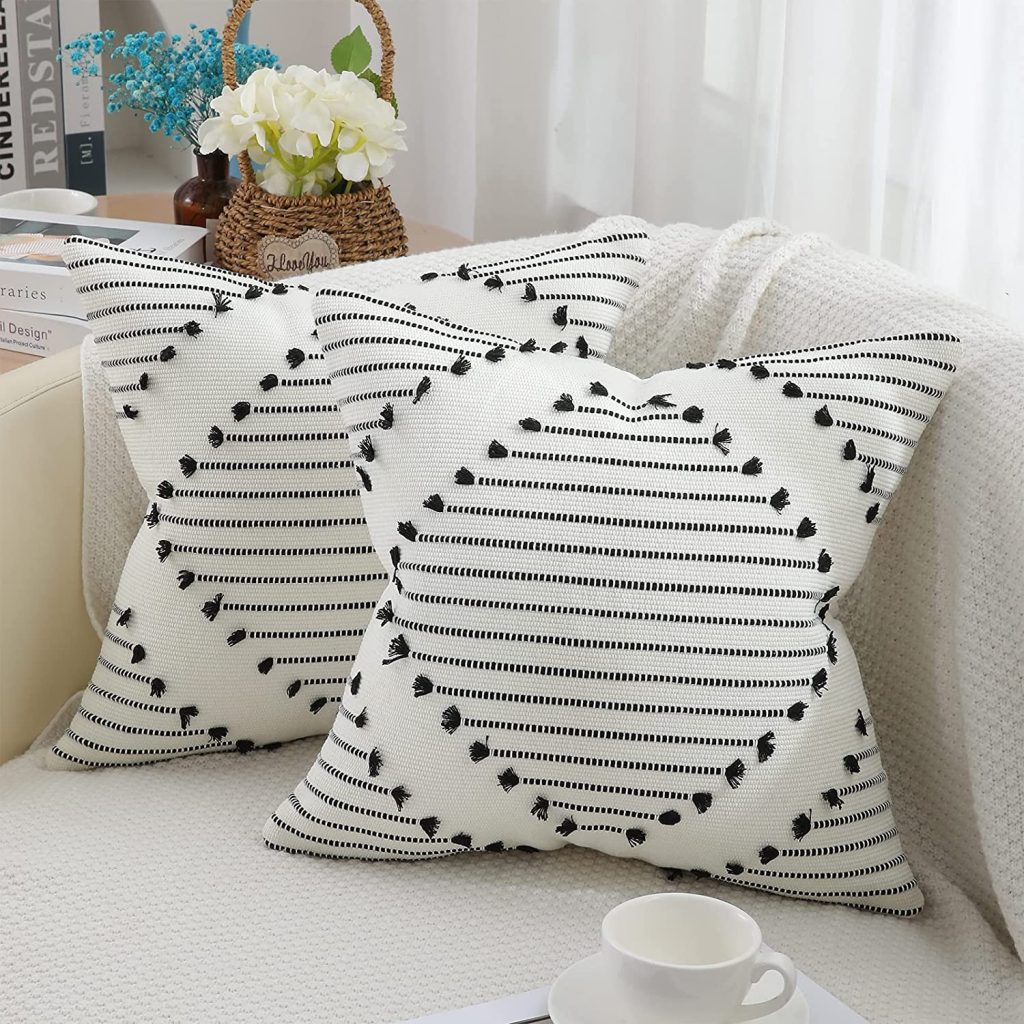 These throw pillowcases are enticing because of their high-quality fabric and professional design. The excellent craftsmanship and attention to detail enhance creativity in the living space.
The simple woven stripes end with small delicate tassels giving them a unique look.
This modern boho-style simple knitted pattern gives your farmhouse or living room an elegant look. It is the best choice if you want light colors for your throw pillow.
This round throw pillow with velvet fabric and a filling of PP Cotton is mesmerizing. The beautiful design and round shape give it a unique look from regular throw pillows.
This comfortable and soft pillow gives a classic and sophisticated look. Select any color from red, orange, black, blue, pink, emerald, beige, and grey.
It exhibits a perfect pumpkin look when placed on a surface. You can utilize this unique pillow as a bolster, cushion in a car, chair, or head pillow in an office/home.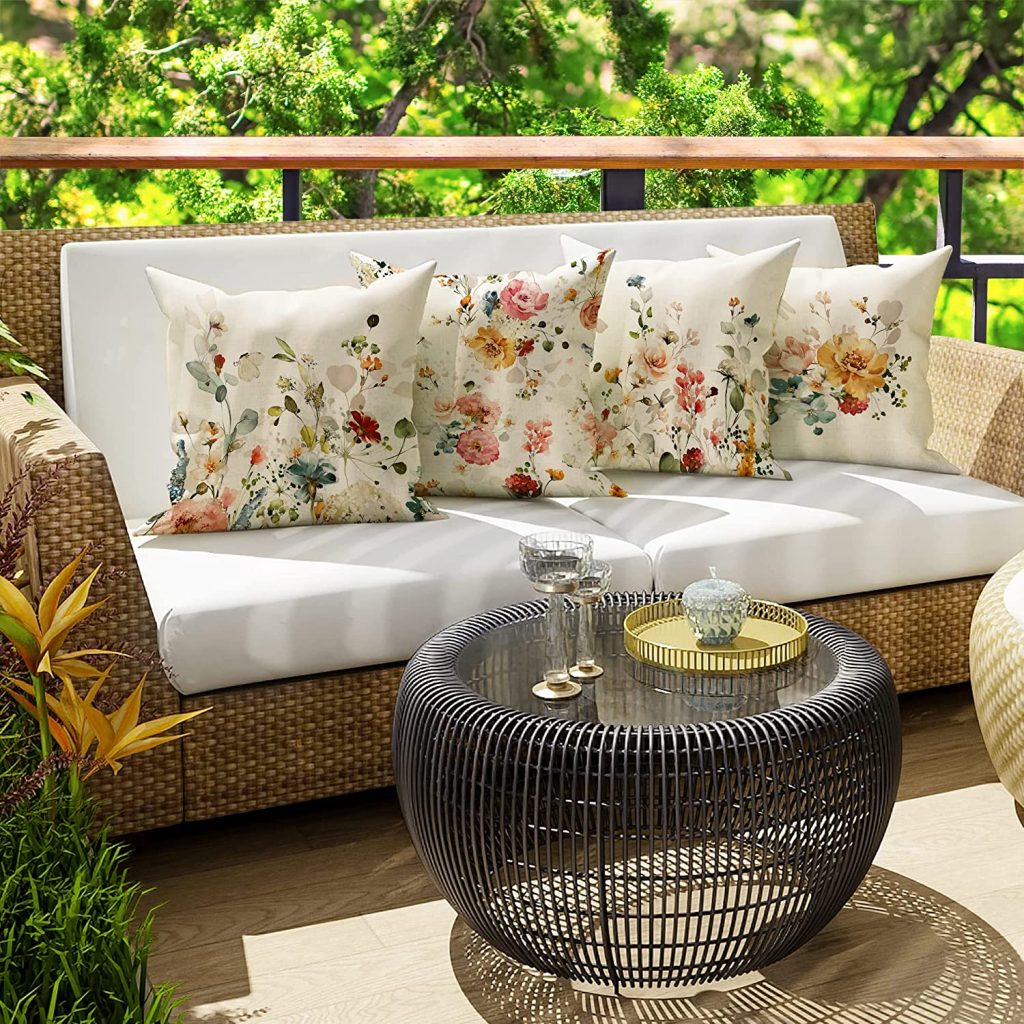 Give your outdoor furniture the perfect companion that assembles nature. These floral throw pillow covers enhance your outdoor arrangement.
They are made with high-quality linen fabric, easily washable and non-foldable. The colorful flowers will give your couch all the attention at any gathering.
They perfectly gel with the natural environment and can easily match the wooden furniture in your garden or open balcony.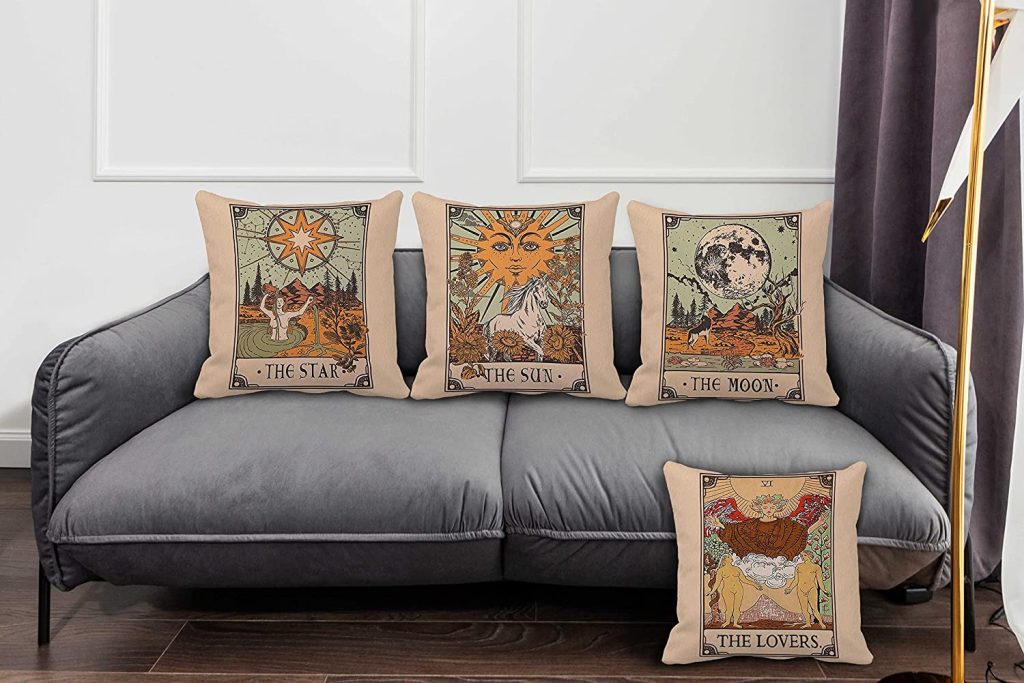 Are you passionate about astrology and want to be surrounded by it throughout the day? Or do you know someone who would love to have an astrology-themed interior in their space?
These pillow covers will be a perfect gift for yourself or any such friends or relatives. It covers the sign of the sun, moon, star, and lovers.
They are easy to maintain, skin-friendly, and use high-quality flannel material. Don't let your passion for astrology stay limited to you. Let the throw pillow sets in your space exhibit them too.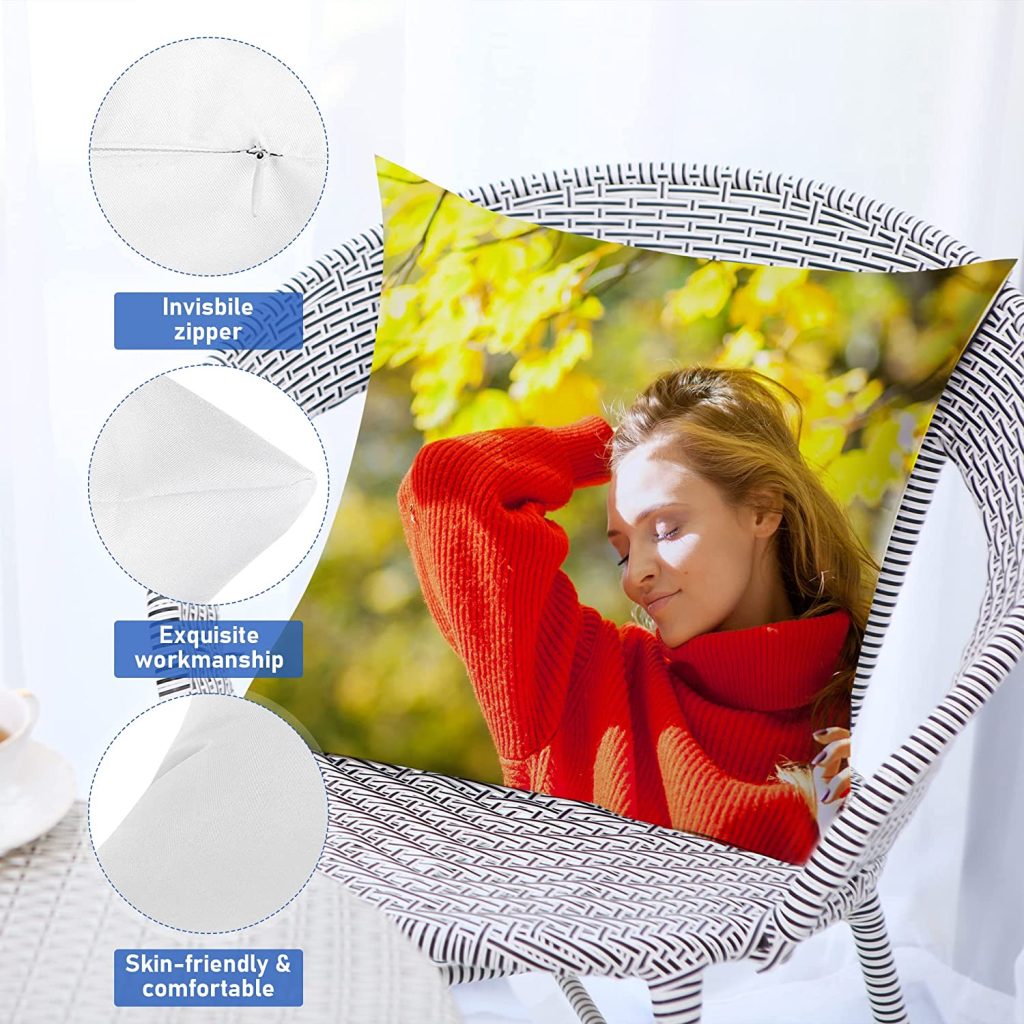 Here is an opportunity to customize your throw pillow sets. Add the photo or text you wish, and create a lifetime memory with this personalized pillow cover.
It can also be a perfect gift to your loved one or a unique pillow in your workspace. Occasions like Thanksgiving, Halloween, Birthday, Wedding, Graduation, and Christmas call for such a special gift.
See More: 14 Bay Window Curtain Ideas to Dress Up Your Entire Home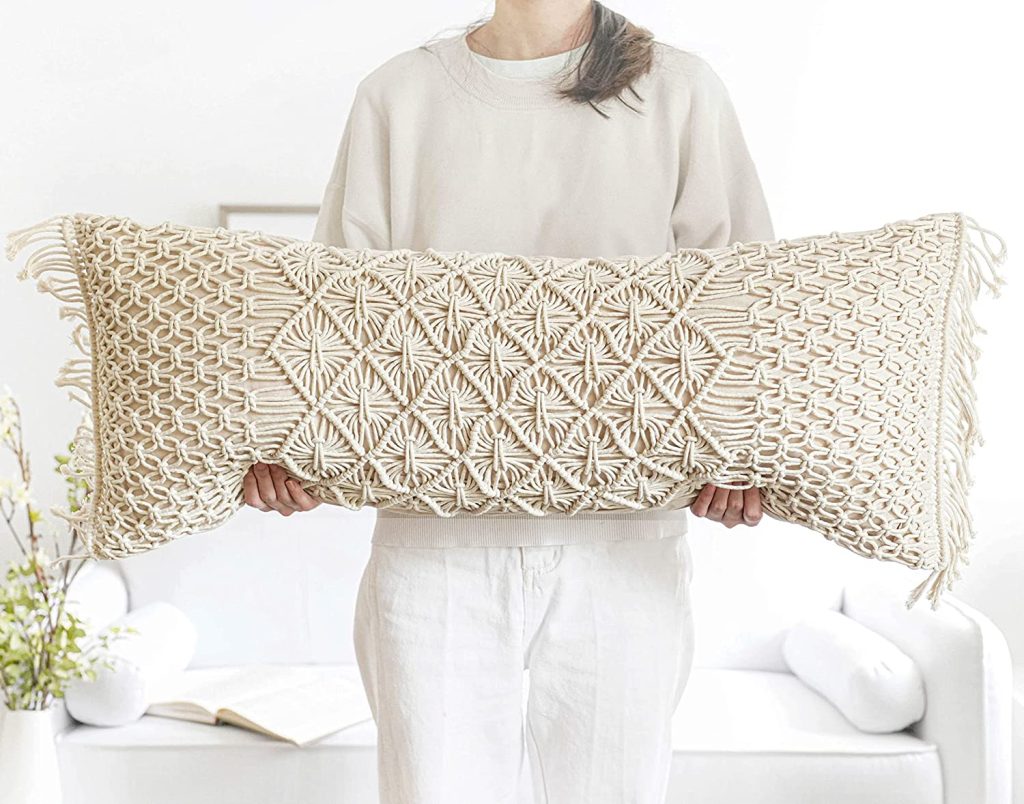 Are you looking for some handmade love in the form of a pillow cover? Your search ends here! The intricately crafted beige lumbar pillow cover is a handmade creation to add beauty to your living space.
Plain in the back and beautiful in the front, this pillow cover can be the best piece for your couch in the living room or support in your swing. Add this mild-toned color to your home to help you calm down.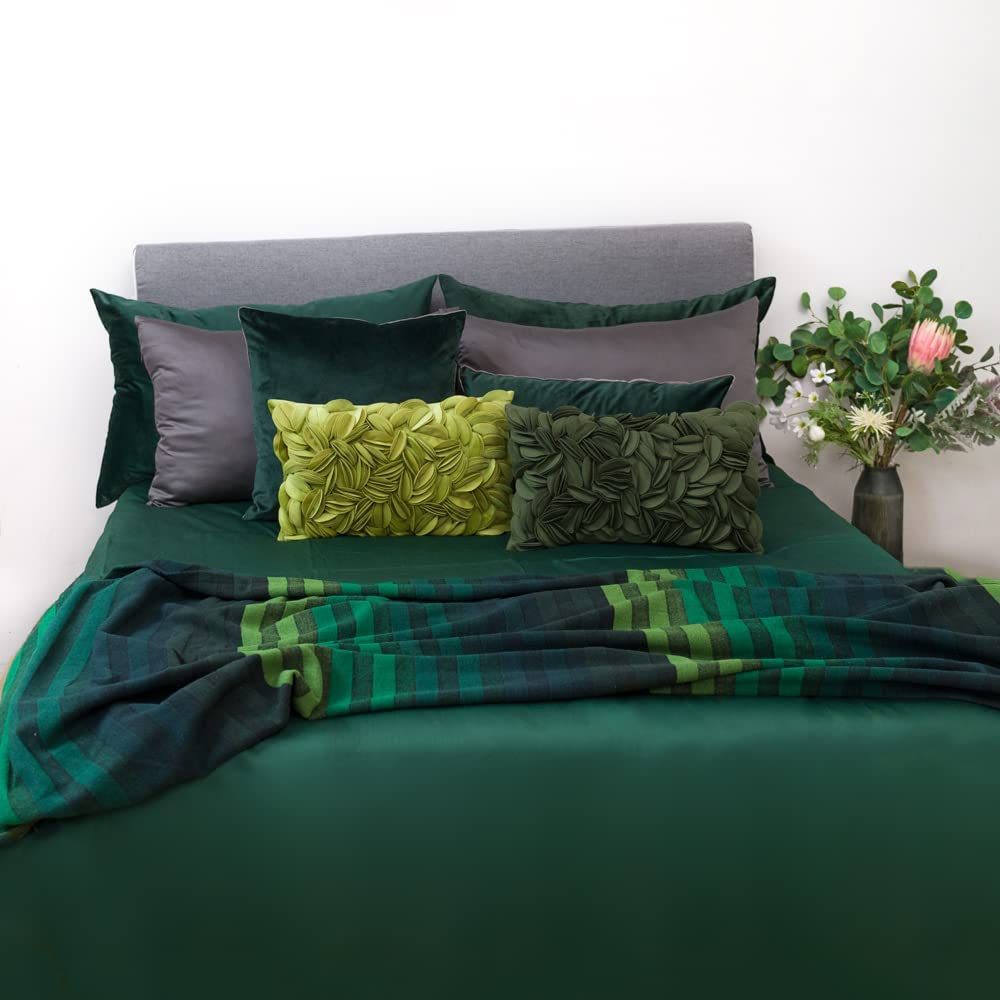 This 3D cover is a warm and beautiful delight for your eyes. The composition of high-quality wool and viscose makes it cozy and comfortable.
Enhance the beauty of your bed, sofa, couch, or chair with this artistic flower cushion cover. It is one of the perfect accessories for your home if you are in love with nature.
The securely sewn petals exhibit craftsmanship. Bring a feeling of spring into your living space with this 3D handmade cushion cover.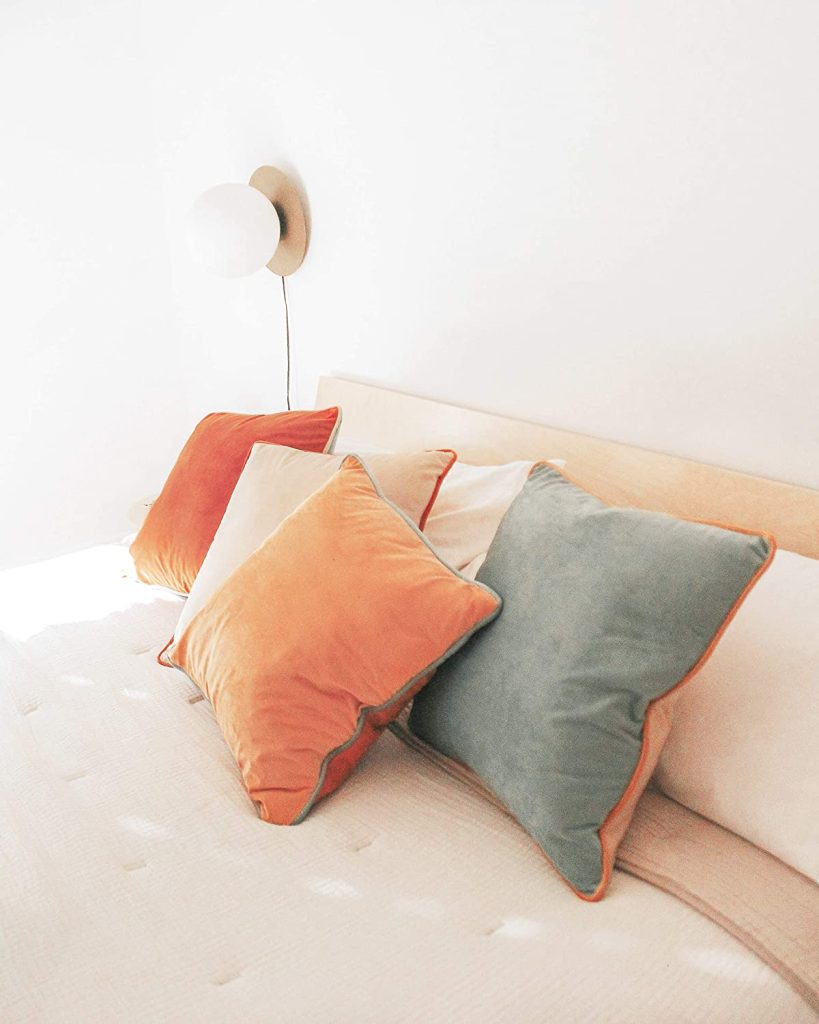 Looking for a simple yet elegant look for your throw pillow sets? These soft velvet cover cushions are the best for a professional set-up and a simple living space.
Showcase different shades of colors daily with solid colors and double-sided designs. Do not settle for the same color every day. Select a new one by just rotating the pillow.
Available in beige, teal, yellow, and orange, these cases will give you the perfect soothing effect in any set-up.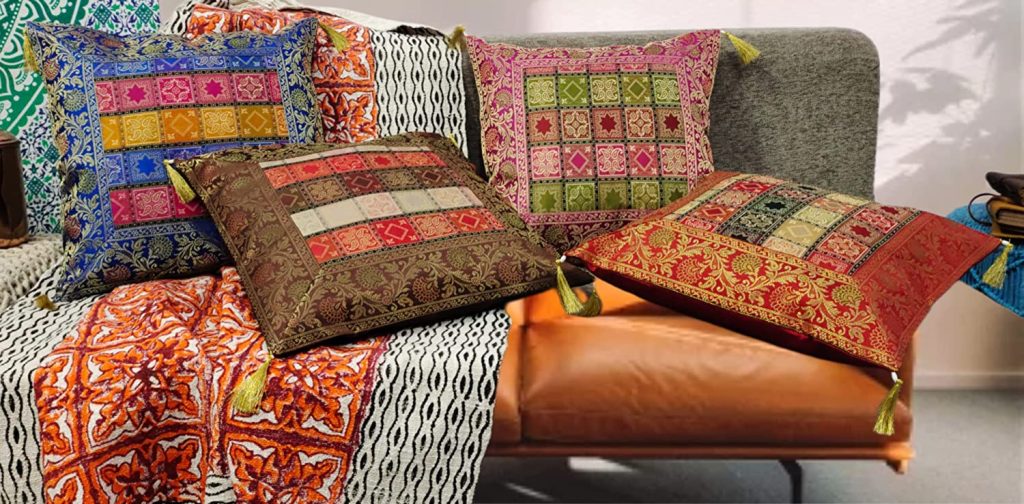 Are you fond of an ethnic look when it comes to your interior? These Indian ethnic decorative silk covers have eye-catching geometric patterns.
It gives a royal look with its mesmerizing hues and attractive patchwork. These silk covers are smooth and comforting to the skin.
The contrasting colors on the case can match almost any decor color, creating its utility for multiple spaces.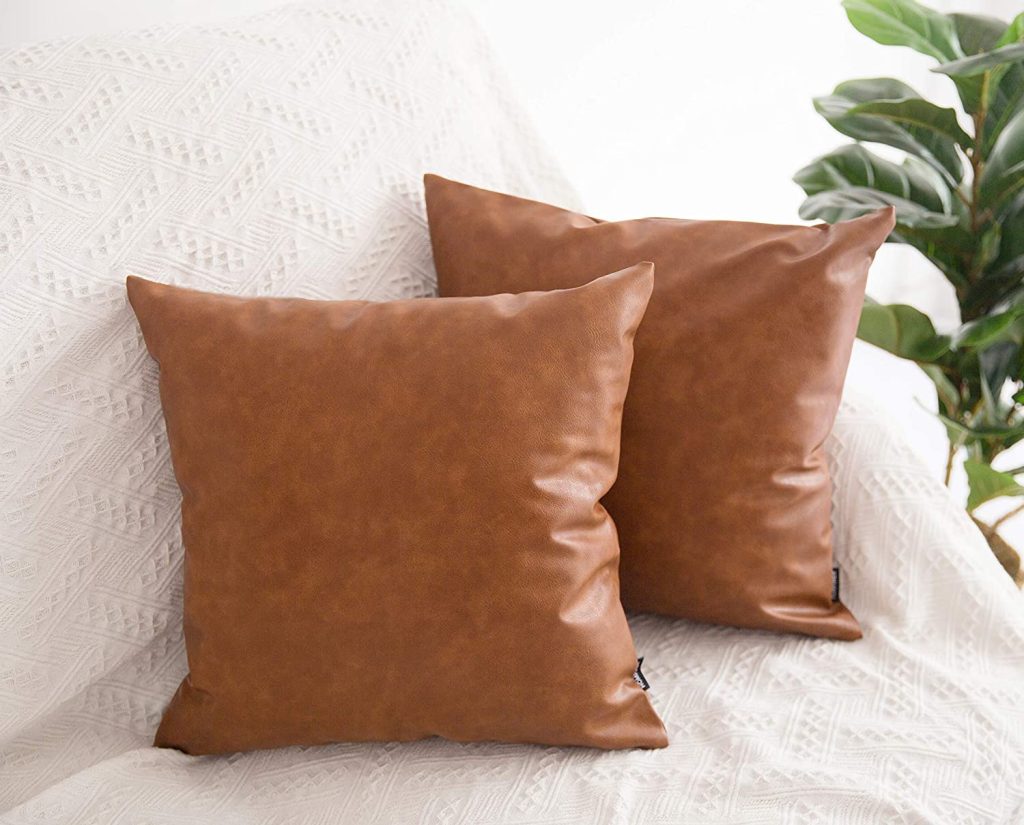 Are you fond of leather accessories but also love animals? This 100% vegan faux leather cover is for individuals like you. It feels like leather with a rich look.
This square-shaped pillow case is perfect for your bedroom, living room, or couch at your workplace.
Enjoy the presence of leather in your surroundings without feeling guilty about it with these vegan leather throw pillowcases.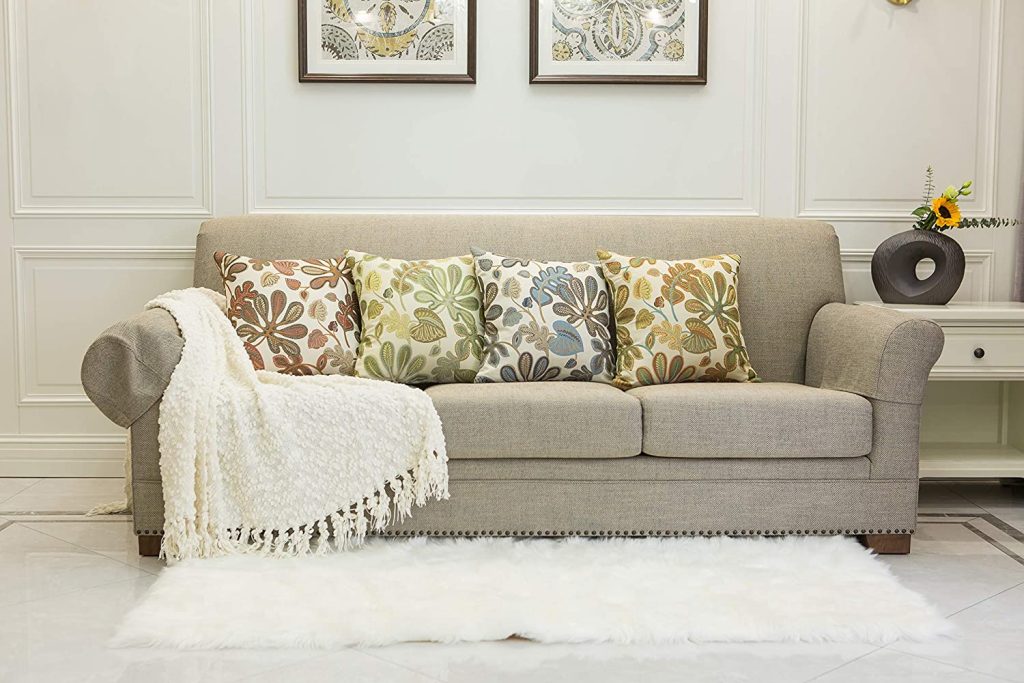 Want a tropical feel in your home? Or do you have a tropical home that needs a suitable interior? Whatever the concern, these tropical leaf pattern covers are the answer.
The front and back sides are durable due to high-quality jacquard fabric. Give your throw pillow sets a tropical vibe and bring your living space alive with these designs. Similar designs are available in blue, coral, green, and teal colors.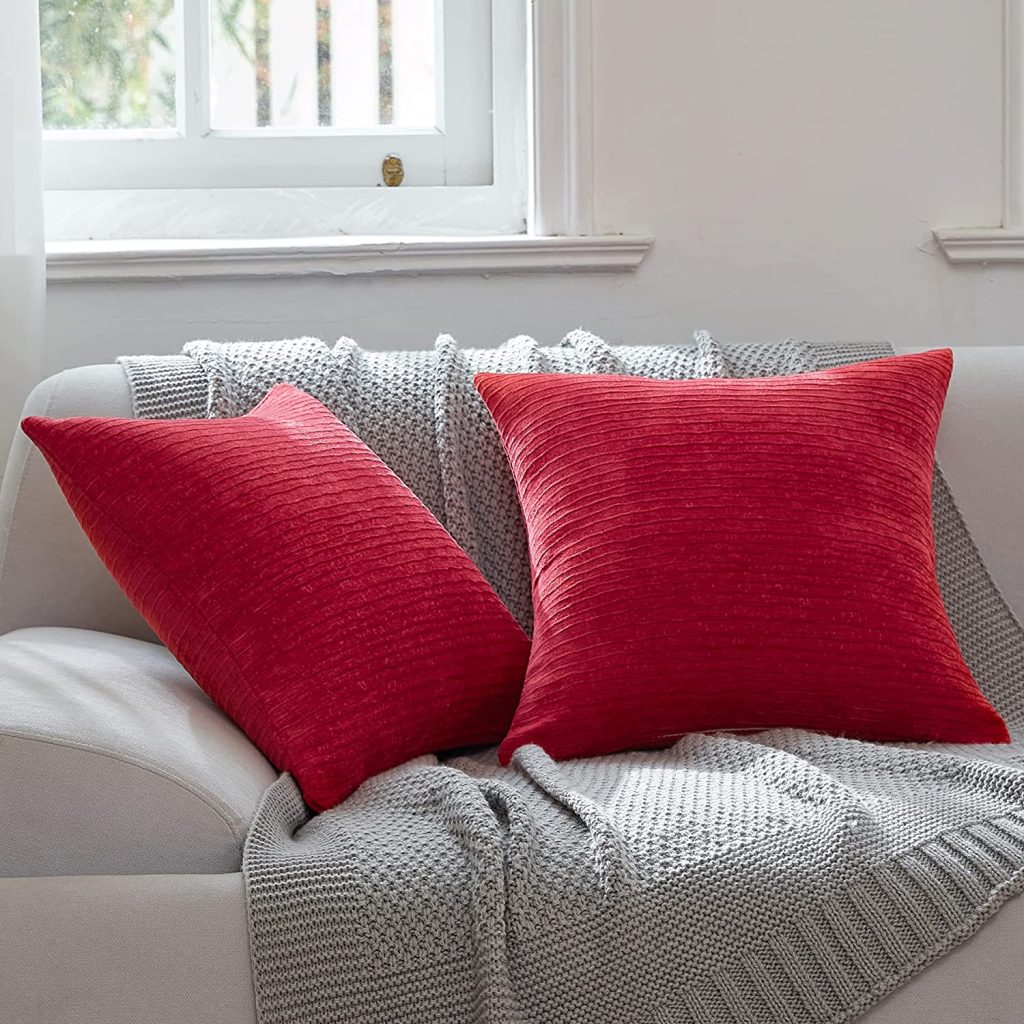 Did someone say Christmas decoration? Well, these pillows should be on the list of decorative items. Instead of your boring pillow covers, you can have a unique texture to your throw pillow sets.
The red color adds to the essence of the celebration and gives your home festive vibes. These pillows are an easy and cost-effective way to decorate your space for Christmas or any other festival.
Related: Check out These 21 Beautiful Blue Couches to Add to Your Living Room
Keep These Points in Mind While Selecting Pillow Covers!
Choice of Fabric – Every fabric has its unique qualities. Cotton is soft and easily washable, whereas polyester is better for spaces where the use of a pillow is extensive. Woolen material is delicate, and leather needs maintenance in the long term. Knowing the usage is extremely necessary before selecting the fabric.
Size and Shapes – Selecting the right size and shapes can be difficult if it is your first time. Do not hesitate to explore and try out new ways. Experiment with unique ideas that pop up in your mind and stick to the ones that give the best visuals and feel.
Designs – Consider your home decor before selecting a specific design or print for your cover. The pattern/color must match or complement the interior of your home.
Final Words
Selecting the right design, color, shape, and texture can be confusing for your throw pillow sets. This extensive list shares some of the best prints to help you make that decision easy. Considering the interiors is the best way to select a suitable cover.
However, it's good to consult your heart and feel the space. That helps you identify an appropriate & satisfying design for the living space.
Related: 20 Adorable Baby Shower Themes for Your Little Girl
Frequently Asked Questions
How Do You Know What Size Throw Pillow Cover to Get?
To measure the existing cover, remove the pillow cover from the pillow. Turn the cover inside out and then measure the height and width after placing it on a surface. This is the accurate measure of the cover.
Should Pillow Covers Be the Same Size as Pillows?
To get a fluffy and plump feel, covers should be smaller than the size of pillows. Make sure to keep the pillow size 1 to 4 inches larger than the cover. If the pillow is small and the cover is huge, it will look saggy and flat. A larger pillow will fit well and have full corners.
Other Articles