12 Best Teak Dining Sets to Enhance Your Dining Experience
Are you looking to buy a teak outdoor dining table for your backyard, garden, patio, or poolside area? Outdoor dining tables are a great way to spend quality time with your loved ones amidst nature....
Are you looking to buy a teak outdoor dining table for your backyard, garden, patio, or poolside area? Outdoor dining tables are a great way to spend quality time with your loved ones amidst nature. The combination of fresh air and joyful moments is truly unbeatable. However, how to select a suitable outdoor dining set for your space?
This list covers the best teak wood outdoor dining set. Whether you are looking for a gathering, picnic, breakfast, or an intimate dinner with your loved ones, we have a suitable set of tables and chairs on the list.
Explore the 12 best teak wood dining set in this blog and select the ones that meet your need.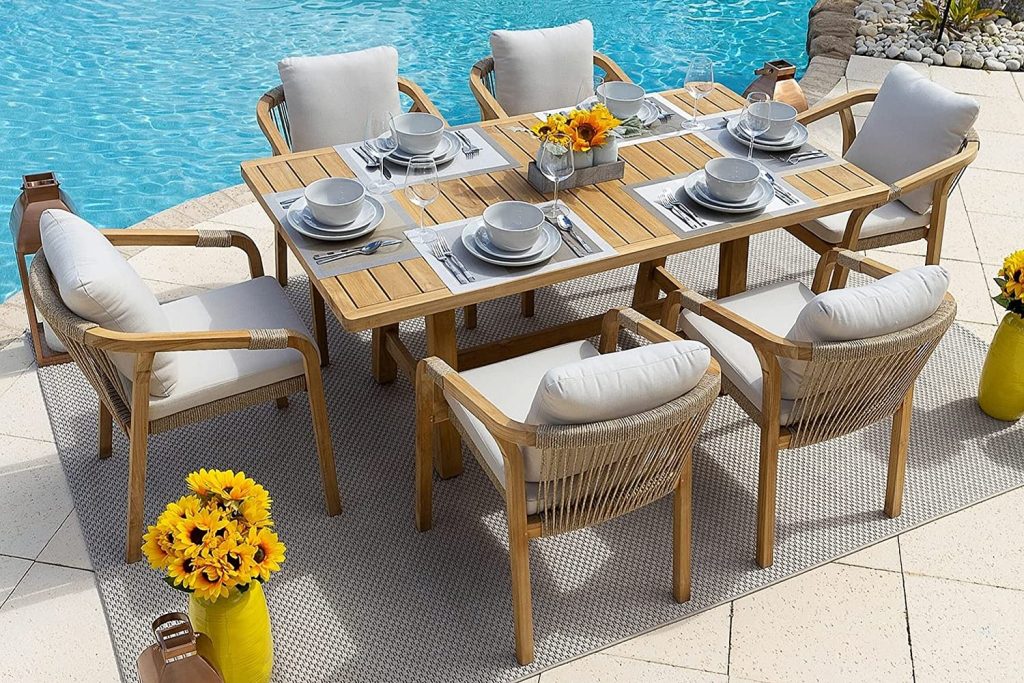 Perfect for a poolside party to a casual weekend gathering, this teakwood outdoor dining table fits perfectly next to your pool. The gorgeous teak wood frames perfectly combine natural materials and contemporary designs. The intricate ropework gives the chairs a refined and artistic look to the chairs. Supportive push-back pillows for chairs, a beautiful flower vase, and glass cutlery can enhance the look of this dining set. A beige-colored boho-style table runner will give the whole space a rustic and chic look.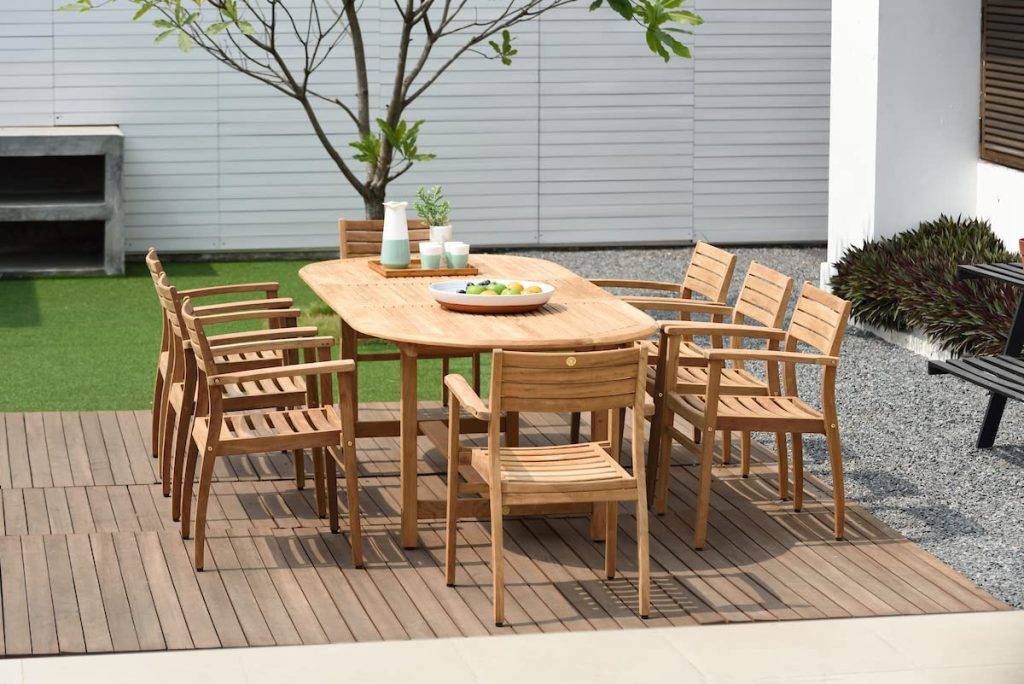 Enjoy your outdoor meals with style and comfort with this oval extendable dining set. The sturdy and durable dining is capable of withstanding all weather types. Armchairs provide a comfortable experience and are easy to carry around and move. This extendable set allows you to invite some more guests/friends to your weekend outdoor parties. Adorn the teak outdoor dining table beautifully with some plants in the surroundings. A beautiful flower vase in the center enhances the beauty of your gathering. You can place artificial or natural plants based on your availability to care for them.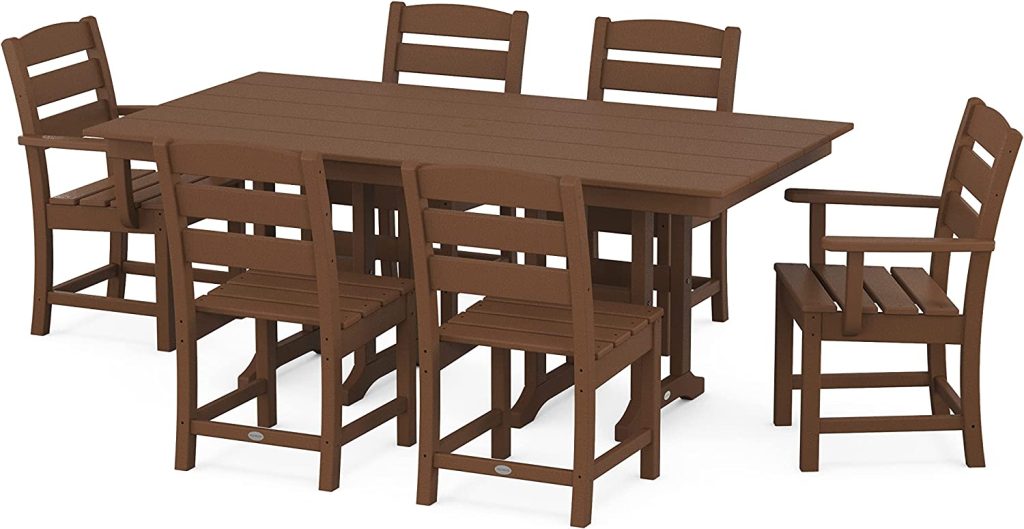 Are you fond of the simplicity and dark tones of furniture? Then, this lake-side teak outdoor dining table is perfect for your space. The high-quality wood is not prone to splinter, crack, chip, or peel during adverse weather. It can easily withstand any climate with sun, snow, and winter. This dining set is available in black, mahogany, sand, and white. A metal lotus light flower is a beautiful decor for this piece of furniture. It acts as a centerpiece during the day and illuminates light at night. This solar-based flower is waterproof and can withstand extreme weather for outdoor uses.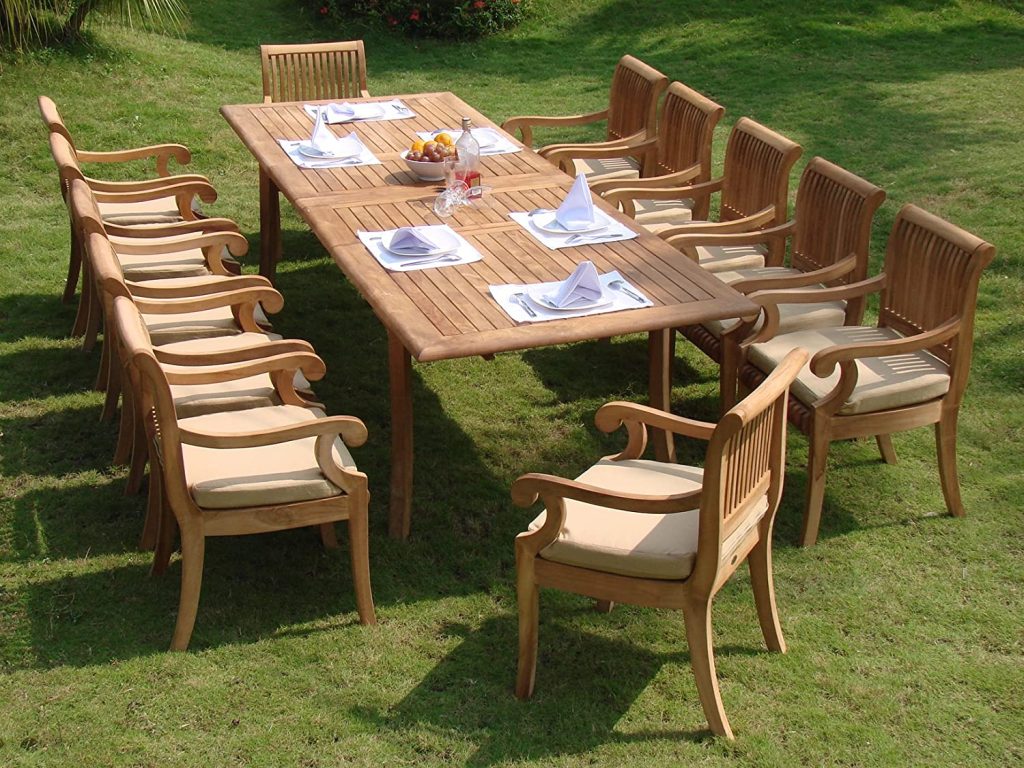 Are you looking for a comfortable table for your largest family gathering? Whether planning a Thanksgiving meal or laying out a buffet for Christmas Eve, this will serve you the best. Extend the length of this table with minimal effort through the butterfly leaf extensions. Guests can relax in the comfortable armchair while brewing fruitful conversations. Place this distressed white vase on the macrame table runner to give the teak outdoor dining table an aesthetic look with boho decor.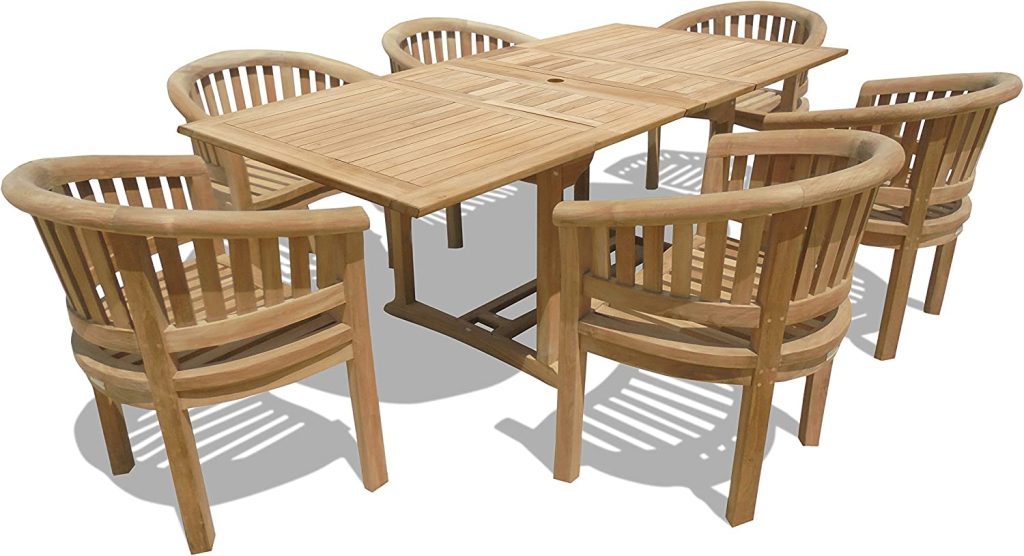 This Grade A Teakwood outdoor dining table set has a heavier concentration of teak oil, making it waterproof and increasing the longevity outdoors. Easy on the eyes, this dining set is of a light brown shade. The curved armchairs offer extreme comfort and a modern look to your outdoor dining experience. Fluffy cushions will give the guests a lifetime experience with these plush armchairs. Give your guests enough space to enjoy the meal with the extendible property. Add the beauty of nature to your outdoor dining with linen reversible placemats.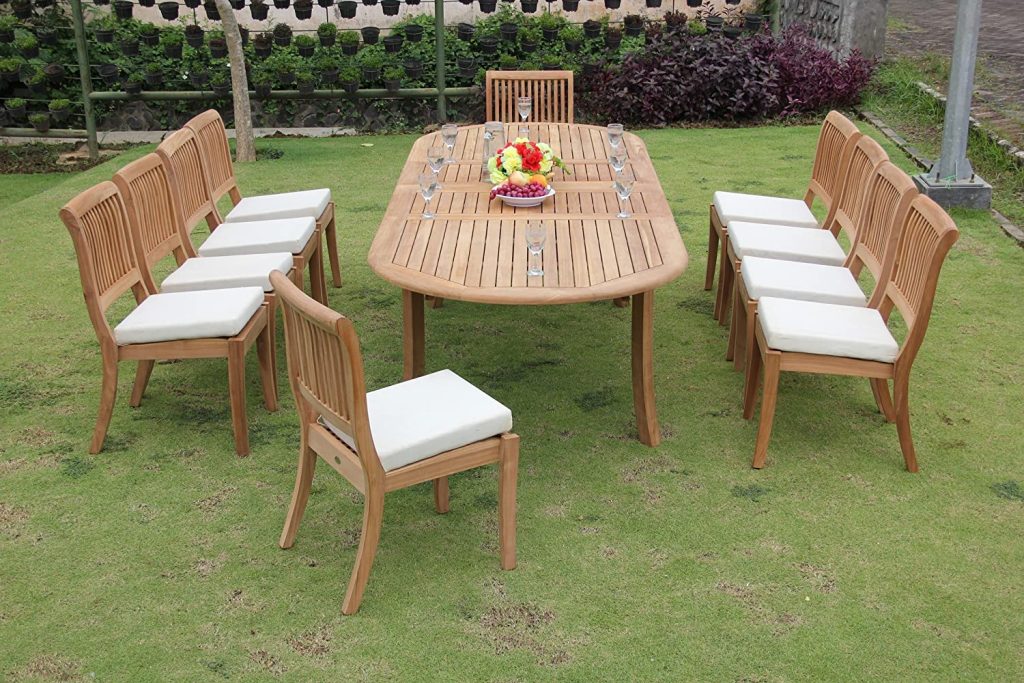 May it be the heat or rain, this dining set will help you enjoy every season. With a hole in the center, you can easily insert an umbrella to get shade while dining. This design also provides a cover-up if you choose not to use the hole. This luxurious teak outdoor dining table seat uses A-Grade wood. An oval-shaped waterproof tableclothwill add flair to the look of the dining set. Washable tablecloths are easy to reuse and suit different occasions like holiday celebrations, picnic parties, exhibitions, and outdoor celebrations.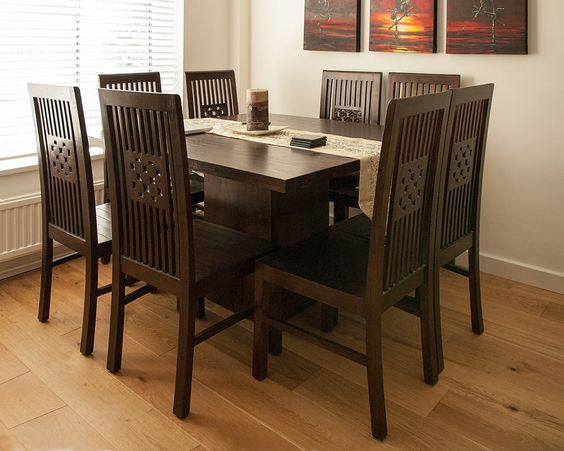 If you love intricate carving and an artistic look in your dining area, then this teak wood outdoor dining table set is the best. The carved rustic look in your backyard or garden will amaze the guests at every gathering. The beautiful white table runner with a candle in the middle gives it a simple yet elegant look. Perfect for indoor and outdoor, this dining set is best for an evening dinner or early morning breakfast. Opt for solar-powered or remote control-operated candles to prevent the candles from blowing off in windy situations.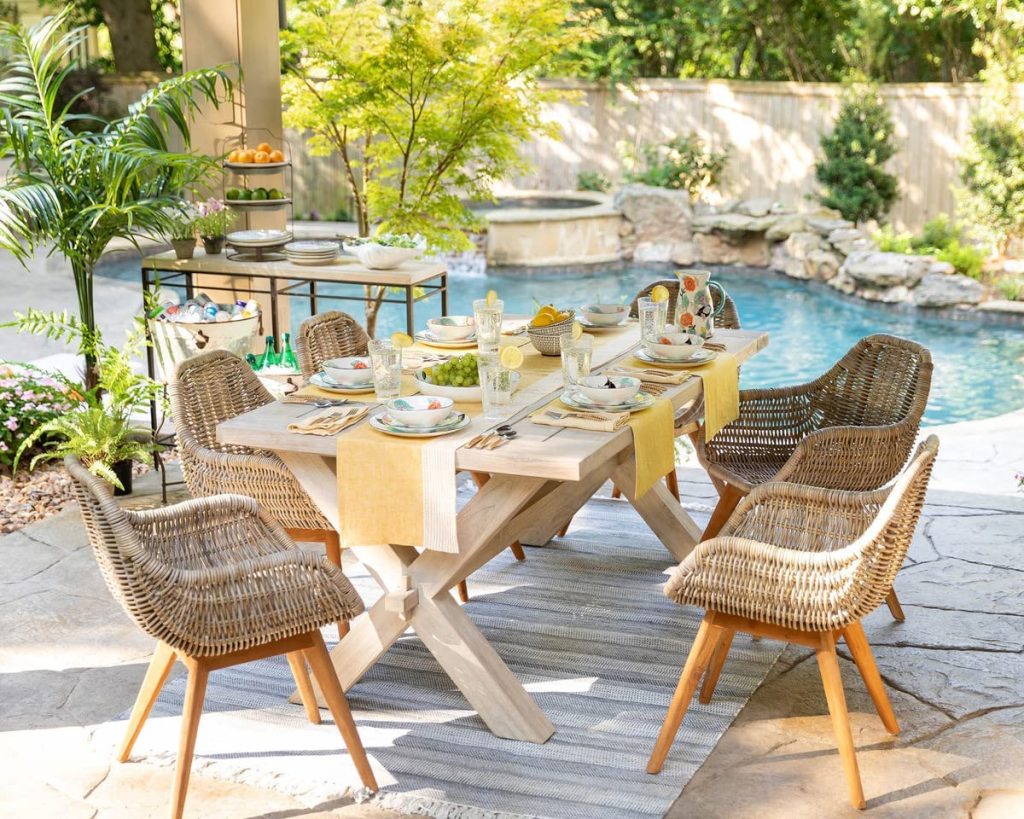 Are you looking for outdoor furniture that matches the coastal area? This nautical teak outdoor dining table with rattan chairs is perfect for your beach house or a lake-side space. The warm and comforting nautical furniture brings a coastal cottage feel. Beautifully curated natural rattan chairs and shiny trestle legs on the table give this dining set a rustic look. It is a gorgeous addition to any poolside, patio, or beach house. A floral dinnerware set complements this nautical dining set and enhances the beauty of a plain table runner.
9. Curved Bench Dining Set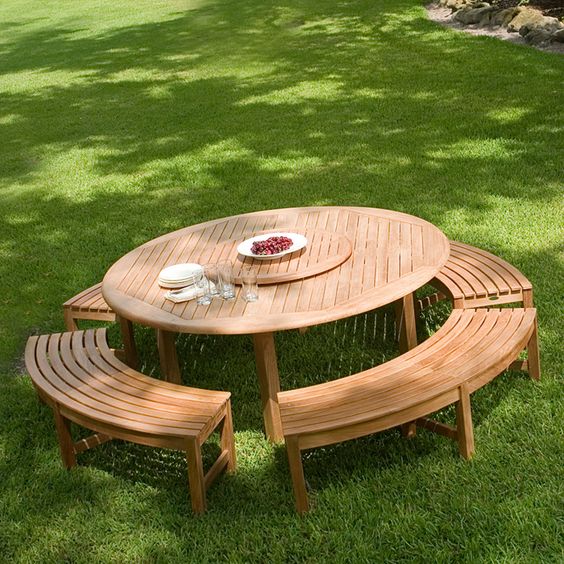 It is a perfect teak wood outdoor dining table set for picnics and playtime. The well-crafted benches complement the body curves giving a better sitting experience. The umbrella hole allows you to enjoy without breaks in any weather. Easy to assemble, adorn these curved benches with customized cushions for a better experience. You can keep the refreshments and condiments within reach on the rotating tray in the center. A washable linen round tablecloth is the best way to style your round dining with a floral design.
10. Teak Dining Benches and Table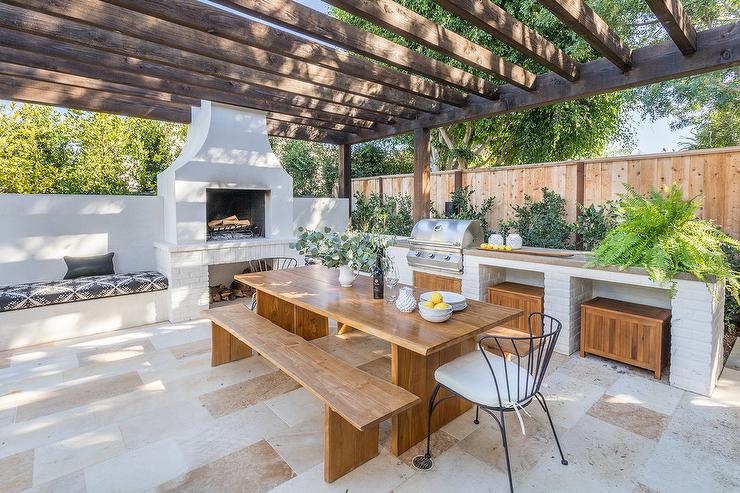 Enhance your dining experience in the pergola with this teak outdoor dining table set. The rectangular table with a perfect finish gives a shiny look. Comfortably tuck yourself into the teak wood benches and enjoy your cozy meal. The light tone of the furniture complements the white walls and fireplace. Adorn this classic table with a plant or artistic centerpiece. After a long day of playing and enjoying together, this dining set hosts your family and friends for a loving conversation over a delicious meal.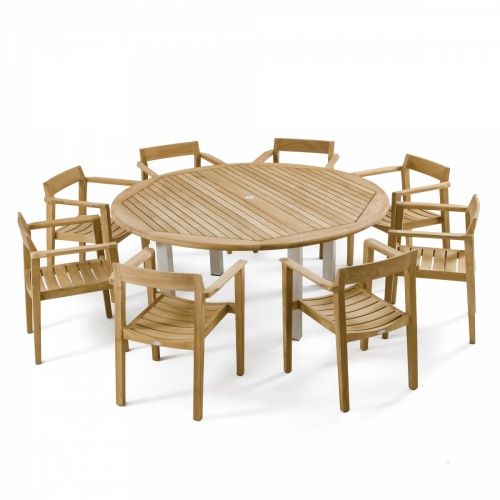 Crafted with teak and stainless steel, this teak wood outdoor dining table set represents traditional craftsmanship and modern design. The combination of two powerful materials makes it highly durable and long-lasting. The use of stainless steel gives this dining set a nautical beauty. It is perfect for a round table outdoor conference in a professional place and also for a personal gathering. Enhance the look and experience of the chair with comfortable cushions of white color. Adorn the table with a plain round cloth to give it a professional look and a designed cloth for personal gatherings.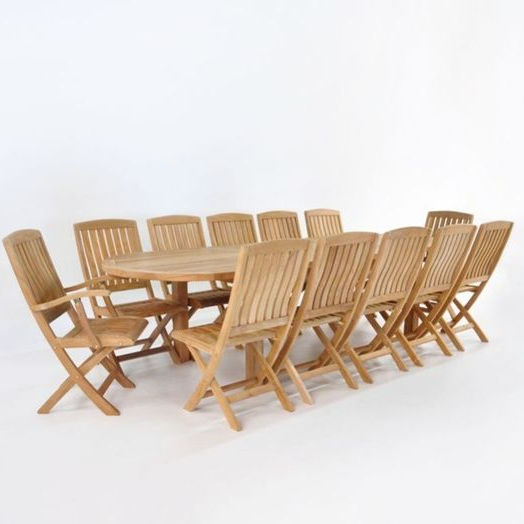 One of the largest teak outdoor dining table sets comes with 12 chairs and an extendable table up to 117″. The como foldable armchairs and side chairs complement the extensive table. The curved slats on the seat look attractive and provide the needed support to the guests for longer sittings. This versatile and gorgeous set of dining is perfect for community gatherings. These chairs are lightweight and easy to fold, making them easily transferrable. A long table runner would do enough justice in uplifting the whole look of this dining set.
Essentials to Style Your Teak Outdoor Dining Table Set
1. Table Runner and Table Cloth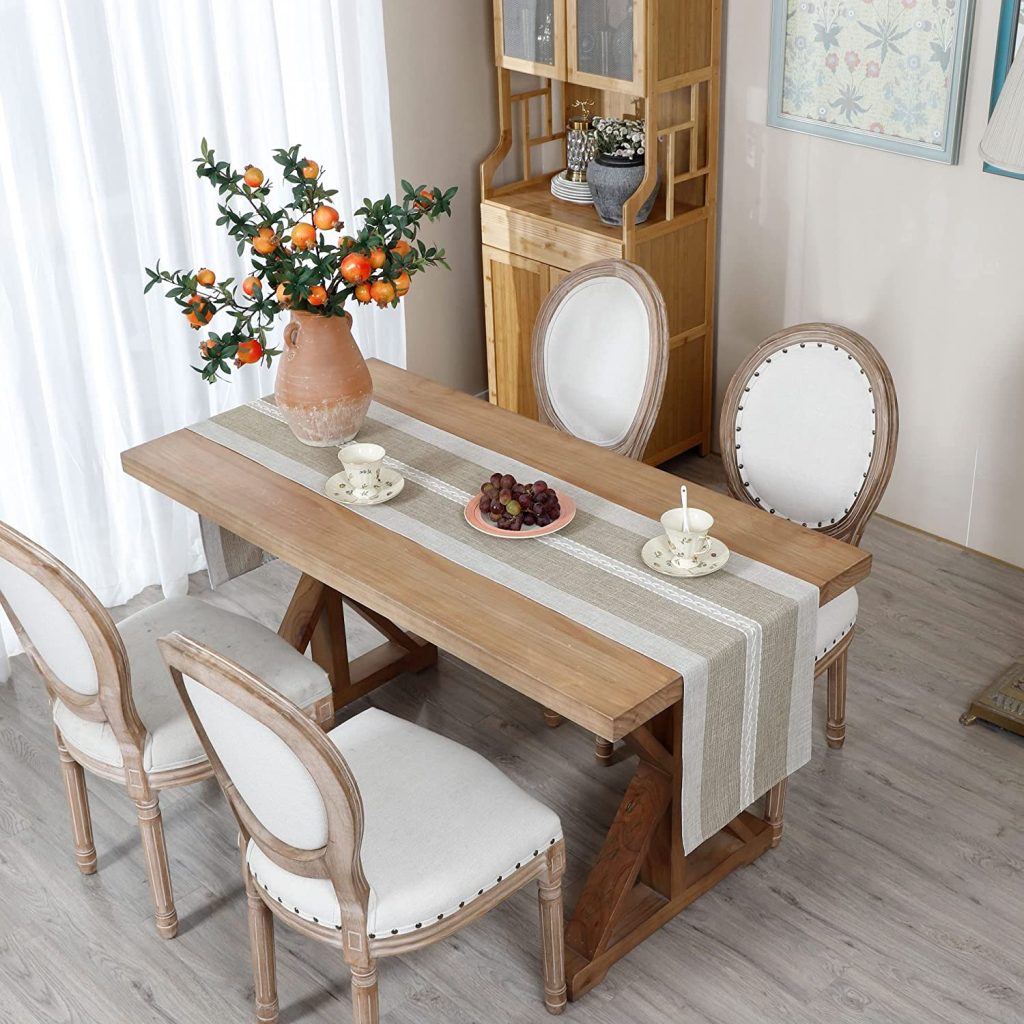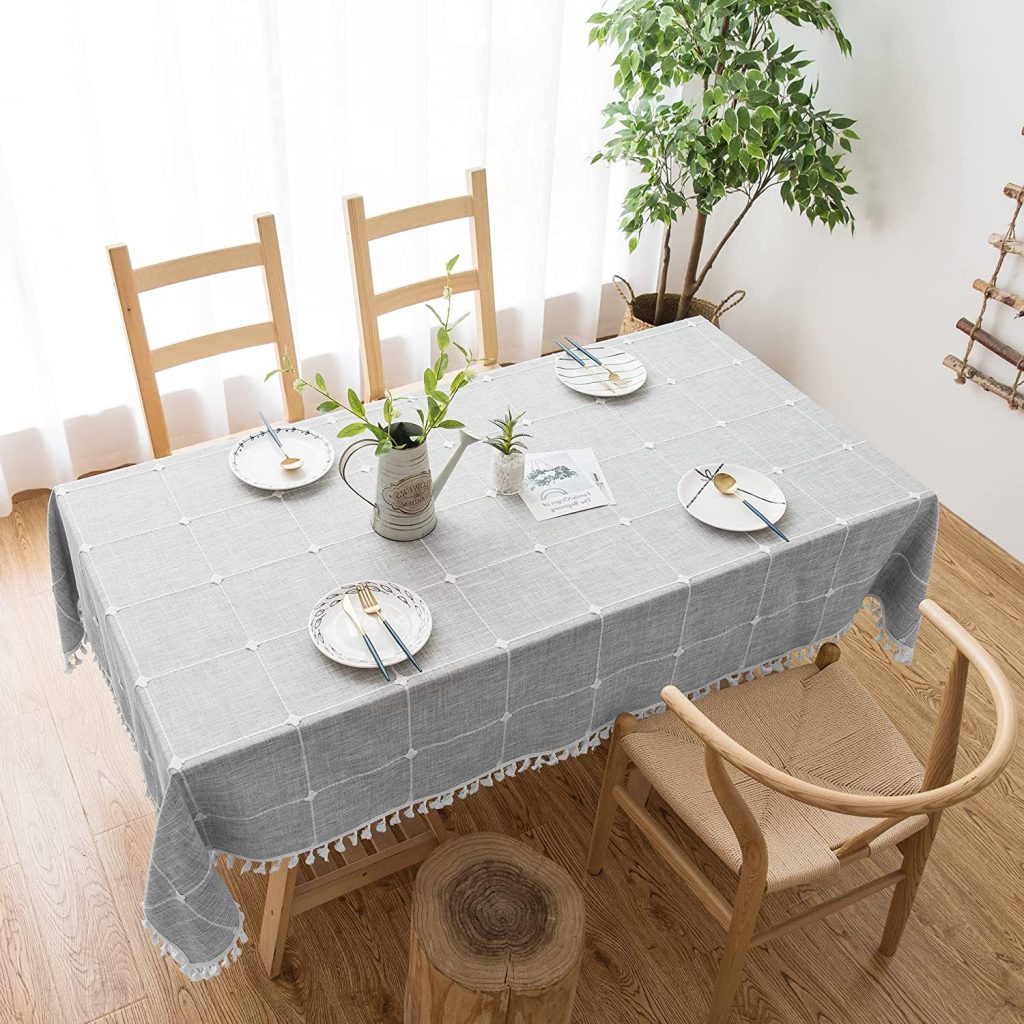 Table runners are also visually appealing and protect the surface from scratch and harm. They enhance the view of the whole dining set and give a symmetrical finish. The tablecloth is a piece of cloth that covers the whole surface, whereas table runners are narrower and cover only the center. Tablecloth and runner can be used together or individually. It all depends upon the aesthetic you wish to create with your outdoor setting.
2. Placemats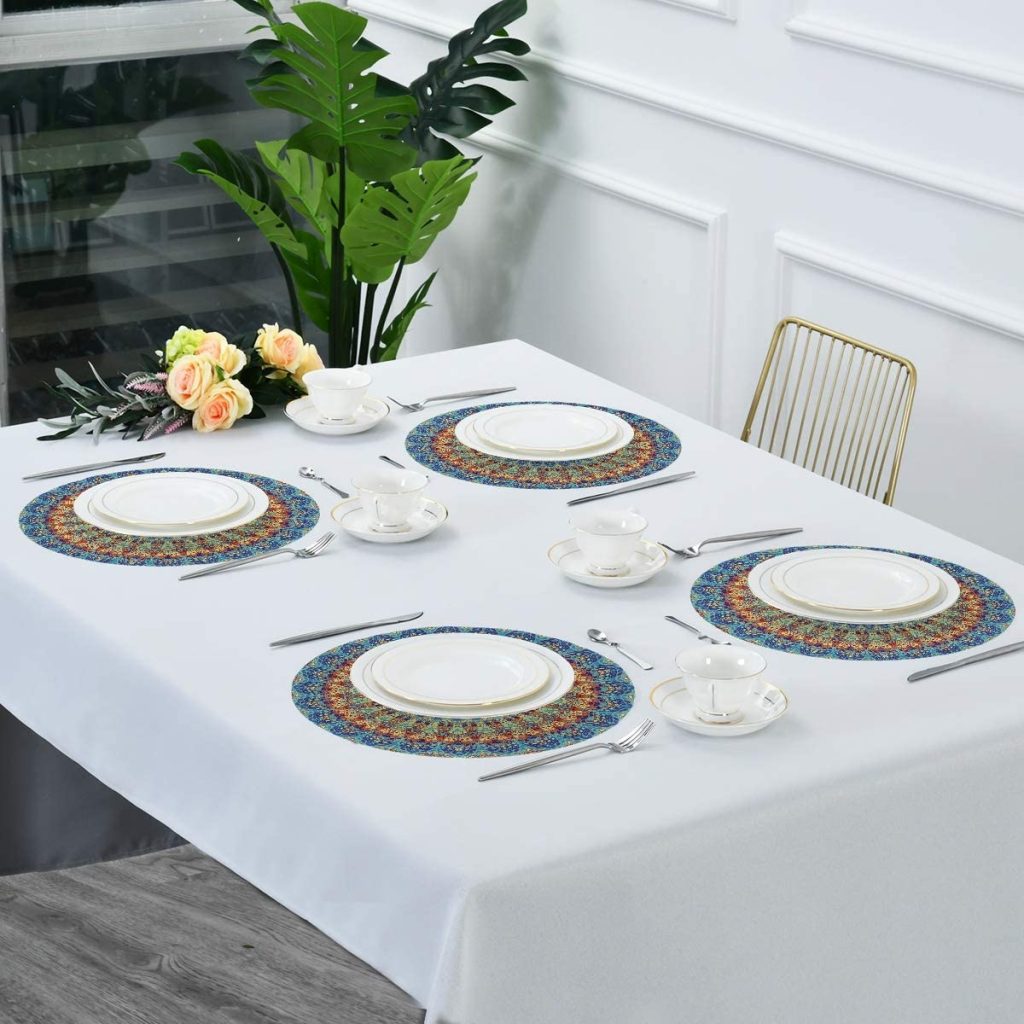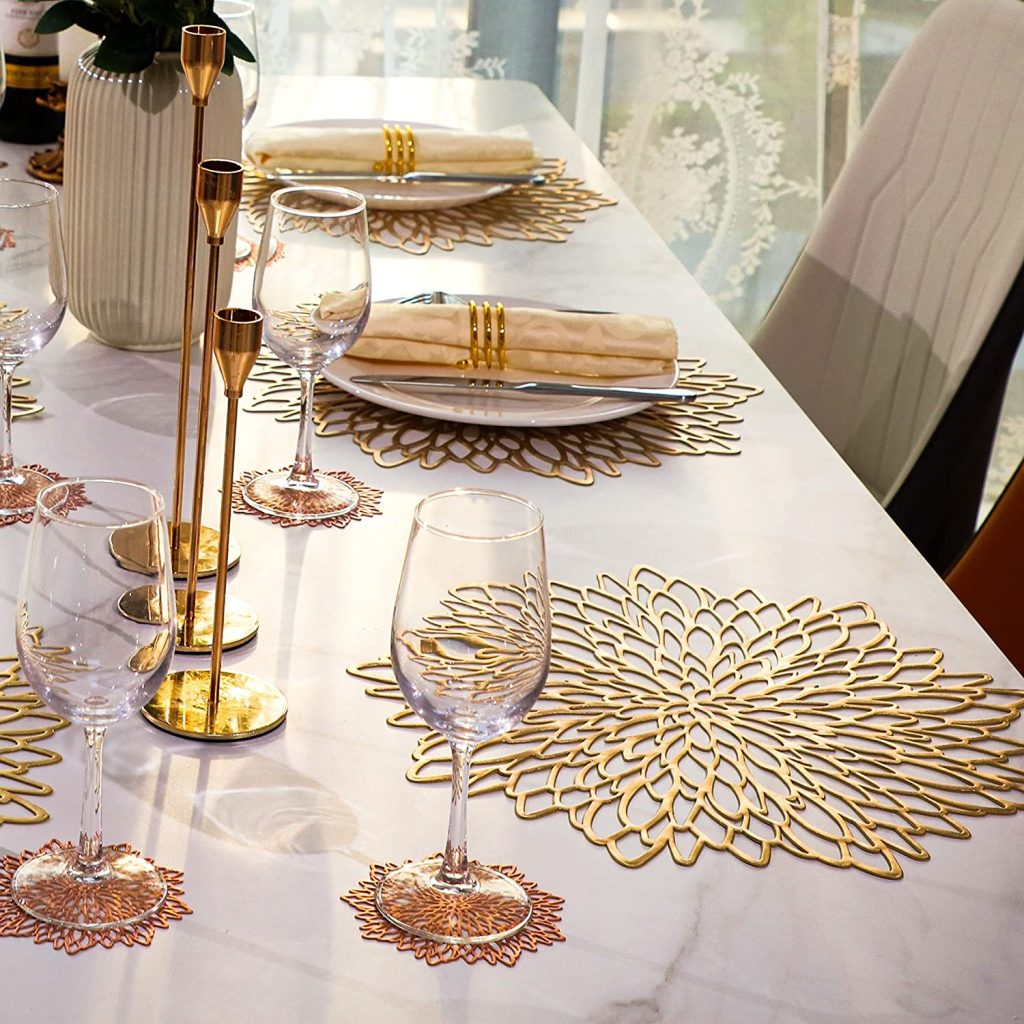 Placemats save the surface from heat damage, food stains, and watermarks. Along with protecting, it also adds to the beauty of the dining area. The type of dining set, the color of the tablecloth/runner, and the ambiance help in selecting a suitable placemat. The placemats should be heat-resistant, washable, and durable. You can further explore and experiment with the fabric, design, and shape. A simple linen placemat with a rustic look will suit a teak wood outdoor dining table.
3. Centerpiece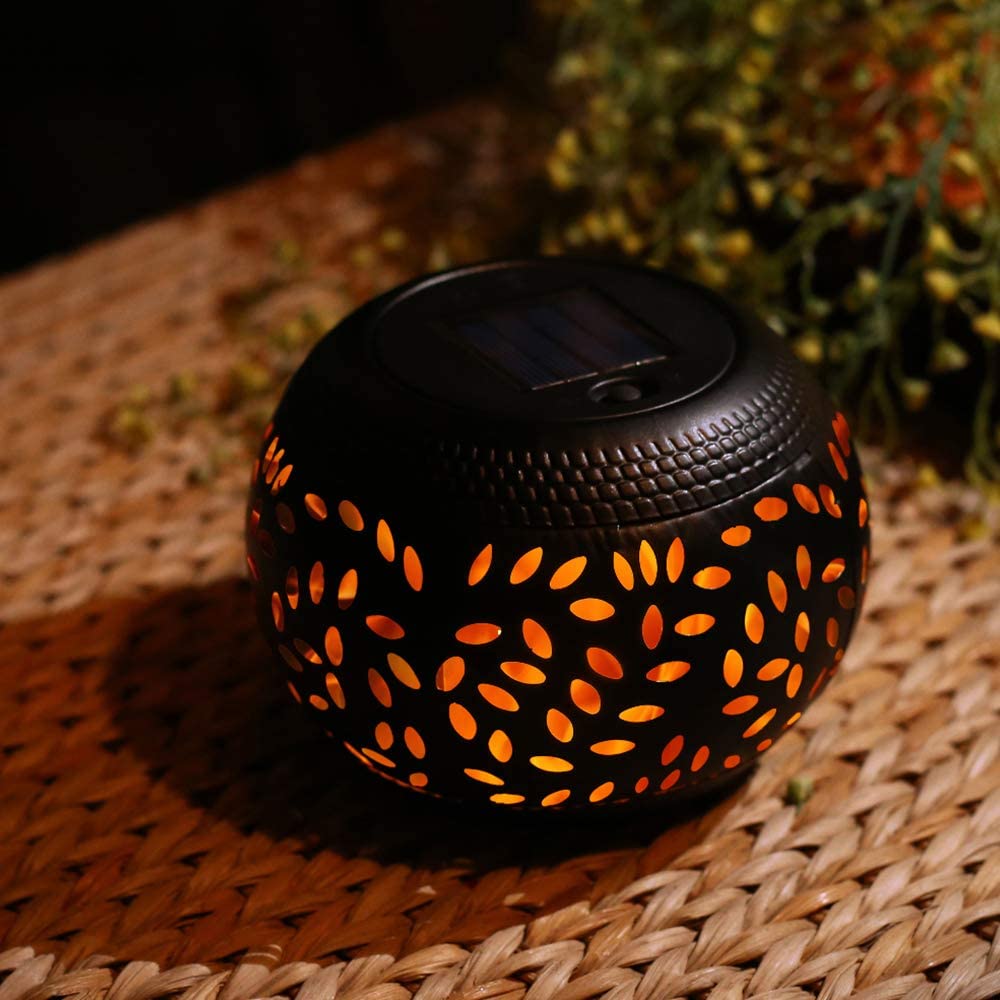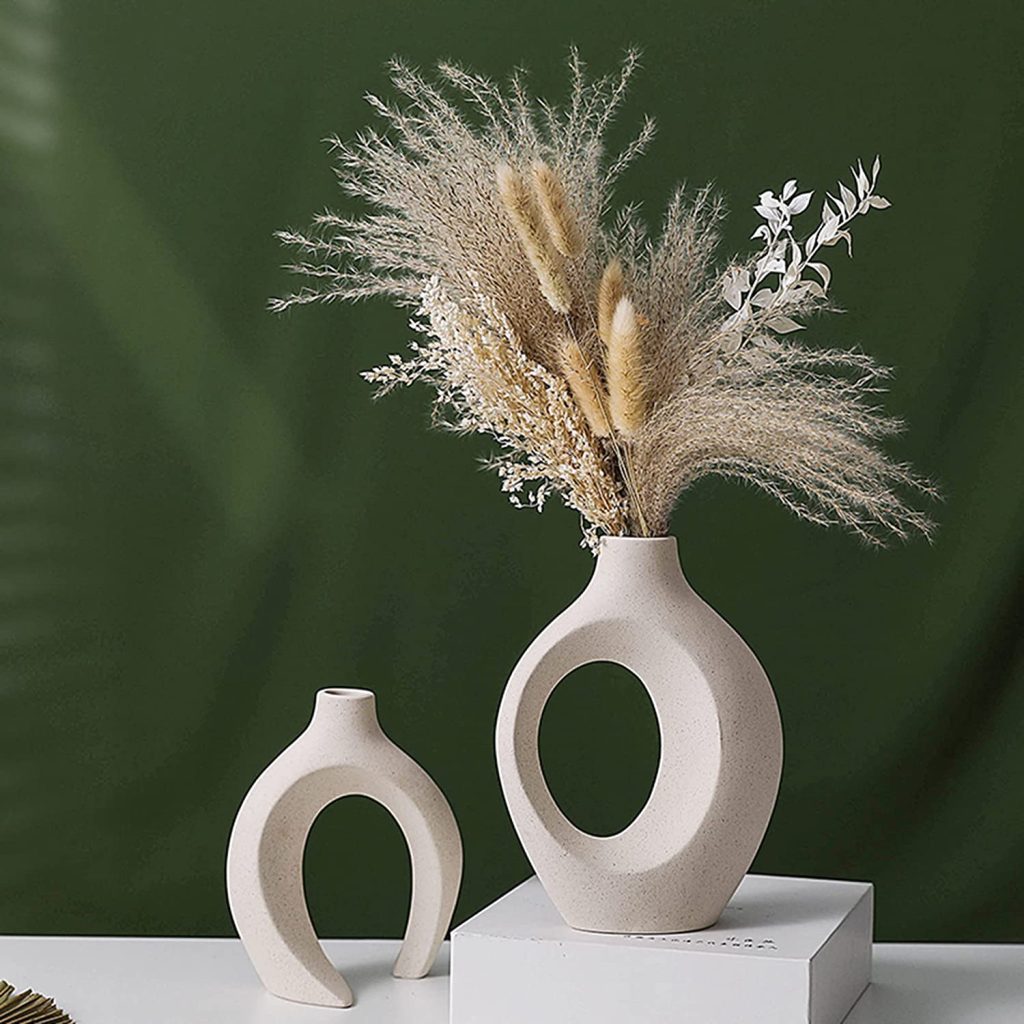 Tables ideally hold the plates and glasses as you enjoy your meal. However, an artistic and beautiful centerpiece will make it even more appealing. While buying a centerpiece for an outdoor dining table, keep a few things in mind. It should be water-resistant, heat-resistant, and have the ability to withstand harsh atmospheres. Candles, solar lamps, metal structures, and artificial or real flowers in vases can be some options to decorate your dining table.
4. Cushions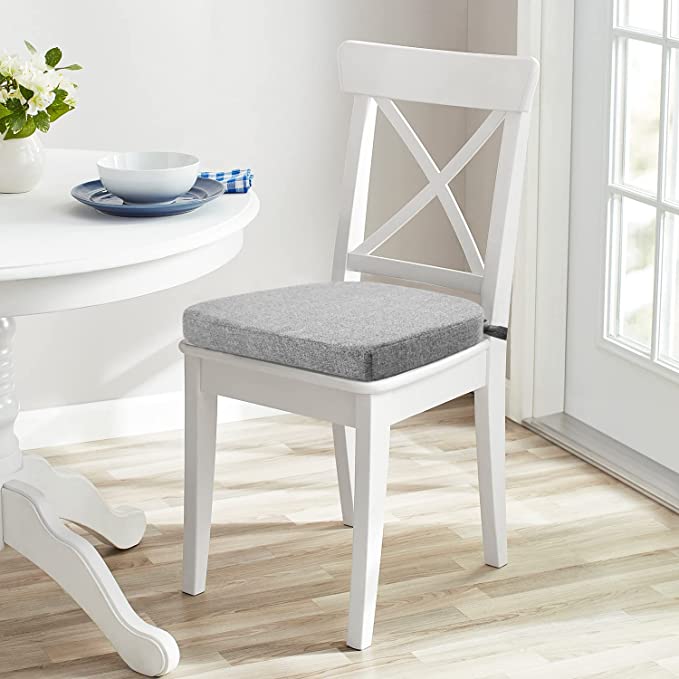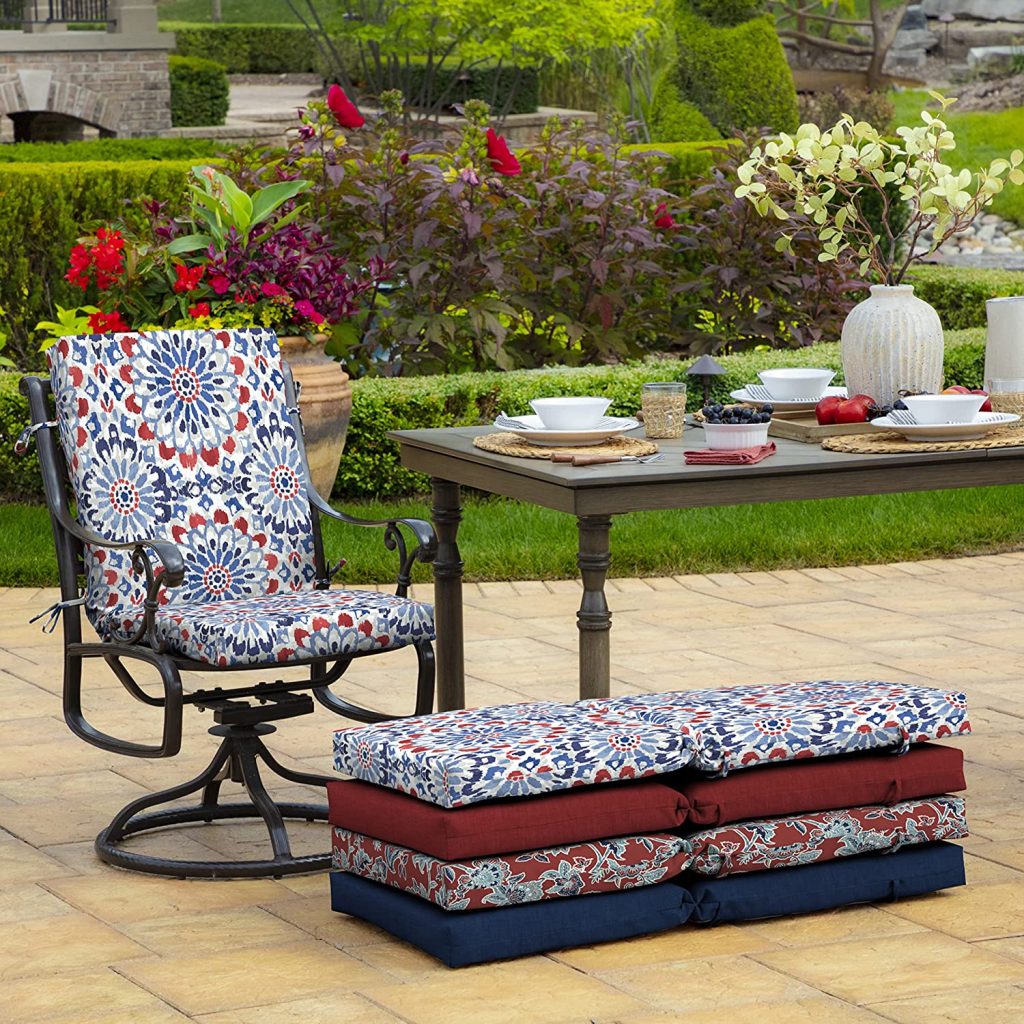 Cushions can be a great way to enhance comfort while sitting in a chair. Along with adding comfort, it makes the dining set aesthetically pleasing. Some might prefer a simple cushion, while others go for a design. You can choose the cushion according to the theme. A teak outdoor dining table set looks pleasing with a pastel-colored cushion and soft fabric.
Make Your Outdoor Dining a Cherishing Experience!
Create your outdoor memories with the best teak outdoor dining table sets from the above list. If not for the exact design, we are sure you took inspiration from the above list and styling ideas.
The best part about designing your outdoor area is that there are no rules! It's all about what gives you the feeling of comfort, warmth, and beauty.
Let outdoor dining be the most memorable experience for yourself and every guest you invite!
Other Articles