Imagine waking up to the gentle breeze of the countryside, surrounded by stunning hills and green pastures as far as the eye can see. As you step out onto your terrace, you're greeted by the breathtaking beauty of your modern country house design, seamlessly blending the best of both worlds.
The simplicity of rustic charm meets the sophistication of contemporary architecture in 18 exceptional homes that we've handpicked just for you. From cozy cottages to grand estates, each home featured in this collection offers a unique expression of modern country living.
These 18 unique home designs have their own beauty, making it easy to find one that feels like a perfect fit.
1. Minimalist Country House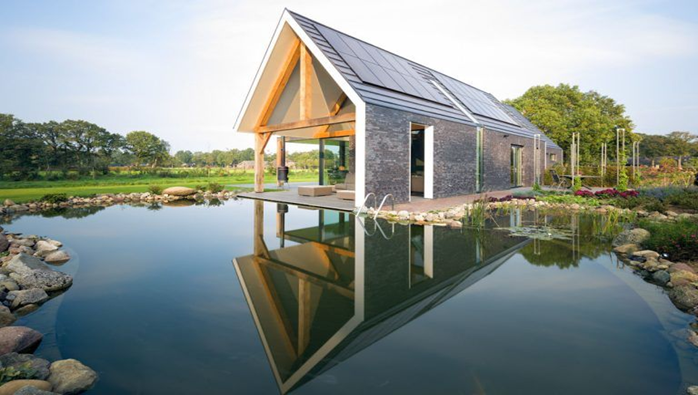 Features: Open floor plans, minimal decor.
The minimalist modern country house combines modern architecture with a warm, rural ambiance. This is the ideal place if you're looking for a tranquil haven from the chaos of daily life. This home embodies contemporary elegance with its sleek lines, natural materials, and uncomplicated design.
Similar Post: 21 Stunning Country Kitchen Decor Ideas for Your Home
2. Rustic-Modern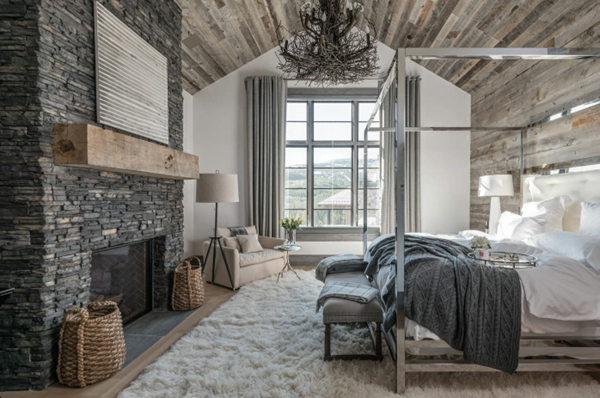 Features: Open-concept living spaces, large windows
This design combines contemporary finishes and clean design elements with the coziness and allure of rustic components like wood and stone. The end result is a warm, inviting place that nonetheless feels modern and new.
3. Contemporary Barn-Style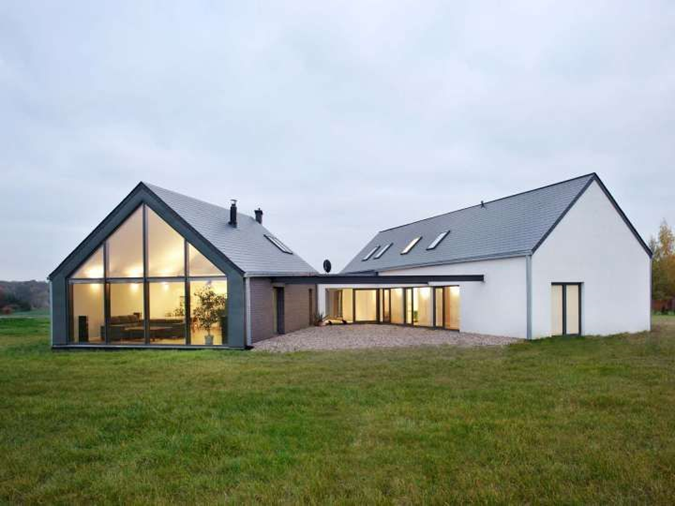 Features: Open-concept layout, High ceilings, and large windows
Clean lines and a straightforward aesthetic give this modern interpretation of the traditional barn design a stunning visual effect. This property is ideal for folks who love to party because of its open floor plan.
4. Scandinavian-Style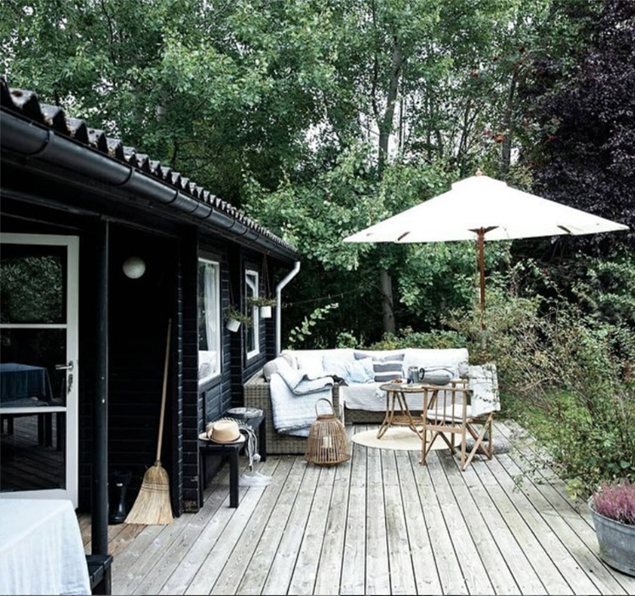 Features: Light and airy, natural materials, minimalist design
With minimalist light and natural materials, this design is all about simplicity. The outcome is pleasant that is ideal for anyone who long for a quiet escape from the chaos of everyday life.
5. Farmhouse-Style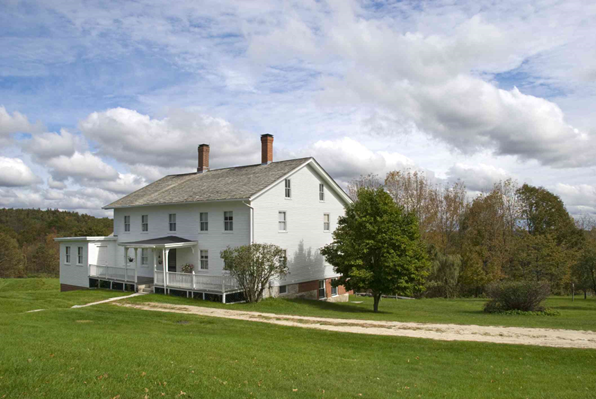 Features: Rustic and modern, cozy and inviting, traditional elements with a modern twist.
The exposed beams and shiplap walls of a traditional farmhouse are combined in this design with more contemporary materials and features. The end result is a cozy area that seems both classic and modern.
6. Glass-Walled Country House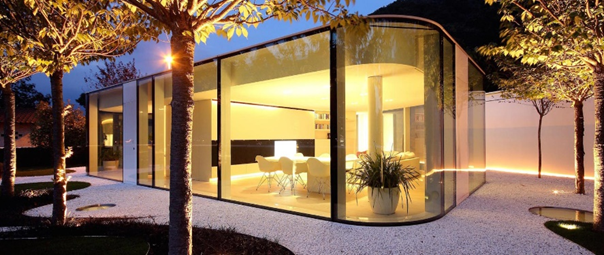 Features: Large glass walls, Open floor plan with plenty of natural light
Stunning architecture with expansive glass walls that provide unimpeded views of the surroundings. Modern aesthetic lovers will adore the design's sleekness and simplicity.
7. Stone and Wood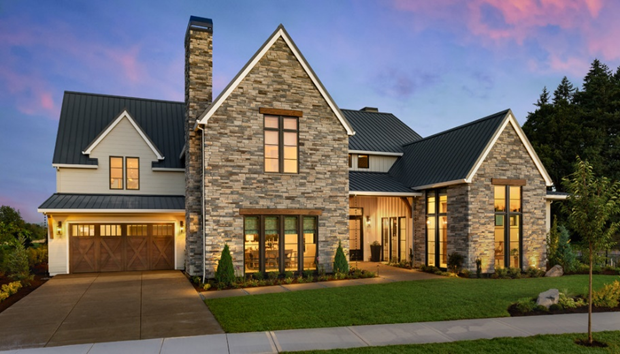 Features: Rustic and charming design, Earthy and warm color palette
A classic design that showcases natural materials like stone and wood. The rustic charm of this type of modern country house is perfect for those who love a welcoming atmosphere.
8. Mountain Modern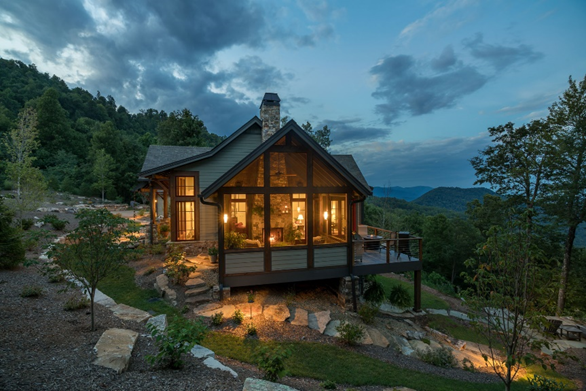 Features: Expansive windows, Modern materials like metal and glass,
This style of a modern country house is a stylish interpretation of a typical mountain cabin design with clean lines. It also contains large windows that provide stunning mountain vistas.
9. Concrete Country House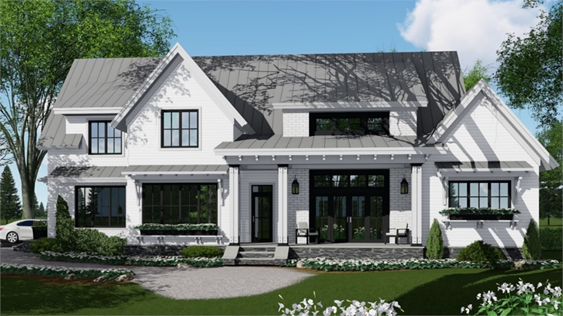 Features: Modern and durable design, Fire-resistant and weather-resistant
A low-maintenance lifestyle, durability, and energy efficiency are all features of this distinctive modern country house. For individuals looking for a modern living experience in a serene rural location, this is the ideal choice.
Related: 15 Essentials/Elements for a French Country Decor
10. Green-Roofed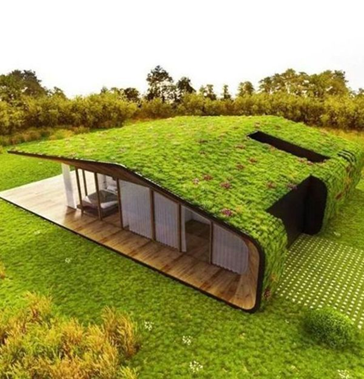 Features: Reduces rainwater runoff and improves water quality
With a living roof and eco-friendly design principles, you may build a beautiful, sustainable modern country house. The roofs of these homes frequently have a covering of soil and plant, which lessens rainwater runoff. The living roof also contributes to the ecological advantages of the house by offering a natural habitat for insects and birds.
11. Modular House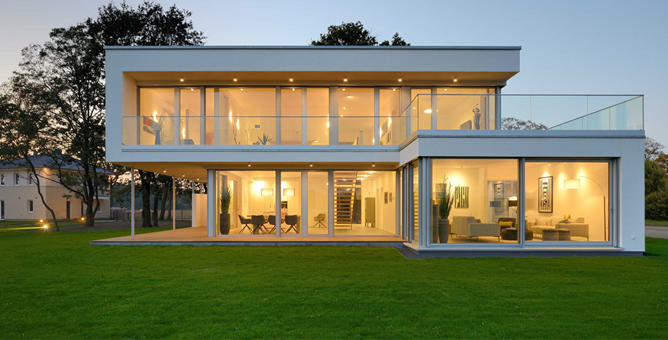 Features: Built using prefabricated modules that can be assembled on-site
The typical country home has been updated and customized as a modular structure. This modern country house is constructed utilizing prefabricated modules that are simple to install on-site, hastening the construction process.
The ability to add or remove components as necessary makes straightforward modification possible.
12. Container-Style Country House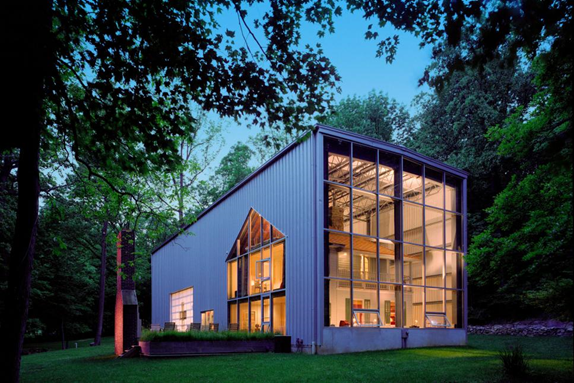 Features: Highly durable and resistant to weather, pests, and fire
Building a distinctive and contemporary home out of reused shipping containers is becoming increasingly common. These dwellings provide a viable and reasonably priced solution for those wishing to construct a modern farmhouse in the country.
13. Glass-Enclosed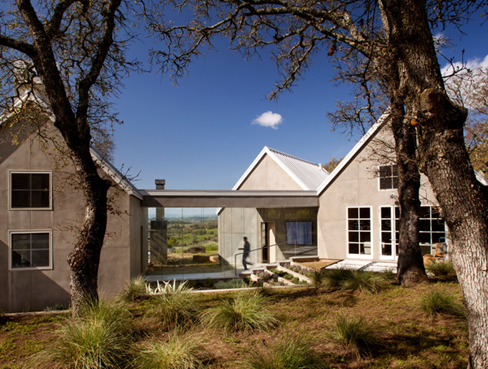 Features: Highly customizable with the option to add sliding or folding doors
This modern country house has enormous floor-to-ceiling windows that wrap around the outside of the building.
Also, the use of glass permits an abundance of natural light to enter the home, resulting in a light and airy ambiance. The house achieves the ideal combination of rustic and modern design.
14. Geometric Country House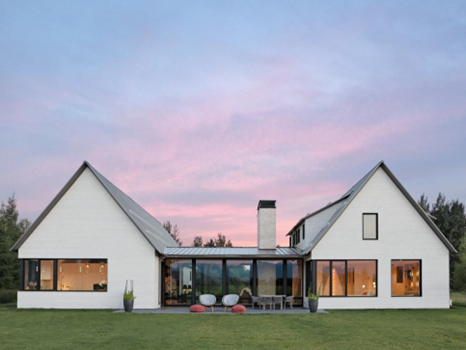 Features: Combination of flat and sloping roofs, large windows for natural light and views
Sharp angles and geometric designs can give a country house a beautiful appearance. Large windows and open floor plans are common features of this house, which permit lots of natural light to enter. Using materials that are in stark contrast to one another, such as metal, stone, and wood, can also serve to provide a dramatic visual effect.
15. Industrial House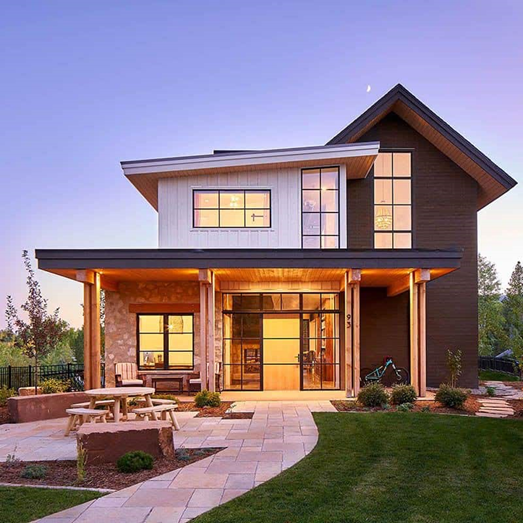 Features: Metal and other industrial materials for a modern look and rustic feel
These houses frequently have exposed beams, pipes, and ductwork, which gives them a raw and unfinished appearance. Large windows and open areas make use of abundant natural light to create a light and airy ambiance.
16. Mediterranean-Style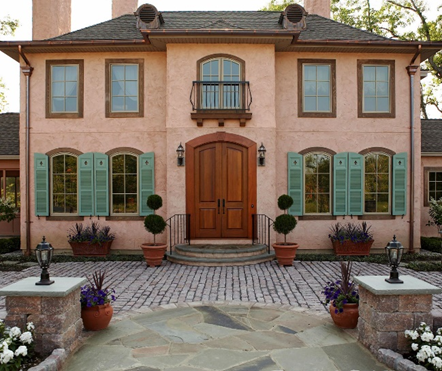 Features: Stucco walls, red-tiled roofs, and wrought iron accents
A country home in the Mediterranean style combines traditional elements. These houses frequently have red tile roofs, stucco walls, and elaborate accents like wrought-iron balconies and arched doors. Usually, the interior is brightly decorated with lots of natural materials like stone and wood.
17. Black and White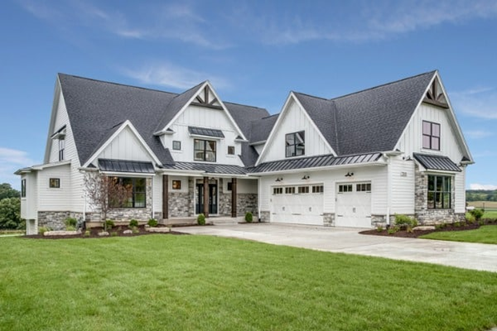 Features: Front porch or wrap-around deck
These homes frequently have strong, contrasting colors and clean lines. Both the inside and exterior can have a visually appealing and harmonious appearance when done in black and white.
The natural elements used in these houses, such as wood and stone, help to mitigate the sharp contrast of black and white.
Check This Next: 11 Easy Coastal Decor Ideas for Your Small Living Room
18. A-Frame Country House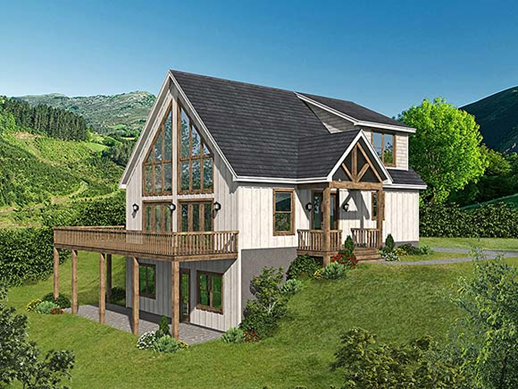 Features: Unique, modern take on the classic A-frame cabin
This is a distinctive take on the traditional A-frame cabin and frequently includes spacious, open living areas and lots of natural light.
The use of natural materials like wood and stone can assist in giving the house a warm feel, and the steeply pitched roof makes a strong visual impression.
Benefits of Living in a Modern Country House
Living in a modern country house offers a unique lifestyle that combines the beauty of rural living with the convenience and comfort of modern design.
Here are a few of the key benefits:
Peace – Modern country homes are frequently found in picturesque rural settings, providing peace away from the rush of city life.
Connection with nature – Modern houses are built in picturesque rural areas. They include expansive windows and outdoor areas where you can take in the natural beauty of your surroundings.
Customization – You may create a home that expresses your distinct personality. It can be done by designing to meet a variety of designs and interests, from classic to modern.
Modern amenities – Houses can have all the modern conveniences you require for a pleasant and easy living, such as high-speed internet, even though they are situated in a remote region.
Outdoor activities – It gives you the opportunity to engage in a variety of outdoor pursuits, such as gardening, horseback riding, and hiking.
Tips For Decorating Your Modern Country House
Here are some tips to keep in mind while decorating your modern country house:
Natural materials – Use organic elements like wood, stone, and natural textiles to build a cozy place that blends with the natural environment.
Traditional designs – Try to add traditional and modern design elements to create a unique look.
Use warm colors – Use warm, earthy colors such as browns, greens, and blues to create a cozy and inviting space.
Classic elements – Use vintage pieces such as antique furniture or rustic decor to add character and charm to your modern country home.
Bring the outdoors in – Employ organic components like fresh vegetables, flowers, and plants to bring the beauty of nature indoors.
Add texture – Create a tactile and aesthetically fascinating room using textured textiles and finishes like wool, linen, and wood.
Final Words
Modern home designs offer a particular reflection of modern-day life in a rural place. There are many alternatives in this selection of 18 excellent designs, whether you choose a minimalist, rustic-modern, or a blend of these styles.
A few of the traits and benefits that each design offers include energy economy, dependability, simplicity in maintenance, adaptability, and environmental friendliness.
Whether you're looking for a tranquil refuge away from the hustle and bustle of daily life or a sustainable and cheap home, a modern country house design can meet your needs.
Other Articles