One never grows old. Whether you are a little kid or a parent, you may always be surrounded by toys. Toys have a way of multiplying and spreading throughout the house, creating clutter and chaos. Every toy needs a home; sometimes, organizing toys seems hectic and clumsy. But, not when you have the perfect toy organizer ideas in order
Ever wondered why? Maybe because you are placing them in the wrong place. Simple strategies and creative solutions can sometimes reclaim your space and create an organized and functional toy storage system.
In this blog post, we will explore practical methods for assembling toys that will leave you feeling relieved!
Firstly, sort it out. Find out the toys your kid is no longer interested in. Donate it, or put them in a sack and tuck them away. Then, organize; the ones your kid loves to play daily, sort them into one group, and the ones they rarely pull out, put them in a separate group.
Likewise, your kid will only pull out the ones they are looking for instead of searching across the entire toy box.
Check out the list of 17 creative toy organizer Ideas here. 
1. Hanging Wall Baskets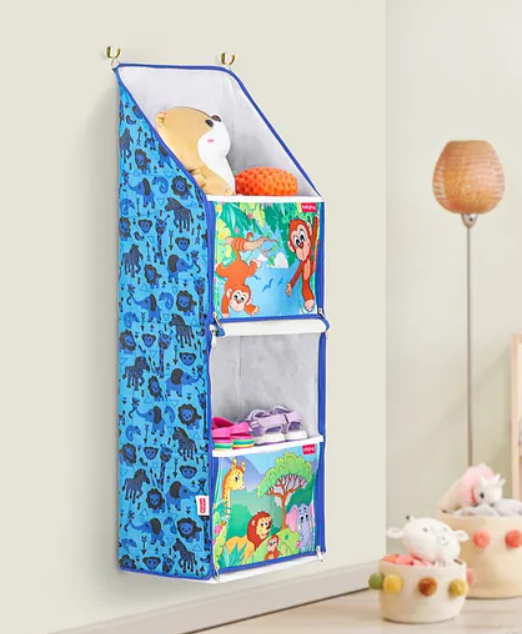 These are generally easy to install and can even be attached to the door. Hanging wall baskets can store small toys like action figures, dolls, or stuffed animals. This saves floor space and adds a decorative touch to the room.
Choose hanging wall baskets that are sturdy and spacious enough to hold toys. Decide where you want to turn the wall baskets. It could be on a playroom wall, bedroom wall, or even inside a closet door. Consider the accessibility and visibility of the baskets for both you and your child.
Similar Post: The Best Magnetic Knife Holder Review: Quick and Easy 2021 Guide
2. Cube Shelves with Fabric Bins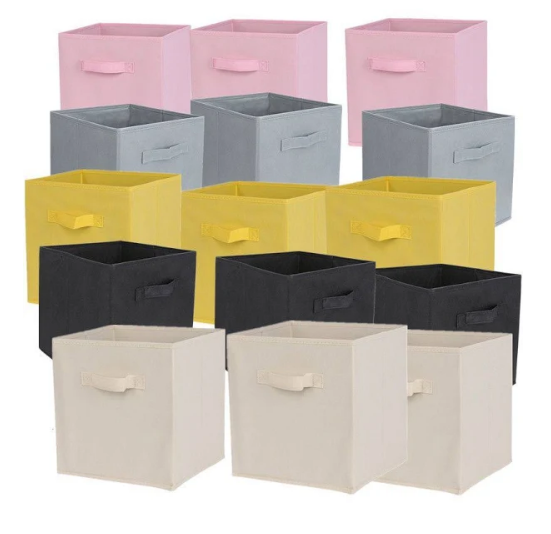 Use cube shelves with fabric bins to store toys of different categories. Label each container to make it easier for children to identify where each toy belongs. This item enhances the aesthetic of your room, is convenient to transport, and features retractable handles.
Select cube shelves that are sturdy and appropriate for holding the weight of toys. Consider the size and number of cubes based on your required toy storage. Look for cube shelves that have removable or adjustable shelves, as this allows flexibility in accommodating different sizes of fabric bins.
3. Under-the-Bed Storage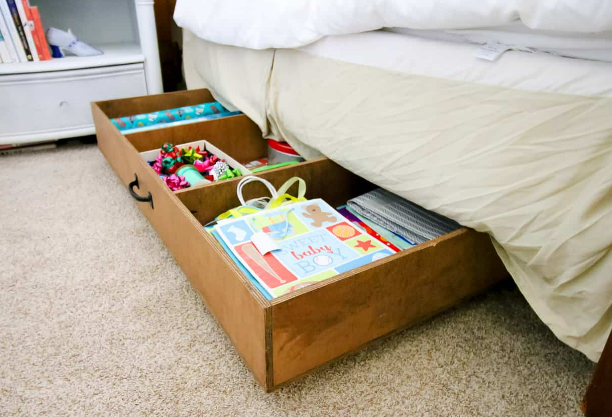 Efficiently utilize the under-bed space by implementing rolling bins or slide-out drawers as your toy organizer ideas allowing optimal storage of larger toys or infrequently used items. This practical approach maximizes space while ensuring easy access.
As the day ends and dinnertime approaches, your child will instinctively know the designated spot to neatly stow away their toy, maintaining a tidy living environment.
Choose under-the-bed storage containers that are specifically designed for toy storage. Look for containers that are shallow enough to fit comfortably under your bed while still providing sufficient space for toys.
Encourage your child to put away toys in the designated under-the-bed storage containers after playtime. Make it a routine and involve them in the cleanup process.
4. Over-the-Door Shoe Organizer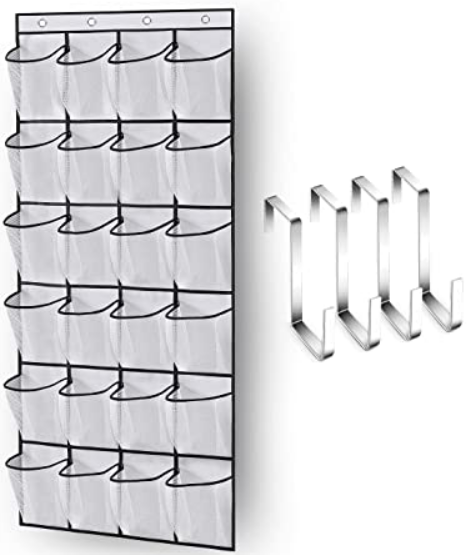 Repurpose an over-the-door shoe into the perfect toy organizer ideas using pockets to store small toys, art supplies, or building blocks. Hang/Put it on the back of a closet or bedroom door for easy access. A simple yet effective way to store LEGO toy sets.
Choose an over-the-door shoe organizer that has clear pockets or compartments. Place the toys in the designated bags of the shoe organizer.
Consider the size and weight of the toys when distributing them across the rooms. Make sure to balance the weight to prevent the organizer from sagging or becoming unbalanced.
5. Toy Truck Storage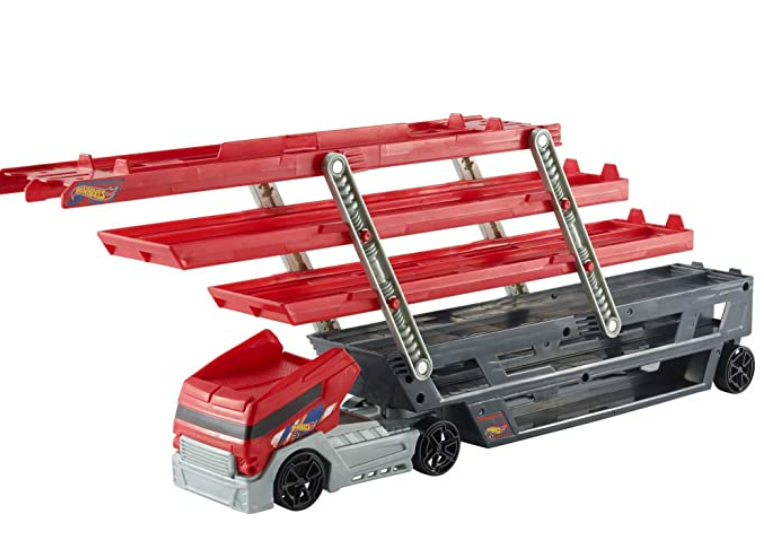 Hotwheels and Matchbox toy cars are favorites for almost every child. One can own dozens & dozens of them. When done playing with it, you may find it in the corner of your room, under the bed, or lying on the floor.
It seems clumsy to pick them up every single time. The best way is to get something unique and playful for your child, which acts even as a storage unit.
6. Bookshelf Turned Toy Storage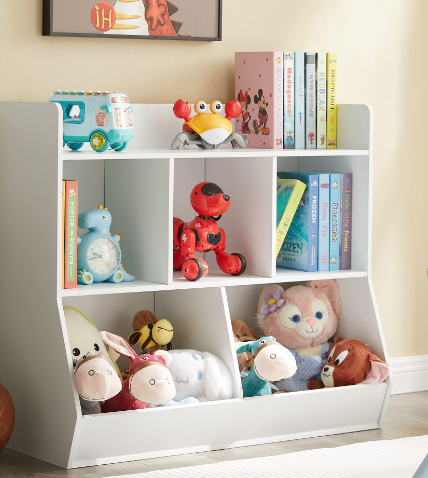 Try converting a bookshelf into toy storage by removing some shelves and adding plastic bins or baskets. Transforming a bookshelf is one of the best toy organizer ideas and is a practical and efficient way to organize and display toys.
Choose a bookshelf that suits your storage needs and space. Look for a sturdy bookshelf with adjustable shelves or a combination of open and closed cabinets. Consider the size and number of shelves based on the toy storage required.
Wipe down the shelves and surfaces to ensure they are free from dust or debris. This will provide a clean slate for organizing and storing toys.
7. Repurposed Ladder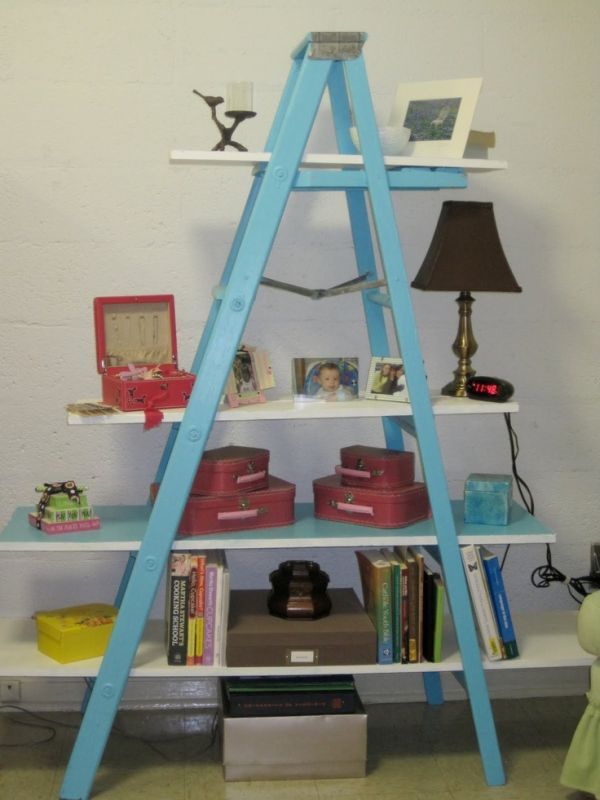 Use a wooden ladder against the wall to create unique and functional toy organizer ideas. Hang bins or baskets on each rung to store toys, books, or art supplies. You can arrange the Ladder, add a creative touch, and make your room lively!
Before using the Ladder for toy storage, clean it thoroughly and make any necessary repairs. Remove any loose or damaged parts and sand down rough edges or surfaces.
Decide where you want to place the repurposed Ladder. It could be against a wall, in a corner, or even suspended from the ceiling using hooks or brackets.
8. Hanging Fabric Sling Storage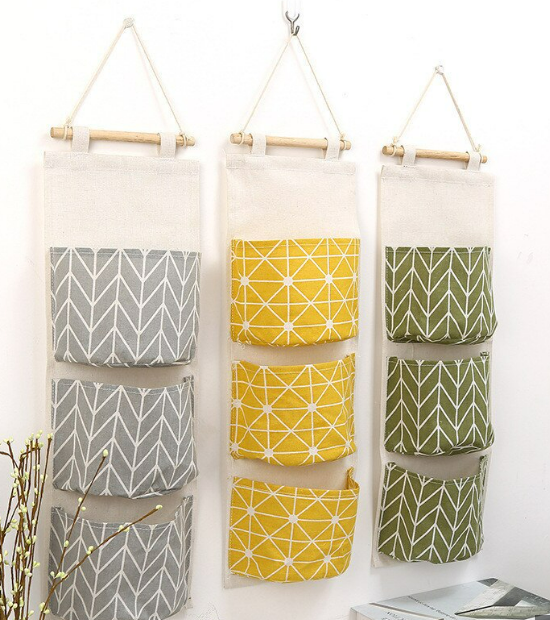 Hang fabric slings from hooks on the wall to create a storage system for soft toys or balls. The splints can be easily accessed and add a playful touch to the room. It can hold an army of stuffed toys, which is best for storing stuffed toys!
Depending on the design of the fabric sling storage, you may need to install hooks or rods to hang it securely. Use appropriate hardware and follow the manufacturer's instructions for installation. Ensure that the hooks or rods are sturdy enough to hold the weight of the sling and toys.
9. Storage Ottoman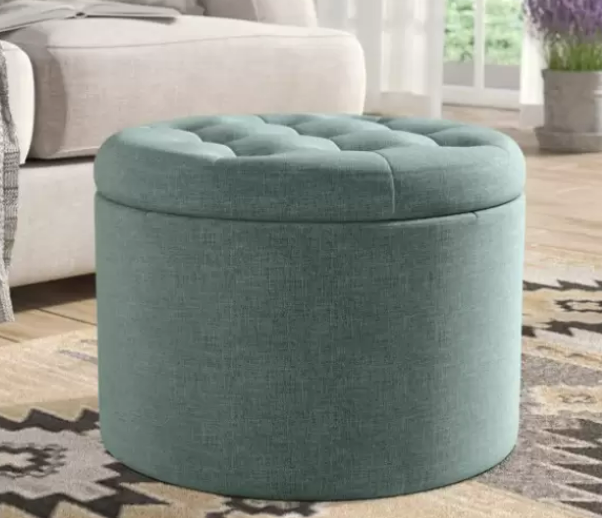 Invest in a storage ottoman for the perfect toy organizer ideas meant for your living or playroom. It provides a comfortable seating option while doubling as a place to store toys or blankets. It is generally easy to clean and a perfect item for your kid's room.
Lift the top of the storage ottoman to access the hidden compartment. This space can be used to store toys, keeping them out of sight and reducing clutter. Some ottomans may have a removable tray or dividers within the compartment, allowing you to organize different types of toys further.
10. Toy Hammock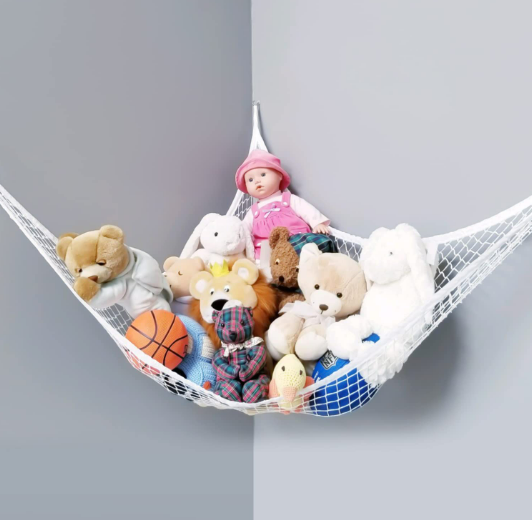 Hanging a toy hammock in the corner of the room to store stuffed animals or dolls can be one of the finest toy organizer ideas.
The Hammock keeps the toys off the floor, adding a fun decorative element. Determine where you want to hang the toy hammock. It could be in the playroom, a child's bedroom, or the living room.
While using a toy hammock for storage can be fun, it's essential to prioritize safety. Avoid overloading the Hammock with too many toys, which can cause it to sag or detach from the anchors. Regularly inspect the Hammock and check the anchors for stability.
11. Repurposed Dresser Drawers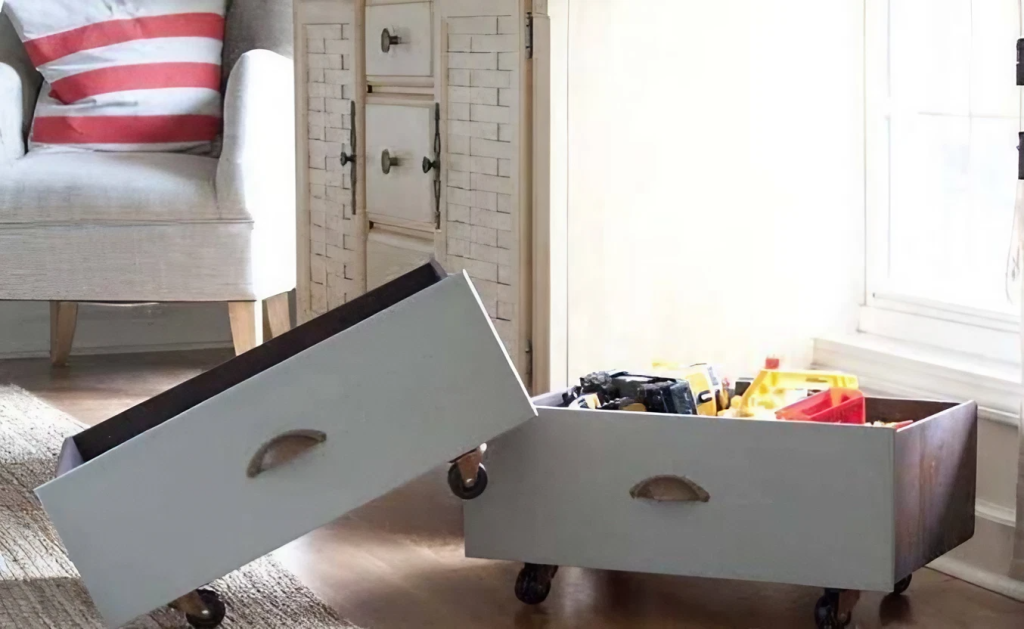 It's a creative and eco-friendly way to organize and store toys. If you have an old dresser, take out the drawers and repurpose them as individual toy storage containers. Paint or decorate them to match the room's decor.
Look for dresser drawers that are in good condition and suitable for repurposing. Ensure the drawers are clean, sturdy, and free from sharp edges or loose parts. Consider the size of the drawers for the toys you want to store, ensuring they are spacious enough to accommodate the items.
Before using the drawers for toy storage, clean them thoroughly to remove any dust or residue. Wash them down with a damp cloth or use a gentle cleaner. You can also paint or decorate the drawers to match the room decor or create a fun and playful look.
12. Rolling Carts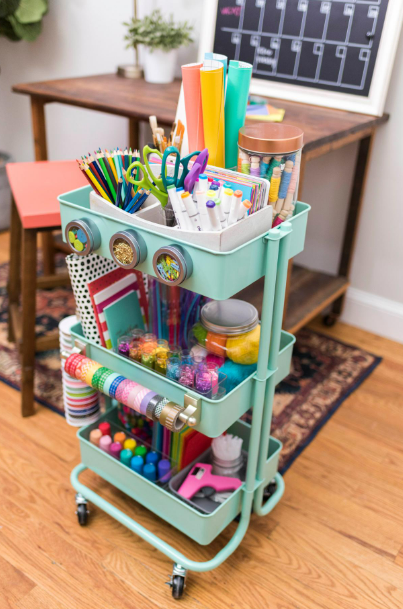 Use rolling carts with multiple shelves or drawers to store toys. These carts can be easily moved around, allowing you to transport toys from room to room or tidy up quickly.
The beauty of rolling carts is their flexibility. As your child's toy collection evolves, you can easily rearrange the shelves or baskets to accommodate new toys or change the organization system. This adaptability ensures the rolling cart can grow with your child and meet their changing storage requirements.
Related: Check out These 21 Beautiful Blue Couches to Add to Your Living Room
13. Wall-Mounted Buckets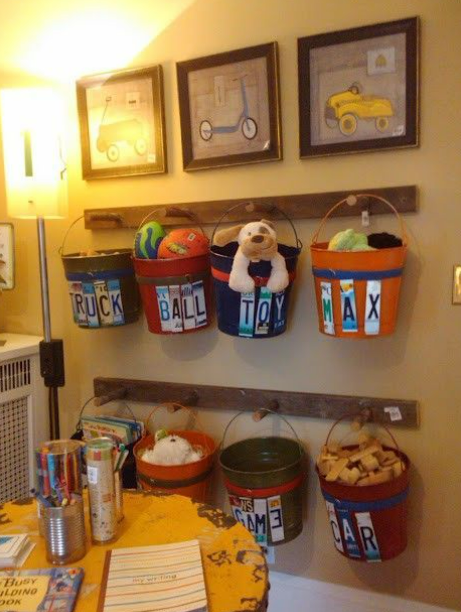 Attach metal buckets to the wall using hooks or a pegboard. The buckets can hold small toys, art supplies, or building blocks, keeping them within reach and off the floor.
Select sturdy and durable buckets that can be easily attached to the wall. Look for options made from materials like metal, plastic, or fabric. Consider the size of the buckets based on the types of toys you want to store, ensuring they are large enough to accommodate the toys without being too bulky.
14. Toy Storage Bags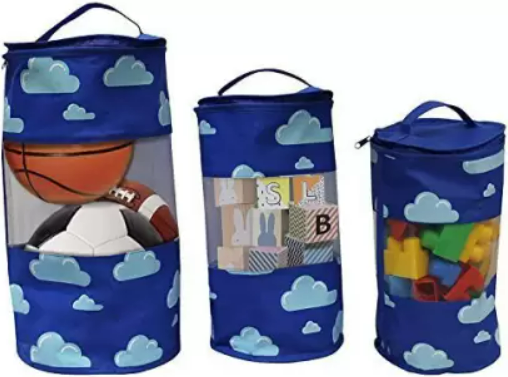 Use large fabric bags with drawstrings to store and transport toys. These bags can be hung on hooks or placed in a corner, providing a simple, portable storage solution. Smaller drawstring bags work well for small toys like building blocks or action figures, while larger bags are suitable for stuffed animals or larger playsets.
Toy storage bags offer a flexible, portable solution for keeping toys tidy and accessible. They allow you to customize and adjust your storage setup as your toy collection evolves.
15. Tiered Fruit Baskets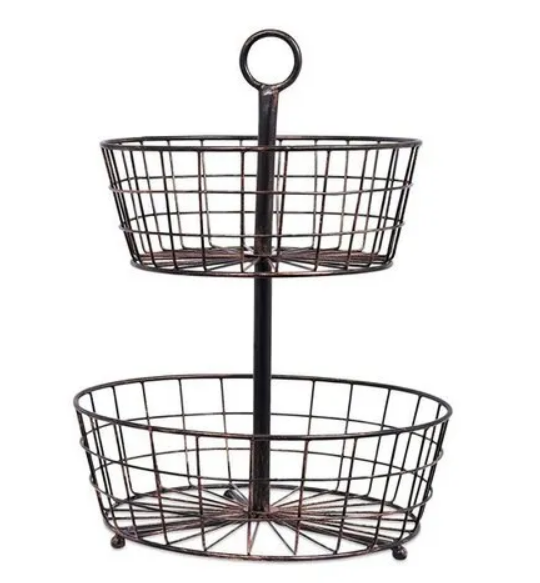 Repurpose tiered fruit baskets as a unique storage solution for small toys or art supplies. Place them on a table or shelf for easy access and a visually appealing display.
Opt for sturdy baskets made of wire or rattan, as they are durable and easy to clean. Consider the aesthetic of the baskets as well, selecting colors or designs that complement the room decor.
16. Toy Box with a Cushioned Lid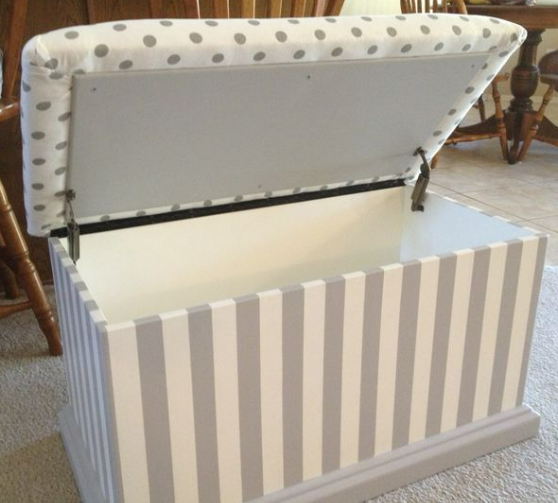 Opt for a toy box with a cushioned lid for extra seating and storage. This is an excellent option for a playroom or bedroom; the roomy compartment can accommodate a large assortment of playthings, keeping them neatly in one place. Children can sit on the lid while playing with their toys or use it as a cozy spot for reading or relaxation.
In addition to toys, a Toy Box with a cushioned lid can also be used to store blankets and pillows. This is particularly useful in a child's bedroom or playroom, where extra bedding may be required for sleepovers or cozy reading corners.
17. PVC Pipe Storage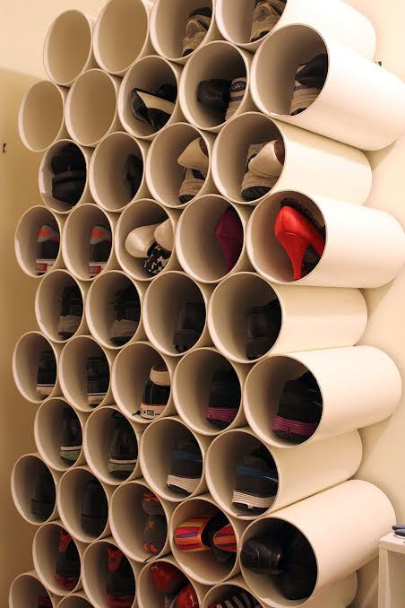 PVC storage offers versatile options in terms of size and shape, allowing you to customize it based on the specific objects you wish to store. Create a DIY storage solution by cutting PVC pipes into different lengths and attaching them to a board or wall. These pipes can hold shoes,, small toys or art supplies, making them easily accessible.
Check This Next: 15 Genius Bedroom Storage Ideas You Have to Try
Conclusion
Organizing your child's toys can be creative and enjoyable when approached with the right mindset. By implementing these innovative toy storage ideas, you can create an organized and visually appealing play space that promotes your child's imagination and minimizes clutter. Remember to involve your children in the process, allowing them to contribute their ideas and personal touches. With these clever storage solutions, you can transform the daunting task of toy organization into a rewarding and aesthetically pleasing experience for you and your child!
Frequently Asked Questions
What Are Cheaper Ways to Store Toys?
Some cost-effective ways to store toys are purchasing a shelf or building it from an old bookshelf. One can also use hammocks, which can be bought reasonably.
Are There Any Specific Safety Considerations for Toy Storage?
When organizing toys, ensure that storage solutions are stable and secure to prevent tipping or falling. Avoid placing heavy items on high shelves where they could pose a danger if they fall. Be mindful of any small parts or choking hazards and store them out of reach of young children.
What Are Some Toy Storage Solutions for Small Spaces?
For small areas, consider using under-the-bed storage containers, hanging fabric organizers, or utilizing vertical storage options.
How May I Teach My Child to Organize Toys?
Teaching your child to collect toys can be a valuable life skill. Turn organizing toys into a fun activity. You can also add labels or pictures to help your child identify where each type of toy should be placed.
Other Articles