15 Genius Bedroom Storage Ideas You Have to Try
Bedrooms are not just a place to rest at the end of the day; it's much more than that; they can be a great place to add additional storage to your space where you can store anything, be it your...
Bedrooms are not just a place to rest at the end of the day; it's much more than that; they can be a great place to add additional storage to your space where you can store anything, be it your books, shoes, clothes, and much more. And some so many people want to add storage in their bedrooms but don't know how to utilize their space smartly and what storage items they should add exactly.
And if you are one of them, then this post is for you because, in this, you'll get the 15 best bedroom storage ideas to add storage to your bedroom, which will make your place look less cluttered and more organized.
So, read this post till the end to get the list of the best 15-bedroom storage ideas to make your space look organized and your life much easier.
Best Bedroom Storage Ideas to Declutter Your Space
Before starting, there's one thing you must note, which is that the items mentioned in this list are a mix of items that fits the need of most of you; in case the items in this list does not match your requirements, then you can take the idea and modify it as per your need. With that note, let's start our list of the best 15-bedroom storage ideas.
1. Hanging Organiser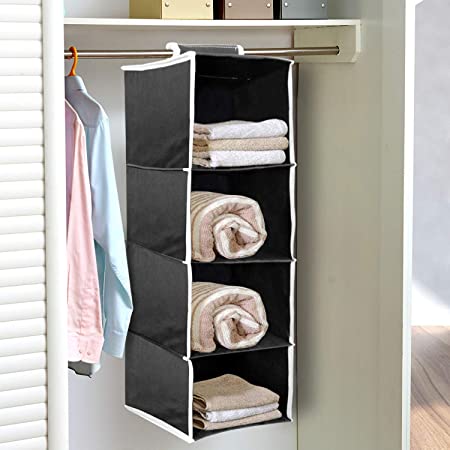 This hanging organiser is a great and simple way to add extra space to your bedroom, just hang it anywhere you want and keep your stuff like towels, shirts, jeans, and any other item. They are very easy to install, and when there's no need for that extra space, you can just fold it and keep it for later use. This is a 4-shelf rack, and it's perfect for smaller space storage. And if you want more space, there are more racked options available, so choose a hanging organizer as per your need and keep your stuff with ease.
2. Shoe Slot Organisers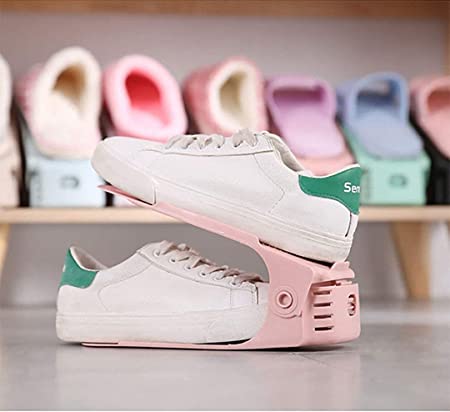 If you are a sneakerhead or just love your shoes, then keeping your shoes neat is your no. 1 priority; thus, this is a great hack to store your shoes in any setting; they require very little space and will store your shoes organized. This is a small organizer made with plastic, and you can keep them on the ground or any shelf. This comes with different set options, such as a set of 5, a set of 10, or more. Just buy them as per your shoes and keep them organized even in your bedroom.
3. Bed With Storage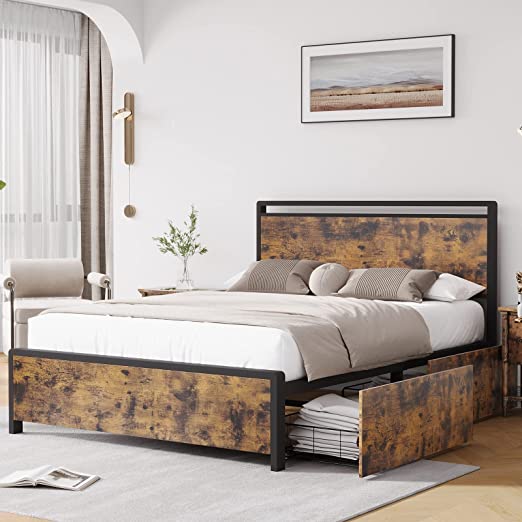 The most convenient way to add extra storage in your bedroom is to get yourself a bed with underneath storage; this way, you'll keep extra things such as seasonal clothing, old books, or anything underneath your bed, and you can use it to maximize your current space in the bedroom. This bed is a queen-size bed, and it comes with a load capacity of 360 kg, so if you have a smaller space or a bigger space, buy the bed with storage as per your requirement.
4. Side End Tables with Racks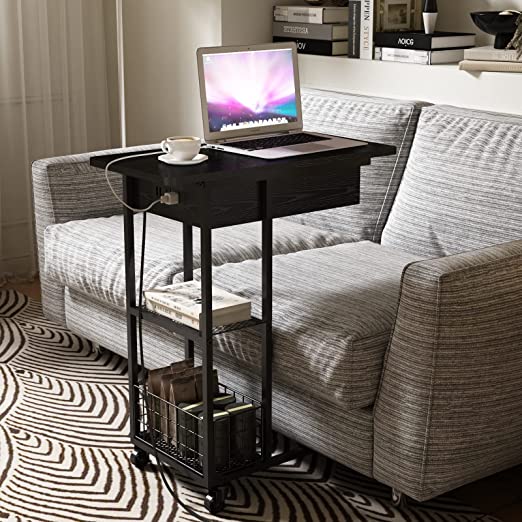 If you like to read books or like to work by your bed or sofa, then you must get this side end table; it comes with two racks to place any of your objects such as books, your laptop, files, etc. And the best part is that it comes with a caster wheel so you can move it anywhere in your bedroom. So, get this table which will work as your mini work table, and add extra space to store your work belongings.
5. Coffee Table with Storage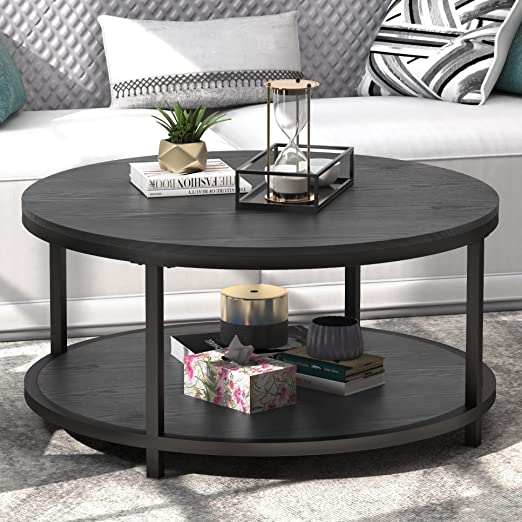 After the side table, it's time to get a center coffee table; you can place it in your bedroom and have your morning coffee and dinner on it. And it will also add space to your bedroom because of its underneath storage where you can keep your books, newspapers, or anything else as per your want. It will not only enhance the beauty of your space but also will add extra storage space.
6. Sofa Storage Bench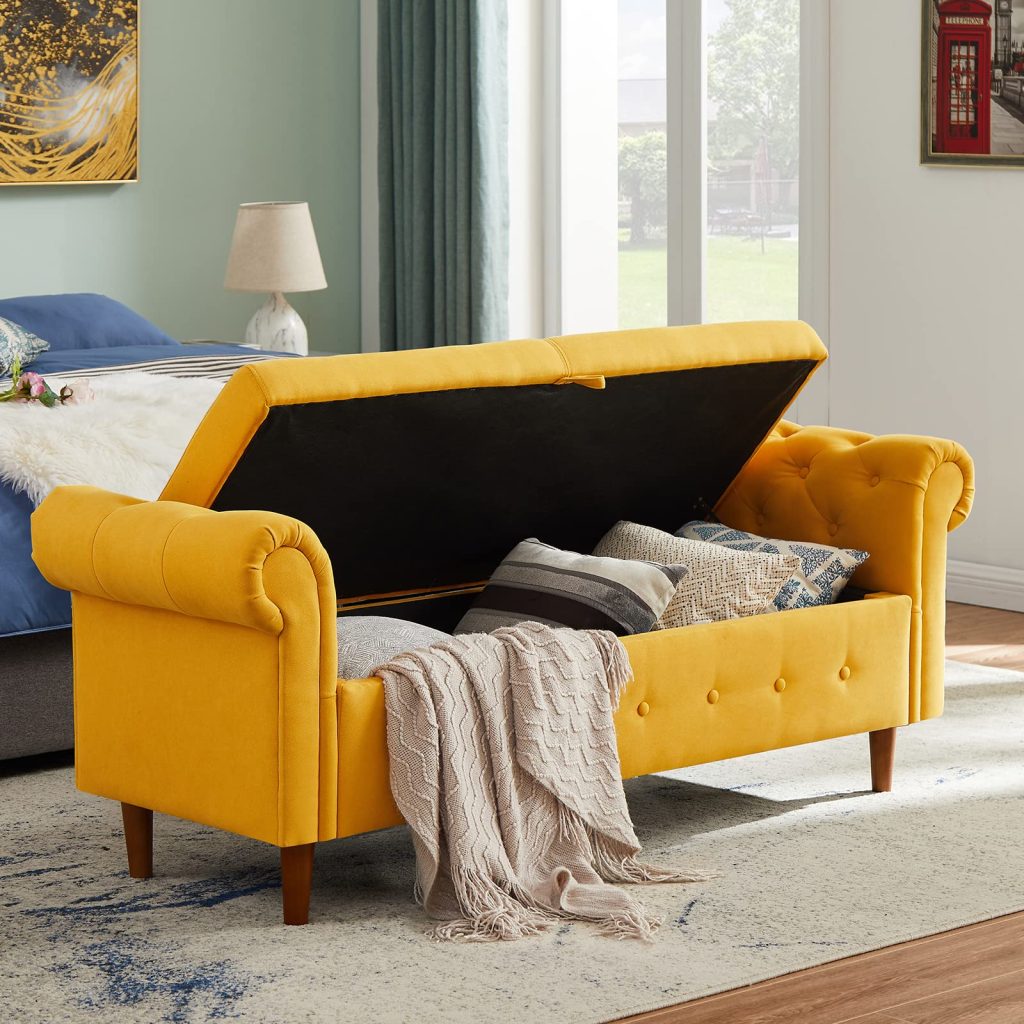 This is a modern solution to have a storage space in your bedroom and this can also perfectly well as a sofa for your sitting. You can use it as an additional table to keep your stuff or sit on it and lastly, store things in its underneath storage box. This is a short sofa with 2 people sitting capacity; hence it will take up less space but will enhance the storage in your bedroom. So, if you are looking for something you can use to sit comfortably and increase the storage space at the same time, then this is the solution for you.
7. Seating Storage Boxes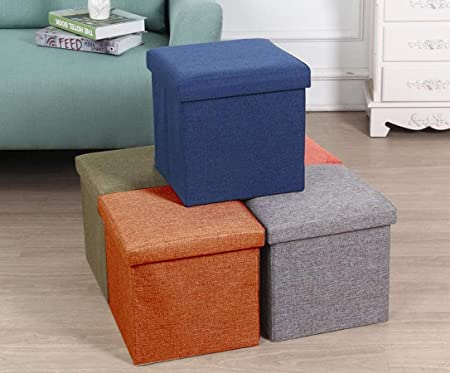 If you don't want to invest in a sofa, then these are a great and affordable alternative to add seating capacity and storage to your space. These storage boxes are 30 x by 30 x cm, so you can keep them anywhere you want and have a seat on them to do some work, or if you just want to use them as storage boxes, then you can stack them up. Use it as you like, but this is a great solution to fewer storage problems.
8. Multipurpose Drawers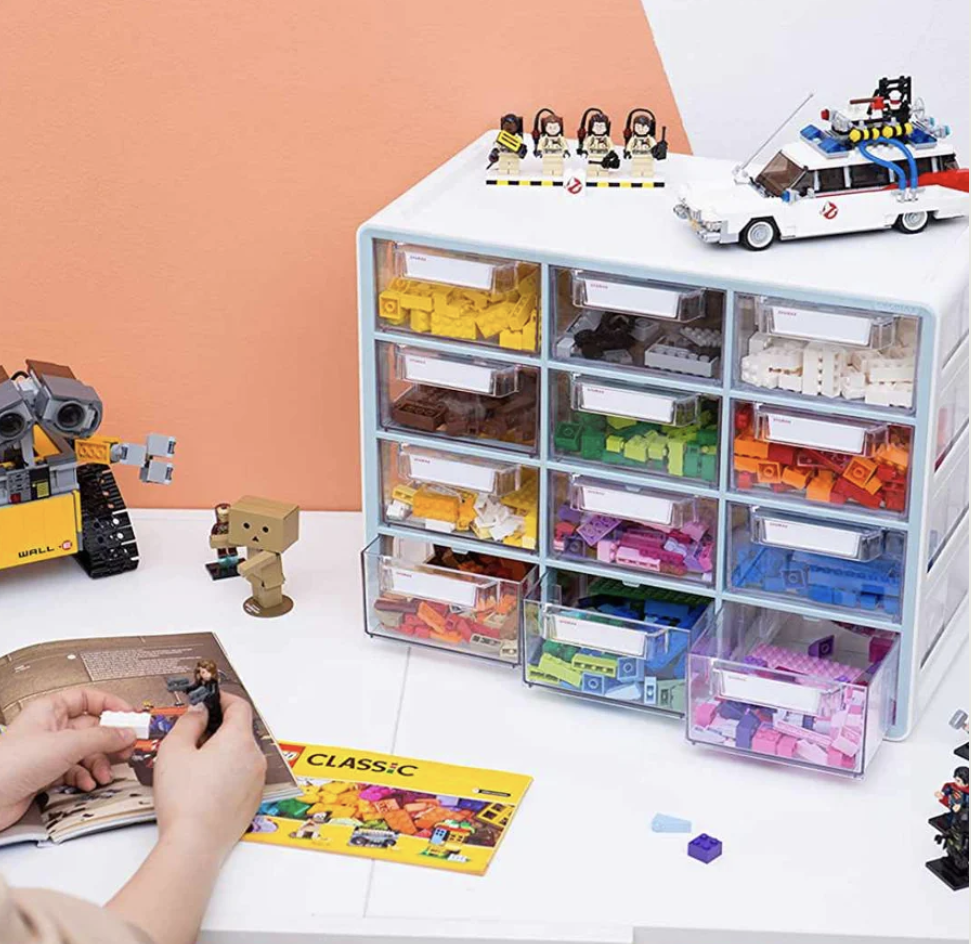 Storing small things in your bedroom is as important as the big items; thus, this is a great solution to it; these are multipurpose plastic drawers that keep your stuff organized, such as jewelry, makeup, watches, and much more. These are specifically for small items, but if you want, then you can buy big-sized boxes for bigger items, and these will help you to keep your space organized. So, buy these and make your space look neat.
9. Dekstop Cosmetic Organiser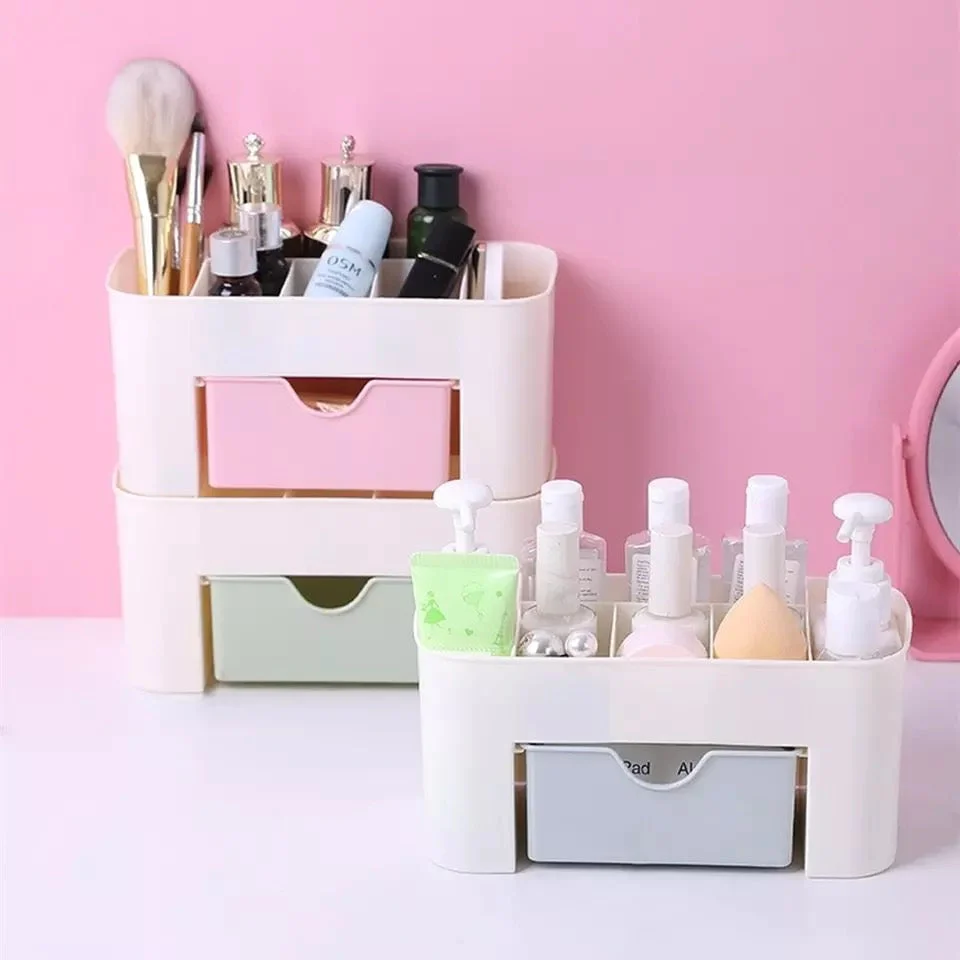 This one item on our list is specifically for women out there looking to keep their grooming and cosmetic items organized because no one likes to get dressed at an untidy desk where you can't find the things you want. Thus, this is a solution to all those problems because you can keep this desktop organizer on your table and store any cosmetic item of yours in it. So, if you love your cosmetic products and looking to store them in a better and more organized way, then this is a must product for you.
10. Study Table with Storage Compartments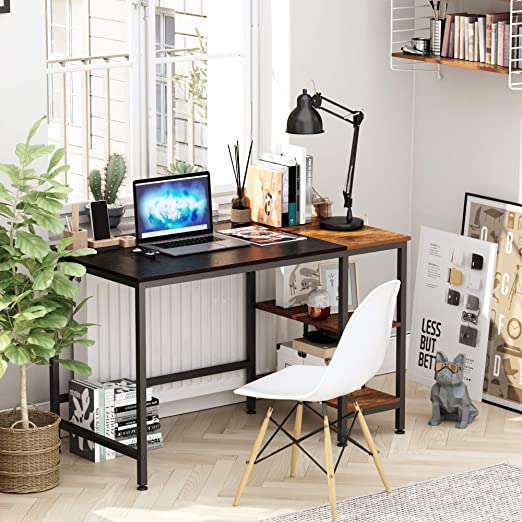 Do you want to add a perfect office set up in your bedroom and storage space too? Then why not have both of them with this study table, where you can do your work and, along with it, keep your stuff in its compartments? This table has a beautiful color scheme and a sleek design that will enhance the appeal of your bedroom. So, get this table and make your space look more elegant and sophisticated.
11. U Shaped Hanging Rack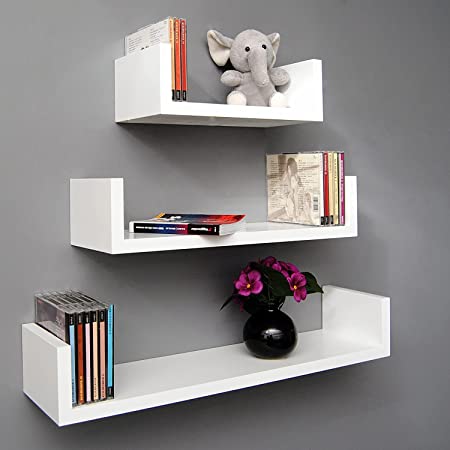 Wall-mounted racks are one of the best ways to add storage to your bedroom, and they'll also enhance the aesthetics of your space. Thus, you must install these u-shaped hanging racks in your bedroom and keep your belongings on, such as books, c ds, etc. another great way to utilize this rack is to put flower plants on them; they'll add a natural element to your bedroom to give you a refreshing feel all the time. So, you must get these u-shaped hanging racks to increase the storage capacity in your bedroom.
12. Storage Centric Coffee Table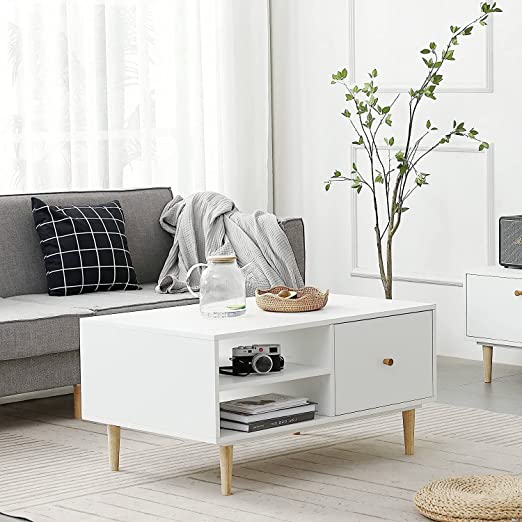 The previous coffee table was mainly for storing little things, but this one is designed to store multiple things. This coffee table serves as a much better way to add storage in your bedroom but to have this, you'll need to have some extra space in your bedroom because this table is a bit bigger in size. And this table is made up of great material and is very lightweight thus it's very easy to move anywhere you want. So, get this coffee table and have ample storage space.
13. Minimalistic Clothing Rack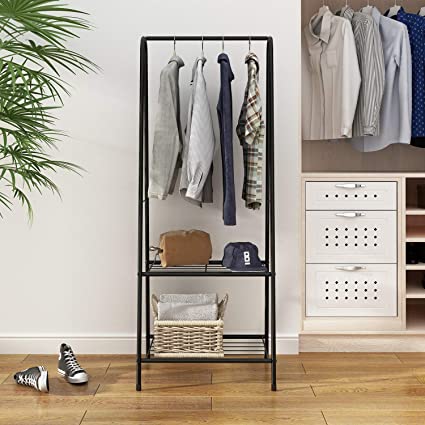 If you are someone who likes to store things in the most minimalist way possible, then this is a perfect choice for you; this clothing rack has a very simplistic design and won't take much of your bedroom space, and your clothes will be perfectly straight on it. And there are two selves at the bottom, where you can easily keep your stuff like shoes, jeans, pants, bags, and more. So, get this amazing clothing rack to add minimalism to your bedroom.
14. Multipurpose Caddy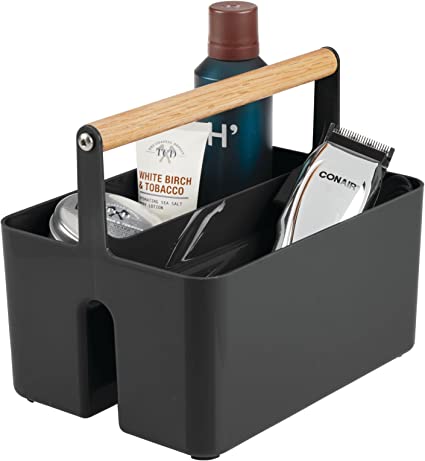 These caddies can be a great option to store smaller things that are used frequently, such as your keys, stationaries, electronics, and more. You can have two to three caddies in your bedroom, and you'll be able to keep your smaller things organized in a better way. These are lightweight bags. Just hang them on the wall, bedside, or chair, and you are all set to store things in them. So, buy these caddies to become more organized with your smaller things.
15. Metal Storage Baskets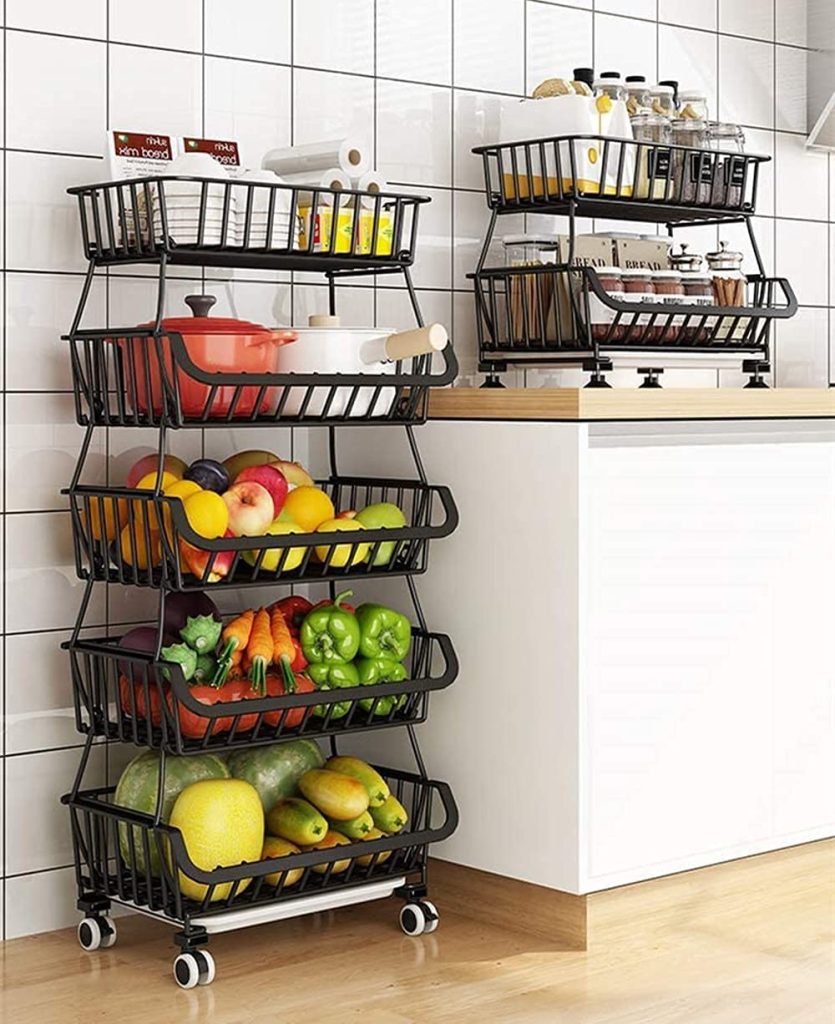 Looking for a durable bedroom storage option? If yes, then you must try out these multi-level metal baskets that will help you to store your groceries, food items, boxes, and much more. This basket comes with rolling wheels, so you don't have a hard time moving it from one place to another. This is also a great storage option for your books and stationaries, and if you have ample space in your bedroom, then you can also get two or more of these. So, get this metal basket for your bedroom and store anything you want, and this storage basket won't disappoint you.
Conclusion
So, these were the list of the best 15-bedroom storage ideas which will help you to increase your current bedroom storage, and you won't have to worry anymore about organizing your place.
No matter if you want a large storage box or a small storage space for books, this item list will cover everyone's needs and will sort your life and your bedroom, making your life much easier.
And also the prices of these items are mixed so you can buy the item as per your need and without having to spend a hefty amount.
So, buy these best 15-bedroom storage items to have an organized life.
Frequently Asked Questions
How Can I Maximise My Bedroom Storage?
To maximize your bedroom storage, the first step is to decide what unwanted or unnecessary things you have and to clear all of them out. Now you know exactly how much space you'll be needing to store those things, then buy furniture with storage space.
How to Arrange Bedroom Furniture?
The first thing to consider when arranging bedroom furniture is to place your biggest piece of furniture. For most of us, it's the bed next to the biggest wall. And after placing it, then consider placing the complementing furniture such as a side table, coffee table, study table, and closet. Lastly, try to utilize the corners well.
How to Set up a Minimalistic Bedroom?
If you are someone whose into the minimalist approach, then having a minimalistic bedroom is your dream. And to do that, you must learn to declutter the mess and take out all the unwanted things. Then, you'll need less storage space. Thus you'll need fewer pieces of furniture.
What Is the Basic Furniture for The Bedroom?
To start with, you must have a bedframe, a mattress, a small side table to keep small stuff, a closet and a mirror; these things are enough to have a basic bedroom set up. But there are endless possibilities because the bedroom is a very personal space and it's the most treasured place so take time and then decide what furniture to have which resembles your style.
Other Articles