Decorating your home in the farmhouse style can be trying if you do not have a clear idea of what you want. The decor is simple and practical, but what kind of furniture goes with the aesthetics?
Farmhouse decor is usually linked with a rustic charm. So finding furniture that goes well with the overall accent and the color palette of the room needs proper planning.
Choosing furniture items like a farmhouse coffee table needs a thorough understanding of the items that go with the theme.
In this article, we talk about the process of bringing farmhouse aesthetics to your living room.
With these 17 Farmhouse Coffee Tables ideas to bring the vibe together, you will have furniture that never goes out of style.
Similar Post: 15 End Table Decor Hacks to Try
1. Basic Round Tables
The farmhouse aesthetic is all about being free in your own house. So your furniture need not be some top-of-the-line affair.
A simple round coffee table often ties the room together and creates an open flow. The absence of edges makes every guest feel like they are part of an intimate group.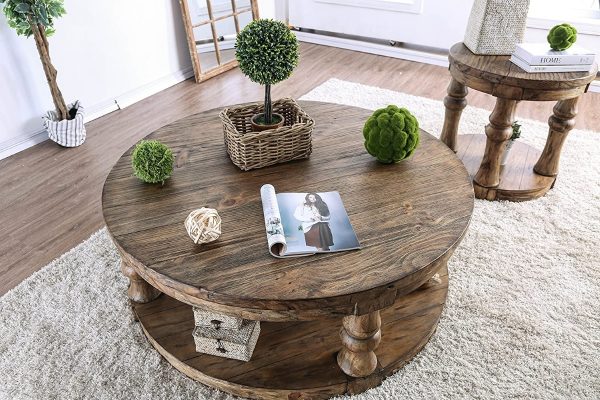 A round table with wooden accents is also easily available in most stores and gives the room a vintage feel.
The simplicity fits with most decor choices, and they have layers that provide ample storage space. These tables are often the best choice for those who prefer value over other elaborate choices.
2. Rectangular Farmhouse Coffee Table
Another timeless option for coffee tables in terms of shape is a rectangle. These rectangular tables can be used anywhere, from the kitchen to the dining or living room.
The shape, along with its obvious usefulness, brings a touch of modern comfort with rural aesthetics. The rectangle is also perfect for a more intimate setting around the couch.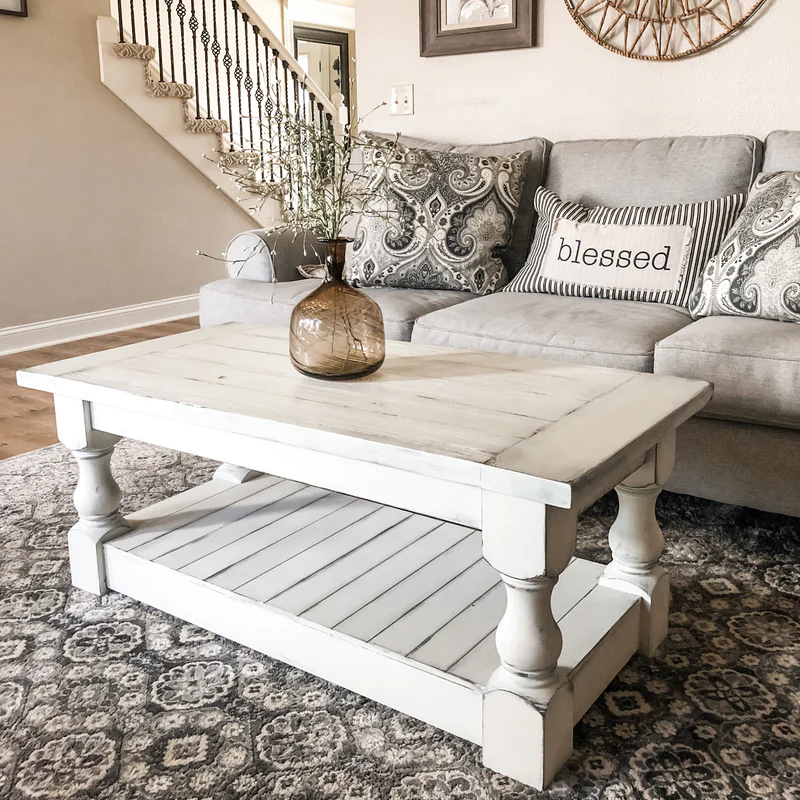 A wooden table with a distressed finish makes the surroundings seem lighter. For a living room with multiple couches, it ties the furniture together while providing more usable space on each side.
A rectangular coffee table works well for smaller rooms as well, as it helps direct the flow soothingly.
Also Read: 11 Best Coffee Station Table Ideas to Design Your Coffee Corner
3. The Most Appealing Shaped Table: Square
For those obsessed with finding furniture that fits right in, a square coffee table might be the one for you.
The shape is one of the most unique ones out there, but at the same time goes with most furniture pieces. With a square table, you can make the most out of a small space.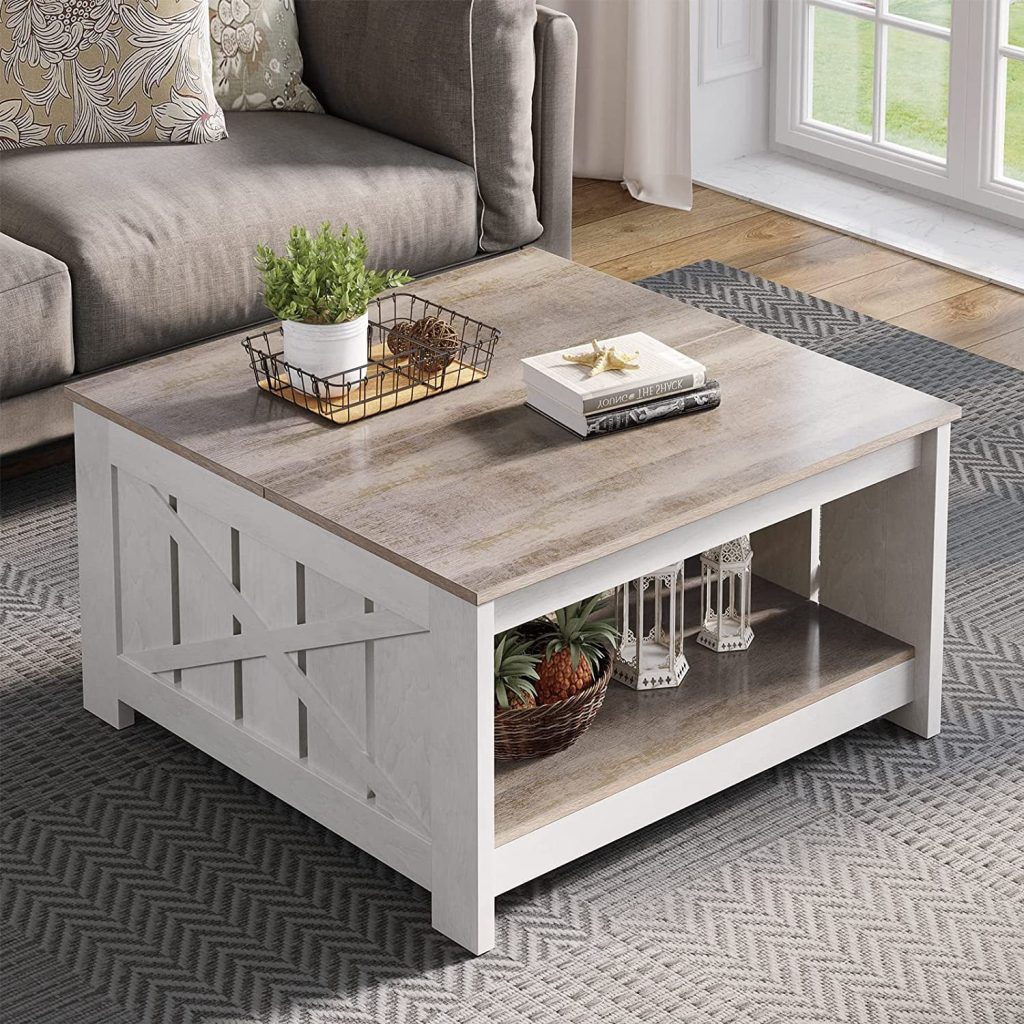 So whether your living room has 2 L-shaped couches or just recliners, a square table will never stick out. It gives the entire room a neat vibe with its clean lines and sharp angles, providing the most refreshing contrast.
The top display of a square table also looks impeccable, even when the knickknacks on top are disorganized.
4. Refurbished Farmhouse Coffee Tables
Coffee tables have a lot of benefits, and they can make your living room stand out. But buying new furniture can often become too heavy for the wallet.
A great way around that is to reuse the furniture you already have and convert it into a trendy and stylish table.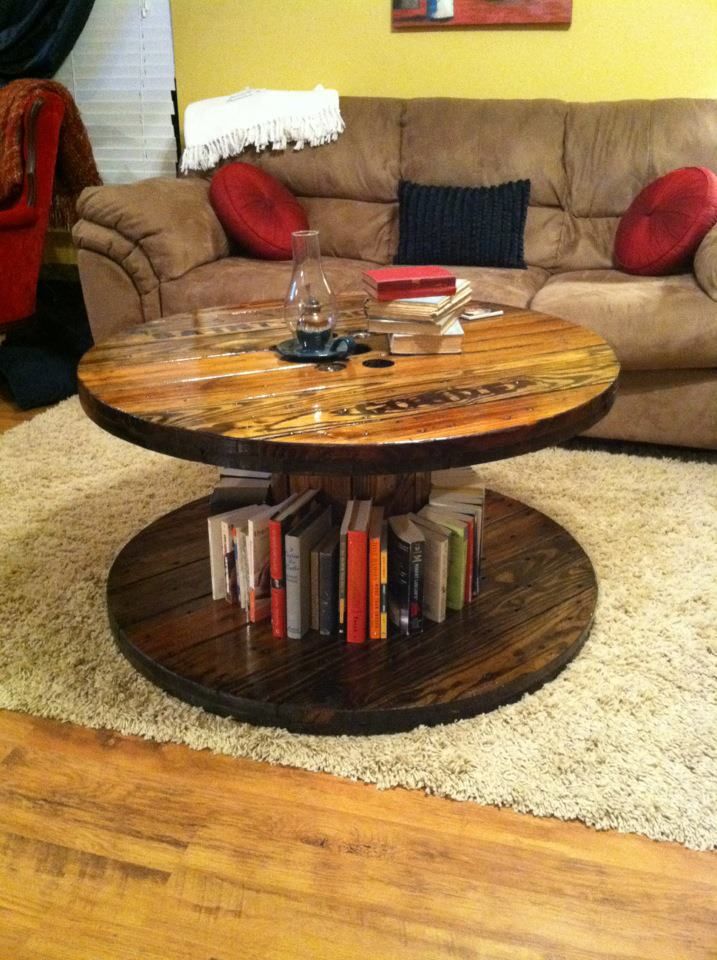 Another household item that can be converted into a coffee table is a water trough. These DIY projects also bring a kind of personal touch to your living quarters, making them look more homely.
But for those looking for an easier way, there are many similar coffee tables available all over the internet.
5. Crate Coffee Tables
The Farmhouse style of decor has recently taken over the internet due to its practical approach to lifestyle.
With a renewed focus on recycling and repurposing, people are coming up with innovative ways to make their furniture stand out.
This has given rise to the use of wooden crates, especially to make tables out of them.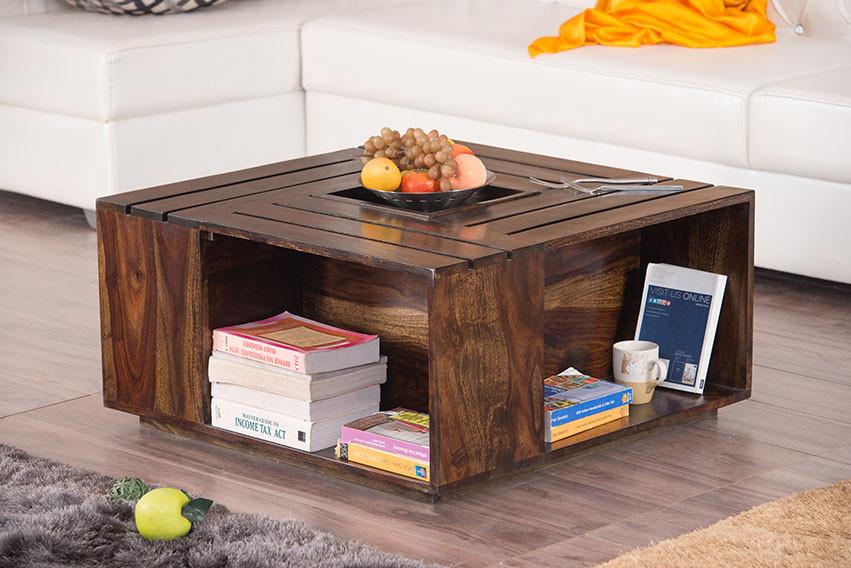 This innovative coffee table can be bought online or even made at home with little effort. The DIY just needs 4 crates and a piece of plywood as the main ingredient.
The resulting product has a streamlined appearance, and its storage units can be used to declutter your living room.
6. Upcycled Windows for Table Top
Often glass top tables are paired with an interesting base to make the table stand out. But glass tops are preferred by homeowners for other reasons than drawing attention to the woodwork.
They are very easy to clean and can be maintained with little to no effort.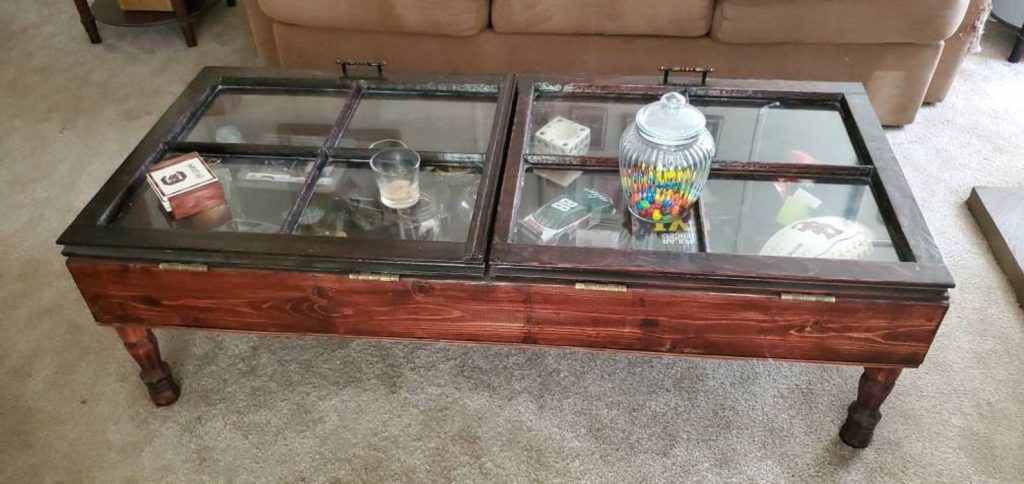 But to make this modern table more rustic, you can opt for window glass instead. In this DIY method, instead of a single pane of glass, an old window is used to cover the top of the table.
And to get this beautiful coffee table, you just need a little effort and vision. 
7. Old Door Into A Coffee Table
Another way to refurbish old junk into stylish furniture is to convert a door into a coffee table. So, the next time you see an old door being thrown out during renovations, nab it.
Then with some cutters, industrial glue, and paint, you can have a new coffee table ready to join your living room.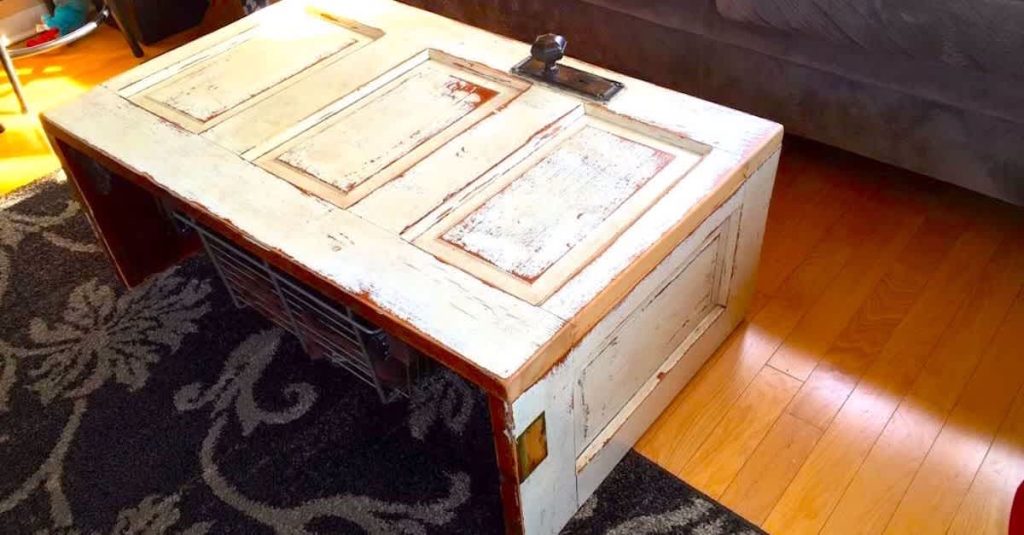 This may not be something you can buy from a store, but it is an interesting project you can try. For added benefits, drill in some wheels to the bottom so the table moves easily.
See More: 15 Genius Bedroom Storage Ideas You Have to Try
8. Baskets and Tables
A unique way to change your ordinary coffee table into something extra is by adding storage units to it.
To make your living room look more rustic, you can add baskets of different materials for an effortless decor option. Materials like wicker or metal wires are often chosen for their earthly appeal.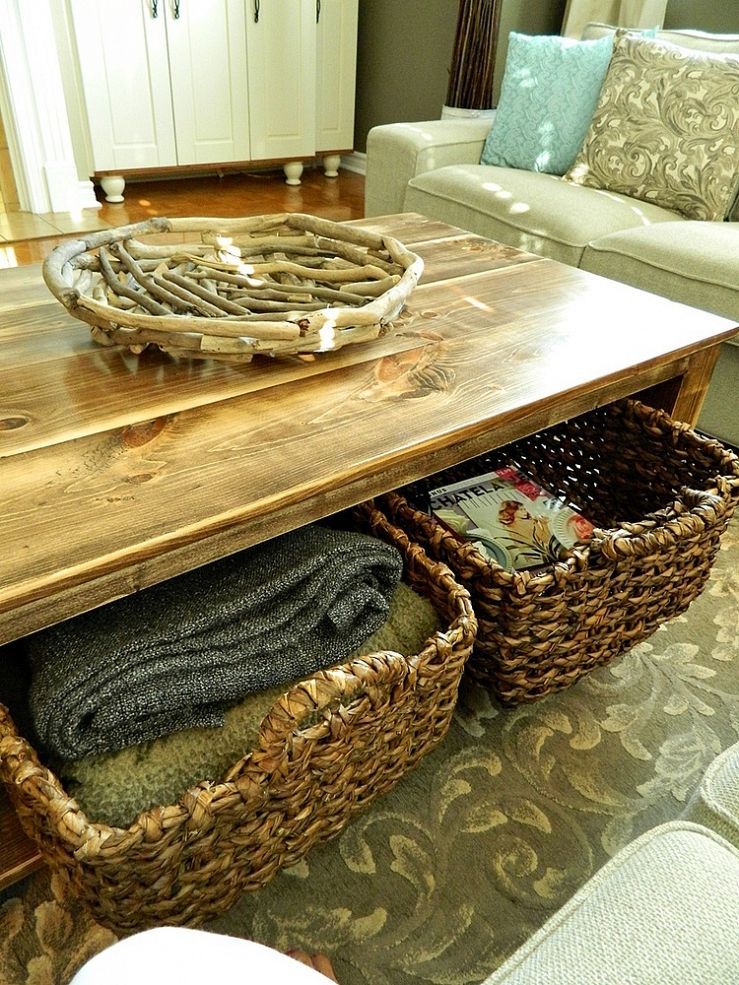 Wicker baskets offer ample space for the storage of books and are especially beneficial for those with small rooms. They are also versatile, readily available, and can last a long time.
Wicker furniture is also popular among all generations for its aesthetic appeal and general usefulness. Another combination worth considering is a simple wooden table accompanied by chicken wires.
A wire basket that can turn into a table is perfect on the go. It can store a huge amount of products and can be dismantled and packed in the blink of an eye.
9. Bench Farmhouse Coffee Table
The aim of farmhouse decor has always been to reuse old and worn objects by giving them new life.
And to get that authentic look for your living room, try searching your own house for furniture that has seen better days.
For example, if you have an old bench lying around, you can easily convert it into a special coffee table.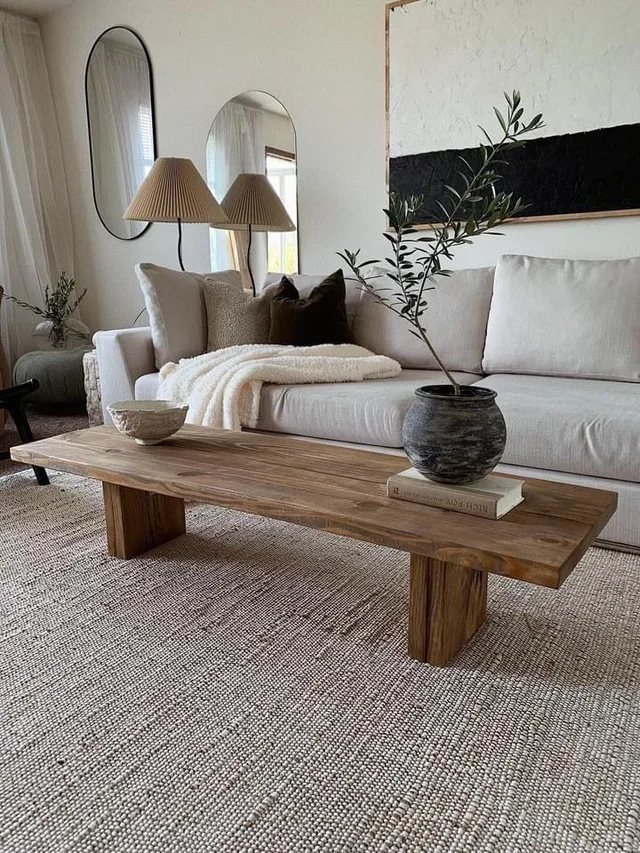 Benches are not readily available in modern homes anymore. But if you like the aesthetic, try searching for one in your local thrift stores for cheap yet unique finds.
You can also buy a bench online and just put it alongside your couches for the rustic effect.
10. Track-Like Coffee Table
One of the most lovely coffee tables out there is the railway trackside farmhouse coffee table.
The product is the ultimate find for farmhouse decor fans as the item stands out against other generic woodwork. It combines the rustic railroad appeal with a modern glass twist and is made of earthly materials like steel and stones.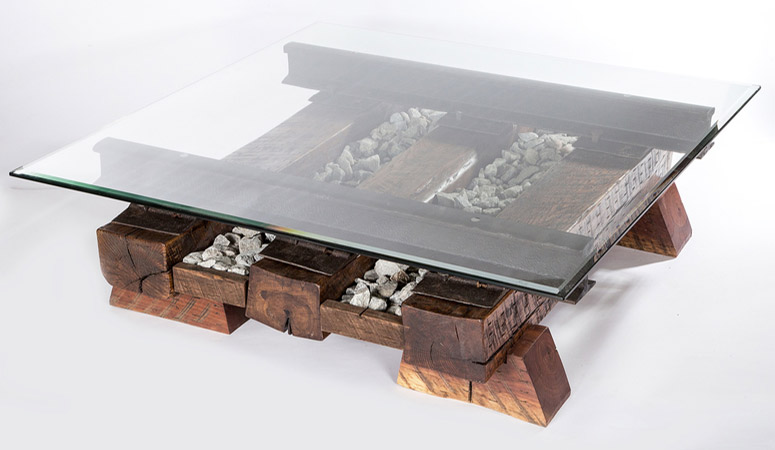 The wood used to make tables like these is similar to the timbers used to lay railway tracks.
The glass top gives a great view of the characteristics and texture of the wood, along with the creosote-free cross ties. In the end, if you are looking for a state-of-the-art coffee table, buy this for your living space.
11. Treasure Chest for A Table
A grand piece of furniture that can transform your living room is a vintage chest for a coffee table.
Its practical value lies in its ample storage space, but its charm is the exterior that gets the guests talking. A farmhouse coffee table like this will give you more ideas on how to decorate the rest of your apartment.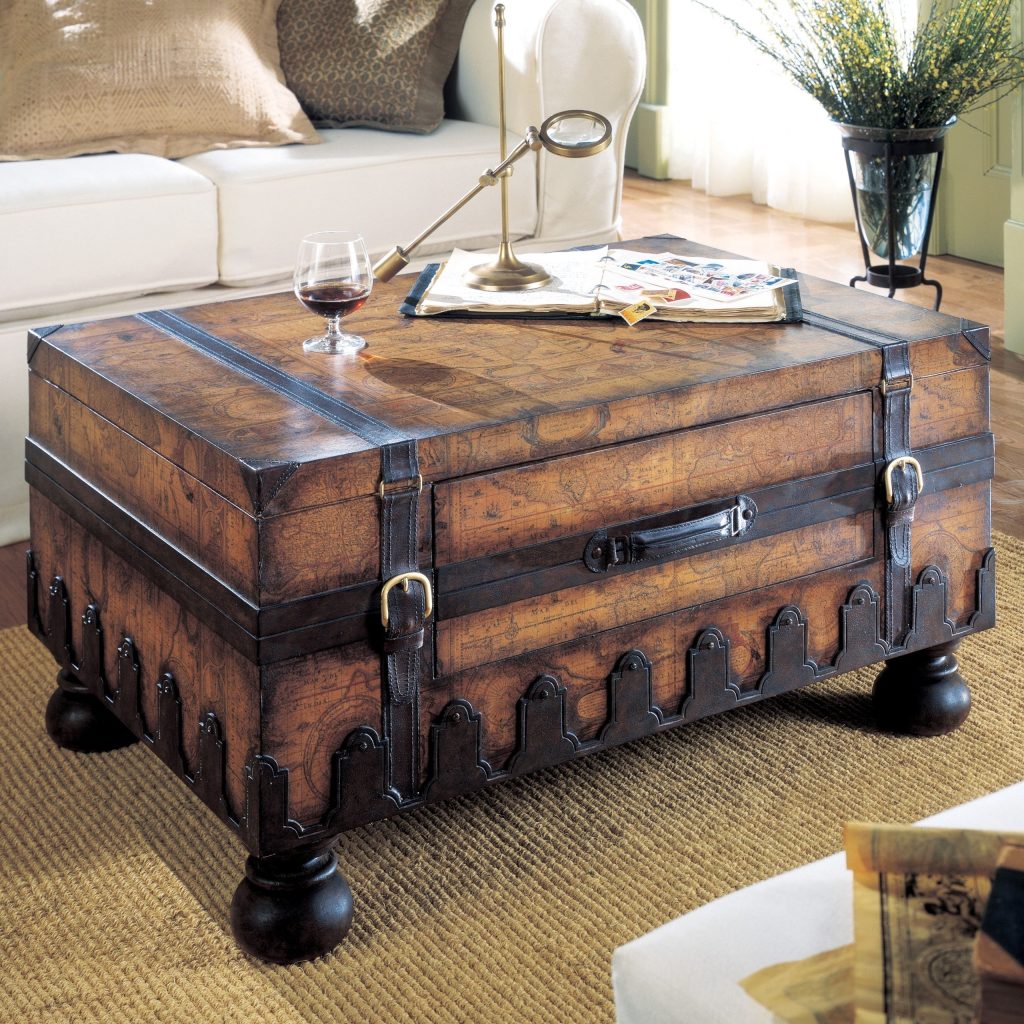 There any many materials to choose from, like faux leather or even metal to make it look like a pirate's treasure box.
But for a more rustic appeal, go for a wooden chest with metal details. The product may not be a real antique but it will look charming anyway.
12. Go Minimalistic
Farmhouse aesthetics and minimalism are not the opposite ends of the spectrum. Choosing to opt for simple rustic furniture to fill your house will result in a soothing vibe.
For example, a table shaped out of a single piece of wood makes for an excellent coffee or end table.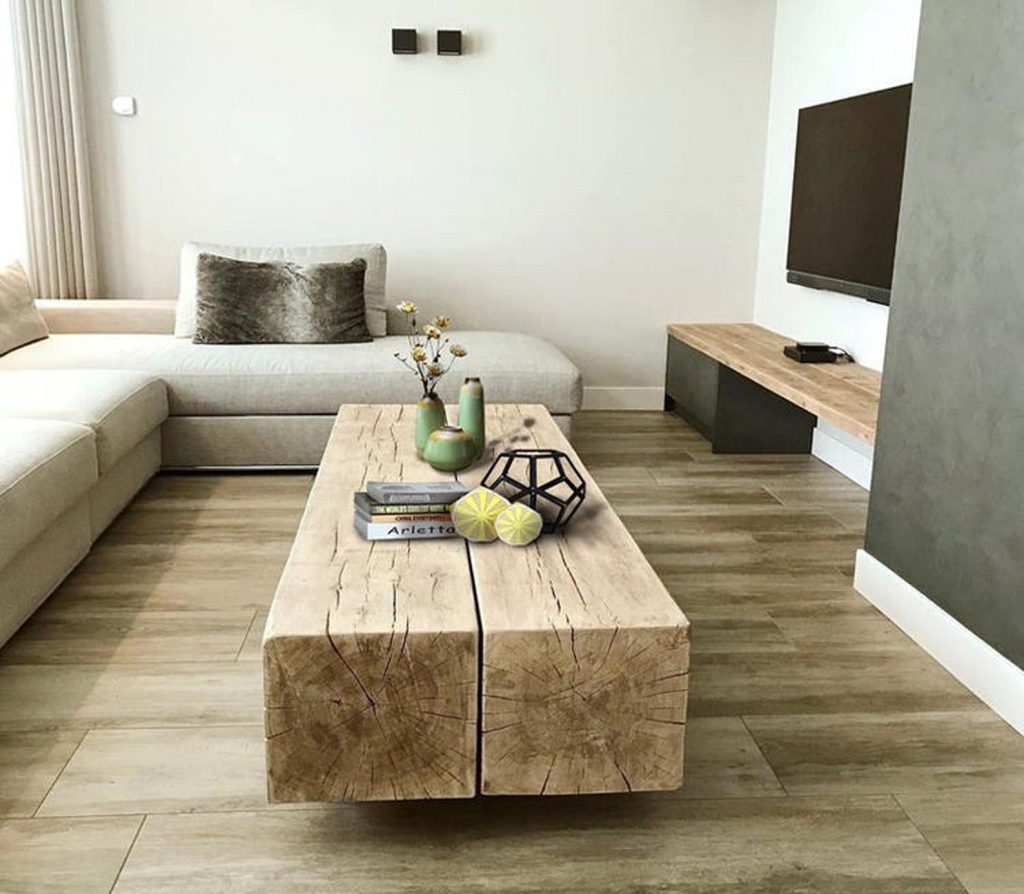 Solid coffee tables may look beautiful, but they do have a few disadvantages. They do not offer any kind of storage options.
The only place where you can put your items is on top of it. But the construction is sturdy enough to last a long time. So, if you aim to get a durable and simple table, go for a minimal design.
Related: 15 Gorgeous Farmhouse Paint Colors for Your Dream Home
13. A Cabinet-Style Coffee Table
Using a big cabinet as a coffee table can be beneficial in many ways. For some, renovating a room means throwing out old furniture and getting a sleek modern set.
But instead of throwing out your chest of drawers, put some innovation into it and turn it into your new farmhouse coffee table.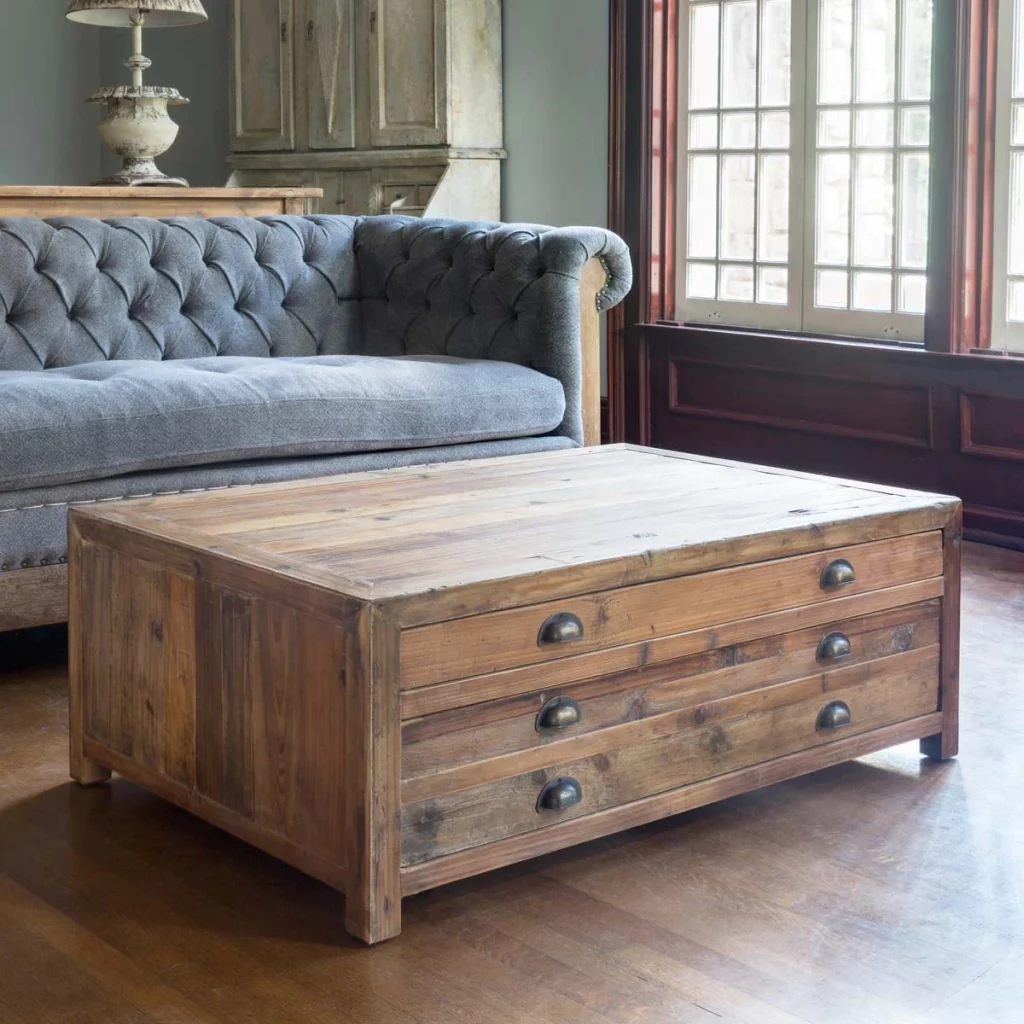 There are also many other options available around the internet. Apothecary tables especially have a vintage appeal, making them very popular.
Apart from looking trendy, they also offer a lot of space to keep all of your stuff. Most cabinet-style coffee tables also have an easy lift top for better accessibility.
14. Barnwood Top Table
People often throw away their old worn-out coffee tables for new sleek ones made of glass. The wood on the furniture is often scratched and dirty.
But for those with an artistic soul, old stuff just needs a little care to become new. Your thrift table just needs a few coats of wood stain and some extra planks to become top-of-the-line furniture.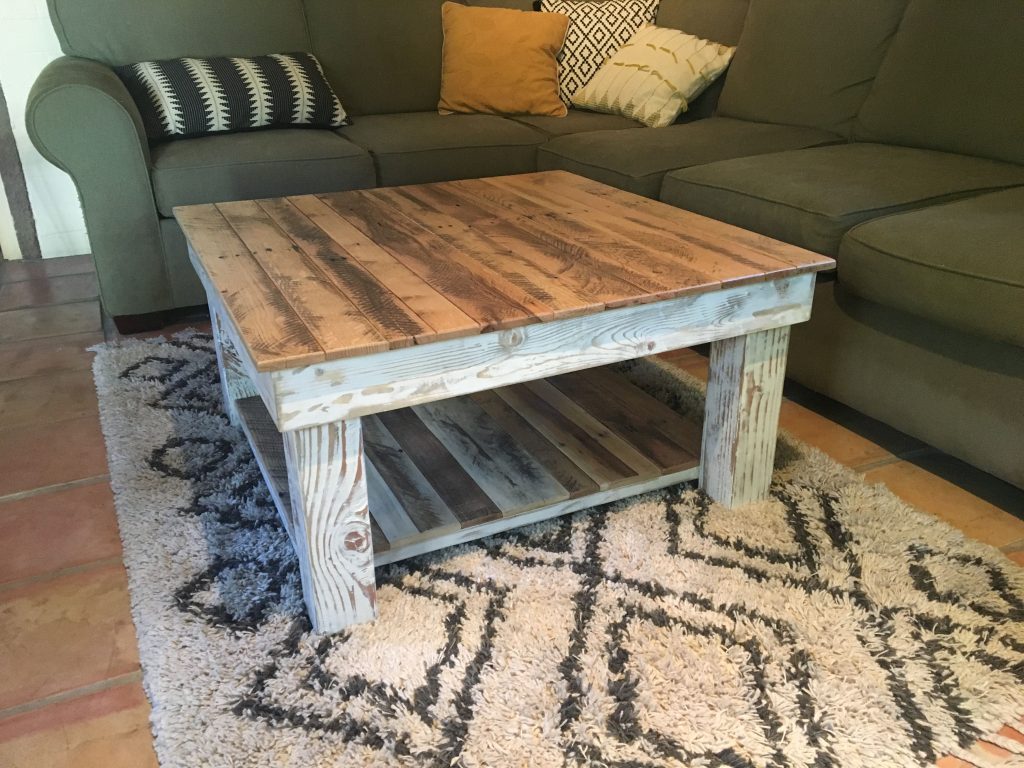 Barnwood-style coffee tables also provide a lot of free space underneath them. Their size makes them the centerpiece of most rooms, and leaving them empty gives the room an airy feel.
The salvaged look is perfect for those who love vintage aesthetics.
15. White Farmhouse Coffee Table
The farmhouse style and its color palette usually contain earthly shades of browns and blacks. But that doesn't mean that white looks out of place within its furniture.
From shabby chic to pretty cottage looks, a white coffee table serves a lot of aesthetics.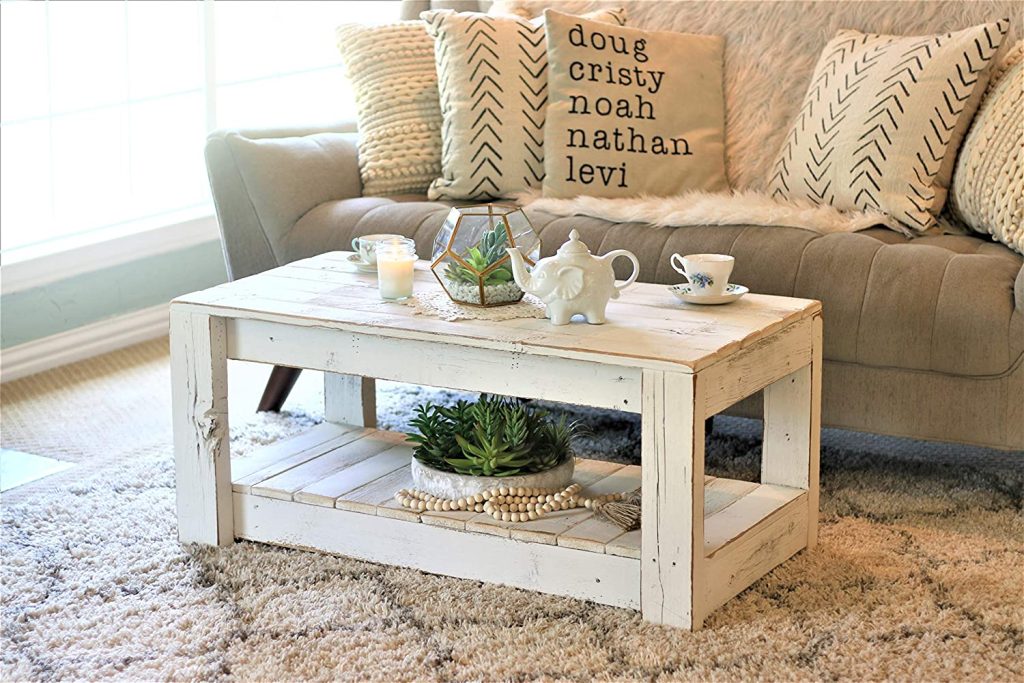 A combination of browns and whites also brings a fresh outlook and brightens out the entire room. Therefore, a white coffee table would look well with shades of brown in your living room.
The distressed finish also makes the house look lived in, where the guests can settle in comfort.
16. Coffee Tables with Barn Doors
For coffee tables that bring the farmhouse to the living room, opt for a piece with real accents of barn life.
And with this wooden coffee table with barn doors for drawers, you can live the farmhouse life even in the city. Tables like these are the perfect blend of modern and rural vibes.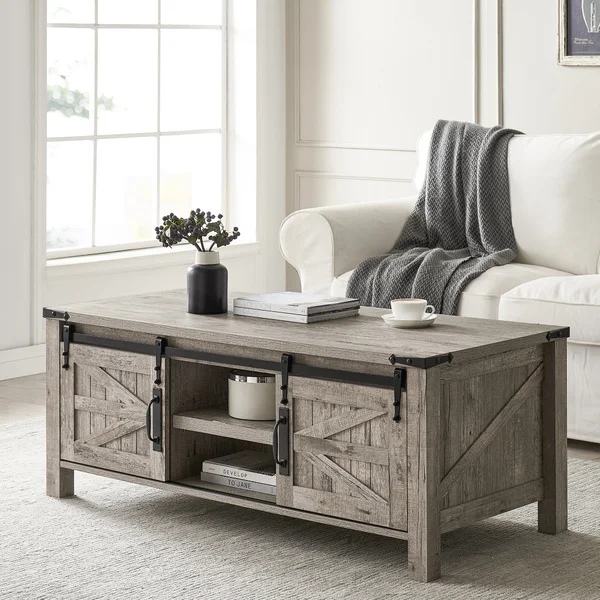 Coffee tables like these are often statement pieces that become the talk of the room. But apart from their external appeal, they have more than enough space to store all of your stuff.
The barn doors also have metal and iron undertones for that special look.
Check This Next: Top 25 Farmhouse Sofa Table Decor Ideas for your Living Room
17. Factory Cart Coffee Table
Another farmhouse coffee table idea for your living room is the readily available vintage table with wheels.
This unique piece, although rather simple, is made stunning with the little black wheels. The purpose of this table is to look rustic while being easily moveable.
The rectangular shape also makes it perfect for every kind of living room.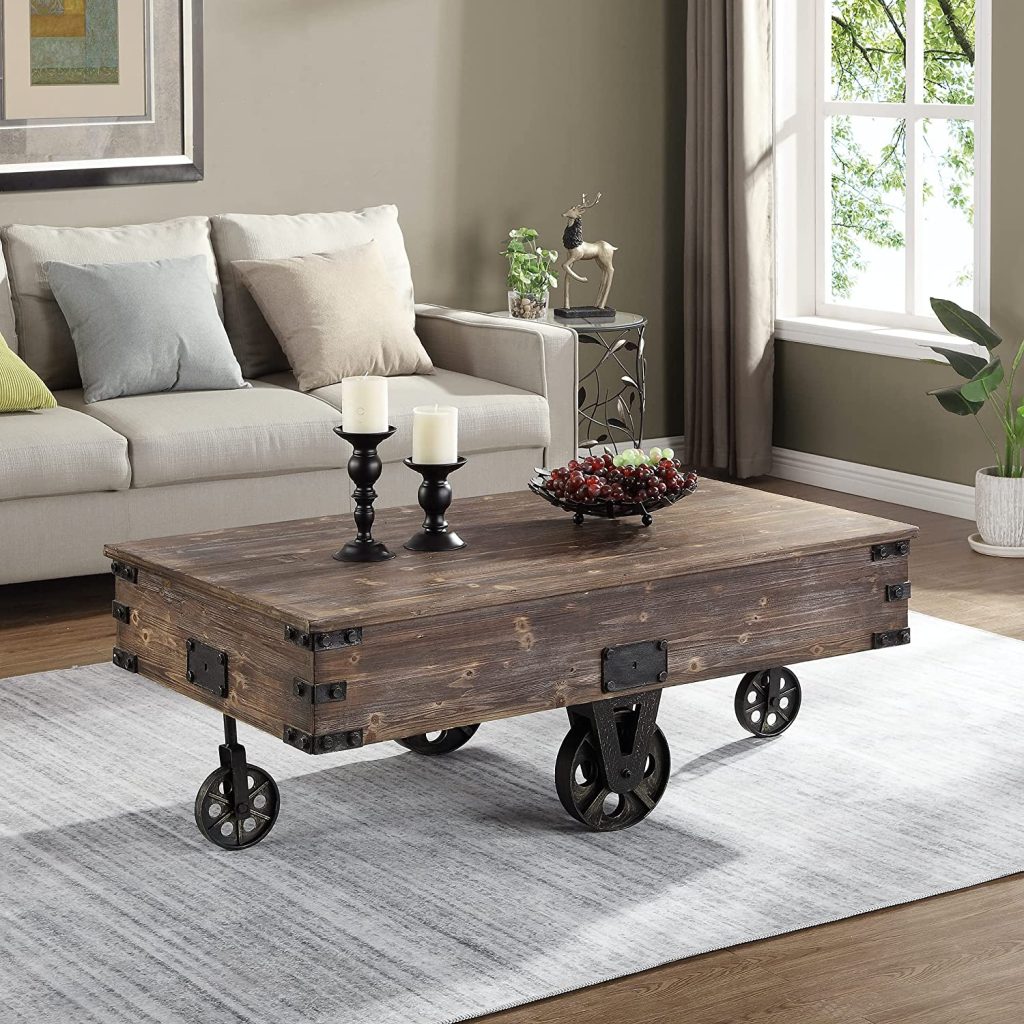 This table was created with the inspiration of an industrial cart but with a modern twist. The black caster wheels, along with the wood stain, give it an antique finish.
But even though it's a pretty piece, it doesn't offer any kind of storage capacity.
Summing It Up
Coffee tables are an interesting feature that can liven up any living room. But if you want the farmhouse style, you might need to sift through a lot of products before finding the right fit.
There are many unique farmhouse coffee tables out there, each with its special feature.
So you can opt for a refurbished table made from old windows and doors or get a plain round wooden spool. And your choice would never be wrong.
Comment below and let us know what your ideal rustic coffee table looks like!
Other Articles