15 Best Farmhouse Stained Concrete Floor Ideas for Kitchen
Are you looking to transform your kitchen using farmhouse-stained concrete floors? If yes, then your thoughts are in the right direction. Explosive ideas are always happening in the sector of kitchen...
Are you looking to transform your kitchen using farmhouse-stained concrete floors? If yes, then your thoughts are in the right direction. Explosive ideas are always happening in the sector of kitchen decor, and concrete-stained floors are one of them.
Are stained concrete floors a good option for a kitchen? Is it true that a new kitchen floor can transform the entire space in a breathtaking manner? Find answers to all these questions and more in this article!
We have prepared a list of the best farmhouse-stained concrete floor ideas for kitchens. Scroll down to explore the designs!
Kitchen Designs with Farmhouse Stained Concrete Floors
1. I-Shaped Concrete Kitchen Floor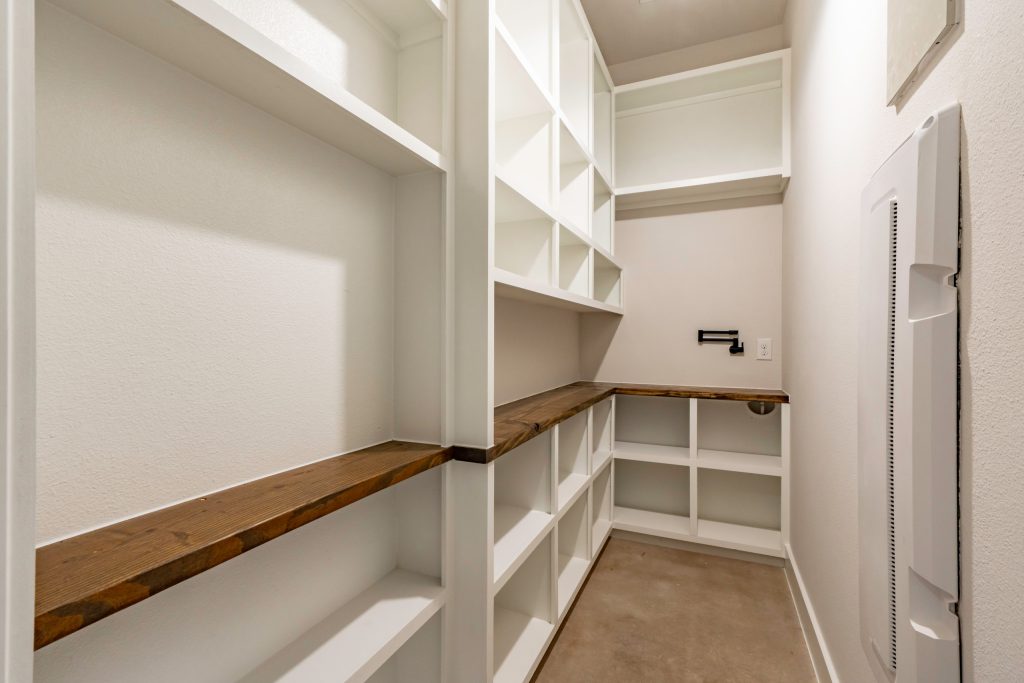 Certain times, there won't be a vast area allocated for your kitchen. For such compact spaces, you can opt for such a design. This optimal farmhouse kitchen design sports an I-shaped concrete floor beige. Open kitchen cabinets organized in a neat manner add perfection to the kitchen. The use of white to paint the cabinets, along with white and brown countertops, gives a contrasting variety of colors. Such a design will be apt for those compact kitchen spaces that are looking for a farmhouse touch.
2. Farmhouse Pantry Kitchen with Concrete Flooring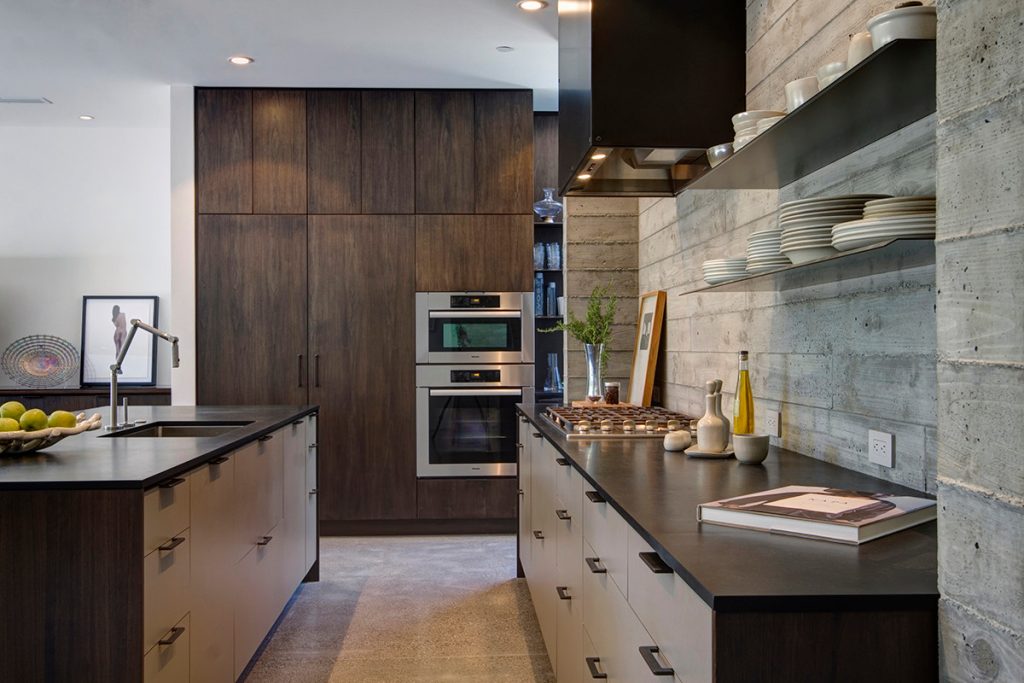 The pantry kitchen style is one of the most suggested decor options for someone who is looking for productive kitchen designs. With an I-shaped concrete floor and pantry-style cabinets, this kitchen can help you have quick access to food. You can see how well an under-mounted sink, flat panel cabinets, and paneled appliances are placed along with a kitchen sink. A dark wood color is used for the cabinets here for a stunning look. Nothing gives the wow factor more than a well-styled room like this!
3. Farmhouse Kitchen style with a U-Shaped Concrete Floor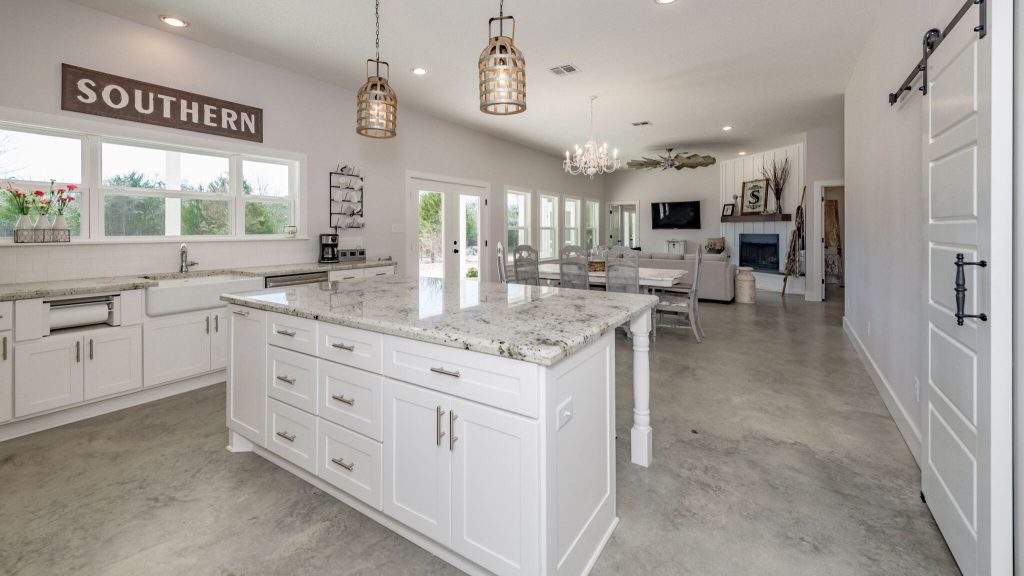 This style is recommended for those who are looking to set up a farmhouse-style kitchen in a room with ample space. You can plan a U-shaped concrete floor here and around a kitchen island. A granite countertop is used for the island, and the rest of the space is utilized for storage. A subway tile backsplash and stainless steel appliances will give your kitchen a classy edge. If you are going with a white color for the kitchen cabinets, it is suggested to go with a grey-colored concrete-stained floor for a better overall look.
4. Large Farmhouse Kitchen with Concrete Stained Floor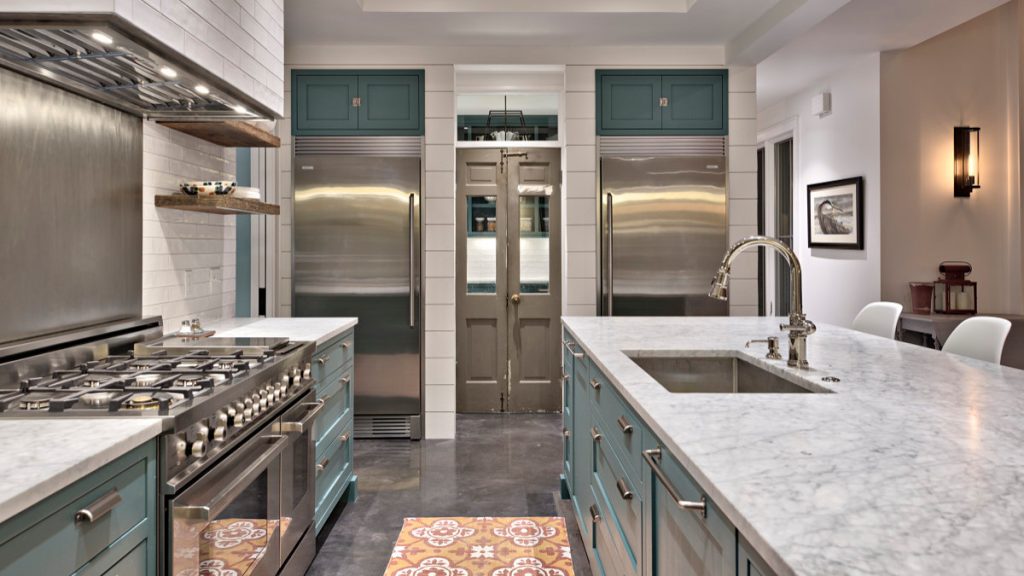 This style could be taken as inspiration for a large farmhouse kitchen setup. A U-shaped concrete floor could be seen here, and the room boasts an ample amount of space, but not a bit goes unused. Recessed panel cabinets are used for storage on a kitchen island with a marble countertop. A white ceramic backsplash is used to give an industrial touch to the walls. An under-mount sink makes washing utensils easy, and the intermediate addition of blue to cabinets enhances the look.
5. Cottage Galley Farmhouse Kitchen with Concrete Stained Floor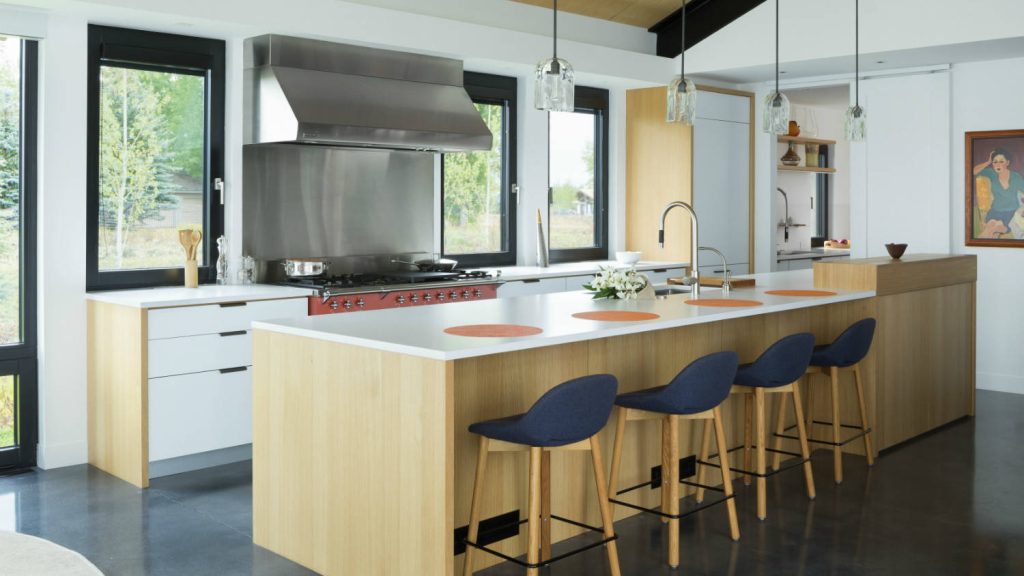 Galley kitchen styles are gaining prominence, and adding concrete-stained flooring to such a setup will give your kitchen a standout ambiance. You can see a splash of color in this example. The colors used for the chairs, cabinets, and countertop look appealing, considering the grey-colored concrete flooring. This is a renovated setup with the usual under mount sink, white cabinets, and a kitchen island with steel appliances
6. Farmhouse Style Galley Kitchen with Soapstone Kitchen Island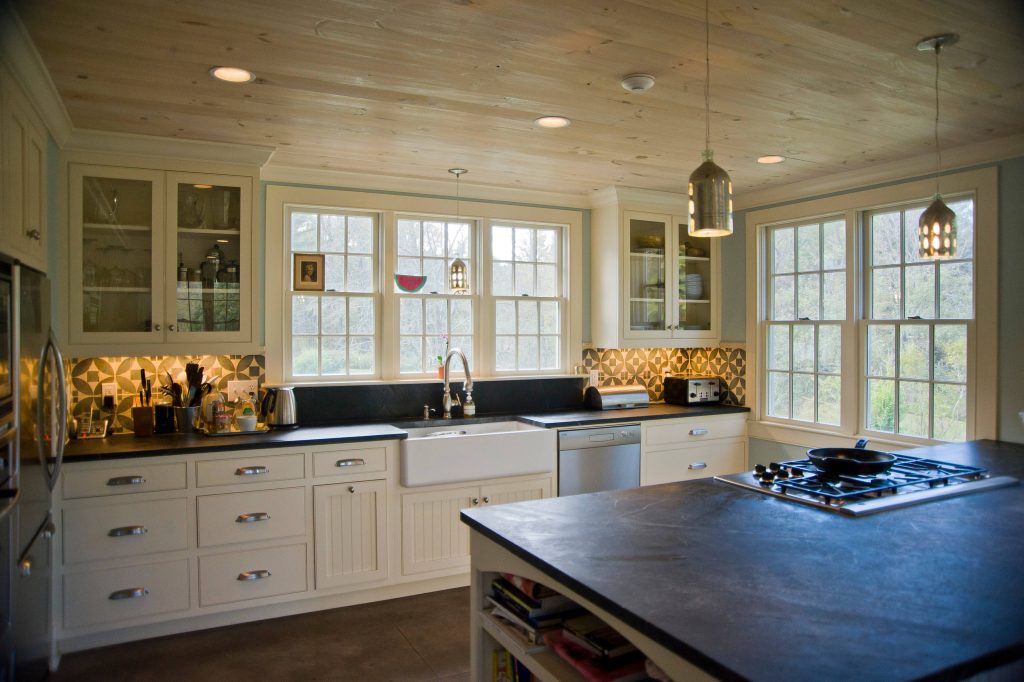 When you have a large space for a kitchen or are looking to remodel your existing kitchen using farmhouse-stained concrete floors, you can consider this look. Along with a brown concrete-stained floor, the soapstone countertop used for the kitchen island attracts the most gazes. Shaker cabinets are used in this setup, along with green and ceramic backsplash styles on the walls.
7. Large Eat-In Kitchen Design with Concrete Flooring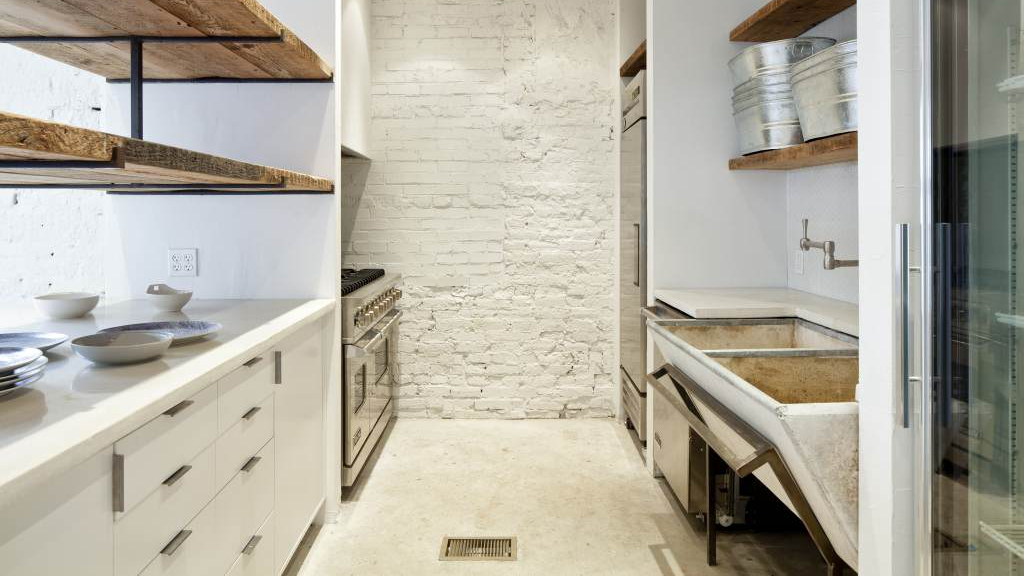 If you don't have enough space to set up a kitchen island, it is okay not to have one. Instead, try this eat-in farmhouse kitchen setup! A farmhouse sink can be seen along with flat-panel cabinets. The countertop used is made of soapstone, even though there is no island in this setup. Stainless steel appliances give a classy look, along with the overall white color used in the kitchen.
8. Kitchen with Peninsula and Concrete Stained Floor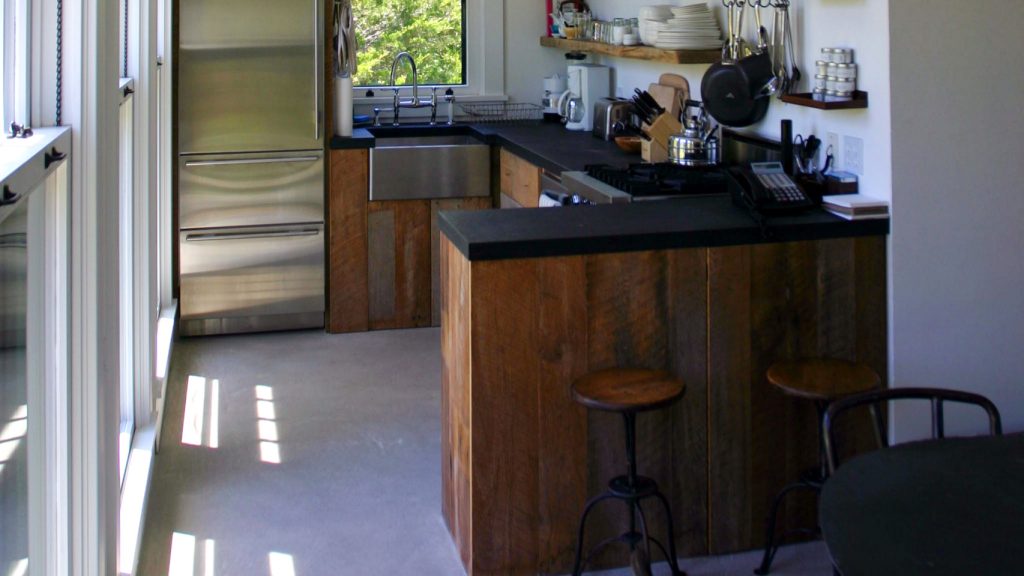 As farmhouse-style kitchens became more popular among people, the inclusion of kitchen islands, too, became common. If you are looking for a different style with no kitchen island but still want to get the benefits of one, this design is for you. A good alternative for kitchen islands is peninsulas. An end of the peninsula is attached to the wall but still serves as a unit with a worktop. Along with a concrete floor and dark wood cabinets, the kitchen looks stylish and classy in this design.
9. Kitchen Island with Country Concrete Floor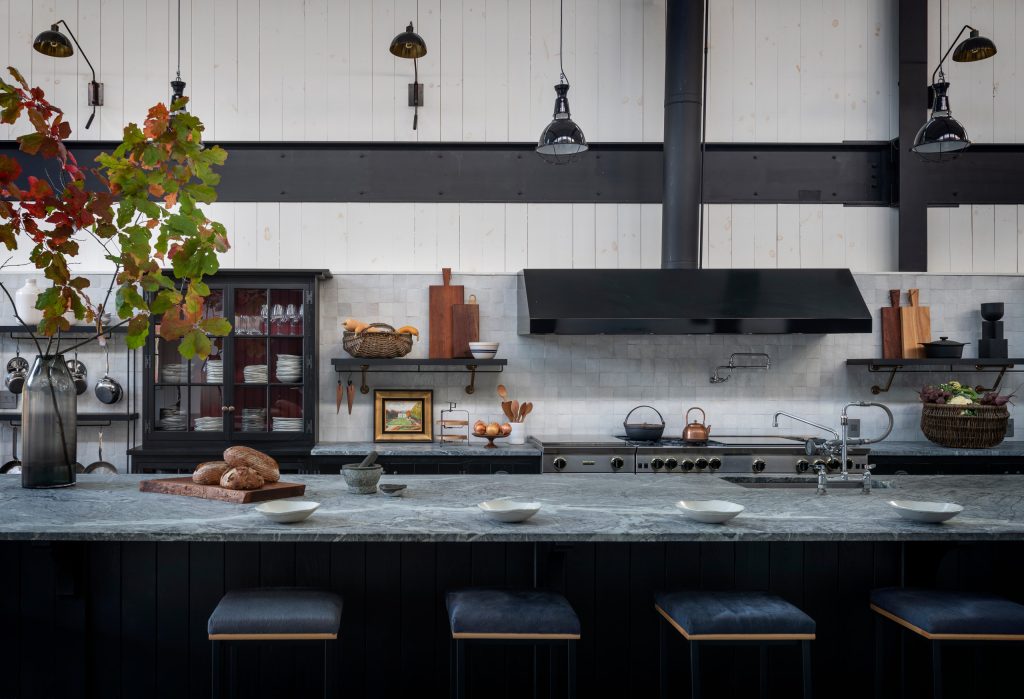 Give your kitchen a vintage, mystic look by placing a large kitchen island with a soapstone countertop. Recessed panel cabinets are used to give the kitchen a stylish touch. The whole setup of the kitchen, the colors used, and the stainless steel appliances will go great when the flooring is done using concrete. A terra-cotta backsplash is used for the walls to give them a classic touch with contrasting dark and light colors around them.
10. Farmhouse Style Kitchen with U-Shaped Concrete Stained Floor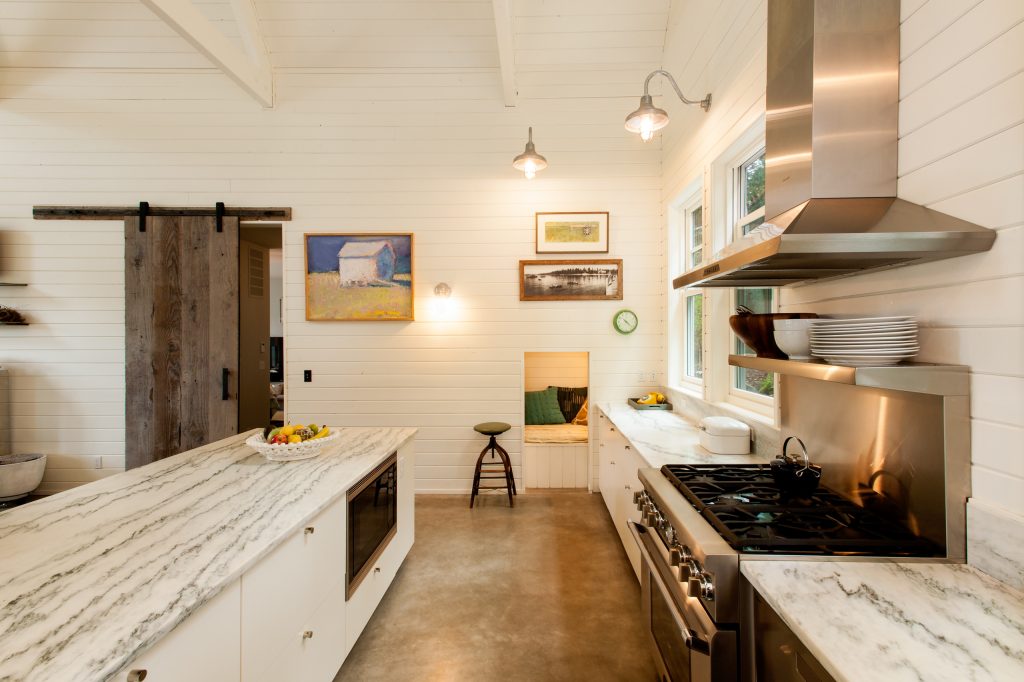 Open kitchens are becoming more popular as they look spacious and friendly to hang out in. If you are looking for one such kitchen design with stained concrete floors, this one is for you. In this design, you can see a U-shaped concrete floor and an island with a quartzite countertop. White cabinets and white-colored walls give the room a rich look. The cabinets used are flat-paneled in nature, and an under-mount sink makes it easier to handle the utensils.
11. Guest Cottage Kitchen with Stained Concrete Flooring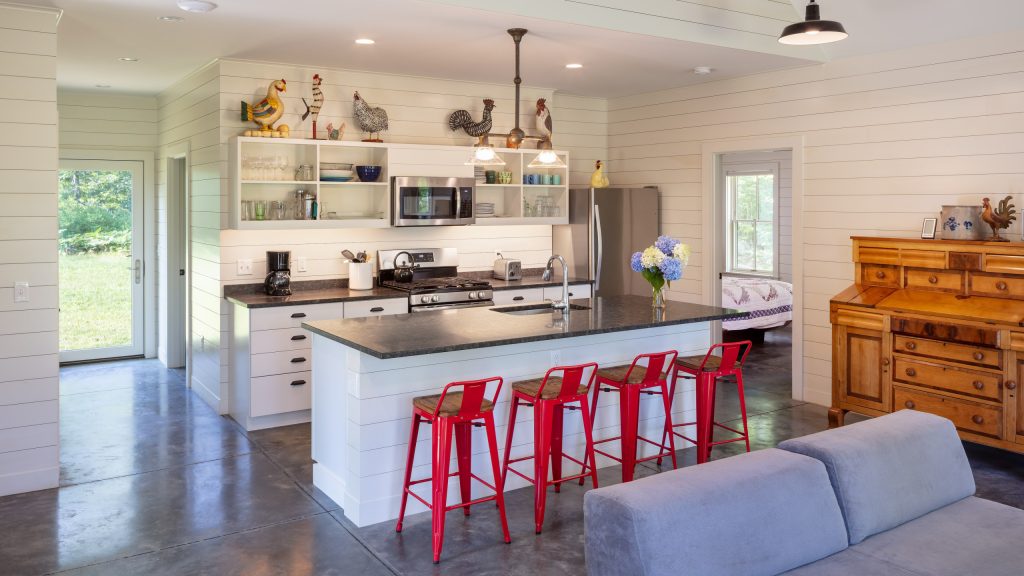 Try matching your concrete floor color to your kitchen island countertop, and it will give a simple yet even look to your kitchen. In this design, you can see that both the kitchen island countertop and the floor are made of granite. To make the most of the space, white flat-panel cabinets are installed along with an under mount sink. To give the background an outstanding look, a white and wooden backsplash is used for the walls
12. Cottage Farmhouse Kitchen with Grey Concrete Stained Floor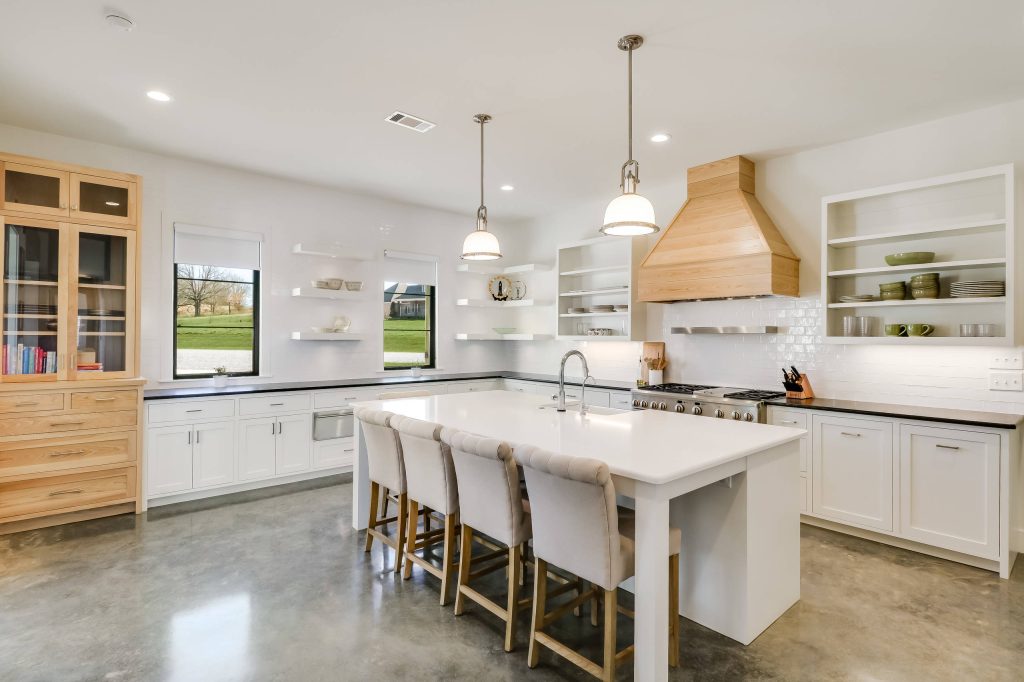 White is the color of elegance, purity, and class. If you are a person who loves white and wants to make your kitchen look shiny white as a whole, try this farmhouse kitchen design. To make the entire place vibrant, a grey-stained concrete floor was used. A quartzite countertop is used for the kitchen island to make it look polished and shiny. A white subway tile backsplash is used for the walls, along with white cabinets. An occasional wooden accent will add a touch of style to the entire setup.
13. Open Farmhouse Kitchen with Concrete Floor and Breakfast Nook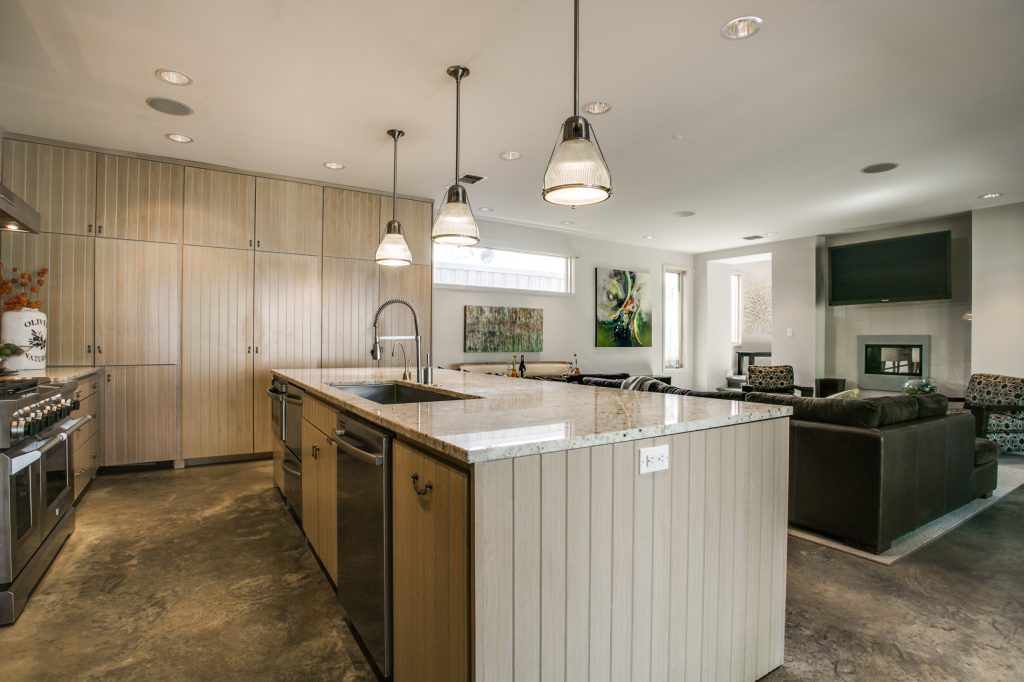 We suggest you try installing a breakfast nook in your farmhouse-style kitchen. It will act as an additional space for you to eat, usually situated by the side of the kitchen. In this kitchen, a grey concrete-stained floor is used to match the surrounding decor. A wooden and white backsplash can be seen in the background. The set-up is planned with the idea of letting you cook, lounge, and dine at the same time. From the styles adapted for the cabinetry to the breakfast nook, it is evident that the kitchen gets a warm look altogether.
14. Kitchen with I-Shaped Concrete Floor and Raised Panel Cabinets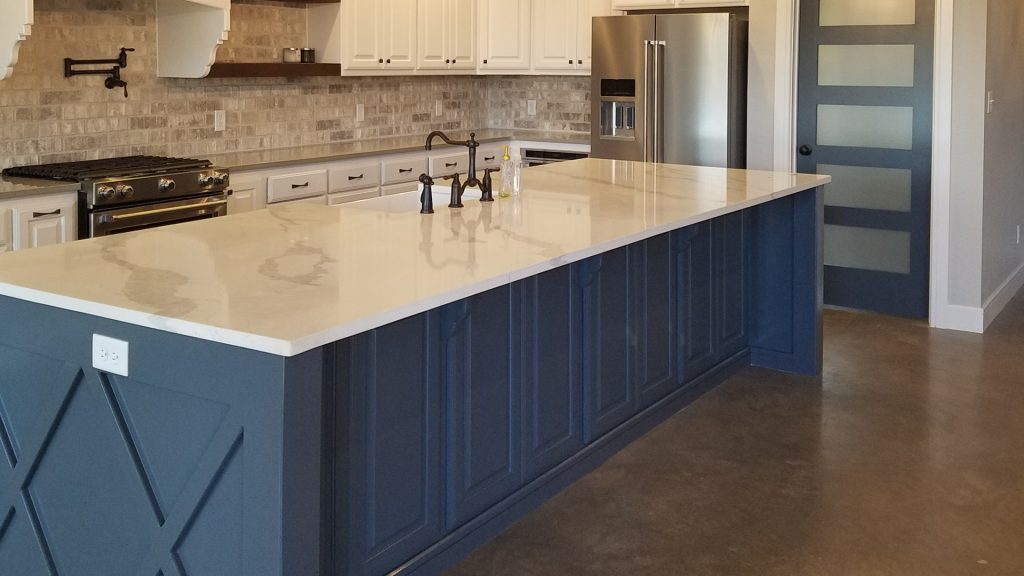 Mixing up traditional and formal kitchen styles is the new trend. Trying to install a raised panel cabinet in a traditional, farmhouse-style kitchen will steal some glances. A quartzite countertop is used for the kitchen island here, along with dark grey concrete flooring. A grey, brick-style backsplash is used for the walls, along with stainless steel appliances. The sink used follows a farmhouse-style design, and white cabinets accentuate the overall decor in such a design.
15. Farmhouse Kitchen Design with I-Shaped Concrete Stained Floor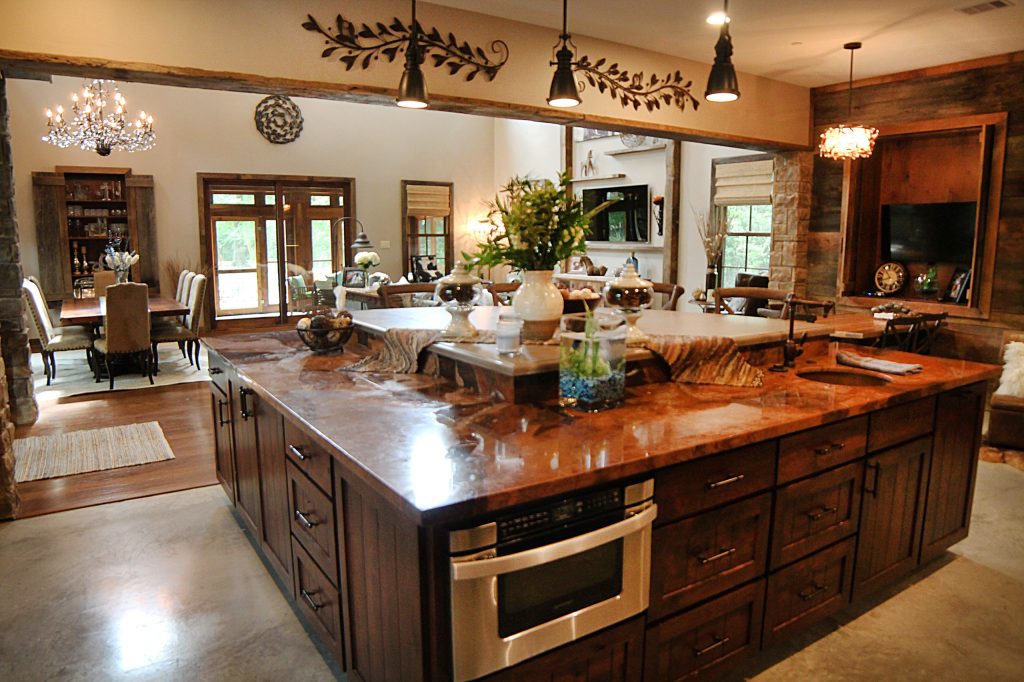 Give your kitchen a rich, royal look by making the space as productive as possible. This design is best suited to add a conclusion to this catalogue of kitchen ideas. Marble countertops are used for the large kitchen island to give it a glossy look. A brown-stained concrete floor beautifies the kitchen, and a mosaic-style backsplash is used for the walls. Distressed shaker cabinets fit very well into such an outstanding design.
Are Stained Concrete Floors Good for Kitchens?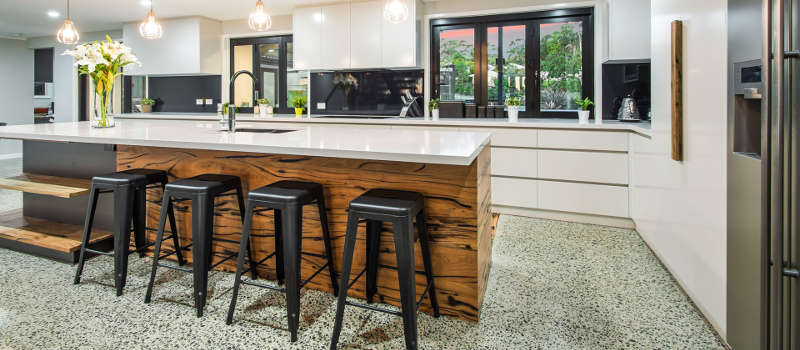 Kitchen decor is a topic that never goes out of style. You can always find a forever evolution of ideas in this sector. The idea of laying the concrete floor for a kitchen might have invited some frowns years ago, but not anymore! It just became a design concept that is widely accepted. And yes, it might not suit everyone. But if planned and designed well, your kitchen can become a point of attraction!
Considering stained concrete for kitchen flooring has a lot of benefits. The wide range of customization it offers comes first. You can decide whether your floor should look warm, multicolored, solid, or patterned. A concrete floor can offer all of this and more! You can choose the floor of your kitchen from an already existing slab or make a customized new one.
One thing to always keep in mind while planning a kitchen's flooring is that the floor will be more prone to stains. Due to food and drink spills or even foot scratching, the kitchen floor always attracts trouble. Hence, an easy-to-clean surface is a relief. A stained concrete floor wins the game in this scenario, as it can withstand literally anything.
The volatile and low-maintenance nature of concrete has made it a preferred choice for a lot of designers. You can always choose the best-fitted stained concrete floor to match the existing decor. We have listed a variety of designs you can choose for a farmhouse-style kitchen with concrete-stained floors.
End Note
Whenever a room is refurbished or a new house is built, everyone will love to make the process a cost-effective one without compromising on quality. Concrete is a durable and perfect material for kitchen flooring
With infinite styles and colors to choose from, you can always tweak the flooring as per your requirements. Not only this, using a concrete floor for flooring has multiple advantages that aren't just limited to its looks.
Concrete floors are not only just stain resistant but also to fire and bacteria. Hence, going with concrete flooring not only enhances the ambiance of the kitchen floor but also increases the protection of the entire space, especially when you have kids around. A professional and planned way of construction will ensure leak-proof flooring as well.
With the above article, we hope you can get an insight into a variety of kitchen designs. Concrete-stained floors are best for farmhouse-style kitchens and give the flooring a radiant yet minimal look.
Frequently Asked Questions
Is Concrete Flooring Cold or Damp?
Of course, a concrete floor can be cold in nature, but not more than the usual ceramic tiles used. They will be just as cold as a natural stone floor but not more than the usual ceramic tiles used. They will be just as cold as a natural stone floor.
Are Concrete Floors Durable?
Concrete is known for its strength and hardness, so floors made of it are extremely durable. They are known to last for decades without any issues.
Are Concrete Floors Slippery?
Just like any other hard-surfaced ceramic flooring design, concrete floors can be slippery when they are wet. Hence, it is always recommended to keep the floors clean and dry, despite the materials used.
Other Articles