In life, one should make space for the things one likes. If you are a coffee lover, and your mornings begin with that freshly brewed cup of coffee, you must invest in a coffee station for your home. Your mornings can start just as you like, with the smell of coffee wafting through your home. A nice coffee station will make your morning coffee ritual more special.
And we could all use a little special in our lives. There is no need to run to spend extra bucks at Starbucks for your morning coffee fix. You can make a rich espresso in the comfort of your home. This article lists 11 coffee station tables you can buy to begin decorating your coffee corner.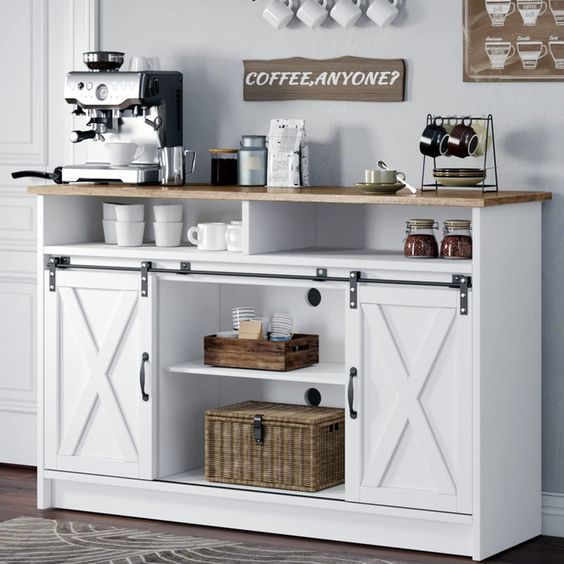 The white coffee station table will liven up your home. This coffee station is sturdy-looking. The two cross-buck doors slide into the middle. The coffee station provides enough space to keep your coffee jars, cups, and your coffee machine.
This coffee station comes with enough storage and gives a chic, modern look. It would be a great addition to your home.
Similar Post: 17 Unique Farmhouse Coffee Table Designs for Your Home Décor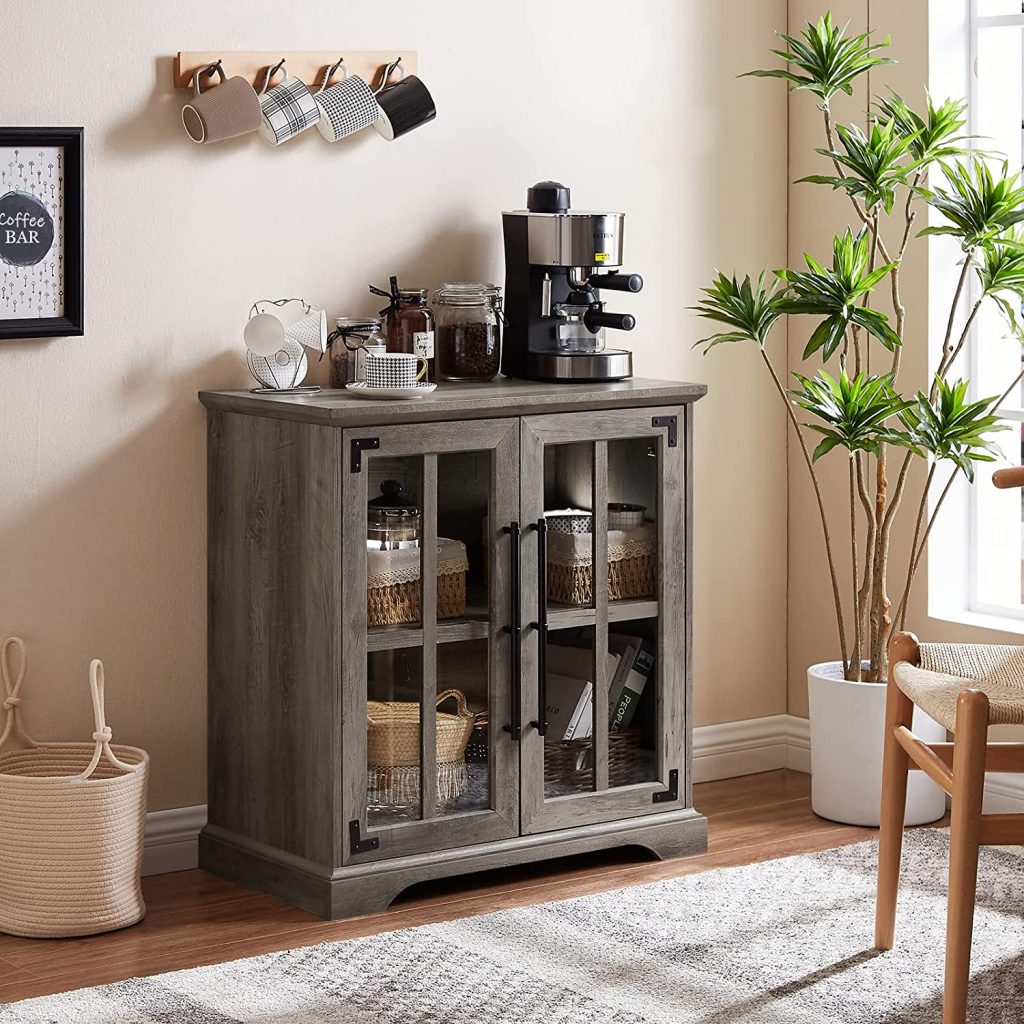 This beautiful grey coffee bar cabinet is a sleek piece of furniture. This is a compact glass accent cabinet. The countertop and cabinets are made of a good quality MDF+PB board (medium-density fiber and particle board). The color and the texture of the table give it a vintage look.
The countertop provides enough space for you to place your coffee pot and coffee jars. The glass cabinets can be used to display your coffee essentials and your best coffee mugs. The cabinet can be used as a storage space for your collection of coffee, syrups, and utensils.
With a rustic yet classic grey wood finish, this particular coffee station table will add to the elegance of your house.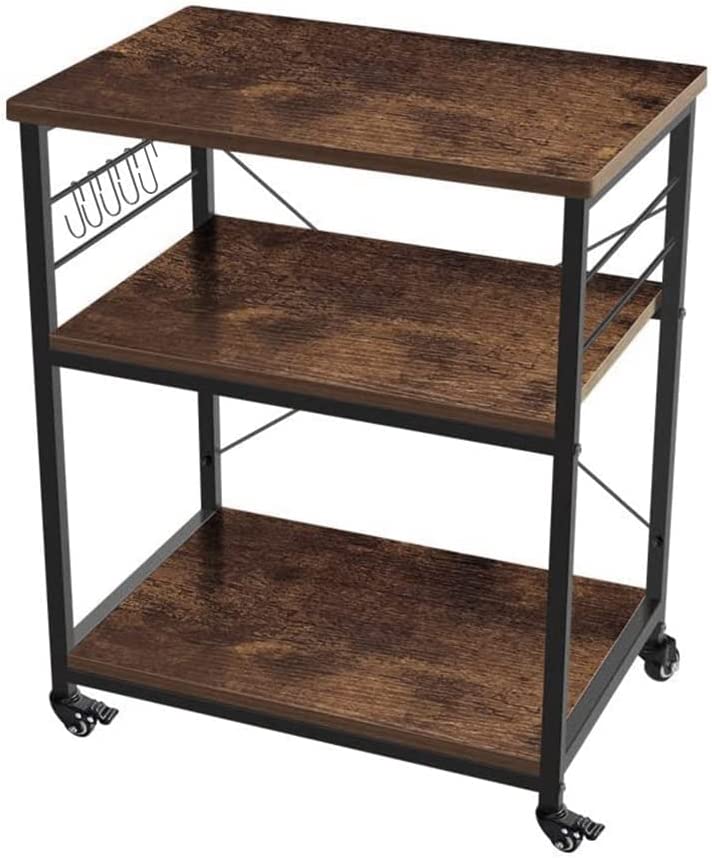 If you don't have enough space or are into more minimalist designs, you can use a rolling kitchen cart and convert that into your dainty little coffee station table. Rolling kitchen carts are great for storage and are not heavy-duty pieces of furniture. They can be moved around easily.
This particular kitchen cart is made of wood-based board and bound by solid metal frames. It's a sleek-looking cart that can easily be used as a coffee station.
Use the different levels of countertops to store your coffee beans, and place your coffee maker at the top. Place your coffee mugs and maybe a small potted plant. Your coffee station is ready.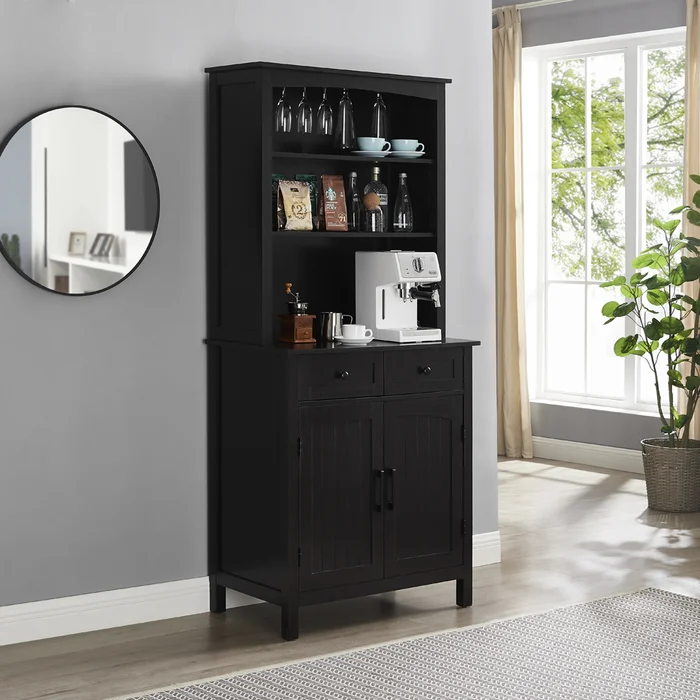 This bar cabinet hutch in classic black screams elegance and sophistication. This piece of furniture comes with two sliding drawers are extra storage spaces for small items. The big cabinets beneath the drawers are perfect for storing big items or ones you want out of sight.
Your glasses and ceramics can be displayed on the shelves above. For your favorite glassware, there is a special glass cabinet shelf above. This bar cabinet will certainly be the center of attention in your kitchen or living room. A black cabinet Hucth will never go out of fashion. Design it to your taste, keep it neat, and you will have an impressive coffee station you can brag about.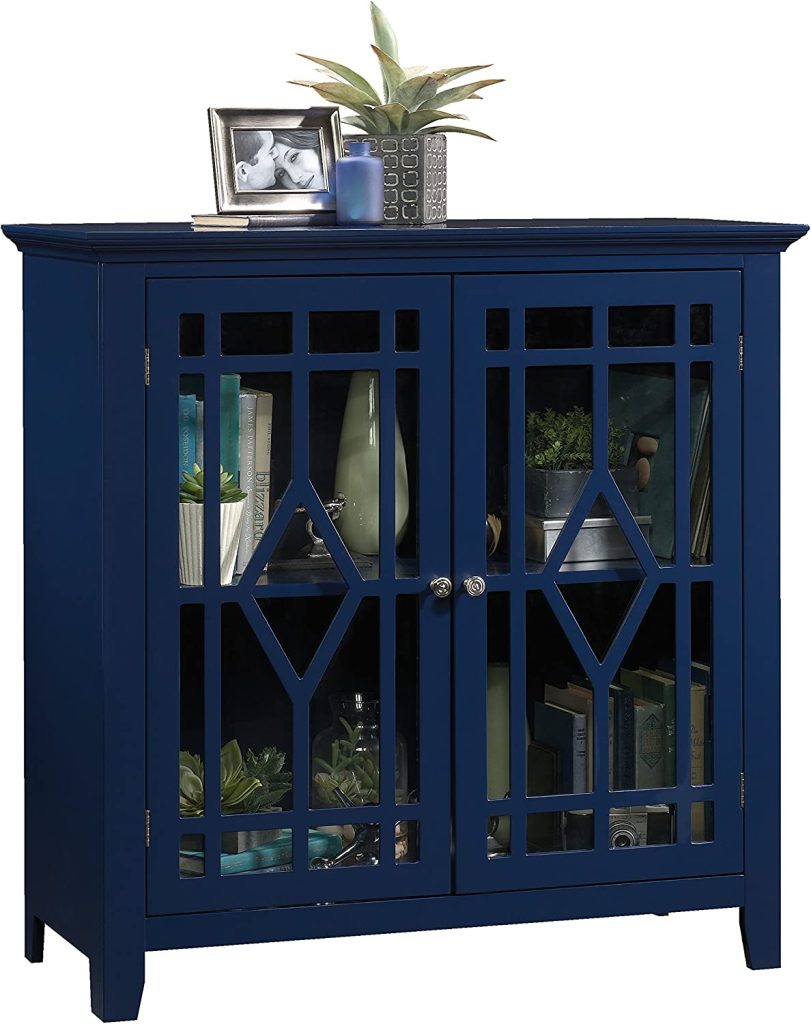 This beautiful Indigo blue cabinet table can be the highlight of your living room or kitchen. This can be used as an elegant coffee station. The design is graceful and elegant. Two glass cabinets with a wooden geometrical design provide ample space for storage. The Cabinet is made out of engineered wood and tempered glass.
Brass coffee pots, kettles, and cups will complement the design of the cabinet. You can keep some roasted coffee beans in a jar over the shelf, your coffee maker, and perhaps some faux flowers. This coffee station will be ideal if you want a compact one.
Related: Discover the Top 17 High-End Kitchen Design Ideas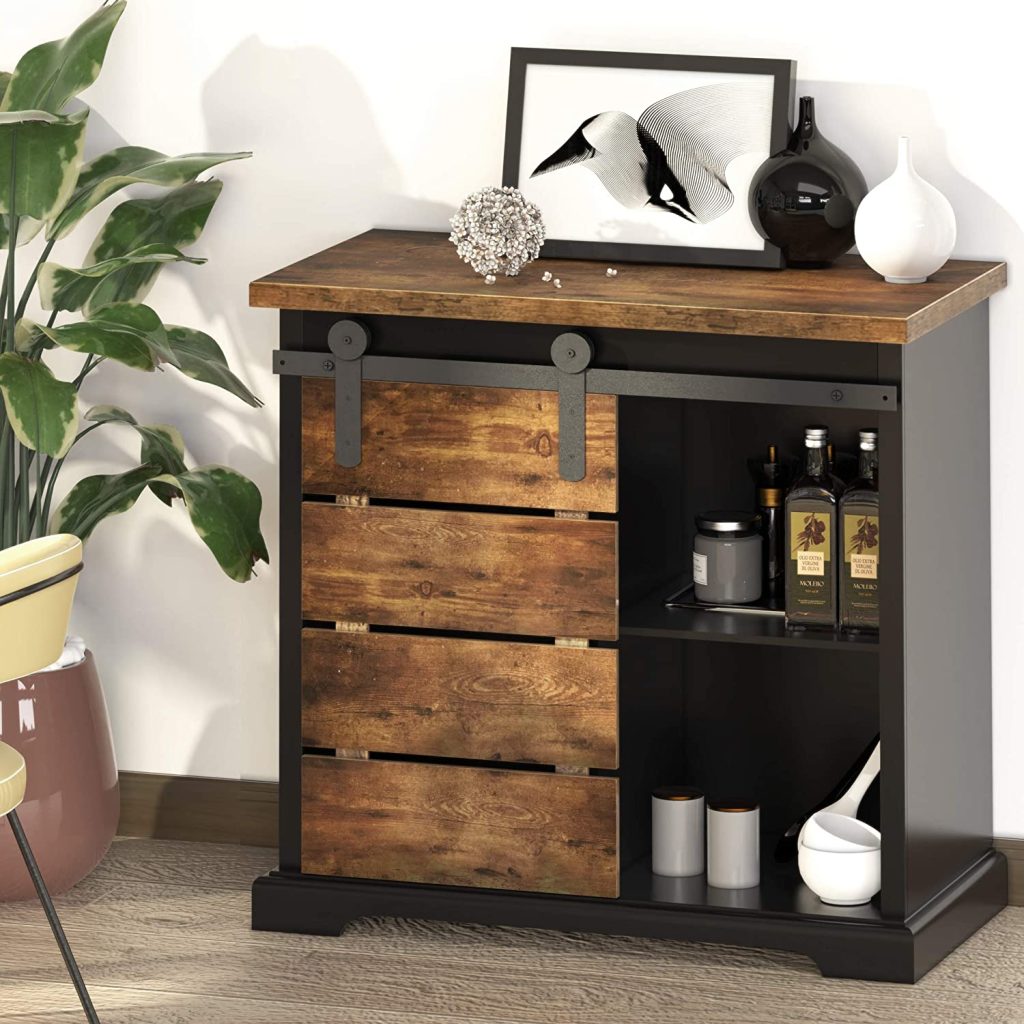 This chic coffee station table comes with a barn-style sliding door(how cool is that!). Inside, the table features an adjustable shelf, so you may store your items conveniently and out of sight. This is a sturdy coffee station table, made out of reliable MDF material. The wooden board is waterproof and can be cleaned easily with a damp cloth.
The countertop has space for your ceramics, glass coffee jars, kettle, coffee makers, sugar containers, and other items. Add a chalkboard frame to give it that coffee shop feel.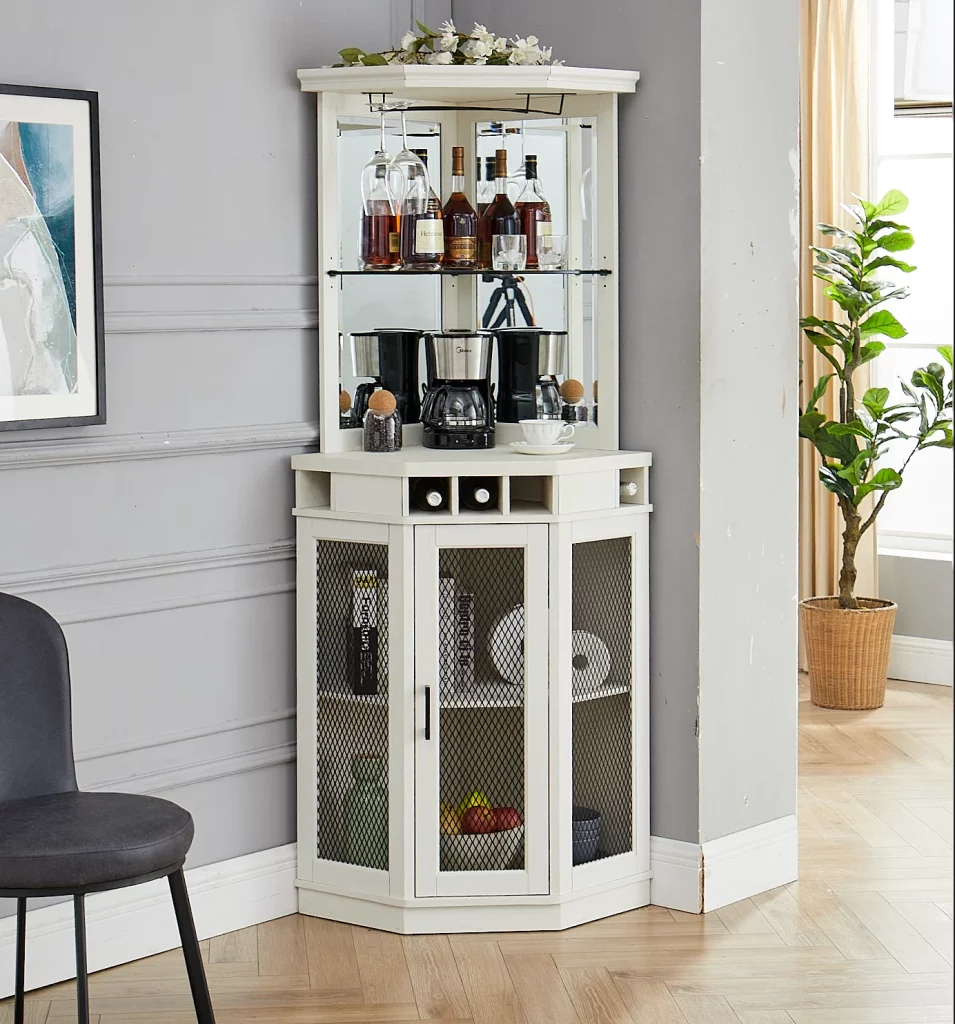 There is nothing like a farmhouse-style coffee table; it reminds one to take a moment with your morning coffee ritual. This beautiful white cabinet coffee station table/ bar will give you enough space to store and display your coffee essentials.
The classic white color is pleasing to the eye. The mirrored paneled interior gives it an old-school classic vibe. This is a wine cabinet but can be designed as an excellent coffee bar corner in your house. The two spacious cabinets with cross patterns or wire mesh provide a lot of storage space.
There is a hanging rack above for your glassware and an additional shelf for your coffee jars or wine bottles.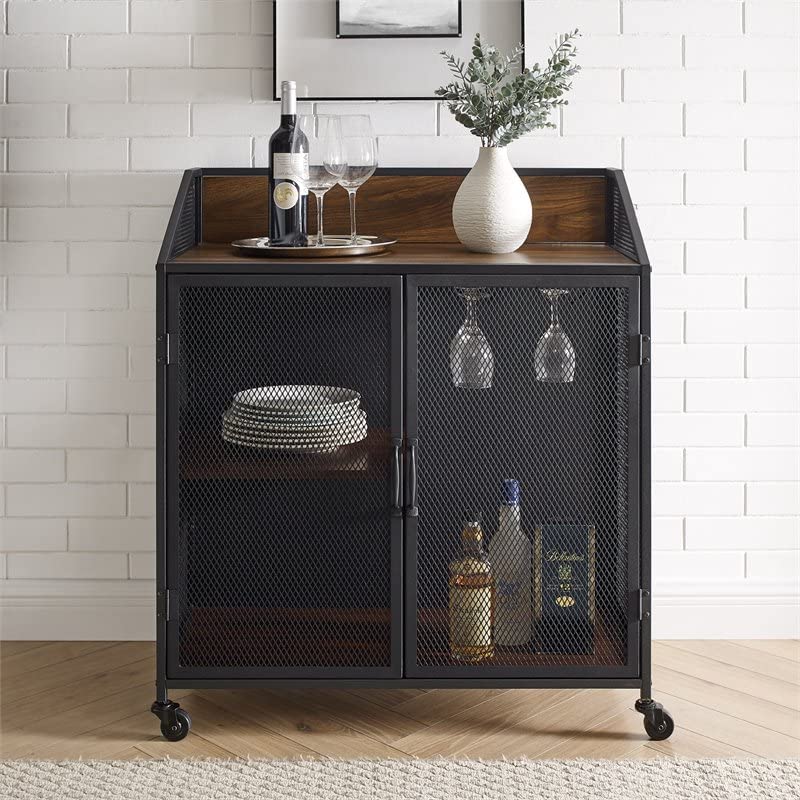 This solid wood coffee station table is a perfect addition to your kitchen or living room. It is a compact size and won't take up too much space. The dark walnut color gives it a classic look. This is a minimalist design and will go well anywhere in the house.
It is made out of engineered wood. You cannot go wrong with the dark walnut color in your house. If you don't have enough space for a big hutch or a more expansive coffee station, this is the perfect choice for you. It also is relatively cheaper, but cheap doesn't mean you have to compromise on a quality coffee station.
There is enough space for your coffee jars, mugs, and coffee maker. The wire mesh on the cabinets gives it that vintage industrial rustic look. This moveable rolling bar will make an excellent coffee station table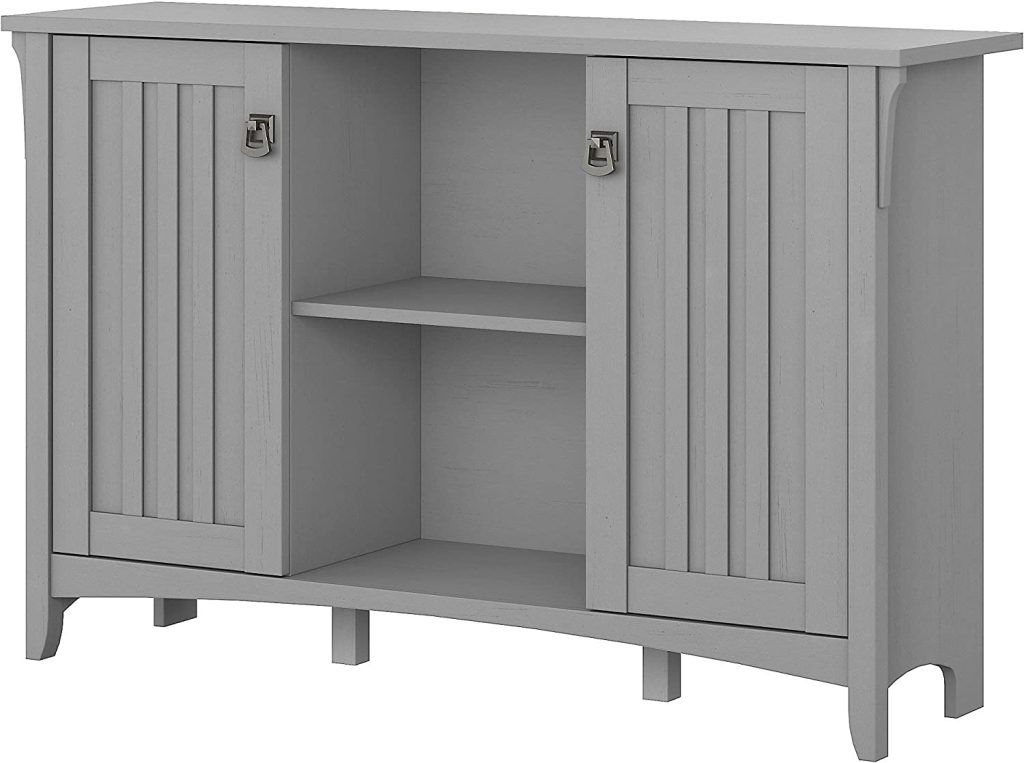 This Accent Storage Cabinet can easily be used as a dedicated coffee station table. It comes in a cape cod grey color and a distressed finish. Constructed out of engineered wood, this piece of furniture features two big cabinets with metal handles, with an open shelf in the middle. You can showcase your ceramics, glassware, and coffee pots on the shelf.
The tabletop is also spacious for you to place your coffee machine and mugs. Keep the table neat, and your coffee station is ready. Place a brewing pot or kettle on the top with roasted coffee bean glass jars, Play around with the decorations, and enjoy your coffee station.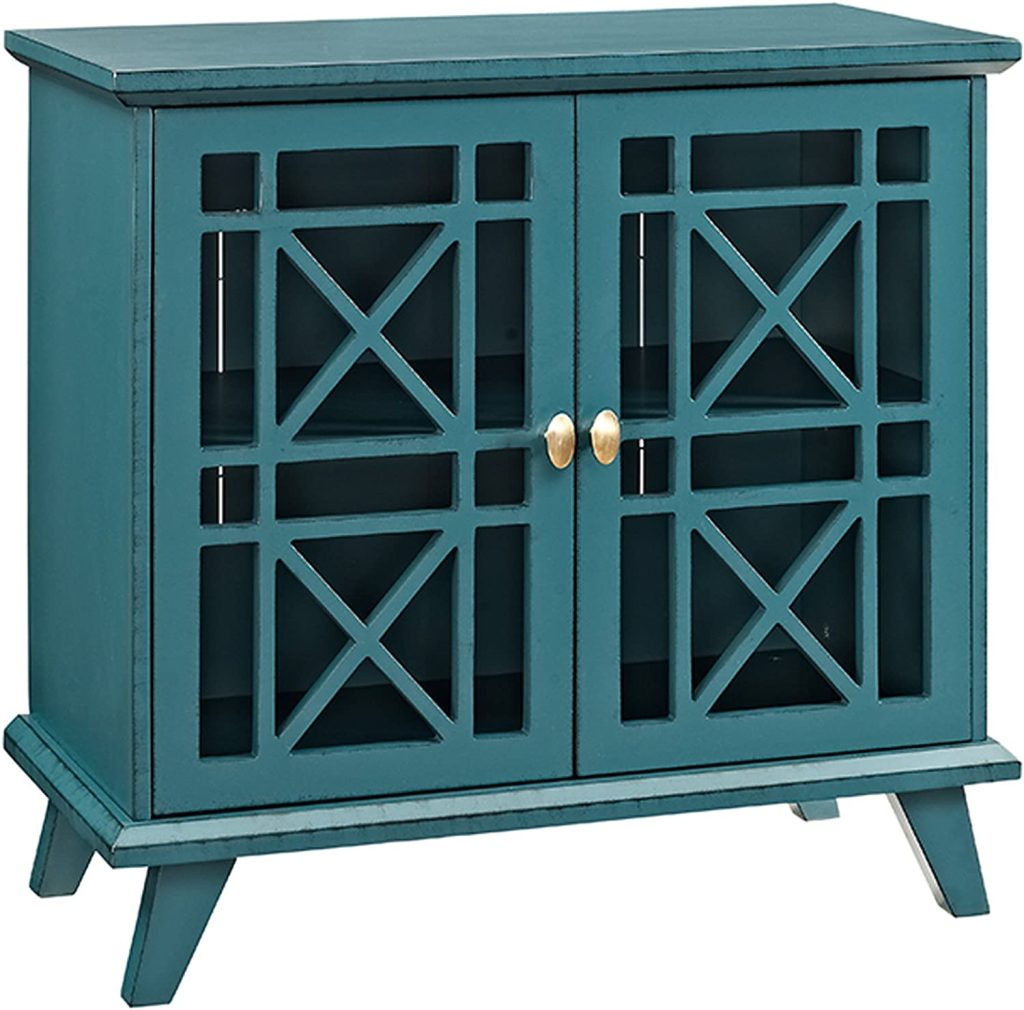 If you want to add a bit of color to your coffee station, this beautiful teal cabinet table is just the right fit for you. The frame of the table is made out of sturdy wood and a high-grade MDF, which has then been painted over in this pleasing teal color. This accent cabinet table will add an elegant, fun vibe to your house.
If your kitchen or living room is a classic white, this coffee station table will go perfectly with it. This table cabinet table features an adjustable shelf for your storage needs. There are two glass-panelled doors with gold handles to display your coffee collection. The countertop is spacious enough for your coffee machine, coffee pots, and mugs.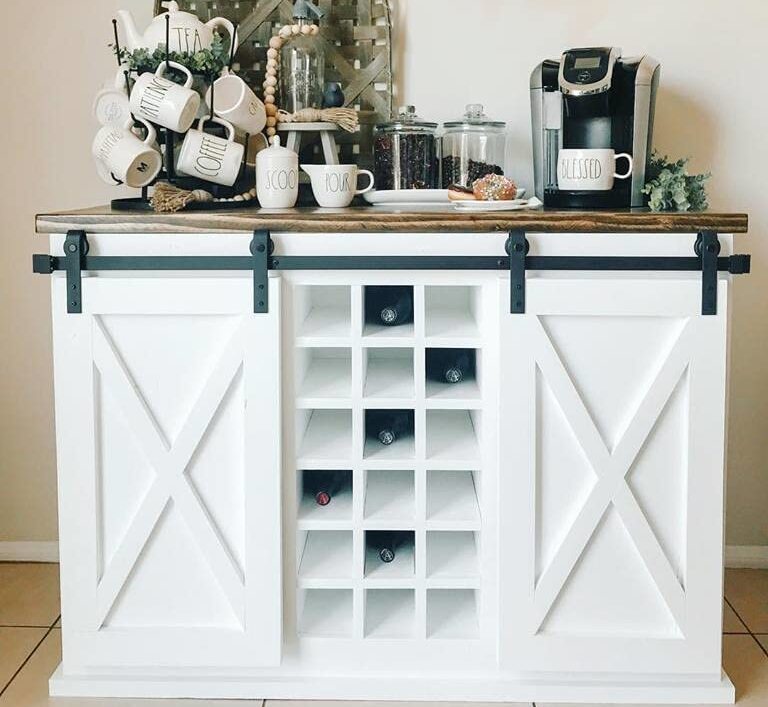 Greys blacks and whites are the kind of colors you cannot go wrong with. This classic white barn door coffee bar cabinet is constructed of wood and metal. The bar cabinet comes with a special walnut finish and would add a certain elegance to your space. It would make an excellent coffee station table.
If you are someone that tends to take your coffee the Irish way in the evenings, this cabinet table has enough space for your liquor bottles. Between the two cross-design cabinets, it features a sophisticated wine rack. There are two shelves on each side; you will have ample storage.
The countertop or shelf is spacious; you can place your coffee maker, glass coffee jars, glassware, and other items. You can go for a farmhouse, countryside theme, or a modern, sophisticated one when designing it.
Check This Next: 15 End Table Decor Hacks to Try
Conclusion
All in all, if you want a nice coffee station table for yourself, there are a lot of options you can explore. A lot of times, a nice cabinet table, a Hutch, or a cabinet wine bar table will make an excellent coffee station table. Even a Rolling Kitchen Cart can be transformed into your special Coffee Station Table. Let loose your creativity and transform a vintage table and crockery cabinet into a coffee station.
The ritual of morning coffee deserves a good place and ambiance. It is the little time that you will have for yourself before you embark on your busy day. A coffee station table will be a treat to yourself, one you deserve. It will also add that extra special corner to your house. A coffee station is a great corner when entertaining guests.
So, get started on designing that coffee station today!
Other Articles