Do you want to renovate or re-paint your old furniture? But, the thought of sanding is dreading you, and you are looking for a way to paint your stained wood furniture or surfaces. Well, you can paint your furniture without going through the hectic process of sanding.
You must be thinking, can you paint over stained wood too? Yes, you can paint over stained wood without going through the sanding process. In this article, learn how to paint without sanding and what materials will be perfect for painting your wooden pieces.
Say goodbye to the tedious, messy, and time-consuming method of painting with this technique.
Let's begin!
Process of Painting Over Stained Wood without Sanding
Painting over stained wood without sanding can seem intimidating, but it's quite simple. Once you have all the materials ready and prepared everything as mentioned above, you can start the process.
You just have to follow the 6 steps mentioned below one by one.
Similar Post: 15 Best Farmhouse Stained Concrete Floor Ideas for Kitchen
1. Check the Current Condition of Your Wooden Item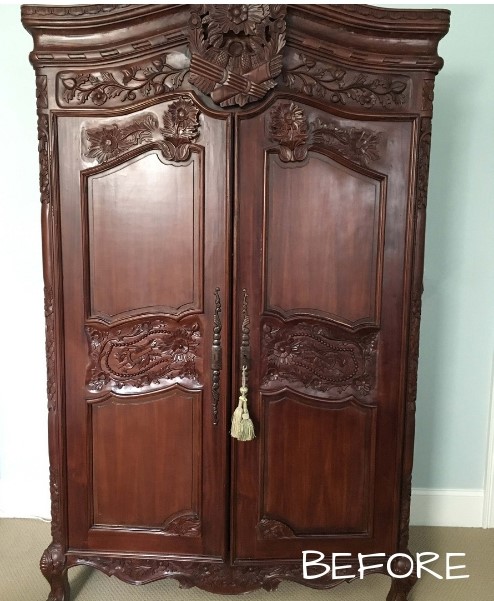 Before painting your furniture or wooden item, check whether it is sturdy enough to be painted. Make sure your wooden furniture is solid, functional, and able to withstand the process of re-painting.
Also, check the type of stained wood you are considering because some hard-stained woods need sanding. Painting them is not easy, and the result is not as expected.
2. Clean the Surface of Wooden Furniture Before Painting
To paint the stained wood, clean the surface with trisodium phosphate (TSP) or any other chemical cleaner to remove dirt, grease, and any kind of glossiness. This step will make it easier while using primer.
Clean the wood after soaking a cloth in the cleaner and rubbing it all over its surface. After that, clean with clear water to remove any kind of traces left. Remove the handles or other hardware so that all nooks and crannies can be cleaned. Protect the surroundings or handles with a transparent sheet or painter's tape to avoid paint drops.
3. Use De-Glosser on The Stained Wood
Now, use the deglosser as a substitute for sanding. It's a chemical-based liquid made for turning the surface rough. Always wear rubber gloves before using deglosser and use steel wool or a lint-free rag to apply deglosser. If there are any existing holes in the furniture, use wood filler to cover them.
Wait for the allotted time as mentioned on the label, and then wipe down with a clean wet cloth. Follow all the given instructions carefully to avoid any kind of issues later.
4. The Next Step Is to Apply the Primer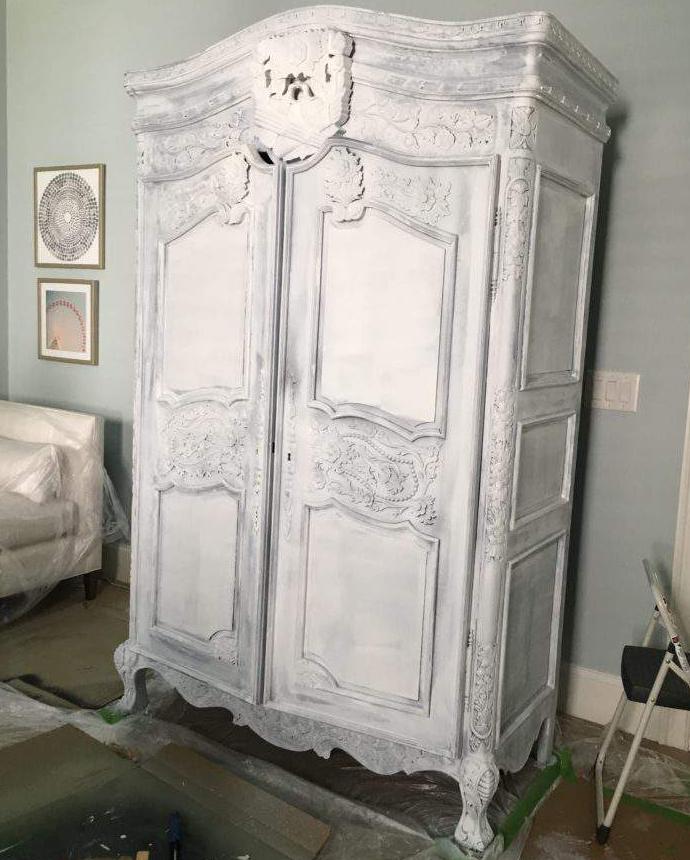 After de-glossing, start applying the primer with a brush or roller. It gives a smooth finish to stained wood and provides an even base to the paint. It also saves from applying multiple layers of paint.
Primer ensures the durability of the paint and gives a long-lasting finish. If you are using latex paint, a good-quality primer is necessary.
5. Start Painting Your Wooden Item
Choose a good quality paint that matches with furniture's quality and aesthetics. Wait till the primer is dry. Now, start applying paint with a brush and cover all the areas of the furniture.
Take your time and apply at least two coats of paint as you are painting the stained wood. Wait for each coat to dry completely.
6. Apply the Finish Layer
Now seal your newly painted surface with a clear topcoat. Use a polyacrylic protective finish and apply it with a cloth or aerosol spray. This final step will apply a protective layer to your furniture and prevent the removal of paint.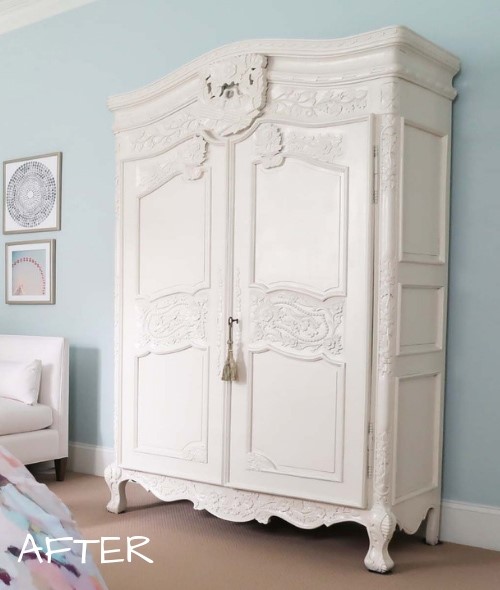 Also Read: 15 Gorgeous Farmhouse Paint Colors for Your Dream Home
Can You Paint Over Stained Wood Without Sanding?
Yes, you can paint over stained wood furniture, even cabinets, panelling, fireplace mantels, and surrounds, without sanding. Sanding is done so that the wooden pieces hold the paint properly and gives a smooth finish.
You can start painting over stained wood by using some materials and preparing certain things before starting the process. Check the current condition of the wood and its durability before deciding to paint it.
If everything is good, start preparing with the methods given below. These methods will also help revamp the old wooden items into new ones you bought at a flea market. It's cheap, hassle-free, and saves a lot of time.
Things to Prepare Before Painting without Sanding
By following the process of painting over stained wood without sanding, you can save time and effort while still achieving a beautiful finished product. However, it is important to do some preparations before beginning the painting process. Let's go through them.
1. Purchase a Chemical Cleaner to Clean the Surface
A chemical cleaner produces more grip on the primer instead of using water to clean it. You don't have to rub your furniture hard as you do with water.
2. Use a Primer
Choose a good quality primer that suits your project needs and desired look. A primer helps in creating rough surfaces to provide better adhesion and an even finish. It also covers blemishes too and is necessary for painting over-stained furniture.
3. Choose the Appropriate Paint for Your Furniture
Select high-quality paint that matches your desired color and finish for better results. Use latex paint for cabinets and doors because it is odor free and works well with the primer. Use oil-based paint for decks and porches because it offers maximum protection and last longer.
If you don't want to use primer, try chalk paint, mineral paint, or milk paint with the bonding agent. However, they will be expensive and have limited colors to choose from.
4. Protect Surroundings
Cover floors, furniture, or any area around the project with drop cloths or plastic sheets to prevent unwanted drips or splatters. Protect the handles with paper tape if you want to reuse the old hardware.
By taking care of these steps, you can start painting your wooden furniture without going through the messy sanding processes!
Materials Used to Paint Over Stained Wood Without Sanding
When it comes to painting over stained wood without sanding, choose the right materials because it is crucial for achieving a smooth and long-lasting finish.
Here is a list of the materials you are going to need:
1. Deglosser
This liquid solution helps break down the glossy surface of stained wood, making it easier for the paint to stick. Steel wool helps in using the deglosser properly, so keep them ready. You can use paint brush or sponge too.
A water-based liquid sander deglosser is most recommended because it has fewer harmful chemicals and works fast.
2. Primer
Using a high-quality primer designed specifically for wooden surfaces can help ensure that your paint job looks even and consistent.
Use Kilz bonding primer, Valspar bonding, or any oil-based primer. Some primers may not work with chemical cleaners, so read the labels carefully before purchasing primers.
3. Paint
Choose paint with good coverage and durability, such as an acrylic latex-based paint or an oil-based enamel as suited to your wooden items. Do a patch test with samples provided by the shopkeeper before deciding on the paint texture and quality.
4. Brushes and Rollers
Select brushes and rollers appropriate for your chosen type of paint. Also, ensure that they are clean and in good condition before starting. A few brushes leave marks on the furniture, so choose after trying them.
5. Painter's Tape
Use painter's tape to mask off any areas you don't want to paint, such as hardware or trim. You can also use paper tape as it is easy to remove.
6. Drop Cloths or Plastic Sheeting
Protect your floors from drips by laying out drop cloths or plastic sheets beneath your work area. A few pieces of old clothes are needed for cleaning the wooden items.
7. Rubber Gloves
Rubber gloves are needed to protect your hands while painting, as it is difficult to remove them once they stick to your skin.
By using these materials properly, you can achieve a professional-looking finish without going through the time-consuming process of sanding. Make sure you get suitable materials for your painting project.
Conclusion
Check This Next: 15 Accent Wall Ideas to Transform Your Small Bedroom
In conclusion, follow these 6 steps mentioned above, and your furniture made of stained wood will look brand new without sanding. By avoiding sanding altogether, you will not only save time but also reduce exposure to harmful dust particles from sanding materials!
Start refurnishing your stained wooden items and transform the look of your place. Feel free to ask us any questions in the comment section and also explore other home décor articles.
Frequently Asked Questions (FAQs)
Can You Paint Over Stained Wood without Sanding?
Yes, you can paint over varnished wood without sanding by using a deglosser and primer. Varnished wood is glossy and extra smooth, so painting without sanding is difficult. Deglosser is a faster alternative to removing varnish from wood so that paint adheres to it. Primer helps in giving a smooth texture to your paint.
What Kind of Wooden Items Can Be Painted Without Sanding?
Cabinets, furniture, wood panelling, and trim molding can be painted without sanding.
What Kind of Paint to Use Over Stained Wood?
You can use any oil-based or water-based latex paint, even spray paint also. Just make sure to use oil-based primer for oil-based paint and water-based primer for water-based latex paint.
Can We Use Acrylic Paint Over Stained Wood?
For using acrylic paint over stained wood, sanding is required with at least 150 grit sandpaper.
Other Articles