Are you fed up with the dark and spooky basement stair decors? If you are trying to install an effective and unique setup from the wide range of basement stair ideas for your living space, this article is for you.
Narrow and scary basements are now a part of history as modern and stylish basement stairs emerged. A good amount of time is required to decide what style will suit your basement stairs the best.
Our Pick for the Best Basement Stair Ideas
Basement stairs are not just a path to move up and down from one floor to another. A unique way of planning and utilizing basement staircases comes with a lot of benefits. It is not just about utilizing the extra space but also about upgrading the entire look of your interior. With unique colors and decors, you can build your basement stairs as per different moods and occasions.
We have this hand-picked list of the best basement stairs ideas for you to try out. Be it a party hall, a gym, or a play area, make your stairs match the basement of your house with unique ideas.
Similar Post: 17 Contemporary Interior Design Ideas to Uplift Your Home Deco
1. Install an Indoor Atrium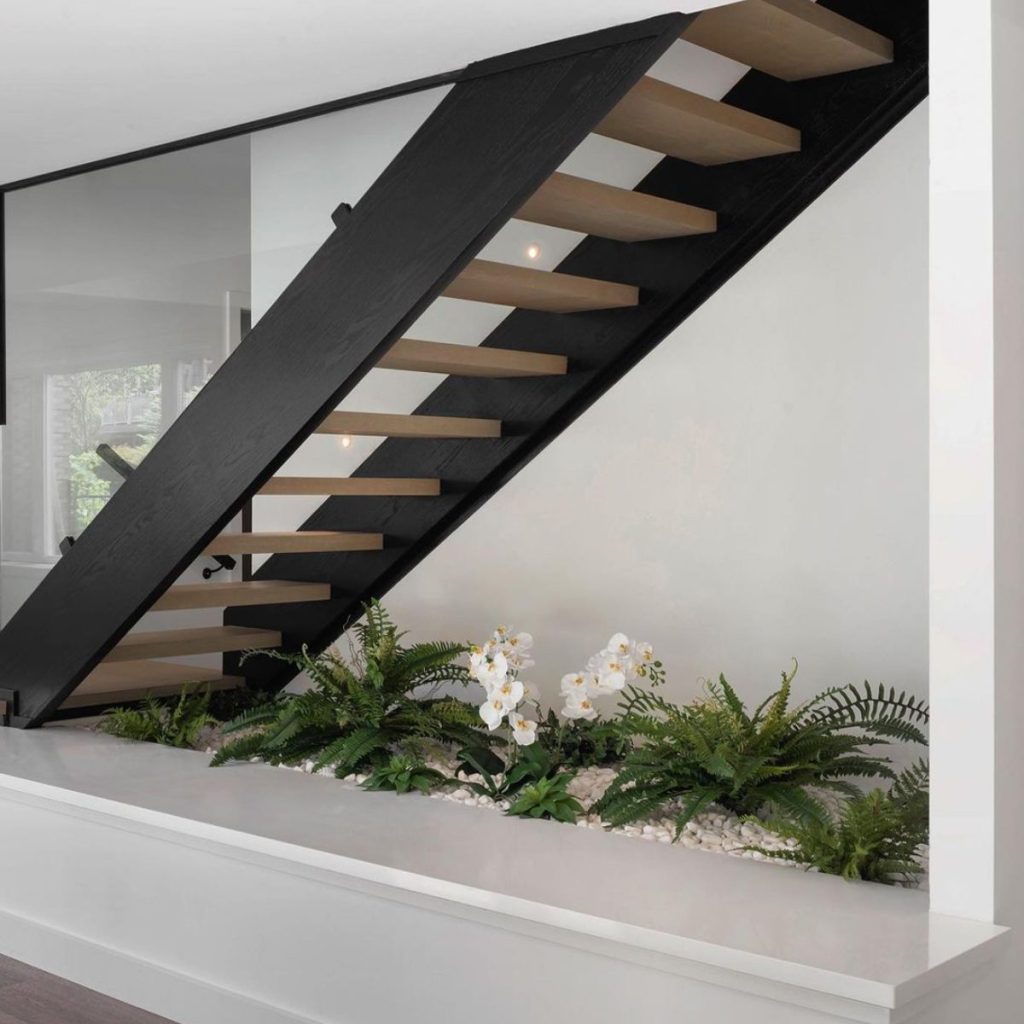 Bring out the unexpected from your basement stairs decor. Creating an indoor atrium utilizing your basement stairs will give an aesthetic touch to the area. This is one of the best basement stair ideas you can adapt if there is an availability of natural light in the space. Planting low-maintenance plants will give your basement staircase landing area a lively feel. One of the perks of adopting this style is that it will give a positive and lively vibe to the eyes whenever someone enters the basement.
2. Make Your Basement Stairs a Room-Divider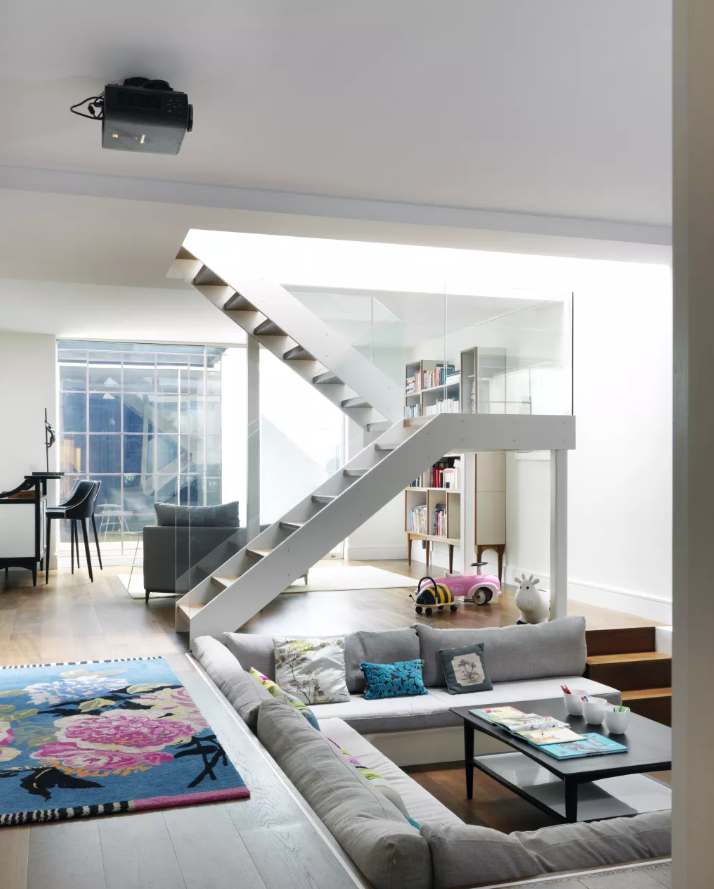 Don't let your basement stairs just serve their purpose – to take you to the basement. Instead, plan to place them in such a way that they can act as a divider. Suppose you are using your basement for recreational activities as well as for fitness; you can use the staircase landing space to divide the space into two distinct areas. Such a design will give your entire basement a uniform appearance and is a wonderful method to utilize the area.
3. Make the Descending Colorful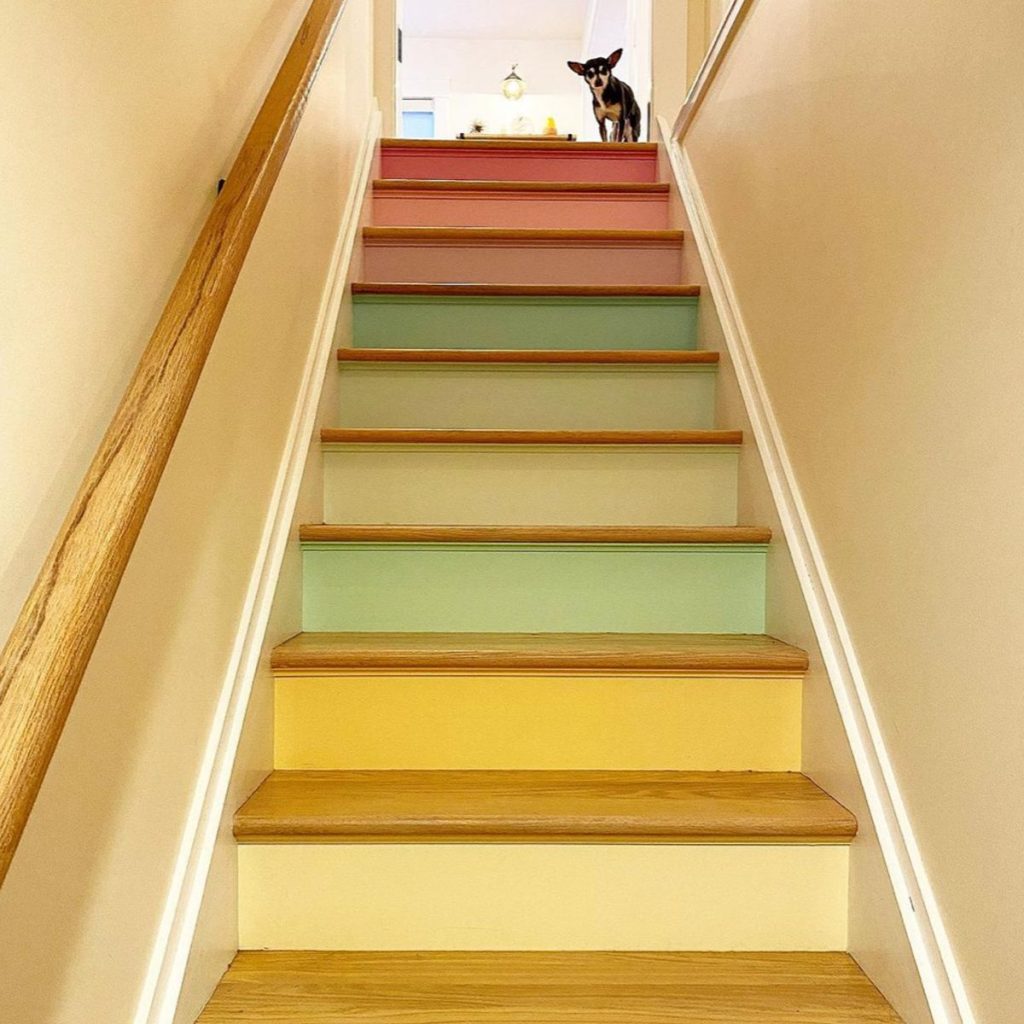 If you are looking for a creative way to install or modify a basement stairway, you don't have to dig too deep to get something productive. Just painting the stairway with multiple colors can easily give the entire basement stairway a cool touch. You can try pastels, neutrals, or even dark-to-light shades as per your space to give a unique touch to the stairs. The time invested for this change is minimal compared to the output you will be returned with, making this one of the best basement stairs ideas to consider.
4. Light up Your Stairs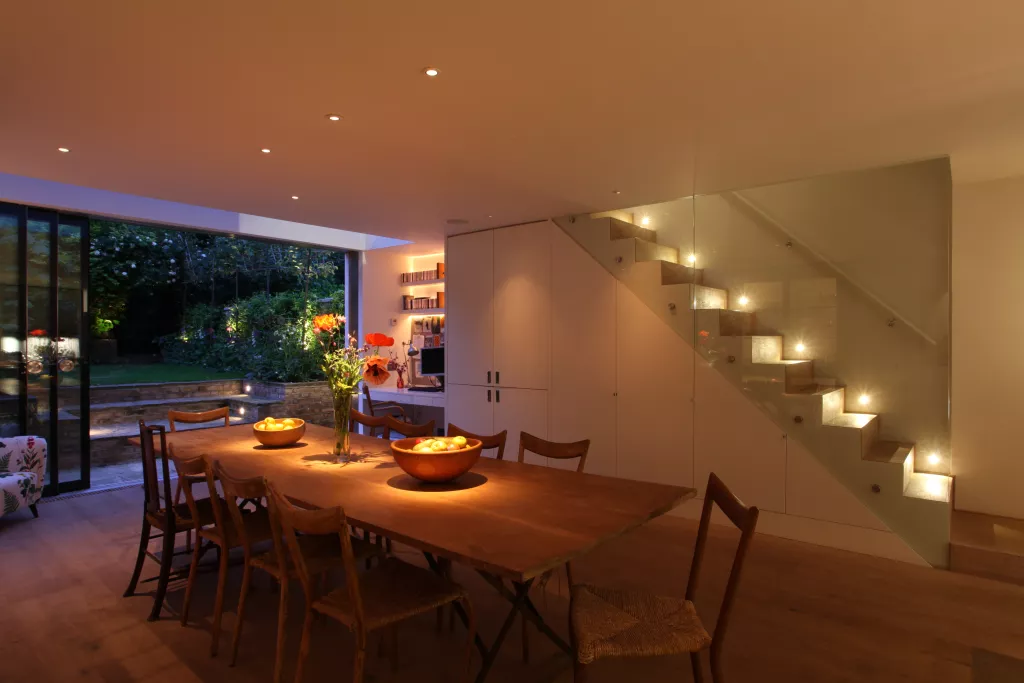 Adding feature lighting to your basement stairs will help you to switch the decor mood in a very quick and efficient manner. Depending on the color of lights you choose to install, you can make the entire space feel like a party hall or a recreational space. While arranging the lights, try to make the lines of the stairs look highlighted, as it will give a unique look throughout. Lighted stairs are common. It is a common practice in houses nowadays to use a lighted stairway for better vision during nighttime. 
5. Basement Stairway – Playhouse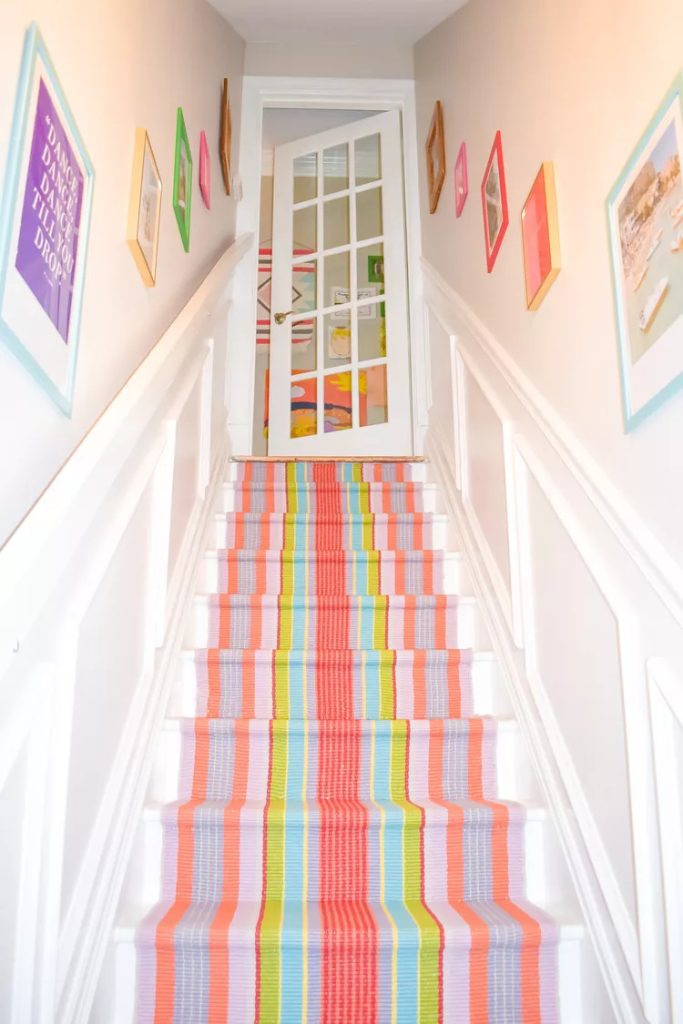 One of the obvious thoughts that will occupy your mind while thinking of basement stair ideas will be to make full use of the space beneath the stairs. Before steering your thoughts towards making the space into a storeroom, consider making a beautiful playhouse out of it! Kids will love to have their personal space to play and go as wild as you can under the basement stairs. It will also save considerable space by creating a separate playroom for them!
Also Read: 22 Ideas to Use Chair Rail to Design in a Farmhouse Style
6. Not a Dumping Space but A Smart-Storage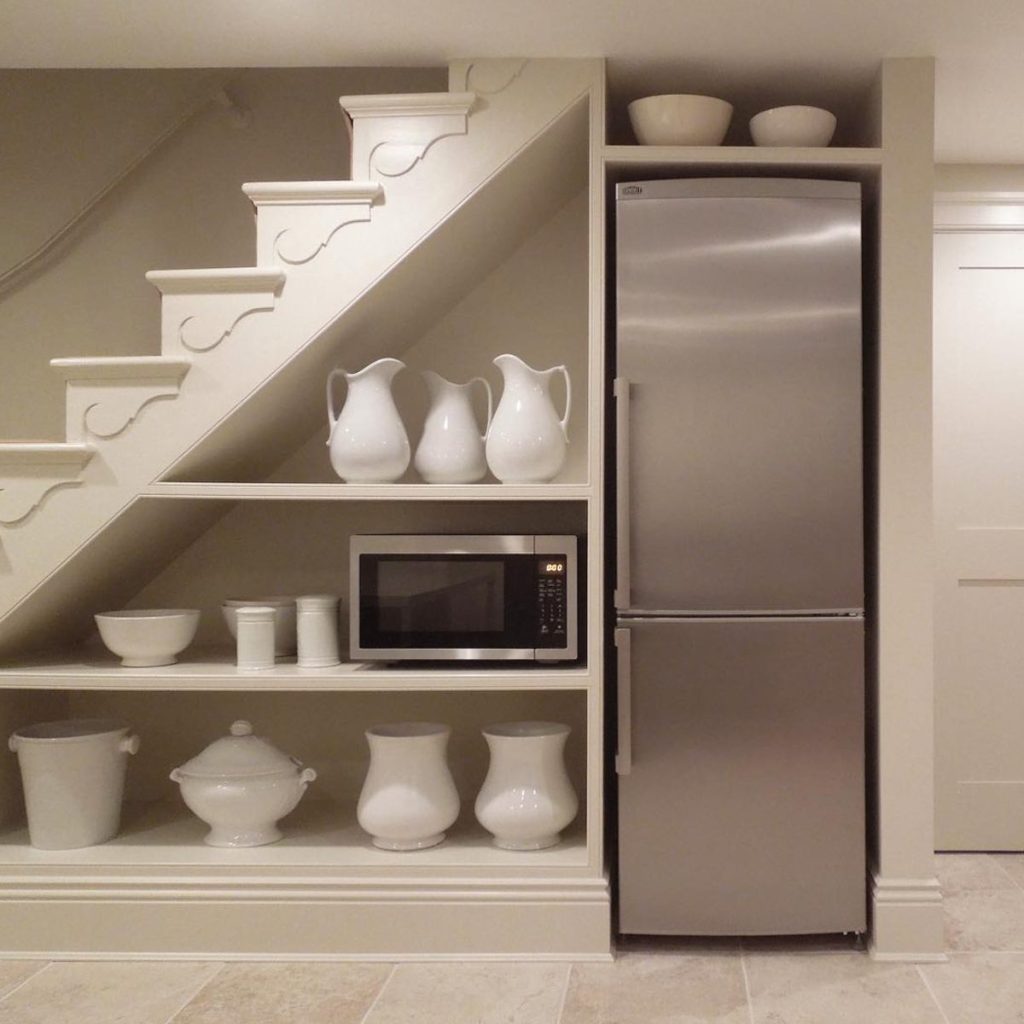 It is a great idea to utilize your basement stairs for storage. But even in this not-so-uncommon, the simple idea could be pulled off in a most-productive manner. Wonder how? You can use this space to arrange and place all kinds of useful things, from a refrigerator to utensils. Make the basement stairs stand out as being a 'short-hand' for necessary items your guests will require. Arrangements of such household equipment in a neat manner will present your basement stairway with a classy touch.
7. "Wine-ey Stairways"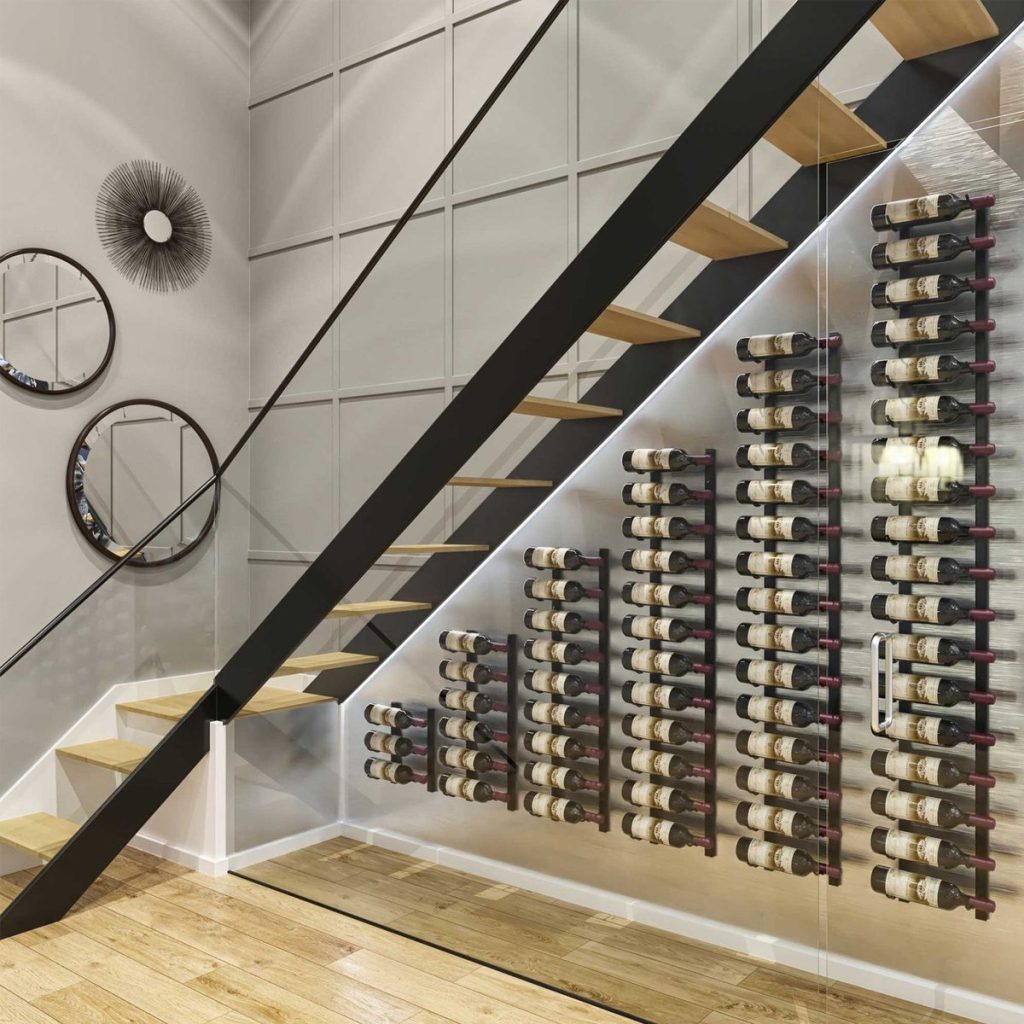 Here is a great way to utilize your basement stairway – wine storage! You heard it right, dark and low-lit places are always considered optimal spaces to store and preserve wine. Let a cool wine wall greet your guests during a party from the basement stairway. The ways of arranging wine bottles on a wall have no limits, and hence you can style, plan, and implement a sophisticated wine rack on your own. Not only is this idea cool, but it also makes your basement look stylish.
8. Transitional Stairs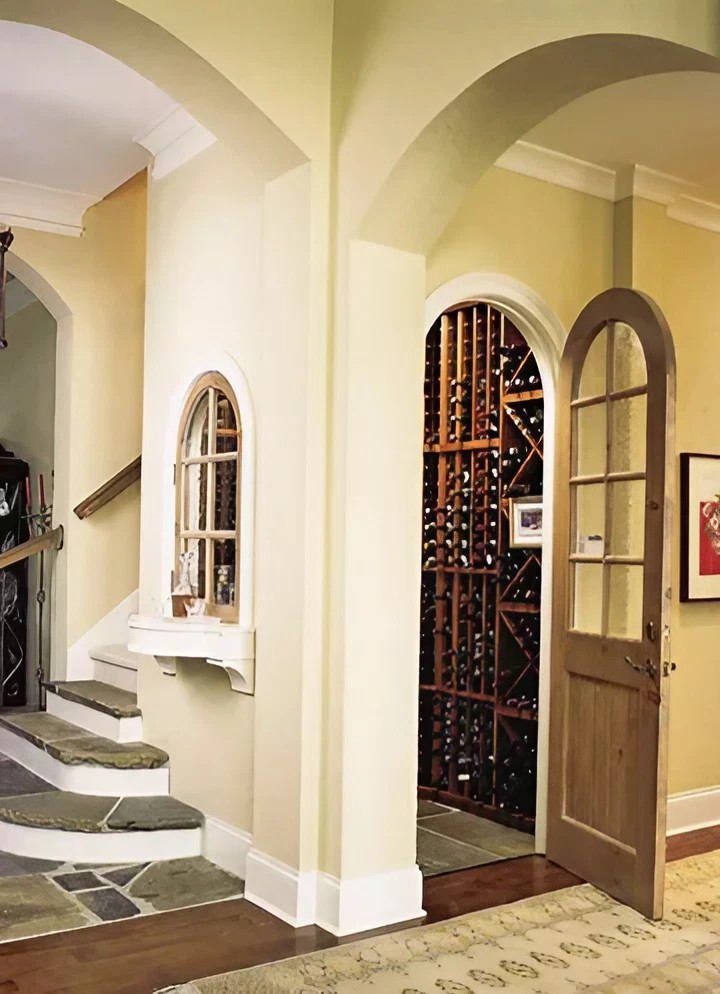 Basement stairways are a transitional piece of addition to your living space. You can decide how your stairway should look considering the spaces the stairway is connecting. You can apply smooth transitions to the stairs while entering the basement accordingly. For example, take a look at the above picture, where the last three steps of the descending stairs convert into the ones with stone floors. This will give a subtle touch of transition to your basement.
9. The Sweeping Staircase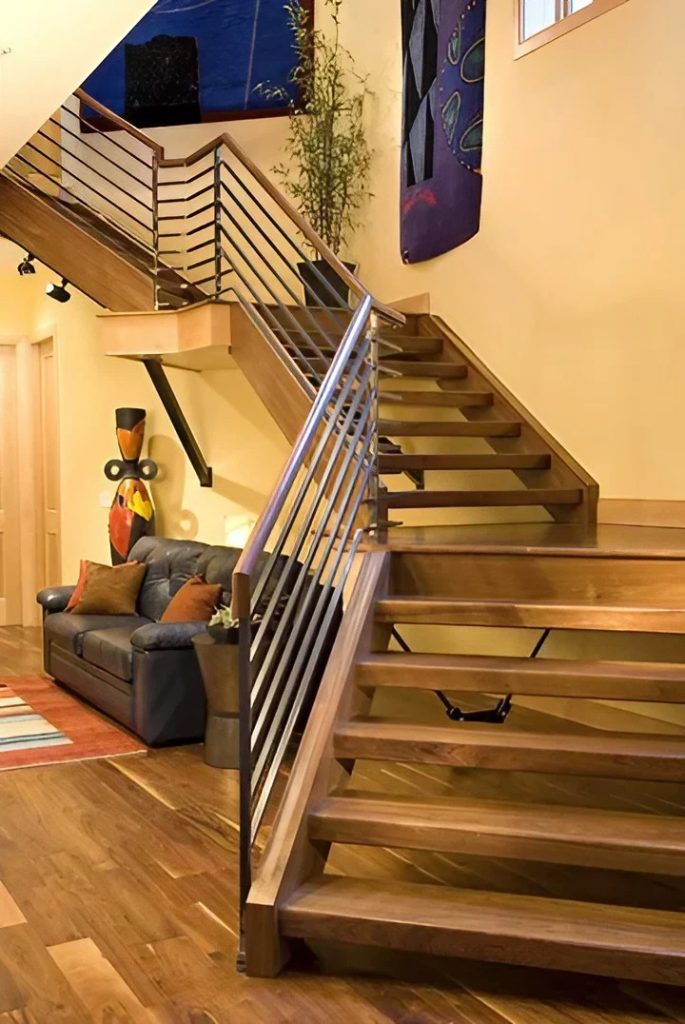 If you want to give your basement a grand touch, one of the best basement stairs ideas is to go for a sweeping staircase. It will give a feel of a grand entrance while moving from one platform to another. The only issue with this way of decorating your stairway is that it will take a lot more space to plan than usual. We made sure to include this in our list as the staircase boasts a lot about grand designs than just a normal staircase.
10. Stairway Gallery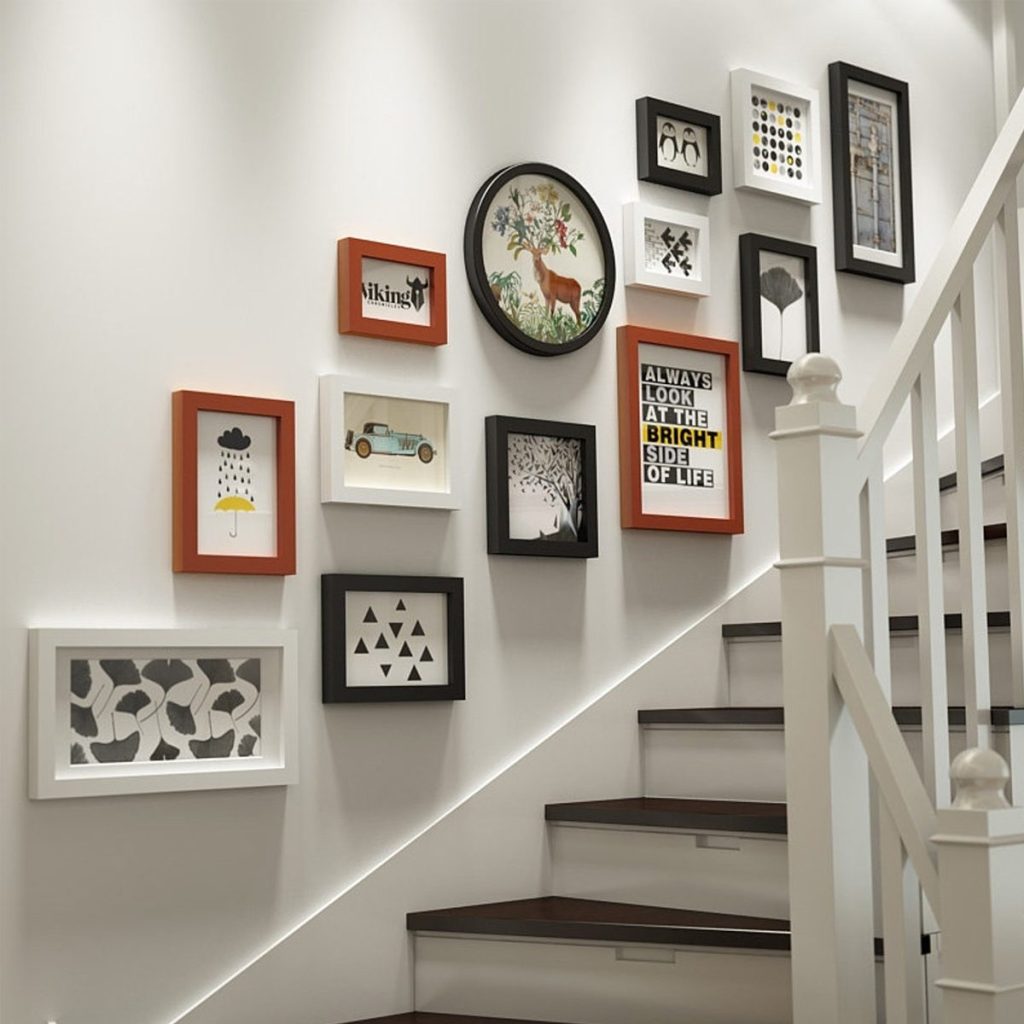 Keep your guests glued even during the ascending to the basement with the unique decor of the stairway. You can install an interesting gallery along the wall of the stairway. This way, you can decide whether to give a classic or a vibrant touch as per your requirements by choosing the right things to go up the wall. Try including interesting quotes as well in this gallery to make it more interesting. You can also consider adding paintings to give the staircase an artistic touch!
11. Open Stair Threads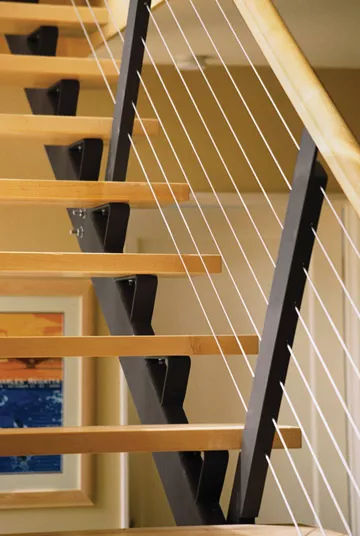 For those who don't wish to make your basement stairways look too enclosed in nature, open stair threads are a thing to consider from our list of basement stair ideas. Planning your basement stairway using such simple railings made of braided stainless steel cable will give a nice aesthetic touch. This will also provide openness and transparency to your stairways and will provide a lighter mood for the guests.
Related: 15 Stunning Gallery Wall Design Ideas to Create an Aesthetic Look
12. Stairway Drawers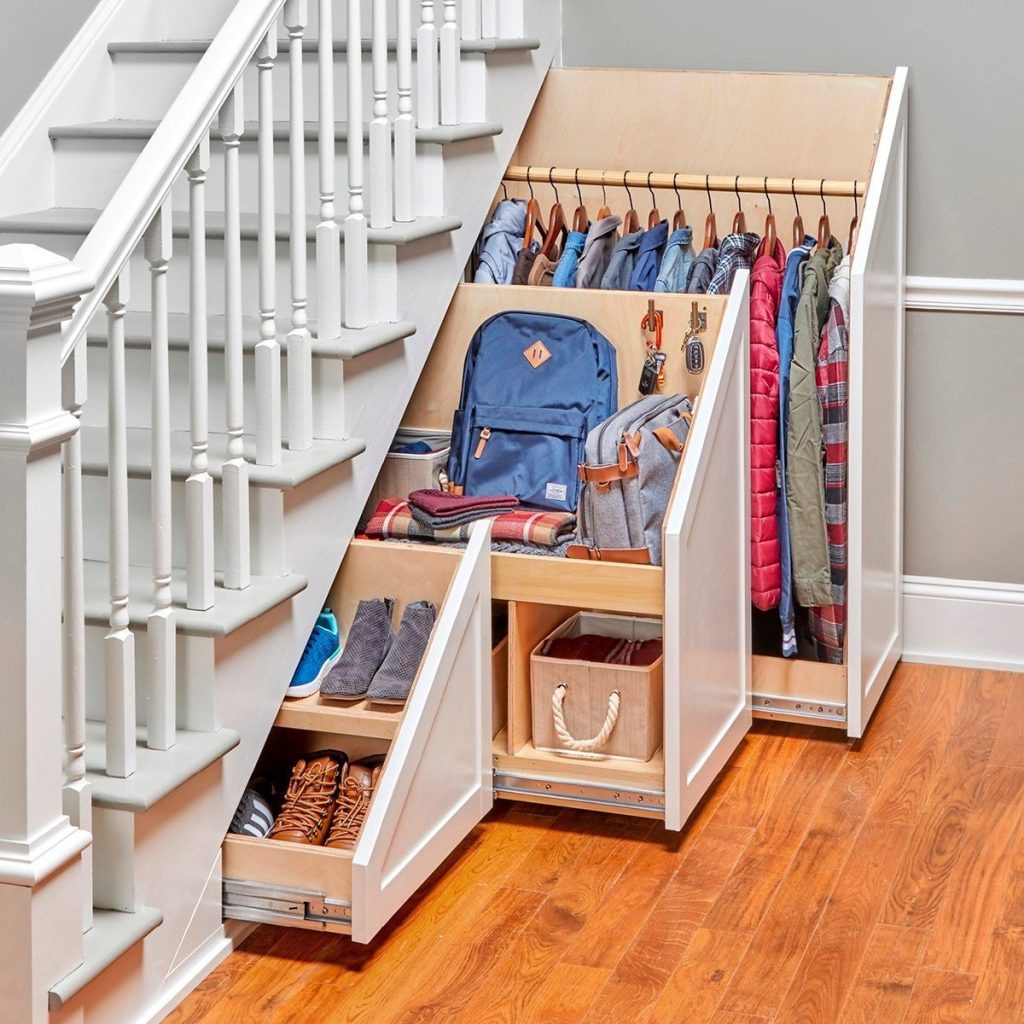 This is yet another way of utilizing your stairway storage space in an innovative way. Rather than just dumping things under your basement stairway, install drawers of variable sizes according to the stairway's length. These drawers will act as a very good storage space, and you can use this to store a variable set of things, from footwear to bags. Here is a small example of how to build stairway storage drawers by Family Handyman.
13. Stairs/Playzone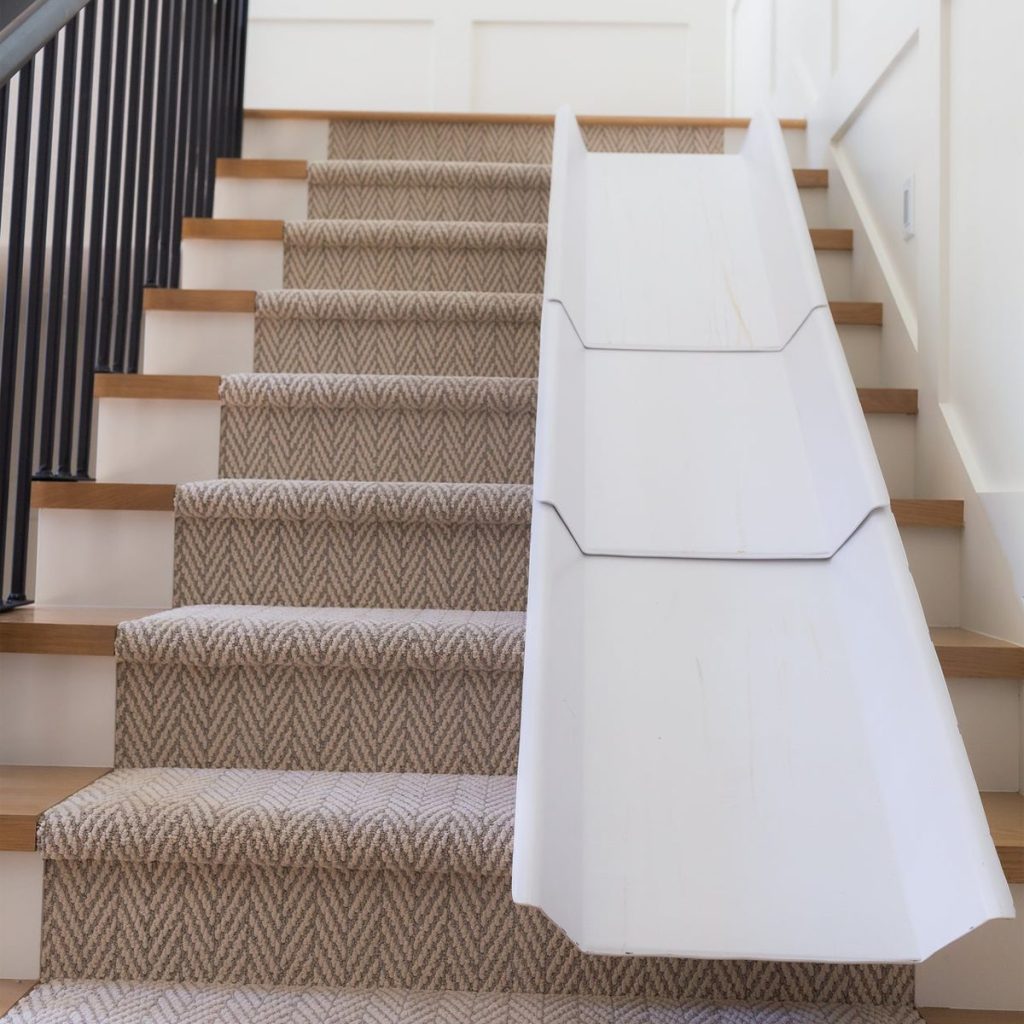 Here is a recreational way of planning your basement stairway for your kids. Installing a slider on the stairway will make it one of the favorite hangout spots for your kids. Those who want to keep their kids indoors but are also occupied with some fun activities can definitely try this idea. Each section of such slides will cover three steps, and with the help of rubber grips, you can keep them in their places. This is also easily removable after use.
14. Spiral Staircase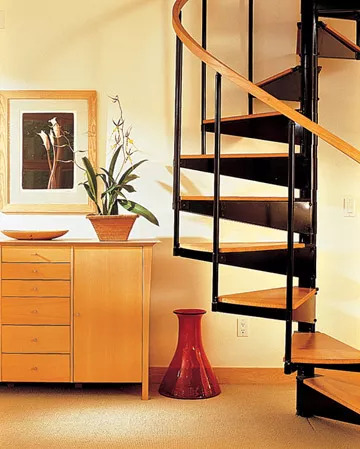 This basement staircase idea is an ideal one for those with lesser floor space. A spiral staircase will take a maximum of 4 to 6 feet in diameter and can provide a contemporary look to your house. With innovative ways of painting and planning the stairs, you can give your spiral staircase a very engaging look. The only con of a spiral staircase is that you won't be able to move things of larger dimensions through them as the railings will be narrower.
15. A Relaxed Descent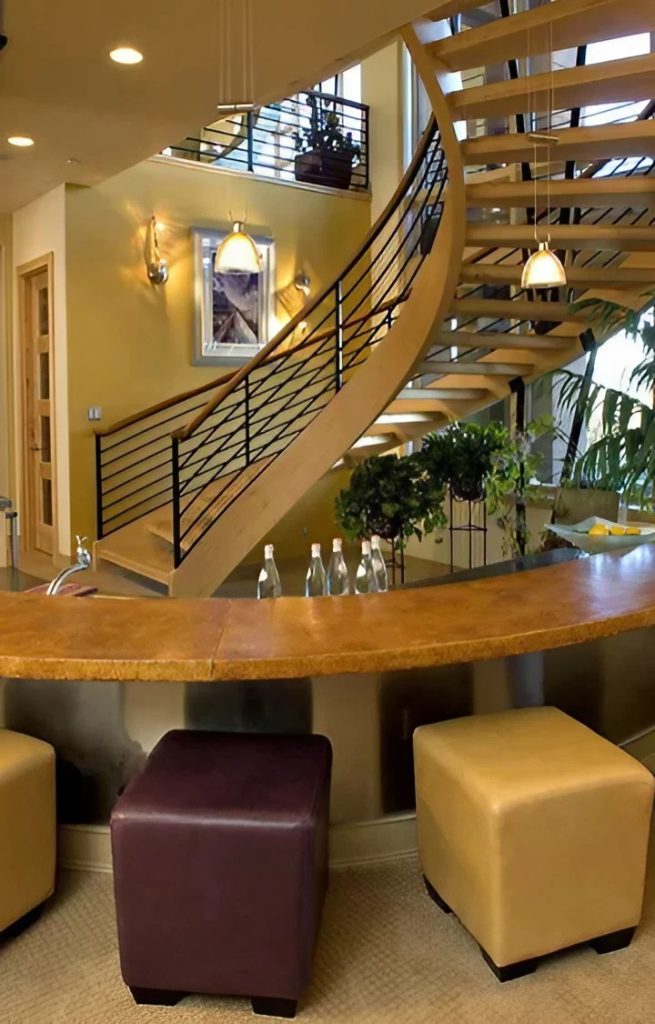 This is another variant of the spiral staircase. While a typical spiral staircase will give a narrowed space to move through, this stretched spiral basement stairway will allow your guests to move freely and in a relaxed manner to your basement from the top floor. As the staircase is well-spread and lengthy, it will be easier to climb for everyone.
Tips to Make Your Basement Stairs the Best
1. Choose the Right Flooring for The Stairs
A lot of people get confused about the kind of flooring that should be used on the basement stairs. Choosing the right flooring for the stairs depends on your living environment. Hardwood flooring will give an aesthetic, traditional touch to the staircase. But if you have older people or kids, this is less recommended as hardwood might be slippery. Usage of carpets or stair runners is one of the best options for you to consider, as they come with a wide variety of designs to match your place and decor.
Check This Next: 15 Welcoming Guest Room Decor Ideas: Create a Cozy Retreat
2. Should I Cover My Stairs?
Covering your stairs with carpets will make them more comfortable and cozy. If you have hardwood stairs, painting or staining them is recommended.
3. How Can I Clean My Stairs?
Usually, vacuum cleaners are best recommended for stairs having carpets as they can easily remove dust from the surface. In case of stains, you can try soaking the stair surface using vinegar and then try scrubbing them off. Usage of baking soda, too, is a good way to remove stains off the stairs.
Wrapping Up
A basement stair acts as a link from the top floor of a house to its basement. With the right choice of materials to construct and matching railings, even the descent from one floor to another will give an aesthetic shift of levels to the guests.
We believe our list of various ways to decorate your basement stairs will help you out in creating the best, most effective, and unique basement stairway for your house.
Other Articles