Do you admire stunning gallery walls? If yes, then you may be looking for ideas for gallery wall layout with sizes. But are you having trouble putting the ideal frames and artwork together to make the perfect gallery wall for your room?
Even though it seems like a simple decor setting, a gallery wall requires a certain amount of imagination and ideas to be exceptional. The last thing you want is a dispersed gallery wall to take away from the ambiguity of your interior design.
In this post, we'll look at 15 different methods to style a gallery wall, whether you like a more coherent and symmetrical aesthetic or a more eclectic and spontaneous approach.
These ideas will help you design a gallery wall that expresses your personality and style, from mixing and matching frames and artwork to incorporating other decorative elements.
So, get ready to turn that blank wall into a spectacular display of art and memories.
Similar Post: 15 Master Bathroom Floor Plans with Walk-in Shower
Ideas for Gallery Wall Layout to Elevate Your Space
Do you know that the first gallery wall, known as the salon wall, was put up in France in the 1600s? With so many varied layouts and sizes, this wall decor is still popular.
Let's get started with the best gallery wall ideas.
1. A Black and White Display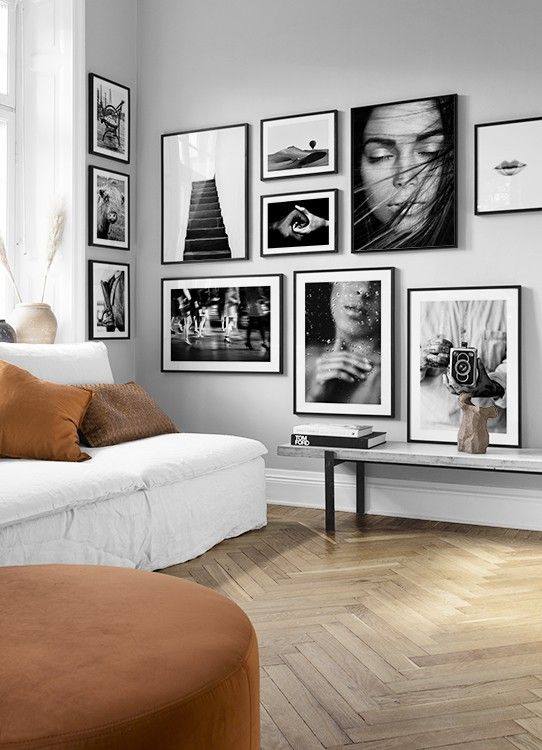 If you want a stunning visual display that will be timeless, then create a black-and-white gallery wall.
Choose a mix of black-and-white photographs, paintings, and prints to make a black-and-white gallery wall. This can create a cohesive theme and bring a sense of harmony to the space.
Consider the size and layout of each item. The artwork should be presented in a way that feels balanced and visually pleasing, with constant spacing between each piece.
Using a grid system to accomplish this can be beneficial.
Also Read: 15 Accent Wall Ideas to Transform Your Small Bedroom
2. Colours that Grab the Eye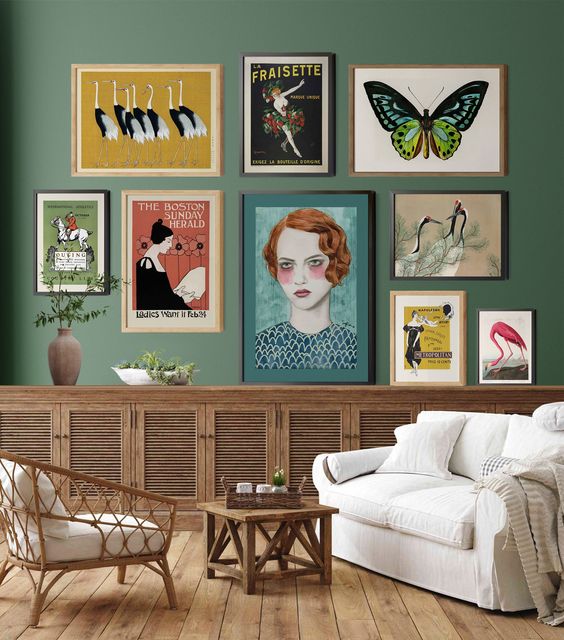 An eclectic gallery wall is an excellent way to bring color into the interior of your home. Unlike a conventional gallery wall, an eclectic gallery wall is not limited to a single style or color scheme.
It might instead be a blend of genres, mediums, and styles that express your personality. The simplest method to make this brilliant gallery wall is to utilize colorful paintings, prints, and antique posters.
Experiment with different layouts to create a balanced design and present your art collection without following any particular rules.
3. Plenty of Warm Wood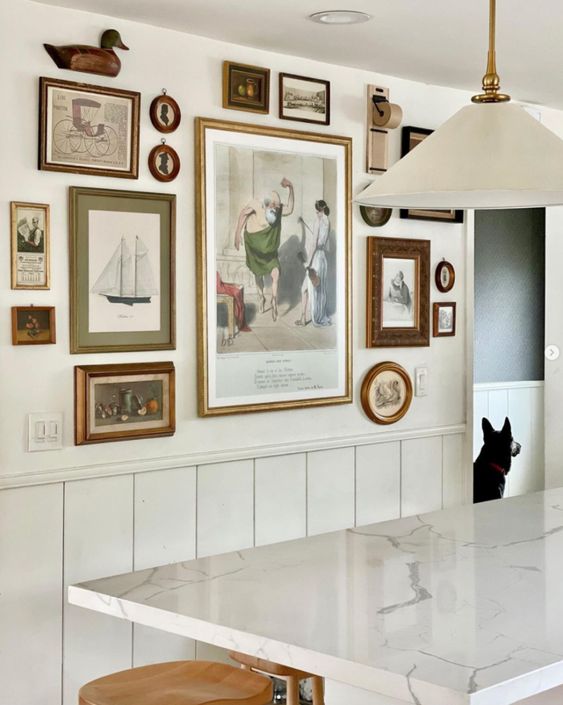 Do you want to make your home appear cozier and more welcoming? What you require is a gallery wall with wood frames.
This is an excellent choice for a home with neutral decor, and the wooden gallery wall adds a rustic touch. To give a unique touch to your home, you can frame art and posters in wood and exhibit wooden wall objects.
Mix and match different colors of wood frames in an appealing layout and size for a more dramatic sensation.
4. A Collection of Beautiful Moments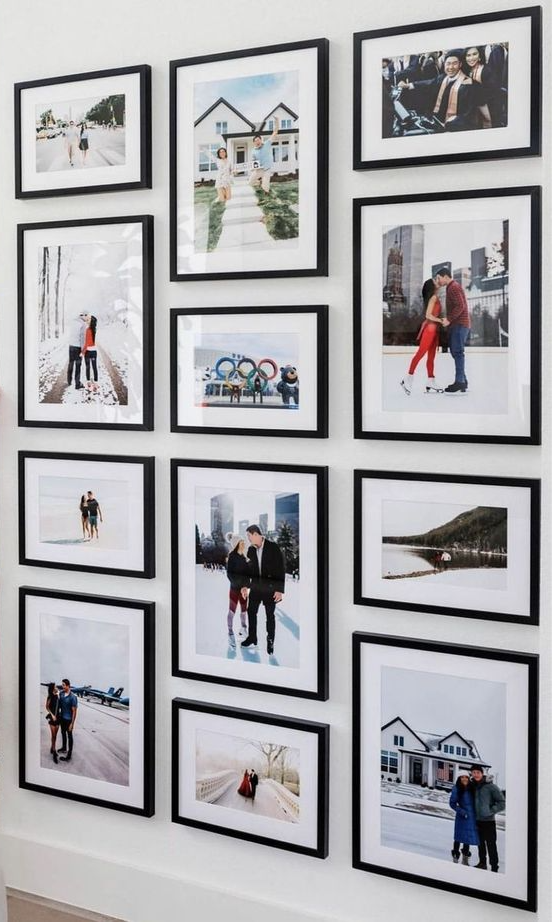 Do you have lovely images of your most treasured memories? Make a gallery wall of family photos so that you and your visitors can view the photographs and memories whenever you are at home.
Making a gallery wall in this manner would save you time and work in gathering art and complementary elements to match your home.
Using a uniform frame for all of the photographs is one technique to make a photo gallery wall look more cohesive. A matte black frame is a great alternative that will complement a wide range of shades.
5. A Coastal Display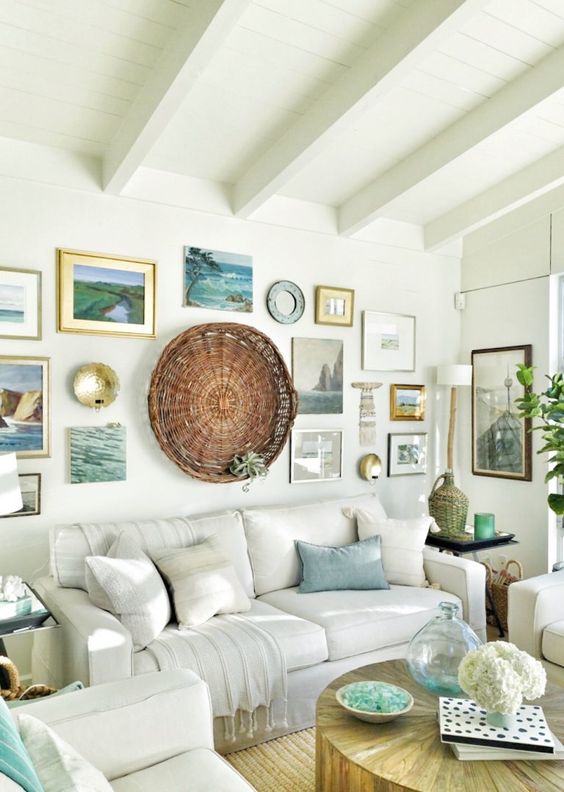 A nautical gallery wall can complete a light and airy seaside home.
You can create this gallery wall by using coastal wall ornaments and pictures, as well as different shades of frames and layout sizes, to get a grid arrangement, which is ideal for bringing the shades of coast and sea to your beach property.
If you have a vast area, utilize it to your advantage by incorporating a seaside wall basket into the gallery wall and increasing the focus.
6. Staircase Gallery Wall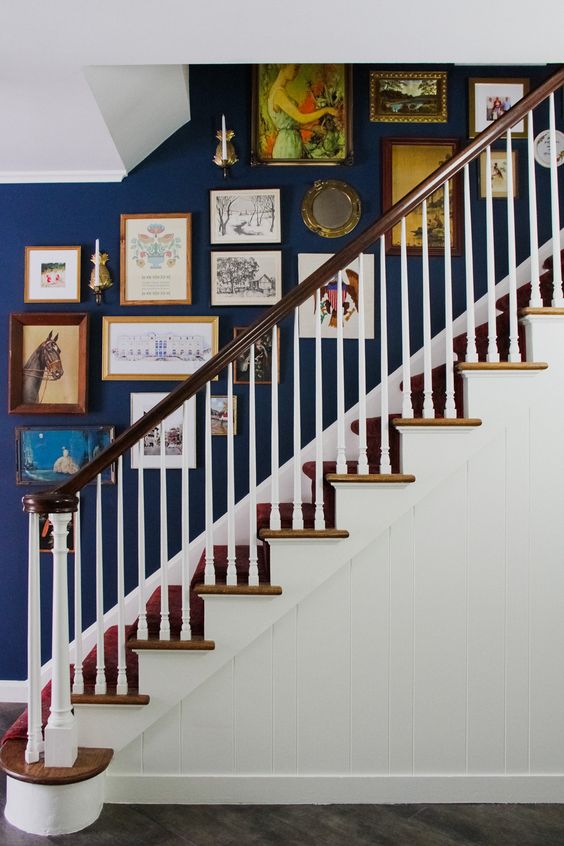 You can create a unique and dynamic display of paintings, photographs, and other decorative things that reflect your style by utilizing the vertical space along the stairs.
A staircase gallery wall can transform an otherwise bland and neglected aspect of your home into a great focal point. As you walk up or down the steps, you'll be met by a vivid and eye-catching exhibit that is sure to impress guests and family members alike.
See More: 20 Creative Small Bathroom Design Ideas to Upgrade Your Space
7. A Gallery Wall of Life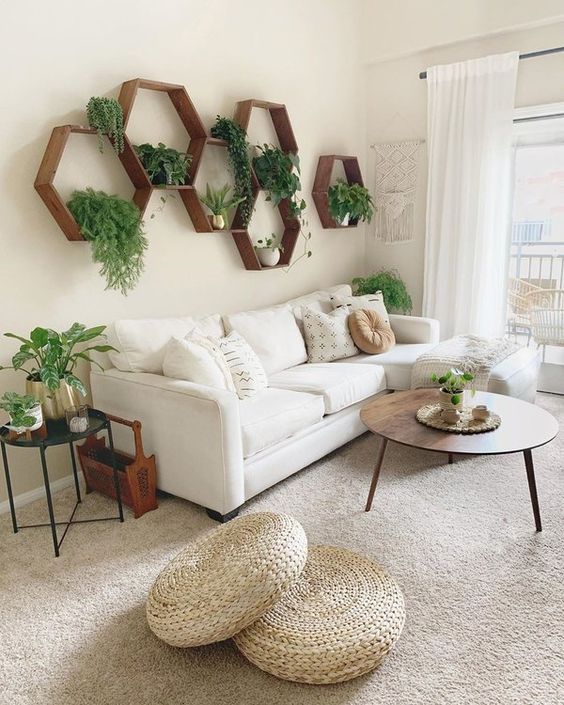 If your home has a neutral or boho-chic décor style, you can add lush greens to the wall with honeycomb floating shelves, which are terrific for saving space and looking beautiful.
This style of gallery wall can let you show off your love of nature and your ability to care for home plants, which is quite a skill.
The best thing about a gallery wall of house plants is how little work it takes to produce a magnificent aesthetic with natural colors.
8. Gallery Wall of Mirrors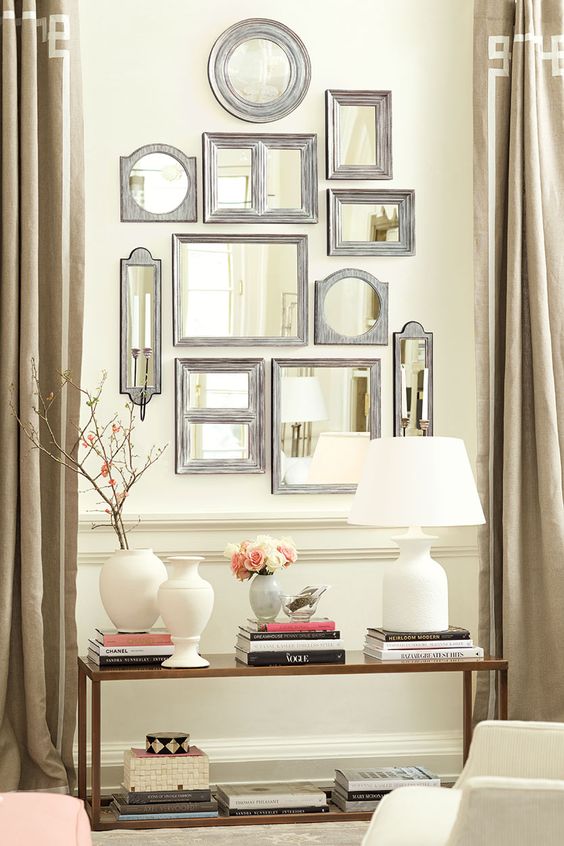 Mirrors are a versatile and useful artful tool that can appear to expand a room as well as give light and sparkle to any space.
Many designers utilized mirror gallery walls to create a dazzling aesthetic as well as the illusion of space. The ability of a gallery wall of mirrors to reflect light and brighten up a room is one of its key advantages.
This is especially useful in smaller or darker environments with limited natural light.
9. A Ceramic Color Fusion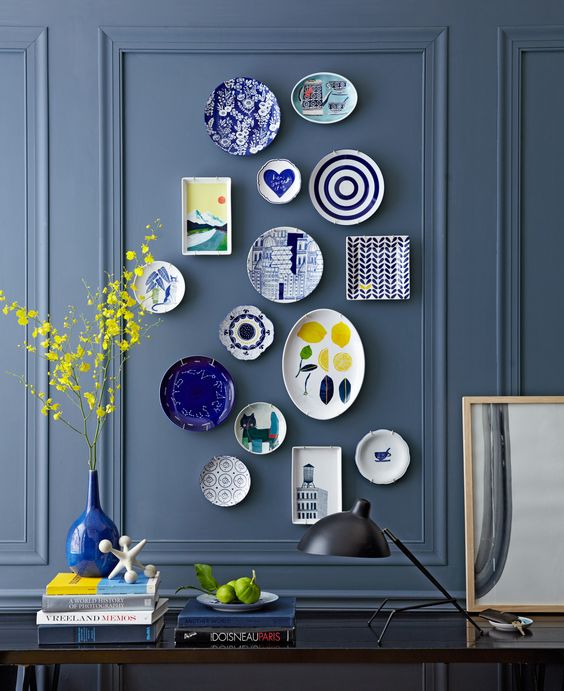 With displays of ceramic plates, you can create a lovely gallery wall. If you enjoy experimenting with paints, grab a brush and paint the plates yourself to create unique displays.
These plates are available in a variety of layouts and sizes, allowing you to mix and match various patterns and colors to create a cohesive and visually appealing display. Ceramic plates are not only beautiful, but they are also durable and long-lasting.
Ceramic plates, unlike paper or canvas prints, are not easily destroyed and can resist wear and tear over time.
10. Stunning Watercolours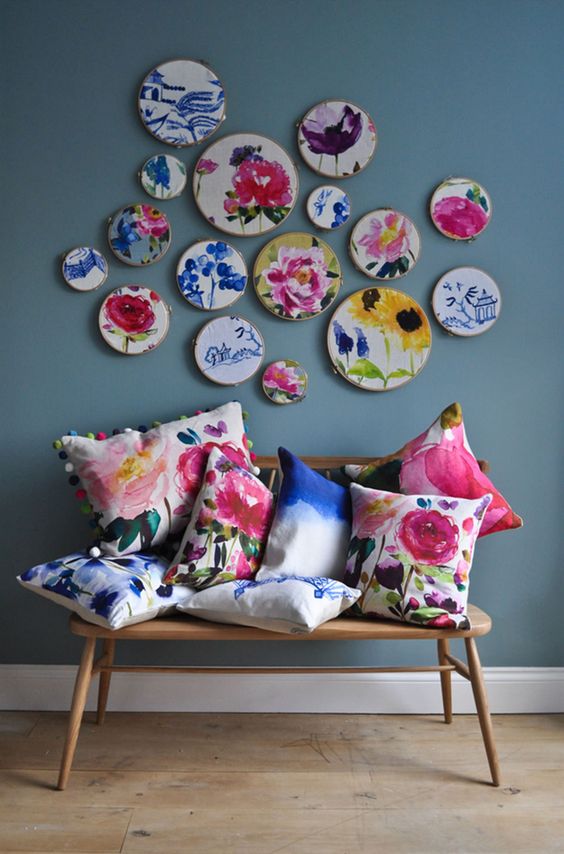 If you adore flowers and their captivating colors, create a personalized gallery wall using a few fabrics, embroidery hoops, and watercolors to create a customized gallery wall that will appear fresh in any season.
A vivid gallery wall can draw guests' attention to it, allowing them to admire the piece of art and the aesthetic beauty of the room. The floral gallery wall will give your home a boho and chic look, allowing you to add a lot of elegance to your home design.
Related: 18 Impressive Master Bathroom Floor Plans You Need to See
11. Abstract Prints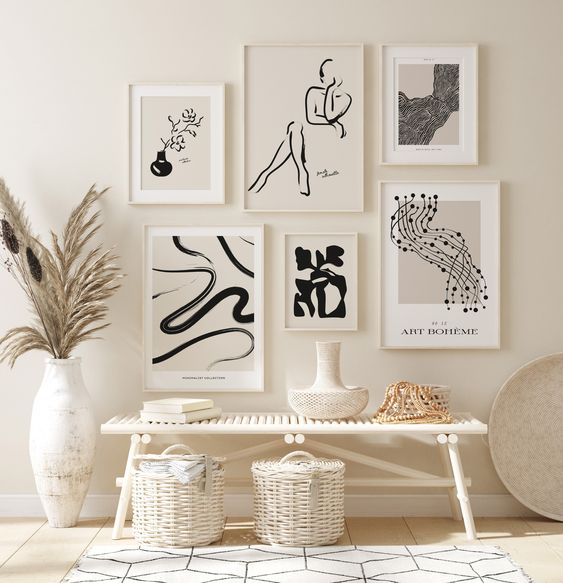 An abstract print gallery wall would be the perfect choice for making a dramatic statement in your living room or adding a unique touch to your workspace.
One of the most appealing aspects of an abstract print gallery wall is the virtually limitless possibilities for creating a personalized display.
You can create a cohesive and visually spectacular display by selecting from a wide choice of abstract art prints, each with its unique colors, forms, and textures.
12. A Gallery of Frames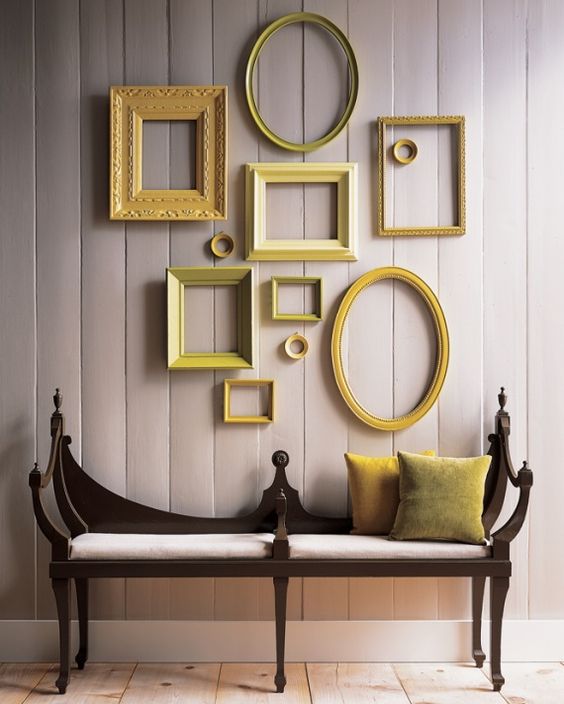 With solely empty frames, you can make an outstanding gallery wall. The empty frames' minimalism creates a sleek and modern look, enabling the focus to be on the art within them.
This minimalist approach generates a classy and elegant environment that goes well with any decor style.
The empty frames also allow you to combine different layouts, sizes, and colors to create a dynamic and visually pleasing show that can upgrade your decor.
13. A Wall of Portraits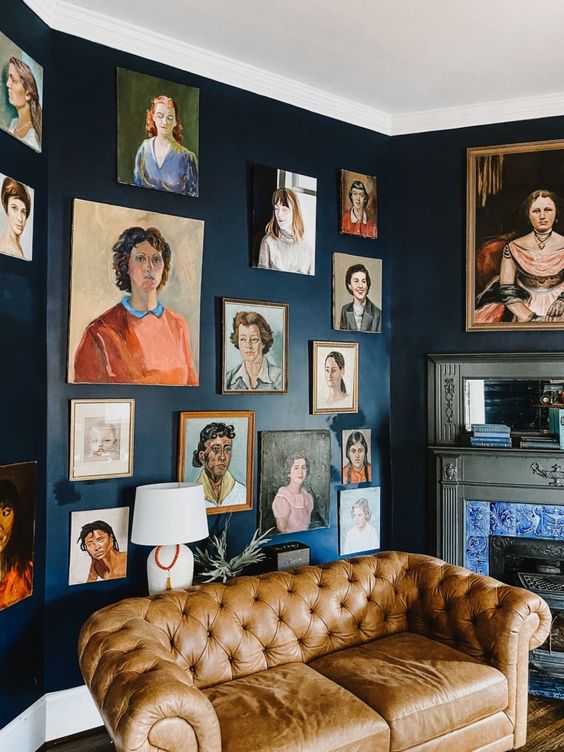 Portraits have been a popular form of art for centuries and have stood the test of time, and a gallery wall of portraits can add a timeless and classic feel to any space.
This is one of the easiest ways you can make your decor look vintage. You can either use personalized portraits of your family members from generations or install interesting portraits that will be a great conversation starter.
You can use different layouts and sizes for a dramatic effect.
14. Keeping to a Theme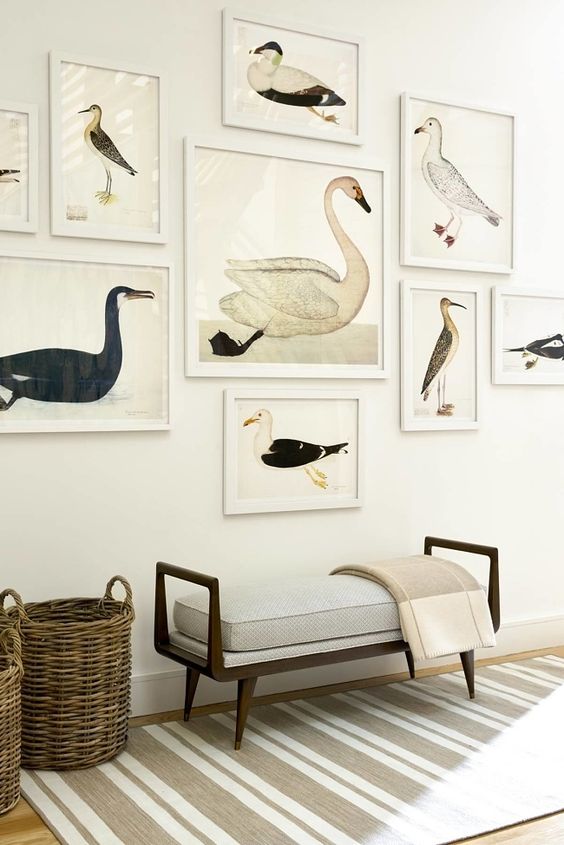 Create a one-of-a-kind gallery wall for your home by sticking to a theme. This gallery wall method is ideal for neutral interiors and a minimalist, modern appeal.
You can play with different layouts and sizes of frames, as well as colors that complement each other. To ensure consistency, install the same colors for the frame.
This style of gallery wall is best suited for a living room or bedroom where you want to create a focal point.
15. A Quirky Display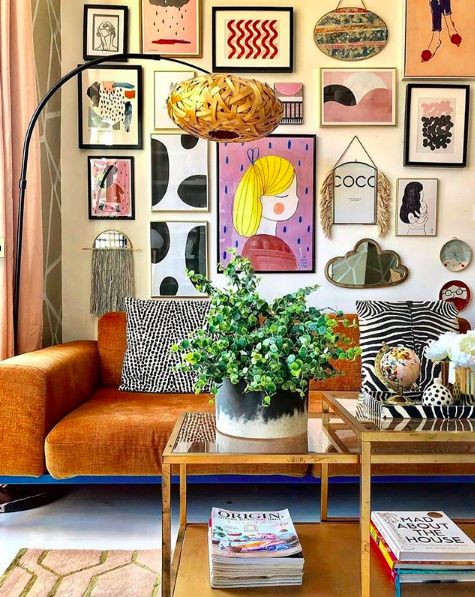 Make a gallery wall that looks the most fun and matches your personality. Allow your creativity to flow freely while creating a unique gallery wall that is a combination of vibrant hues and attractive patterns.
You can take inspiration from different gallery wall styles and incorporate gallery wall accents of different layouts and sizes. You can combine pop art with abstract art pieces and also incorporate any of your favorite lines.
Just make sure to set this gallery wall at the focal point of your space.
Conclusion!
Did you love our ideas to create a gallery wall of different themes, layouts, and sizes? We hope now you know what to do with your home decor and have the inspiration you need.
Always choose a gallery wall theme that complements your home design and mixes nicely with the available space and light. To create a visually appealing display, begin in the center with the largest piece of the gallery wall display.
Make your gallery wall exhibit one-of-a-kind by including décor details that speak to you. You can also mix up the layout of your frames to add variety to the wall.
And remember that the most important thing is to have fun while creating your style.
Check This Next: 15 Black Floating Shelves to Enhance the Look of Your Walls
Other Articles