Walls are like blank canvases, waiting to be transformed into works of art. Are you looking for wall-covering ideas?
The suitable wall covering can add depth, texture, and personality to a room, elevating it from ordinary to extraordinary.
From bold prints and textured panels to metallic paints and cork boards, there is an endless array of creative wall-covering ideas to explore.
Each one has the power to completely change the look and feel of a space, inspiring and delighting all who enter it.
Whether aiming for a cozy, rustic feel or a sleek, modern aesthetic, the right wall covering can help you achieve your vision and turn your walls into a masterpiece.
So, let your imagination run wild and discover the countless possibilities of wall-covering ideas!
Similar Post: 15 Accent Wall Ideas to Transform Your Small Bedroom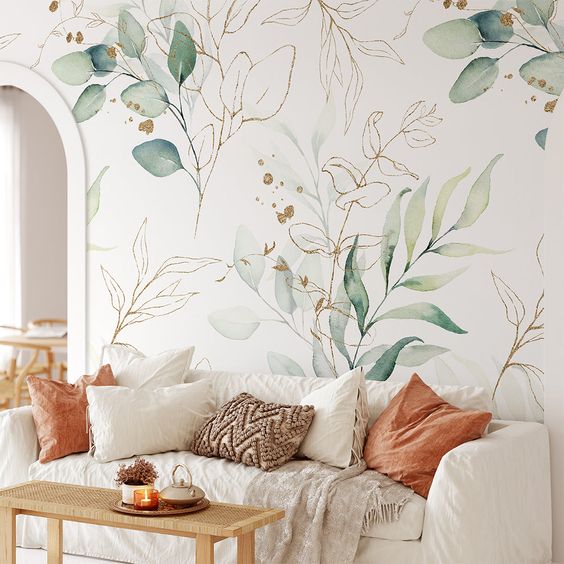 Peel and stick wallpaper, also known as self-adhesive wallpaper, is a popular type of wall covering that is easy to install, remove, and adjust.
There is a range of designs, colors, and patterns that can be printed with peel-and-stick paper or using vinyl or polyester that is durable and water-resistant.
It is intended to be user-friendly because it can be used without the necessity of specific tools or expertise, which makes it easy to use on walls.
The peel-and-stick wall cover provides you with a variety of patterns and textures, which make it possible to achieve many design options that suit your style and aesthetic preferences.
2. Tongue and Groove Cladding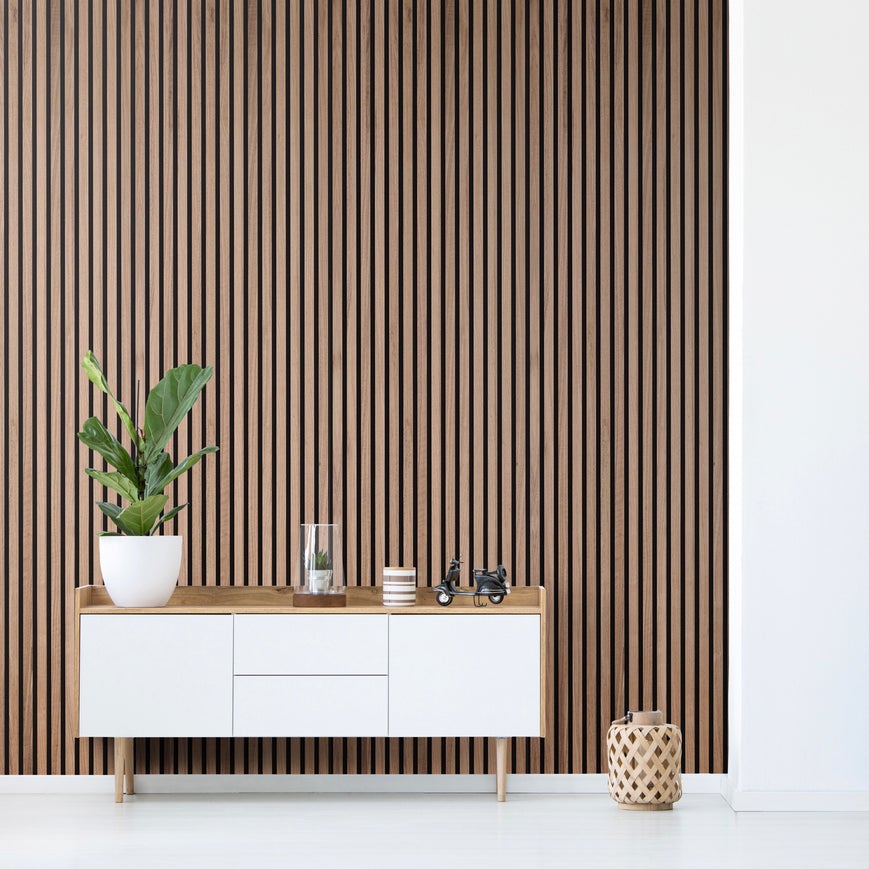 Tongue and groove cladding is a type of wood paneling used for both interior and exterior wall coverings.
It's made up of overlapping boards that are placed together and fitted with a tongue and groove system to produce an attractive, flexible surface suitable for both aesthetics and practical use.
A variety of wood species like pine, cedar, or oak is used for tongue and groove panels to match the style of a room or building; it can also be painted either unfinished or stained.
It is a flexible option that you may use in classic and country-style homes, as well as in cabins and cottages. It is suitable for both walls and ceilings, allowing further insulation to be provided in the room.
For both indoor and outside wall covering, tongue and groove construction is an easy installation that can give durability and a weather-resistant finish.
Also Read: What Makes Blue The Most Preferred Wall Paint Color?
3. Shiplap Wall Covering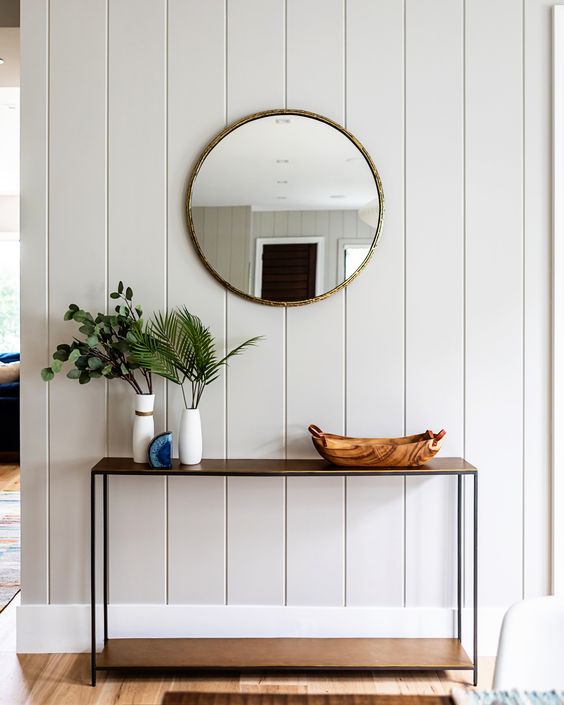 Shiplaps are a common type of timber board, which in many cases, is intended to cover the walls. It's got a distinctive design, with multiple grooves that seal the gaps between the boards.
Shiplap, which typically consists of wood or cedar and is a popular option for both traditional and modern houses, can be stained or painted according to the decor you choose.
It is durable and easy to maintain, making it an efficient choice. Proper surface preparation and careful measurements of the boards are necessary when you install shiplap to guarantee that they fit perfectly.
Shiplap can be used as a simple home improvement project, even if it is the choice of some homeowners who prefer to hire an experienced professional with appropriate tools and skills.
4. Mural Covering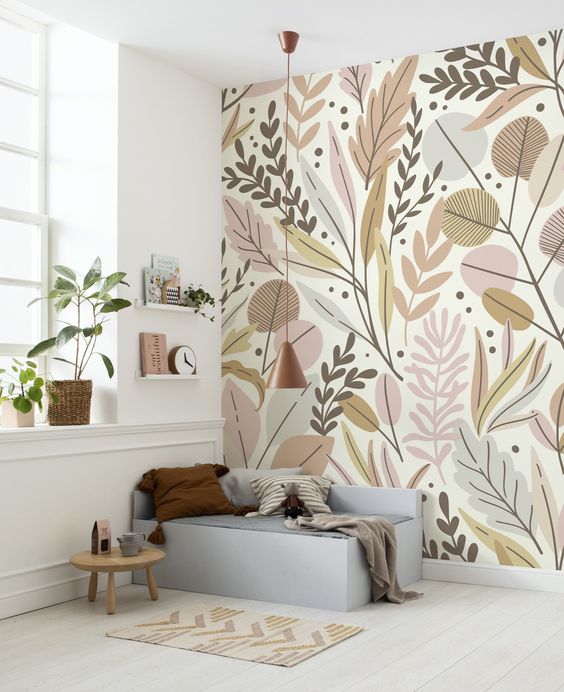 Mural covering on a wall involves painting or creating art on the wall that is visually striking and depicts a beautiful theme.
These murals are often done in residential or commercial places to add depth, a theme, and a personality to the room.
Murals can be either painted on entire walls or can only cover a certain specific area, depending on the requirement.
They can either be created or can be purchased and installed as pre-pasted mural wallpaper. These wallpapers are similar to traditional wallpapers but are not that easy to install and require professional help.
Mural coverings come in a variety of styles, from photo-realistic images to abstract patterns, and can be custom-designed to fit specific themes or aesthetics.
5. Feature Wallpaper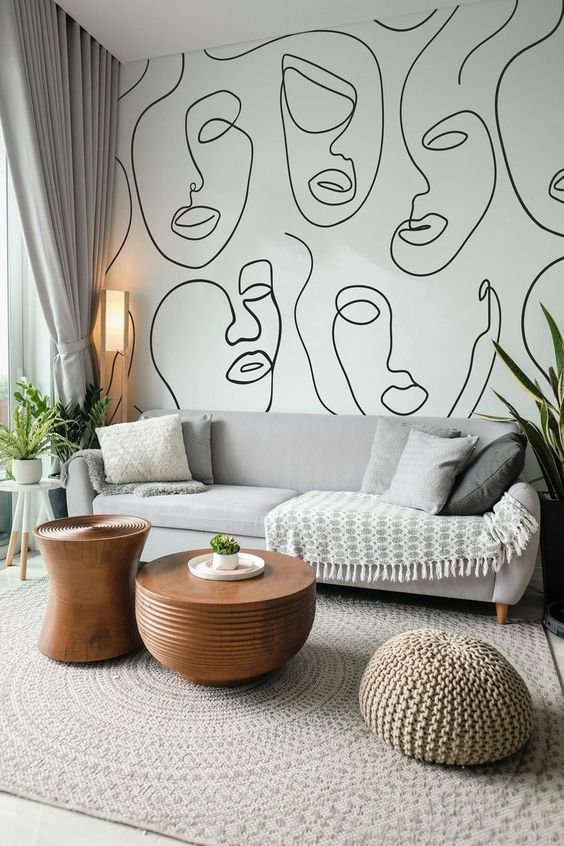 Feature wallpaper is a great way to add a pattern, a texture, or a pop to a room or the space being created.
There are different types of ideas when it comes to these featured wallpaper, so you can select according to what you desire.
Prints like floral and geometric patterns are a popular choice as the former creates a romantic feel, and the latter creates a modern touch to the surroundings.
Another type of feature wallpaper is wallpaper murals which come with stylish and unique designs.
When choosing a feature wallpaper, it's important to consider the overall color scheme and style of the room and select a design that complements and enhances the existing decor.
6. Timber Effect Tiles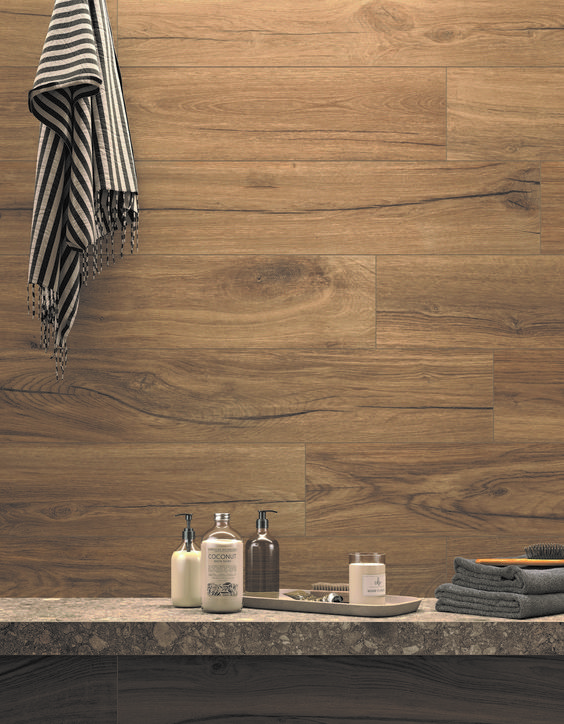 Timber effect tiles are a popular wall covering option that mimics the look and feel of natural wood.
These tiles are made from porcelain or ceramic and are designed to resemble wood grain patterns and textures. These act as a great alternative to traditional wood paneling and are low maintenance.
These do not fall short of the expectations as they give the same rustic feel to the surroundings as the real wood paneling would.
These tiles as water-resistant, and moisture-resistant, for home fittings which makes them perfectly ideal Timber effect tiles as they come in a range of colors, finishes, and sizes, making it easy to find the perfect match for any design scheme.
They are also resistant to moisture, making them ideal for use in areas like bathrooms and kitchens.
When installing timber effect tiles on a wall, it's important to use the proper adhesive and grout to ensure a secure and long-lasting installation.
7. Wall Hanging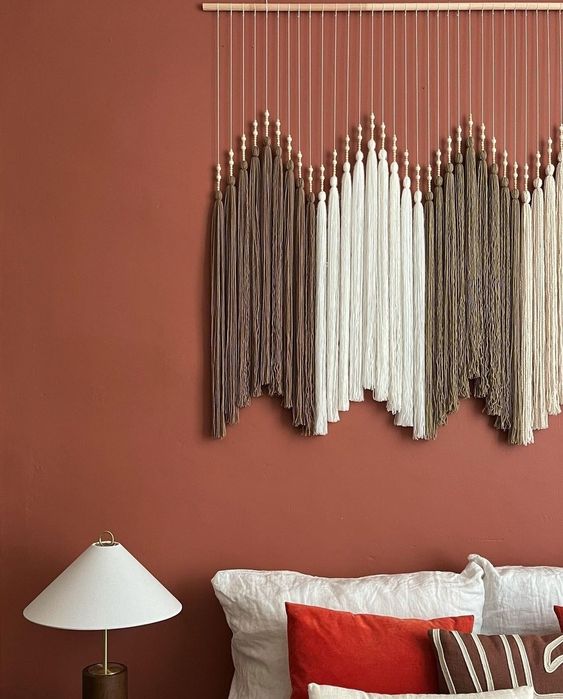 Wall hangings are the easiest way to cover the walls effortlessly and add a personality to the room.
These wall hangings are available in a variety of materials, shapes, and sizes, from woven tapestries to metal sculptures.
A wall hanging binds all the elements of the room together and complements the whole surroundings. They can also add texture and depth to a wall.
Think about the room's style, color, and size when selecting your wall hanging.
Wall hangings can be hung alone or grouped to enhance a room's style, and it is possible to change them easily. In general, wall hangings serve as a powerful way to enhance any room in the house.
See More: 15 Stunning Accent Tiles in Shower Ideas for Your Bathroom
8. Split Face Stone Wall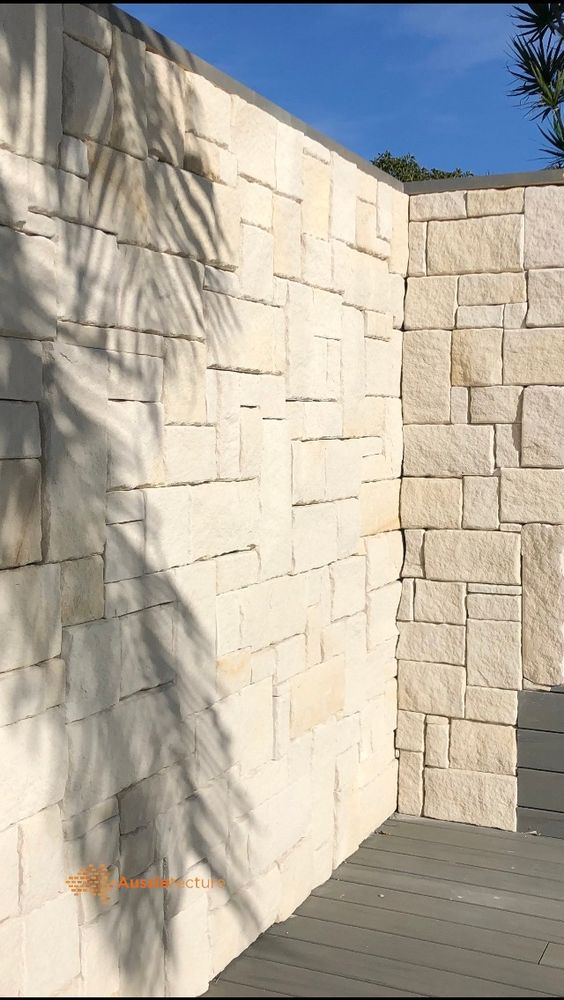 The split-face stone wall covering is a popular option for adding texture and visual interest to interior and exterior walls.
The technique involves cutting natural stone, such as marble or granite, into thin strips with a rough, textured surface, which are then applied to the wall.
Split-face stone wall coverings are available in different varieties of patterns, textures, and colors which makes them versatile for varied requirements.
These split-face stone walls range from earthy tones to bold colors.
They can also be used to build dramatic feature walls in reception rooms, foyers, and other public places as accent walls for the living room, dining room, or bedroom.
The split stone face wall covering provides durability and ease of maintenance, so it is an excellent choice for highly traffic-congested areas.
In addition, it is energy efficient because the natural stone helps to regulate temperature and humidity.
9. 3D Effect Wall Covering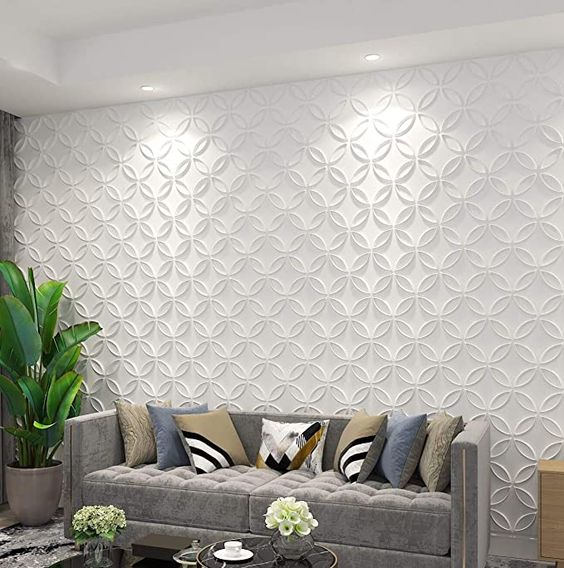 3D effect wall coverings are a popular option for adding depth and texture to interior walls. These coverings are made up of intricate patterns that create the illusion of three-dimensional shapes and textures.
That is to say; it produces a spectacular and dynamic surface that can alter the appearance of any room.
The use of 3D effect wall panels for accent walls in the household, bedroom, and dining rooms is very commonly applied but may also be incorporated into commercial areas like offices or retail stores.
They're easy to install and can be configured in a way that suits any area, making them an adaptable choice for every style of design.
In addition, 3D effect wall coverings are energy-efficient and maintenance-free, which makes them an attractive and convenient option.
In general, to enhance the visual interest and dimension of any interior space, 3D effect wall coverings are an attractive and eye-catching option.
10. Wall Tapestry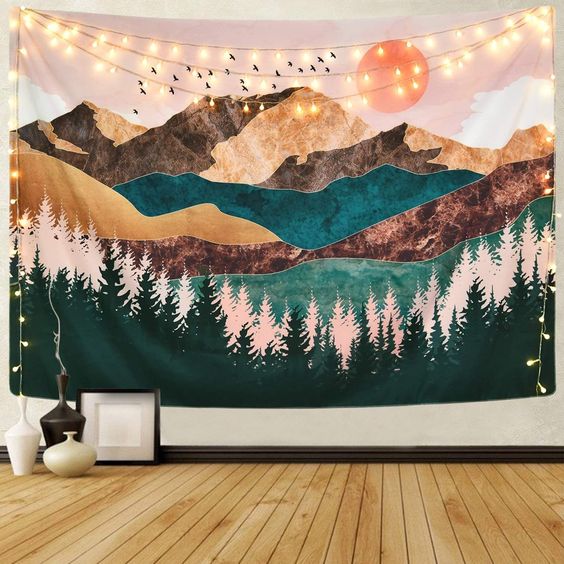 Wall tapestry wall coverings are a popular option, especially amongst students, to give that happy feel to the interiors.
These coverings are mostly made of cotton that is hung on the wall like traditional tapestries. They come in various styles, from intricate patterns and designs to landscape and portrait scenes.
Wall tapestry wall coverings may be used in living rooms, bedrooms, and dining areas as a statement piece or to bring warmth and comfort into the room.
In addition, they may help reduce noise levels in large rooms or open areas by acting as acoustic dampeners. Wall coverings of the tapestry are easy to install and can be easily exchanged to refresh a room's appearance.
11. Concrete or Cement Walls with Texture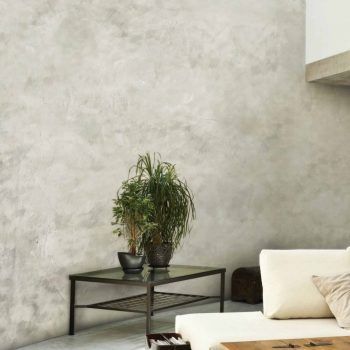 Concrete or cement wall coverings with texture are a popular and most common option for covering the walls, used as a state piece in households, and also add interest to commercial spaces.
They add an industrial, modern, or rustic look to interior walls. The texture is created by the use of various techniques such as embossing, lithography, and stamping to create patterns, stripes, or lines on the material's surface.
These coverings are made of a variety of materials, such as vinyl, fiberglass, or natural fibers, and are also available in a range of colors that can be chosen according to the requirements.
They are easy to install and can be customized to fit any space, making them a versatile option for any design style.
12. Leather Wall Panelling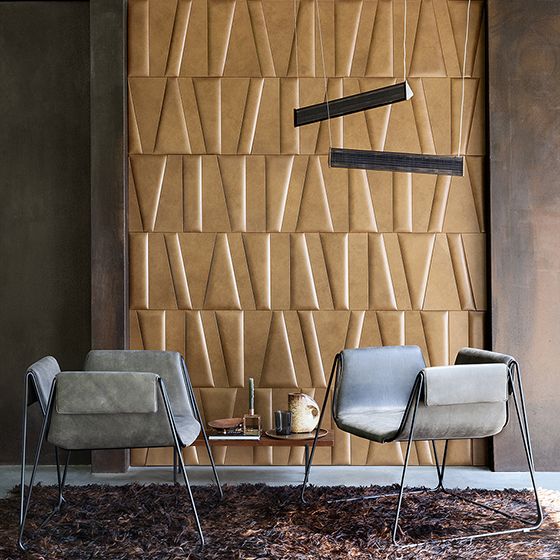 Leather wall paneling is a luxurious and unique option for adding texture, class, and elegance to your interior walls.
The wall coverings are made of high-quality leather, stretched, and placed on the substrate to create a smooth and uniform surface.
The leather panels of walls are available in a variety of colors and finishes, from glossy to matt, which can make the living room, bedroom, or kitchen look sophisticated and elegant.
These coverings are mostly used in commercial interiors, such as boutiques. These wall paneling are comfortable to maintain and offer the required durability, which makes it the practical choice.
They also act as a sound observer, making them the best choice for creating a soundproof room.
Related: Top 15 Unique Bathroom Floor Tile Ideas for Every Budget
13. Metal Wall Panel Covering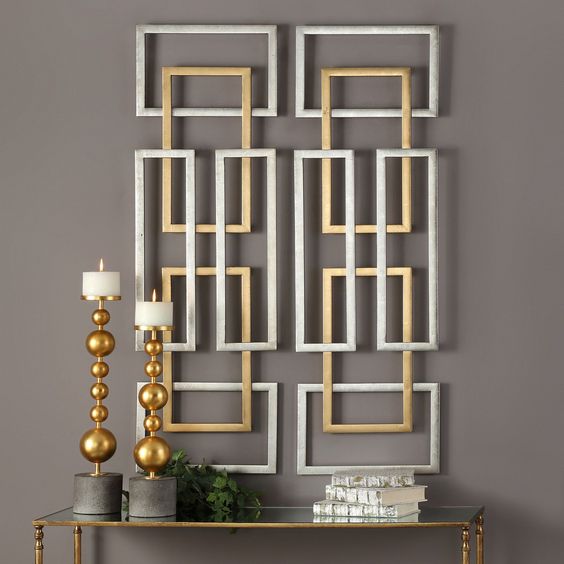 Metal wall panel covering is a modern and sleek option for adding texture and shine to interior or exterior walls. These coverings are made from a variety of metals and can be customized according to the requirement.
Depending on the design, metal wall panels may be hung upwards or downwards and can consist of a variety of sizes and shapes, such as round, rounded, or ribbed.
These panels can either be painted according to preference or can be kept naturally with their metallic finish. In any way, they can create a bold and contemporary-looking surrounding.
Commercial spaces such as office premises, restaurants, and stores are also highly sought after for the use of metal wall panels.
For adding texture, beauty, and modern flair to any interior or external space, metal wall panel covering is a sleek and flexible option.
14. Ceramic Tile Wall Covering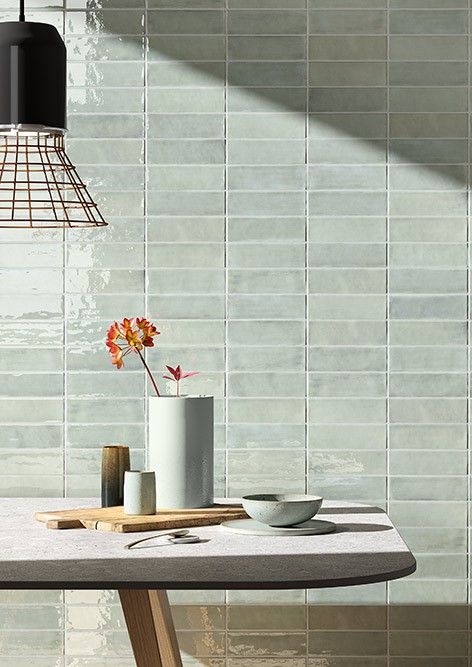 The ceramic tile wall covering is a popular choice for both residential and commercial spaces due to its durability, versatility, and aesthetic appeal.
These tiles are prepared from raw materials in which natural clay acts as the main ingredient.
Not only that but in addition to the preparation, these tiles are fired at high temperatures so that a durable, hard, water and stain-resistant surface can be created.
Being versatile, they are available in different colors and patterns and offer enough diversity to suit different design schemes.
Ceramic tiles are simple to clean and require less maintenance, making them ideal for kitchens and bathrooms. Ceramic tile wall covering lasts for a long period if taken properly care of during the time of installation.
15. Cork Board Wall Covering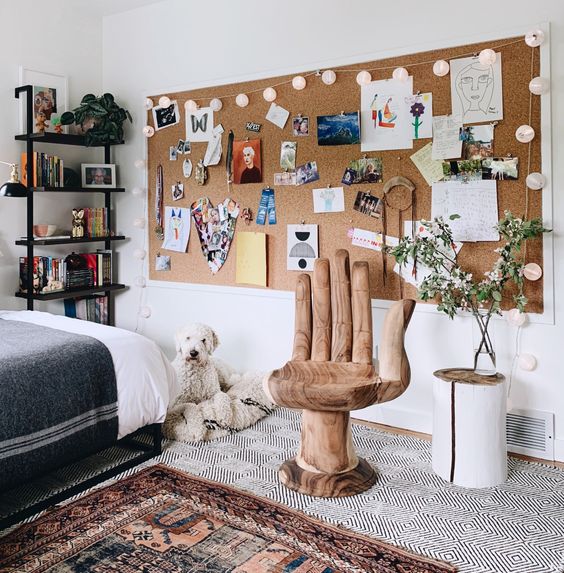 Corkboard wall covering is a versatile, eco-friendly, and convenient option for adding a functional and decorative touch to any space.
It is convenient as items like photos, art, or a collage can be pinned on it and also can be removed according to the mood, which in turn can give a new feel to the surroundings.
These boards are made from the bark of the cork oak tree and are renewable and sustainable materials that can be harvested without damaging the tree.
It has a unique texture that adds warmth and character to every room. Aso naturally sound absorbent and insulated, making it an excellent choice for home offices, playrooms, or other areas where noise reduction is important.
It is easy to install and can be directly mounted onto the wall using any adhesive. All in all, it is a great choice of wall covering for anyone who wants to enhance the functionality and style of their space.
16. Grasscloth Wall Covering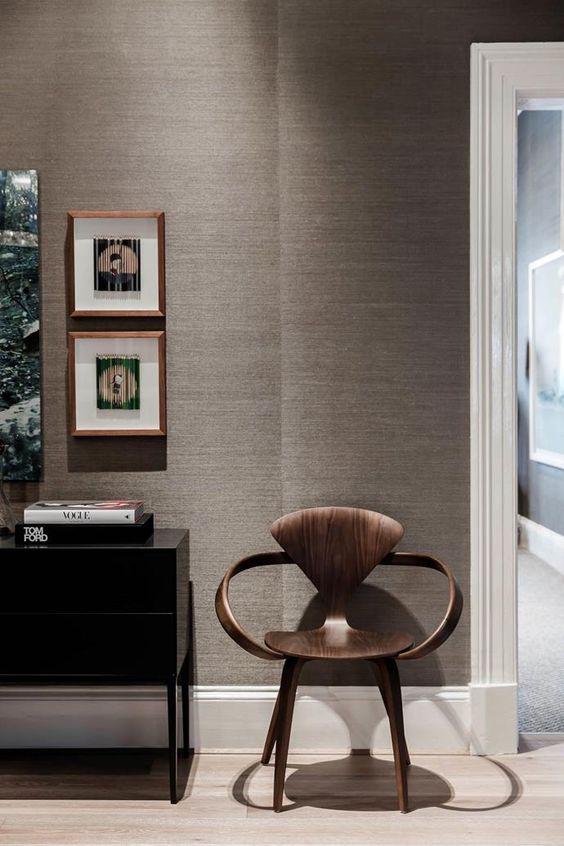 The grasscloth wall covering is a unique and natural option for adding texture and warmth to any room. These wall coverings are made up of different materials like grass fibers like jute and sisal.
These come with an organic and earthy texture that goes very well with varied design styles.
It is available in a range of colors and patterns, from neutral tones to bold hues, and can be used to create a subtle or dramatic effect.
In addition, grasscloth made from renewable materials is environmentally friendly and biodegradable. However, it must be pointed out that the grasscloth is not as durable as other wall fabrics and may require more careful care and maintenance to avoid damage.
17. Wainscoting Wall Covering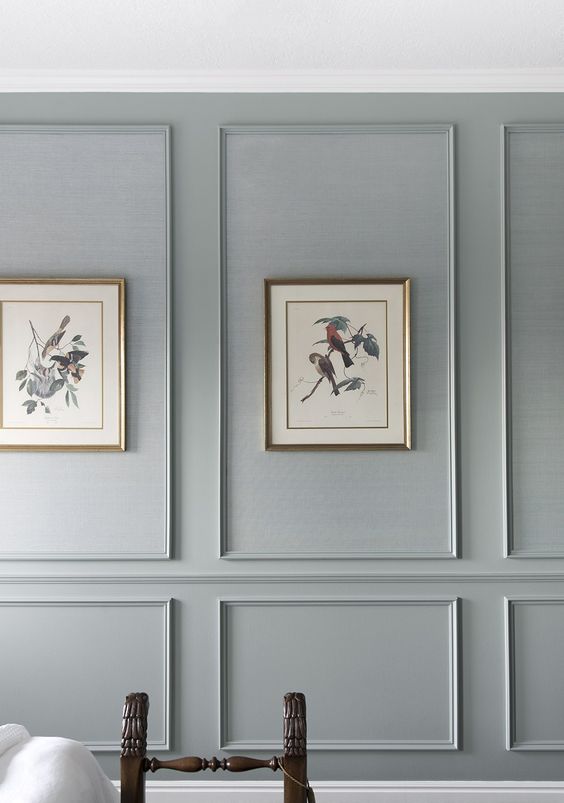 The wainscoting wall covering is a traditional and elegant option for adding architectural interest to any room. Wainscoting, which typically covers a lower part of the wall with wood panels or moldings, adds character and depth to an area.
There is a wide range of styles and finishes, ranging from simplistic beadboards to more intricate shaped panels that can be colored or stained to complement the decor.
Wainscoting may also be useful because it helps to shield the walls from damage and provides visual separation between different materials, e.g. wallpaper or paint.
In addition, it's very easy to install a wainscotter because you can affix or attach them to the wall. Wainscoting wall covering can give a certain character and charm to any room in the home thanks to its timeless appeal and flexibility.
Check This Next: 25 White Wall Decor Ideas to Revamp Your Home
18. Drapery Wall Covering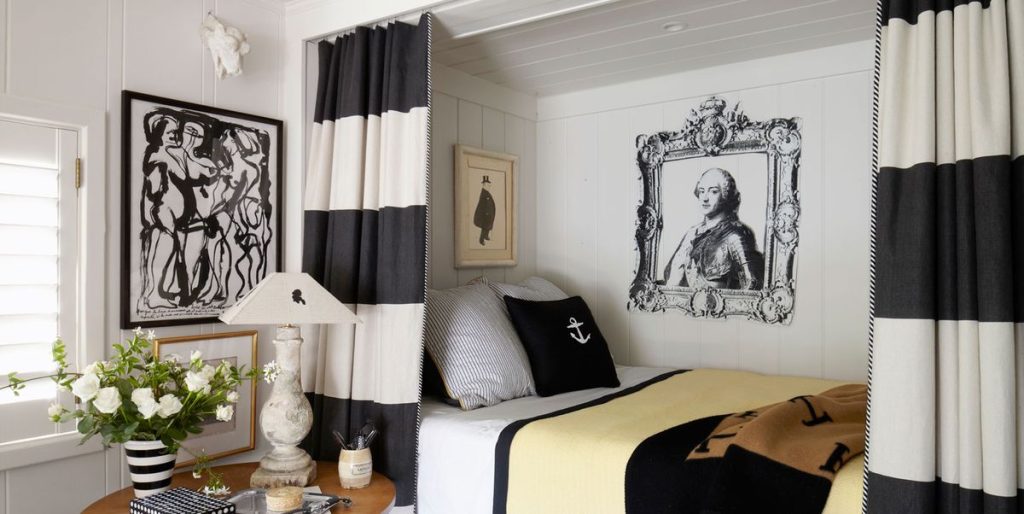 A luxury and luxurious way to enhance texture and warmth in any space, Drapery Wall Covering is also referred to as fabric wall cover.
The wall cover of drapery can provide softness and depth to the walls, which may be made from a variety of fabrics such as silk, linen, or velvet.
It's available in a wide variety of colors, patterns, and textures, enabling it to be flexible for any design scheme. It is also useful to cover a wall with Drapery as it allows the room to absorb sounds and improve sound quality.
It is very easy to set up since it can be hung over timber panels or tied straight on the wall.
Conclusion
Finally, various factors such as budget, the purpose of the room, style, color scheme, installation process, and inspiration will have to be taken into account carefully when choosing the best wall cover ideas for your space.
You will be able to choose the finest wall covering for your space that can improve its visual appeal and meet operational needs when you have had time to consider these factors and do some research.
The right wall covering can transform a room and give it that real reflection of your style, depending on whether you want to use wallpaper, painting, wood paneling, tile, or fabric.
Other Articles