Have you not taken your RV out for a stroll in a while and considering RV remodel ideas? Did you always wish to spend some time with your loved ones traveling around the country but just can't seem to make up your mind to take that trip?
Then you might want to remodel your RV and make it a comfortable and inviting space, so you can be encouraged to take that long-awaited trip. A long trip can take a toll on you unless you are traveling in comfort and style.
This article lists some interesting RV remodel ideas to transform your RV so that you can travel while savoring all the comforts of a home.
Let's get started!
RV Remodeling Tips and Ideas You Must Try!
1. Solar Panels

Installing solar panels on the roof on the roof of your RV is a decision you will not regret. Solar panels are great for generating power and come in handy when you are traveling through remote corners.
In isolated places, the power backup that solar panels provide will be of great help. You won't have to depend on finding a charging station.
They are a source of clean energy, thus being an environmentally friendly choice. Also, you will get some respite from the noise your generator makes.
You can enjoy the peace and tranquillity of nature without having to worry about power shortages.
Similar Post: Learn How To Remodel Your Kitchen + 10 Beautiful Design Ideas
2. Get Rid of Window Coverings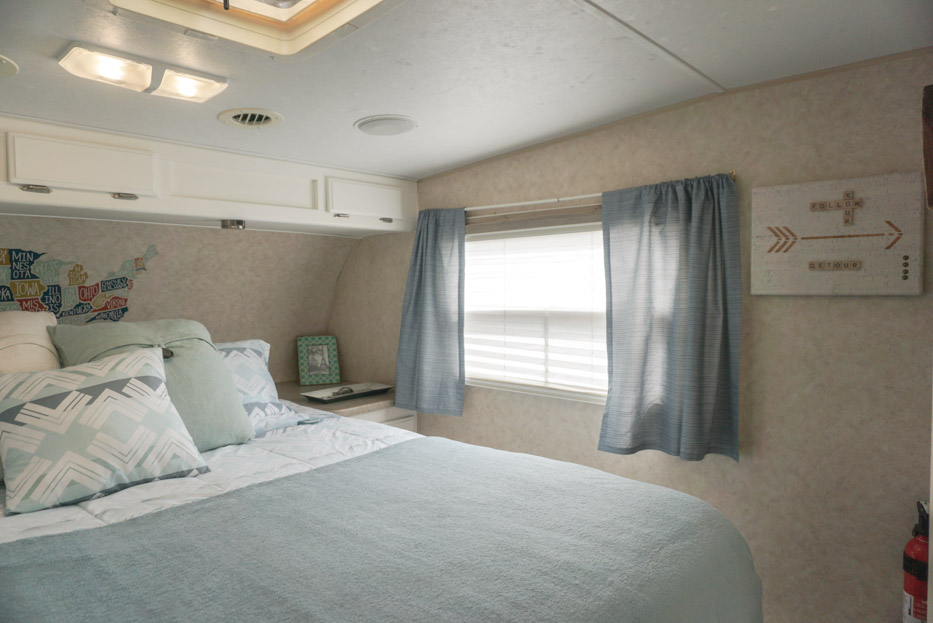 If you are looking to remodel your RV, try not to ignore the windows. The old window coverings on RVs can give them a dated and tired look.
It makes it look more like a container than a home, and that is not what we are looking for. Remove those old window coverings and instead install some curtains to give your RV a homely and cozy look.
Tip: If you wish to block out the sun, add some blinds, they will still give your RV a cozy look and block out the sun effectively.
3. Vinyl Flooring for your RV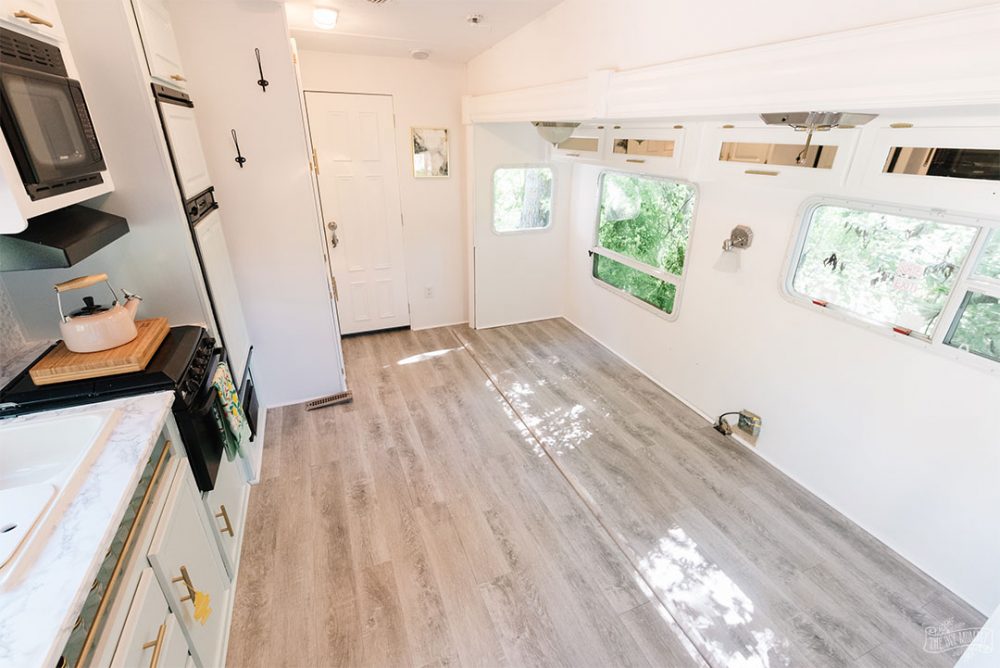 RV carpets can be nasty; they trap dirt, they can get wet and stink and they are impossible to clean. This is not a good look for your RV.
Vinyl flooring is a more hygienic choice for flooring. You don't have to worry if you drop food or drinks on the floor; they can be easily cleaned.
Vinyl floors are water-resistant, and it is not too much work to install them. It is more durable and lightweight than laminate flooring and hence a better choice.
This flooring is just a better look for your RV, and you should not think twice before installing it.
4. Accent Wall for The Bedroom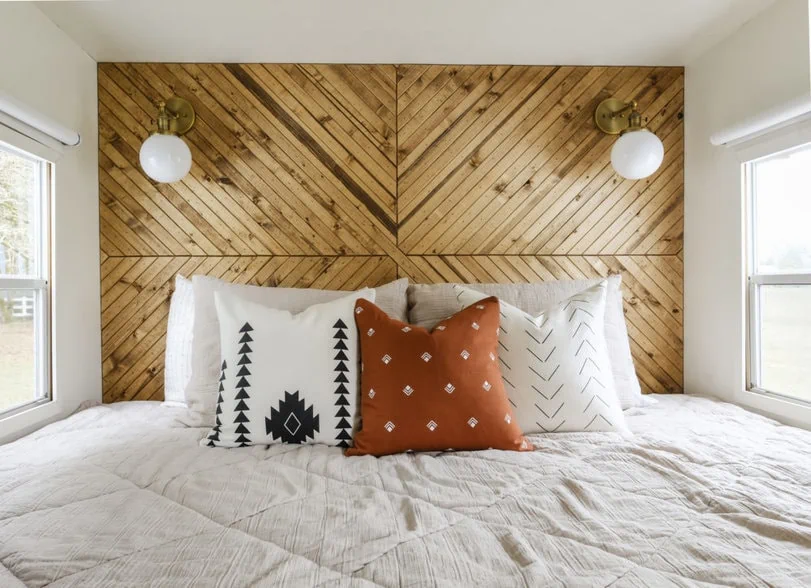 Accent walls are a striking design choice for the bedroom. They give the room a character, and the light wood color looks great against the white of the walls and the bedding.
You can add some white Scone Lighting fixtures to the wall to tie the entire look together. Accent walls are just what your RV's bedroom might need to give it a chic look.
The wall can also function as a headboard; that way, you save more space and reduce the weight of the furniture.
Tip: Add cushion in white and shades of brown to compliment the walls.
5. The Coffee Bar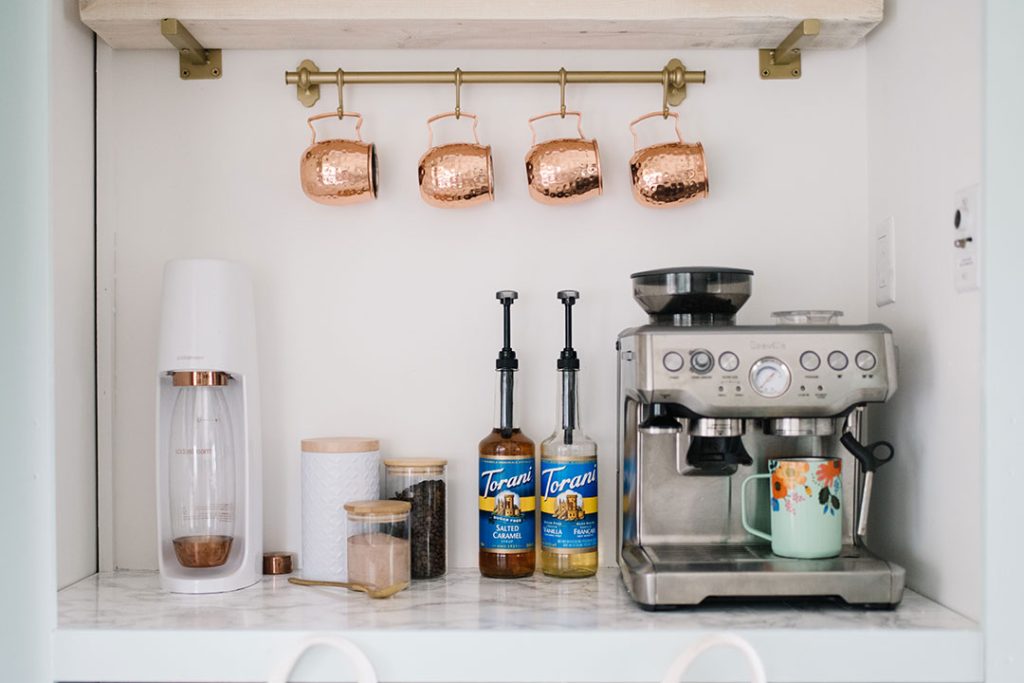 Since the RV is going to be your home on wheels, you must personalize it according to your daily needs.
If you are a coffee lover and cannot seem to get your day started without your fresh cup of morning brew, then installing a dainty little coffee bar would make your RV feel more like home.
While at first, it might feel like a luxury, for any coffee lover, a coffee bar in the RV will be a valuable investment.
Roaming around the country, you might not always be able to find a Starbucks for your coffee fix. Construct a neat little coffee bar for your RV, showcase your coffee beans in glass jars, and place a nice coffee maker.
Hang your cups from a metal bar on the top, keep the space tidy, and you're done.
Also Read: 11 Best Coffee Station Table Ideas to Design Your Coffee Corner
6. Paint Your Interiors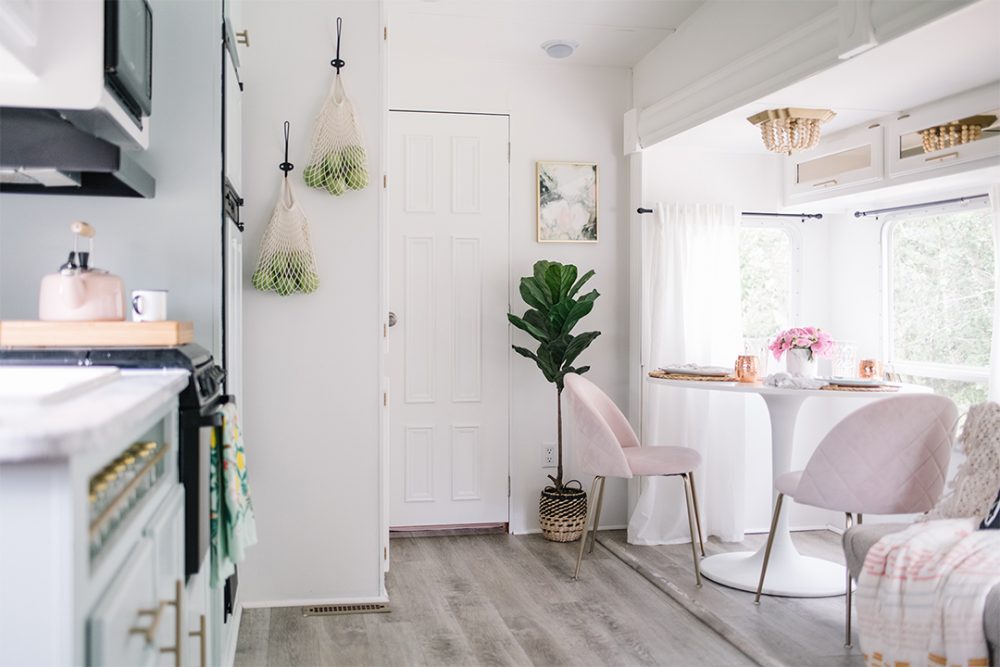 There is nothing that would make as much of a difference to the interiors of your RV as applying a nice fresh coat of paint on it.
Old chipped-off paint or old coat of paint can appear dull and give your RV a sad vibe. A fresh coat of paint will be a design facelift for your RV.
Since RVs are compact spaces, we would suggest a lighter choice of paint. The white color paint would open up the space and ensure the RV appears spacious and well-lit.
Add white curtains to go with the wall. Keep the furniture a classic white by the color scheme.
Tip: To add a dash of color, you can have house plants in the RV; it would add color and a refreshing touch to the space.
7. New Furniture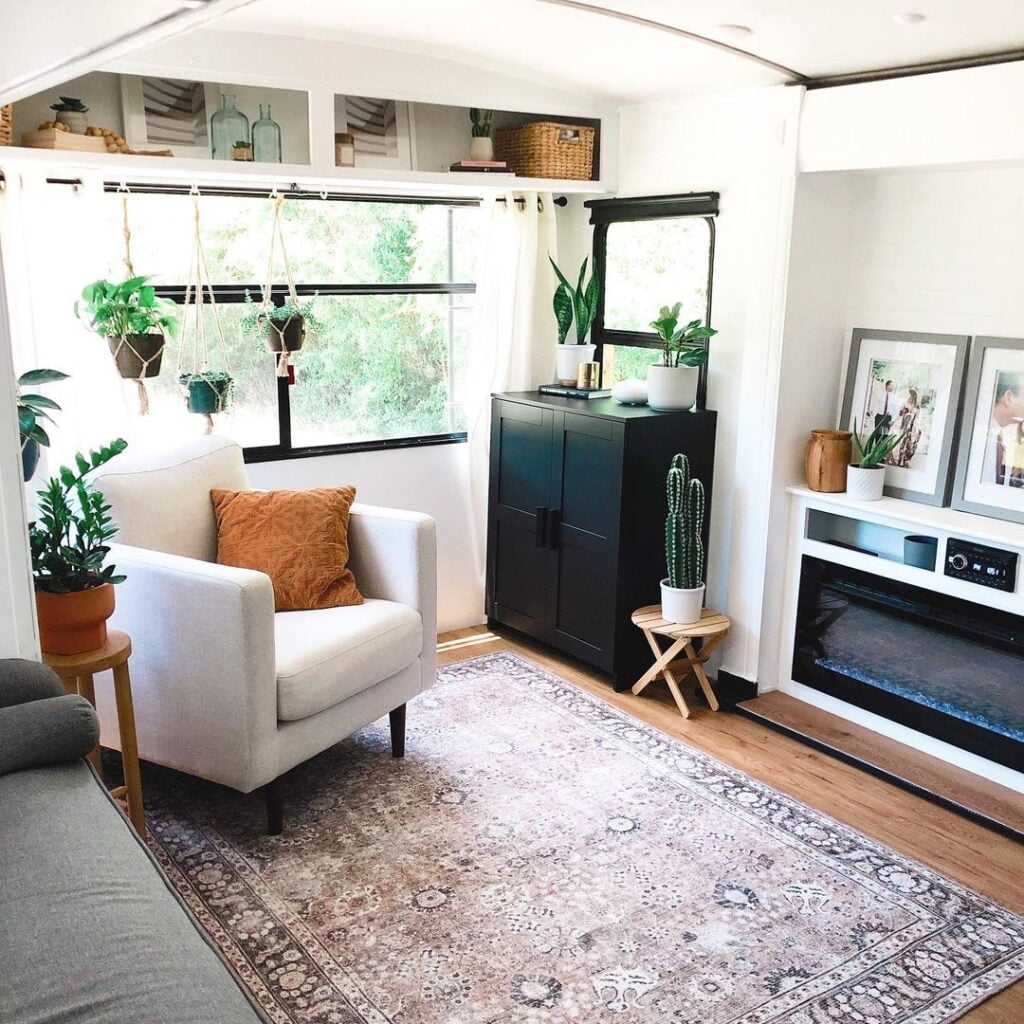 Now that you have successfully painted your RV, it's time to replace the old dingy furniture with a new chic one.
Comfortable seating is essential for your RV; buy a comfortable sofa in a color that compliments the walls. I would suggest you go for pastel colors. Add another seating space with a chic sofa chair.
Add a cabinet table on the side. House plants can liven up the space, add them on tables, and hang some potted plants near the windows. Add a Persian carpet to complete the look.
Tip: Since this is moving home, make sure the pots on the table are well placed or reinforced, or they will end up breaking when the RV stops abruptly or moves through rough patches.
8. Shiplap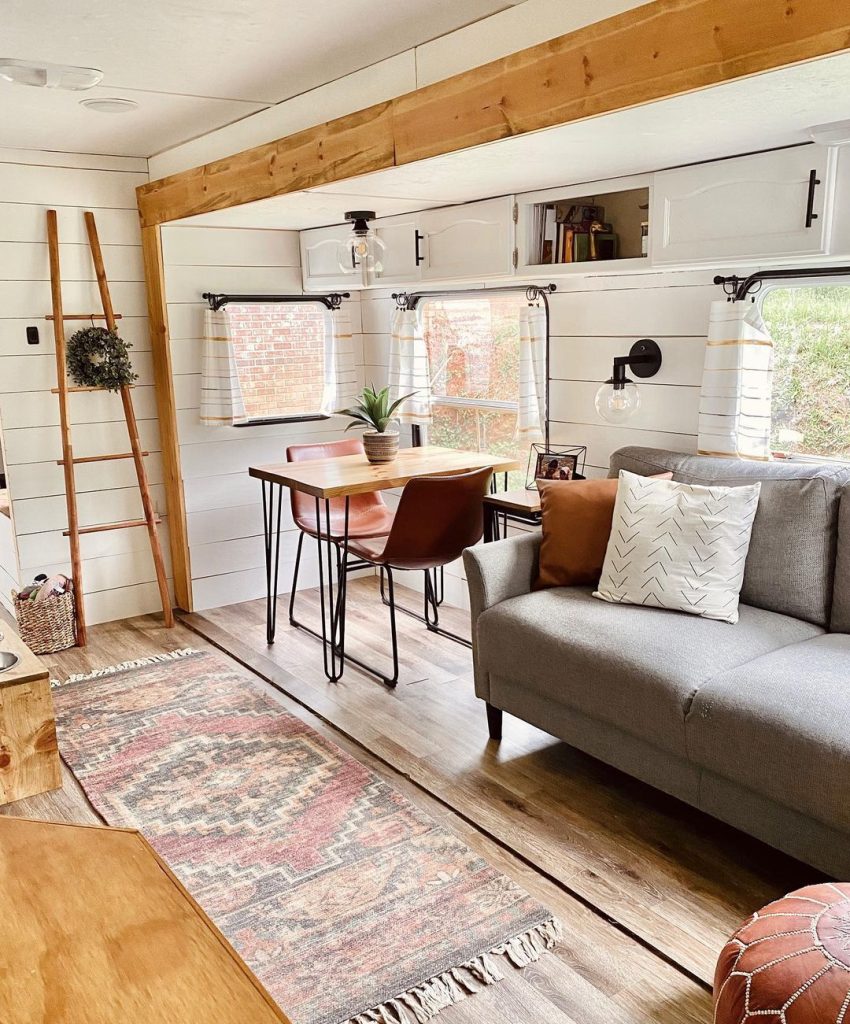 Shiplap adds that country house flair to your RV. Even though they are part of an old farmhouse design style, they translate well into modern homes.
Traditionally shiplap paneling is done by adding wooden planks. But, when you're making design choices for your RV, it is important to consider the amount of weight the RV would be carrying.
To not weigh down the RV, you can either paint the walls in black and white paneling design or use a wallpaper resembling shiplap.
If you're looking for the texture of shiplap paneling, you can opt for a faux shiplap, which is much lighter and, thus, perfect for your RV.
Related: 17 Unique Farmhouse Coffee Table Designs for Your Home Décor
9. Lighting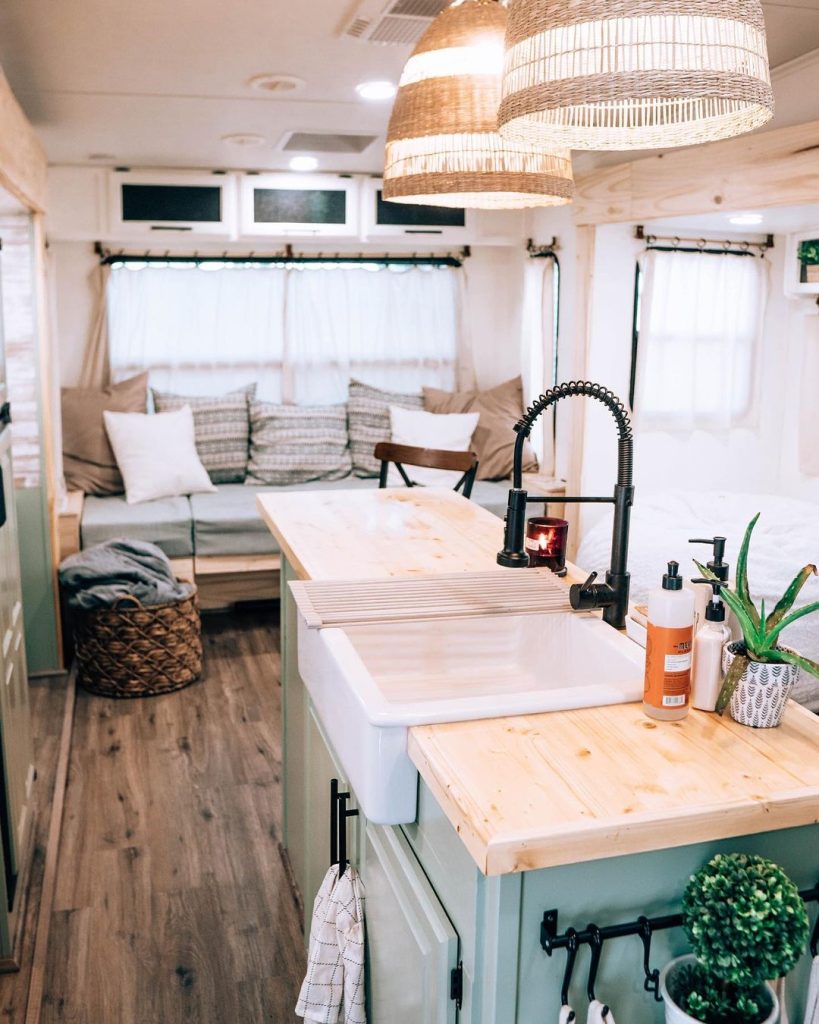 Essential among RV remodel ideas is Lighting. Good lighting can not only make a great difference in your photographs, but it can also positively transform a space.
You must have seen how depressing stark white lights can be; they can remind one of a hospital setting at night. The choice of lighting must be given some thought.
You can go for basket-style light fittings if you are into a farmhouse style. If you want to go for a more modern look, choose metal-reinforced lamps and lighting.
I would suggest keeping the lighting warm and inviting. It adds coziness to the space.
Tip: Use lighting that would not sway with the movement, and avoid free-hanging light fixtures that move too much or can get damaged as your RV moves through the slightest bump.
10. Butcher Block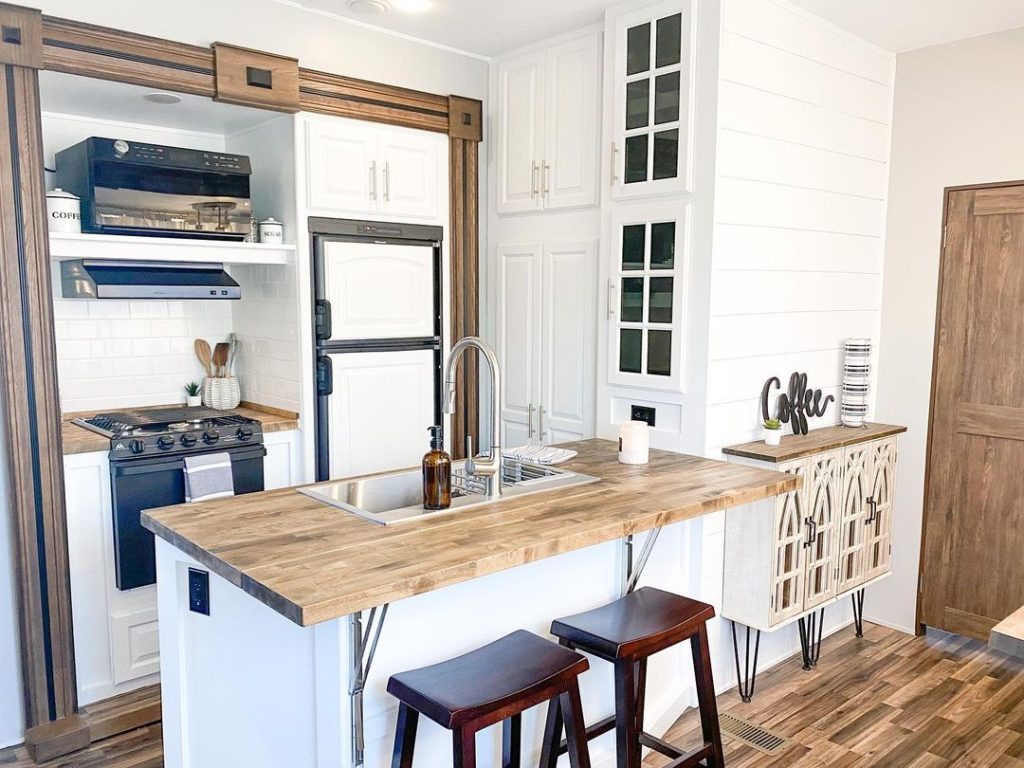 The kitchen is a very important space in your RV, and if there is one place that you must not compromise on, it should be the kitchen.
Even though the butcher block is a more heavy-duty piece of furniture, it is better to make a compromise with the weight.
It looks beautiful and durable, while the cheap, lightweight countertops can destroy the look and the feel of the kitchen.
You can adjust the extra weight in the RV by removing some other furniture.
Conclusion
When looking for RV remodel ideas, there are some things that one needs to consider.
One of them is the fact that the RV is, in fact, a moving home, and any design choices you make must keep that in mind.
The second thing to remember is that whatever additions you make to your RV, you need to be considerate of the weight it adds to it.
The above list has curated remodeling ideas that will help you transform your RV into a comfortable home on wheels.
It will not sit idle at home in your garage but will be taking you and your family around the country.
Bon Voyage!
Check This Next: 15 End Table Decor Hacks to Try
Other Articles